Magical 3 Days in Lviv Tour
Your Perfect Holiday During the Most Magical Season Begins Here
Lviv is always about magic and inspiration. It's also about coffee and chocolate, beer and wine, cobbled streets and majestic churches, extraordinary architecture and coziness.
Lviv is incredibly beautiful and charming during any season. But! During the winter holidays, it gets a particularly special atmosphere. Christmas tree on the Main Square near the Opera House, Christmas markets, lights, and decorations… and then, of course, the most unusual quirky restaurants and cafes make you forget about the reality and invite you to plunge into the fairytale.
If you visited Lviv once and understood its soul, you will surely want to come back here again and again. It is an ideal city for weekend getaways, romantic escapes, and city breaks. And just imagine how special winter holidays will be in such a place!
Why Do We Love This Tour?
---
Coffee Tasting in Some of the Best Coffee Houses Around Old Lviv
Paint & Pottery Workshop
Wine Tasting
Visiting Medieval Castle
Trying Traditional Galician Food
Seeing Traditional Clothes From All Regions in Ukraine
 
Day-to-Day Itinerary
Day 1
We meet at 14:00 near the City Hall building on the Rynok Square to go on a quick walking tour around Old Lviv. During that time, we will go to the observation deck with one of the best views of Lviv from above, stroll through charming cobbled streets while visiting all the must-sees of Old Town and four districts of medieval Lviv.


To stay warm on such a walk, we will make two stops in local coffee houses (one of them is Lviv's first pastry shop) to taste coffee, learn about the coffee traditions, and hear interesting stories and legends related to Lviv and this wonderful drink.

In the evening, after an intense walk, we will head to the theme restaurant for a welcome dinner. There, you will try traditional Galician Christmas dishes and get an idea about what people cook and eat on Christmas night in the Lviv region.
Day 2
Our day 2 will start with a royal breakfast at 9.00 at one of the oldest historic restaurants in Lviv. After breakfast, we will continue our acquaintance with the cultural capital of Ukraine through another excursion, but this time we'll see a completely different side of the city.
On this day, we will go to the Austrian part of Lviv where you'll visit one of the most beautiful theaters in Ukraine, one of the largest universities, Potocki Palace, and go down to the place where the underground river Poltva flows. Also, we'll stroll through the oldest communal park in Europe which still keeps kerosene lanterns that illuminated the city in the middle of the XIX century. In the end, we'll pay a visit to the House of Scientists built in the neo-baroque style and designed by Viennese architects. It's so impressive from inside and outside!
Part of this tour also includes a visit to a lesser-known private museum with traditional clothes from all over Ukraine. See what people used to wear in different regions and purchase a souvenir (dress, necklace, shirt) from their ethno-shop.
After a break for lunch, we'll meet again to join a pottery masterclass. We will not only learn about the world of ceramic art but under the guidance of an expert potter we will make a Christmas pottery souvenir for ourselves – a ceramic plate, cup, bowl, vase, candleholder, mug, or something else that you wish.
Instead of dinner in one place, we are going to have a food tour which includes two theme restaurants. All of these places serve some of the best Ukrainian food and drinks. So please come hungry!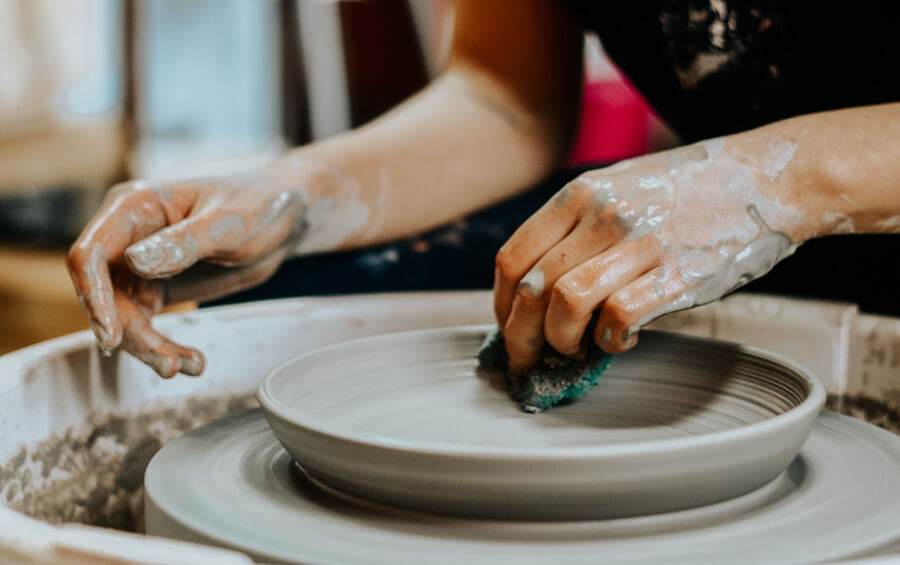 Day 3
On the third and last day of our tour, we are going to do something very special. We are inviting you to visit one of the most romantic medieval castles in Ukraine (Svirzh castle), followed by a wine tasting in a local winery. This winery, by the way, is very unique and very different from the wineries you visited before.
First of all, it has a homey atmosphere and Ukrainian village vibe. Second, the owner makes berry wines which are very unique in its nature. The tasting includes craft cheeses and meats from nearby farms as well as treats with rose jam and water. This is a very special and unique experience which is going to show you the Lviv region from another side!
What's Included:
Sightseeing Walking Tour Around Old Lviv With a Professional Tour Guide
2 Coffee Breaks in 2 Different Coffee Houses
Welcome Dinner Where You Get to Try Traditional Galician Christmas Food
Breakfast in Old Historic Restaurant
Walking Tour Around Austrian Part of Lviv
Entrance to the Observation Platform
Entrance to the Opera House & House of Scientists
Entrance to the Private Museum of National Clothing & Excursion With a Guide There
Paint & Pottery Workshop
Food Tour + Drinks
Visit to the Medieval Castle & Private Excursion 
Wine Tasting on a Private Farm
Private Transportation From/To Lviv During the 3rd Day of Tour
What's Not Included:
Airfare/Train Tickets
Airport Transfers
Accommodation (If you need help, we can book it for you)
Lunch
Personal Expenses
IF YOU ARE INTERESTED IN A PARTICULAR EXCURSION, MASTER CLASS, OR FOOD/COFFEE TOUR FROM THIS TOUR, LET US KNOW AND WE WILL ARRANGE IT FOR YOU ON A PRIVATE BASIS.
Note
We may need to change the route a bit depending on the weather, quarantine restrictions, or any other circumstances without compromising the quality of the trip.
COVID-19 precautions
Customers are required to bring and wear masks
We ask to keep a safe space between all participants  
Would You Like to Go On a Private Tour? 
Get in touch and let us design a customized trip based on your needs and preferences!