4 Days in Istanbul Itinerary – Alternative Route for First-Time Visitors
Before starting to write this 4 days in Istanbul itinerary it took me a while actually to decide how long my first sample itinerary for Istanbul should be. When I visited this city for the first time, I spent more than a week there and it didn't feel like enough. When I returned for the second time, I stayed for over a year but still didn't feel like leaving.
Istanbul is captivating and can easily steal your heart, and most likely four days in Istanbul will not be enough. But I think this period of time is optimal for most people as you may want to uncover other cities near Istanbul or just visit Istanbul on a quick city break.
For that, I created this Istanbul 4 day itinerary to help you see the top Istanbul sights, pop into charming neighborhoods, receive a good introduction to the city, and of course, taste famous Istanbul dishes.
So you can be sure that with this 4 days in Istanbul guide, you'll be immersed in local culture, find out the history behind the walls of ancient buildings, and get a good idea of what Istanbul is like.
Let's ride on old ferries and trams, discover historic markets, explore centuries-old palaces and mosques, appreciate beautiful panoramas, find the best Turkish breakfast spots, and see the city from above from some of the best Istanbul rooftop restaurants and bars!
With my version of places to see in Istanbul in 4 days, you'll be busy every day! And in the end, do not blame me for making you fall in love with this incredible destination!
Since chances are also very high you will be back, don't miss my sample routes for one week in Turkey itinerary and my other blog posts about Istanbul that cover specific neighborhoods in the city and more options for your future travels around this city and country in general.
And in case, you are thinking of visiting Istanbul during a layover, here is my one day in Istanbul itinerary!
How to Get the Most of Your 4 Days in Istanbul Trip
Planning to spend 4 days in Istanbul soon? Check my suggestions to make travel easy & fun:
Unique Tours in Istanbul:
Areas & Hotels Where to Stay When Having 4 Nights in Istanbul:
Casa Rosa Suits (in Karakoy, for nightlife, yet quiet, good for getting to both airports)
Hotel Poem (elegance on a mid-budget in the heart of Istanbul Old Town)
DeCamondo Galata (boutique hotel offering personalized experience near Galata Tower)
More Hotel Suggestions Below in the Post!
---
Please note: This post contains affiliate links. I may earn a commission if you make a purchase or booking by clicking a link (at no extra cost to you).
---
4 Days in Istanbul Itinerary – Things to Know Before You Go
Are 4 Days Enough in Istanbul?
Well, the short answer is no but it is still a good timeframe to get a good acquaintance with the city. I, as someone who lived in Istanbul and who returns there frequently, would say a whole life is not enough time to enjoy every corner of this wonderful destination.
Yet, 4 days in Istanbul is enough to get an understanding of the city, receive an introduction to those times of the Ottoman Empire and when the Turkish Republic was born, and familiarize yourself with Istanbul's food.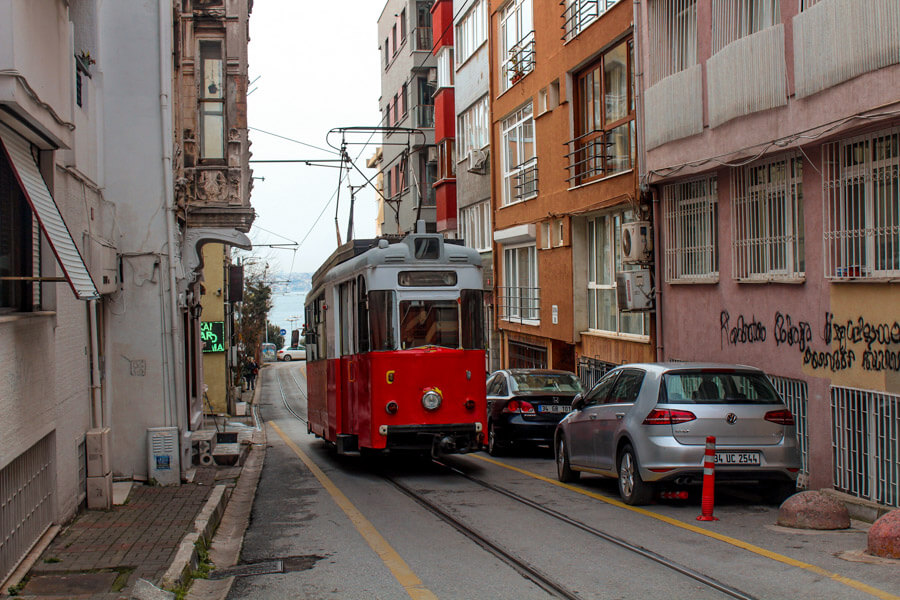 It is also enough time to participate in one of Istanbul's most famous activities (like cruising the Bosphorus or climbing the Galata Tower for example) and visit some of the most famous sights in Istanbul.
But it is not really enough time to discover Istanbul's diverse neighborhoods, see the outskirts with its hidden gems, spend time on the Princess Islands, or let's say go on a weekend trip from Istanbul.
However, I took my time and prepared a very extensive 4 days in Istanbul itinerary that gives a great introduction to the city. After being in Istanbul for too long, I know how to plan four days in Istanbul in that way so you can see a bit of everything in a short time.
This exciting itinerary covers your first visit to the biggest European metropolis and helps you see the best of both the European and Asian sides of Istanbul.
What to Remember For First-Time Visit to Istanbul?
Before I get to talk about places to see in Istanbul in 4 days, let's start by mentioning a few important notes for all first-time visitors to this city. They are important to know if you have never been to Istanbul and Turkey but want to have a flawless travel experience.
So, first – Turkiye is not a Muslim country. Even though the majority of Turkish citizens are registered as Muslims, they do not profess Islam. The Republic of Turkiye was declared a secular state in 1928. Istanbul, like most cities, has its modern and more conservative zones.
Therefore, alcohol is not forbidden in the city (as anywhere else in the country). But it can be hard to find it in some areas and especially in traditional restaurants.
Istanbul is more than just kebaps and doners. And while the big roll of meat is called doner kebap, it is not the only kebap that exists. There are hundreds of different kebaps in Istanbul alone, and in each region, you can taste different types of meat with different cooking techniques and sauces.
The main thing is: Do not expect all kebaps to come wrapped in lavash or yufka.
Turkish people are one of the most, if not the most hospitable people in the world. Yet, be careful when in high tourist areas like Sultanahmet, Galata, or Taksim Square. Scams are the daily survival mode for many and as in any big city, Istanbul is no exception. Also, do not walk to dangerous parts of Istanbul for your own safety.
The Turkish Lira goes up and down like a rollercoaster. This makes Istanbul prices change constantly in restaurants and any service industry.
You will find many touristic attractions that charge in Euros or USD for that matter. As inflation keeps scaling up, salaries are very low. For this reason, I highly recommend you visit local restaurants and leave a tip. Even though it is not mandatory, waiters will gladly appreciate it.
Even though there are plenty of scams in the city to be aware of, Istanbul as a city is relatively safe. But that doesn't mean you should walk alone at 3 am.
It is not easy to pack all the wonderful things to do in Istanbul in 4 days. So it is vital that you choose the accommodation that facilitates your route. And I talk more about it below in the next section.
For more Istanbul tips, see my post about things to know about Istanbul before traveling.
Where to Stay During 4 Days in Istanbul
If you have only four full days in Istanbul and want to be centrally located closer to all attractions, it is better to look for accommodation in Karakoy, Cihangir, or Galata Tower areas.
They give you easy access to all main tourist sites and are well connected with all other neighborhoods of Istanbul, including Balat in southern Istanbul and Arnavutkoy in the north. But keep in mind – these neighborhoods are very hectic and full of tourists. So choose hotels/apartments on quiet streets (I mention a couple of examples below).
Another option is to stay in Sultanahmet (which is Istanbul's Old Town). While I am personally not a big fan of this neighborhood for a stay, I can honestly admit that it is a very good location for 4 days itinerary for Istanbul since it provides a unique opportunity to immerse yourself in the ambiance of a neighborhood steeped in Ottoman history, offering a glimpse into the lives of those who once resided in its proximity.
However, if you feel more like experiencing the local culture and daily life of modern-day Istanbul then look at Moda in Kadikoy, which is one of the most prestigious neighborhoods in the city with a bohemian atmosphere, vintage shops, and hipster cafes with bars. Life here is very different from life "in Europe of Istanbul" since there is a blend of traditional Turkish and modern influences.
Moda is now also home to a new huge marina and park which is perfect for early walks and some cool Istanbul restaurants with views.
The ferry ride from Moda to Karakoy or Eminonu is only 20-30 min which means you can be in the center of all events within a short period of time. Since you'll be traveling by ferry, you won't be stuck in traffic, and you will be able to walk for the most part once you are in the visiting area.
Also, Moda is the best place to stay in Istanbul for 4 days if you plan to rent a car in Sabiha Gokcen airport and venture outside Istanbul to see places nearby. In this way, you won't need to pay for the bridge crossing from the European side to the Asian and it will be much easier to find parking.
So, you can confidently choose Kadikoy as a base for your Istanbul itinerary and be sure you'll have wonderful views, a relaxing time while commuting, and decent prices.
NOTE: In order not to experience Istanbul in a negative way, avoid staying in Taksim or right next to it! A lot of people get wrong impression about the city when choosing Taksim area for their first trip to Istanbul.
Accommodation & Areas to Consider
La Vita Suites (mid-budget heritage hotel on the Asian side) – ideal location in Kadikoy where you are next to all famous bars and restaurants and all types of transportation, yet in a quiet neighborhood.
FAMA Karakoy (mid-budget boutique on the European side) – for a wonderful quality-price stay in Karakoy in close proximity to all famous sights.
DeCamondo Galata (upscale yet reasonably priced) – a boutique hotel with a touch of luxury close to Galata Tower and Galata bridge. Here you'll get breathtaking views from the hotel's rooftop restaurant terrace.
Grandma's House (budget authentic B&B) – a cozy guesthouse in Sultanahmet run by a local family in the middle of all main attractions. It is a great option to save money and experience what life in Istanbul is like.
For more options and if you'd love to stay in a quirky accommodation, check my posts about the unique hotels in Istanbul and cheap apartments if you are on a budget.
Best Places to See in Istanbul in 4 Days on a Map
Just to give you a quick idea of what to see and do in Istanbul in 4 days, I highlighted the top sites to visit on a map. However, this is not the full list as there are many more places where to stop (like restaurants, specific street food stalls, hammams that I recommend).
You need to look at each day of this Istanbul 4 days itinerary to have a full picture. These are just the main points of interest to help you understand the route.
4 Days Istanbul Itinerary – Day-by-Day Route & Things to Do
And now I want to finally share my detailed Istanbul itinerary for 4 days. I packed it with a lot of things to do and see. Each day of this itinerary starts early and ends late in order for you to experience as much as possible every day.
I suggest a step-by-step Istanbul itinerary and a specific route but feel free to juggle things around if you feel that's too much and you want to skip some places or slow down in some of them.
Day 1 – Explore Istanbul's Old Town in Detail
On the first day, you will be visiting one of the oldest areas in Istanbul which has lots of famous sites that Istanbul is known for.
This way, you can see and explore all the must-visit places of the Istanbul Old Town, walk the historic streets where sultans and their retinue walked, pop into antique shops, and taste Ottoman cuisine.
I have also created a very specific guide to the Old Town of Istanbul (if you haven't seen it yet) in case you want to explore it in depth and learn more about it.
8 AM – 12 PM: Turkish Breakfast, Hagia Sophia, Blue Mosque & Sultanahmet Square
I assume you arrive early or on a previous day. This is why I start day one of this Istanbul itinerary in the morning and give an approximate time window for the following activities.
I also include breakfast places as Istanbul has some incredible restaurants that serve fantastic breakfasts and you should eat it out at least once during your 4 days in Istanbul.
If fact, breakfast is the king of Turkiye and your first proper meal should be without a doubt in an authentic breakfast place instead of a hotel. Although some hotels even for a mid-budget like Novotel Istanbul Bosphorus in Karakoy or Wyndham Grand Kalamis Hotel in Moda have such an excellent hotel breakfast that it's worth dining there.
So, on day 1 of your Istanbul itinerary, I suggest you eat breakfast in Istanbul's old town in one of the oldest cafes that have a history behind their walls and incredible views. On the first day in Istanbul, it is a great introduction to the city through food.
Some of my favorite places are the authentic Deraliye Terrace and Mesopotamian Breakfast Brunch Cafe. If you want something fancier, a famous instagrammable Seven Hills Hotel Restaurant is in the same neighborhood a few streets away.
No matter which establishment you chose, if you plan to visit during the peak season in Istanbul in late spring or summer and want to get a table by the edge of the terrace to have views to yourself, I recommend you make reservations in advance as these are very popular places.
Plan to be there at 8:30 am to delight yourself with an exquisite breakfast. Be ready to take millions of photos since all these breakfast restaurants offer the best views of the famous Istanbul mosques and old town.
After your breakfast, at around 9:30-10 am, you will start your journey towards the most iconic mosques in Istanbul. Walk towards Hagia Sophia, just a 3-minute walk from each of these restaurants.
Hagia Sophia holds an incredible history that represents the richness of the mix of cultures that inhabited this part of the world. Since it became a mosque, the entrance is free, but you will find some entry requirements, like respect for prayer times and proper clothing. This last note will apply to all mosques in Istanbul.
Across the gardens and in just 5 minutes you will be entering the Blue Mosque. Unfortunately, the mosque has been under construction for a couple of years and not everything is visible, but it is a must-visit for its history, and for the over 20,000 Blue Iznik tiles that cover this beautiful mosque.
On the left of the Sultanahmet Mosque (Blue Mosque), you will walk through Sultanahmet Square. This is where the hippodrome of Constantinople was located.
There, you will see the Column of Constantinople, the Obelisk of Theodosius, gifted by Egypt, the Serpent Column, the German fountain, and most importantly, one of the cleanest public restrooms you will find in the tourist areas of Istanbul. Just keep in mind you need an IstanbulKart (public transportation card) to enter the restrooms.
To see all the attractions on day one in Istanbul, you must make sure you are done with the Sultanahmet square by noon.
It may be very hard as everything is so beautiful, and there are so many monuments in between that will captivate your interest. There are also many Rug Sellers in this area who will try to conversate with you to convince you to go and check their rugs but be strong and keep moving. This is not the place to trust the sellers or to waste time.
12 PM – 5 PM: Theodosius or Basilica Cistern, Topkapi Palace & Harem, Traditional Kebab Place & Baklava
You shouldn't be hungry at this time because breakfast must have been incredibly filling. Make some space and get a simit or corn (the one from the grill) in the area to trick your stomach so you can keep going. Grilled corn in Sultanahmet is especially good and is a good mid-day snack.
There are two cisterns in the area that you should visit – the Theodosius Cistern and the Basilica Cistern.
But on a short visit like 4 days in Istanbul, you may want to visit only one to save time for other things. In this case, choose wisely.
The Basilica Cistern is the most impressive one. They have light shows at specific times and if you want to see them, you will have to plan your entire day around their showing times. Also, you'll find there Medusa heads which are pretty impressive! Who wants to miss those?
However, Basilica Cistern is also the most tourist and most expensive among all Istanbul cisterns. If you want a quiet visit to an incredible piece of art, then Theodosius Cistern should be your priority. I personally prefer the latter one.
45 min-1 hour in one of the cisterns is going to be more than enough. If you go to see it around noon, you'll be done by 1 o'clock.
At 1 pm, start walking to Topkapi Palace. It will take you only 15 min from the Theodosius Cistern and 10 min from the Basilica Cistern.
Here is a very important note
. I am a huge fan of history, so Topkapi Palace was a must-visit for me, I can spend hours there. However, I have personally taken people who aren't inclined to history and their feedback is that they would have preferred to skip Topkapi and take Day 1 a bit calmer or in the second half of the day take a Bosphorus ferry cruise. If you are one of those people, I would suggest that you spend about 1-1:30 hours there or skip it at all.
Whether you come from one of the Cisterns or from the palace, your next stop will be the Last Ottoman Café & Restaurant. To get there from Topkapi Palace, just cross Gulhane Park and you will be there in under a 10 min walk. Plan to eat around 2:15-2:30 pm.
If you are not visiting Cappadocia after Istanbul, you must have the Testi Kebap in this restaurant. It is a traditional kebap from the Cappadocia area which is made inside a clay pot that comes in flames to the table and is broken when served on your plate. If you are visiting Cappadocia, then wait to try Testi Kebap there and instead have any of the casseroles that are traditional ottoman dishes in the Last Ottoman Café & Restaurant.
Do not forget to enjoy your cay after your meal. Take your time, do some people-watching, and recap all your wonderful morning experiences… I also take this time to recover and be ready for the next walking marathon in the afternoon. Also, try to resist getting dessert here and save those munchies for the next stop.
After lunch head to Hafiz Mustafa. There you will try some of the most traditional Baklavas during your stay in Istanbul.
Hafiz Mustafa is the oldest baklava chain cafe in Istanbul and there are quite a few locations around the city. The nearest one to the Last Ottoman Cafe & Restaurant is Hafiz Mustafa 1864 which is a 4 minutes walk. There, let your sweet tooth take control of the situation…
Don't know what to try? Or possibly you have never eaten or really liked baklava before? Me neither. None of the places where I lived or visited have ever had that delicious baklava for sale that you can find in Istanbul (okay, Berlin and Vienna had it just because of a large Turkish community).
In Hafiz Mustafa, you'll discover a totally new taste. Just go with the pistachio baklava or the chocolate baklava with a glass of cay. I felt like I went to heaven for a second during my first visit to Hafiz Mustafa. It is impossible not to go crazy and fall in love with the sweets and desserts they offer.
5 PM – 10 PM (or later): Grand & Spice Bazaars, Night Walk Around Eminonu
By the time you finish here, it should be 4:30 pm, maybe 5 pm if you're like me and want to enjoy your meals and savor every second of them.
Now is the perfect time to visit the Bazaars. If you want to visit the Grand Bazaar and the Spice Bazaar, then first head to the Grand Bazaar which closes at 6 pm. Early evening is a good time to go there since it will be much quieter than during the day with fewer people who usually come to shop in the morning or afternoon.
Afterward, you can visit the Spice Bazaar which closes at 7 pm. The Grand Bazaar is referred to as the oldest and biggest cover market in the world.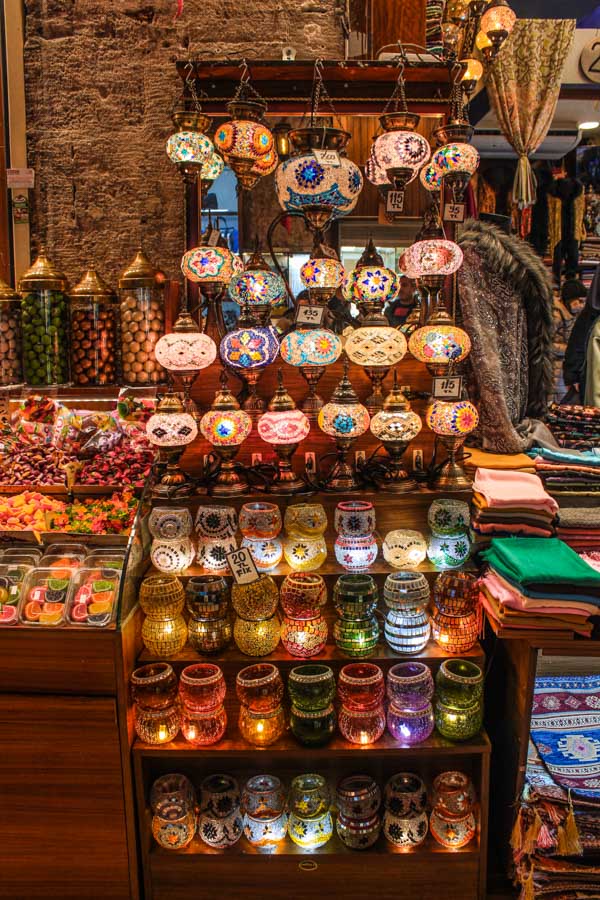 Shopping in any of these bazaars can be tricky as you must know how to haggle for the best price. However, almost everything you find here can be found in any other market, like the one in Kadikoy which you will be visiting on Day 4 and at a much cheaper price.
In my experience, both of these bazaars are really great to visit for an experience rather than for shopping. You can find bazaars in all countries of the middle east (I've been to bazaars in Doha, Qatar and Dubai old town) but none of them are as huge as these two bazaars in Istanbul.
If you follow my advice and choose Kadikoy as your accommodation, then after visiting Grand and Spice bazaars it is time to hop on the ferry that leaves Eminonu Ferry station and head towards the Moda neighborhood. It is just a 9-min walk from the Spice Bazaar or a 12-min walk from the Grand Bazaar.
If you get on it by 7:30 pm or so, you will be able to see the European side illuminated behind you and the big Camlica Tower, which is the telecommunication tower that illuminates the Asian side of Istanbul.
You should be in Kadikoy by 8 pm and ready to have a nice dinner. If not hungry yet, go for a quick walk around Moda streets to see how much life differs here from where you were during the day.
The good news is that Istanbul has ample schedules in the restaurant business, and you can eat at almost any time of the day or night.
For an extravagant experience, I recommend that you eat at Viktor Levi Sarap Evi. It is an inviting and relaxing restaurant in Kadikoy that offers you great appetizers, salads, pasta, and fish dishes. But honestly, their expertise is the wines. They have an amazing selection of local Turkish wines and great history within their walls.
After a delicious meal and amazing wine, it is time to rest because Day 2 of the Istanbul itinerary will be another full day of walking, eating, and enjoyment.
NOTE
: If you chose the Sultanahmet or Kayakoy area to stay while spending 4 days in Istanbul, then after you are done with bazaars, you can go instead to
Balat neighborhood
or take an evening cruise on the Bosphorus (use public ferries if on a budget).
If you prefer to go on a tour, look at these cruises. Some include night shows & entertainment options
Day 2 – See Istanbul From the Water & Explore More of the European Side
9 AM – 11 AM: Bosphorus Ferry Cruise & Karakoy Neighborhood Quick Self-Guided Tour
If you are staying in Eminonu or Sultanahmet (or in Moda on the Asian side), take the ferry in the early morning to reach the Karakoy ferry terminal.
If you have accommodation in Karakoy, then no need to take a ferry (or any other transport) at all. Morning of your day 2 in Istanbul you'll be spending in the Karakoy neighborhood. (By the way, I have a separate guide to Karakoy with lots of things to do there. It is easy to spend a whole day in that area!)
Before getting on the ferry, stop at a simit cart and buy one to go, then on the ferry get a cay or orange juice to have it with. It is one of Istanbul's cultural experiences that you shouldn't miss. Locals love sipping tea with simit or other Turkish pastries while spending time on the ferry on the way home or to work.
Once you get off in Karakoy, you will see some cafes and seafood restaurants along the port. Enjoy the typical Istanbul view of the fisherman at bay as you make your way to Karaköy Güllüoğlu to try another tasteful baklava. This baklava shop is unique, and you should visit this place to see how creative they are in making this traditional dessert.
After this sweet stop, make your way to the French Passage. This is a nice European-style construction with stores and cafes along the passage. There is a store named Kagithane House of Paper. They sell books, notebooks, pencils, and other stationary items made of recyclable products. Outside of the French Passage, there are many cafes and stores along the streets for you to wander around.
Take this time to breathe in the daily life of many locals that work and live in the area.
A few cafes/shops I love in this small neighborhood are Galata Simitci, which has the best simit in the city in my opinion. There is also Bonne Nuit & Willi Wonka chocolate shop and cafe and next to it is Fil cafe where I love to do some people watching while having a coffee or tea.
Not far from them is OPS café Karakoy where you can relax snuggling up with a full-sized teddy bear that is at every table.
11 AM – 4 PM: Galata Tower Neighborhood Self-Guided Walk
Around 11 am make your way to Hoca Tahsin. Here you will find a street with colorful umbrellas hanging above you with alternative bars and street graffiti. This street is quite the spot for great photos. You'll love it as much as I do.
And it doesn't end here. You will find one of the most beautiful stairs in Istanbul by walking only 7 min to the Kamondo Stairs.
If you are looking to get the perfect photo alone, you will be waiting a while as it is hard to have the stairs to yourself. Sometimes, there are musicians playing instruments, which gives it an old Parisian movie feel, full of happy melancholia.
I took these two photos in two different seasons at different times. The first one is on a fall day in the afternoon and the second one in May in Istanbul on Saturday in the early morning. If you want to take photos without people in them, plan to arrive early too.
Once you finish with the photos, head to Galata Tower. However, before you go up this historical tower, you should eat some delicious Turkish food to recharge your energy.
There are two restaurants I highly recommend when in this area, but one of them might not be for everyone.
Canim Cigerim, which translates My dear liver, is a restaurant that specializes in liver meat. It is not any liver, this is Mersin lamb liver. Mersin is a city in the Southeast of Turkiye. The liver is cooked slowly on a stick and on a woodfire and cut into small pieces.
But if you don't think you would enjoy liver, then head out to Galata Kitchen. It is a family home-cooking restaurant that serves traditional dishes. This is the kind of restaurant I love because inside they have all the dishes exposed in a vitrine. It makes it easier to order what you like. Especially when you don't know the language.
Now that you have recharged, you can climb the steps of Galata Tower. The entrance fee is 175 Turkish lira, and it is open from 8:30 am to 11 pm. This is one of those attractions that will always have a lot of people.
By following this Istanbul itinerary for 4 days, you should be arriving there at about 2 pm, which is right in the middle of the day. You can leave Galata Tower for the last activity of the day, just keep in mind, many people will want to see the sunset and that means a crowded tower.
For more information on how to make the most of your Galata Tower climb, read my guide to Galata Tower visit.
If you decide to go at the end of the day, then after lunch, go to the next spot. I will share how to get from our last stop to Galata Tower.
4 PM – 9 PM: Istiklal Street & Taksim Square With a Visit to a Rooftop Restaurant or Bar
Head towards Istiklal Street, the most commercial street in Istanbul. You will walk all the way to Taksim Square, which will be around 25 min. Along the way, you can visit one of the museums such as the Dervish Museum, the Museum of Illusions, The Salt Beyoglu (modern art), Yapı Kredi Kültür Sanat (history).
There are also Catholic Churches not to miss such as Saint Anthony, one of the most visited, and Orthodox Churches, as well as multiple stores and restaurants. You will know that you have arrived at Taksim Square when you see the lively plaza.
In my point of view, Taksim is not really a place where to spend a lot of time but it still should be on the Istanbul itinerary as it is here where locals gather to celebrate New Year's Eve and, throughout the year, for its nightlife and restaurants.
I recommend you visit one of these two places in Taksim Square after you finish exploring:
For more of a fancy experience, make a reservation at Citylights Bar. This rooftop is inside the Intercontinental Hotel and offers a wonderful view of the Bosphorus and many of the attractions you visited on Day 1 and Day 2 of the itinerary.
If, on the other hand, you feel like going to a more relaxed atmosphere after the million steps you took today, then head to Nomads.
It is a restaurant that offers cuisines inspired by the North African, Middle Eastern, Greek, Hatay, and Antep regions. You will be delighted to see the beautiful views of the Bosphorus. Depending on the day/season, you could experience one of the shows they host. Check their website for more detailed information based on your visiting dates.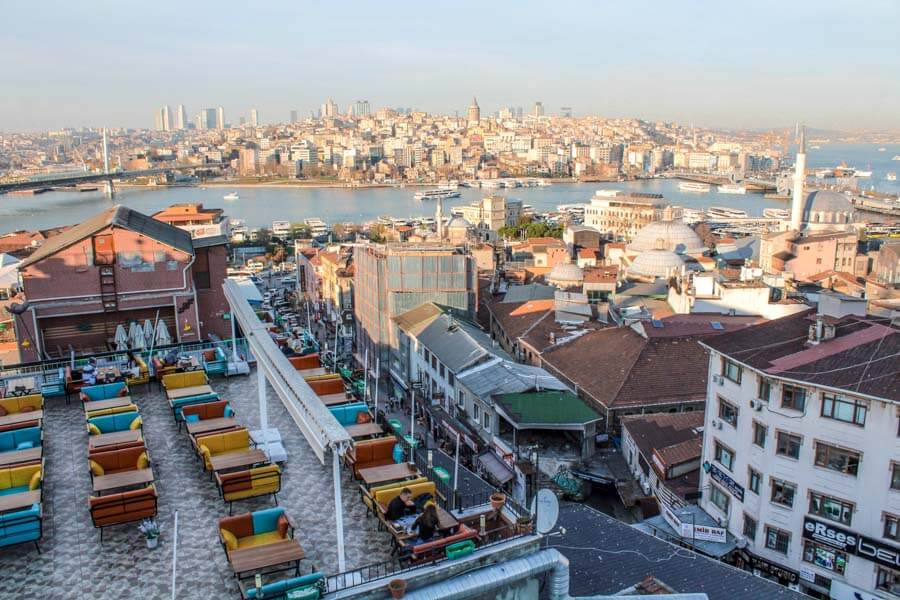 If you decide to go to Galata Tower at the end of the day, then hop on the tram M2, and get off at Sishane station, just one stop away.
Then, you can enjoy an afternoon in the Galata Tower. I'd also suggest going up to Snog Roof Bar to enjoy a drink while seeing the Istanbul skyline.
If you finish your day in Taksim Square, you can take a taxi to the Karakoy ferry station to get on the Kadikoy ferry, or you can take the Taksim Tunnel (tram) that will leave you in Karakoy. From here, just a few steps away you will find the ferry dock back to Kadikoy. If staying in Sultanahmet, you can take a tram from Karakoy.
Here are some action-packed guided tours that bring you to all the places suggested for this day of Istanbul itinerary:
8:30 AM – 2 PM: Quick Visit to Dolmabahce & Ortkoy Mosque
Day 3 of this Istanbul itinerary will be a calmer day, as the first two days have been packed with the most tourist places.
Start your day at Dolmabahce Palace. It will be good if you arrive early. Their opening hours are 9 am-4 pm, make sure you check their website in case of holidays or special hours.
Dolmabahce is the biggest palace in Turkiye and was built to replace the Topkapi palace as the residence for the Sultan and his family. The idea was to build something more modern and lavish than the previous residency. There are gold, precious stones, and baccarat crystal chandeliers throughout the palace. These astonishing buildings and gardens give incredible backgrounds for your photos.
After this luxurious visit, make your way to Ortakoy Mosque. You can take a 33 min walk or take the U2 bus that goes to the Ortakoy area in just 5 stops. (Ortakoy-Kabatas Lisesi is the name of the stop where you need to get off).
The walk is nice since you can make a quick stop in Besiktas and then pop into the Kempinski Palace hotel. Other than that, there is not much to see and the road you'll be walking on is pretty busy. In order to save time for the next two stops, hop on a bus.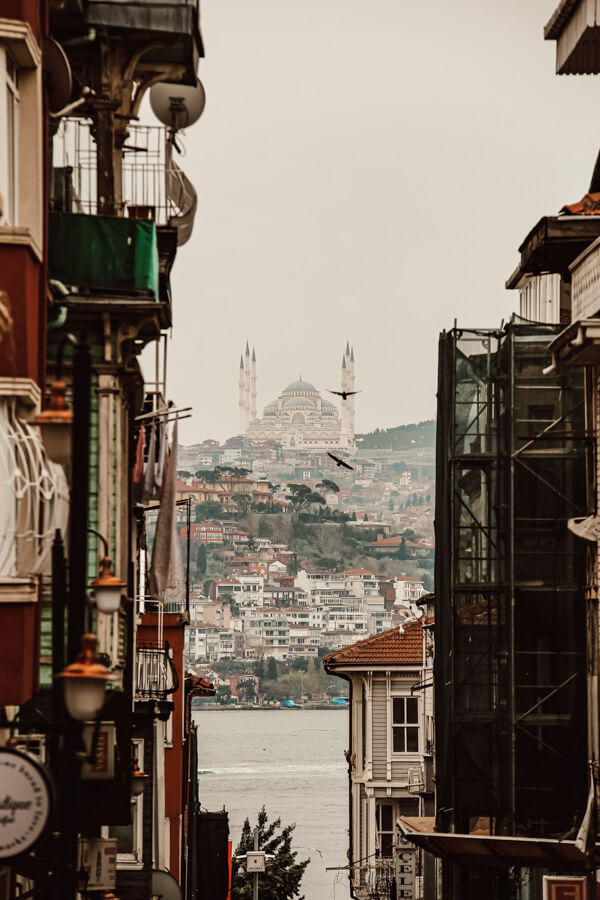 You should be arriving in the Ortakoy area around noon during the best time to try one of the most delish Turkish Street Foods – Kumpir. Ortakoy is famous for this food and those who are on a short itinerary to Istanbul should try it here.
Kumpir is a huge, boiled potato filled with whatever topping you choose. There are probably hundreds of stalls, and they all have Kumpir. Prices and flavors are very similar so any stall will be good.
Grab your potato and sit down by the Bosphorus right next to the Ortakoy Mosque to have lunch with a view.
After Ortakoy, I suggest you spend the rest of the day in one of the most charming neighborhoods in Istanbul – Arnavutkoy. To get there, either walk north along the Bosphorus or take the 22, 25, 40, or 42 bus and get off in Kurucesme or in Kolej.
Arnavutkoy is a dreamy neighborhood, full of character. You will be very happy to spend an afternoon there. Finish your day with a seafood dinner and Raki (a Turkish alcoholic beverage) in one of the local restaurants.
I wrote an extensive blog post with all the history, things to do, and places to eat in Arnavutkoy. Give it a read here and enjoy you visit!
On the last day of your 4 days in Istanbul, I want to suggest for your itinerary one of my favorite areas on the Asian side of Istanbul. If you want, you can have a late start to the day, so enjoy your night on Day 3. There are plenty of places for nightlife in both Arnavutkoy and Kadikoy in case you decide to return early.
Day 4 – Explore Extensively Asian Side of Istanbul
9 AM – 2 PM: Moda Neighborhood in Kadikoy on Foot
It is your last day in Istanbul, so today you can do some last-minute shopping. But also, you are going to relax and enjoy every second of local life on the Asian side.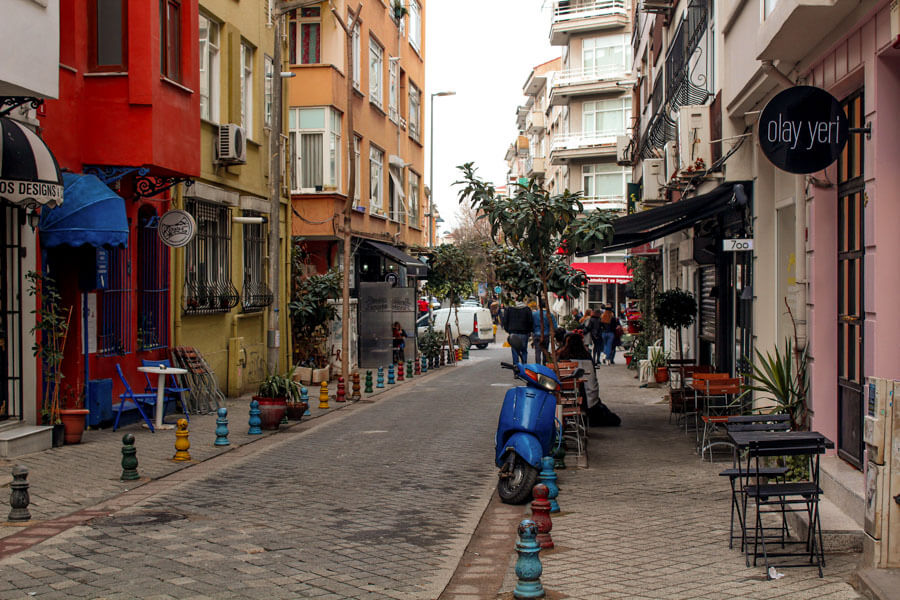 We will start in Kadikoy having breakfast at Naga Putrika cafe hidden between the trees. It is the locals' favorite breakfast place in Istanbul in the Moda neighborhood. They serve breakfasts from different regions of Turkey, so you can choose whatever you like learning about that region through food.
The breakfast will be very filling so after you are done with it walk through the streets of Moda seeing this neighborhood in the daytime (on previous days of this itinerary, I was going suggestions for the evening and night).
On your walk make a stop at Walters Coffee Roastery, a very unique cafe that doesn't seem like that at first sight. This café is inspired by the American tv show Breaking Bad.
Their hot chocolate is delish, but they also have all types of coffee and pastries like croissants and cookies. After visiting it, walk towards the Opera House in Kadikoy.
All the streets you'll be going through are colorful and full of all kinds of stores and eateries. Right in front of the Opera house, there is an ice cream shop called Vitavien. If you are for ice cream in the morning, you will love this one.
After it, walk towards the Bull statue on the main Kadikoy street and take a quick detour to Osmancik Street. You will find another street covered in colorful umbrellas with cute and quaint cafes and restaurants.
The bull statue has an interesting and complicated story. It was made by France after winning territory over the Germans, but then it became German territory again. Then in WWI the Germans and the Ottoman empire were allies and the Germans gifted the bull statue to the Ottomans. The bull went from place to place until it was placed here in Moda. Today it's the center of traffic in Kadikoy and many people come daily to take photos with the bull.
While I think there is nothing really special about this statue, it is still famous and has a history tied to it. So, don't miss it!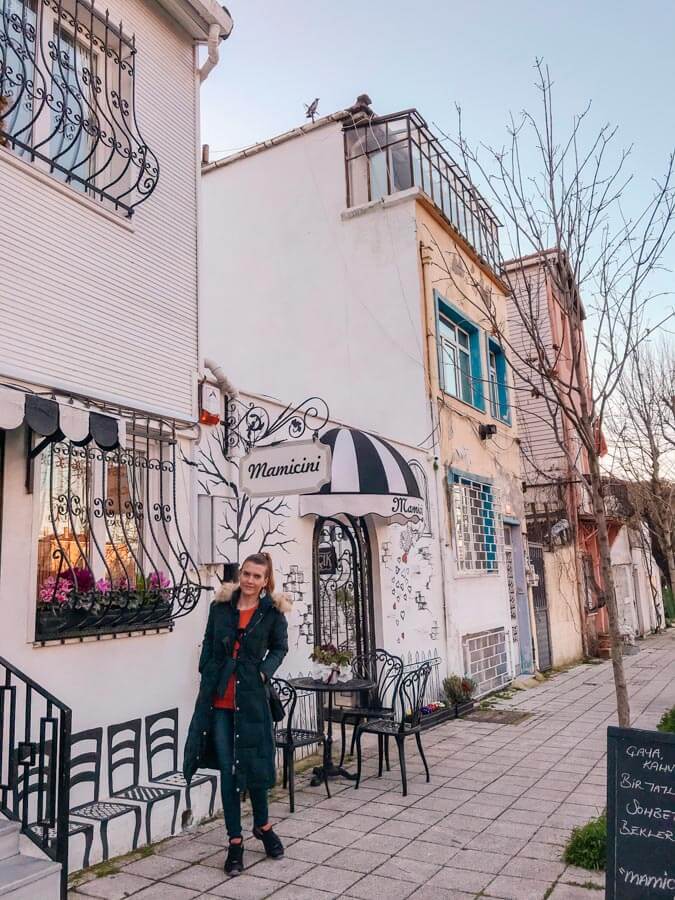 Time to do some shopping at the market street. On Day 1 of this itinerary, I mentioned you can find many things here in this market that you would also find in the Spice Market or Grand Bazaar. Everything from spices to Turkish delights and all different herbs and flowers to make teas back at home. There are also souvenirs, like the nazaar (evil eye) and much more.
The market is on Gunesli Bahce street, and some stores are even on the side streets that cross along the main street. Venture around!
2 PM – 6 PM: Foodie's Experience & Uskudar Conservative Neighborhood
After you have done all your shopping and exploring, head to Ciya Restaurant. There are 3 Ciya's. One specializes in kebaps and two others serve all types of traditional food, and their menu changes daily. You will be able to see the options as they have the food displayed in vitrines inside the restaurant.
So, why visit Ciya?
Well, the chef of this restaurant was featured on Chef's Table Netflix show. There you can see the fascinating story and his passion to maintain the life of Turkish regional cuisine. You might even see the chef walking around between restaurants.
One of my biggest recommendations is to order an Icli Kofte as an appetizer. This is a fried ball filled with bulgur and meat. Squeeze some lemon in it and taste a piece of heaven.
After your delicious lunch, head to the main street and take the bus 12A and get off at Fıstıkağacı. Then, walk towards Fetipasha Korusu to enjoy the park and have a Turkish cay while enjoying the views.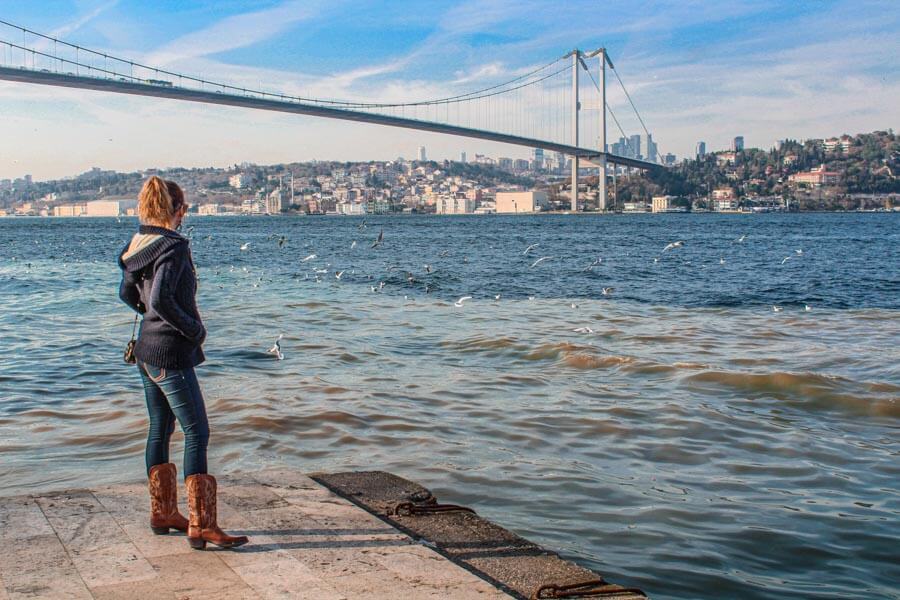 After spending some time relaxing and enjoying the surroundings, you could go to Maiden's Tower, if they are open when you visit. If they are closed, you can still enjoy the view from the park and learn about the legend of the princess who was locked in there by her father.
There are incredible mosques in Uskudar that you can visit too, just remember to wear appropriate clothing so you can visit inside.
This part of the self-guided tour around Uskudar is for you to enjoy local life and see how things are outside the hustle and bustle of the busiest areas of Istanbul. The agenda can vary as you walk around and let yourself wander through the streets of Uskudar.
6 PM – 9 PM: More of Kadikoy & Its Stunning Views
By 6 pm take the bus back to Kadikoy. When you get off, go to a corner store and get yourself something to drink.
Then walk to Moda Park and buy Midye Dolma (stuffed mussels) from one of the street vendors. Pick a place to sit by the water like locals do. Eat your mussels with your beer or any drink you pick while enjoying the amazing sunset over the Marmara Sea or Sultanahmet area in the distance.
After your sunset walk, spend some more time in Moda and get ready to return to your hotel. I guess it's now time to start packing and preparing to leave on the following day as your 3 or 4 nights in Istanbul come to an end.
This concludes your 4-day itinerary in Istanbul. If you follow my tips, you'll be absolutely in love with this city and I know you'll be ready to plan to come back!
For more information about other places in Turkey together with more posts about Istanbul, check my Turkey blog page.
Helpful Tips Before Planning Your Itinerary for Istanbul
1.) Check the Museum Card to save money on entry prices for all tourist attractions. It is a great purchase for someone who visits Istanbul for 4 or 5 days. But if you plan to be a shorter period of time, then read this article to understand if a museum pass will come in handy.
2.) Get your Istanbul Kart and refill it to take multiple ways of transportation.
3.) Avoid the summer months, it is extremely hot, crowded, and uncomfortable to walk around the city.
4.) Always carry a scarf to cover yourself in case you see a mosque that you want to visit.
5.) If you stay in Kadikoy, don't be afraid to wander around at night and enjoy local beers or drinks. Nightlife is safe and fun in Kadikoy.
6.) Be alert in tourist areas for scammers.
Enjoy and come back to Turkiye!
FAQs About This Istanbul Itinerary
From time to time I get different questions about this 4-day Istanbul route from people who got inspired after reading my post. So I decided to briefly answer them here in case you might ask the same.
Is This Four Day in Istanbul Itinerary Good for Travel With Kids?
Absolutely. Just adjust it a bit by removing those bars I recommend and add must-do activities that will delight your children like a visit to Basilica cistern, a boat tour on Golden Horn and Bosphorus (like this sunset Golden Hornn yacht tour or during the day half-day public ferry tour), cable car to Pierre Loti, and of course one of the parks located on main tourist routes like Gulhane Park, Yildiz Park and Moda Sahil Park.
Also, try to avoid choosing accommodation in the Galata Tower area, Cukurcuma, Cihangir, or Taksim. The first three neighborhoods are located on hills, so moving with a stroller will be difficult. Instead, consider staying in the lower part of Karakoy (not far from the Museum of Modern Art), Ayaspasa, Eminonu, or Kadikoy.
Places Must-See in Istanbul in 4 Days
On a four-day trip to Istanbul, must-see sites and landmarks include the Hagia Sophia, Blue Mosque, Topkapi Palace, historic Suleymaniye Mosque, Grand Bazaar (together with Egyptian bazaar if you feel like experiencing more of bazaar culture), Galata Tower (I wouldn't go inside but see it from a near distance), one of the water cisterns (like Basilica cistern for example), and Istiklal Avenue (avoid staying anywhere close to it to avoid all the noise but walk at least part of it).
Among the must-do things in Istanbul in 4 days are the Bosphorus Cruise (use public ferries in any direction or one of these sailing & water tours), exploring the vibrant neighborhoods of the Fatih district like Sultanahmet and Eminonu.
Also, of course, don't miss tasting traditional Turkish cuisine which includes restaurants with Traditional Turkish food, some of the oldest and modern coffee houses, and street food of Istanbul.
One of the lesser-known foodie's activities that I recommend to everyone is the traditional Meyhane experience which is a huge part of Istanbul nightlife.
Can I Use This 4 Day Itinerary for Istanbul Year-Round?
Yes, you can as I do not include any beaches or attractions that would be closed in winter.
The only thing – you'll need to adjust to the weather as winter in Istanbul can be cold and windy (which is why you want to spend more time indoors) or it can be warm and sunny (like one of the winters when I lived there).
If visiting Istanbul in the midst of summer when it's very hot (usually the second half of July and August), then I'd recommend you limit your time under the open sun and include a visit to Istanbul's beautiful parks.
They almost always have incredible views of Istanbul, always some type of tea house with Turkish food, fountains, and playgrounds for children. Some are even located by the Marmara Sea or Bosphorus which guarantees a breeze and escape from the hot weather.
Resources You'll Need for 4 Days in Istanbul Trip
---
Did you like this itinerary? I can create any other specifically tailored to your needs route for Istanbul and anywhere else in Turkey. If you need help with Istanbul itinerary planning, get in touch and let me know! I'll be happy to plan your trip!