7-Day Turkey Itinerary – My Top 4 Routes for One Week Trip to Turkey
Last updated on October 27th, 2023
Finally, I made my sample 7-day Turkey itinerary routes as you guys asked.
Lately, I have been receiving many emails from people asking me to help them plan a 7 day trip to Türkiye as they have only one week in Turkey and want to see as much as possible without missing important sites.
At first, I was responding something generic saying that everything depends on your travel goals and what in particular you seek to do as Turkey is a huge country with so many attractions and places to visit in a week.
Thanks to its geographical location and historical influences it has been home to many different empires and civilizations that left their mark on the rich and diverse cultural heritage. This is why every region is different from another one and has its own characteristics and offers different in nature activities.
However, while all of this is true and you do need to decide what to focus on when traveling in Turkey, I still get that planning an itinerary can take a lot of effort, and often times you just need someone (who knows the area) to give you tips on how to structure your trip.
So this is what I want to do today. I want to share my top four different Turkey itineraries that are excellent for 7 days in Turkey vacation and fit many travel styles.
After brainstorming a bit, I came up with routes that will be good for people who want to spend their time on a combination of things – seeing some major ancient sites, hitting up the beach, catching sights of travertines in Pamukkale or hot air balloons in Cappadocia and of course exploring the streets of Istanbul city. One of my 7 day Turkey itineraries below also includes some hidden gems and secret spots in Turkey!
So scroll down and see them in detail. If needed, adjust them to your own pace and length of a trip. You can even combine them in 10 days in Turkey itinerary or 2 weeks in Turkey. Or, another option, if you are short on time – just skip some days and turn one of these routes into 5 days in Turkey itinerary!
And then if you need more inspiration for a Turkey trip, see my long list of posts on my Turkey travel blog page. I based them all solely on my own experience after living in Turkey for almost 2 years and now returning there for a few months every year as I love this country with all my heart!
One more thing to add – if you need help with designing your own unique 7 day, 10 day, 2 weeks, or one month Turkey itinerary, don't hesitate to get in touch and let me know.
I can create any type of itinerary for you based on your wishes and budget where you can travel with a guide or on your own, visiting lesser-known areas or/and must-see tourist sites. Helping others plan their dream holiday in Turkey is now one of my favorite things to do!
---
Please note: This post contains affiliate links. I may earn a commission if you make a purchase by clicking a link (at no extra cost to you).
---
Resources You'll Need to Plan a Turkey Itinerary
Now, after you got an idea of where to go and places to add to your 7 or 10 days in Turkey itinerary, you can start planning your trip! When doing so, don't forget the following:
Is One Week in Turkey Enough Time?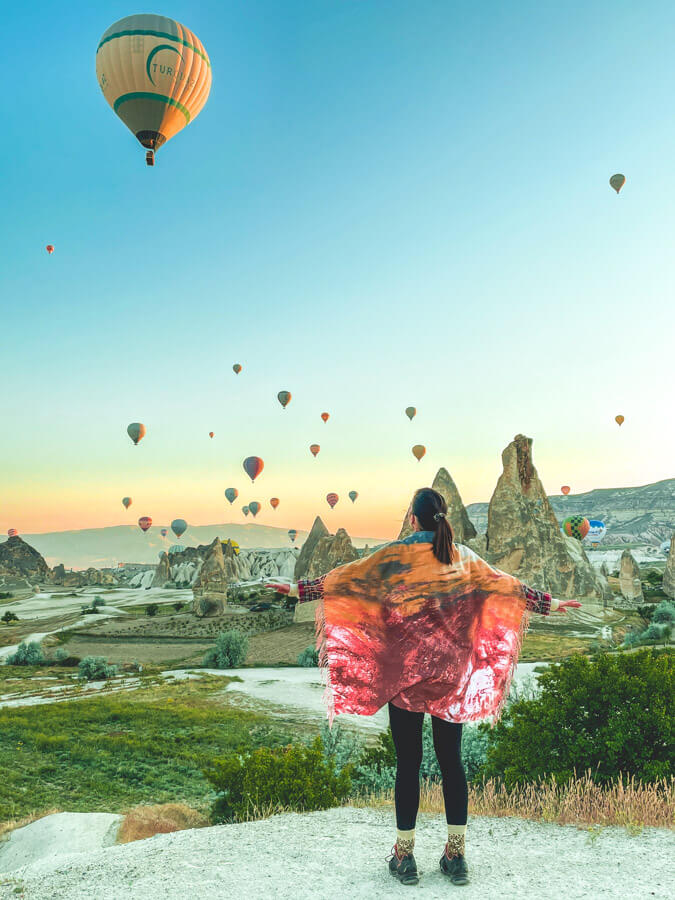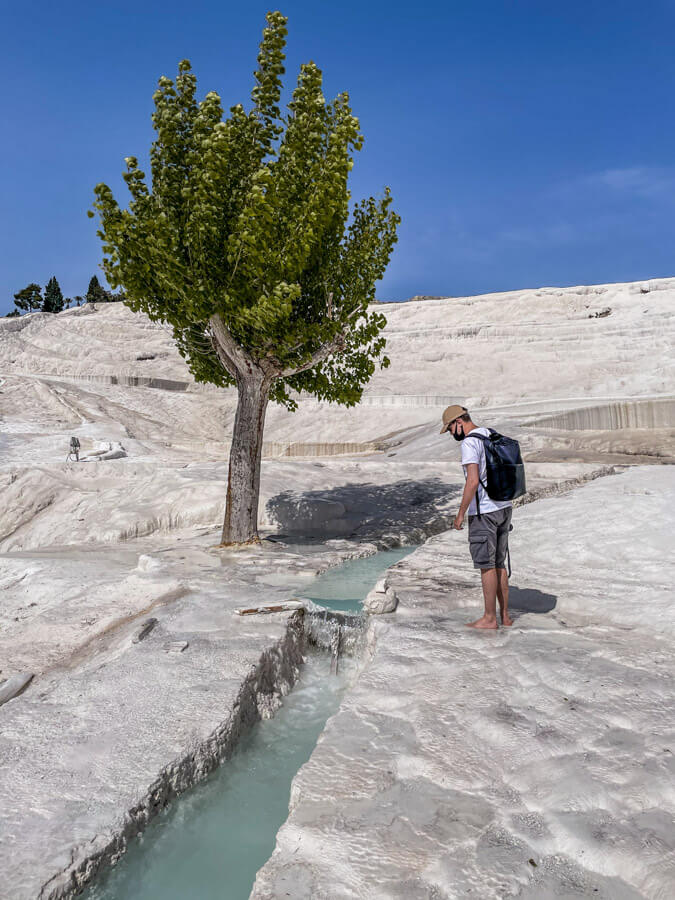 Before I jump to my list of a week in Turkey itineraries, let me answer another common question on whether 7 days in Turkey will be enough for your trip.
Generally speaking, no, one week in Turkey is never enough. Although it can be possible to plan 7 days in Turkey when you get to see at least some major sights and get an idea of what this country is like.
The fact is that Turkey is huge. Thanks to its location, it is blessed with different climatic zones, four seas, and favorable conditions for travel. Thanks to the rich history and diverse nature, the number of landmarks and scenic spots is endless.
I'd say that even 2 weeks in Turkey is not enough time to experience totally different corners of Turkey with varieties of foods, tons of activities, and interesting places.
But again, not enough doesn't mean it's not possible. If you have only 7 days to allocate to your trip to Turkey, depending on what you want to do and see, it is still possible to create a perfect itinerary tailored to your needs.
Just keep in mind that you may need to prioritize and exclude many famous Turkish cities and top destinations from your itinerary in order to have quality time in the country. Otherwise, you'll just end up hopping places, commuting from the airport, and spending more time on the road than actual sightseeing.
But with one of these 4 sample Turkey itineraries for 7 days you will spend a week in Turkey qualitatively.
7-Day Turkey Itinerary – 4 Sample Routes
Itinerary #1: 7 Days in Turkey to See Main Sights
I want to start my list with an introductory one-week Turkey itinerary which is great for people who are visiting the country for the first time, having just 7 days at their disposal, and wishing to see the main sites that Turkey is famous for.
By 'main sites' for the first visit I mean Istanbul and Antalya, Pamukkale, famous (and beautiful) beaches as well as some quiet Turkey beach towns, and of course one of the best-preserved ancient cities in the Mediterranean – Ephesus. There is also one of the oldest mosques in the world and a lovely wine village!
This itinerary also suits well families with children as all places are kid friendly.
ISTANBUL – IZMIR – EPHESUS – SIRINCE – KUSADASI – PAMUKKALE
With this 7-day route, I suggest you plan to arrive in Istanbul as it is the must-see city perfectly connected with the rest of the country. There, you can first learn about modern-day Turkey and its history during the Ottomans, get a good introduction to Turkish cuisine and first impression of the Turkish way of life.
This itinerary in itself is ideal for a trip to Turkey from mid-autumn to late spring. Although when visiting Turkey in winter and using this route, you may want to skip Sirince as most places of interest will be closed from December to February. Visiting Ephesus in winter is wonderful as you'll have the entire place to yourself.
Those who plan a vacation in Turkey from the second half of May to September can also add 3-5 days to this itinerary and go to one of the beaches on the Turkish Riviera.
Before you read on and dive into details, I want to tell you straight away that this itinerary is jam-packed with lots of activities and requires you to wake up early and go to bed late. If you feel that's too much and this pace is too fast, just adjust it to your own needs by skipping some places.
Highlights of this Turkey Itinerary:
So, here is a quick overview of a 7-day trip to Turkey that includes Cappadocia and Pamukkale with the arrival city of Istanbul.
Day 1-3: Istanbul city and Surroundings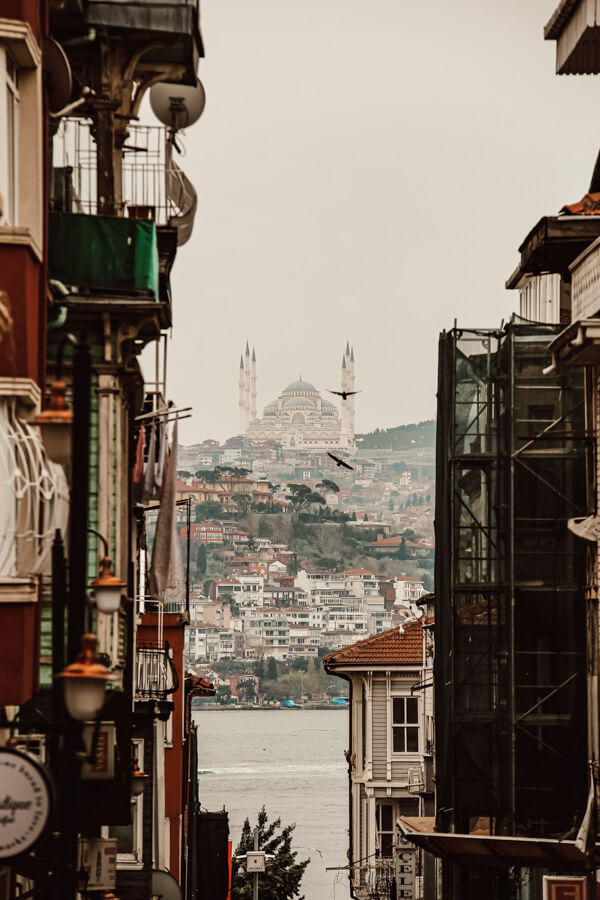 Try to arrive in Istanbul early, so as not to lose time on the first day. Spend 2 nights in Istanbul (it is better not to stay in distant neighborhoods like Nisantasi or Arnavutkoy for example) and leave to Izmir in the evening on the 3rd day or stay 3 nights and leave early on the 4th day.
Spending 3 full days in Istanbul is a good amount of time to walk around both the European and Asian sides, go on a walking tour and fall in love with this city.
In fact, Istanbul is one of the best cities with the biggest variety of incredible walking tours. Don't miss a chance to join one especially when on a short visit. And if short on budget, go on a free walking tour with one of my favorite companies.
Don't skip the famous mosques and palaces (like Hagia Sophia mosque, Blue Mosque, Topkapi and Dolmabahce Palaces), learn more about the history of the Ottomans through a self-guided tour of Sultanahmet, have a cruise on the Bosphorus, climb the Galata Tower, and taste street food and visit local markets.
If you like going off the beaten path, then plan your itinerary in that way where you can also visit the Arnavutkoy neighborhood and Fener with Balat, and soak in one of the authentic hammams.
To help you plan your perfect 3 days in Istanbul itinerary, you can use more of my resources (all built on personal experiences only):
Day 4-5: Izmir-Ephesus-Sirince
On this day, plan a flight to Izmir (unless you want to fly in the evening of the previous day), the capital city of Izmir province which holds so much to offer to a traveler. Izmir is a port city in western Turkey with the most liberal approach and often a luxurious way of life.
While Izmir city on its own doesn't have many sights to offer, it is a gateway destination to beautiful towns by the sea with crystal clear waters, wineries, scenic routes for drives, and some famous ancient landmarks with historical importance.
Since you have only 7 days in Turkey, I recommend you pause in Izmir city only for a day and check its main sights like Konak Square with the Clock Tower, Kemeralti Bazaar, Alsancak neighborhood with trendy cafes and bars, and Asansor a historic elevator from the year of 1907 that today offers a lovely panorama of the city.
Make sure to add to your itinerary a trip to a traditional restaurant where you try Izmir-style sis tavuk (chicken kebab), kumru sandwich made with a soft bread roll, cheese, tomato, and Turkish sausage 'sucuk', and Izmir-style köfte made with ground beef or lamb and served with tomato sauce and often accompanied by pilaf or potatoes.
On the following day, head straight to Ephesus Ancient City, an archaeological, one of seven wonders of the ancient Roman and Greek world. There, visit the Temple of Artemis, the Library of Celsus, and the Temple of Hadrian.
If you have a driver's license, rent a car in Izmir (this is one of my favorite companies which offers very good car rental prices in Izmir and works best if you want to pick up a car in one location and drop it off in another one).
In this way, with a car, you can also drive to the House of the Virgin Mary located nearby, then to a beautiful Sirinci village notable for its fruit wines and Greek-style architecture.
After visiting Sirince, head out to Kusadasi, known as one of the best places for an inexpensive beach holiday in Turkey. Kusadasi is surrounded by impressive ancient temples, idyllic villages, and ancient mosques. Its long sandy beaches captivate from first sight as well as its year-round very beautiful sunsets.
I recommend you spend a night in Kusadasi before going to Pamukkale. Stay in Ilayda Avantgarde Hotel which combines an excellent level of comfort, an unbeatable location, and beautiful views. And then if you are on a very tight budget, consider Ephesian Hotel Guesthouse in the city center.
Day 6-7: Kusadasi-Pamukkale
If you are using this Turkey itinerary for summer travel in Turkey, then don't miss a chance to spend a day on one of the beaches in Kusadasi and Dilek National Park with a mix of pebbly and white sand beaches with blue water. And at the end of the day hop on a flight to leave for Pamukkale.
Outside the summer, it is still nice to visit Kusadasi in spring and fall as the town continues to live life with fewer tourists. During these two seasons, you can stay in a beautiful hotel with Mediterranean views on a budget, enjoy the nightlife on the Bar street, and shop at the Bazaar since Kusadasi is home to several bazaars with excellent jewelry, leather goods, and Turkish textiles.
But if this is not your cup of tea, then just leave the Kusadasi area earlier and head to Pamukkale which is very interesting to visit in winter.
You can always drive from Kusadasi to Pamukkale too (which will be around 3 hours) making a stop in Aydin which is home to one of the most interesting archaeological museums in Turkey and the unique Ottoman Süleyman Bey mosque from 1683.
If you fly to Pammukale (the airport in Denizli), arrange a transfer to go to the Pamukkale area or rent a car and go on your own.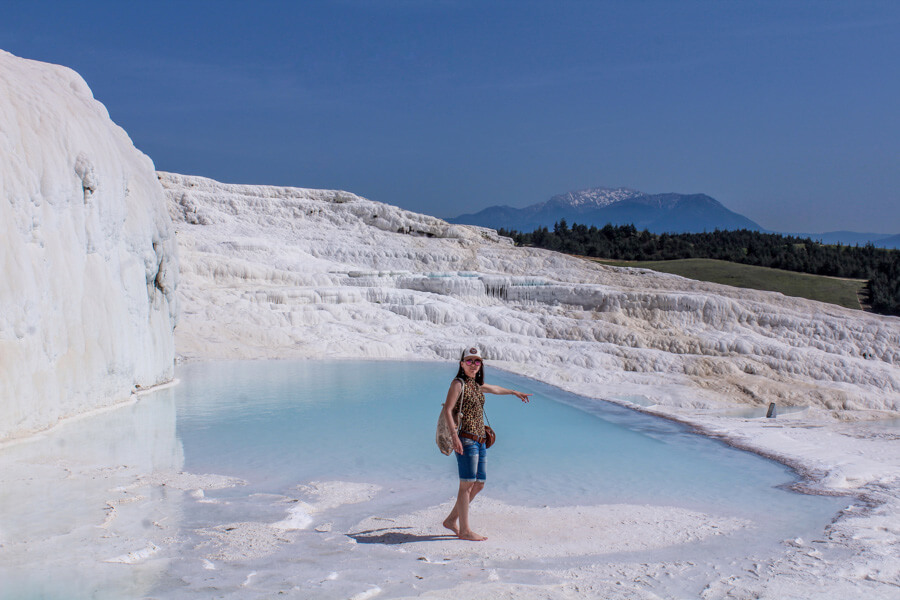 With a rental vehicle, you have the option to make a stop at a unique location Kaklik Cave and see underground travertines which are one of a kind in the world. Compare prices of car rentals directly in Denizli to see if there are good deals. Depending on the season, there can be quite a few of them.
In Pamukkale alone, you'd want to have at least 1 full day to be able to see the Travertines of Pamukkale, antique pool, and not-to-miss Necropolis of Hierapolis. But if there is more time left, pay a visit to the ancient city of Laodicea and soak in one of the natural springs in Karahayit.
And then if time allows and you want to change the route on the 5th day of your itinerary in Turkey, drive to Antalya from Pamukkale or return back to the coast to the Marmaris and Dalyan area.
If you need a recommendation on places to stay in Pamukkale, take a look at a Melrose House hotel within 5 minutes walk from the center and Pamukkale travertines. It is the only 4-star hotel in town. Although my favorite will be always the Venus Suit hotel where I stayed on a special occasion and had such a wonderful welcome, not expecting it from a 2-star hotel.
Looking for the Pamukkale guided tour instead of going on your own? Take a look at these famous tours with high ratings:
Itinerary #2: One Week Istanbul Pamukkale Cappadocia Itinerary
This route starts in Istanbul and ends in Cappadocia, from where you can either return to Istanbul, go to the coast, extend your 7 days in Turkey to 10 days or 2 weeks, or leave the country.
It is the most common itinerary for the first trip to Turkey for people who are short on time. If you are up for lots of city tours, foodies experiences, and amazing landscapes, then get ready, this itinerary will cover a lot of interesting places!
I am including an optional detour route if you feel that 7 days for these 3 destinations is too much time for you and you want to add something else.
ISTANBUL – PAMUKKALE – CAPPADOCIA

Highlights of this Turkey Itinerary:
Day 1-4: Istanbul
For this trip, you can use the same ideas and posts that I mentioned above in a previous itinerary. Or just replicate my 4 days in Istanbul itinerary with a very detailed route and step-by-step suggestions.
Day 5: Pamukkale
In the early morning, fly from Istanbul to Denizli from where reach Pamukkale by private transfer or public bus. The entire trip from Istanbul to Pamukkale should take around 2 hours which leaves you plenty of time for travertines, hot springs, and some adventures like paragliding experience for example.
Stay overnight in Pamukkale and leave early for Cappadocia. Or fly out in the evening to be able to wake up on the following day to the magic of balloons and fairy chimneys.
Day 6-7: Cappadocia
For this one week in Turkey itinerary, I decided to put Cappadocia at the end of the trip. Why? Just because I believe with it, you'll have a touch of romance and a beautiful magical ending to your journey.
With Cappadocia, you have to plan your days smartly as there are many must-visit places (equally important) and beautiful experiences to have.
If you plan to join a hot air balloon flight then make sure to book it in advance as balloons are weather dependent. This is part of the reason why you'd also want to come to Cappadocia from Pamukkale on the evening of day 5. If in the morning on day 6 your balloon flight gets canceled due to weather, the company will move your reservation to the following day.
This is an official flight in Cappadocia that includes pick up and drop off at the hotel and light snacks.
However, if you are afraid to fly like me then just plan your early morning of day 6 or 7 on visiting spots perfect for watching hot air balloons in the sky and taking some incredible photos with them in the background.
If you are visiting Cappadocia for the first time, plan to make a base in Göreme or Uçhisar as it will allow combining a stay in one of the cave hotels with morning views of the balloons soaring in the sky.
During the day, don't miss a walk around these towns, go on at least one hike in one of the valleys (most dramatic hiking trails are in Rose Valley, Zalve Valley, and Ihlara valley), explore cave churches and monasteries, and find out how the first Christians lived persecuted by the Roman Empire.
Then visit an Open Air Museum, Pigeon Valley, Uchisar Castle, and try your talents in pottery in one of the local workshops (just like in these photos below).
2 days in Cappadocia is not enough to experience everything that this region has in store for a traveler. To have a more meaningful experience, you can rent a car (read my guide to car hire in Cappadocia) or pre-book travel with a guide. In this way, you'll cover more in less time and learn more about the region.
Also, if time allows, try to add to this itinerary a tour of one of the underground cities. This present tour includes a trip to the largest underground city with 8 floors down where 4 of them are available for visitors!
Looking for the Cappadocia guided tour instead of going on your own? Take a look at these famous tours with high ratings:
Optional Extra Detour: Konya or Mersin
Two very different cities with distinct contrasts in terms of culture, geography, and tourism options. Although both are tremendously interesting and stay off the beaten path in Turkey. If you are ready to shorten your Istanbul Pamukkale Cappadocia itinerary or have more than 7 days in Turkey, then going to Konya or Mersin will make the end of the trip unique.
To help you choose which city is better to add to an itinerary, let's look at it in this way (and at two photos below that show Konya and Mersin):
Konya is ideal for those who are interested in history (as it was the capital of the Seljuk Empire), culture (it is home to many religious sites such as for example the Mevlana Museum, Sırçalı Medrese open-air school for the study of Islam, and the Alaeddin Mosque), and spiritual traditions (like watching dervish dancing is the most authentic here).
At the same time Mersin is a great destination for those who want to relax by the sea on one of the beautiful beaches, do water sports, and enjoy the beauty of the Mediterranean coastline. It is even possible to extend your itinerary for a few more days and stay in an all-inclusive hotel. There are not many of them in the area but those that are built offer lower prices compared to nearby Alanya.
If you choose Konya and wish to stay there overnight, take a look at my favorite Hich Hotel Konya, a refurbished old house that has lots of history behind its walls and is right next to the Mevlana museum. In Mersin, that's Divan Otel by the coast with all-inclusive packages.
Reaching both Konya and Mersin takes around 3 hours by car, so you can visit them by rental vehicle or even by early bus if you feel that flights exhausted you too much by this point.
Itinerary #3: One Week in Turkey for Beaches & History
And with this 1 week in Turkey itinerary, you have a great chance to combine a beach vacation with some natural landmarks and ancient sites, and even stay overnight in one of the gorgeous all-inclusive hotels.
Since I included only those destinations that are conveniently located on a scenic stretch of land, I highly recommend you rent a car and cover this 7 day route by vehicle. You can even rely on one of my huge road trips from Fethiye to Antalya to see more places than I mention below.
Although don't worry, even if you don't feel like renting a car is your thing, you can always catch a flight between cities if you feel like skipping some places in between them.
Although those who are afraid of flying and don't intend to rent a car can use this itinerary also. As bus trips between cities are short and nice. On some stretches of the road, you'll even get to admire gorgeous coastal views.
This trip below covers more ground and is an excellent introduction to the Mediterranean coast of Turkey.
DALYAN – MARMARIS – FETHIYE – OLUDENIZ – ALANYA – SIDE

Starting point is Dalaman airport as it is well connected with many cities in Europe and almost every city in Turkey and from where it is easy to start this itinerary slowly moving south. However, you can turn it around and fly to Antalya airport and start your trip from there.
This itinerary is ideal for a trip to Turkey from April to November and can be easily done by bus, flight/bus combo, or solely by car. However, remember that July and August are the hottest months and you need to plan your days accordingly to avoid visiting open-air places during the day not to get heat stroke.
The entire route between all the destinations mentioned here is so scenic that you may want to consider renting a car at Dalaman Airport for the whole trip. Compare prices for a car rental from locals and directly at the airport from international suppliers.
It will suit perfectly people who love active travel but still want to hang out on beaches together with seeing Turkey's major points of interest.
Just like my previous route from Istanbul, Dalyan to Alanya itinerary is also packed with many points of interest. So if that feels like too much, just omit some places and pick those that you prefer more.
Highlights of this Turkey Itinerary:
Day 1: Dalaman-Dalyan
On the first day of this 7-day Turkey itinerary, after arriving at Dalaman airport, I suggest you head out first to a unique city Dalyan known for its natural scenery, mud baths, Caretta turtles, river with endless lagoons, and ancient city Kaunos.
It is easy and quick to reach Dalyan by dolmus shared taxi, private transfer, or rental car. In fact, if you rent a car, you can cover much more as there are other places to visit in the area accessible by car only. Some of them are on the Koycegiz lake and around Pinar village.
To find out about the full Dalyan itinerary as well as about what to do in the area, refer to my guide to Dalyan and above.
One day in this city is not enough but that is a good amount of time to get acquainted with local natural beauty before transferring to Marmaris.
To spend a night, consider 8 Oda Marmaris hotel to stay in the heart of the old town of Marmaris or the TUI Blue Grand Azur all-inclusive hotel right by the beach.
And check car deals for Dalyan from one of my favorite companies. They always offer the lowest prices in Dalaman airport among all aggregators:
Day 2-3: Marmaris
Marmaris is atypical Turkey that attracts tourists not with all-inclusive resorts, but with an amazing fusion of Greece and Turkey, never-ending fun, and always relaxing atmosphere. Unlike nearby Bodrum, Marmaris is cheaper and that's why suits well budget travelers.
It is worth devoting at least 2 days to Marmaris as besides the beach vacation, there is a lovely old city with white and blue houses, alluring cafes, cats sleeping in tubs of flowers, a fortress, and a cozy marina with expensive yachts. Visiting Marmaris reminded me so much of southern Spain on the stretch between Malaga and Valencia.
Once there, check out the famous Cleopatra Beach with crystal-clear waters and white sand. Also make sure to explore the marina, one of the largest in Turkey with lots of water activities, including sailing, diving, and fishing.
Visit Marmaris Castle built in the 16th century by the Ottomans with stunning views of the town and sea. And in the evening enjoy a drink or meal at one of the many cafes and restaurants there.
One of the highlights of the Marmaris itinerary is a boat trip. There are plenty of boat trips available from Marmaris, including day trips to nearby islands and bays where you'll find the best beaches. You can also take a sunset cruise and enjoy the stunning views of the coastline from the water.
Day 4-5: Fethiye-Oludeniz
On the third day of this itinerary, I offer you to leave Marmaris and move on to the next destination which is Fethiye and the beautiful lagoon of Oludeniz. By car, it is less than 2 hours drive and you can make stops in places that you haven't visited yet on the first day when following my Dalyan travel guide.
In Fethiye, you can walk along the long promenade, pop into shops in the city center, and of course see the famous rock tombs of the ancient city of Telmessos and the amphitheater. Or just stay on the beach of Calis sunbathing and swimming all day long.
However, if you have a car, I'd better suggest you drive around the Fethiye peninsula stopping at various scenic spots and hidden beaches. Like this scenic area here or Kuleli beach here for example.
Devote the fourth day of this 7 day Turkey itinerary to Oludeniz, a small village with one of the most beautiful beaches in Turkey with blue waters, white sand, and stunning views of the surrounding mountains. Its blue lagoon, which is a protected national park in Fethiye, is a reason why you'll want to spend the whole day there.
But don't miss an opportunity to jump back in a car and drive to the Butterfly Valley viewing platform to take a look at the valley from above.
Spend a night in a Casa Margot hotel in the old part of Fethiye for a luxurious experience on a mid-budget with gorgeous views, an infinity pool, and deluxe rooms.
If using this Turkey itinerary in spring or late fall and visiting the Fethiye area, instead of the beaches, you can go on a small trek to the abandoned Greek city of Kayakoy and the ruined monastery of Af Kule.
Places not to miss in the Fethiye-Marmaris region if you don't plan to rent a car:
Day 6-7: Alanya-Side
If you are not tired yet from all the places that fill the above 4 days itinerary of Turkey, then continue a journey to the southern coast and get acquainted with different scenery and beaches.
Alanya and Side are both historic destinations that boast a rich cultural heritage in the form of ancient sites. In Alanya, they are the Alanya Castle on a rocky peninsula overlooking the Mediterranean Sea with stunning views of the city and coastline and Red Tower, a 33-meter-high tower located near Alanya Castle, which is a museum now that houses exhibits on Alanya's history.
In Side, there is this splendid Aspendos Theatre, one of the best-preserved ancient Roman theaters in the world. It was built in the 2nd century AD and is still used for concerts and performances today. Other places of interest are the Temple of Apollo with its well-preserved columns and friezes, Side Museum, and ancient Agora, well-preserved ruins that were the commercial and social center of the city in ancient times.
If you are visiting in the midst of summer in July and August when the weather is unbearably hot, the best option would be to join a tour to see these ancient landmarks. With the tour, you can make sure you'll travel in comfort during the morning or evening hours and get a ride directly to the attraction.
An alternative to that is just to choose a nice all-inclusive hotel where to relax for 2 days after the 4 days of active sightseeing or go for a day to a green lake where to cool off and swim in cooler waters.
Overall, Alanya and Side offer a wealth of ancient sites to explore, from castles and temples to theaters and temples. By adding these two destinations to your Turkey itinerary, you gain a deeper understanding of Turkey's rich cultural heritage.
Itinerary #4: 7 Days Turkey Itinerary in Winter
And here is a quick itinerary suggestion for 1-week travel in Turkey in the winter season. Since beaches will be out of the topic and many towns along the coast will be pretty empty, you won't be able to use my itinerary#3.
However, it is very possible to use the Istanbul Pamukkale Cappadocia itinerary as both Pamukkale and Cappadocia in winter are magical. But here is an alternative 7 day in Turkey itinerary#4 that you can replicate for December-March travel.
ISTANBUL – YALOVA – SAPANCA – ANTALYA – CAPPADOCIA

Day 1-2: Istanbul
Day 3: Yalova hot springs / Sapanca
Day 4-5: Antalya city
Day 6-7: Cappadocia
So, if you are visiting Turkey in December, January or February, consider arriving at first in Istanbul for a day or a couple of days from where you can continue a journey. Winter in Istanbul is an excellent season for indoor activities, such as museums, hammams, Grand Bazaar, art galleries, and of course restaurants.
Don't skip a food tour as many guides in winter switch to a winter program where they do a restaurant crawl. But don't stay in Istanbul for too long. Better head out to its surroundings to experience activities that are not as pleasant during the hotter months. Like Yalova town with its hot springs and wellness hotels.
The easiest way to get there is by ferry from Yenikapi port terminal which takes approximately 1 hour and 15 minutes. Once you arrive at Yalova port, take a taxi or bus to the city center. Another option (most convenient) is to go by car via the O-7/O-5 highway (however, there is a toll bridge over the bay) and arrive in about 1 hour and 30 minutes, depending on traffic.
In this way, if you have a car, you can also go to Sapanca town on the lake, surrounded by green forests and scenic countryside. Sapanca is famous for several wellness centers and spas that offer a range of treatments, including massages, facials, body wraps, aromatherapy, hydrotherapy, and reflexology.
The most popular ones are NG Sapanca Wellness & Convention and Dreamspa at Radisson Blu. But it is possible just to rent a cabin on the lake and have a relaxing getaway. In winter, Sapanca usually gets snow, making the landscapes change.
From Sapanca, it doesn't take a lot of time to return back to Istanbul, particularly Sabiha Gokcen airport from where you can fly to Antalya for a couple of days and then to Cappadocia.
Antalya in winter lives its life to the fullest and is a nice destination to visit as there are still many places open despite the colder weather. Old town Kaleci, popular Antalya museums, and even food and biking tours are all available for tourists in winter and make up a good reason to travel to Antalya from December to March.
Turkey Itinerary 7 Days Budget
Turkey travel budget for a 7-day vacation will depend on several factors, including your travel style, the itinerary you pick, time of the year when you travel, and the level of luxury you're looking for.
You should look at my post about the prices in Istanbul which I update regularly as it gives a good understanding of how much things cost in Istanbul. Prices around Turkey are very similar.
If traveling in the peak tourist season and planning to go to beaches, expect to budget at least $80 per day for two people. This amount will include a stay in a mid-range hotel, street food together with restaurant dishes, transportation, and some attractions.
The cost of activities in Turkey varies and prices fluctuate a lot. Most museums and historical sites cost around $5-$10 per person, while a hot air balloon ride is between $150-$200 per person, and a historical Turkish bath experience is between $50-$100.
The Last a Few Words on 7 Day Turkey Itinerary
There are truly many different ways to spend one week in Turkey that would make the best vacation ever. However, listing them all would require much more time than writing a book.
This is why I wanted to share 4 main routes that give a good introduction to Turkey and are packed with lots of activities. If you feel you want something specially tailored for you personally, send me a message with details, and let's talk!
After spending years in Turkey and now returning there each year, I know so much about this country and am happy to help others plan their perfect itinerary!
More Posts to Extend Your 7 Days in Turkey
I have a lot of posts on Turkey (and adding up more each month!), so make sure to check them all out if you plan to travel longer than 7 days: