Should You See Ulvik On The Way From Bergen To Hardangerfjord?
Last updated on June 11th, 2023
None of us knew anything about Ulvik when planning a trip to Norway. We were going to housesit in Bergen, so the first thing we knew we wanted to do was to see fjords. And the first one on the list was Hardangerfjord.
The plan was to do panoramic hiking, have an adventure in the Trolltunga area, visit Odda, get to a glacier, and experience some other exciting things.
But, Ulvik wasn't on our radar.
Until the moment when we needed to find budget accommodation for a few days on the way from Oslo to Bergen and later when driving from Bergen to Hardangerfjord.
I swear, we would never discover Ulvik for ourselves if it wasn't for budget accommodation, or in other words for Couchsurfing. But in this post I am not going to sing an ode to Couchsurfing, so keep reading.
You see, to save on our Norway adventure, we decided to rent a car in Gothenburg, Sweden (yes, it was cheaper) and drive all the way to Bergen with stops in Oslo and Hardangerfjord area.
Since we were traveling on a tight budget (especially tight for Norway) staying in a hotel room or guest house in Norway, even for a night, would cost us a fortune. We had an option to sleep in a car (a no-no for us,) camp (oops, we forgot a tent,) couchsurf or drive straight for 10 hours without stops (what? no way!)
Driving through such a beautiful country without a single stop would be the biggest mistake. We absolutely had to find a way to slow down and stretch our road trip.
So we did. We got lucky to find a host in Ulvik who was ready to host us and introduce to a magical town where he lived.
Yes, Ulvik is a magical and very charming town. It is situated right at the corner of Hardangerfjord, is tucked in the mountains, and has absolutely mind-blowing nature.
It impressed us so much that we made a plan to revisit Ulvik during another trip from Bergen to the Hardangerfjord area. And from all our heart recommending you to do the same.
---
RELATED POST: THINGS TO DO IN BERGEN FOR THE FIRST TIME VISITORS. TIPS FROM A LOCAL
---
Ulvik is conveniently located on the road from Bergen to Hardangerfjord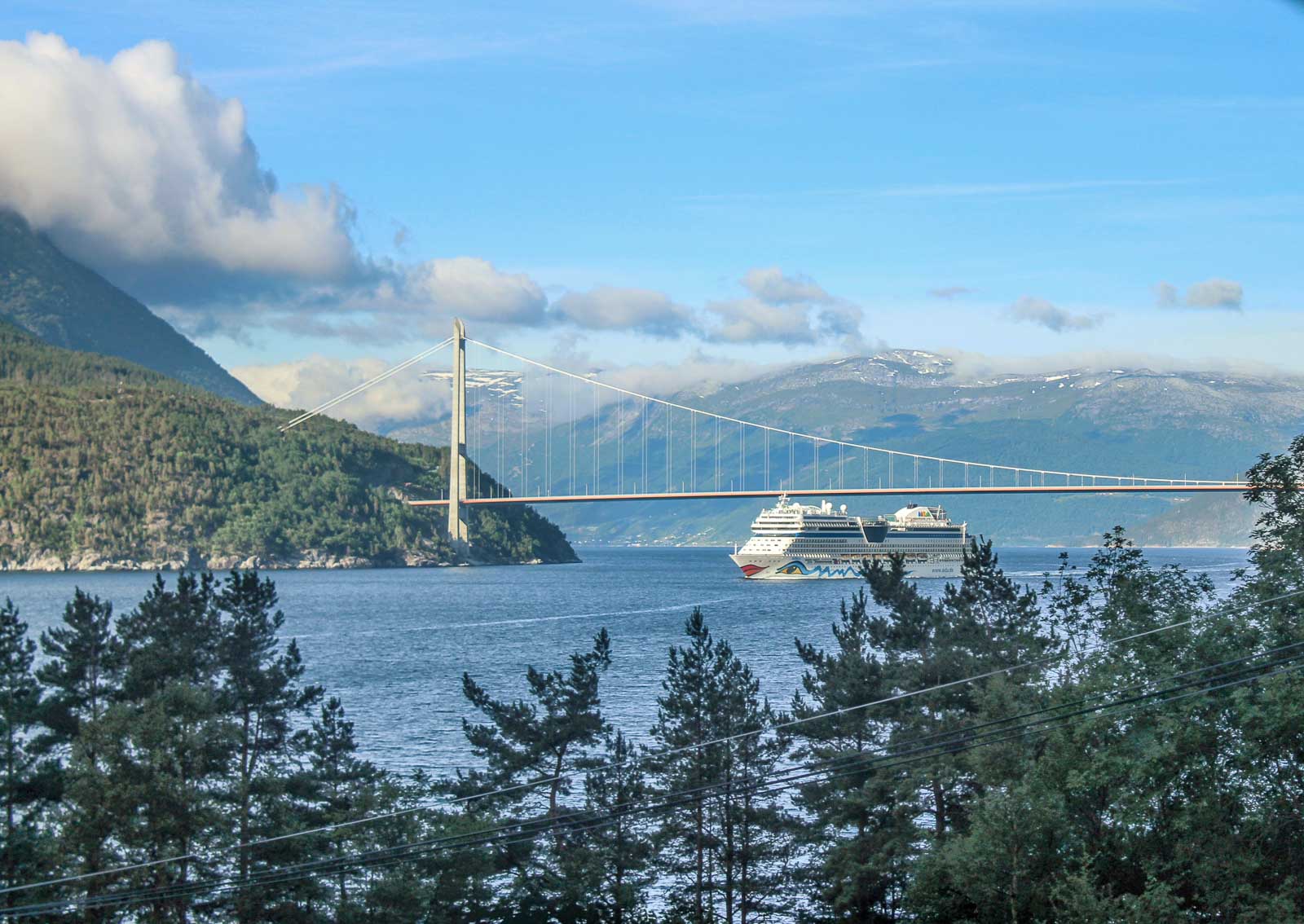 There is no need to get off your main route to be able to visit Ulvik. No matter if you travel from Bergen to Hardangerfjord or from Oslo to Bergen, detouring to Ulvik will take less than half an hour of your time. But this detour will definitely leave lots of memories.
If you don't take a ferry, in order to get to Odda or Eidfjord you need to pay for a Hardanger bridge crossing. It costs 150 NOK. Before you even get to the bridge, turn onto road 572 towards Ulvik which goes through the fjord and opens up amazing views.
Another option is to drive to Hardanger bridge but before getting on it, to make a turn to 572 East. It would take around 15 minutes to drive there. And 15 minutes back to the bridge and main road.
Side note: Our host told us that the price for the bridge with time may possibly decrease or be removed at all. He said that's how the government usually pays for construction. Sometimes they set a toll for a newly built road, bridge, or tunnel.
And once the expense is paid, the toll is partially or completely removed. So who knows, maybe when you are there, the bridge crossing will be free.
It is less known among tourists
Majority of visitors who visit the Hardangerfjord area mainly go to Eidfjord, Kinsarvik, or all the way to Odda. Definitely, these towns are worth a visit (don't skip them too!) But they generally see a lot of tourists and get crowded. On the contrary, Ulvik is always quiet. Everyone now goes to Odda, but so many people don't even know about Ulvik. And it is just so pretty town (have I told you that already? really?)
The population of Ulvik is a bit more than 1 thousand people. Taking into consideration this number along with a fact that only a few tourists stay in the area, I can say with confidence that it is one of the quietest places on Hardangerfjord fukrajord to stay in. Even if you come for a few hours or an entire day without an overnight stay, you'll be taken away by the tranquility of life here.
During the three days that we spent in Ulvik we saw just a few buses dropping off and picking up Chinese tourists at one of the local hotels. Also, there were a few bikers cruising around. And one boat with a group of people taking pictures of Ulvik from the water. Other than that it was peaceful. We didn't even feel like being tourists ourselves.
---
RELATED POST: DREAMS COME TRUE OR HOW TO VISIT NORWAY WHEN YOU ARE ON A BUDGET
---
There are lots of activities and things to do in Ulvik
Are you familiar with those situations when you plan to visit and do a bunch of activities in a place you travel to, but then you get there and barely cover half of what you planned? That's us. And that's a story about Ulvik.
There is no way to squeeze all the fun things this town offers in just one day. You technically can, if you rush, but why would you?
There are plenty of activities to do in and around Ulvik that would keep you busy for a few days as a minimum.
Mark and I planned to do lots of hiking, visit a local apple cider farm but ended up just walking around and enjoying peace and quiet. We really didn't want to do anything except taking delight in nature.
During one night we drove to Hardanger bridge and walked on it. It was absolutely exciting to see fjords from above.
If you visit Ulvik, you can rent a bike and cycle along the Hardangerfjord, kayak, boat, or do other water sports, hike, and explore nearby mountains. There are a few local agencies offering excursions to the local tunnels. And also, Ulvik is famous for its fruit and cider farms.
The protective geography, mild climate, and amount of attractions turn this cute town into a destination for all seasons. We wish we could return in winter. Or during any other time of the year.
Where to stay in Ulvik?
If you are a budget traveler and decide to stay overnight in Ulvik then we recommend choosing Hardanger Gjestehus or a room through Airbnb. Those are the cheapest options in the area.
We personally, as mentioned earlier, stayed with a Couchsurfer. But when we were waiting for his confirmation we did research where we could stay if he wasn't able to host us.
The guest house was the most budget-friendly option at that time. Probably because we were looking at the last minute. However, later we found a few cheaper rooms on Airbnb.
A few more tips for your visit
The weather in Ulvik, as probably anywhere in Norway, can be unpredictable. I highly recommend taking layers with you and a sweater. It can be warm and sunny one minute and then cloudy and windy a moment later.
Since the town is small, don't expect a lot in regards to places to eat. There is one coffee shop, two tiny grocery stores, and a few restaurants, including the one at the hotel.