15 Best Beaches in Bodrum (Peninsula) For Your Turkey Bucket List
Last updated on September 23rd, 2023
Bodrum in Turkey is famous for many things. Some people know it for its numerous bays, surrounded by gardens and pine groves, fancy high-end hotels, or an abundance of historic sights. But not many people know that Bodrum is worth traveling for the beaches alone since they are among the best beaches in Turkey.
When we got a chance to leave hot Istanbul and come here for the summer, we set a goal to explore the entire peninsula and beyond. But we didn't expect we'd be spending so much time on the beaches.
After driving around and checking out every village and bay, I decided to put this guide together and write about the best Bodrum beaches.
I hope it will help you get a better idea of when to visit Bodrum for beaches, where to book accommodation, and what to plan.
TIP
: The fastest and the most convenient way to reach these beaches is by car. If you plan to rent a vehicle, don't miss my tips in a guide to
car hire in Turkey
!
---
Please note: This post contains affiliate links. I may earn a commission if you make a purchase or booking by clicking a link (at no extra cost to you).
---
Best Beaches Near Bodrum City
1. CENTRAL BODRUM CITY BEACH
Before you start checking beaches around Bodrum, why not go for a quick swim in Bodrum city. Especially if you are staying somewhere in the area nearby. As for the city beach, Bodrum beach (or Bodrum plaji) is very nice.
The coast here is covered with small pebbles, in some places with coarse sand, and entry into the water is quite smooth. You'll notice right away that the sea is clean here, despite the fact that there is a port nearby with large cruise liners.
The city beach of Bodrum is public, so you won't have to pay to get in. But it is small and gets really full with a crowd. There are many hotels and apartments nearby, so many people who come to vacation here, often choose this exact spot. To find a free sun lounger (also free of charge), you must come in the early morning before 9 am or in the middle of the day when everyone leaves for lunch and hides from the sultry heat.
If you walk a bit farther towards Bodrum castle, you'll find many cafes and restaurants on the water. Some of them have sunbeds where you can relax by the sea with a drink or food. We went there a few times mainly to eat and put our toes in the sea but there were people who were also swimming and hanging out for hours there.
Where to Stay in Bodrum City
Here is a list of the top 3 rated, affordable properties in Bodrum close to the central beach and Old Town. Click on the links and check them out for yourself!
2. GUMBET BEACH
Only 4 km west of Bodrum, there is a picturesque place Gumbet, hiding away behind a low hill. All its beaches are with fine gold sand. And the smooth entrance to the sea provides conditions for safe swimming.
The depth anywhere on the Gumbet coast comes only after 6-8 meters of walking in the water. So families with babies and all others who enjoy swimming in shallow waters will definitely appreciate this place. The entire Gumbet area has a highly developed tourist infrastructure offering many cool hotels, restaurants, nightclubs, and bars.
However, what we heard from locals, this is the most touristy area in Bodrum. Locals rarely come here. And most of the tourists are young people from Europe who like to party. For us personally, it was the least favorite area in the Bodrum peninsula since we prefer more quiet and secluded spots. But for you, it may be a total 'fall-in-love' place.
Gumbet also offers a wide range of water sports activities such as surfing, parasailing, and windsurfing. Plenty of sun loungers and umbrellas, restrooms, showers, and changing rooms are available as well. The only disadvantage (or maybe an advantage to you) is music. Not sure why but here, in particular, all seaside cafes and restaurants turn on the music so high.
Where to Stay in Gumbet Beach
Here is a list of the top 3 rated, affordable properties in Gumbet Beach. Click on the links and check them out for yourself!
3. BITEZ BEACH
On the southwestern coast 7 km from the center of Bodrum, you'll find the picturesque bay of Bitez. It attracts travelers with its clean and well-maintained beach (although the majority of Bodrum beaches are clean and taken care of) which stretches for just over a kilometer.
Most of the beaches in this area are characterized by pebble cover but Bitez beach has soft light sand. When entering the water, you come across small stones but they don't hurt your feet. The bottom has a flat surface, the water is waist-deep, and only after a couple of meters, you will find the first deep point. Families with kids like to swim here.
The area is replete with orange trees and pine groves that create shade where it is nice to hide in the midday heat. Also, the entire beach has toilets, changing rooms, and showers.
A lot of people will say that Bitez is one of the best beaches in the Bodrum area. They base this decision on the quality of the beach, the number of activities, and food options. While all of this is true, we thought this beach was too crammed. With numerous hotels along the coast and many people who come from Bodrum city, it gets just too noisy and overwhelming.
If you are thinking to spend a vacation in this area, I would love to bring your attention to the Villa Naz Apart Hotel and Yali Han Hotel. They are really beautiful properties with high ratings.
Where to Stay in Bitez
Here is a list of the top 3 rated, affordable properties in Bitez village. See them below:
4. YAHSI BEACH (+ORTAKENT BEACH)
Here is another memorable beach on the Bodrum Peninsula in Turkey – Yahsi beach, which by the way becomes Ortakent beach. It has a Blue Flag award and returning here is always a pleasure. This beach is located farther from Bodrum than previous beaches but in my opinion, it is worth coming here for a day at least once.
It is somewhat similar to Bitez beach in that sense that Yahsi beach is also full of numerous cafes and restaurants by the water that offer free sunbeds by the sea with the requirement to buy food from them. If you go with this option, additionally to sun loungers, you can use showers, bathrooms, changing rooms, and umbrellas for free.
The length of the coast here is 12 km long which gives more room to everyone.
Yahsi beach is covered with a mixture of sand, pebbles and small stones. The entrance to the sea is comfortable with shallow water, which is especially convenient for relaxing with kids. The water here is clear and clean, and a special wide area is allocated for swimming.
If you are looking into hotels where to stay in Yahsi, take a look at the Lugga Boutique Hotel & Beach (located in a very quiet part) and Zest Exclusive Hotel. They are among a few hotels only with high ratings and good reviews.
NOTE: July and August are especially busy here since residents of Turkey love this place.
Where to Stay in Ortakent Near Yahsi Beach
Here is a list of the top 3 rated, affordable properties in Ortakent. Click on the links and check them out for yourself!
5. CAMEL BEACH
This beach in Turkey got such an interesting name thanks to camels that walk around and that you can ride on for an additional fee. You can easily walk here from the Yahsi beach.
It stretches only for a distance of no more than 500 meters but the coast is very pretty. It is covered with coarse sand and the entry into the sea is very comfortable, meeting with shallow water. Which, by the way, is transparent and clean. Thus, we can make a conclusion that this is another great Bodrum beach for families with kids.
It is worth noting that you have to pay to enter here unless staying in the hotel. The entrance is around 35 TL (about $5.5). For this price, you receive sun loungers with umbrellas, showers, changing rooms, and toilets. There is also a small restaurant where you can dine and order drinks. Tourists here also have the opportunity to rent a motorboat.
If you are looking for the best hotels in Bodrum on the sandy beach, then you should definitely check out the options near Camel Beach. Club Sardinia hotel with bungalows, for example, is only a few steps away from the sea. But there are a few other options.
In general, Camel Beach in Turkey is a picturesque area excellent for recreation with beautiful views of the Aegean Sea.
The only disadvantage is that it can get crowded because of the yachts and tour boats that come here for a swim.
Where to Stay Near the Camel Beach
Since Camel beach is next to Yahsi beach, it is better to stay near Yahsi, an area famous for 4* and 5* hotels on the first line. My top 3 picks are the same hotels as I mentioned above for places to stay in Ortakent.
Best Bodrum Sandy Beaches With Azure Water
6. AKYARLAR BEACH
I boldly declare that Akyarlar Beach is one of the top beaches in Bodrum and Turkey in general for families and anyone else who is looking to swim in the bluest water of the Aegean Sea. The coast stretches for 1.5 km and is covered with fine light sand.
Entering the sea is easy since there are no stones and the depth increases gradually. The Eastern part of the Akyarlar village experiences strong winds. That is why this part of the coastline has become an attractive destination for windsurfers. And if you are one of them, you should look into staying near the LIV hotel.
Another feature of this beach is picturesque nature. With verdant tangerine groves and olive orchards surrounding the area on all sides, it looks very pretty everywhere. On your way from the beach, be sure to stop by a local restaurant (like Mehtap Restaurant & Cafe or nearby Memos bar) for some delicious seafood dishes.
During the high season, the beach always sees a lot of people, but there is enough space for everyone. We loved stopping by Camelot Boutique Beach hotel to get a drink and relax on the loungers of their wooden pier.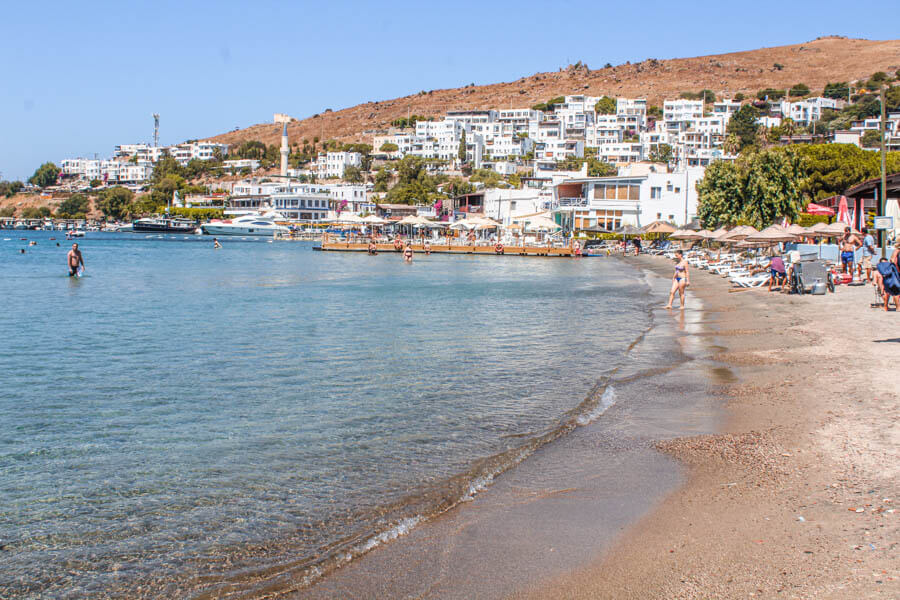 Part of Akyarlar beach also has sun loungers, showers, toilets, and changing rooms, so it is comfortable to relax there. In a few parts of the beach, you can find cozy cafes to order lunch and drinks.
Where exactly to find it: there are a few beaches in Akyarlar worth visiting. The one I am talking about with the clearest blue water is located on the stretch between Mehtap Restaurant & Cafe (mentioned above) and Kefaluka Resort Hotel. I am dropping coordinates here.
Another beach on the opposite side, Karaincir Belediye beach also has beautiful water. But to us, it was more crowded. Oh, and you need to pay for a sunbed here since there is no room to lay down on your own.
Where to Stay in Akyarlar
Here is a list of my 3 top-rated, affordable properties in Akyarlar. Click on the links and check them out for yourself!
7. METEOR BEACH
Meteor beach is like one big pool. Being shallow and having a smooth entry into the water, it is very child-friendly. Even on a very windy day, the water stays calm with almost no waves. Plus, with the palms and other trees growing on the grounds, there is a lot of shade.
What we think makes this beach different from any other is the seafloor. After walking for a few meters on the sandy floor, the water level gradually goes down to the ankle and you can just lay down there in the sea to sunbathe.
The beach is actually part of the Meteor hotel where you need to pay to get in but then you'll have access to showers and bathrooms. There is also a restaurant where you can order food and drinks.
The disadvantages are too many people during the high season and expensive food at the restaurant. Before the corona thing, in July and August, it was difficult to find any space to walk because there were more people at the beach than what the hotel could handle.
But other than that, it's a lovely place for anyone who wants to relax in a shade by turquoise water and have a good service nearby.
The price is around 35 TL (€4.25) per sun lounger.
Where to Stay in Akyarlar Near Meteor Beach
The same properties as for the previous beach. Akyarlar is a very beautiful area, although it doesn't have a lot of nice but reasonably priced hotels to choose from. Here are the best among all of them:
8. ORAK ISLAND BAY BEACH
Among all the Bodrum beaches we have been to, the best and the most azure water was around the Orak island in the east of Bodrum city. With unusual underwater caves, multi-colored aquatic plants, and a hundred-meter natural wall this island is also a perfect diving spot in Bodrum.
But the water there is absolutely unreal. It reminded us about some of the best beaches in Cyprus and about beaches in the Caribbean. At the same time, it looked just like in the pool.
Look at the photos below to understand what you get when visiting this island. Or even better, read my post about this beautiful island near Bodrum. It was so special that it got its own article.
To reach the island, you need to take a boat from Bodrum. For now, there is absolutely no way to visit it on your own which, to be honest, is not that fun anyway. With a tour, you spend one long day in a company with other people, make a few stops on the way to the Orak lagoon and overall, have fun while on the boat adventure. All tours to this island are reasonably priced and of good quality.
We personally decided to go with this full-day boat trip from Halikarnas harbor and couldn't be happier.
9. GÖLTURKBUKU BEACH
This beach within 15 kilometers from Bodrum in the village of the same name is considered one of the best beaches not only in Turkey but in Europe.
It is sandy, with clear water but rather short. Turkish people know it as the most elite beach where you can meet celebrities and actors. Everything is more expensive here than on any other beach from this list.
The town of Göltürkbükü is surrounded by olive and tangerine groves and has a good selection of upscale fine dining restaurants. However, the bay is facing the north, so the sea may be slightly cooler here than on the southern part.
The best way to get here as to any other part of the peninsula is by Dolmus taxis. They depart from the center of Bodrum all day at short intervals and the fare is between 10 to 16 TL.
More to the north from the town of Göltürkbükü, there is another very similar beach called Belediye Halk beach. It is a free, very clean public beach that doesn't see a lot of people even during the high season.
Where to Stay in Göltürkbükü
Here is a list of my 3 top-rated properties in Göltürkbükü. Click on the links and check them out for yourself!
Other Fantastic Beaches In Bodrum Peninsula
10. TORBA BEACH
If you are looking for the best sandy beach hotels in Bodrum on the first line, I recommend you looking at the options in the resort village of Torba. Although this little-known destination cannot boast of a wide selection of hotels, it attracts mainly locals with its peaceful atmosphere surrounded by pristine nature.
Torba is located 7.5 km northeast of Bodrum. It offers one long beach that stretches along the entire village. There are also several secluded but picturesque coves to the east and west. Beaches in Torba are for the most part made of sand or pebbles, and some of them are completely covered with wooden platforms and areas with bulk sand.
The entry into the sea is fairly smooth, so families traveling to Bodrum with older children will appreciate that. Another advantage of the area is its low population. Noisy crowds of tourists are considered a rarity here. With all of this, be ready that you won't find chic restaurants on the coast as in other more fancy parts of the Bodrum peninsula. Yet, there are definitely a couple of cozy establishments with good cuisine.
Overall, Torba Beach is ideal for those looking to escape the bustle of the city and immerse themselves in serenity. If you are staying in another part of Bodrum and just want to come here for a day, you are very welcome. Although it may be more convenient to book a room for a night in one of the hotels since they offer direct access to the beach.
How to Get Here: The best way to get to this village from Bodrum is by dolmus or private taxi. There are a few dolmus share taxis that go here. Depending on where you stay, you may need to take one or another. Ask your host or front desk agent in your hotel about the dolmus bus and stop.
Where to Stay in Torba
Here are 2 top-rated, affordable properties in Torba village. See below:
11. ILGINLAR BEACH
One of our favorite beaches in Bodrum that not many international tourists know about. If you check the map or reviews of this beach online, you won't find much. It's more like a hidden gem place which I probably shouldn't be talking about not to make it too popular. But at the same time, I'd really love to show you photos and share it with you guys.
So Inginlar beach technically consists of two smaller beaches. One of them is private, owned by a condo complex and another one is public in front of the Mahallesi Bagla apartment building. The public beach is sandy but it's really small.
The beach I am talking about is near the Nazik Ana restaurant. It is well equipped, with a concrete platform and ladder, clean azure water, umbrellas, and lots of shade. The sea here is really beautiful, although deep and you can't touch the bottom, so it's not a place for little children and anyone who doesn't know how to swim.
If you have a car, there is a parking lot somewhere here which is only a minute away from the beach.
12. TURGUTREIS BEACH
Turgutreis is the second-largest city after Bodrum on the Bodrum peninsula. Over the past few years, it has developed into a popular resort city where travelers can combine comfortable beach holidays with active nightlife and entertainment.
The beaches of Turgutreis are the longest, so everyone can choose a recreation area to their liking. It can be a public beach close to restaurants and nightclubs in the very center, or more secluded beach a bit outside the city.
Turgutreis is one of the best places to watch the sunset in Bodrum, so many people choose to come here in the evening with their drinks and snacks.
Where to Stay in Turgutreis
13. ASPAT BEACH
This lovely Bodrum beach is located in a very romantic and beautiful bay not far from Akyarlar. It actually looks as beautiful as in Krabi, Thailand.
However, part of it is private and belongs either to the hotel or apartment complex (we couldn't understand what it was) and you need to pay 150TL to get in. This price includes a sunbed (separately costs 50TL) and the remaining 100 TL goes towards food and drinks at the beach cafe. Although you cannot use loungers under the trees because they are reserved for residents.
And another part of the beach (a smaller one) is public and you can go there for free. That's what we did.
Another way to reach this beach is on a boat trip from Turgutreis. Then you get a chance to swim in the crystal clear bay without paying to enter.
Location of this beach is here.
Where to Stay Near Aspat Beach
Aspat Beach belongs to Aspat Termera Resort that is available only through tour operators. If you are interested in this property, check with your local agent the availability and prices.
14. BEACH NEAR THE LENA ERDIL WINDSURF OKULU
This tiny beach that doesn't have a name (or maybe it does but I don't know it) is located between Lena Erdil surfing school and Ayana Mes Balik restaurant. I am also dropping coordinates for you to find it.
It's really small and somewhat hard to find if you don't know where to go since it's not even on the map. We found it by accident when being in the area and looking for a place to hide from too many people.
The reason we absolutely loved it was the sea and Orange Date cafe which sells locally crafted beers and the best ever french fries. In fact, I feel like everything they offer on the menu is delicious. We were there on a couple of occasions and ordered various dishes and everything was really tasty.
And the best part about this beach is the sea. The entrance is smooth (although mixed with pebbles) and for a long time shallow. But a bit farther in the water, the seafloor transforms into the mini canyon where you can snorkel and observe the underwater life. I didn't want to get out of water because there was so much to explore under it.
For the most part, this beach is frequented by locals who live near or come to stay in nearby guesthouses. If you stay somewhere else on the Bodrum peninsula, you can come here by dolmus or car, park it and enjoy your day. However, if visiting in the high season, I advise you to come early to be able to get a lounger. Otherwise, there are a couple of trees by the water where you can stay in the shade for free.
15. BELEDIYE HALK BEACH IN TÜRKBÜKÜ
Belediye Halk beach stretches from Cilek Beach Club to Cetimek restaurant in Türkbükü village. This 1 km long beach can offer different activities and seafloor.
So the northern part of the beach mainly consists of platforms when you need to use the sea ladder to get into the water. But the southern part of the beach has a public beach with sand and smooth entrance.
A bigger part of Belediye Halk is occupied by sunbeds and tables from different beach clubs. So if you want, you can be coming here every single day to hang out at a new beach club. Or, if your budget is tight, come to one of many cafes that also offer sunbeds (but for free) where you don't pay for the entrance, only for the food and drinks. Some of those beach cafes are Pitahaya Mutfak, La Rica, Elia Beach & Restaurant, and a few more nearby.
A free public beach begins near the Turbuku cafe (a very nice budget-friendly eatery).
Where to Stay in Türkbükü village
Here is a list of my 3 top-rated properties in Türkbükü. Click on the links and check them out for yourself!
Which Bodrum Beach is Best For You?
Best Bodrum Beaches For Families With Kids
If you are a parent traveling to Bodrum with kids, I suppose the decisive factors for you, when choosing a beach, are a sandy bottom, a smooth entrance to the water, and a well-developed infrastructure.
Based on these factors, the best beaches for you will be Bitez, Gumbet, Central beach in Bodrum city, Meteor beach, Yahsi, Camel, and Akyarlar beaches. Also, the northern part of the peninsula has nice beaches for families. Gundogan and Göltürkbükü beaches are smaller and have a slightly colder sea but they don't receive as many people like the south of the peninsula.
Meteor and Akyarlar are in particular good choices since they are located in a picturesque green bay and have fine sand. The water there warms up well and thanks to the smooth entrance, even small children can play safely in the water. Local restaurants offer a good selection of fish dishes.
Quiet Beaches in Bodrum
Those who are not fans of the round-the-clock parties do not need to give up their trip to Bodrum. In the vicinity of the city, there are several beautiful beaches for romantics and introverts, and everyone who is looking for seclusion.
Gundogan or Yalikavak beaches are just perfect for that. They attract older people and families with younger children. You won't find here parties or crazy nightlife. In general, these two towns (with the same name) offer a slower pace of life.
The village of Torba is another place that has quiet beaches. It is not yet too popular among tourists, prices for accommodation here are lower, and the beach is secluded. It stretches along the entire village and lovers of a calmer lifestyle will easily find a deserted picturesque bay.
Aspat beach suits everyone who is looking for peace and quiet in a very secluded area.
Beaches With Excellent Infrastructure & Activities
If you love being active on your vacation, then you should visit one of the following beaches:
Akyarlar – almost always windy and has waves, and the Greek island of Kos is visible from the coast.
Fenerburnu Sahili – a public beach under pine trees. The sea is beautiful but the winds here are always strong, so this beach is a perfect spot for water sports. A few fantastic cafes and a surf school are nearby.
Karaincir Belediye – a small kilometer-long beach in the eastern part of Akyarlar village. It offers diving, windsurfing, and water skiing activities.
Gumbet – loud music, water sports during the day and parties at night, all of it is here.
Alright, so this is it. Have you been to Bodrum yet? Did you visit any of the beaches on this list? Share in the comments!
More Posts About Beautiful Beaches in Europe
Looking for more inspiration? Check my other posts about beaches in other places in Europe. Some of them are:
For more posts about Turkey, see my Turkey travel guide!