Best Cafes in Saigon to Study And Get Your Laptop Work Done
Last updated on November 26th, 2019
Are you looking for the best cafes in Saigon? There are really a lot but I would love to share a few of my favorite ones.
When it comes to checking out a new boutique hotel, family-owned shop or cute cafe, we are the first in line to do that. We can always skip a trip to the restaurant, but passing a coffee or tea house is somehow a challenging thing to do.
Our trips to cafes are not necessarily about buying a cup of coffee or tea. Sometimes we get a cake or bubble tea, another time we buy a smoothie. It's not really about the food or drink, a trip to a cafe is more for the atmosphere and place itself.
We've met a lot of people who are like us. They love going to cute coffee shops once in a while with a goal to work, plan, study and sometimes distract from the routine.
We are not really big coffee drinkers (especially me), but going to a nice cafe helps us concentrate on work, be more organized and complete tasks faster. We are millennials. It means we tend to spend money on beverages, appreciate coffeehouse culture and love doing our creative stuff outside of the home or library walls.
After only a few days spent in Vietnam, we noticed how rich cafe culture is here. Looking up its history helps to understand why.
Coffee Culture And Best Cafes in Saigon
Coffee production in Vietnam helped to transform the economy after the years of war and became mainstream of Vietnamese life.
There are so many cute cafes and coffee places around each city or town where locals and tourists can taste this magical drink while enjoying the atmosphere, socializing or working.
In Saigon in particular, where there are probably more cafes than houses (nah, just kidding,) it is very easy to get lost among all of them. I would love to share the list of the best cafes in Saigon for me personally where you can try not only a good Vietnamese coffee but study and complete lots of laptop related projects.
L'usine – Stylish And Pretty Ho Chi Minh Cafe
Address: 70B Le Loi, Phuong Ben Thanh. 1st floor, District 1.
L'usine is located in District 1 among many other cafes and bars. It is part of fashion boutiques that fill the entire street. Downstairs there is a clothing store, with men's and women's fashion, and on the ground floor, this extremely cool cafe-bar is located.
Whitewashed brick walls, polished concrete, and antique lighting create a bohemian atmosphere that satisfies fashionable clientele.
Along with an excellent assortment of Vietnamese and European-style coffee, cappuccino and latte, there is a cute little grocery store with croissants, cakes, muffins, and pasta. There is also a large balcony overlooking Le Loi, one of the main highways of the city.
Tour Les Jours – Best Bakery in Saigon
Address: 179 Nguyễn Thị Minh Khai, Phường Phạm Ngũ Lão. District 1
This is not really a coffee shop, but a bakery with lots of goodies for sale on the first floor and seating area on the second floor.
At first sight, Tour Les Jours seems to look more like Starbucks, but it's cozy, not too crowded as most of the other places, clean, with plenty of outlets and quiet music on the background.
We were the only westerners who sat there working all day long. Most of the visitors were locals who were coming throughout the day to buy baked items and leave. You won't find this bakery on google and it has no reviews, but you will definitely enjoy one of many yummy goodies, drinks, and the environment.
ID Cafe – Food & Coffee in Saigon
Address: 61B Tu Xuong, Phuong 7, District 3
Cafe ID has a modest facade, but once inside this pretty cafe, the theme of modern retro is really presented in a funky style. The chairs of the 70s style are comfortable as well as elegant, and the design of the vinyl records and stencils decorating the walls recall the period of the invention of the radio.
Situated a few blocks north of Independence Palace, Id Cafe offers visitors the perfect hideaway from the craziness and business of the streets.
Coffee is great here, but the place is also popular for a beer or a glass of wine with food. The menu is made up of Vietnamese and European fusion dishes: baguettes, burgers and, obviously, noodle soups.
Nha Saigon Cafe – Best Coffee in Ho Chi Minh
12 Nguyễn Công Trứ, phường 19, quận Bình Thạnh
Do you know this feeling when you can't concentrate well enough on tasks if too much action is happening in the background? If yes, then Nha Saigon Cafe is definitely one of the best cafes in Saigon for getting some work done. And we guarantee you'll want to return.
It is a unique coffee shop with almost homie feel, tranquil relaxing music, delicious drinks, and a very quiet environment.
This place is so quiet that you'll want to meditate. During two weeks of our stay in Saigon, we returned to Nha Saigon Cafe three times, enjoying ourselves and having very productive days. We had an entire floor for just two of us barely hearing any other visitors who mainly hung out downstairs.
This cafe doesn't have any food or snacks, but you can choose from many drinks, including smoothies.
Nha Saigon Cafe has plenty of outlets, different types of seating (you can choose to sit at the table, in an armchair or even lay down on a mini couch), the staff is friendly and the environment is incredibly peaceful. Once you step through the doorway your mind will set on some sort of calmness and relaxation.
Note: The owner of this cafe also offers accommodation. So if you feel like staying overnight, on the third floor of the same building there is a guest house.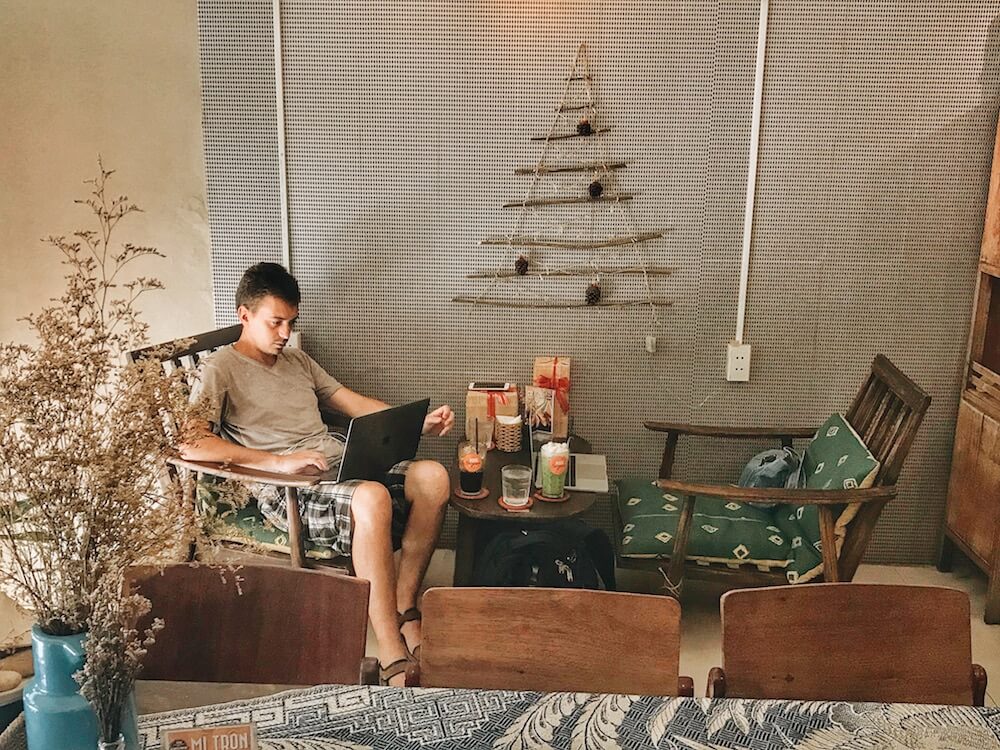 Vatel Saigon
Address: 120 Bis Suong Nguyet Anh Street, Phường Phạm Ngũ Lão, Quận 1, Bến Thành
One especially cool thing about this place is its openness.
This cafe is partially under the open sky, with flowers and trees bending over the table, and beautiful sound of birds singing on the background.
There are no couches or sofas, but the chairs are comfortable enough for prolonged sitting and there is an outlet near each table.
Sipping a cup of refreshing tea or Vietnamese iced coffee while being surrounded by such an oasis of serenity helps to restore energy levels and work productively.
Vatel Saigon is not an independent cafe and not shown on google. It is part of a hotel and Vatel restaurant (as you can see in a picture there is a restaurant inside the building.)
This is probably why it does not see a lot of visitors. Also, it is hidden in a quiet neighborhood and the only way for you to find it would be to walk by or stay in a hotel. We highly recommend this place, you'll enjoy as we did!
The Coffee House – Best Coffee in Saigon
Address: 157 Đường D2, Phường 25, Bình Thạnh, Hồ Chí Minh
The Coffee House is a chain and in some way, it reminds of Starbucks, but it's quieter, fancier and has a better product. We have been to three different shops around the city but would love to highlight only this one. We haven't tried any food or desserts but went for a coffee.
The Coffee House brand prides itself on roasting coffee without putting any extra flavors or additives, and produces its own organic coffee, growing it on a farm in Cau Dat near Dalat.
They serve their black coffee with water and recommend to drink it in a special way. How? After each sip of coffee take a sip of water to rinse your mouth and then take another sip of coffee to taste coffee's flavors in full.
We personally ended up in this shop not because of the coffee but because we needed to work. However, it was very informative to learn about one of the ways how to drink it. Each staff member was very courteous.
With many visitors, The Coffee House still seemed to be pretty quiet, and overall, the environment of this place was helping to get our work done. We spent five hours of our time very productively.
Cheese Coffee
Address: 141 Xô Viết Nghệ Tĩnh, Phường 17, Bình Thạnh, Hồ Chí Min
The tiramisu and mocha cheesecakes offered by Cheese Coffee are mouthwatering.
This spot is a three-store building with separate rooms in different styles. Comfortable sofas along with chairs and tables are available on each floor.
The only downside is that Cheese Coffee sees a lot of visitors and becomes noisy at times, but you can easily get distracted by a cool street view seen through a big window.
Mr. 8 Coffee – Best Egg Coffee in Saigon
Address: 40 Xô Viết Nghệ Tĩnh, Phường 19, Bình Thạnh, Hồ Chí Minh
Have you tried egg coffee yet? If not, pay a visit to this coffee shop. Egg coffee is not very common in Saigon, but a barista from Mr. 8 Coffee can make a truly delicious one.
This spot is also quiet, cozy, with a good selection of other beverages, lots of outlets and great wifi. You can hold some meetings here or work on your own projects.
Mr. 8 Coffee's is in a good location, but away from tourists. You won't find it unless walking by in a neighborhood or upon local recommendation. It's simple but very pleasant. Not much food, but smoothies, teas, and coffee drinks are ample.
Partea – English Tea Room in Saigon
Lầu 4, 42 Nguyễn Huệ, Bến Nghé, Quận 1, Hồ Chí Minh
This Tea House, as one of the best cafes in Saigon, is not only on our list but lists of many magazines and tourism board for the city. This spot is a gem in Saigon.
Partea – English Tea Room is a quirky cafe with a big selection of prime teas and a beautiful setting. Everyone has to take shoes off when entering the shop and choose his own teacup (which we thought was so lovely) to drink from.
Partea is located on the fourth floor of an old building in the city center. If you reserve a table near the window, as a bonus you will get a beautiful view of the main street. This spot is usually full, but everyone is so quiet that you'll think you are alone. Highly recommended!
We hope, if you visit, you'll enjoy as much as we did. Are there any cafes that you liked? Could you let us know please, we would love to check them out when visiting Saigon next time?
Like this article? Pin it!