18 Most Beautiful Coastal Towns in Northern Spain to Add to Your Itinerary
Last updated on May 31st, 2023
Are you ready for a road trip in the north of Spain? If not, you should definitely plan one since this region is full of wonders! Besides seaside cities and national parks, there are so many amazing villages and coastal towns in Northern Spain that are worth a separate trip!
You can seriously plan two different journeys here – one, visiting natural landmarks and beautiful cities in northern Spain and another one going to small towns and cute Spanish villages. Or, use both of my articles to plan your own itinerary and see a bit of everything.
Countless beautiful northern Spain coastal towns have been preserved in their original form and are often located away from the beaten tourist routes. They are steeped in history and offer old national traditions, culture, crafts, architecture, and good classic Spanish dishes.
I visited most of them while staying in the northern region of Spain for a couple of months. The rest, that I haven't been to yet, are high on my list for future travels. Each and every town and village on this list is special in its own way and a trip through them brings a sea of positive emotions.
I divided these Spanish coastal towns by provinces to make it easier to understand the location.
If budget allows, hire a car (we rent it in Spain through this company) since the best way to explore this country is by vehicle! And, since northern Spain is among European summer destinations where it is not too hot, you can plan a trip there even in July and August to escape the heat.
---
Please note: This post contains affiliate links. I may earn a commission if you make a purchase by clicking a link (at no extra cost to you).
---
Most Beautiful Coastal Towns in Northern Spain Basque Country
Hondarribia
I'll start my list with a town in the northeast Spain coastal region. It is a fantastic basque town bordering France that finds itself at the very corner of the coastline. In fact, you can even see France across the sea from many points there and what's more interesting, you can even take a boat connecting two coasts.
The central part of Hondarribia has preserved a fortress wall and a defensive fortress of the 16th century which makes the city unique in the Basque Country.
Noteworthy is the Church of the Ascension of St. Mary, the main religious landmark there.
When visiting, stroll through the cobblestone streets with beautiful little gardens, see the historic center with its typical Basque houses and walk down one of the main streets San Pedro Street.
Its beach, Playa de Hondarribia, is also very popular, especially during the summer months. Although the temperature of the water is not as warm as on the Mediterranean coast, it can be a perfect place for people who don't tolerate heat well enough. From June to August water is around 20 degrees Celsius at the maximum.
I think Hondarribia is one of the best towns in Northern Spain with an atmosphere of a small, cute European town, that has been lost in time with its local population.
Where to Stay in Hondarribia
If you have a car and look to stay outside the town in a rural setting surrounded by views and old traditions, check this Country Casa Higeralde. It's only 15 minutes walk from the beach, has incredible views and new design with old-fashioned touches.
For an upscale luxury stay, see the best spa hotel in the area Villa Magalean. It has a central location within a short drive to the stunning Basque coastline in France.
Pasai Donibane and Pasai San Pedro
The next seaside town is Pasai which consists of two urban centers Pasai San Pedro and Pasai Donibane. Between the two, Pasai Donibane is more of a cute little village with narrow, cobbled streets, and Renaissance houses decorated with stone, balconies, and eaves.
The old town of Pasai Donibane is built around a single street that starts in the area of Biscay and extends to Bursa Bay. Narrow cobbled streets give it a special charm. Walking through this area, you can see unusual passages under the houses that delineate the boundaries of urban areas. And by taking Bonanza Ibilbidea street, there is a chance to go on a mini hike along the bay.
Pasai San Pedro is on the other side where you can also wander for a bit. To get there you can either drive around the Bay, that's about 10-13 minutes, or take a cute little boat across the water making it an additional little attraction to your day.
One of the most popular attractions there is Albaola, a UNESCO museum showcasing the building of historic wooden ships.
Both of these coastal towns are two nice gems in Basque Country where to make a quick stop on a road trip.
Where to Stay in Pasai Donibane or Pasai San Pedro
Pasajes doesn't really have any outstanding accommodation and given the fact that San Sebastián is just 10 km away, you'd want to book a hotel there. I share a list of charming hotels in San Sebastián with good value for money:
Akelarre Chateau – for a quiet and stunning location and luxurious feel. Lasala Plaza Hotel – beautifully renovated beachfront hotel in the old part of town. It is perfect for couples on their honeymoons or romantic getaways.
Zarautz
Going further up the coast towards the east, you will reach Zarautz. This is another small coastal town on the outskirts of San Sebastian, just on the opposite side. Zarautz has the longest beach in Basque Country and mostly serves as a summer destination. Many people consider it one of the best beach towns in Spain.
From fall to spring, it is a relaxed place where life goes at a slow pace. However, in the summer, its population of around 22,000 nearly triples and the atmosphere completely changes!
The town opens its doors to tourists who look for a great place for water sports, especially surfing. There are a number of surf schools operating as well, for those looking to learn.
Zarautz is a must-visit seaside town if you are staying in San Sebastian or going on a road trip in the Basque Country. Besides the beach, there is also an interesting Photo Museum and the Art and History Museum (which by the way is located in the oldest building – Torre de Zarautz).
Like many Spanish cities, Zarautz has some beautiful churches as well and those not to miss are Iglesia de Santa Maria la Real and Iglesia de Santa Clara.
Where to Stay in Zarautz
Zarautz can be a wonderful place where to stay for people on a budget who want to visit the San Sebastian area due to its close proximity to the city and a bit lower prices for accommodation. With a number of hostels and budget-friendly hotels, everyone can choose something for his budget.
Check prices and availability for Zarautz properties here.
Getaria
Getaria is one of my favorite small towns in Spain. Oh wait, it's actually not a town but a small fishing village set between the sea and vine-covered mountains on the shores of the Bay of Biscay. It was home to Juan Sebastian Elcano, one of the first people who circumnavigate the world.
Getaria has existed since Roman times but it was founded in the 13th century in Middle Ages as the settlement that we know today. So it is one of the oldest medieval villages in the region.
It is very close to Zarautz and San Sebastian, so once you are in the area, definitely come here for the seafood. The quality of the fish is incredible and the village has become famous for using the grill the way they do.
I highly recommend trying their fresh grilled fish or Parrillada for dinner. Add a bottle of white wine made from the nearby Txakoli vineyards. If you have time, perhaps enjoy a wine tour of the Txakoli winery which can be a splendid daytime activity from San Sebastian.
Other highlights of this small and quiet place are the Cristobal Balenciaga Museum, the Church of San Salvador, and fishing port. Also don't miss a walk up to Mount San Anton to enjoy the beautiful view.
And if visiting Northern coast of Spain in summer, particularly in early August, travel this way to see celebrations in honor of San Salvador.
Does my content help you plan your trip? If yes, I'll appreciate a cup of coffee from you, so I could produce more free guides and itineraries!
Where to Stay in Getaria
Getaria village is a really nice place where to stay on romantic getaways. It offers a quiet peaceful setting, charming traditional style hotels, and gorgeous views.
For example, Itxas Gain hotel in the central part of the village or Saiaz hotel allow you to plunge into the historical atmosphere and fully relax. Being in the village near the beach means that guests are in the center of all events.
And here is another type of property Usotegi above the village overlooking the sea and mountains. It suits better those who look for seclusion and tranquility.
Mutriku
Going further west towards Bilbao, there is another beautiful fishing village Mutriku whose inhabitants dedicated themselves to whale fishing. The Historic Center there has been declared a Monumental Complex and is one of the best-preserved medieval towns in all of Gipuzkoa province in the Basque Country. I highly recommend spending some time there getting lost for a bit in narrow cobbled streets that intertwine until you reach the fishing port.
Walking through the alleys of Mutriku you will quickly find perfectly preserved palaces from the 15th, 16th, and 17th centuries. This is why visiting this small Spanish coastal town feels like traveling back in time. Along with that, you can also enjoy great beaches and beautiful views of the Cantabrian Sea.
The Mutriku port is one of the oldest in Gipuzkoa and Euskadi provinces, as it has been standing there since the 18th century.
The town itself follows a great fishing tradition and is home to many sailors and whale hunters. This is why many people visit it for the Berdel Eguna Festival on the first Saturday of April every year.
Where to Stay in Mutriku
Since Mutriku is small, it is easy to pop in there for an hour or so when being on a road trip along Spain's Northern coast and continue a journey. However, with the number of lovely hotels by the coast, some people may want to stay there overnight.
For example, the beautiful Hotel Arbe and Agroturismo Haitzalda B&B which are located on the cliff offer a peaceful stay next to nature and old Spanish fishing town.
Bermeo
Bermeo is a colorful coastal town located in the Urdaibai Biosphere Reserve and less than 10 km from the impressive island of San Juan de Gaztelugatxe. It is a wonderful place where to stay overnight and have a break after visiting the Gaztelugatxe island fortress.
Bermeo is famous for its long fishing tradition and is a nice place where to stop to explore for a while.
Once in the town, enjoy some food and drinks in the old port, stroll through the old part or take a dip in one of the surrounding beaches. These are just some of the things you can do in Bermeo on a quick visit.
For me, one of the most picturesque corners of this coastal town is its beautiful Old Port, an area with narrow houses painted in a fan of colors. There are also several bars around the port and it is here where the local people meet to have a drink and eat some pintxos. During your stay, besides going for a walk through its steep old town part, you can also visit the museum about the lives of the Arrantzales (Basque fishermen) located in the Ercilla Tower.
Then come back to the Old Port and go for Pintxos (tapas). Two of my favorite places are the Kai Alde and the Batun Batun. Both offer a great selection of pintxos. Although it is not directly located in the Old Port, another great establishment is Bar Beti Ondo which serves some delicious Bonito Pintxo.
Where to Stay in Bermeo
Bermeo, while being a nice town for an overnight stay, doesn't feature any outstanding hotels. It is mainly full of apartments for different budgets and tastes. Check rates and availability here.
Does my content help you plan your trip? If yes, I'll appreciate a cup of coffee from you, so I could produce more free guides and itineraries!
Best Northern Spain Coastal Towns in Cantabria Region
And now we come to Cantabria! I love this region for its dramatic beaches, magnificent caves, and beautiful mountain scenery. There are also a few incredible coastal towns not to miss!
Castro Urdiales
It is that small perfect town that looks like it was taken from a painting. It smells of sea breezes and is full of colorful fishing boats. In Cantabria, there are a lot of towns built facing the sea but among all of them, Castro Urdiales is probably one of my favorite. In addition to being a fishing village, this town kept its strong, elegant, and well-preserved medieval heritage and historical center.
It has a kilometer-long walking path along the coast, breathtaking cliffs, several fine sand beaches, and an enviable Cantabrian and Basque mixture cuisine. So shortly, this is a town that you shouldn't miss if you are doing a route along the coast of Cantabria.
The essential part of visiting this town is gastronomy. Local restaurants cook the most delicious sea breams and snails, accompanied by the products of the thriving canning industry of the municipality. Among them – anchovies in olive oil are undoubtedly the ones that call for the greatest recognition.
Where to Stay in Castro Urdiales
Castro Urdiales is located only 30 minutes from Bilbao and around 50 minutes by car from Santander. While it is definitely a town not to miss on a road trip through Cantabria or on a day trip from Bilbao, staying overnight here is probably not that special. Mainly because hotels are pretty average with a lot of negative reviews.
Although there are some lovely apartments and condos. If you are interested, see availability and prices here.
Comillas
Going for a little over an hour from Castro Urdiales, after you pass Santander, you'll find a very cute traditional Spanish town called Comillas.
Formerly it was one of the most important towns in the region. And it still is today. Although it is quite touristy, especially in summer, you shouldn't skip it at any time of the year. But if you come during the slower season when it's not so crowded with tourists, you'll be able to enjoy it even more.
Comillas is a very interesting coastal town with cobbled streets, open squares, two good beaches, historic buildings, and a selection of Modernista buildings including the incredible El Capricho designed by Antoni Gaudi.
There are very few buildings designed by Gaudí outside Catalonia. And one of them is here in Comillas. Gaudí's Capricho historical landmark is the most important architectural work in the entire Cantabria region. This modernist building is bright in color, its red and green tones completely capture one's attention.
Other places to check are the Palace of Sobrellano, Old Pontifical University, and the historic center of Comillas. During the walk through the center, you will see a lot of important monuments and small squares. It is easy to see them all within a short time since they are very close to each other.
Where to Stay in Comillas
Comillas is famous for traditional style accommodation. Having its beach, walking trails and being close to Oyambre Natural Park makes it a nice spot where to stay even for a few days. If visiting in summer, you can base yourself here but go on mini road trips in Cantabria and beyond.
Among lovely places where to stay, take a look at Vivienda Casa Luisa or Posada Rural La Solana hotel. They suit mid-budget and offer traditional Spanish touches with excellent location.
San Vicente de la Barquera
San Vicente de la Barquera is the capital of the municipality of Cantabria that lies not far from Comillas before the Asturias region. The town grew from an old fishing village that still follows its traditions and even its most popular festivals – La Folía festival (a massive maritime procession that is celebrated on the second Sunday after Easter) and the procession of Carmen (on the 16th of July).
San Vincente is one of the preferred by tourists places on the Northern coast of Spain. Its old town is full of charm thanks to its church, castle, and the remains of a wall. The bridges also add a lot to the beauty of this town which has the majestic Picos de Europa as a background with its permanently snow-capped peaks.
I would also add excellent seafood gastronomy as one of the famous features of this town. Together with all the sights, this old fishermen's town is an ideal place where to spend a few hours or even a day.
Where to Stay in San Vicente
San Vicente de la Barquera is a very small town, so no matter where you choose your accommodation, you will always be close to the center and sea. Some nice hotels in the area are Posada Punta Linera and San Vicente Lighthouse hotel. The first one is located 2 km away from the town in a picturesque rural area on a cliff. And the second property is next to the port with impressive views of the historic center and the estuary.
Most Beautiful Towns & Villages in North Spain Asturias Region
Asturias, the historical pride of all of Spain with its beautiful corners of untouched nature and the friendly local population, makes this part of Northern Spain unique and attractive.
The number of coastal towns and cute villages is also high. And here are the best of them:
Llanes
The first stop in Asturias when coming from eastern Spain is Llanes – a fishing town located on the shores of the Cantabrian Sea, also near the Picos de Europa.
It has an old quarter declared a Historic-Artistic Site, magnificent houses, dreamlike beaches, walking paths between cliffs, and a picturesque port.
Llanes also has a lively nightlife with countless craft shops, restaurants, and cider houses where you can try the most typical dishes of Asturian cuisine. Must-try dishes here are Cachopo, bean stew, and scorpionfish cake always accompanied by freshly poured cider.
I would say that half a day is enough to see its main tourist attractions. However, if you can allow yourself a slow pace, spend a full day enjoying its beaches and walking trails along the seashore with more tranquility.
Where to Stay in Llanes
Llanes is truly a lovely place where to stay on your holidays in Northern Spain. For the most authentic experience, choose the old town area. Casa Cotiellu is a three story traditional Asturias house hotel between other traditional colorful homes is a nice pick for mid-range travelers.
Other authentic options are hotel Don Paco and Babilonio apartment.
Ribadesella
Just a little further west, come to Ribadesella, a beautiful little town that invites you to wander through its restored and pedestrianized area in the historic center. It is full of many authentic architectural gems.
Located in a privileged position, at the mouth of the River Sella and on the shores of the Cantabrian Sea, Ribadesella was one of the main Asturian ports of the 19th century. It enchants with the network of narrow streets of the old town, its fantastic beach, and different viewpoints. There you can also find a cave with fascinating wall paintings from thousands of years ago.
Once here, go for a walk through a medieval court area with cute houses with cantilevered balconies, loft-shaped attics, and facades with noble coats of arms and arcades. Some buildings date from the 16th, 17th, 18th, and 19th centuries.
If you happen to visit this coastal town on the first weekend of August, you can enjoy the famous International Descent of the River Sella, which brings together canoeists from all over the world who join a big party.
Before leaving, try the most typical Asturian dishes such as Cachopo and Fabada. Additionally, there are rice dishes, baby squid, scallops, and other fresh fish and seafood dishes, which make such rich gastronomy of Asturia.
Where to Stay in Ribadesella
If you will be in Ribadesella at the end of the day and need a place for the night, you may want to choose its southern part. It is close to the mountains and has fantastic natural views.
Bajo Los Tilos or Amaicho Rural hotel are good examples of traditional Spanish properties where to have a peaceful break in the wonderful countryside of Asturias. But Ribadesella in general has many wonderful places where to stay. See them all here.
Lastres
Awarded many times in a row as one of the most beautiful villages in Spain, Lastres gives an incredible fairy tale touch with its houses being very close to each other on the slopes with bright colors of the sea in the background and mountains on the other side. This coastal town continues to impress with narrow streets full of stairs and steep slopes that reveal corners full of magic and historical buildings.
As often in Spain, here you can keep wandering through the old streets while enjoying the views from different viewpoints. In the town center, there is also a charming fishing port. And if you still haven't tried enough seafood on your journey, Lastres is a fantastic place where to do it.
The port itself is a very beautiful area that looks like it was taken from a postcard. It reminds of centuries of hard seafaring work.
Besides the port, go see the chapel of Buen Suceso, the hermitage of San José, and the central Clock Tower in the historic part.
And if you want to go to the beach, go to the most famous beach in the area known as Playa de la Griega. It is located a little bit further away about 2-3 km to the south, so it may be easier to make a stop here if coming from Ribadesella.
Where to Stay in Lastres
First of all, let me say that Lastres and surrounding area is truly an incredible town where to stay on the road trip through Northern Spain. With the fish industry being the main one in the economy of this settlement and with romantic accommodation options on the hills and sweeping views, there is some kind of magical atmosphere that reigns here.
For something unique, take a look at Cool Rooms Palacio or Hotel Eutimio.
Cudillero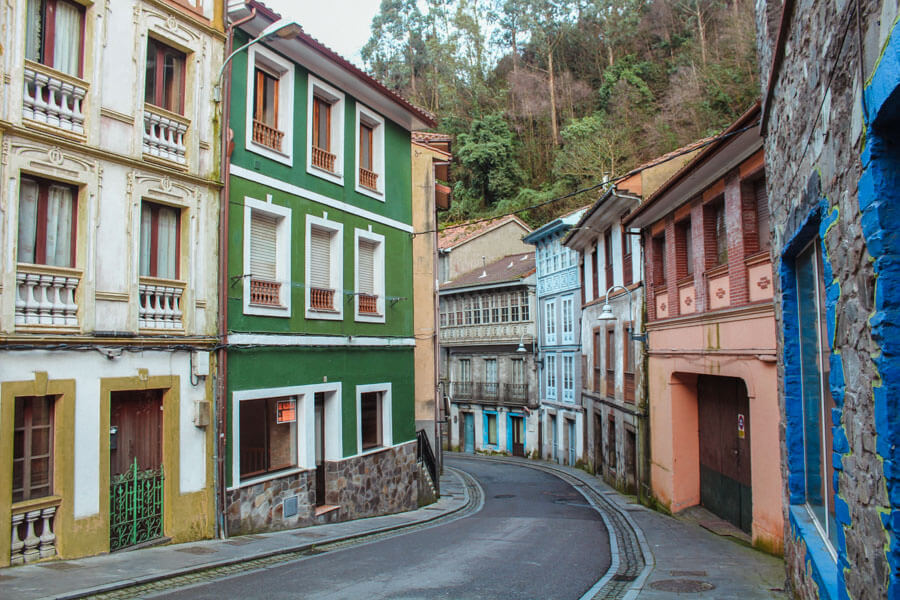 Of all the seaside towns in the Bay of Biscay, Cudillero is the only one that cannot be seen either from land or from the sea as it is located in a natural bend that gives it that invisible and therefore mysterious location.
A town that hangs almost vertically down a slope between two hills, creating a unique amphitheater of bright colors and a lively atmosphere with terraces, restaurants, and cider houses open in any season of the year.
One of the best things to do in the town of Cudillero is to wander around and literally get lost in its many nooks and crannies. You will discover endless stairs, passageways, balconies, viewpoints, and brightly-colored fishermen's houses.
Everything in Cudillero tastes like the sea, smells like the sea, and sounds like the sea. All the fishing inventory and seafood restaurants are an unmistakable sign that you have reached a seafaring town in Spain.
If on your journey you can't visit all towns and villages, make sure not to exclude Cudillero. It is one of the best small towns in northern Spain that is well worth a trip.
Where to Stay in Cudillero
Staying in Cudillero will be very authentic, especially if you choose the old narrow part near the sea. Take a look at this apartment that used to belong to a local artist. It is located at the top of the village and has the best view (the one I have in photos).
Another unique option is Casona de la Paca hotel or La Casona de Pio.
Luarca
Luarca was the next fishing village on our trip through Northern Spain that we didn't expect much from. But I have to admit that we were wrong.
Being an incredibly beautiful village on the Asturian coast, Luarca impressed us with its unusual architecture. The winding Negro River, gently encircling the streets, either divides or connects its quarters where modest snow-white houses of fishermen and luxurious villas of emigrants alternate.
Main reasons to visit this village are remains of the Celtic settlements of Castros and Roman dwellings, the medieval palaces, facades of wealthy houses of the Indianos families, and its seven bridges. Luarca also has the largest number of wealthy emigrant homes in Asturias, of those who returned from Argentina, Mexico and Cuba.
Well-maintained fishermen's houses, most often in white colors, bring their own flavor to the urban landscape here. They make Luarca the most beautiful seaside town in Asturias. There is also a fishing port and cute fish market where fishermen offer their catch such as fish, shellfish, and crabs. And closer to dinner, from small bars and taverns, the smells of freshly cooked seafood spread throughout the area.
You can admire the city by going up to the observation deck, located next to the Atalaya Chapel. It's nice to walk along the Barbacana promenade, sit on the local beach, get lost among white mansions, and stroll between canals.
Where to Stay in Luarca
Luarca is a unique place where to stay in Northern Spain since there is a choice of accommodation in fisherman houses or luxurious estates. Take a look at La Casa de Loli which is a very authentic apartment a few minutes from the beach.
Best Northern Spain Small Towns in Galicia Region
Ribadeo & Castropol
At first glance, these two towns seem to be ordinary towns, similar to many others around Spain. But the main thing about them is the coast with surreal beaches with huge rocks, arches, and caves.
Also, I consider Ribadeo (and Castropol) an essential stop that you reach on the way from Asturias to Galicia or vice versa.
If you have time, I recommend you leave the main road and drive by the coast from Ribadeo to Playa de San Cosme de Barreiros through many small beaches and vista points. The most famous beach there is Las Catedrales, although the entire drive opens up incredible sceneries and has an impressive dramatic coastline.
Among the two cities, Ribadeo is more interesting. It has a beautiful historic center with cathedrals, parks, old fort, and long beach route. The must-visit place in the vicinity is Illa Pancha island with various vista points.
Where to Stay in Ribadeo or Castropol
If you are looking for accommodation in the center of Ribadeo, I suggest you stay at the Hotel Rolle. For something more exciting and unique, like sleeping in a lighthouse, on Illa Pancha, check this option out.
Cambados
The next coastal town is located in the west, in the famous coastal area in the wine region called Rías Baixas. Cambados is really a super lovely place to visit when on your Northern Spain holidays, both from a cultural and gastronomic point of view.
Usually, it attracts thousands of tourists every year because of the wine since the best white wines in the world come from here.
But your experience is not going to be limited to wine tourism only. In addition to many excellent wineries, there are also country houses, charming squares, a lovely well-maintained historic center in town alone, pleasant boardwalk, and old fishing district of San Take.
If you walk by the Cambados Seafront Promenade first thing in the morning, you will have the opportunity to observe how the fishermen go with their carts to collect clams, razor shells, cockles, and other mollusks from the beach, taking advantage of the low tide.
To see all the famous places in Cambados you'd need to devote at least half a day. Although if you invest more time, you'll be able to enjoy this pretty coastal city in Spain with the tranquility it deserves. Also, more time will let you take an excursion to see some of the surrounding gems such as the Illa de Arousa and the O Grove Peninsula.
Where to Stay in Combados
Cambados has an extensive hotel offer for all budgets, so it will be relatively easy to find good accommodation without having to book it well in advance, as long as it is not summer. You can check the rates and availability here.
Combarro
Now we finally come to Combarro – a town that is considered one of the most beautiful towns in Galicia. In fact, not only in Galicia but in entire Spain. Year after year, it tops the lists of towns where to get lost, whether because it is beautiful, unique, or just different. In addition, Combarro has been declared a Historic-Artistic Site.
Although the town itself is small and you can see it in the morning or afternoon, I suggest to take your time and give it the appreciation it deserves. That is even better to do in the off-season when life feels slower and calmer. Because it is also one of the most touristic towns in the region.
What is most striking about Combarro is that at every step you take you come across a granary. Each one comes with its own charm and is prettier than the previous one.
And if you are wondering what granaries are, it is an additional construction to the house in which corn and cereals are normally stored. The unusual aspect that they have is that they are somewhat elevated from the ground so that neither mice nor humidity can enter. Undoubtedly, these constructions are one of the hallmarks of Galicia.
Currently, in the town of Combarro, there are a total of 68 granaries, half of them are right on the banks of the estuary. That is the reason why you want, if possible, to visit Combarro at low tide.
Where to Stay in Combarro
For this town, it can be better to stay not directly in Combarro but somewhere around it to take the opportunity to explore the area. There are many rural houses excellent for a great night's sleep and for making a base to explore the province of Pontevedra a little more.
Some examples are A Maquia casa (if you stop here, make sure to book with breakfast, you won't regret it) and Quinta de San Amaro Hotel. This section option has a unique location, views, infinity-like pool, and delicious dishes in its restaurant. All guests also receive a free trip to a winery that produces white wine and includes a tasting session.
A Guarda
The last stop, at the very end of Spain's coastline on the border with Portugal, is A Guarda. It is one of the best coastal cities in Spain which is much more than a point on the map. In this location, Spain is separated from Portugal by the Minho River, or rather the last 76 km before it flows into the Atlantic.
The history of this coastal town is linked to its privileged geographical position. This place is abundant in natural resources and therefore ideal for human settlement. Thanks to its scenic beauty and historical heritage, the municipality of A Guarda has become one of the most important tourist enclaves in Galicia.
It is one of those destinations where you should plan to travel to experience gastronomic delights and understand why so many people leave big money in high-end restaurants. The proximity of the Atlantic ocean suggests a fish menu with various local delicacies. Eating lobster here is a religion and a simple walk along the beach becomes the best plan in the world.
This is a place of the best sunsets and incredible viewpoints and locals celebrate parties here as if the world were going to end the next day.
A Guarda is well worth a few days since there are many activities to do in the area. Once there, don't miss a trip to Mount Santa Tecla which offers the best view of the Atlantic.
Where to Stay in A Guarda
In A Guarda you have hotels for all tastes, from hostel-like accommodations by the beach to spacious apartments with a pool and terrace.
---
So this is my list of coastal towns in Northern Spain. Do you have any other towns to add to this list? Yes or no, don't forget to pin it to share it with others!