13 Best Places to Drive in Dubai – Exploring Dubai by Car
Last updated on September 15th, 2023
Many people have this idea that million-plus cities are among the worst to drive in. Well, maybe. But that's definitely not about Dubai. With fantastic roads, strict traffic laws, ample parking, and lots of cool places to drive in Dubai, getting a car and going on a ride through the city is very enjoyable.
I remember when Mark and I just arrived in Dubai in November to spend winter, we initially thought that driving here was stressful and tough. At least this is how it looked like through the taxi window on the night of arrival as we rushed along a busy highway.
But our opinion quickly changed and just after a few days into our stay we rented a car to drive around. Since then, the car became our best friend and we drove all over Dubai and the entire UAE.
And you know what I learned? That despite a popular belief (for some reason) that Dubai is best to explore by taxi or by metro, it is actually much cheaper and more convenient to get around here by car.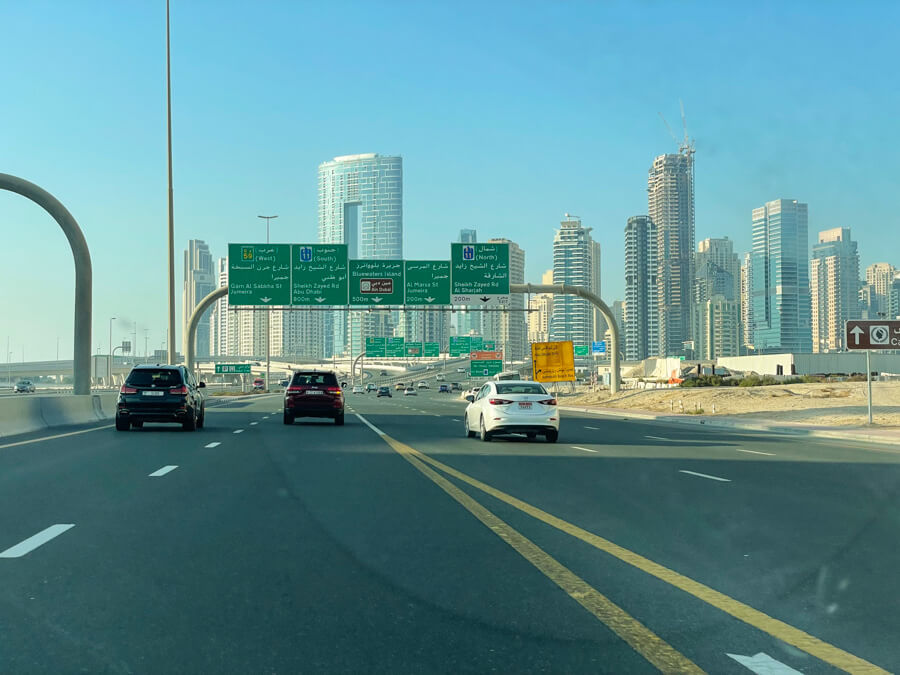 There are many incredible places to go for a drive in Dubai, many attractions where metro and bus don't go, and just many highlights of the city where it is easy to drive to.
This is why I wanted to share my favorite and simply the best places to visit in Dubai by car to give you a few ideas. Get inspired and have a great time!
---
Please note: This post contains affiliate links. I may earn a commission if you make a purchase or booking by clicking a link (at no extra cost to you).
---
Where to Rent a Car to Drive in Dubai?
From our experience, the best companies to rent a car in Dubai are LocalRent and DiscoverCars.
The first aggregator works with local agents and offers car rentals anywhere in Dubai outside the airport. They proved themselves as reliable, transparent and always have good prices. It is very convenient to book through them if you need to hire a car in Dubai Marina, Jumeirah, downtown area, Deira, or anywhere else. They offer cars in other emirates too and can deliver a vehicle to your address for a small fee.
DiscoverCars is perfect for airport rentals. I like how they find the best deals available at the airport and don't have any hidden fees.
If you would like to learn more about car hire and driving in Dubai, then see my other post with all the details about the best car rental in Dubai.
Is It Easy to Drive in Dubai?
Yes, driving in Dubai is easy and enjoyable. This city was designed for automobiles and drivers are more or less predictable. The quality of roads is excellent with clear signage and traffic is well-organized.
The most difficult part of driving during the first few days is navigating through tricky interchanges. It can be easy to miss the right exit or take the right lane. But if you follow the signs (google maps navigator is not always exact), you'll adapt quickly.
Parking is widely available and lots of it is free. All these places to visit in Dubai by car offer free parking and getting to them is easy from any part of the city. There is just one place on my list where parking is paid and I mention that. For more tips about free parking in Dubai, I have another post.
When we travel abroad, especially with the car, we prefer to stay connected with reliable simcards. I recommend you do the same.
My Top Spots & Best Places to Drive in Dubai City
So here is my list of the best places to visit in Dubai when you have a rental car. I decided to include all the incredible Dubai attractions that are far from the metro (okay, except for one iconic spot where you can come by subway, but visiting by car just saves you a lot of time).
Getting to them by public transport is time-consuming, taking a taxi can cost a fortune. But if you have a car, that opens up an opportunity to see more in one day.
And if you combine all these places in one trip, you'll get one long nice drive in Dubai.
Dubai Creek Harbor
I would like to start my list of the best places to visit in Dubai by car with my favorite waterfront community Dubai Creek Harbor. It is an incredible project located between Ras Al Khor Wildlife Sanctuary and Festival City that is among short drive places in Dubai.
I remember how in the recent past this area looked more like a continuous swamp with reeds but today it is a self-sufficient community with many shops, homes, offices, restaurants, lovely hotels, and a beautiful promenade with the best panorama of Dubai. It is not finished yet and more construction projects are still well under way but regardless of that, there are plenty of things to do around.
By visiting this area, you can indulge in retail and gourmet therapy while walking on shopping boulevards and checking out entertainment options with the finest restaurants. Pop into Mondoux with the extensive menu or Vida Creek hotel restaurant on the second floor with incredible views.
If you prefer to keep it more on a budget, then come to the Dubai Creek Harbor promenade to see the Dubai skyline with a clear view of Burj Khalifa. Or just walk around taking photos with various modern structures and the marina. There is also a playground for kids to keep little travelers entertained.
I recommend you visit it on a separate trip since you can easily spend half or even a full day there. Otherwise, if not having a lot of time, come slightly before the sunset. The view of Dubai against the red sky is simply breathtaking.
Parking is available and free, it's right by the Harbor Walk Shopping Center.
Dubai Festival City Mall
Dubai Festival City Mall is a popular shopping mall in Dubai that got its large popularity due to the fact that it is located in the walking area.
The mall, although not the largest, is still pretty big and has more than three hundred shops, 90 restaurants, lots of entertainment and activities. People come here both for shopping, for a walk, to dine in the restaurant, or spend the entire day checking out all the attractions. Various events or holiday celebrations, shows and flash mobs regularly take place here.
I am not a big fan of malls, but this one quickly became one of my favorites because of its unique evening laser and fountain shows, dhow rides, Ferris wheel, long boardwalk by Dubai Creek, and holidays fireworks. From time to time Mark and I love coming here to watch a movie in their large cinema, get a desert in a cool robotic cafe on the first floor, and dine while watching the IMAGINE show.
Even if you don't like shopping, come to this mall to spend a few hours or half a day to create memories amidst a backdrop of the gorgeous Dubai skyline. And if you feel like spending a night, book yourself a room in InterContinetal famous for a hanging pool with transparent bottom or Crowne Plaza by the waterfront.
It is better to come in the evenings. There are a lot of people at this time but laser shows of dancing fountains are starting at 6 pm.
Parking is ample and free in the underground garage of the mall. For more details and what is happening in Dubai Festival City, check the mall's website.
JBR
JBR (Jumeirah Beach Residence) is a residential area located between the Palm Jumeirah and Bluewaters Island. The main things it is famous for are a free long beach which is quite popular among the residents of this micro-district and a beautiful pedestrian promenade Jumeirah Beach Walk.
In 2015, the beach underwent major changes. It ceased to be "wild" and was equipped with all the necessary amenities for a comfortable stay for tourists and local residents. Entrance to the beach is free, but many activities, sunbeds and umbrellas require payment which is pretty high.
Between the beach and apartment complexes is a promenade with all kinds of stores, souvenir shops, and catering points – restaurants with cuisine from around the world, cafes and eateries. The boardwalk offers lots of benches and palm trees where to walk in the shade and relax.
I can't say that JBR is my favorite spot in Dubai, no. Yet once in a while, I love coming here to walk between tall apartment buildings, get a bite in one of the cafes and watch the sunset over the tallest Ferris wheel in the world Ain Dubai. And after JBR, slowly move to Dubai Marina or even further to Jumeirah Lakes Towers. Both of them have much more to offer.
While you can easily come to JBR by metro, it is much more convenient to do it by car considering a fact that there is free parking nearby. I am dropping coordinates for you to see where free parking is. It's near Zero Gravity on a big sand parking lot. It takes only a few minutes to walk to the beginning of JBR boardwalk but if you feel like being closer, there is also paid underground parking near JBR beach.
Soho Garden DXB
Soho Garden DXB is a cool entertainment destination in Dubai that brings the soul of London's Soho to the most extravagant city in the UAE.
It is here where you'll find an array of restaurants, bars, and nightlife experiences that have their own vibe different from any other part of Dubai. But besides dining venues and nightclubs, there is also a recently opened swimming pool and concert hall.
Soho Garden is the place where to dine, spend time by the pool, have a drink in a bar, or have fun in the nightclub.
The complex, which area is 14 thousand square meters, is only a 15-minute drive from the Dubai downtown. So it is easy to get here on your Dubai road trip through the city or make a separate visit during the day or night.
Dubai City Walk
City Walk Dubai is a relatively new residential area in Dubai, built on the principle of "city within the city". It is located in the Al-Safa neighborhood on Al Wasl Road, near the main street Sheikh Zayed Road, a 20-minute walk to The Dubai Mall and many hotels.
Within City Walk limits you'll find a huge shopping area with a big entertainment venue as well as many restaurants and bars.
The territory of the complex is divided into two parts and has its own underground parking lot free to visitors. Two parts of the complex comfortably house brand shops, fashionable restaurants, inexpensive cafes, creative bars, a fitness club, SPA, children's entertainment area, educational centers, and much, much more.
Due to the fact that there is also a square for holding mass events, City Walk often serves as a place for various celebrations. Like Christmas concerts, UAE national day events, the end of Ramadan celebration (as well as other holidays) all take place here.
I like coming here just to hang out on the territory (because the streets of the City Walk shopping area resemble European streets), get a drink in one of the cafes, and enjoy the quiet atmosphere. Yes, despite the huge range of entertainment options, City Walk is pretty quiet and never too crowded.
Also, from here you get to see Burj Khalifa which serves as a beautiful background for the photos. And if you feel like you need more activity, don't miss a nearby tropical rainforest at The Green Planet.
Dubai Mall
Dubai Mall was definitely going to make this list since reaching it by car is easy and parking is available to all. Being the largest shopping center not only in Dubai but also in the world, it is worth including it in every Dubai itinerary. Especially if you are planning to go on a drive through the city.
This mall is not just a mall. It is a real city where, in addition to shops and dining venues, there is its own entertainment, multiple play areas, aquarium, dancing fountains, and the tallest building in the world. People come here to spend time with the whole family and know it as one of the biggest attractions in all seven emirates of the UAE.
There are about 1200 stores where you can buy absolutely anything – from clothing and footwear from Europe, Asia and the Arab countries to books, electronics, interior items, and household goods. Additionally to that, there are several grocery supermarkets, telecom stores, ATMs and currency exchange offices.
In fact, people mainly come to Dubai Mall not so much for the shopping as for leisure. Among the most remarkable attractions are a large children's center "KidZania", a virtual reality center, a huge cinema with 26 movie halls, aquarium, indoor skating rink, choreographed performing fountains, and of course the tallest building Burj Khalifa. You can also go diving, feed the sharks, or ride the virtual roller coaster.
And in the end of the day, pop into GIA Italian restaurant or L'ETO cafe from where you can watch a show of fountains.
The mall has its own five-star hotel and large underground parking. The first two hours of parking are free and after that, you need to pay. An alternative way to park your car for free would be at the Dubai Opera. It is only a short walk away from the mall and Burj Park.
Madinat Jumeirah
Madinat Jumeirah or as some people call it Dubai Venice is a modern Arabian-style neighborhood adjacent to the Burj Al Arab Hotel and Wild Wadi Water Park. It is an elite resort in Dubai and also a tourist attraction. There are 40 hectares of parks and gardens, four luxury 5-star hotels, villas, and summer houses for a longer stay.
But anyone can visit on a day trip in Dubai to shop, dine, or walk through its territory.
Madinat Jumeirah has more than 70 shops, 20 cafes, restaurants and bars for every taste, a nightclub, and an open amphitheater Madinat Arena which hosts performances from time to time. There is also a market that is not an ordinary shopping arcade, but a real tourist attraction. It combines the architecture of the old oriental bazaar with modern boutiques.
It is here where you get one of the best views of Burj Al Arab Hotel, so this is why a huge number of tourists come here particularly for photo sessions with this 7-star hotel in the background. Among other attractions are sailing on "abra" boats through the canals and visit to a private beach.
If you are traveling more on a budget and are not ready to spend money, you can visit Madinat Jumeirah just to walk around, take photos, and stroll around looking at shop windows and architectural solutions. It is still a nice place where to spend a couple of hours on a drive along the Dubai coastline.
Parking inside Madinat Jumeirah is for the payment but you can leave a car near the mall on the sand and walk for less than 10 minutes. On the walk, you can also get another glimpse of Burj Al Arab hotel in close proximity.
La Mer
Another incredibly lovely place to visit in Dubai by car since there is no metro around and there are only a few bus routes covering this area.
La Mer is a relatively new coastal quarter built in 2018 in the Jumeirah-1 area. Being a multifunctional 2.5-kilometer long complex, it also has a beautiful beach that overshadows other beaches of Dubai. It is equipped with 1,100 parking spaces, numerous stationary and portable chargers for cars and gadgets, modern comfortable recreation areas, and a wide variety of entertainment options.
Everyone here will be able to find entertainment to their liking as La Mer is really big and consists of 4 conventional zones.
After soaking up the gentle sun and swimming in the Persian Gulf, you should definitely stroll along the shopping boulevard with restaurants, cafes, bars, and stores.
If I could explain shortly, I'd say that La Mer is a unique corner where nature, resort and outdoor activities merge. It has all the necessary elements for a comfortable visit – caring staff, services for your convenience, entertainment, watersports, and several options for food and shopping.
You can come here more than once and absolutely in any company – with family, friends or on a romantic walk. And I guarantee you'll love this place!
Psst: Near the north entrance to La Mer is Jumeirah Mosque where free daily excursions are offered to everyone. They start every day at 10 am.
West Beach
One of my favorite walkable waterfront destinations (and beaches) at Palm Jumeirah is best to visit by car. Make a stop here either on a Dubai road trip or come here on a separate trip to spend a day.
Underground parking is free and ample, so you can come at any time and season and always find a spot to leave your car (besides national holidays and NY celebrations).
West Beach is Dubai's new beach (opened just in the fall of 2020) with a beautiful walking area, outstanding skyline, and excellent restaurants by the water. You can come specifically to the beach, on a leisure walk to take instagrammable photos, or on a day pass to a nearby hotel. I know that Fairmont the Palm and Dukes the Palm offer pool passes where the entrance fee includes credit to spend on food and drinks.
Being 1.6 km long, the West Beach area's beach is wide and sandy with water sports centers surrounding it. 300 palm trees planted along the walking and jogging paths create a pleasant shade where to hide from sun during the day. And since it faces west, West Beach is the best place where to watch the sunset in Dubai.
And if you get to make a stop here, don't miss Jones the Grocer restaurant. Having multiple excellent reviews from others, it quickly became one of my favorite dining establishments where to catch a breeze and do some laptop work with Dubai views in the background. See photos below.
Global Village
Global Village is another place to drive in Dubai where you can spend an entire evening. It is one of the oldest attractions in Dubai in a form of a huge thematic park with 90 thematic pavilions dedicated to different countries of the world. You'll also find there a mini amusement park, lots of food stalls, and various entertainment facilities.
According to the idea, each participating country had to build its own pavilion to acquaint the visitor with the life and cultural traditions of its people, demonstrate and offer ethnic attributes, outfits, goods and souvenirs.
This is a bright and interesting fair with the number of pavilions today exceeding 27 and the number of participating countries 75. Everywhere you go, you hear folk music, find dishes of different world cuisines and can watch various cultural events. On the territory of the village, there are also miniature constructions imitating popular sights from all over the world.
Reaching this park by public transport is hard. But if you have a car, it won't be of any problem. It is only a short drive from anywhere in Dubai and you can stop here on the way back from the desert since the opening hour is at 4 pm.
The Pointe
One more fancy shopping and entertainment complex on my list which is easiest to visit in Dubai by car. However, this is only one of a couple of centers of this type in the UAE where parking is not free. The first hour costs 20 AED and every other hour 10 AED. But if you dine at the restaurant where a bill equals 100 AED, the first 3 hours of parking are free.
The Pointe is located five kilometers off the coast of Dubai on the Palm Jumeirah island. It is perpendicular to Atlantis and has a 1.5-kilometer promenade with more than 80 restaurants, cafes, boutiques, children's entertainment centers, its own beach, and a cinema with restaurant service.
This is a real paradise for those who love shopping, delicious food, and entertainment. Although many people come here mainly for the view of Atlantis (this is the closest view you can get) and to watch a show of the highest dancing fountains.
Yes, The Pointe is home to the largest fountain complex in the world with an area of 1350 sq. meters. It is here, not in Dubai Mall, where the jets of the fountains rise to a height of over 100 meters. All of this is illuminated by 3000 projectors and accompanied by all kinds of musical compositions from Arabic to classical. With more than 20 different performances you can come to watch a fountain show every day.
Among other things to do are watersports, fishing tours, hitting the beach (also with the view of Atlantis), and of course doing lots of shopping.
The Boardwalk at Palm Jumeirah
The waterfront promenade on Palm Jumeirah's artificial island is a wide boardwalk 11 kilometers long. It stretches along the coast of the Arabian Gulf from One&Only hotel to the Rixos The Palm resort.
The entire promenade offers different views – those of the sea, Dubai skyscrapers, luxury hotels, and residences. Parts of the walk boast food trucks and glass-encased cafes. If you have a car, making a stop anywhere on the boardwalk is a great option for relaxation after a tour of the island. Also, it is a good place to drive to before heading to/from The Pointe.
My favorite things to do at Palm Jumeirah's boardwalk are a trip to Atlantis aquarium and one of the hotels that offer day passes. And in the early evening, the area between the One&only hotel and Jumeirah Zabeel Saray is one of my favorite spots for catching the Dubai sunset.
If you are visiting Dubai from April to October, the best time for the boardwalk at Palm Jumeirah is in the early morning or at least after 4 pm. If coming to the walking area at lunchtime or in the afternoon, do not forget a hat, choose light-colored clothes, and be sure to take a bottle of water since it is very hot there during this time.
Parking is free anywhere along the boardwalk but it is always busy around the sunset time on the Western side.
NOTE: The best way to get here is by car when driving in Dubai. Taxis are quite expensive since they use a special rate for this part of Palm Jumeirah.
Dubai Miracle Garden
Miracle Garden is one of the world's largest flower parks which, in just a few years of its operation, has managed to earn the attention of the world community, and has become one of the key attractions in Dubai.
Apart from the fact that the scale of Miracle Garden is staggering, it is also striking that it is located far from the coastal part of the emirate practically in the middle of the desert. It is easy to reach it on a short drive from Dubai downtown, Jumeirah, the Palm, Deira or any other part of Dubai.
This garden is not a classic botanical garden that you may think of. It is also not a greenhouse in the traditional sense of this world. Miracle Garden is rather a collection of numerous examples of floristic art.
The opening of this amazing site was timed to coincide with Valentine's Day celebrations on February 14, 2013. From that very moment, the garden became one of the most romantic attractions not only in the UAE but in the entire Middle East. Since then, the complex has gone through a few changes and improved.
The territory of the complex is huge. It occupies a gigantic area of ​​72 thousand square meters and has more than 45 million flowers of 70 species, its own lake, and amazing figures created by virtuoso geniuses of floristic sculpture.
The garden contains a truly incredible variety of plant compositions that you won't be able to find in the Gulf region and neighboring countries. In addition, on the territory, you can see many flower beds and alleys, arches and impromptu waterfalls, giant flower clocks and fantastic monuments.
Price is 55 AED for adults and 40 AED for children but it is well worth it paying it to see all that beauty.
---
This is my list of the best places to see in Dubai with a rental car. I have many more posts about Dubai and UAE travel, check them all on my destination page!