Best Time to Visit Bodrum & When Not to Go
Last updated on September 23rd, 2023
Among all months of the year, the best time to visit Bodrum is June together with the last two weeks in September and the first two weeks of October. Because everything is just so nice at this time – nice weather, good prices, and nice that there are not too many tourists.
However, that's not the final answer which should influence your final decision as there is always a need to consider why exactly you are coming to Bodrum and what you expect to receive back from a visit.
Do you want to combine a beach holiday with excursions? Would you like just to stay in the luxurious all-inclusive hotel but not spend much? Do you want to come to Bodrum to escape a cold winter? Or perhaps you are looking just to make a quick stop in Bodrum while road tripping along the Turquoise coast of Turkey?
Depending on the question, the answer will be different.
This is why I prepared this guide about the best time to visit Bodrum where I talk about different travel goals, cover the climate in Bodrum, month-by-month weather, and Bodrum water temperature. I also talk in detail about what you get from a trip to this resort town on the Aegean Sea each month. Let's dive in!
---
Please note: This post contains affiliate links. I may earn a commission if you make a purchase by clicking a link (at no extra cost to you).
---
Bodrum Essentials You'll Need for a Trip
I lived in Bodrum short term and visited it every season. I want to share my favorite resources to help you plan the best holiday!
What You'll Need at the First Place:
My Recommended Hand-Picked Hotels in Bodrum
Tours Not to Miss in Bodrum
Best Time to Visit Bodrum Based on Weather
I want to talk about Bodrum's weather and climate as it is the first defining factor that most people look at when planning a trip.
Bodrum weather throughout the year differs a lot from many southern seaside towns and cities in Turkey and the Mediterranean region in general. Many people assume that the best time to visit Bodrum is spring and the second half of autumn (as in many Mediterranean destinations) when it is not really so.
Bodrum has quite unique location with constant winds which determines a cooler climate anywhere on the peninsula compared to even the northern regions of the Aegean Sea.
The summer season in Bodrum is not as exhaustingly hot as in the resort towns of the Mediterranean. Besides, the cool winds from the sea have a cooling effect.
The water temperature also does not reach such high values as in other resorts in Turkey. Usually at the very height of the season, in July-September, it does not exceed +24+25 degrees Celcius (75-77 F), and in June it stays at low +20+22 degrees C (68-71 F). However, for many people it can be an advantage as not everyone likes to swim in such warm water.
For the same reason of constant winds, winters in Bodrum are quite cold and gloomy with the very minimum sun. (Bodrum is not a good place where to go in winter, to be honest).
The air temperature in winter almost always stays above zero, frosts are very rare. However, rains are frequent and can last for days. The coldest months are January and February. Already in March the rains gradually stop, the sun comes out more and more often.
September-November is a comfortable time to stay in Bodrum. Although the water temperature does not always allow you to make long swims, being on the beach under the gentle sun is always a great pleasure.
Now, let me talk in detail about the weather in Bodrum each month as it deserves a more detailed description of the features of its climate!
Quick Overview of Bodrum Weather by Month
To help you better understand when is the best time to visit Bodrum, I decided to quickly talk about Bodrum's weather each month. Take a look at these month-by-month weather averages to know how to plan your trip around Turkey.
Bodrum Weather January
~ Average Temperature 14° C (57 F) ~
As the coldest and rainiest month throughout the year, January is also the worst month for the trip to Bodrum. The city, even though with a population of almost 200,000 people, becomes completely quiet and boring during this time.
There are practically no tourists, with the exception of New Year's week, when a number of entertainment events take place.
Last year, the highest daily temperature in January was 18 C degrees (64 F) but with rain and cold wind it felt much colder than that. However, on average it usually fluctuates between 12 and 14 degrees. The minimum night temperature was 8 degrees C (46 F).
January is the worst time to travel to Bodrum for a few reasons. One is rain which happens almost every other day. Another one is that it is practically not much to do. You can swim only in the pool since the sea temperature is +16 degrees.
And third, accommodation places can be cold. As anywhere else in the Mediterranean in winter and beyond (like Croatia in winter, Montenegro, or one of the cities in Spain like winter Valencia for example), buildings in Bodrum are not built with insulation and they have no heat. So you do need to book a new modern hotel or flat in a new building with heat available to stay warm.
The only time I'd say Bodrum is a fantastic destination to travel in Turkey in January is when you want to have a stress-free stay in a hotel on a budget. Many resorts offer incredible deals, so you can come to stay in Bodrum while catching a complete zen.
Bodrum Weather February
~ Average Temperature 15° C (59 F) ~
February in Bodrum is no better than January. Days are as cold and windy with the only difference that there is less rainfall.
In February, the weather in Bodrum is not conducive to sightseeing holidays, let alone going to the beach. Temperature during the day is around 15 degrees C (59 F) although for the most part it feels colder thanks to the wind. At night it is usually as low as in the previous month and is 8 degrees C at night (46 F). The water temperature is about +16 C (61 F).
Many restaurants and bars are closed, there is no entertainment.
The only reason why I can consider February as a good month for travel is because of the low prices in stores that arrange sales of winter clothes collections before the end of the season. Well, in between shopping, you can swim in the hotel's pool, if the water is heated. Most likely, you will be completely alone there.
Bodrum Weather March
~ Average Temperature 16° C (61 F) ~
Subtropical spring that comes in Bodrum in March cannot but please with warm weather and reduced precipitation. Nature blossoms, especially at the end of the month when the daytime temperature rises to +18 degrees C (64 F). At night it is still cool and usually +8 degrees (46 F).
The weather in Bodrum in March allows you to go on excursions because there are only around 10 days of rain during this month and even if it rains, the rain stops quickly. The prices are still low for everything and the sun shines up more with each day.
If you have ever been to Cyprus in March, then you can expect similar weather in Bodrum but with a bit colder temperature and more rainy hours.
Unfortunately, beach holidays are limited. Sunbathing becomes possible at the end of the month, but not swimming. The water in the sea is pretty much the same as in winter +16 degrees (61 F).
Bodrum Weather April
~ Average Temperature 19° C (66 F) ~
April in Bodrum is that month when you feel spring to its fullest. There are more and more sunny days, the air is getting warmer, and in the evenings it is no longer necessary to wrap yourself in sweaters.
During the day the temperature rises up to +20 degrees (68 F) and at the end of the month it can be higher. Night temperature is between +12 +14 degrees (53-57 F). The water in the sea becomes 1 degree warmer and goes up to +17 degrees C (63 F).
April weather in Bodrum is very conducive to excursions and sightseeing. With fewer rainy days and breezy dry weather, it is a pleasure to explore around. It is a very good month to go on a road trip around the peninsula or even dry outside it to see one of the Turkish villages.
The beaches and hotels are also so nice – prices are still low, there are few tourists, and you feel like the coast belongs only to you.
Gradually, restaurants and bars start to open as many of them have not been open since the beginning of November.
Overall, April is among the best months to visit Bodrum even though you cannot hit the beach.
Do you need to rent a car in Bodrum? Find the lowest price from my favorite aggregator:
Bodrum Weather May
~ Average Temperature 25° C (77 F) ~
The weather in Bodrum in May is not like the May weather in other Turkish cities where you can experience spring in full swing. May in Bodrum pretty much means summer, although not the hot one but a comfortable summer with mild temperatures without going into extremes.
In Bodrum, the average temperature in May is 25 degrees Celsius (77F) and the average maximum temperature is around 28 degrees (82F). Although you need to understand that it is gradually increasing and the first week can be on the cooler side.
The average Bodrum sea temperature near the shore in May is 19.1 C degrees (66F).
For this very reason, May is a good time to visit Bodrum for those who do not like too much heat and who want to avoid the peak of the sun's intensity.
May evenings can be slightly chilly, so if you're going to Bodrum during this month, it's a good idea to remember to pack a thin cardigan in your suitcase. Although it is not very common, it can rain in May too, but if it happens, the rain is short and warm.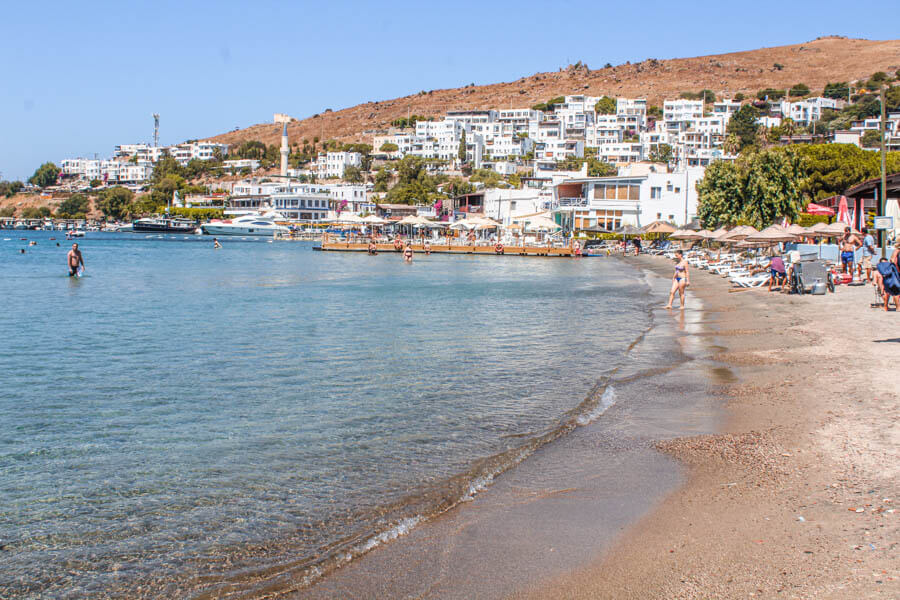 Bodrum Weather June
~ Average Temperature 30°C (86 F) ~
June weather in Bodrum becomes full summer. The average air temperature in June reaches 30 degrees Celcius (86F) and in the second half of the month, the weather becomes really hot during the days.
The sea temperature at the beginning of the month is around +22 degrees С (72 F), which is not very conducive to prolonged splashing in the sea. But by the end of the month, the sea water warms up to +25 degrees С (77 F). At the same time, the average sea water temperature in June is +23.4 degrees С (74 F).
With the month of June, when officially the beginning of summer season in Bodrum begins, local and foreign tourists begin to flock to Bodrum. Beaches become more crowded by the end of the month and you may need to start coming early to reserve a spot you like on the beach.
For those who do not like very hot weather, June is a more suitable month to visit Bodrum compared to July. Because in July the weather gets just really hot.
June like the rest of summer is the most active month in Bodrum. During this time, you can enjoy both the sea and Bodrum to the fullest. I recommend you check my top places to visit in Bodrum article as well as the best beaches in Bodrum to enjoy the city and peninsula to the fullest.
Bodrum Weather July
~ Average Temperature 33°C (91 F) ~
July in Bodrum is one of the busiest months, although it is also one of the hottest. Air temperature is around 33 degrees C (91F) on average, however, on some days the thermometer can show 35 degrees C (95 F) and higher.
July is the month when the scorching heat becomes unbearable. Even though the temperatures show 32 degrees, they feel much higher than this.
The good news is that the wind helps to endure such weather in some ways (winds in Bodrum last year-round and in the midst of summer heat, they help a lot), so some people may feel at their best. But for the majority, July weather is going to be unbearably hot.
If this is the month when you plan to come on vacation to Bodrum (if coming during the cooler month is not possible), I advise you to book a hotel with its own beach and lots of shade, like Kaya Palazzo Resort for example. Or at least a hotel close to the sea and city (like this budget-friendly Ena boutique hotel with a pool).
Do not stay anywhere far from the attractions and beach if you don't have a car and need to walk far as levels of heat are extreme!
July is also that month when you will have difficulty finding an empty hotel anywhere on the peninsula close to the beach because most holidaymakers prefer July (and August) as a month for a holiday. This is why it is important to book your accommodation in advance!
Bodrum Weather August
~ Average Temperature 34°C (93 F) ~
Weather in Bodrum in August is very similar to the weather in July. The average temperature is 34 degrees C (93 F), although heat waves are common when the temperature marks on the thermometer rise much above that.
In cities that do not receive wind (like Torba or let's say Akyarlar), the temperature is felt at higher degrees than it actually is.
This is why it brings me to this point – August is the worst month to travel to Bodrum for people who suffer from heat or cannot tolerate heat easily. It is also the worst month for travel for those with health problems and the elderly.
If you fall into one of these categories and still have your trip planned, you need to be very careful with the times when you go out. Seek shelter from noon until 5, chooses only shaded places during the day, wear a hat and sunglasses, use sunblock and drink lots of water.
In August, it is much more suitable for swimming in the early morning or late afternoon, or even in the evening rather than at noon when the sun is literally scorching.
I recommend everyone (not just the elderly) apply extra precautions against sunstroke and sunburns in August. Always wear a hat and sunscreen (min SPF50) in open areas, even in the morning. In August, the Bodrum sun will start to burn you in five minutes, even if you only go to the store!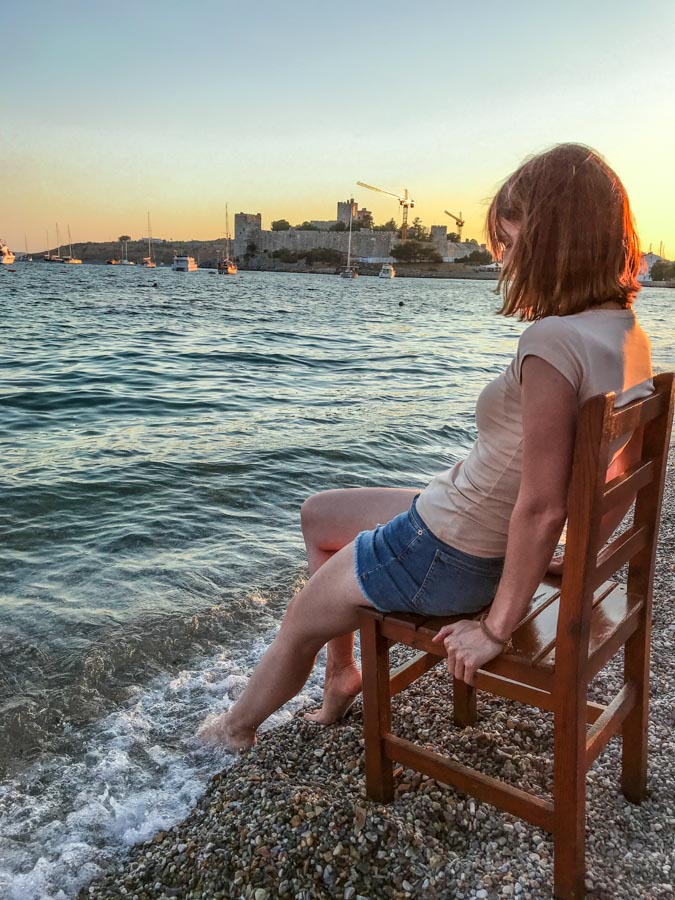 One of the best activities for the August visit is a boat tour. When you come to Bodrum on holiday, you should definitely take a boat tour to see the most beautiful bays and cool off as it is always easier to endure the heat on the sea. Read my post about the best boat tour in Bodrum before choosing one for yourself.
Bodrum Weather September
~ Average Temperature 29°C (84 F) ~
September weather in Bodrum finally begins to cool down. The average air temperature in September around the Bodrum peninsula is 29 degrees Celcius (84 F).
According to many, September is the best time to visit Bodrum and the reason for that is not just cooler weather. Crowds begin to decrease, prices slightly drop, and the sea is the warmest during the entire year. The sea temperature in September is around 25 degrees C (77 F) which is ideal for everyone.
September is a perfect time for those who want to have a quieter holiday in Bodrum, accompanied by pleasant breezy air that is not stifling.
Also, September is the best month for surfing in Bodrum. The wind during this period picks up (in August it slows down), surf schools are half empty, and sea is warm. You can spend the entire month learning how to surf in different parts of the peninsula with the best surfing spots in Akyarlar and Bitez.
However, remember – September in Bodrum also starts to see chilly nights. So don't forget to pack a light cardigan in your suitcase just in case.
Bodrum Weather October
~ Average Temperature 26°C (79 F) ~
Is Bodrum hot in October? Well, actually with October many things change. The second month of autumn starts to correspond to the season on the calendar. October means autumn weather in Bodrum which also means that the weather is never hot.
The average Bodrum air temperature in October is 26 degrees Celcius (79 F). Even though there is a slight coolness in the evenings, summer is not over yet. Yet, feeling the cool breeze in the air reminds that autumn is near. You should definitely take clothes such as a jacket and pullover with you when coming to Bodrum this month.
With all the evening coolness, October is very pleasant in Bodrum. First of all, this month is perfect for touring the sights of the peninsula without burdening with the extreme heat. Second, prices already decrease significantly and there are three times fewer tourists.
In October, you can discover the historical places the peninsula is home to. Of course, you can still swim and enjoy boat tours in Bodrum in October too.
If I had to make it short, I'd say that October is an ideal holiday month for Bodrum for those who do not like the scorching heat of summer!
Bodrum Weather November
~ Average Temperature 19°C (66 F) ~
Bodrum November weather is characterized by much cooler days and nights as well as an increased chance of rain. The average high temperature during the day is around 19 degrees C (66 F), while the average low temperature at night is around 11 degrees C (52 F).
However, temperatures can fluctuate throughout the month, and it's not uncommon to experience cooler or warmer days. This is why it is important to track November weather in Bodrum when your travel date is approaching.
What you need to know is that November is also one of the wettest months of the year. Rain days increase in mid-November (9 days of rain in this month in total). It can rain for a few hours and stop but then resume again.
Also, in the second week of November, there are noticeably fewer tourists and the high season is considered closed. Many places of entertainment and restaurants close until April. The same happens with some hotels.
If you do decide to go, remember to either book accommodation in the southern or western part of Bodrum or book a property with a heated pool and AC heat. As those towns that are located in bays and in the northern part of the peninsula (that are cooler in July and August) get much colder in November.
You may not believe it, but some residents of Bodrum still continue to swim in the sea in November and sunbathe on the beach. If you come from a place with harsh late autumn, you'll feel like doing just the same. Otherwise, grab a beach chair and coffee, sit on the beach, and enjoy the month of November in all tranquility.
Bodrum Weather December
~ Average Temperature 17°C (63 F) ~
I can't say much good about this month when it comes to a beach vacation in Bodrum. It is one of the coldest and rainiest months and also one of the worst times to visit Bodrum for the sun and beach.
The weather in December in Bodrum is absolutely not suitable for a beach holiday, not so much for sightseeing. The sea is cold (not everyone dares to enter it when the water temperature is +18 degrees Celcius and 64 Fahrenheit). The air temperature during the day on average is +15 C (59 F) and at night +10 C (50F).
There are no tourists, only a small number of them who come for Catholic Christmas and New Year. The only way to see some entertainment is to stay in a resort where shows and animations are arranged for guests.
But that's pretty much it, as nothing else is really happening around the peninsula. During this month, it is much better to go to Antalya as Antalya in December is much more vibrant, visit ancient sights like Pergamon, ski resorts, or hot springs of Turkey. There are actually some hot springs on Karaada island which is a short boat trip away from Bodrum. They can be interesting to you for this time of the year.
Overall, Turkey in December is a wonderful time to visit but I wouldn't include Bodrum in your itinerary.
FAQs About Bodrum Weather for a Visit
Can You Swim in Bodrum in May?
It depends on what temperature you consider comfortable for swimming. As mentioned above, in general, the average sea temperature is 19 degrees. Although there were years when the minimum and maximum sea water temperatures reached 17.6C and 21.7C (64F and 71F) respectively.
Bodrum residents start to swim in the sea little by little starting with the third week of May. That's the time when they say the sea begins to warm up.
However, the main factor that defines whether you can swim in the sea in May or not is the wind. Wind in May is frequent and rather cold which is why the weather is not comfortable for swimming for most people.
On one of my visits to Bodrum at the end of May, I personally was not comfortable swimming. For me, the water was too cold and gusts of wind made it even worse. In fact, I personally do not swim in Bodrum's sea until mid of June.
But that all depends on the person. Many travelers (especially those coming from the north) consider these conditions ideal.
Can You Swim in Bodrum in September?
Absolutely! September is the best month in Bodrum to have a beach vacation in every sense of the word!
Actually in September, it is difficult to get out of the sea as the water is so warm like a bath, ha! But it is neither too hot nor cold, ideal for everyone. Sweltering heat is gone a little and the sea water temperature is at its best.
In one word – September is the most ideal month for a holiday in Bodrum!
Can You Swim in Bodrum in October?
The most frequent question I was getting from others after they read my posts on Bodrum was about swimming in Bodrum in October. Is it still possible to swim in the Bodrum sea during this month?
Let's answer it this way – yes, if that's during the first 2 weeks in October. And it depends on how comfortable you are if that's the second half of the month.
The first two weeks of October somewhat resemble September in Bodrum and the sea water temperature is still warm. However, it drops a little in the second half of October as this time brings some storms. During the last year, the recorded sea temperature was 21.6 degrees Celcius (71 F) which is already considered cold for some people.
Bodrum residents continue to swim in the sea throughout October and even until mid-November. If you come from colder climates and love colder sea, then it will be perfect for you. But if you are coming from the south, you may feel quite uncomfortable getting in the water.
NOTE: Those towns of the Bodrum peninsula that get more wind usually have a much cooler sea. When others, located in bays with less wind, have warmer water.
Best Time to Visit Bodrum Based on Your Goals
Now, I want to summarize this article in case you want to receive quick answers without going into too much detail about Bodrum weather by month.
The best time to visit Bodrum will depend on what exactly the goal of your trip is. So let's briefly talk about those travel goals and see what time of the year works best for them.
If You Want to Have a Beach Vacation
The most pleasant temperature for swimming in Bodrum is set in July-September when it fluctuates between +23+25 degrees Celcius (73-77 F). However, while the sea temperature is perfect for swimming, the air temperature in July and August is unbearably hot.
This is why the best time to visit Bodrum for a beach vacation is during the Velvet season in September and first half of October.
At the beginning of October, the sea is still very warm, and only by the end of the month does the temperature drop to +21°C (70 F).
The sea cools down for a long time, so you can be confident planning your beach holiday in Bodrum for September and even October. These months are also considered the ideal time to travel by ferry to the Greek islands of Kos and Rhodes.
Best Time to Go if You Can't Stand Heat
If you try to avoid hot weather for your own reasons but still want to enjoy Bodrum's beaches and all that the summer season has to offer, I'd recommend you consider traveling to Bodrum from the second half of May until mid-June and the last two weeks in September throughout mid-October.
During this time, nice weather is guaranteed with mild temperatures perfect for a full-scale summer vacation.
If You Want to Avoid the Crowds
Completely avoid the crowds? Then come in winter when Bodrum feels deserted, ha. Why not, for some people it can be a perfect time to unplug.
But for those who look to travel with the nice weather but fewer people, the best time for travel is April, May, the first two weeks in June, the last two weeks in September, and the whole month of October.
If You Look for a Cheapest Hotel Stay
The cheapest way to go on vacation to Bodrum is from December through February when hotel prices are 3 times cheaper than in summer. Although most of the activities at this time are not available.
During the high tourist season, the cheapest time to go is the end of May through the second week of June.
So, Finally, When is the Best Month to Visit Bodrum?
If I had to choose just one time when to go to Bodrum, I'd pick June. For many reasons, it is simply the most pleasant month to be on the Bodrum peninsula.
The temperature is not too hot yet and you do not languish from the unbearable heat. At the same time, the sea is already warming up enough for comfortable swimming.
If you come earlier than June, you won't be able to swim in the sea as in Bodrum it warms up much later than for example in the south of Turkey on the stretch between Antalya and Fethiye or in Alanya.
By the end of June, more and more tourists arrive which already starts to feel too crowded. But if you plan your trip earlier then by the end of June you will be already leaving without crossing paths for too long with crowds of tourists.
Another excellent time to visit Bodrum is 4 weeks in autumn and they start from around the 18th of September until the 16th of October. This is the peak of the Velvet season which means you can enjoy the warmest sea, the most comfortable temperatures during the day, pay less for all of it, and on top of it do not need to push through the crowd of tourists.
I hope now you have all the answers about when to visit Bodrum. And even if you come in the middle of the winter or early spring, you'll know what to expect!
Let me know of you have other questions and if I can help you build your perfect Turkey itinerary! Otherwise, just see my other posts about Turkey here.