Best Time to Visit Kyiv: When to Go & When to Avoid
If you are getting ready to visit one of Ukraine's most popular cities, nailing down the best time to visit Kyiv should be high on your list.
Many people have the wrong perception of Kyiv's weather and the right season for a trip. The majority usually highlights only one particular season. Although to be honest, Kyiv is ready to receive guests all year round.
In my Kyiv weather and climate guide, I am going to talk about each season and what it offers to a traveler. I am including a month-by-month weather summary and tips for choosing the best month to travel to Kyiv for different types of visits.
There are pros and cons to traveling to Kyiv during any time of the year and we are going to talk about them as well.
But let's start with the most common question. If that's not what you are looking to answer, check the table of contents to jump to another answer.
---
Please note: This post contains affiliate links. I may earn a commission if you make a purchase by clicking a link (at no extra cost to you).
---
What Time of Year Is Best to Visit Kyiv?
I don't want to sound cliche but I am still going to say it. Surprisingly, the best time of the year to visit Kyiv depends on a few factors and what you prefer. Due to the variety of activities and purpose of your trip, any time of the year can be wonderful enough.
The majority of people will tell you that, of course, the best time to go to Kyiv is summer but then later, after visiting in July or August, these same people change their minds. Others think that the best time for sightseeing is also summer, not knowing that Kyiv churches and monasteries look so mysterious in the late fall and in winter.
If you are looking for the best chance of comfortable weather then, in short, you'll find it in the late spring and early fall. Summer can bring pretty nice weather too. Like this summer, for instance. It is very pleasant and nice with an average temperature of around 25 Celcius (77 Fahrenheit). However, more often summers in Kyiv are pretty hot and sticky.
That being said, my personal pick for visiting Kyiv would be May and October but more on that below. As with all questions of this nature, there is no one single answer to all travelers. What works for me may not work for you. Kyiv can be really wonderful in winter too when you can be visiting spas and stay warm in cozy cafes.
To help you decide which time of year is ideal for YOU personally, I am going to go over the pros and cons of visiting Kyiv during each season.
But before we get there, answer the following questions to get started:
Are you ok with heat and a bit of humidity?
Do you prefer cold and a bit of snow?
Would you like to spend as much time in nature as in the city?
Are you into museums, art galleries, and quirky coffee shops?
Do crowds bother you?
Thinking about your answers to these questions will help you determine when to visit Kyiv.
Kyiv Geography Overview
The city of Kyiv is located in the center of Eastern Europe. It has a favorable geographical position and natural conditions. The city lies on both banks of the Dnipro River and is surrounded by an almost continuous ring of forests.
Geographically Kyiv is located on the border of two landscape zones – forests and forest-steppe. To the north of the city, forests, meadows, swamps, lakes, and rivers stretch over a vast territory. In the South of Kyiv, forest areas alternate with open spaces, convenient for farming. Within the city, there are significant natural and manmade forests and parks.
The climate of Kyiv is moderately continental, with relatively mild winters and warm summers. The average January temperature is -6.0 degrees Celsius (21F) and in July +27C (80F). The air humidity ranges from 51-52% in May and 94-95% in December. The number of days of sunshine is 77 days per year.
Weather In Kyiv Overview
Kyiv has four distinct seasons and significant rainfall. Even in the hottest summer month, there can be a lot of rain. All seasons are clearly defined, however, the last few years had a slight shift. The winter that many Ukrainians are familiar with, which is snowy and crispy, lately comes around January and lasts all the way into March. During some years it was pretty snowless at all. Spring can be rainy while summer cool or extremely hot.
The capital of Ukraine is located on seven hills and has an elevation difference between the upper and lower points of more than 315 meters. Therefore, cold air in winter moves from the top points down, usually to river valleys, and lowers the temperature there.
In addition, in winter it is several degrees warmer in the Kyiv center than in the outskirts due to dense buildings. In the southern part of the city, it is usually warmer in winter than in the north (since the sun almost always shines from the south). And that part is always hotter in the summertime.
The coldest days in Kyiv, as a rule, are on January 18-25 (in Ukraine people call these cold days "Epiphany frosts"). The highest air temperature is typical for the period of July 15-25.
Stats on Kyiv Weather & Seasons:
The hottest month in Kyiv: July

The coldest month in Kyiv: January-February

Most crowded months in Kyiv: July – August

Least crowded months in Kyiv: February – March & November
Kyiv Weather Monthly
Winters in Kyiv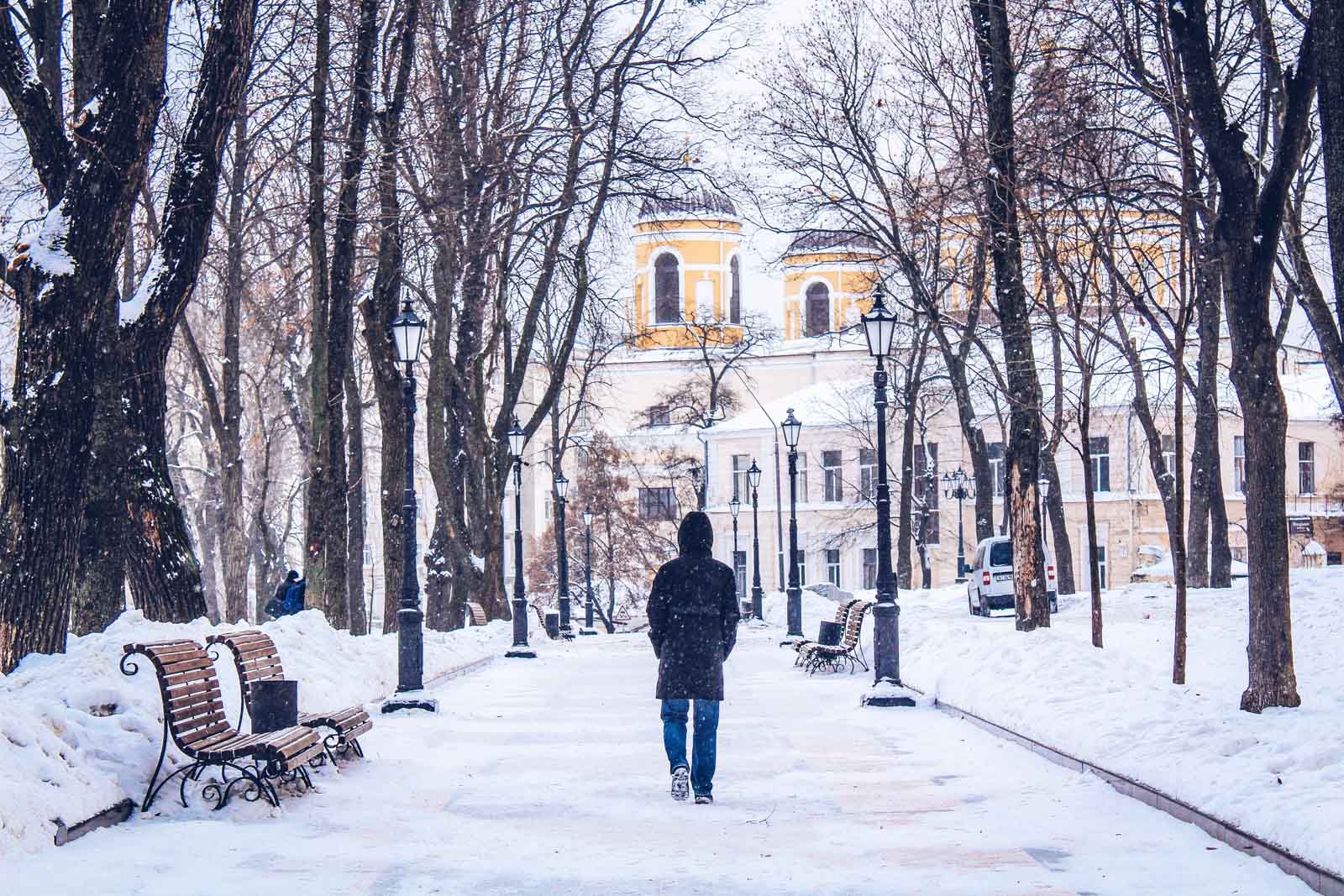 Overview: Winter in Kyiv is "classically" cold, with snow, although not much snow as it used to be years ago. Abnormal weather conditions with extreme frosts and snowstorms are not typical but they may happen. During the last few winters, there were days when my friends had to conquer the door of their house to get outside and find their car in snowdrifts. So yeah, this type of winter may happen but it's not really common.
Most weeks can be gloomy, with wet snow that melts before it falls and humid.
The problem with Ukrainian winter is that it is pretty humid. And when the humidity goes together with the slight cold, you feel like you are freezing. The temperature can be around 0 or only -5C (from 32F to 23F) but three sweaters and a long warm leather coat won't help much. You still will be cold. As we say in Ukrainian when winter is humid, you are cold to your bones. So you have to pack the right clothes to stay warm.
What to do: Winter in Kyiv is a time of constant winter entertainment and New Year's holidays. The city gets decorated with festive illumination and various events take place. With multiple indoor and outdoor ice skating rinks, boutique shops and big shopping malls, skiing in the Protasov Yar, winter fishing, different competitions, and events, it is impossible to be bored.
Those who prefer to relax indoors can visit a theater, wonderful Kyiv museums, water park, a spa, go for drinks and jazz, or hang out in one of many super awesome Kyiv cafes.
January is the time for the New Year and Christmas holidays (by Orthodox calendar), so there are plenty of tourists in the city (most of them are Ukrainians).
|| READ MY DETAILED GUIDE TO ||
WINTER IN KYIV: AMAZING THINGS TO DO & PLACES TO VISIT
Kyiv Weather in December
In 2020, the highest daily temperature in December was 10C degrees (50F). The minimum recorded night temperature was -3C (26F). The average daily and nighttime temperatures during December were 4.5C (40F) and 3C (37F) respectively.
Usually, Kyiv in December sees too many overcast days but sunny days are also common throughout the month. In fact, December is one of the rainiest months of the year.
Kyiv in January
Kyiv weather in January is a bit tricky. It is considered the coldest month of the year with most of the snowfall and the lowest temperatures. Although again, with the recent climate change, it can be snowless and pretty dry. The Dnipro river usually freezes during this month and turns into a real skating rink which is more popular among fishermen who spend all their weekends there.
Average daytime temperatures are -4C (25F), at night -6C (21F) but periodically the temperature drops to -15-17C (5-1F). If you plan to travel to Kyiv in January, it is worth checking the short-term weather forecast before your trip.
In the first month of the new year, it often snows but light rains may also occur. On average, 1 rainy day is recorded. Humidity in January is very high – around 70–80%.
Kyiv Weather in February
The first half of February practically does not differ from January. It is just as cold and snowy. The average temperature during the day is -3C (26.5F), at night -5C (23F). In the first week, the thermometer can still drop to -10C (14F) but with the second week, the average daily temperatures ​​begin to rise. In some years, the beginning of the month had temperatures above zero.
Regarding the precipitation, on average, rain follows snow and vice versa. Snow doesn't stay on the ground for too long.
There are still 3 to 5 sunny days per month but that's pretty much it. The sky is usually overcast or cloudy and everyone is counting days until the sun shows up. The closer to March, the higher the probability of a clear sky.
Spring in Kyiv
Overview: Kyiv in spring is the most magical time of the year that all Ukrainians love. Especially the second part of this season is truly special. In spring, apricot, lilac, magnolia, and the symbol of the city chestnuts blossom all over the city. By May, the ideal weather sets for long walks and time outside. It is no longer cold but not yet too hot.
In March, it is still cold and can even snow. March, as we say in Ukraine, is a capricious month. Winter snow can replace sunny almost warm days in a few hours only.
In April, it changes and gets warmer and warmer. Parks and gardens get covered with a green carpet of young grass, and the air is saturated with floral aromas. Temperatures rise in early April when the sun lingers in the sky longer and longer. Although it starts raining more often this month.
At the beginning of May, truly luxurious weather starts to reign in Kyiv. The air warms up to 20C (68F), the city is very sunny and feels amazing. Even small precipitation does not spoil the mood, on the contrary, after a light rain, a subtle pleasant aroma fills the air.
What to do: Spring in Kyiv is time for endless walks around the city, riverboat tours, different excursions, biking, rollerblading, and parks explorations.
Kyiv has so many gorgeous parks. If this is the time of the year when you are visiting Kyiv, don't miss St. Sophia Cathedral and Kyiv-Pechersk Lavra with its secret rooftops, as well as Kyiv botanical gardens, where you can admire the blooming magnolia and lilacs.
Kyiv in March
For the most part, the climatic March weather does not coincide with the calendar one. March can be still pretty chilly with more hot days in the last decade of the month. The average daytime temperature is +7C (44.5F), at night +4C (39F). The temperature rarely rises above +15C (60F). At the same time, it almost never falls below zero at night.
For the precipitation, it can still snow but rain is more likely. If it snows, it melts right away.
In March, the number of sunny days increases up to 7 per month. However, there are still more than half of cloudy days. Don't forget the umbrella.
Weather in Kyiv in April
The first days of April still remind us about the winter. Temperatures are still very moderate, with average daytime temperature +19C (66F), at night +9C (48F). With every day closer to May, it gradually increases.
From time to time, the air can warm up to +20C (68F) and above, setting a complete summer mood. However, you should not be fooled. Keep your raincoats and jackets nearby. The very next morning, it can be chilly again.
In April, it still rains frequently. However, rains usually end within a few hours. The humidity level drops and ranges from 40 to 60%.
Kyiv Weather in May
Kyiv in May is already so warm. The spring is fully in the air. During the day, it warms up to +18C (64.5F) on average, and up to +13C (55.5F) at night. It is noticeably cooler in the evenings and during rains but very warm and pleasant during the day.
The monthly rainfall decreases and makes up to 7 rainy days on average this month. However, the rain can charge for the whole day or for several days in a row. These are usually not showers, but light to moderate drizzling rainfall.
There are more than 15 sunny days in May but if you're lucky, your whole trip can be accompanied by a cloudless sky.
Summer in Kyiv
Overview: Kyiv in summer is usually hot with moderate humidity. Yet, summer is this time of the year that is most popular with tourists. It is usually characterized by warm days and cool nights but days can be very hot and staying inside without AC is tough.
It can rain from time to time but usually, rain is quick and short. Within a couple of hours, the asphalt becomes dry again due to the bright sun. After the rain though, the level of humidity rises, and the air gets sticky and stuffy. On those days, I often get SE Asia on my mind. Because it can get really, really humid.
July, the hottest month, is considered the high season, and this is the time of the year when people head to local beaches, where the river water warms up to about 20C – 22C (68-71F).
As for August, it's one of the most interesting months since it becomes either too hot or, on the contrary, quite cool. It all depends on the year. The amount of precipitation in August decreases slightly.
What to do:
Let's face the reality, the busiest time in Kyiv is July and August. During this period, the city hosts the largest number of festivals and concerts of world stars. Many Ukrainians, as well as foreign tourists, enjoy visiting the city during the summer breaks.
So what you can do? You can (and should) definitely visit one of the festivals, check the city's street art scene, drink liters of coffee and eat dozens of Ukrainian pierogi in one of many quirky restaurants, go to the beach or outside pool, sightsee, take city tours and walk until you drop.
Some of the most popular things to do in Kyiv in summer include water activities and relaxation on the water, renting a yacht, or going for a walk on a motorboat on the Dnipro river. Another thing which you can do is to rent a car in Kyiv and go on one of the day trips.
Also, in summer, the nation celebrates the most significant public holidays – Constitution Day (on June 28th) and Independence Day (on August 24th). Two or three days before the holidays are always packed with people, there are tons of events and concerts are happening around the city.
Kyiv Weather in June
June in Kyiv is so comfortably warm. Usually, for the most part, summer comes to Kyiv earlier than in June, sometime in mid-late May. But in June, average daily temperatures continue to rise.
During the day it can be between +23+25C (73.5-77F), at night +18C (64.5F). During most of June the air warms up to more than +21C (70F) and above but in previous years it was already up to + 29-30C (84-86F). This year, however, June was pretty cold. The average daily temperature was +15C (59F) which is not common at all.
If I had to summarize and say in a couple of sentences what summer in Kyiv is like, I'd say this. Kyiv summers are humid and hot, but June is still relatively dry. There are a lot of sunny days – 18-20 a month. But they can be partially cloudy. On average, there are only 6 rainy days with comfortable weather. Humidity on rainy days ranges from 60 to 100%.
The best part about this month is daylight hours that reach a maximum of 16.5 hours. And usually, there are 11.6 hours of sunshine per day. This is enough for a full-fledged day full of events: you can walk around the city, go on an excursion, and dine in one of the restaurants until after 12 am.
Kyiv Weather in July
Let's put it this way. July in Kyiv is… hot and hmm.. hot. But I guess it depends where you are coming from. If somewhere from the far south, it may be not that hot at all. The average air temperature during the day is +27-28C (80.5-82.5F), at night +21C (70F). As a rule, the air warms up to +32C (89.5F), in some years the thermometer could reach +35C (95F).
On average there are only 4 rainy days. Rains can be light and moderate or heavy and abundant. Thunderstorms also are common. Prolonged showers are infrequent but can cause some inconvenience, so you may need to stay in one place to wait for it to pass. If there is more rainfall than usual, the city becomes really stuffy.
Usually, travelers who visit Kyiv in July are not bothered by the rain. Still, you should remember that there is a small chance that it will charge for the whole day. The relative humidity ranges from 50 to 80%.
Weather in Kyiv in August
August has the same weather traditions of July: heat, stuffiness, and a bit of rain. Although during some years (as I mentioned above) it used to be rather cold. Usual +30C (86F) can quickly drop by 10 or 15 degrees for a week or so and then return back to heat.
August, along with July and June belongs to the touristy season. There are a lot of visitors at this time despite not so pleasant weather conditions. In the last decade though, the temperature was decreasing significantly by the end of the month.
August also has the least amount of rainfall during the year. Usually, there are only a couple of rainy days. As a rule, it rains in the morning or late at night. Heavy showers are rare and overall August is rather dry compared to July. Thunderstorms at night are also common.
August in Kyiv and Ukraine, in general, has the highest number of sunny days – between 22-25. A lot of days can be cloudy or overcast and pretty stuffy but not rainy.
Fall in Kyiv
Overview: Autumn in Kyiv is rather cold but it comes to the city gradually. September is still a transitional period and can be pretty warm. In the first half of the month, it often can feel like summer but closer to October it is better to think about warm clothes.
Oddly enough, autumn is a season with the least precipitation. But with every week, nights become more and more frosty and days see sharp piercing winds. Sunny weather is still very common but fogs are frequent guests as well. In November, because of the fog and lower temperatures at night, roads can be icy. Light snowfalls are common and temperatures are often below zero at night.
What to do:
Kyiv in fall is still a wonderful season to visit but only if you are visiting during the first two months. The influx of tourists subsides and the central streets see fewer people.
At this time of the year, Kyiv parks are especially beautiful since they get dressed in yellow and orange foliage. Also in the fall, a new theater season opens in Kyiv theaters and opera. Even if you don't understand a word in Ukrainian or Russian, it will be still fun to go and see a performance. Take a look at the schedule of upcoming shows.
Fall is the best time for city tours, biking, visiting UNESCO sites, going to the amusement park, museums, exploring the most important Orthodox Christian monasteries and churches, and of course taking hundreds of Instagram worthy photos.
When fall is in the full swing, the colors are spectacular. As a matter of fact, if you are looking for the best fall colors in Europe, choose Kyiv for your European city break.
Kyiv Weather in September
The first half of September is sunny and warm. The average air temperature is around +20C (68F) degrees. Then, closer to October, the temperature in the evening can drop below +10C (50F), so this is the time when you need to think about suitable clothing for your evening walks.
September doesn't see too many rainy days. And if it rains, the rain is usually light and short and most likely you'll do well without any umbrella. Still, it is worth keeping an eye on short-term weather forecasts.
In September, there are fewer tourists but prices are still the same as in August as the weather encourages both walks and excursions. If you are looking to save money, enjoy warm days, and catch pretty colors, the best month to visit Kyiv is September, but to be exact – during Indian Summer.
Kyiv Weather in October
In October, the weather worsens. An average daily temperature decreases as well as the number of sunny, clear sky days. The average daytime temperature is +9C (48F), at night +6C (42F). A cold wave is usually sharp and irreversible.
It starts raining more, although heavy rains are rare. Snow may fall closer to November but this is also uncommon. Fogs occur in October and cloudy days alternate with sunny days. Daylight hours reduce and on average, in October, Kyiv receives only 6.5 hours of sunshine per day.
You have to know one unspoken rule about the Kyiv weather in October: it can change all the time and you need to be prepared for it. This is why just in case pack waterproof shoes, a warm jacket, and an umbrella.
If you manage to catch (as we say in Ukraine) the "golden" autumn in Kyiv (meaning the one with crimson and scarlet foliage against the background of church domes), it will be the most memorable time. It's very fascinating to watch the transformation of city parks before the long and gray off-season.
Kyiv Weather in November
November in Kyiv is a typical for Europe late autumn. It's just the same as in Budapest, Prague, or Tbilisi Georgia, for instance. Average daytime temperature is +2C (35.5F), at night +1C (34F). During the month, the temperature is unstable and ranges from -1C to +12C (from 30 to 53.5 Fahrenheit). Freeze is possible both at the end of the month and in the middle.
Ice on the roads, light snowfall, and morning haze are all typical for November. Humidity is high and this is the main reason why days feel pretty cold.
To be honest, if you ask me what is the worst month to visit Kyiv, I'll say November. It is probably better to avoid planning a trip during this month. It has unpleasantly unpredictable weather, really chilly days with drizzling and snowing. High humidity makes walking in the fresh air even less comfortable and enjoyable.
Even if you have proper clothes, you still feel cold very soon after going outside. If you happen to travel to Kyiv in November, better plan it for the first days of the month or try to make it at least at the end of October.
In My Opinion… What is the Best Month to Visit Kyiv
In my opinion, the best time of the year to visit Kyiv would be during the late spring-early summer or early fall. Months of April (second part), May, June, September, and October are usually months of the best weather in Kyiv. Besides the weather factor, here are other important reasons for choosing this time:
Room prices are not at peak rates and have lower occupancy (besides June when prices start to go up).

Kyiv is blooming and has a lot of colors (sakura, tulips, lilac, peonies bloom at this time). Foliage is also very bright.

Nice weather for lots of walking, tours, and being outside. It's not too hot, not too cold yet.

Reasonable airfare prices (flying to Kyiv in July or August is always super mega expensive but early fall or late spring still have awesome deals).

Some of the best festivals take place during this time too.
NOTE: If you will be traveling to Kyiv at the beginning of May, keep in mind that there are holidays on May 1st, 2nd (Labour Day) and May 9th (Victory Day) that are usually combined and many people have days off from the 1st to 10th of May. During this time, a lot of businesses can be closed or work in a slow mode.
When Is It Better to Avoid Traveling to Kyiv, Ukraine?
From my point of view (and based on almost 10 years that I spent in Kyiv), the worst time for sightseeing and time outdoors in the capital of Ukraine is November, the last week or so in February, and the first 2-3 weeks of March.
But that's the worst time for excursions and outdoor fun. The weather is slushy, windy, and pretty unpleasant for all of that. Besides that, most of the days are so grey that oh my goodness you can easily get depressed.
However, if you are coming to visit a friend, volunteer, study, or work, these months can be pretty good for travel. The weather will not be distracting you in any way and it's so nice to hide in one of the thousands of cozy cafes.
Are you planning a trip to Ukraine?
I have a lot of resources on travel in Ukraine and destinations throughout the country. Check out my Ukraine Travel Tips for all the answers to your most burning questions, or see this page for more posts.
I want to hear from you!
If you still have questions about Ukraine, leave them in the comment section below and I'll do my best to find the answer you are looking for!
Have you found this post helpful? Don't forget to pin, please!