27 Coziest Winter Vacations in the US for All Tastes & Budgets
Last updated on September 21st, 2023
Winter is one of the best seasons to travel in the US. Well, seriously. Crowds are usually thinner, prices are many times lower, road trips take on a whole new atmosphere, and there is also this festive atmosphere throughout the country during the holidays. From unique snowy getaways that include gorgeous luxury boutiques to the best warm winter spots with lovely beaches, planning winter vacations in the US is always so enjoyable!
I feel that it is impossible not to want to travel in the USA in winter with such an endless pool of places to explore. Plus considering the fact that winter weather in America and its different climatic zones offer various opportunities for winter holidays, it is easy enough to choose where to go next.
Therefore, from a wide variety of winter getaways in the US, here are some unique and trending places worth experiencing. They include top winter destinations where to find snow, hot springs, fancy resorts with infinity pools, best winter hiking spots, warm beaches to swim, and much more.
These winter vacation ideas will suit all types of travelers and their budgets. Some are great for adventure seekers, couples, or solo travelers while other winter spots are perfect for family getaways with kids.
But! If you are traveling on a budget and need ideas for cheap and warm winter vacation spots, here they are!
---
Please note: This post contains affiliate links. I may earn a commission if you make a purchase by clicking a link (at no extra cost to you).
---
Best Winter Vacations With Snow in the US
Hiking in the Snow, Healing & Relaxation in Lake Tahoe
Even though Lake Tahoe is beautiful year-round, this mega alpine lake is even more stunning during the winter months, when the brilliant blue lake contrasts the gorgeous snow-capped mountains of the Sierra Nevada range.
Known as a destination for skiing and various winter sports, one of the best things to do in Lake Tahoe during the winter months is to catch the snowy views by hitting a few of its hiking trails.
A must-do during the winter is hiking to the top of Cave Rock, which offers spanning views of the lake. For epic mountain drama and sweeping vistas, one of the best hikes in Lake Tahoe is the Emerald Bay hike. For the most epic sunset, head to Zypher Cove. There you'll get the most insane photos of the sky reflecting on the shimmering waters.
After a day spent hiking, you can head to the Sierra Hot Springs, where you can soak in a bath and plunge into a pool or relax your mind and muscles at the Meditation Pool. Or head out to Fifth Element Healing Center in North Lake Tahoe for energy healing, physical healing, and massage.
As a rule, staying at least three days is recommended to make sure you get to explore some of the best Lake Tahoe has to offer without rushing too much. For an epic stay right on the edge of the lake, book a room at the Hyatt Residence Club Lake Tahoe. It offers gorgeous lake view rooms and tons of activities nearby.
Winter Getaway to a Family Resort With WaterPark in Wisconsin
If you are looking for a beautiful place to visit in winter in the USA where you could experience both snow magic and warmth, then look into Wisconsin Dells, Wisconsin! It is a great winter getaway in the US for having a water park break and enjoying snowy weather at the same time. Also, it is one of the best winter vacations for families.
Wisconsin Dells is 'the waterpark capital of the world' known for many different resorts offering different slides and water-based attractions. Even when it's cold outside, the indoor water parks stay nice and warm.
This winter trip is suitable for everyone. Families with kids may enjoy resorts such as Great Wolf Lodge or The Wilderness. Both of them have lots of smaller slides and splash pools. The Wilderness has 4 indoor water parks alone! And the Wild Waterdome has a ceiling which is designed in a way that means you can get a suntan year-round. There is also another resort Kalahari which is great for adults for its range of 'high thrill' water slides and the hot tub swim-up bar!
The Wisconsin Dells makes for a great vacation throughout the whole of the winter. Although if visiting during the holiday season, the resorts have their Christmas trees and decorations on display and additional activities such as meeting Santa.
A long weekend is fine if you just plan to stay at the waterparks. However, there are plenty of things to do in the Wisconsin Dells, so you could spend a long winter vacation.
The waterparks are often included in the room rate. But many of the resorts also have other attractions such as mini-golf courses, arcades, rides, go-kart tracks, and more! Outside of the resorts, Wizard Quest is a fun interactive puzzle quest and the Tommy Barlett Exploratory is an awesome hands-on science museum. For great food, check out the Grateful Shed Truckyard or Moosejaw Pizza and Dells Brewing Co.
Snowboarding Trip to a Snowmass Ski Resort in Aspen, Colorado
Located in the Colorado Rockies, Aspen is an ideal winter getaway for skiers and snowboarders. With some of the best ski resorts in Colorado, located in or near the town, including Aspen Mountain, Highlands, Snowmass Ski Resort, and Buttermilk Mountain – these slopes are sure to satisfy anyone looking for a fun winter snowboarding getaway in the USA!
One of the best times to visit is January through April because the snow is better in late winter and early spring. Try to avoid major US holiday weekends or school breaks to beat the crowds.
Flying into the Aspen/Pitkin County Airport is better than flying into Denver International Airport (DIA). It saves travelers time and potential delays along I-70 from weather or traffic delays. Unfortunately, in some years, I-70 can be closed due to a rockslide near Glenwood Springs. In that case, the detour is long and slow. So instead, you'd need to fly directly into the Aspen Airport (ASE).
Having personal transportation is not necessary when visiting the Aspen-Snowmass area either! Instead, take the free RFTA buses with stops to get visitors anywhere they want in the valley.
When visiting, plan to spend at least 3-5 days. Aside from skiing and snowboarding, there are fun shops, yoga studios, and restaurants to enjoy. Aspen is also an hour from Colorado's famous Glenwood Hot Springs. There are so many fun things to do during an Aspen, Colorado, snowboarding getaway!
Be sure to plan accommodations well in advance since the area books up for ski and snowboard vacations month in advance. Some of the best places to stay will be ski-in and ski-out Airbnbs and VRBOs! Aspen and Snowmass make for great family vacations, solo traveler holidays, and couple retreats. There is something for everyone on almost any budget!
Winter Wonderland Vacation on the East Coast in New Hampshire
Winter in New Hampshire is absolutely magical. Whether spending time on the slopes or off, there's plenty of activities for adults and children alike. Speaking of little ones, families will not want to miss the most popular winter attraction in the state – Ice Castles New Hampshire!
This annual event draws thousands of "Frozen" fans with its intricate hand-placed icicles in the form of ice tunnels and illuminated sculptures. Beyond the main exhibit, visitors can take a stroll through the whimsical enchanted forest or go for a fun horse-drawn sleigh ride in the snow! Ice Castles New Hampshire typically runs between late February and early March, depending on the weather.
In addition, the scenic Kancamagus Highway is particularly spectacular to witness in winter too. It has its breathtaking snow-capped trees running through White Mountain National Forest. While driving, be sure to stop off at the idyllic Russell-Colbath Homestead, a rustic venue for special events. This charming landmark creates the perfect backdrop for wintry photos.
The Kanc also has numerous areas for travelers to pull off the road and park, whether for a brisk winter hike, a fun sledding excursion, or an adrenaline-pumping snowmobiling adventure in the forest.
For a luxurious stay with an incredible mountain view, visitors can't go wrong with the Omni Mount Washington Resort. While a few days should be sufficient in this winter wonderland, there will be plenty to keep travelers occupied, should they wish to stay longer.
Winter Hiking & Snow Vacation in Asheville, North Carolina
Asheville in North Carolina, which is very popular from spring to fall, is actually an amazing destination for winter travel! There are so many things to do in Asheville and so many experiences to have particularly in winter since you can also ski.
Many people don't know that you can go skiing in North Carolina, but it is quite popular, one of the best places in the southern USA. And Asheville makes the perfect home base for this experience. Beech Mountain Ski Resort, less than 2 hours drive from Asheville, is a popular choice. Make sure to dress warmly as the temperatures are over 20 degrees colder on the slopes than in the city.
Next up, consider some winter hiking! Bearwallow Mountain Trail is less than 20 miles away from Asheville and offers a 360-degree view payoff at the top. This is just one of many hikes to enjoy in winter.
Finally, Asheville is famous for its breweries. So after you are done skiing and hiking, you can come back into the city for some dining and drinks from a local brewery.
There are many historic inns and bed and breakfasts in Asheville where you can cozy up by the fire once the events of your day in the outdoors conclude!
Winter Road Trip in California Through the Yosemite National Park
Yosemite in winter is one of California's best kept secrets. While most people think of Yosemite as a summer destination, it's much less crowded in winter and stunningly beautiful with a layer of snow. Mid-February is also a great month to visit. This is the time when you can catch the Fire Fall when the setting sun lights up Horsetail Falls in a way that makes it look like the waterfall is on fire.
The best place to start a Yosemite trip is at the crack of dawn watching the sunrise from Tunnel View. It's one of the prettiest spots in the park, captured famously by Ansel Adams. The striking vista showcases El Capitan slowly being lit up in the presence of Half Dome and Bridalveil Falls. Afterwards, descend to the valley floor for a nice long walk on the Valley Loop Trail by some of Yosemite's most famous attractions.
The easiest winter hiking trails, open year-round, are accessed from the valley floor. Lower Yosemite Falls and the Mist Trail to the Vernal Falls footbridge are perfect for adults and kids alike. Those that are more daring can venture up to the rim for deeper snow hikes with snowshoes and hiking poles, weather permitting.
Plan a minimum of 2 days in Yosemite during winter. In addition to hiking, the Badger Pass ski area offers skiing, snowboarding, and tubing. Curry Village and Tenaya Lodge have ice skating. Tenaya Lodge is a great place to stay with kids because of all the activities they offer. Inside the park, the famous Ahwahnee is the area where to stay.
Ski Getaway to a Cute Ski Town Park City, Utah
When talking about winter getaways, skiing (or snowboarding) is always something that jumps right to the front of most people's minds, and for good reason! Nothing quite beats tearing up the slopes during the day and then being able to warm up by the fire of a majestic mountain lodge or cabin before heading out for some exciting apres-ski!
Whilst there are plenty of mountains in the US that excel at one of those things, nowhere else manages to nail all three quite like Park City, Utah. Park City actually includes two resorts, Park City Mountain and the Canyons. Each mountain offers options for all different types of terrain and abilities meaning no matter if you are a family heading to the snow for the first time, or an expert who's been skiing your whole life, you will find here what you love!
There is a convenient free shuttle that can transport you between them all and other activities for the kids such as tubing at Park City. You can visit the ski resorts at any time during the year as there is plenty of hiking and mountain biking during the summer. But the winter (December – early April) is the only time when you will find snow.
The best prices are generally at the beginning and end of the season. Good snow is not guaranteed but this is a great option if you are just starting out. You should allow at least 3 days to really get into the spirit of a winter wonderland and when searching for your dream lodge, you can't really beat staying at the Waldorf Astoria. But if you're looking for some more options, check out this post for the best places to stay in Park City for all budgets.
Best Warm Winter Vacations in the US
Warm Beach Trip & Water Activities in Cedar Key, Florida
One of the best warm winter getaways in the US is to Cedar Key, Florida. There, you can have all kinds of outdoor experiences like fishing, kayaking, hiking, and more. Cedar Key is great all year round, but winter time is especially great because temperatures average 65 degrees Fahrenheit (18.5 C).
Because Cedar Key is located along Florida's West Coast on the Gulf of Mexico, there are a lot of water activities you can do. Fishing is very popular, and you can do it from the downtown pier, with a fishing charter, or you can rent a boat.
Kayaking is also a fun activity. It's a great way to explore the nearby islands, get up close to wildlife, and catch some amazing views. Of course, if your idea of water activities is to watch the waves from a lounge chair, you can do that too at Cedar Key's downtown beach.
There are some great hiking trails too. None are too long or difficult, and if you're a birder you should definitely check them out. The Cedar Key Railroad Trestle Nature Trail is probably the most popular.
The great thing about Cedar Key is that you can go for a day or for a month. And there will be still some things to do. There are plenty of rentals and campgrounds in and around town if you do want to stay longer.
And because you're in Central Florida, there are plenty of things to do nearby. Just some of them are natural springs, hiking trails, museums, and amusement parks. If you do choose to have a longer stay, consider staying at Seahorse Landing. They have condos near the water with great amenities.
Architecture, Winter Sun, Warm Beach & Culture in Miami, Florida
Miami, Florida is a wonderful winter getaway in the US for its warmth and temperature. It is especially a warm place to visit in the USA in December when the city enjoys more sunny days and calming weather. It is just the perfect time to go for all sorts of outdoor activities from cycling, swimming, surfing, scuba diving in places like South Beach or even Key West.
One unique activity that visitors could do is to hop on a bike and explore downtown and South Beach to see all the magnificent architecture. Apart from being a city with the biggest number of Art Deco buildings in the world, it has various types of genres from Mediterranean-Revival, Miami Modern (MiMo), to Classical monuments.
Art Deco was introduced from Paris and it became popular between the 1920s and 1930s. The neoclassical and retro buildings celebrate simple geometric shapes, clean lines, and romantic pastel colors, accompanied by Whimsical and eye-catchy decorative features.
The best Art Deco Buildings in SoBe are located on Miami Beach between 5th Street and 23rd Street, along Ocean Drive, Collins Avenue, and Washington Avenue. They are on the stretch between the Miami Beach Post Office, Carlyle, Breakwater Boutique Hotel, Essex House, Colony Theatre and the Park Central. While you are on a day trip in the area, stop by the many other hot spots, local markets, cafes, and restaurants there because it is also a popular tourist district.
Beach & History Winter Vacation in Puerto Rico
Among all winter getaways, Puerto Rico is one of the warmest vacation spots in the US. On this small Caribbean island, you can find many warm beaches, colonial architecture, a jungle with waterfalls, secluded bays, and a huge number of shopping malls, bazaars and restaurants.
Opportunities for vacation are ample.
The main activity of Puerto Rico is mainly related to water sports. Windsurfing, kayaking, boating, yachting are quite popular on the island. Add to it the two sides of the port, surrounding the beaches, with an abundance of catamarans and other small vessels. There is also a water park for children as well as family boat trips with a glass bottom that let you see the life of the sea.
In addition to water activities in Puerto Rico, you can find so much more.
It is worth driving away from the beaches inland where you'll be able to find wild landscapes striking in their beauty. The main natural attractions of Puerto Rico are the Camuy River Cave Park and the Parguera Nature Reserve. The first one is a long cave with an underground river with a complex system of coral reefs. And a second one is the rainforest of the El Yunque National Reserve.
The island of Puerto Rico is relatively small. You can drive around it in one day by car, so sightseeing tours are popular there. In one trip you can see caves, mangroves, coral reefs, manatees, Puerto Rican frogs, and rare birds. But at the end of the day return to your cozy accommodation by the beach.
Puerto Rico is a perfect warm place to visit in the US in December, January, and February. Anytime during one of these months, you'll want not just to lie in the pool and overeat, but to explore different beaches and attractions.
Luxurious Warm Getaway to Palm Springs, California
Palm Springs in California is another great winter vacation spot in the US. It doesn't have beaches but welcoming weather with bright sunny days and extended outdoor activities.
In fact, the weather is seriously the best during winter for visiting Palm Springs. Particularly nice are December and January when you can combine a pool vacation with a trip to Joshua Tree National Park, botanical garden, zoo, or to San Jacinto Peak in a rotating aerial tramway. These two months are also great for hiking, horseback riding, fishing, and golf courses.
As for hikes, some of the most popular winter hikes in this area are in La Quinta Cove and Indian Canyons. And as for the aerial tram, do not forget to wear warmer clothes since you'll experience snow and certainly much colder temperatures on the top.
Many Los Angeles residents come to Palm Springs to stay in one of the legendary hotels, go shopping, or do whatever the rich and famous enjoy when they take a break from their routine – play golf, tennis, go to a casino, swim in the pool, go for a massage and just relax and unwind.
If you decide you want to do the same, don't miss an opportunity to stay in a resort as the Ritz Carlton Rancho Mirage or VRBO with a private pool. That makes the entire experience even more special.
If coming from Los Angeles, also do not miss an interesting LA to Palm Springs drive. There are quite a few stops to make before you even reach your final destination.
Totally Unique Winter Getaways in the US
Couple's Winter Trip to Soak in Colorado Hot Springs
One of the best winter getaways can be found high in the Rocky Mountains of Colorado. Visitors descend, book themselves into hotels or vacation homes, and then trudge out into the cold mountain air in nothing but a swimsuit. One of the most memorable winter getaways is a visit to Colorado hot springs.
There are about 30 major hot spring areas in the state. But one of the best and most scenic is the Strawberry Park Hot Springs located outside the ski resort town of Steamboat Springs. Strawberry Park is the perfect place to relax after a day of skiing or snowmobiling as you lower yourself down into the warm waters as they gather in rock pools along a streambed. The visit becomes magical as fresh snow begins to fall, melting instantly on your hot skin.
A visit to Steamboat and the Strawberry Park Hot Springs makes a perfect long weekend getaway or a bachelorette party trip. Popular activities in the area include downhill or cross-country skiing and snowmobiling. And then spending a day at Strawberry Park soaking in the water and getting a massage.
The hot springs are most popular in the late afternoons when both day and evening visitors overlap. Children are welcome during the day, but in the afternoons and evenings, admission is reserved only for adults.
Snowmobile & Snowcoach Adventure Getaway to Yellowstone
Not too many people visit Yellowstone National Park in winter, but it's a great time to go. Most of the roads close to vehicular traffic from November to mid-April. However, between mid-December to mid-March, several routes in the park reopen to oversnow travel.
It is a super fun experience to take either a snowmobile or a snow coach to either the Old Faithful area or the Grand Canyon of the Yellowstone area of the park. Snowmobiles are not suitable for younger kids, but a snow coach, which is like a huge bus, is a less exposed and easier way to travel.
Many people do this a day trip from West Yellowstone or other gateways to the park. However, it is also possible to stay overnight. In the canyon area, there is a basic yurt camp with large yurts for dining and hanging out and tiny rustic cabins for sleeping. In the Old Faithful area, the Snow Lodge is open and has more comfortable accommodations. One night is generally sufficient to enjoy the area and the travel experience.
In the Old Faithful area, the boardwalks are open and it's possible to walk around and see the geothermal activity, including, of course, Old Faithful erupting several times a day. Traction devices such as microspikes or crampons are recommended. In the Canyon area, the canyon and the mostly frozen Yellowstone Falls are truly stunning.
Traveling in a snowmobile or snow coach through the incredible national park and then seeing its attractions surrounded by snow is a unique experience you will never forget!
Romantic Winter Mountain Escape to Laurel Highlands in Pennsylvania
Pennsylvania's Laurel Highlands, just an hour from Pittsburgh and a few hours' drive from Washington DC, is the perfect east coast winter getaway for couples or individuals looking to unwind.
While snow is never guaranteed, in the Laurel Highlands the best opportunity for flakes comes in January and February. Imagine waking up in a cozy luxury cabin beside a crackling and a layer of freshly fallen snow. What could be more delightful?
One of the best places where to stay for a romantic winter getaway in Laurel Highlands is Oak Lodge. This 800-acre luxurious Bed & Breakfast offers the highest comfort and top amenities. In addition to luxury cabins with heated floors, a soaking tub, and comfy plush robes, its accommodation options also include rooms at the lodge with king-sized beds. Families and larger groups can opt for the 4-bedroom/3-bathroom 19th-century farmhouse with full kitchen facilities.
This family-owned resort includes a full spa (by appointment), yoga instruction, an indoor swimming pool, and hot tub.
Without ever leaving Oak Lodge, you will find miles of wide open, snow-blanketed rural farmland and wooded trails. Hike, snowshoe, or cross-country ski where the only sounds you'll hear is the snow crushing beneath your feet.
But Oak Lodge's most unique feature has to be its full-scale 18th-century village, complete with a mercantile building, a tavern, a chapel, and even a sugar shack. This is the perfect spot for photos and is popular for weddings and events.
Each morning, head to the Mercantile building for a scrumptious and satisfying full breakfast including maple syrup produced from trees on the property and finished at the sugar shack.
While you may not want to leave Oak Lodge, there are plenty of other things to see and do in the Laurel Highlands. The Flight 93 Memorial, commemorating the September 11th crash is just a few miles away. Plan a visit to Frank Lloyd Wright's architectural marvel, Fallingwater. Stroll the picturesque town of Ligonier or explore Pennsylvania's largest state forest, Ohiopyle.
Oak Lodge and the surrounding area offer everything you need for both a relaxed and luxurious escape.
Winter Vacation For Wine, Food, Parks & Coastline to Sonoma County, California
Winter in Sonoma County is one of the best times of the year. So it can be a great destination for winter holidays in the US. Especially for those who look for winter vacation on the West coast. Not only is the weather in Northern California temperate all year long. But you'll also experience fewer crowds in Sonoma County during winter which is a really good thing. You won't get snow here nor much rain, though of course, it is a bit colder in the winter than other times of the year.
Fewer crowds mean you'll be able to get a hotel room or Airbnb more easily and more affordably. You usually have to book months in advance if you want to come in summer on a weekend and it costs a fortune!
You're also more likely to get reservations at the best restaurants and wineries without having to make them as far in advance. And, while you may not get the same 'in season' vibe you get during peak seasons where there are winemaker dinners, harvest parties, and huge events every night. What you'll get instead is a more relaxed vibe and more of a glimpse of 'normal' life in wine country.
What draws so many people to Sonoma County year-round including winter, first and foremost, is its famous wine region. However, besides wine, there is still a wealth of other charms.
With 50 regional parks, 11 state parks, 13 beaches, and more than 55 miles of gorgeous rugged Sonoma coastline, Sonoma County is a wonderland for outdoor lovers.
It's also a region known for its spectacular restaurant, food, and craft beverage scene. From Michelin starred restaurants and decadent winery food pairing experiences served up by top-level chefs to gastropubs, casual farm-to-table eateries, breweries, cideries and taprooms, epic farmers markets, and gourmet food trucks Sonoma County is also an artisan food and drink lovers' paradise.
If you visit Sonoma County during winter and happen to encounter one of the few rainy days while there, you'll still have an amazing time!
And to make your vacation trip that extra special, treat yourself to a stay in County's top romantic lodging like Fairmont Sonoma Mission Inn & Spa or Farmhouse Inn.
Visiting Disney For Festivals & Winter Magic
There is nothing more magical than visiting Disney World in winter! Of course, there is always Christmas, but the whole winter season is the best time to visit Disney World.
The weather is great, the crowds are lower once the holidays end, and it is a generally fantastic time to plan a trip. For the holidays, head to Magic Kingdom to see Cinderella's Castle lit up and take part in the Christmas festivities. If eating is more your speed, head to Epcot for the Festival Of The Holidays which features tapas-style dishes from different countries around the world.
If you are coming to Disney after Christmas, head to Epcot for the Festival Of The Arts. This is the best festival all year because of the low crowds and interesting and interactive offerings.
If you are visiting Disney At Christmas, make sure to book your trip in advance and set realistic expectations as far as crowds go! For the perfect Christmas experience, stay at the Grand Floridian which has a lifesize gingerbread house. And for an experience on a budget, try Art Of Animation!
Either way, you can't go wrong visiting Disney in the winter months!
Nature Escape to Arches National Park in Utah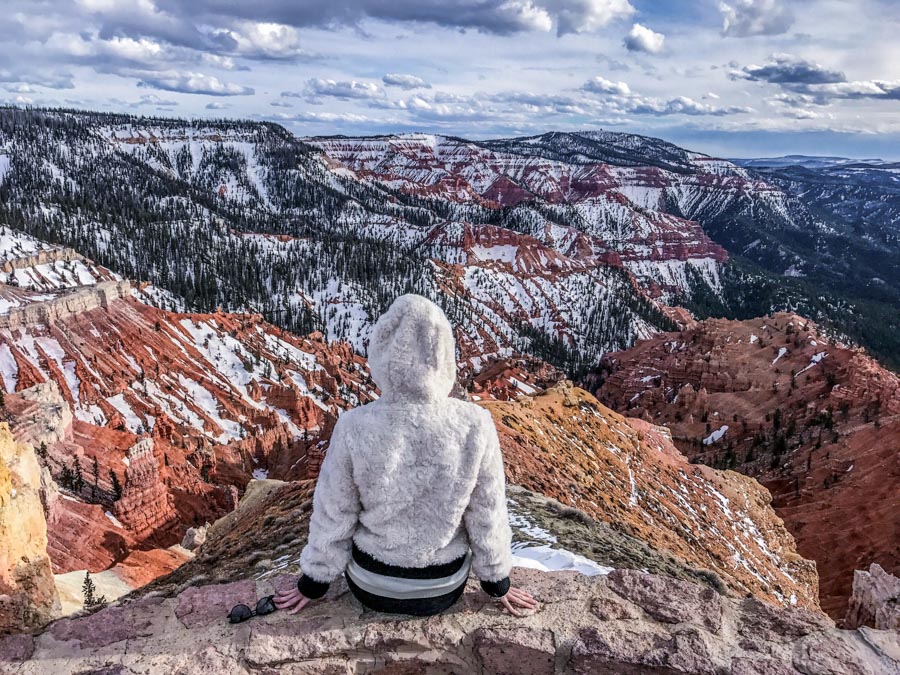 Did you know that home to the largest number of natural stone arches in the world, Arches National Park in Utah, is a perfect winter destination in the USA? Yes, it is and here is why.
Not as crowded as in summer, Arches in winter offers a quiet atmosphere. Bright red arches dusted with white snow present amazing landscapes. Despite its location in Southern Utah, this national park sees a fair amount of cold temperatures, snow, or extreme weather. This is why it is simply perfect for nature walks, hiking, unplugging from the entire world, and photography trips.
While certain trails could be affected by ice and snow, many easy hikes accessible from the parking lot make for an awesome winter adventure.
If you are planning on visiting Arches during colder months, make sure to check the National Park Service website. It has regular updates on road conditions and closures.
And don't forget to wear proper clothing and shoes. Daytime temperatures during winter months hover between the low 30's and high 50's. And it's not uncommon for temperatures to dip into the low 20s at night.
Visiting Arches National Park means you will most likely stay in Moab. This is the adventure capital of Utah where you can also explore other scenic hikes and go on a road trip to nearby national parks. Depending on your plans, you can end up spending between 3-5 days in Moab on a winter vacation.
Hiking Trip to Big Bend National Park in Texas
If you are a hiker and nature addict, you know that most national parks are best to visit in the summertime. But when it comes to Big Bend National Park in West Texas on the border with Mexico, the winter is the best time to visit this outstanding but hot national park.
The hiking here is exceptional and can only be done when the temperatures are mild in the winter. Summer temperatures reach 100 degrees by late morning and remain extremely dangerous until well after sunset. Many rangers have to respond to heat emergencies daily and recommend no hiking in the summer. That is why winter is the perfect time to explore trails in this park.
The best hike is the Hot Springs trail which takes you to a hot spring right next to the Rio Grande. Another great hike is the Santa Elena Canyon Trail, located on the Northwest side of the park. The trail is gorgeous and features deep canyons right next to the Rio Grande. The Window View Trail is another fantastic trail that is 5.6 miles round trip. It offers stunning views on the way to the "Window" rock.
Big Bend National Park is a perfect winter getaway for the whole family who is looking for summer hiking in the winter. There are many easy to moderate trails with unique flora and animals.
This park is definitely not for everyone. With more than 800,000 acres of desert and mountains and very hot sun, it can be a dangerous place. But people who love the desert environment and want to see the largest tracts of Chihuahuan Desert topography will undoubtedly enjoy it.
Just make sure to always bring water and follow safety steps to get the most of your visit.
Top US Cities to Visit in Winter
Phoenix, Arizona For Desert Hiking, Winter Sunshine & Upscale Resort Vacation
Phoenix is undeniably one of the best US cities to visit in winter. This season is a great time of year to see what this amazing city has to offer.
November and December are especially fun to enjoy a touch of whimsy as the city lights up cacti and palm trees in festive holiday lights. The weather is gorgeous and it's a great time to be outside to enjoy it.
Phoenix is located in a valley surrounded by mountains and it's a great place for hiking. There are trails in the city and all around for all levels and all ages. South Mountain Park is a great place to go for all levels of trails, including those for kids. It also has moderate and steep trails for those who can handle them. And, if you don't want a steep climb, you can drive to the top of South Mountain to enjoy incredible city views!
Check out the luminaria at the Desert Botanical Garden for a real treat. They light up this gorgeous desert garden with thousands of luminaria, offering live music, interesting exhibits, and tasty snacks. Or, go to CityScape to enjoy the outdoor skating rink.
For a special treat, head north to Sedona for hiking among the striking red rocks. It's such a beautiful area and a popular day trip from Phoenix.
No matter what you decide to do, you'll always have a great time in Phoenix. The winter is a special time as the weather is gorgeous. And you can even visit the snow if you'd like to if you head north!
For a really unique and once-in-a-lifetime experience, treat yourself to a stay in the Phoenician a Luxury Collection Resort or Sanctuary Camelback Mountain.
New York City For Christmas Magic
Oh New York, New York. You are such a wonderful city to visit in winter, although many people don't know about it! Visiting New York during winter can be a very interesting experience. But coming to see it during the Christmas season is something that everyone should add to their bucket lists.
While NYC is great any time of the year, the city is especially magical around the holidays. With spectacular window displays, dazzling lights, and unique Christmas activities, it comes alive with Christmas cheer from the end of November through the first few days of January.
One of the most iconic symbols of Christmas in New York City is the Christmas Tree at Rockefeller Center. The tree lighting ceremony is held each year on the Wednesday after Thanksgiving. The famous ice rink at Rockefeller Center is set up right beside the tree. What's more festive than ice skating with a view of a Christmas Tree?
Spend an evening skating before heading over to Radio City Music Hall to enjoy the famous Radio City Rockettes Christmas Spectacular – a show that should be on everyone's NYC bucket list!
Once the Christmas season is in full swing, the luxury shops along Fifth Avenue transform their windows into an over-the-top winter wonderland. Some of the most famous displays include the ones at Saks Fifth Avenue, Bergdorf Goodman, and Barney's New York.
A perfect way to spend a day in NYC around Christmas could be walking up Fifth Avenue and admiring the window displays before arriving at Central Park. NYC's centerpiece park becomes a Christmas attraction of its own, featuring ice skating, sledding, a Christmas Market, and lights.
To fully experience Christmas in NYC, plan on spending at least a long weekend in the city. Staying in Midtown Manhattan will put you closest to some of the city's main holiday attractions. And the Courtyard by Marriott Midtown West is a great budget-friendly choice.
Naples in Florida For Winter Sun, Water Sports & Festive Atmosphere
When winter arrives and the cold sets in, Naples on southwest Florida's Gulf Coast is one of the best places to visit in winter in the US for putting your toes in the sand and getting rid of the winter chill. Even better, it's just minutes from nearby Marco Island and both destinations are beautiful and super family-friendly.
Several major airlines have service into Southwest Florida International Airport. Being only 30 minutes north of Naples, it makes it easy to get to. This part of Florida is a great destination year-round. But especially nice it is during the winter months when the sun is less intense, temperatures are moderate, and the humidity is low. Yet, it is still warm enough to enjoy the winter sun and even spend some time on the beach.
There's plenty to see and do in Naples. From enjoying uncrowded beaches, amazing shelling, and fun boat tours to various water sports and activities. And when you're feeling beached out, there's great shopping and hiking on nearby trails in the Ten Thousand Islands and Everglades.
But winter is an excellent time of year to experience the festive Christmas events going on throughout December. Christmas in Naples Florida is unlike any place else in the world. There, palm trees twinkle with fairy lights and Santa makes his first appearance by boat in the annual Naples boat parades.
The holiday events continue throughout the month at the Naples Botanical Gardens and even the Naples Zoo where the animals receive their holiday gifts to the delight of adoring onlookers.
What is also great about visiting Naples in winter is that there's a wide range of accommodations to choose from. You can find anything from high-end resorts to more moderately priced hotels and B&Bs which also makes it a wonderful winter destination where to elope in Florida or just go on a romantic getaway.
Burlington in Vermont For a Real Winter Fairytale
Burlington, Vermont is a spectacular destination for visitors looking not only for the best fall foliage but also for a winter wonderland. It is a great destination for a northeast winter getaway. Nestled in a beautiful corner of Vermont on Lake Champlain, this vibrant city beckons those who enjoy the beauty of the winter season.
Winter outdoor activities abound. Alpine skiing and snowboarding at Bolton Valley and Stowe Mountain resorts are nearby. For cross country skiers, there are free Nordic ski trails within Burlington city limits. Add in ice skating, ice fishing or watching a gorgeous sunset on Lake Champlain for more winter activities.
For less active winter pursuits, the pedestrian mall of the Church Street Marketplace shouldn't be missed. Stroll past festive lights, stop at cute shops or sample Burlington's famous foodie scene. And of course, admire the ice sculptures at a weekend ice festival.
The craft breweries and music venues sprinkled throughout the city promise a vibrant nightlife. Stay downtown at the Hilton Burlington overlooking Lake Champlain. Have a nightcap next door at the Hen of the Woods, a locally acclaimed upscale restaurant.
Burlington is also one of the best winter vacations in the US for families with kids. Your little ones will particularly like the Echo Center. It is the premiere science and nature center on Lake Champlain, with many activities for budding young scientists.
Whether you spend a weekend or a week, you won't run out of things to do in Burlington. End your day with a cup of gourmet hot chocolate at Lake Champlain Chocolates. Then wander along Waterfront Park for views of the peaks of the Adirondacks across Lake Champlain. The charm of this snowy New England city will be long remembered.
Los Angeles For Sightseeing, Hikes & Scenic Road Trips
After spending 3 winters in Los Angeles, I am personally convinced that LA is an excellent city to visit in America in winter. With January and February as the wettest months, there are still plenty of sunny days and comfortable temperatures.
Due to Santa Ana winds that come from the desert, it may be really windy and even cold. But overall, the city still stays pleasantly nice. Plus, in the second part of February, dry nature returns to life. Everything becomes greener and brighter.
Among all the fun places to go in winter in LA area, you can find anything you want on any budget. Winter activities range from indoors to outdoors and are scattered throughout the city.
You can join one of the city bus tours or go to amusement parks (that see fewer people and are not hot at all). Also, visit LA famous incredible museums, explore hiking trails of Santa Monica mountains, go on a long walk along the beach, and of course guide yourself through the city's dining and drinking scene. Many hiking trails in Los Angeles, by the way, offer panoramic views of the city and the coast.
Winter in Los Angeles is the right season to attend festivals and see Christmas lights. Mexican Tamale Festival takes place in December as well as Christmas Boat Parade at The Marina Del Rey. On the first day of the new year, there is a Tournament of Roses and Parade in Pasadena. And soon after that an LA Art Show in the city center. In February, there is a Chinese New Year and Golden Dragon Parade and Academy Awards ceremony at the Kodak Theater.
Winter in LA is also the best time of the year to visit for whale watching. People from all over the world come to Long Beach and Newport Beach to see whale migration.
But my favorite part about Los Angeles in winter is the ability to go on amazing scenic road trips. You can easily combine your winter trip to LA with one of the romantic getaways in Southern California. Or simply jump in a car and go on a mega road trip to another state.
Austin
For many years in a row, Austin gets the title of the best warm-weather city for winter travel in America. And no wonder why.
On average, winter temperature is warmer there than 60 degrees and always pleasant for the enjoyment of the attractions. January is the only month when the temperature fluctuates within 50 degrees. But it doesn't interfere in any way with city explorations and excursions. Austin is also a pretty compact city what makes it an excellent destination for a short city break.
To make your winter trip there memorable, do not miss a visit to a winery, distillery or brewery, explore local hiking trails, sip seasonal cocktails, try famous tacos, and of course see the tallest building in America – Capitol. End up your day with a getaway to the Oasis on Lake Travis to watch the incredible sunset. Or get on the water at Lady Bird Lake to enjoy peaceful hours of serenity.
And for a special treat, stay in a hotel with an infinity heated pool like The Line Hotel or JW Marriott Austin.
Like any city in America, Austin also gets nicely decorated for the Christmas season. So it is one of the best places to visit in December in USA to feel the holiday spirit.
Best Warm Beaches in the USA to Visit on Winter Vacation
Warm Beaches of Key West
Not only is Key West considered one of the most beautiful places to visit in winter in USA. But it can also offer off the beaten path winter vacations on its warm beaches. Additionally, this true tropical paradise has a rich history, great bars, and thousands of activities for all tastes.
Key West is small but very cozy. It is also very beautiful and welcoming. The maximum height of houses here reaches only 5 floors and locals prefer to move around by bicycles rather than by cars.
There are truly a few reasons why you'd want to visit this destination for the winter holidays. First, it is the warmest place in the continental United States. The temperature here never drops below 60 degrees (at night). And even in January (the coldest month), the weather is absolutely suitable for comfortable swimming.
Second, it is probably one of the most positive and happiest places in America. All tourists who come to visit, immediately notice a state of peace and relaxation. The whole Key West area leads a leisurely lifestyle, harmoniously combined with carnival surroundings and a sea of creativity.
Third, Key West is also one of the most relaxed destinations. No one here is in a hurry and lives a very laid-back life.
If you are considering visiting Key West for the winter holidays, the warmest time to visit is January and February. This is the time when the weather is perfect and crowds subside.
Warm Beaches of Virgin Islands
If you are out of winter vacation ideas in the US but still want a unique warm place without leaving the country, consider the beautiful Virgin Islands in the Caribbean.
St. Thomas, St. John, and Santa Cruz US Virgin Islands are three very small, mountainous islands. But they are rich in lush tropical vegetation with many coves and bays, offering beautiful beaches with white, fine sand. St. John's Trunk Bay, for example, is one of the prettiest beaches in the world. The islands are sparsely populated with the only large settlement in Charlotte Amalie on St. Thomas island.
Charlotte Amalie, by the way, is the capital of the islands and the main town of Saint Thomas. It is a pretty colonial city, always crowded with tourists. There are many souvenir shops, cafes, and cute streets along with an old fort built in the 17th century.
In addition to Charlotte Amalie, another beautiful town is Red Hook. It is known far beyond the borders of the island thanks to its amazing Coral World Marine Park. There is an interesting observatory on its territory with an aquarium with a transparent tunnel and several halls with interesting thematic expositions. Not far from the marine park, there are attractive beaches, which are especially popular with scuba divers.
The tiny islet of St. John is also sure to please those travelers who love nature and tropical landscapes. A significant part of the island is the Virgin Islands National Park, which is an impenetrable tropical thicket. Visitors can swim in crystal clear lagoons, stroll through magnificent rainforests and explore the petroglyphs left behind by the pre-European Caribbean civilization. It is one of the most beautiful natural parks in the region.
The least developed in terms of tourism is the island of Santa Cruz. It doesn't have any large hotels, noisy beaches and a huge number of tourists. There is only pristine nature and beautiful coral reefs near the coast.
Each island of the archipelago has its own unique characteristics that can attract tourists who look for the winter sun.
Warm Beaches of Hawaii
You cannot really go wrong with any of the Hawaiian islands. All of them are wonderful for a winter vacation. But Oahu and Big Island are just the most popular ones for the beach getaway.
Big Island has amazing nature, stunning sunsets, a warm ocean, and incredible coral reefs. You can find all types of beaches there that are great for swimming and sunbathing, surfing or diving. And they are all going to be warm with water in the Pacific Ocean at 75-77 degrees.
Oahu, the capital with the biggest number of flights, has 112 miles of beautiful coastline. It offers a wide variety of beaches including the one like peaceful man-made lagoon Ko Olina. Or rugged, relatively undeveloped beaches like Yokohama Bay with white sand and warm turquoise waters.
Oahu beaches are grouped into four zones based on their geographic location on the island. The famous North Shore has iconic surf beaches such as Waimea Bay and Sunset Beach. The South Shore is where Waikiki is located. Westside beaches are sheltered from the wind on the island. Here you will find peaceful beaches with gentle surf such as Ko Olina and Turtle. On the east side, called the Windward Coast, you'll find popular but unspoiled beaches like Waimanalo and Kualoa.
Kauai is a perfect island for seeing active volcanoes and exploring unique untouched nature.
Prices in winter in Hawaii go down, so even tourists on a budget can plan a winter vacation there.
---
So here is my list of winter vacations in the US! Would you add any other interesting experiences? Share in the comments, I'd love to add them to the post!