Bodrum or Marmaris: Which Resort Destination is Best For You?
Last updated on September 14th, 2023
Choosing between a visit or stay in the resort cities of Bodrum or Marmaris on the Turkish Riviera can be quite a task. I know that because we were asking the same question before.
If you asked me directly in conversation which resort city is better to choose, I'd probably answer right away without too much thinking that Bodrum is a better option. However, that's not the right answer. My opinion is based on things I like, you may be fond of something else. So this is why in this guide I will be objective and compare Bodrum and Marmaris as they are. And you decide in the end which one is going to be better for you and your family.
At first glance, when checking photos and tours, these two destinations seem to be fairly similar and can seem to offer more or less the same things to see and do. Both of them gained worldwide fame and popularity for their picturesque landscapes of nature, clear azure sea, beautiful coastline, and a high level of tourist service. However, once you dig a bit deeper, you will find that Marmaris and Bodrum are actually quite different and offer different things to travelers.
If you don't have the time to include both of them on your Turkey itinerary, you will need to make the choice. And my Bodrum vs Marmaris guide will help you determine that.
We have temporarily lived in Bodrum during summer (before returning to Istanbul) and spent a significant amount of time in Mugla province, visiting many Turkish villages, towns, and seaside resorts. I know what unique things both of these cites have to offer and want to help you make the best decision for your Turkey coast trip. So let's take a look!
---
Please note: This post contains affiliate links. I may earn a commission if you make a purchase or booking by clicking a link (at no extra cost to you).
---
Bodrum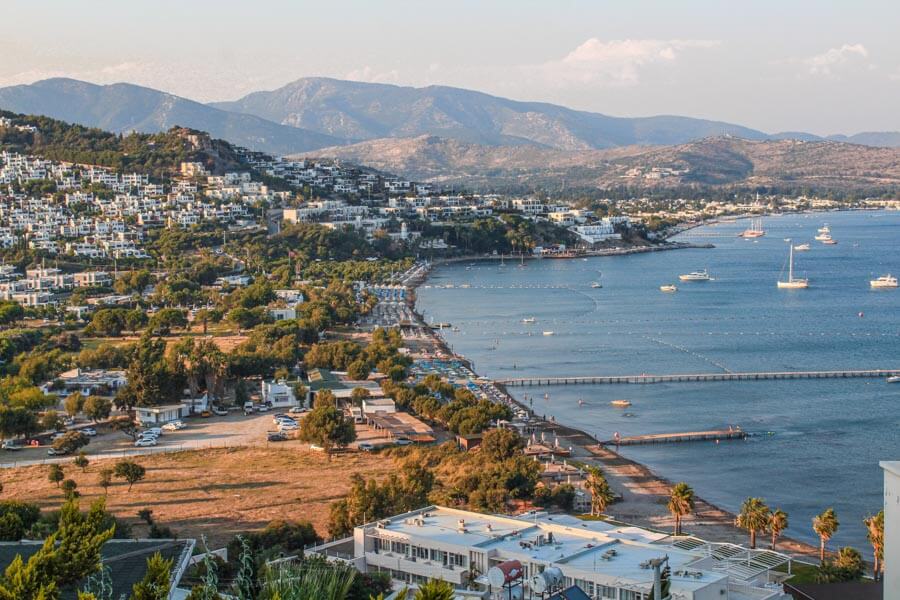 When Turkish people talk about Bodrum, they don't necessarily mean the city. Usually, the majority implies the Bodrum Peninsula, a large rocky peninsula where it's always windy.
In summer, there is not much greenery here compared to Marmaris. The landscape looks pretty dry and almost the same as on the neighboring Greek island of Kos with bald hills, white villas entwined with bougainvillea flowers, and olive groves.
However, even with all the dryness, the views are still very picturesque. No matter where you drive, the road winds along the coast, every turn opens a new bay with rocky or sandy beaches, white houses, and Greek islands in a distance.
Bodrum is a very ancient city and the first mention of it appeared in the 5th century BC. Then it was the rich city of Halicarnassus. The Halicarnassus mausoleum was considered one of the seven wonders of the world and you can still find its ruins in modern Bodrum these days as well as many other ancient sites.
Bodrum city and Bodrum Peninsula are very popular among Turkish celebrities, actors, and politicians. Many Turks buy here properties and spend a lot of time during the summer.
Climate
Like other famous Turkish destinations by the sea, the climate in Bodrum is the typical Mediterranean, even though it is by the Aegean Sea. Bodrum has a bright sun and clear skies without clouds and precipitation all summer long.
The Aegean Sea is slightly cooler than the Mediterranean, but the temperature is still comfortable for swimming and tanning. On a summer day, the day temperature is never lower than 25C degrees (77F). In the hottest months of July and August, it rarely goes higher than 35C (95F). Nights are comfortably cool with 21-25C (70-77F) at night and have a breeze. You can easily sleep with open windows instead of turning AC.
The sea of Bodrum warms up sometime in June. May is still cold for swimming. In summer, water temperature is between 22-24C degrees (71.5-75F) and it is still warm in September. In the last week of the month, water gets colder and not everyone is comfortable swimming. But this time is perfect for excursions. The main beach season lasts from the second part of June to September.
By Turkish standards, June is the "coldest" month of summer while July and August are the hottest months. Fall comes in October and is characterized by winds and occasional rain.
January and February are the coldest months on the Bodrum Peninsula. The air temperature at night drops to 5C-7C degrees (41-45F) and the average temperature during the day does not exceed 10C-13C (50-55F). This period sees the highest amount of precipitation, storms, and crazy winds. But this weather in Bodrum does not last long.
March and April are two months when the difference between day and night temperatures is felt especially strongly. During the day you can already sunbathe in the sun and in the evening watch the fight of the famous Mediterranean winds Poyraz and Lodos, basking by the fireplace in a cozy cafe with a cup of aromatic tea or coffee.
For those who find it difficult to endure the heat, Bodrum in summer will be the best place in Turkey to go to the sea.
To read more about Bodrum's climate and weather each month, see my post about the best time to visit Bodrum.
Accessibility
One of the key determining factors when it comes to deciding between Bodrum vs Marmaris is how accessible the city is and either it is easy enough to reach it from elsewhere in the country and abroad. Well, luckily for those looking at Bodrum, it is a major city in Turkey with numerous connections each day.
Bodrum has multiple flights throughout the day with Istanbul, Ankara, Antalya, Eastern Turkey, and many European cities. Turkish Airlines and Pegasus are flying to many cities around Europe, so you can easily visit Bodrum on a weekend getaway or as a stand-alone destination. Browse on Expedia and see all possible routes.
Bodrum international airport is located a bit inland – within 32 km (20 miles) from Bodrum city and 50 km (31 miles) from Turgutreis (the second-largest city in Bodrum Peninsula), so you need to add some extra time on the road if staying in a hotel or Airbnb outside the city.
If you are already in Turkey somewhere nearby and don't want to fly, you can always catch a bus. There is even a bus from Istanbul to Bodrum that takes around 10 hours to ride.
Bodrum city has a very good location in the southeast of the peninsula, so it makes an excellent base for various explorations, day trips, and even road trips. Bodrum is a departing point for many boat trips to some islands, coves where to swim in the clearest azure waters, famous Bodrum windmills, and ancient sites that surround the city.
Basing yourself in Bodrum is perfect if you don't plan to rent a car. It is small and easy to get around. Bodrum also has fantastic beaches and interesting quirky accommodation. The old town is walkable and well connected with any village and town on the peninsula. Dolmus taxis run frequently and you can get anywhere you need. Although, if you plan to move around and go to other towns, I highly recommend renting a car.
We were based in Akyarlar and couldn't imagine being there without a car. It gave us so much flexibility and freedom to go when we wanted and reach some hidden gems that would be difficult to reach by bus.
If you plan to hire a car, see my guide to car hire in Turkey with all the tips and best car rental companies.
Affordability
The next thing you need to consider when trying to decide between visiting Bodrum vs Marmaris is the affordability of each city, especially if you are a budget traveler.
Unfortunately, when the season is high, there is not much of a difference between the prices in Bodrum and prices in Marmaris. Marmaris accommodation can be slightly cheaper but prices for gas, tours, and in restaurants are almost the same. Groceries in stores for the most part cost the same amount of money as groceries in Istanbul. And the same applies to rental cars. Renting a car in Bodrum doesn't cost more than in Istanbul, Marmaris, or Antalya. It's almost the same or maybe a few dollars more.
But overall, Bodrum is the most expensive sea destination in Turkey. It is the most premium and elite resort. As I mentioned above, Bodrum attracts politicians, stars, and athletes which in turn makes it even more pricey in some parts of the peninsula. Yet, during the holy month of Ramadan, there are practically no spots in hotels. Everyone from Turkey is inspired to go to Bodrum.
At the same time, there are still plenty of hotels that offer amazing all-inclusive deals. If you are a budget traveler, you can always purchase the cheapest hotel package which will also include a transfer and use dolmuses for moving around to save money.
With a lot of time in advance try to look for Airbnb to find a decent flat. Because good apartments at good prices disappear fast.
Things to Know About Bodrum
Bodrum is famous for a few things. First of all, for very clean beaches with clear water and the cool Aegean Sea. Summer in Bodrum is not as hot as in Marmaris. Because of constant winds, it feels cooler a few degrees.
Second, Bodrum is famous for its low rise white houses in the Greek style, covered with flowering begonia bushes. In fact, many people say that Bodrum is Turkey's Santorini which looks very similar to a Greek one. About 31 thousand people permanently live in this area. Among them are many Europeans who bought real estate there.
Bodrum is a recognized elite resort in Turkey since very rich people prefer to vacation here. It is a magnet for wealthy people from the colder regions of the country as well as many Europeans.
Numerous hotels have been built around the peninsula, offering excellent conditions for recreation and a high level of service. Some of Bodrum's beaches received the Blue Flag for their cleanliness and high standards. You should check my guide to the best beaches in Bodrum mentioned above.
Those who wish to stay in the city have access to several areas with beaches. To the east of the Bodrum fortress is the central beach. In summer, it gets quite crowded. But with many bars and cafes right on the shore nearby, you can order a drink and get the right to use one of the sun loungers for free.
The third feature that Bodrum is famous for is windsurfing. In the summer, sailing regattas regularly take place there. In many villages (in Bitez, Golturkbuku, Gundogan, Akyarlar for example), there are windsurf and sailing schools where you can take a lesson. Piers of the same villages are homes to whole exhibitions of luxury yachts and boats.
Fourth, Bodrum is famous for its active nightlife which lasts until the morning in local nightclubs, bars, and discos, which are rightfully considered the best on the entire Aegean coast. Also, one of the brightest events in the cultural life of Bodrum, the annual Festival of Culture and Art, sees numerous art lovers and vacationers.
And the last thing, the coast of Bodrum is of great interest to people keen on exploring the underwater world. The unique reefs, caves, and underwater cliffs hidden in the Aegean Sea impress with inimitable beauty.
Here is a post for further reading about my favorite places to visit in Bodrum that will help you have the best experience.
Bodrum Beaches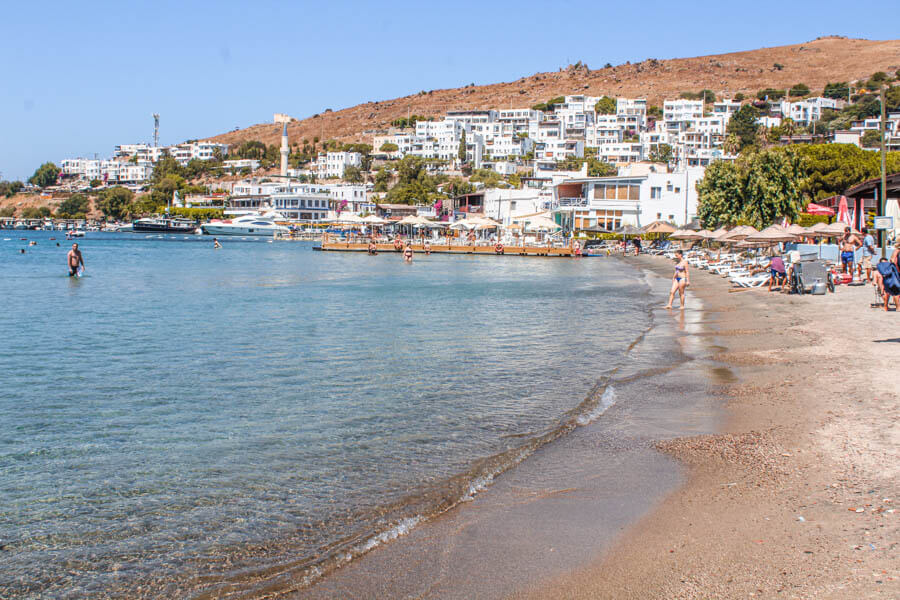 The beaches of Bodrum have an award of Blue Flags for their cleanliness. They are ideal for a peaceful and tranquil holiday.
There is a wide range of sandy and pebble beaches that have a gentle entrance to the sea and good infrastructure. Municipal beaches are open to all and are free. the only charge is for the use of umbrellas and sun loungers. Hotel guests have free access to hotel beaches.
Swimming in the sea is popular here even at night when the sea phosphorizes in the moonlight. The local beaches are great for snorkeling, sailing, and diving. The underwater world attracts with reefs and caves with grottoes and a variety of marine fauna.
Read my guide to the most beautiful beaches in Bodrum, if you haven't read it yet.
Where to Stay in Bodrum
If you've decided that Bodrum is the city for you on your trip to Turkey, then you need to find an excellent place to stay. If you're struggling to find the perfect accommodation, I'd love to share a few of my favorite choices. Even though we lived in the apartment, we visited many hotels too:
Petra Butik Otel – the perfect option for budget travelers, solo adventures, and families who want to stay in style but on budget. This boutique hotel is located in the center of Bodrum's historic old town. It is a family business where you feel at home. They have very nice and clean rooms, great common areas, and clean facilities. Click here to check photos and availability.
Kuum Hotel & SPA – if you would love to stay outside Bodrum city, take a look at Golturkbuku village and this hotel. It is perfect if you have a higher budget and would like a piece of the good life while traveling in Turkey. The hotel is beautiful and the location is fantastic. It has this luxurious atmosphere and professional staff. Also, there is its own beach club and rooms with gorgeous sea views. We were there and enjoyed every single minute of our stay. Click here to check photos and availability.
Sianji Well-Being Resort – another hotel for mid-budget, yet offering a bit of luxury. This time in Gumusluk village in the very western part of the peninsula. We loved it for the quietness and serenity, beautiful private beach, and gorgeous territory. They have a number of great rooms available with views of the sea and include a great breakfast in the price. Click here to see availability.
Airbnb – this can be an excellent option in Bodrum for budget travelers to save by staying in a room or anyone else who'd rather have an entire apartment to themselves. There are a lot of properties, including those among the hills and olive groves like this Olive guesthouse. Click here to browse all Bodrum Airbnbs.
Marmaris
If Bodrum for many centuries used to be an important well-known city on the Aegean coast of Turkey, Marmaris wasn't known for anything, Later with time, it became a little fishing village which grew into a modern resort town, hidden among the high green hills full of Mediterranean pine trees.
Today Marmaris is a small town-resort with about 30,000 residents, located in a picturesque bay, at the confluence of the Mediterranean and the Aegean seas. It is surrounded on all sides by hills and mountains with lush vegetation. This is why it always looks green and bright.
The town has the longest city embankment in Turkey with numerous shops, cafes, and restaurants with national cuisine. It also picturesquely combines colorful oriental streets with the European look of modern buildings.
Marmaris is considered the most European-like town because of the highest amount of Europeans who vacation here. Foreigners also like to buy real estate in this area (a nice apartment with two bedrooms and a sea view is around 70 thousand euros) and park their yachts and boats in the marina – the port of Marmaris.
The Marmaris bay is somewhat blocked by green islands on all sides, so there is no access to the open sea here. At the same time because of this, the water in the bay warms up quickly and there are almost never waves here unlike in windy Bodrum (unless they are created by numerous boats and yachts).
Climate
Marmaris weather is dryer than in the south along the Mediterranean coast of Turkey but more humid than in Bodrum. Still, it's not that bad. The average temperature is always a few degrees higher.
Marmaris opens the swimming season earlier than Bodrum and to be exact, in the second part of May. This is the time when the air warms up to + 25С degrees (77F), and the sea up to + 20С (68F). With the onset of summer, the temperature sometimes reaches +40C (104F).
Marmaris is surrounded by pine trees and mountains which saturates the air with freshness. And its location in a small bay protects it from storms and strong winds.
In June in Marmaris, summer comes into full swing, and the temperature reaches +30C (86F), water +23C (73.5F). Pine forests help to go through the heat giving refreshing air and a slight breeze. Summer becomes dry and sultry in July and August. The breeze no longer brings relief, and the temperature can rise from +35C to +40C degrees (95-104F).
In autumn, the weather is still nice for summer recreation. In September, rare rains can interrupt the beach vacation. Prices are gradually decreasing due to the decline in tourists. The other two autumn months are already rainy and have strong gusts of wind. The air temperature drops to +20C (68F).
Winter comes quickly enough but the temperature remains pleasant, between +15-18C degrees (59-65F). Frost or ice never happens here and wet snow is an extremely rare and fast-moving phenomenon.
Accessibility
The nearest airport to Marmaris is Dalaman Airport (DLM) which is located 95 km from the city. Izmir Airport is 270 km from Marmaris and Antalya Airport is 320 km away. Of course, it is most convenient to fly to Dalaman which has direct flights from many cities in Europe during any season.
Compared to Bodrum, getting from the airport to Marmaris takes more time. However, the road is scenic and full of other sights. If you are renting a car, you can always stop by Koycegiz Lake to have a meal and enjoy the scenery, visit Beyobasi with a cold stream and pools for swimming, or stop for a day (night?) in the famous Dalyan town known for Lycian rock tombs, the remains of the ancient theater, and loggerhead turtles.
You can also fly to Dalaman with a transfer via Istanbul. Come visit Istanbul for a few days (I have a bunch of posts about Istanbul to help you make an itinerary) and then fly to Dalaman. These flights are usually pretty cheap and take place multiple times a day. Take a look.
If you plan to come to Marmaris not to stay in all-inclusive, then you may need a car to drive around and see all the beauty that lies outside the city. You'd definitely want to visit nearby Turgutkoy, Selimiye, Sogutkoy, Icmeler, and Turunc. All of them are Turkish holiday resorts located not far from Marmaris. While it is easy to get to them by dolmus taxis, you'll want to make stops on twisty roads for panoramic photos and amazing views.
Like Bodrum, Marmaris can serve as a great base for going on boat trips and exploring a lot of the things that lie in the region. Having a car while you're there can be very helpful. While you definitely don't need it in the city, it will come in handy if you want to go on any of the fantastic day trips from Marmaris. And there are a lot to choose from. But don't worry, even if you don't have any desire to rent a car, there are a lot of companies offering daily tours and transfers.
In case you haven't read my post about the process of renting a car in Turkey, here it is.
If planning to be in Marmaris only, you will find that you can get around almost everywhere on foot or by bike. Like Bodrum, the old town and historic center are incredibly walkable. Also, Marmaris has bikes for rent and it is very enjoyable to bike through this city.
Affordability
As we discussed in the Bodrum section, for some people affordability is one of the major determining factors in deciding which resort city to choose – Bodrum or Marmaris. And you may struggle to make the best decision. Especially if planning an independent trip and not staying in all-inclusive. That's because if you look up the prices, you'll see that there really isn't much of a difference price-wise between the two cities.
As I mentioned above, prices in Bodrum and Marmaris for things like car rental, tours, groceries, and some restaurant meals are pretty much the same. Although accommodation is slightly cheaper in Marmaris. There, you can find more guesthouses and smaller hotels that offer rooms on a budget. But at the same time, fewer luxury hotels.
Additionally, even if paying the same amount of money for accommodation in both cities, in Marmaris you can expect to get a totally different category and experience.
For example, you may still pay 70-80 euros per night in each city. But if in Bodrum it will be a room in a big hotel, in Marmaris the same amount of money will get you a nice room in a small family-owned boutique house with a pool for 4 or 5 rooms only, homemade Turkish breakfast, a bunch of quirky details, and a homie atmosphere. In one word – everything in a traditional home style.
Things To Know About Marmaris
The resort of Marmaris is located in a bay, so do not expect to find the open sea here. Consider this when choosing this resort for your vacation. I know some people love open space for a beach vacation is sea is not the sea if they see the opposite shore.
Although because of this feature of Marmaris (a beach in an almost closed bay), boat and yacht excursions along the bays and into the open sea are very common here.
Due to the fact that Marmaris is located in a bay, the seawater is very calm and there are never strong waves here. The coastline stretches for kilometers to the village of Icmeler. In the Marmaris old town is a long promenade along the beach line with numerous cafes, restaurants, and hotels.
The beaches of Marmaris are pretty small, sunbeds are close to each other. For hotel guests, sun loungers are free but if you are not a guest, you can also take a sun lounger by simply buying a drink at the bar. The beaches have free showers and changing rooms.
The sand on the beaches is gray. In 5-star hotels, the sand is soft since it's brought from other parts of Turkey. Some hotels have beaches in the form of platforms.
The sea in Marmaris is slightly warmer than in Bodrum but you barely feel it.
Marmaris Beaches
Municipal beaches in Marmaris are the absolute opposite of Bodrum. They are located on a narrow coastline in a closed bay and are dotted with gray sand.
The sea within the city is always calm, which is suitable for paddleboarding, kayaking, and snorkeling. It is also amazing for little kids.
Expensive hotels located on the beaches have fine white soft sand or well-equipped platforms. Tourists living in hotels that do not have their own beaches often go to Icmeler beach or to Orhaniye where the beach is divided in half by a long sand spit.
Where to Stay in Marmaris
If you've decided that Marmaris and its atmosphere work better for you, then here are my other top picks for accommodation:
8 Oda Marmaris – hotel for a higher budget but with outstanding reviews on all aggregates and truly wonderful experience. This is a hidden gem in the heart of Old Marmaris with clean, cozy, and deluxe rooms. The location is superb as well as rooms, grounds, and breakfast. Pictures and reviews of others will tell you more. Check them out here.
Les Terrasses De Selimiye – a hotel in Italian style, overlooking the bay of Selimiye and offering the most relaxing time. This property is perfect for romantic getaways and couples. Selimiye village has spectacular views and a lot of greenery. This hotel, besides stylish clean rooms and beautiful territory, also has infinity pools overlooking the bay. Check photos and their availability here.
Pilos Deluxe – another hotel that sits high on my list and that is impossible nor to like. Everything is just perfect here, including the rooms, cleanliness, food, service, and views, views, views. This hotel falls into the mid-range budget and offers unforgettable experiences for honeymooners, couples, and everyone who is looking for peace and quiet. See photos, reviews, and availability here.
Airbnb – as with Bodrum, Marmaris also has a wide selection of private apartments and rooms in locals' homes. But to be honest, budget options are too basic. If you would like to experience authentic Turkish accommodation, I highly recommend you either look for flats in a more expensive category or better go with a boutique family-owned hotel.
So Verdict – What's Better, Bodrum or Marmaris?
With all of the above information, it's now time to make a decision between Bodrum or Marmaris. But that decision depends on what particularly you are after and what your budget is.
Bodrum and Marmaris are very different from each other in the landscape. Bodrum is dry but Marmaris is green and lush. The climate in Bodrum, due to its location and winds, is drier and milder. Marmaris has more humidity and is a hotter resort than Bodrum. So if you don't mind baking hot temperatures, choose Marmaris. If on the contrary, you prefer a bit of a cool breeze – then go to Bodrum.
Both Marmaris and Bodrum are resort-cities popular with Turkish and European youth. Although Marmaris is much smaller and feels like a small town. Bodrum feels like a city with lots of entertainment options that are also of a higher level (if we take into account invited performers and DJs) and more fashionable.
At the same time, don't assume that apart from young people there is nothing for others to do there. In Marmaris, families with children can choose quiet hotels on the seashore in the village of Icmeler. A few other villages have lovely bed & breakfasts and guest houses with 5,6 rooms and fantastic views like somewhere in Italy. For example, like my favorite Swan Lake Boutique Hotel or MARTI Hemithea hotel.
Bodrum also has a wide variety of villages with hotels for different tastes. But more of those hotels are mainly big hotels rather than small family-owned guesthouses.
As for recreation, it is not right to compare the former fishing village Marmaris with the ancient city of Halicarnassus (Bodrum). There are many ancient sites in and around Bodrum, so it is certainly of much greater interest for travelers. But if excursions and tours are not your thing, then Marmaris will certainly meet your need to have a relaxing holiday by the sea.
From Bodrum, you can go on excursions around the Bodrum peninsula, to the Greek island of Kos, and the Turkish island Karaada famous for unique hot springs. From Marmaris, if available, to the Greek island of Rhodes and Dalyan.
In general, to summarize this post – Bodrum is considered a more fancy and elite resort, which is preferred by wealthy Turks and many Europeans. Marmaris is a simpler destination (may fans of Marmaris forgive me), more like a village-style resort. Yet, it is quieter and has a slower pace of life which is perfect for many people.
To be honest, you can really have a great vacation in any of both cities Marmaris and Bodrum. The main thing is to decide what exactly you are looking to get with this trip.
---
No matter what you choose to visit on your trip to the Turkish Riviera – Bodrum or Marmaris, I am sure you will have a wonderful time! Turkey is absolutely amazing and it is difficult not to fall in love with at least one of the regions.
When traveling in Turkey, it's always a good idea to make sure you have travel insurance. We personally use SafetyWing. They also cover expenses related to covid. Click here to get a quote from them.
So, have you decided yet where to go, Bodrum or Marmaris? Have you been to either city before? Do you have more questions you need to answer? Do not hesitate to ask them below!