16 Cold Places to Visit in Summer in Europe That You Will Love
Last updated on September 22nd, 2023
Quite recently, I preferred to get through the summer without much travel and instead spend this time on work. Because I couldn't take the heat and all the high prices that this season brings. With temperatures that often reach 40°C (104°F) or higher (the warmest temperature recorded in 2022 was 47°C in Portugal in July), potential explorations are incredibly uncomfortable!
But then my attitude changed once I visited a few awesome cold weather summer vacation spots that made me change my perception of summer in Europe.
So I thought why not write a post and share my favorite cool destinations in Europe where June, July, and August are moderately warm? I wrote it together with another blogger who actually lives in one of these places and shares her best tips!
A diverse and fascinating continent Europe has so much to offer, including plenty of cooler weather destinations that thrive in the summer months when you can explore to your heart's content.
What's more, as many of these destinations are in Northern Europe, you can enjoy gloriously long days – perfect for cramming as much in as possible.
Whether you want to experience the midnight sun in Northern Norway, go hiking in Cornwall, hit some lesser knows forest paths, learn World War Two history in France's Normandy or Poland's Gdansk, or even visit some awesome beach towns, here's a full list of the best cooler-weather summer European destinations!
---
Please note: This post contains affiliate links. I may earn a commission if you make a purchase by clicking a link (at no extra cost to you).
---
Things You Will Need When Traveling Around Europe
Cold Places to Visit in Summer in Europe for Nature Lovers
Cornwall, South West England
Let me start my list of cold places to visit in summer with England which is a perfect destination for people who can't stand the heat.
While the UK is often criticized for its lack of sun and warmth (although, as a local, I can confirm that we do get nice weather as well as rain!), in the summer, the lower temperatures can be a blessing.
We have plenty of sunshine from May to September, but generally, the temperatures stay a lot lower than in countries in mainland Europe.
There were a couple of severe heatwaves in most of the UK in the summer of 2022, but in South West England the temperature stayed lower, usually at a maximum of around 25°C (77F).
This means that you can comfortably check out all of the best attractions in Cornwall without struggling too much with sweltering temperatures.
Go beach hopping, hike on its rocky coastline, enjoy camping, visit historic mines, or delve into the region's fascinating Celtic culture by exploring museums and attending cultural events – I love the weekly singing at the Cadgwith Cove Inn on the Lizard Peninsula.
Scottish Highlands
Head up north to Scotland for another British gem. The Scottish Highlands are much cooler in the summer months than elsewhere in Europe (and the UK), including Cornwall.
The average high temperature in Inverness (the main town in the Scottish Highlands) in August is 18°C (64F), whereas low temperatures can dip to 11°C (52F). So if you hate the heat, this is your place!
Scotland also has the huge benefit of having the right to roam as long as you treat it respectfully, you can wild camp on most public land.
So, what's there to see in the Highlands? First up, you can hike Ben Nevis, the highest mountain in the UK. It's doable as a day trip, but is best attempted if you already have some experience hiking up steep inclines.
You could also visit Loch Ness and look out for the monster, drive the North Coast 500 and see its many beaches and explore mesmerizing historical attractions like the iconic Eilean Donan castle.
Northern Montenegro
Montenegro, a tiny country in the Balkans, generally is considered a hot summer destination with lots of sun. But not many people know that its northern part is a great place to visit in Europe during the summer for cooler temperatures.
Northern Montenegro, particularly the Durmitor National Park and Prokletije National Park with the surrounding areas, offer a refreshing mountainous environment with lower temperatures compared to its coastal regions. In fact, parts of both of these parks see snow well until mid-June. Some roads, like a scenic Sedlo Pass road for example, are closed (due to snow) until mid or end of May (depending on the year).
Throughout the entire summer, you can enjoy colder weather in this part of Europe while exploring the picturesque hiking trails of Durmitor (with the highest peak Bobotov Kuk) or other wonderful Montenegro hiking trails that lead to breathtaking viewpoints, crystal-clear lakes, and cascading waterfalls.
The air in July and August is crisp, and the scenery is untouched, making it an ideal place for hiking, biking, and immersing yourself in outdoor activities.
The Tara River Canyon, the second-deepest canyon in the world, is also located in this area. There, you can go rafting or just stay in one of the local-style resorts enjoying the cool weather. Just make sure to rent a car in Montenegro as it will help you explore the country at your own pace.
Do You Need More Information About Montenegro?
Then see some of my posts about this country:
Low & High Tatras in Slovakia
One of my absolute favorite cheap destinations in Europe for summer coolness is the Low and High Tatras in Slovakia, a mountainous region located in northern Slovakia and which is part of the Carpathian Mountains.
Along the range, there are many beautiful towns (just one example is Liptovsky Mikulas) built at the foot of the mountains. They are perfect for relaxing vacations with a village vibe and many hiking trails around them.
Due to their higher altitude and mountainous terrain, the Tatras experience cooler temperatures in summer compared to the surrounding lowlands. This makes them an attractive destination for those seeking relief from the summer heat or wanting to engage in outdoor activities in a refreshing environment.
The higher peaks of the High Tatras, such as Gerlachovský štít, reach elevations above 2,600 meters (8,500 feet), which contributes to the cooler temperatures experienced in the region. The lower valleys and foothills of the Low Tatras also offer pleasant temperatures during the summer, making them an appealing destination for hiking, mountain biking, and other outdoor pursuits.
And since the region is rich in hot springs, there are many waterparks and wellness aquatic centers with healing waters where it is possible to refresh.
Why I also love this destination is because large cities are nearby (Bratislava, Vienna, Krakow, and Budapest are only a short drive away). So you can make this summer trip a combination of a Europe city break with a nature escape.
It's worth noting that weather conditions in Tatras can vary, and even in summer, you need to have warmer clothes for cooler temperatures, especially if you plan to go hiking. Additionally, the Tatras are a protected area, so please respect the natural environment and follow designated trails and guidelines to preserve the beauty of this unique mountain range.
Bernese Oberland in Switzerland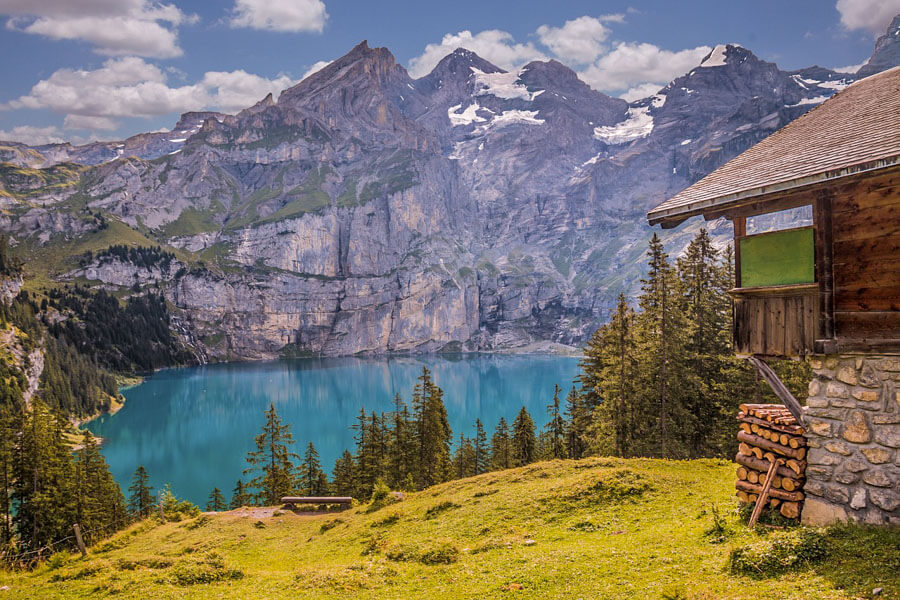 Bernese Oberland is not only one of the most beautiful regions in Switzerland but also one of the best places where to go in Europe in July and August where it is not too hot.
This region is located in central Switzerland and is famous for the Bernese Alps and Jungfrau area which is also known as the 'Top of Europe' because of the highest railway station in Europe, situated at an altitude of 3,454 meters above sea level.
It is also home to the Aletsch Glacier, the largest glacier in the Alps which creates a cooling effect and refreshing mountain breezes that can bring relief from hot temperatures.
In summer Bernese Oberland is quite cool and on higher elevations (which dominate) it's even cold. In fact, some days can be pretty windy, so you may need to have a light jacket like this long sleeve zip-up hoodie or even a raincoat when it rains.
This area of Switzerland is large and offers a considerable amount of things to do. It is perfect for people who love hiking and just visiting places for nature. There are many trails that lead to glacier-fed lakes where the water remains cool, even during the summer, creating a pleasant climate near their shores.
But besides nature, you'll find lovely alpine villages in Bernese Oberland as well. They are shaded by the surrounding mountains, keeping the temperatures lower and providing a more comfortable environment.
>> Read my full guide to Bernese Oberland to see what it is all about!
Chamonix, France
A mountain resort town Chamonix on the eastern border between Italy and Switzerland is renowned as one of the best cold destinations to visit in Europe in summer. Despite the typical association of summer with warmth and sunshine in this region, Chamonix offers a distinct appeal for those seeking cooler temperatures and an incredible mountain experience.
The main reason why Chamonix stands out as a cold destination in summer is its high-altitude location in the French Alps. Situated at the foot of Mont Blanc, the region benefits from its elevation, resulting in lower temperatures compared to lower-lying areas.
There are also a few glaciers in the area that have a cooling effect on the surrounding environment bringing refreshing breezes and cooler air. That provides a welcome respite from the summer heat.
Visiting Chamonix in summer offers a range of outdoor activities amidst the picturesque mountain backdrop. From hiking along scenic trails and taking one of the highest cable cars to relaxing spa time, the region provides ample opportunities for adventure and exploration while temperatures are comfortable and on average fluctuate between 25-30 degrees Celcius in summer (77-86 Fahrenheit).
So if you are trying to plan a unique cool weather summer vacation in Europe, look at Chamonix, one of the prime destinations where it is even possible to travel on a budget. And then if time allows, make a quick trip to Lake Geneva and its small towns like Nyon, Lausanne, Vevey, and others.
Best Cities to Visit in Summer in Europe Where It Is Not Too Hot
Tromsø, Norway
Now, I offer you to head north, some 350 km above the Arctic Circle where you'll find the vibrant city of Tromsø which is also among the coldest cities in Europe during summer.
Due to its far northerly position, Tromsø is one of the coldest places in Europe throughout the year, with August average highs being 15°C (59°F). It is also one of the coldest places to visit in Norway in summer with a lot of beauty around it.
You won't see snow in the summer (at least not in the city), but it'll still be lovely and cool – and if you visit from the end of May to the end of July you'll experience "midnight sun season" – when the sun never sets!
And the best thing, this city is well connected with the rest of Europe, southern Norway as well as Canada and the US, so it is possible even to plan a quick vacation there.
Once you get to Tromso, enjoy this time of year by embarking on hiking tours or joining fjord cruises, or rent a car in Tromso to drive around and see more of the Arctic Circle.
In the city, head to Pust sauna and take a dip in the Arctic waters (it's not too difficult when there's a sauna you can warm up in right next to you!), visit the Polar Museum and the Troll Museum, explore the northernmost botanic garden in the world and drink at one of the oldest breweries, Macks.
Bergen, Norway
Bergen is another Norwegian city where it's not too hot in summer and which is a great destination to escape the heat as temperatures usually range between 13°C (55F) to 18°C (64F). In fact, it is one of the best family summer holiday destinations as there are so many things to do there with kids.
Thanks to its geographical location on the southwestern coast of Norway you will feel the cooling effects of the Norwegian Sea. The coastal breeze helps to keep the city relatively cool, even during July and August.
Bergen in summer offers a range of attractions including cultural experiences that you can enjoy without worrying about the heat. The city is known for its museums, art galleries, historical sites, and vibrant cultural scene, providing plenty of options for exploring and immersing yourself in the local culture without feeling overwhelmed by high temperatures.
Some of the places to visit in Bergen in summer are Fløyen where you can get by the Floibanen funicular for panoramic views, Bergen's University Botanical Garden, a tranquil oasis in the city center, and Troldhaugen a former home of renowned Norwegian composer Edvard Grieg.
Of course, you also shouldn't miss one of the hikes in the area or coastal walks as Bergen is surrounded by beautiful coastal scenery. Some of the most famous ones are the walk on Nordnes Peninsula or the city's waterfront promenade for scenic views of the sea and nearby islands.
And then take a cruise to one of the fjords and fjord villages (maybe to a lesser-visited one like Modalen or Ulvik too) that lay in close proximity to the city.
Gdansk, Poland
Sitting on the edge of the Baltic Sea, Gdansk is a charming city that's perfect if you're searching for milder places to visit in Europe in summer.
Temperatures usually reach a maximum of around 22°C (72F), although in rare cases it can be warmer. June is the sunniest month and long daylight hours make it a wonderful time to enjoy the city without being roasting hot!
Gdansk's old town is an attraction in itself. There you can get lost in cobblestone streets, exploring places like the 17th-century Golden Gate, the Medieval town hall, and the Gothic St Mary's Church.
Don't miss the World War Two Museum. This is a vast and very in-depth exhibition on many aspects of the war, but it's potentially the most comprehensive place to learn about the conflict in the world.
But why is it in Gdansk? Well, just a little way out of the city is Westerplatte, where Hitler invaded Poland, and World War Two began – because the invasion of Poland meant that Britain and France declared war on Germany.
You can visit Westerplatte from the city (it's a 15-minute drive) to learn about this place's historical significance.
As it's summer, it's also worth visiting the nearby Plaża Brzeźno, popular watersports and swimming beach. It's not every month that you can go swimming in the Baltic Sea!
Copenhagen, Denmark
Denmark's capital may be the center of hygge in the winter, but it's worth visiting in the summer months as well.
Temperatures usually hover at around 21°C (70F) with around 8 days per month of rain – which makes it one of the best seasons to get out and explore the city.
Explore the canals which are lined with brightly colored terraced houses – you can do a boat tour or rent a bike and cycle along the canals, Danish style!
Then walk along the waterfront and find the famous Little Mermaid statue, see the historic Amalienborg Palace, or enjoy the outdoor entertainment at the Tivoli Gardens. It should be warm enough to sit outside and have a picnic, but it isn't usually too hot!
As Denmark is a small country, you can see a lot of it on day trips, including Helsingør which is home to Kronborg, Hamlet's Castle, and North Zealand which is home to a network of gorgeous seaside towns that are known as the "Danish Riviera".
Salzburg, Austria
Not many people know but Salzburg in Austria is one of the best cities in Europe where it is warm but not too hot in July and August.
Moderate temperatures make Salzburg cool and pleasant with average highs ranging from 21°C (70F) to 25°C (77F). It is generally cooler compared to many other European cities, making it a pleasant escape from hot summer weather.
Thanks to alpine surroundings (that also provide natural shade and cooler temperatures), Salzburg has gorgeous alpine landscapes and close proximity to the Austrian Alps. These mountains make it an ideal outdoor destination for hiking, biking, or simply enjoying the fresh mountain air.
When you visit, do not miss Hohensalzburg Fortress, Mirabell Palace, and the birthplace of Mozart. And then enjoy a leisurely meal or a refreshing drink at one of the city's charming cafes or restaurants, taking advantage of the pleasant summer temperatures.
When planning a trip to Salzburg, you can see it on a combo city tour which will also include a quick visit to Munich. From Munich, you can also go to one of the most beautiful places in Europe in summer and that is Bavarian Alps. Drive to Mittenwald or road trip to Oberammergau, or make a long stop in Berchtesgaden.
Other Places for Cooler Weather Summer Vacation in Europe
Galicia, Spain
Spain's certainly among the hottest European countries to visit in the summer, with temperatures in some locations soaring to over 40°C (104F).
But visit Galicia in the northern Spain of the country for much milder temperatures (20-25°C and 68-77°F on average), craggy Atlantic scenery (it's known as "the Ireland of Spain" for its foreboding cliffs), and impressive gastronomy.
Go hiking in the Fragas do Eume Natural Park, a gloriously intact Atlantic forest, visit the rolling hills of Ribeira Sacra, a wine region, or simply slow down in one of the beautiful coastal towns.
Galicia may be cooler than other parts of Spain, but it boasts incredible beaches, including Praia das Catedrais, otherwise known as cathedral beach, which is renowned for its rocky outcrops. Or check out the beaches on the beautiful Cíes Islands. The difference is on these beaches in the summer, you can walk around and explore comfortably with less of a risk of heat exhaustion!
Among Spanish experiences, there are also a few fun festivals to check out in Galicia, including the Viking Festival in Catoira which re-enacts the Viking landing in Torres de Oeste!
North Tenerife
Northern Tenerife in the Canary Islands is another cool place to go in Europe in summer. Most people travel there mainly in winter as both Tenerife's south and north are considered the warmest places for winter holidays.
However, the north of Tenerife has much lower temperatures than south. And thanks to its pleasant breezes that help to cool down the area it is never hot.
As you can see in the photos above, the skies are cloudy and I wear long sleeves, even though it's in July. The reason for that is the temperature which from June to August ranges from 21°C (70°F) to 25°C (77°F). On some days, there can be even cold strong wind which makes days feel even cooler. Like now when we are having a 'cold' wave. In southern Tenerife in contrast, it's very hot (yet bearable enough).
These mild temperatures in the north make it ideal for outdoor activities. You can enjoy hiking in the mountains, exploring the picturesque coastal trails or one of Tenerife's towns, swimming in one of the pools, or taking part in water sports like surfing. Or simply rent a car at Tenerife airport and go on one of the scenic drives around the island.
The pleasant weather allows you also to visit banana plantations that the island is famous for, go to one of the awesome wineries, or simply enjoy time in one of the locations with striking views.
Summer is also a perfect season to go hiking to Teide volcano and do stargazing as in July and August you can see the Milky Way.
Caucasus Region in Georgia Country
Georgia country in summer on average can be very hot. However, thanks to the Caucasus mountains that create different climates, there are some truly mesmerizing areas that are quite cool in summer.
If you go from Tbilisi to Kazbegi, you'll find incredible landscapes that provide relief from the heat with high mountains, vast valleys, and cold rivers in the background. Juta village as a high mountain settlement offers access to some of the most scenic hiking trails while Rooms Hotel Kazbegi overlooks Mount Kazbek, the third highest mountain peak in the Caucasus.
Kazbegi region is also home to one of the most breathtaking drives in the world and that is the Georgia Military Highway which you can drive for a week since the number of activities along this road is so high.
Other places that offer an escape from accessive heat are Gudauri, Bakuriani, and Mestia. All of them boast diverse landscapes and a wide array of activities for nature lovers such as hiking, horseback riding, camping, or simply relaxing in the cool mountain air.
Do You Need More Information About Georgia?
Here are some of my posts about this country:
Normandy, France
Overlooking the channel between England and France, Normandy has a maritime climate, with temperatures sitting around 20-25°C (68F-77F) in the summer months. That is generally much cooler than southern France or even Paris – the sea cools this region down considerably!
While Normandy's cooler than the rest of the country, it's full of culture, history, and nature – so you'll be thankful for the milder temperatures!
Visit the D-Day beaches to learn a little about this side of World War Two. Normandy is where British, American, and Canadian troops landed to enter occupied France, which ultimately led to the end of the war.
Normandy's also home to some glorious small towns and villages. A great place to base is Bayeux, home of the Bayeux tapestry which represents how William the Conqueror took over England. It also boasts a charming cathedral and a D Day museum.
Don't miss the UNESCO World Heritage Site of Mont-Saint-Michel, a fortified abbey that dates back to the 11th century and is located on a scenic tidal island, along with Normandy's many rocky and craggy beaches. The seawater might be a bit chilly here, but the scenery is nothing short of spectacular!
Iceland
Of course, Iceland was going to make this list as it is really a cold place to visit in summer.
This country is beautiful any time of the year, and like northern Norway, it experiences midnight sun around June 21st. This means that you can do all of your exploring not just in broad light but in the middle of the night if you desire! (But of course, exploring during the day is still an option too!).
The temperature is usually around 15°C (59F) in August, although highs of up to 25°C (77F) have been recorded. Generally, it's warm enough to sit outside and enjoy Iceland's natural wonders, but it's never too warm.
Spend endless days exploring spots like Thingvellir National Park where the Eurasian and North American continental plates meet (you can also snorkel through the plates – a fantastic summer activity!), see the iconic Kerid Crater where concerts are performed in the summer, or take in South Iceland's Diamond Beach and the epic Skogafoss Waterfall.
Reykjavik's worth a day or two of your time too, with tonnes of museums, epic views from the top of Hallgrimskirkja, and the stunning harbor lined with seafood restaurants.
So, Are You Ready to Go to These Cooler Places in Europe in the Summer?
While there are plenty of hot-weather destinations in Europe in the summer months with beach towns, these places are ideal for those who prefer milder conditions.
Explore history, enjoy beaches without sizzling temperatures, and hike to your heart's content in these glorious summer European destinations that are perfect for anyone who can't stand the heat!
I wrote this post together with Claire, a South West England travel expert who shares useful tips for visiting this part of the UK on her blog, Go South West England. When she's not writing about her home region, she loves international travel and has been to most countries in Europe!
More Travel Inspiration