How Much Does It Cost to Live in Vietnam As a Couple? Vietnam Living Cost Guide
Last updated on April 5th, 2023
If you are considering Vietnam for a temporary or permanent move, I hope this post will give you an idea of what does it cost to live in Vietnam and how to travel there as much as you want. The cost of living in Vietnam is low and you can afford a lot even if not earning a western world salary.
When we lived in Vietnam, at first we budgeted $1000 per month for us as a couple but set a goal to spend less and save as much as we could. And you know what, it was easy to do so in such a country as Vietnam because the living cost was pretty low (even compared to neighboring Thailand and Malaysia) and on many days we were able to spend no more than $20 a day. In total, on average our monthly expenses were around $600 per month.
This amount of money covered everything we needed, including all our travels. The only sacrifice we had to make was to limit ourselves on manicures and weekly massages.
During our time there we met some young professionals and retirees who also lived on a similar budget without a need to tighten their belts.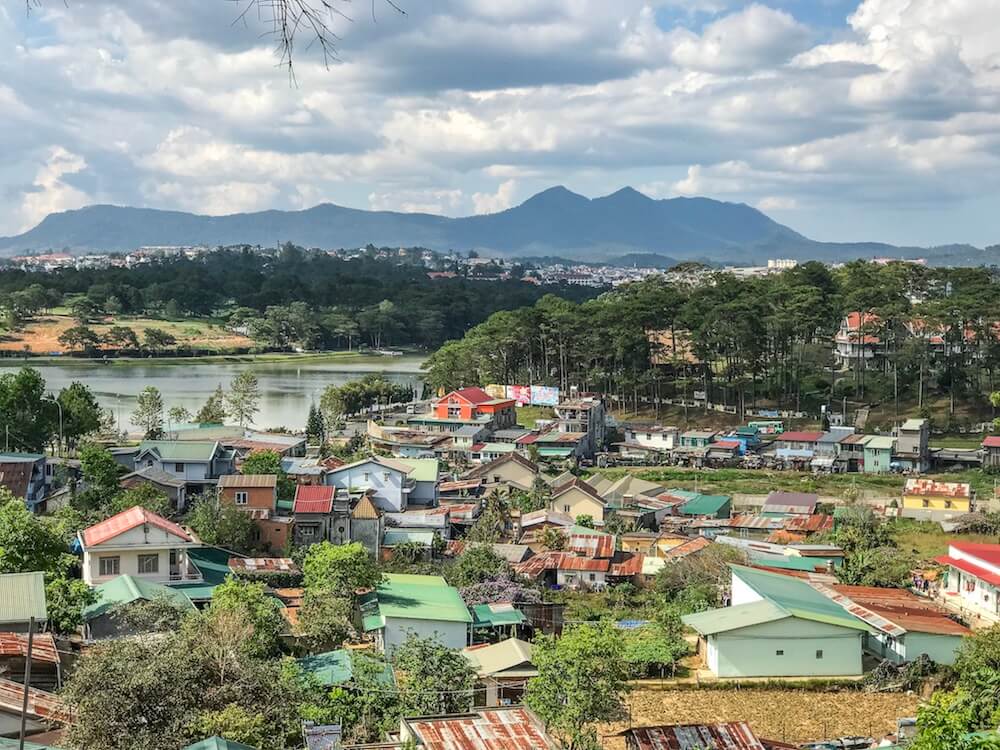 No doubt, different people measure their level of enoughness and comfort by different standards. A bit more than half a thousand per month is not going to create a royal life for you, even though you are in such a cheap country as Vietnam.
If you are used to a fancy lifestyle, spacious homes and cars then $1000 per month or even less will definitely not be enough for one person to enjoy life, not to mention two people. But, if you don't mind modest living, $1000 for two is going to cover all your needs (and more).
This amount of money is going to cover everything from accommodation, food, phone expenses, utilities, bike rentals, expat health insurance, insanely delicious coffee, and tours.
As I mentioned above, we spent less than that. The amount of $600 per month covered all expenses for the two of us, not just a single person. So, if you intend to move there by yourself, living costs in Vietnam may be the same or less.
---
Please note: This post contains affiliate links. I may earn a commission if you make a purchase by clicking a link (at no extra cost to you).
---
Why Do Foreigners Like Living in Vietnam?
Before going to Vietnam for the first time, we thought there was just too much hype about this country for no reason. But then after living in Nha Trang and traveling all over, we realized why people from all over the world move to Vietnam and want to live there.
First of all, foreigners enjoy living in Vietnam because of the eternal summer and warm sea all year round. In most of Europe, winter days don't see enough sun, but Vietnam has it in abundance.
Second, it's much cheaper to live in Vietnam than in countries with cold climates. There is no need to spend money on warm clothes, heating, and winter tires. We lived there in rented apartments that had everything for a comfortable life, so there was no need to buy things that we couldn't take with us. Whatever we brought with us in two suitcases was more than enough. In Vietnam, you also don't worry about the car. Everything you need is nearby and for rare trips, you can rent a scooter or take a bus.
Third, with the cheap simple life, getting a visa in Vietnam is also very simple. Those foreigners who don't want to live on visa runs can apply for 6 or 12 months visa and stay in the country without the need to leave.
Cost of Living in Vietnam
Cost of Renting an Apartment in Vietnam – Cost to Stay in Nha Trang & Dalat
Vietnam clearly doesn't want foreigners to purchase real estate and settle for good in the country. Chinese tried to do that in the past, so the Vietnamese government passed the law not to sell housing to foreigners. The only option is to rent it out for 50 years. After this period, the lease can be extended for another 50 years.
When we arrived in Nha Trang, at first we rented Airbnb and started to look for a long-term flat through Facebook groups and asking around. And a few days later we found an apartment for $250 per month. We were the first tenants of this apartment where everything was new, although pretty basic. There was no deposit or commission. We just signed a contract that said we rented a flat on a monthly basis and separately had to pay for electricity and water. The bill for utilities was between $15-$30 per month (depending on how many times we used AC).
Average long-term apartment rent in Vietnam depends on many factors. First of all, it depends on where you are going to live. Larger cities are not always more expensive but the neighborhood you choose defines the price. The price also depends on the size, either an apartment is in a new modern building or an older one in the neighborhood with locals. Flats near the sea in complexes with gyms and pools are obviously more expensive.
If you are looking to stay in a flat like this one, which is modern and new and has a gorgeous pool on the rooftop, expect to pay a minimum of $450 per month (that's if arranging with the owner). But even on Airbnb, this price is pretty realistic.
More rooms and more amenities increase the price. A decent room with a private bathroom in someone's home will cost between $150 – $200 and your own studio apartment between $200-$300. Two-bedroom flats in a nice neighborhood run somewhere between $300 – $500 per month.
We've been renting two different types of accommodation (you can read about them here.) One was a studio in Nha Trang, and another one was a room with a private bathroom and shared kitchen in a Vietnamese home in Dalat. The price for a studio was $270 dollars (including utilities) per month. And room in Dalat cost us only $150 per month with all utilities included in this price.
Most of the apartments in Vietnam have a washer (unlike Bali), for instance, where you always need to wash your clothes at the laundromat.) So there won't be any extra charges for your laundry.
Cost of Food in Vietnam
If you are used to eating outside of your home, Vietnam is one of those fast-growing destinations in Southeast Asia where you'll be able to do so without breaking your bank.
The street food in Vietnam is ridiculously cheap. Even if you decide to buy all your meals from street vendors, your expenses are still going to be so low. However, if you are on a really, really tight budget, cook at home.
On days when we didn't cook (which happened most of the time) we were spending no more than $10 for both of us during the entire day. It always included a glass of freshly squeezed juice or smoothie, Mark enjoyed his cup of coffee on daily basis and some locally baked goodies (such as croissants and sandwiches). We loved to eat soups (for example a huge bowl of soup was between $0.8-$1.5), noodles, meat and rice dishes. Here is my post about the food we ate in Vietnam, if you are curious.
On days when we cooked at home, our spendings were around $5 per day.
I think expenses in this category were low for us because we mainly ate street food. A few times we went to nice restaurants but it was an event rather than a routine. All other times we ate only at street food stalls. Also, when we cooked at home, most of our meals consisted of veggies, fruits, local grains, chicken meat, and offal.
Most of the time, we shopped at grocery stores and only occasionally went to markets. Stores were more expensive but we felt more comfortable there. But to be able to save, you need to stick to Vietnamese (or SE Asian) foods as western food is very pricey. I remember after 4 months in Asia when craving butter we paid around $7 for a small 250 grams pack.
If you are a vegetarian and stick to a plant-based diet, your spendings will be the same or even lower. People who love to eat meat and go to the restaurant will end up paying more for food.
Even if your daily diet includes meat, eating out in Vietnam is still very cheap. On average, a street food full-size meal costs between $0.80-$2, famous Vietnamese sandwiches and pastries cost less. Fruits and veggies are very affordable everywhere you go.
Cost of Activities & Travel in Vietnam
Vietnam travel costs as everything else are also low. Prices for tickets and activities surprised us so much. If in Thailand or Bali all the tourist attractions start on average at $9 per person, in Vietnam they start at $0.5!
Since we lived in Vietnam as digital nomads, we didn't travel all the time. Most of the days we worked and on weekends or in the evenings we either explored around or took some excursions. Overall, we did pretty much everything we wanted without limiting ourselves in anything.
And to give you an idea of how much we spent, here is a list of a few activities:
visited "Golden Valley" in Dalat and paid 80,000 dong ($3.5) for two;
entrance fee to the Prenn waterfall – 60,000 dong ($2.6) for two;
visited the Datanla falls – 60,000 dong ($2.6) for two;
attended the "Park of Flowers" – 60,000 dong ($2.6) for two;
went island hopping near Nha Trang (it was the most expensive activity) – spent $50 for both of us.
A lot of people know Vietnam mainly for Hanoi, Saigon, Mui Ne, Halong Bay, and Sapa. However, this country is famous for so many things – mountains, beachline, hot springs, rice fields, tea plantations, motorbike road trips are just some of them.
There are endless temples to explore, quirky coffee shops, spectacular hiking trails, hot springs, a lot of free activities related to nature, and so much more.
Since there are a lot of free activities in Vietnam, your only expense may be just gas for the bike or bus ticket. The entrance fee for most of the attractions is really symbolic and costs a few dollars. Big theme parks and popular tourist attractions will be much more expensive of course.
On a few occasions, we went to resorts and paid a day pass to have access to their private beach and pools (like Amiana resort in Nha Trang). Even with these trips, we were always meeting our budget of $600 per month.
Transportation Cost in Vietnam
COST OF BIKE RENT IN VIETNAM
The main mode of transport in Vietnam is, of course, the bike. It's hard to imagine Vietnam without bikes since it's a huge part of the culture. The whole family of four people can ride on one bike and carry bulky goods on top of them all. Many times we saw people transporting furniture and domestic animals on bikes too.
The bikes are very economical. Fuel consumption is 2-3 liters per 100 km. A liter of gasoline costs 20,000 VND ($0.85).
To buy a bike is pretty cheap too. An old bike costs between $150-$200.
Rent for a month starts from 800,000 VND ($35), for a day – from 100,000 VND ($4.5). Monthly prices vary from shop to shop and depend on what part of the city you are renting it in. When we lived in Nha Trang, we paid around $45 a month for an old scooter. In Dalat, it was around $75 for a brand new motorbike.
During the rental process, no one ever asks you for a driver's license and other documents. You just need to leave a deposit (usually around $100) and that's it.
Living in a large city like Saigon or Hanoi doesn't require any skills on how to ride a scooter. There, you can easily use public transportation. But, if you are planning to be exploring during your days off or know you'll be living in a smaller town, riding a bike is rather a necessity.
In many cities around Vietnam, there are many traffic police. If you drive without a license, you may get a fine. Some foreigners get off with a bribe of 300,000-500,000 VND ($13-$21) but if the raid has video cameras, then they can take a bike to an impoundment parking lot and no bribe will solve the problem.
Despite this, some expats still speed up on a rented bike without a license, not caring about anything or anyone. Many of them don't wear helmets, masks, or special motorcycle goggles which brings the attention of the police. If you do all these things and are careful on the road, it is easy to mix with locals and for police not to notice you.
COST OF PUBLIC TRANSPORTATION
Public transportation in Vietnam as well as grab or uber is also very cheap.
Bus networks. In most cities of Vietnam, bus networks are well developed. Every year, cities introduce more new routes in honor of which travel on them is free until the end of the month. Drivers stop at every stop and open the doors even if no one gets in or out. Buses are clean, new, with air conditioning and video cameras that display the street. Travel around the city in Nha Trang, for example, cost 5,000 VND ($0.25), to the suburbs – 17,000 VND ($0.75).
I think we used city buses in Vietnam less than 10 times and mainly in Saigon when volunteering in a school in the suburbs. But if you are going to spend it on a regular basis, you can tell it's not going to cost a lot.
The price for the ride in a city bus is pretty much the same around the country. So no matter where you end up living – either in Southern, Central, or Northern Vietnam, you can expect to pay almost the same amount. Saigon and Hanoi have the most expensive transportation. Yet, compared to western world standards, it's ridiculously cheap.
Uber or grab. They cost more than buses but they are very reasonable too. In grab application, in addition to a regular taxi, you can order a bike taxi or delivery of food from a restaurant. For a 7-kilometer taxi ride from the train station to the tourist area by the sea, we paid VND 100,000 ($4.3). On a taxi bike, this distance will be half the price.
Trains. We traveled from Nha Trang to Da Nang by train and covered the distance of about 600 km in 9 hours. But the train was late for half an hour. It turned out that delays for Vietnamese trains are the norm. There were only ten people in the carriage with us and train attendants were offering food and drinks for an additional fee.
We purchased tickets at the railway station ticket office. Some people book them on the Vietnamese railway's website but it rarely accepts foreign cards. So instead, I recommend you book with baolau.com if going to the railway station is not an option. They are reliable and take a small fee on top of the price.
A ticket to a sitting carriage with soft chairs, a table, and air conditioning in one direction cost us 380,000 VND ($16.5). A more simple version of a carriage with a wooden bench like in the park and without air conditioning was around 250,000 VND ($11), and a ticket for a compartment carriage with beds cost 700,000 VND ($30).
Cost of Medical Insurance in Vietnam
A lot of people get so excited about moving to Vietnam as one of the cheapest countries with a high standard of living that they forget about health insurance. If you don't have any health coverage and something happens, you'll need much more than $1000 a month.
So here is the situation with medical insurance and healthcare in Vietnam.
You can enter Vietnam without applying for medical insurance. There is also no need to show it when applying for a visa or on the border. However, foreigners don't have access to free healthcare in Vietnam, so just in case it is better to take out insurance after all. Especially, if you know you have some risks or chronic illnesses.
Insurance for three months with a coverage amount of $35,000 costs from $85. It is important to include in the insurance driving a bike. But if at the same time you do not have a category A driver's license, then the insurance may refuse to pay.
If something goes wrong and there is no insurance, you will have to go to the hospital and pay for the treatment out of your pocket. The prices for treatment in Vietnam are at the level of clinics in smaller towns in the US. For example, treatment of a broken collarbone will cost $2,000.
Fortunately, we never had to go to the hospital, but our friends had such an experience. With medical expenses, they had to spend much more per month than we did during 3 months in total.
In private clinics, prices are higher. A consultation with a doctor on duty costs between $80-$100. In public hospitals, it costs 200,000 VND ($8.5) to see any specialist. But setting an appointment there without the knowledge of Vietnamese is hard.
Doctors prescribe mainly antibiotics. You can buy them both at the hospital and at any city pharmacy with a prescription. A medicine for a common cold costs about 200,000 VND ($8.5).
It's funny that there is no fixed price list for services or probably they are just hidden from foreigners. For example, our friends were told the price for a drip was 1,000,000 VND ($43) but when they didn't have that amount with them, the price magically dropped in half.
On our first visit, we were in the country without any insurance. But soon after we spend some time researching what was the best health insurance for us, we made our choice in favor of the SafetyWing company. Check the quote from them.
Other Expenses in Vietnam
In this category, I have expenses for:
cellular service – 150,000 dong ($6.5);
household goods (mosquito spray, corkscrew, towel, slippers for the house, glue, bandage, etc.) – 691,000 dong ($30);
personal care products – 310,000 dong ($13.5);
swimsuit – 600,000 dong ($26);
Living Costs in Vietnam – Conclusion
To give you a quick sum up, the cost to live in Vietnam for a month for us as a couple was the next:
Price for the Apartment per month: a studio in Nha Trang city cost us $270. In Dalat, for a private room with a bathroom, shared kitchen, and hallway area we paid $150.
Food expenses: between $200-$300. There was a month or two when we paid less, but at maximum, we spent $300. This is when we traveled and ate at the restaurants. I know the exact number because we've been counting every single dollar.
Transportation spendings: motorbike rental, gas, and occasional cab ride cost us not more than $100.
Fun and travel: we have never spent more than $100 per month on our leisure. This amount covered trips to countless coffee shops where we like to work and indulge in all sorts of European style cakes, teas, and coffee drinks. Also, boat to a peninsula, visiting an island, tea room, entrance fee for the national park, waterfall, museum, silk factory, coffee plantation, organic farm, pool day at the resort (photo above), entrance to the private beach, and all other activities I mentioned above.
Of course, it doesn't mean we did all of these activities in one month. They took place over a period of 3 months.
Originally our budget for one month in Vietnam was $800. Eventually, after seeing that we were spending less, we set the amount of $600. And it wasn't difficult to meet that budget.
That time, when apartment rent was lower, meant we had even more money for other things.
The main expense in Vietnam is accommodation (as everywhere else I guess.) Since most of the year is hot, you would want to rent a nice flat with AC, in a new building and on a side that gets more shade during the day. And for that, you would end up paying more. Everything else will not take much from your budget.
Health insurance. When we lived in Vietnam, we didn't spend a penny on health insurance. Later, our approach changed and the health insurance we picked (on safetywing) cost $120 for 3 months for one person. Maybe you find cheaper health insurance for travel but safetywing, in my opinion, already offers very reasonable prices. Plus, their health insurance covers covid. Get a quote on their website.
If we were going to stay in Vietnam for a year, the cost of living would be between $8,000-$11,000 for us. I get really surprised when I see people saying they spent $15,000-$20,000 per month as a single person. That's quite a lot of money for this country. Our friends live with less than $8,000 per year for two and have a very good standard of living. Everything depends on what your priorities are and how good you are with money.
Final Word
I am going to be the next person who will proclaim how cheap Vietnam is. If you are worried about not making enough money or living on a very tight budget, in Vietnam you can emotionally relax. Seriously.
In fact in Vietnam, it's easy to feel like a millionaire even if your salary is small. After all, the rate of the Vietnamese dong to the US dollar is very high. The standard of living in Vietnam is lower than in neighboring Thailand and Malaysia, therefore, if you wish, you can live and travel here very cheaply.
If on the contrary, if you make more than the average western world salary is then Vietnam is that place where you can live in luxury and be able to save.
More Vietnam Travel Resources
Planning a trip or move to Vietnam? Read my article about the top reasons why you may want to move to Vietnam.
– For long-distance flights, I recommend you to compare prices on Google Flights and Expedia. Sometimes Expedia finds better deals than google with lower prices and fewer stops.
– For short-distance flights within the Asia continent and within Vietnam, refer to AirAsia.
– Use i-Visa to check if you need a tourist visa for Vietnam and apply for an expedited visa online.
– Find the best Vietnam hotel deals on Agoda.
– If you need an apartment for a long-term, check tips on the apartment rent in Vietnam – how much you get and what you need to pay.
If you love hanging out in cafes as much as we do, you'll love my adorable co-working cafes in Nha Trang and amazing coffee shops in Saigon to get your laptop work done.
And finally, find out why we decided not to live in Vietnam as expats
---
I hope this post was helpful. Share your thoughts. Did you live in Vietnam? How much money did you need to live in this country?