How Much Does It Cost to Live in Vietnam As a Couple? Live & Travel Comfortably for Less Than $1000 per Month
Last Updated April, 2020
If you are considering Vietnam for a temporary or permanent move, I hope this post will give you an idea what does it cost to live in Vietnam and how to travel there as much as you want. Cost of living in Vietnam is low and you can afford a lot even if not earning a Western world salary.
When we lived in Vietnam, our budget per day as a couple was $20 ($600 per month in total,) but on many days we were able to spend slightly less. This amount of money covered everything we needed, including all our travels. The only sacrifice we had to make was to limit ourselves on manicure and weekly massages.
During our time there we met some young professionals and retirees who also lived on a similar budget without a need to tighten their belt.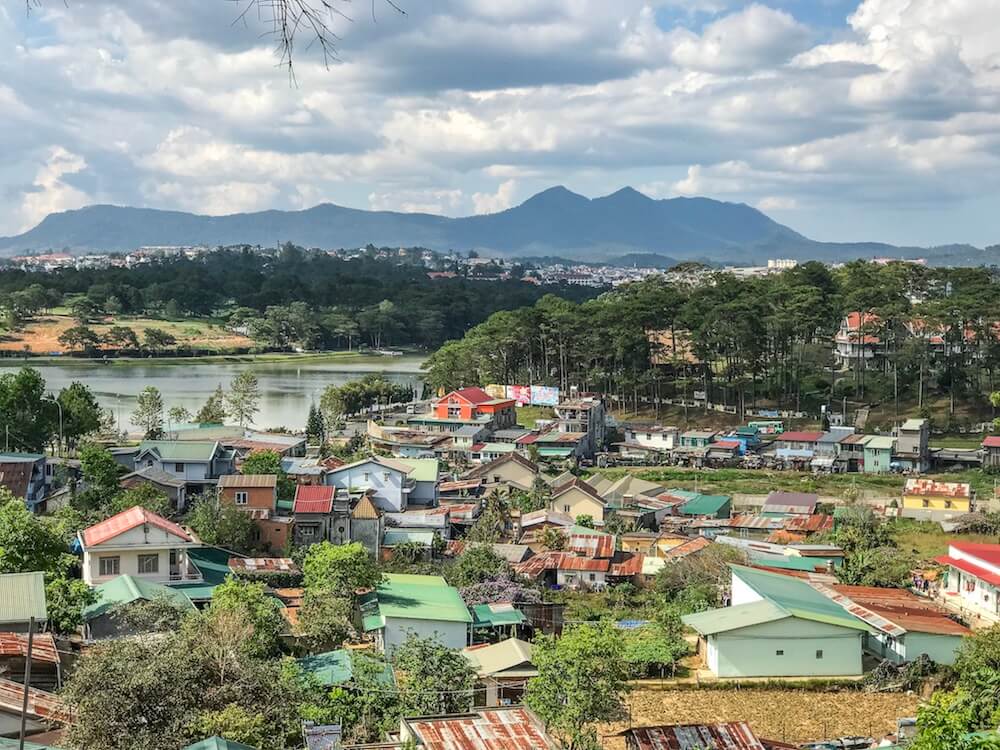 No doubt, different people measure their level of enoughness and comfort by different standards. A bit more than half a thousand per month is not going to create the royal life for you, even though you are in such a cheap country as Vietnam.
If you are used to a fancy lifestyle, spacious homes and cars then $1000 per month or even less will definitely not be enough for one person to enjoy life, not to mention two people. But, if you don't mind modest living, $1000 for two is plenty.
This amount of money is going to cover everything you need from accommodation, food and insanely delicious coffee to occasional restaurant hopping and tours.
In fact, we spent less than that. Our budget was $600 per month and this amount covered all expenses for two of us, not just a single person. So, if you intend to move there by yourself, the cost of living in Vietnam may be slightly less.
Are you looking for more articles about Vietnam? Check out some other posts of ours:
Cost of Renting an Apartment in Vietnam
It really depends on many factors. First of all, it depend on where you are going to live. Larger cities are not always more expensive but the neighborhood you choose defines the price. It also depends on what you like and what is going to make you comfortable.
If looking to stay in a flat or house similar to what you have back in your home country then you'll definitely end up spending more than $600 per month.
Overall, expect to pay between $100 – $200 for a decent room with private bathroom in someone's home. And between $150 – $300 for your own studio apartment. Two bedroom flats in a nice neighborhood run somewhere between $300 – $500 per month.
We've been renting two different types of accommodation (you can read about them here.) One was a studio in Nha Trang, and another one was a room with the private bathroom and shared kitchen in Vietnamese home in Dalat. Price for a studio was $270 dollars (including utilities) per month. And room in Dalat cost us only $150 per month with all utilities included in this price.
Most of the apartments in Vietnam have the washer inside them (unlike Bali, for instance, where you always need to wash your clothes at the laundromat.) So there won't be any extra charges for your laundry.
What Does it Cost to Live in Vietnam When It Comes to Food
If you are used to eating outside of your home, Vietnam is one of those fast-growing destinations in Southeast Asia where you'll be able to do so without breaking your bank.
The street food in Vietnam is ridiculously cheap. Even if you decide to buy all your meals from street vendors, your expenses are still going to be low enough. However, to bring them even more down we would suggest cooking at home.
On days when we didn't cook we were spending no more than $10 for both of us for plenty of food during the entire day. It always included a glass of freshly squeezed juice or smoothie, Mark enjoyed his cup of coffee on daily basis and some locally baked goodies (such as croissants and sandwiches). On days when we were cooking at home, our food costs were around $5 per day.
I think expenses in this category were low for us because we mainly ate street food. During a few times only we went to nice restaurants. All other times we ate only at street food stalls. Also, when we cooked at home, most of our meals consisted of veggies, fruits and local grains. I can't believe how cheap the street food in Vietnam was (and still is.) We could have a huge bowl of soup for less than $1.
We shopped at the market and only occasionally went to the store. If you are a vegetarian and stick to a plant-based diet, trust us, your spendings will be the same or even lower.
Even if your daily diet includes meat, eating out in Vietnam is still very cheap. On average, a street food full size meal costs between $0.80-$2, famous Vietnamese sandwiches and pastries cost less. Fruits and veggies are very affordable everywhere you go.
Spending Free Time in Vietnam
A lot of people know Vietnam mainly because of Hanoi, Saigon, Mui Ne, Halong Bay and Sapa. Vietnam is famous for mountains, beachline, hot springs, rice fields, tea plantations, motorbike road trips and offers a lot of free activities related to nature.
Additionally, there are endless temples to explore, quirky coffee shops, spectacular hiking trails, hot springs and so much more.
In most cases, your only expense will be gas for your bike (which is really cheap and can last you forever.) Entrance fee for the most of attractions is really symbolic and costs a few dollars. Excluding big theme parks or popular tourist attractions.
We often went to resorts and paid a day pass to have access to their private beach, rooftop or infinity pools. Even with these trips, we were always meeting our budget of $600 per month.
Transportation Cost in Vietnam
Living in a large city like Saigon or Hanoi doesn't require any skills on how to ride a scooter. There, you can easily use public transportation. But, if you are planning to be exploring during your days off or know you'll be living in a smaller town, riding a bike is rather a necessity.
Public transportation, as well as grab or uber, is very cheap. One ride in a bus within the city limit costs between 30 cents and one dollar. Uber or grab car costs slightly more. Calling uber on a daily basis is not going to bring you outside of $1000 per month budget. Using bus system or bike will keep your expenses down.
We personally got very comfortable when riding a bike, so there was no need to use buses or cabs.
Monthly prices for bike rental vary from shop to shop and depend on what part of the city you are renting it in. When we lived in Nha Trang, a coastal city, we paid around $45 a month for an old scooter. In Dalat, mountain town, we paid around $75 for a brand new motorbike.
---
Conclusion
To give you a quick sum up, the cost of living in Vietnam for us two was the next:
Price for the Apartment per month: a studio in Nha Trang city cost us $270. In Dalat, for a private room with a bathroom, we paid $150.
Food expenses: between $200-$300. There was a month or two when we paid less, but at maximum, we spent $300. This is when we frequented restaurants and traveled a lot. I know the exact number because we've been counting every single dollar.
Transportation spendings: motorbike rental, gas, and occasional cab rides cost us not more than $100.
Fun and travel: we have never spent more than $100 per month on our leisure. This amount covered trips to cute coffee shops where we indulged in all sorts of European style cakes, teas, and coffee drinks. Also, boat to a peninsula, visiting an island, tea room, entrance fee for the national park, waterfall, museum, silk factory, coffee plantation, organic farm, pool day at the resort, and private beach.
Originally our budget for one month in Vietnam was $800. Eventually, after seeing that we were spending way less, we set the amount of $600. And it wasn't difficult to meet that budget.
That time, when apartment rent was lower, meant we had even more money for other things.
The main expense in Vietnam is accommodation (as everywhere else I guess.) Since most of the year is hot, you would want to rent a nice flat with AC, in a new building, on a side that gets more shade during the day etc. And for that, you would end up paying more. Everything else will not take much from your budget.
Final Word
I am going to be the next person who will proclaim how cheap Vietnam is. If you are worried about not making enough money or living on a very tight budget, in Vietnam you can emotionally relax. Seriously.
If on the contrary, you make the Wester world salary then Vietnam is that place where you can live in luxury and have enough to save.
---
I hope this post was helpful. Share your thoughts. Have you lived in Vietnam? What were your expenses? Are you moving to Vietnam soon? Enjoy this country!