12 Fascinating Day Trips From Antalya City (With My Travel Tips)
Last updated on September 23rd, 2023
Looking for the best day trips from Antalya, Turkey? Don't pass by, check my guide as I feature the most popular organized Antalya day tours and not so popular but incredibly interesting independent Antalya day trips. From ancient cities and azure beaches to hiking, canyoning, and exploring wild islands, it's all here below!
Surprisingly, Antalya became one of my favorite provinces for beach vacations and nature. It comes second after Bodrum in terms of a number of activities and variety of things to do. During our few months stay, we explored a ton of places there and have many more left on our list to discover on our future visits. So I want to share my favorite Antalya excursions that you can go on your own or with a guide.
When I was thinking about what to put on my list, I decided to choose only those day trips that do not take more than 3 hours of travel one way. Anything longer than that is not a day trip, it should be already a staycation and a separate visit. Especially in a country like Turkey where every kilometer of land has something interesting to a traveler.
In fact, getting to all the places in the Antalya region that I mention below takes between 30 minutes and one and a half hours of travel. Going on these trips will show a very good picture of Antalya and the Turquoise Coast. Enjoy!
---
Please note: This post contains affiliate links. I may earn a commission if you make a purchase by clicking a link (at no extra cost to you).
---
How to Go For Day Trips From Antalya
There are different ways how to go on day trips from Antalya. You can join an organized day tour, use public transport, private transfer, or hire a car. We personally like to rent a car as often as possible and go places and on occasion join tours as they may offer the best presentation of the site or destination.
Using public transport is also a good option since it's also cheaper. Although you need to remember that using public buses (no trains in the Antalya region) is going to take much more time. So often you'll be able to spend a day only on one trip when going by car or on a tour, there is a chance to see nearby places and combine 2 or even 3 day trips in one.
Private or small group tours are an affordable and efficient way to travel around the Mediterranean coast of Turkey. Having a local guide will enrich your experience, especially if your day trip is focused on culture or history.
In Antalya (as pretty much anywhere in Turkey) we personally use GetYourGuide to find and book day tours. It is a reliable platform and all tours in Antalya you find through them are absolutely legit. Viator is also popular in Turkey, and in Antalya by the way, they offer a broader range of itineraries.
But still, our favorite way to go on day trips in Turkey is by car. I recommend this option to everyone who holds a driver's license and has driving experience. Roads in Antalya are great and driving is enjoyable.
If you decide you want to hire a car in Antalya, I recommend the Local Rent website to find an affordable rental from a local company. Many come with insurance included and don't require any deposit. For more details, read up my tips for renting a car and driving in Antalya.
Popular Short Day Trips From Antalya (Under 1 Hour Travel)
Antalya Day Trip to Goynuk Canyon – Adventure Escape
Goynuk Canyon is one of the most popular day trips from Antalya. It is also one of the most beautiful natural wonders to visit with clean refreshing water and plenty of oxygen. On a hot summer day, it is a must-see destination for all nature and outdoor enthusiasts, regardless of fitness level.
The canyon on its own is a narrow gorge no more than 6 meters wide and up to 350 meters high. It has a length of 14 kilometers, ending in the spurs of Bedaglar. At the bottom of the canyon flows the river of the same name which is slow and safe. In summer it becomes shallow and turns into a large stream and a chain of small lakes that get separated by rapids up to 3 m high, made of boulders and large stones.
In most places, the creek is knee-deep or waist-deep, but there are a few sections that you have to traverse up to your neck in water or swim in a boat. For these reasons, you can't do it without a wetsuit and inflatable vest. At the park, the staff member will provide guidance on how to start this canyoning body rafting and give mandatory equipment for that.
Besides this activity you can also go ziplining, trekking in the canyon on a Lycian trail, and joining a quad safari.
On the way to the canyon, there are a few lovely cafes with Turkish food and chai.
When traveling on your own, you can purchase tickets at the park. But be ready to wait to get in if visiting in the high summer season. There is an option, by the way, to purchase tickets only to enter the park without any rafting to walk around, pop into a cafe, or join other paid activities.
If you prefer to go on a tour, there is an option to choose a combo canyoning and ziplining tour or solely body rafting tour.
Distance from Antalya: 35 km (22 miles)
Travel time: 35-45 minutes one-way
How to get there: by car or private transfer
Best time to visit: late May through early September
How much time to spend: the whole day if you want! The canyoning is not limited in time but you won't be able to stay in the water for too long because it's too cold.
Day Trip to Kemer – Hiking, Sea & Turkish Food
While Kemer is considered a resort town perfect for tourists who stay in one of its all-inclusive hotels, there are still a few lovely things to do there for those who don't stay in Kemer but come to visit on a day trip from Antalya.
I personally love this little town with coniferous trees, clean air, and pebbly beaches. It provides a perfect opportunity to combine in one day time by the beach, hiking through coniferous forest, and then sitting by the river and old aqueduct while eating freshly caught fish.
So I recommend you do the same to see what a multifaceted town Kemer is!
Depending on the time of the day when you arrive, I suggest you go to Central Beach which is more like a landscaped area with numerous amenities for tourists (umbrellas, sun loungers, cafes with terraces, and bathrooms). But keep in mind that the line is divided into zones that are the property of Kemeri hotels. Everyone who is not staying in a hotel here has to pay for sunbeds and umbrellas.
Central beach has large pebbles that make the water crystal clear. If you'd prefer to swim on a sandy beach (with as beautiful water!), then better head to Qualista Beach where there is also a cool beach club.
If visiting Kemer in late spring or early fall (even in summer but in the evening), go on a hike through the forest inside the town to see Kemer from a bird's eye view. There are a few trails that bring you to the top of the mountain. Check maps.me to understand which one will work best for you.
And at the end of the day, if you come by car, follow a twisty road towards Ovacik and make a stop at this restaurant above the canyon. It is my secret place where Mark and I loved going to unwind and have delish fried fish or gozleme. Here it is:
Distance from Antalya: 44 km (27 miles)
Travel time: 40-50 minutes one-way
How to get there: by car or public bus
Best times to visit: April, May, June, September and October
How much time to spend: from a few hours to a few days
Antalya to Phaselis – Roman Era Ancient Site & Beach
On a very beautiful small peninsula south of Kemer, there is the ancient city of Phaselis covered with cedars and pines. It is another interesting spot for a day trip from Antalya which you can visit on your own or as part of a group tour combined with a full-day boat trip with lunch.
Phaselis is a unique settlement where the sea and history coexist with its ruins, historical antique theater, aqueduct, agora, and baths.
The port city of ancient times, Phaselis, was founded in 690 BC due to its unique location and proximity to rich forest areas, with three different bays suitable for creating a port. It is located among pine and cedar forests in the Olympos-Beydaglari National Park.
Before entering the ancient city, you'll need to walk or drive along an asphalt road for about 2 km and reach the place where the sea and the ancient ruins meet. The northern harbor, which you will see after the remains of the Temple and the Necropolis (cemetery) is between the Necropolis and the road to the Ancient Aqueduct.
The best part about this place for many people is a beautiful sandy 100 meter beach among the trees. It can be accessed by paying a small entrance fee. Phaselis beach is a favorite place for families with children because of the calm sea and warm sea water. It is also one of the bays from where boats depart to Kaleici Marina (Old part of Antalya) and yachts to Kemer, Tekirova, and Camyuva.
Distance from Antalya: 56 km (35 miles)
Travel time: 50-60 minutes one-way
How to get there: by car, private transfer, or by bus and then walk to the entrance
Best time to visit: from late May to October
How much time to spend: from a few hours to a full day
Day Trip From Antalya to Perge & Kursunlu Waterfall – History & Nature
Only in Antalya there is a wonderful opportunity to get acquainted with the ancient history of Turkey without giving up entertainment and beach holidays. After all, the entire Antalya province is full of various sites with the ruins of many ancient cities.
One of these cities is ancient Perge which attracts more and more tourists every year. It is one of the most interesting attractions for lovers of picturesque ruins and history. Excursions that include a visit to Perge are available from the center of Antalya, from Kemer, Belek, Alanya and Side. But it's also very easy to visit on an individual trip when renting a car or using public transportation.
Perge is located 18 km from Antalya, not far from the modern town of Aksu. It starts with the city gates – the inner gate from the Hellenistic period and the outer gate from the Roman period. The most photographed element is the Hellenistic Gate, which was erected in the 3rd century BC. Through it, you can go to the colonnaded street with the baths and ruins of the Agora (market square).
If you haven't seen any ancient cities in Turkey yet, visiting Perge will be a great introduction as it was one of the richest and most beautiful cities of the old world during the Hellenistic period. It was famous for its architecture and sculpture. And in 2009 the city was included in the UNESCO World Temporary Heritage List.
After the visit to Perge, if you are not tired, make a trip to the nearby ancient city of Aspendos. It has the best preserved ancient theater and is almost nearby – only 35 km away.
Another place to visit in the area is Antalya Archaeological Museum which is the largest on the entire Turkish coast. All the statues, relics, and sarcophagi found in Perge are now in the Antalya Museum.
And one more place to add to this day trip is the picturesque Kursunlu waterfall. Hiding behind lush greenery, it provides a wonderful opportunity to cool off and take fantastic photos. This waterfall is located in the middle of a pine forest, where you can enjoy camel riding or a family picnic.
Distance from Antalya: 56 km (35 miles)
Travel time: 20-30 minutes one-way
How to get there: by car or city bus, or join this organized tour that covers it all
Best time to visit: March to May, September to November
How much time to spend: expect to devote at least 3 hours to Perge
From Antalya to Tahtali Mountains – Scenic Views & Traditional Turkish Villages
This would be not really a day trip but more of a road trip from Antalya through Tahtali mountains. And I think it's a great trip for those travelers who have more time in Antalya or who have a desire to see Turkish village life in the mountains rather than by the sea.
Tahtali Mountains are mainly famous for the ski resort Saklikent. It is particularly popular in Antalya during the winter season in Turkey. However, it is no less beautiful in the summer too. And there is much more hidden behind the mountains than just the area for skiing.
Saklikent on its own stands out with peace and quiet. Tourists have a great opportunity to be alone with untouched nature, enjoy panoramic views, go hiking, and listen to the sound of majestic mountains.
If you are visiting during the snow season which lasts from January until the end of April, expect to find all the needed infrastructure and lots of snow activities. On the top, there is a panoramic cafe serving snacks and hot drinks.
In summer, Saklikent is much quieter and offers hiking in the mountains, BBQing, and participation in the famous Shenlik festival. In July and August when Antalya gets very hot, locals escape the heat and run to Saklikent because the temperature there is up to 15 degrees lower.
We love going to Saklikent just to unwind, drive on the scenic mountain road to enjoy the views, and go on short hikes. But before we get there, we also love stopping in a bunch of other places to eat traditional (for this region) food, spend time in villages, and walk in nature.
Among my favorite places on the way to Saklikent are Doyran Nature Preserve, Cakirlar village, and Geyikbayiri. The last one is a village with a green area around it excellent for camping, rock climbing, and mountaineering. It has lots of walking paths and recreation areas running through cedar and red pine forests.
Only in Geyikbayiri alone it is possible to spend the entire day walking around, taking wonderful photos of wooden plateau houses, and tasting delicious nomadic dishes in one of their many restaurants. Our top restaurant is Yayla Gozleme, they have wonderful food and views, views, views! On a bright sunny day, from their terrace you can see all of Antalya in the distance and the sea.
Distance from Antalya: 25-50 km (15-31 miles) depending on where in Tahtali you decide to go
Travel time: 1-1.5 hours one-way
How to get there: by car
Best time to visit: any time during the year is amazing, but expect to have different activities
How much time to spend: from a few hours to the entire day
More One Day Tours From Antalya
Longer Day Trips From Antalya (1-3 Hours of Travel)
To Side – Ancient City by the Sea
Side, just like Kemer, is a seaside town great for beach vacations. But it is also a great pick for a day trip or on the way from Antalya to Alanya or Cappadocia region. The main reasons to visit are the ancient city, which is now popular with tourists, cute numerous souvenir shops and cafes, and its beach.
Side is small and feels like time there has stopped. If you walk along the ancient streets, you will see a magnificent view of the majestic columns of the ancient temple of Apollo and smooth blue expanse of sea waves. Further, the path lies along a busy embankment, snow-white yachts that stand in the harbor and seem to invite you for a walk with a light breeze.
Among all the ancient sites, it is also worth noting Side Museum, dedicated to the civilizations that once flourished on the territory of the city. Its exhibits are fragments of statues, sarcophagi, ancient coins, and amphoras. The oldest item dates back to the 8th century BC. For the most part, all exhibits tell about the Greco-Roman period, but you can also find artifacts related to the Byzantine and Ottoman eras.
Holidays in Side have become popular not only because of the unique sights but also because of the numerous beaches. The coast is divided into western and eastern. Distinctive features of local beaches are sandy coverage and shallow water which allows families with children to relax comfortably. The water in the sea warms up by mid-May and its temperature remains at high levels until the end of October.
In July and August Side is hot, so it will be difficult to join excursions or do a self-guided tour.
If you have a car, combine a day trip to Side with a quick visit to nearby Manavgat Waterfalls and Oymapinar Reservoir. Another option is to join an organized tour and go to a traditional village Ormana and the nearby Altinbesik underground cave. You can also visit Ormana and Altinbesik cave on your own, but for the village, it'd be more interesting to be on a tour to hear stories about it.
Distance from Antalya: 75 km (46 miles)
Travel time: 70-80 minutes one-way to Side
How to get there: by car, private transfer, by bus, or on a tour
Best time to visit: from April-June, September-November
How much time to spend: half a day or a full day if staying at the beach/hotel
Trip From Antalya to Adrasan – Eco Village & Red Sand Beach
Adrasan village is a hidden paradise on the Mediterranean coast of Turkey that should be on your travel bucket list if you like visiting traditional villages and appreciate tranquility. It is the right choice for all holidaymakers who desire to spend a holiday in a natural environment and see a different side of Antalya.
I've been to this village a couple of times and couldn't get enough. I visited it on a day tour and stopped here on a road trip between Antalya and Fethiye. And all my visits were always incredible due to Adrasan's natural beauty and deep blue sea, due to its people who make you feel at home right away, and due to the number of activities.
You see, Adrasan is located near the world-famous Lycian path and has a 2 km long beach surrounded by groves with pine trees.
So on the one hand, you can go hiking (even on short hikes) because the views that open up from hiking trails in this area are simply magnificent. On the other hand, you can come to spend all day long by the beach, surfing, kayaking, diving, trying local food in many cute cafes, and joining tours to nearby islands. Kayaks and diving equipment are available for rent on the beach.
The entire area of Adrasan village is protected and its beach is among the most beautiful beaches in the Mediterranean region. Unlike other beach areas in Antalya and surrounding cities, Adrasan attracts with its shallower and more closed structure. Since it is situated in the bay, the sea near the shore is always very calm. There are no currents and waves, the water is transparent and clean.
So the shallow water on the beach strip will allow you to fully enjoy your holiday, even if you do not know how to swim. It also allows families with children to have a more comfortable holiday.
In addition to the beach and sea, there is also a river flowing through Adrasan with many restaurants along it. Stop by to have lunch or early dinner, feed the ducks or cats, and take dozens of insta photos.
And if you find that what the village offers is not enough, just go on a boat tour to one of the nearby coves or bays. The number one island to visit in the Adrasan Bay area is Suluada island. Being one hour away from Adrasan it is as pure and beautiful as the Maldives. Tours to this and other islands can be purchased at the beach.
Adrasan also has many quirky boutique hotels and guesthouses at a good price, so there is always an opportunity to turn a day trip into a long staycation. Because there is really a lot to do!
Distance from Antalya: 115 km (71 miles)
Travel time: 2.5 hours one-way
How to get there: by car or public buses (with a transfer)
Best time to visit: May through October
How much time to spend: one or a few days
Day Trip to Cirali & Olympos – Ancient Lycia, Sea Turtles, Hippie Atmosphere & Fire Mountain
Cirali and Olympos are located in the same direction as Adrasan village is but closer to Antalya. So it is very easy to combine visits to all these places in one trip (just plan it for at least 2 full days) or break it into 2 separate day trips.
If I had to describe these two cities in a few words, I'd pick 'calmness, silence, green, and peace'. Although two of them are completely different from each other in terms of beauty and comfort.
Cirali is a town where you can relax in one of the magnificent boutique hotels or exquisite bungalows (even if you come for a day only), and on a clean and calm beach. All hotels here have beautiful facilities with exquisite gardens. The beach is well equipped with sunbeds and umbrellas.
Located on the border of Olympos Beydagları Coastal National Park, Cırali is perhaps one of the best examples of Turkish small towns where people live in harmony with nature. The area on both sides of Cıralı Beach is part of the national park which is a very special place with its natural and historical values because it is a breeding area for Caretta turtles.
Olympos faces the same beach as Cirali but its main settlement is a 30-minute walk away. Olympos has a very different feel and character and is mainly famous for its hippie atmosphere and Lycian ruins (you need to pay to get in). Of course, because it used to be an important city of the ancient Lycian Civilization and a very important place in maritime trade.
Both these towns have centers consisting of several streets with cafes, markets, and shops selling souvenirs and materials you need at sea. Both of them are under strict protection and offer to spend excellent time. Oh, and in the Olympos valley (which is closer to Cirali) is a Chimaera mountain site. It is famous for dozens of small flames which burn constantly from under the rocky slopes and are a must-see attraction.
Distance from Antalya: 125 km (77 miles)
Travel time: 2.5 hours one-way
How to get there: by car or public buses (with a transfer) and hitchhiking
Best time to visit: May through October
How much time to spend: at least one full day
From Antalya to Demre & Ancient City Myra – For Rock Carved Thombs & Underwater City
Among all day tours from Antalya on my list, Demre is the farthest. It takes around 3 hours to reach it one way, so travel here can be exhausting to accomplish within one day. But it is well worth the time. Although in my experience, it'd be much more efficient to combine this journey with another one on the same route.
Demre is simply a fantastic place for a peaceful holiday on the Mediterranean coast away from the crowds. In addition to its crystal clear sea, stylish boutique hotels and fish restaurants, it is famous for historical artifacts dating back to the 5th century. Such as for example St. Nicholas Church (Santa Clause Church) which is the symbol of Demre and a pilgrimage site. And then the Ancient City of Myra where St. Nicholas was the bishop.
In Demre, you can enjoy swimming and diving in the ancient ruins near the coast by Kekova Island, Ucağız village and Simena (Kaleköy). They are among the places to visit by boat trips as they are adjacent to other hidden paradises of Antalya.
Despite being a popular sightseeing area, Demre has managed to preserve its historical and natural charm. It's always interesting to explore its area on a tour, in the end of the day go to one of the famous restaurants that serve fresh seafood between a fishing village and colorful fishing boats on the beach, and watch Demre's famous sunset views.
Distance from Antalya: 125 km (77 miles)
Travel time: 2.5-3 hours one-way
How to get there: by car, public bus, and/or organized tour
Best time to visit: April-June, September-October
How much time to spend: one day
From Antalya to Koprulu Cayon National Park – For Dramatic Views, Hiking & Rafting
Koprulu (or as it has to be in Turkish Köprülü) Canyon National Park is a hidden paradise located within the borders of the Antalya province. Its name is not known to the majority yet because the canyon was discovered just a few years ago.
Those who come here know it mainly for rafting. But after driving into the National park it is difficult not to notice the magnificent beauty of the canyon and get a desire to spend all day long exploring its trails. So yes, rafting is not the only reason to visit.
The picturesque nature that exists here, caves, canyons, the magic of flowing water, and history of the ancient city of Selge for hundreds of years are what captivates and can keep you busy for many days.
Entrance to the park is free and the best way to visit is by vehicle.
If you are going to come with your own vehicle, let me mention that roads through the park are smooth. You can travel comfortably even in a small car. At least, on the road up to the famous bridge of the canyon (Oluk Köprü), it is comfortable and hassle-free. After the bridge, the road narrows.
When visiting on your own, spend some time hiking, see the historical Oluk Bridge on the river and the ancient city of Selge, contemplate the beauty of river, join jeep safari tours, cycle, go canoeing, rafting, or even swimming.
If you prefer to go on this day trip from Antalya with a tour, there are rafting and canyoning adventure tours available. Other activities mentioned above can be found on spot in the park.
Distance from Antalya: 90 km (56 miles)
Travel time: 1.5 hours one-way
How to get there: by car or on a tour
Best time to visit: May through October
How much time to spend: one full day and camp and stay longer
Quick Day Trip From Antalya to Alanya – City Escape
Being 2 hours drive from Antalya and having a lot to offer, Alanya is not really a destination for a day trip. I'd say it is a place to visit for at least 2 full days.
However, those who are short on time and who want to get a quick idea of another beautiful Turkish city on the Mediterranean coast will enjoy traveling here. Just make sure to leave early and have the entire day ahead of you.
Alanya is one of the hottest resort cities in Turkey where the holiday season lasts from May to October and vacation prices are often lower than in other parts of the country. It will appeal to those who like not only beach vacation but also walking a lot and seeing beautiful sights on their own.
Alanya is similar to Antalya in some ways, yet it has its own charm and pace. There are lots of picturesque spots and beautiful nature in the city and around it.
Among must-visit places in Alanya on a day trip are Alanya Fortress, Kizikule octagonal tower that houses a museum with artifacts, Beach of Kleopatra, Kedi Evi park of cats, Alanya Marina and embankment by the water. And of course another thing to do is to join a boat tour and see the city from the water.
But my favorite sights are located not in Alanya but around it. Just some of them are Sapadere Canyon and area along the Dim Cayi river. They are famous not only for their beauty but a number of activities. If short on time, consider joining a tour which includes a city excursion, boat trip, cable car to the castle, and trip to Dim Cayi river.
If time allows, I'd highly recommend devoting more time to Alanya than one day since the city is much worth the trip!
Distance from Antalya: 135 km (84 miles)
Travel time: 2 hours one-way
How to get there: by car or public bus
Best time to visit: March through June, September through December
How much time to spend: one full day and more
Bonus: Is It Worth Going On a Day Trip From Antalya to Pamukkale?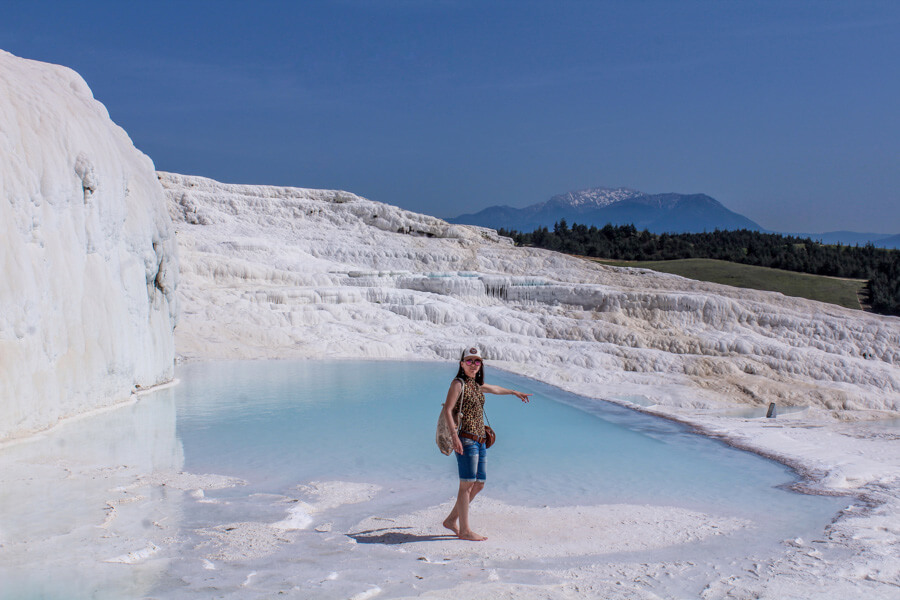 I know it is quite popular among travelers to go on a full-day Pamukkale tour from Antalya. But is it really worth it? The tour is really exciting and packed with activities but it won' be for everyone. Keep in mind that:
The road takes more than 3 hours one way and for many people it may be exhausting. Some tour companies make stops on the way to Pamukkale so the journey doesn't seem long. Thus you may want to go with them.
However, most of the time tour buses usually arrive at the same time between 11 am-12 pm which means that the landmark is usually very crowded since everyone else is offering a tour of Pamukkale at the same time.
If visiting in the hot summer season, arriving in the afternoon for many people may be also physically difficult since the heat is really unbearable. And then the tour bus leaves before sunset to return on time.
While the tour from Pamukkale to Antalya allows covering more distance in one day, you do not really experience more. Besides Pamukkale, the area is rich with other activities and unique travertines and springs. I'd also recommend you visit Kaklik cave which is a smaller version of Pamukkale underground.
For the quality trip, it'd be better to stay overnight in Pamukkale and then devote most of your next day to the site rather than to being on the bus. With the big number of travel companies in town, it is easy to find a local guide on spot.
Another good option is to plan a trip in that way when you go from Antalya to the next destination like Kusadasi, Fethiye, Marmaris or even Bodrum and see other popular Turkish cities and towns as well.
Or, as we did it, go on a road trip to Pamukkale from Antalya and see other places along the way at your own pace. In this way, you'll be able to experience much more!