One Day in Doha: Is Doha Worth Visiting On a Layover in Qatar?
Last updated on June 6th, 2023
What do you know about Doha, Qatar? We didn't know much until the day when we bought tickets to Thailand with a long layover in Doha. At first, we were thinking to fly through and have a layover in Istanbul. However, since we were based in Kyiv, Ukraine and had to fly to Chiang Mai, Thailand, the cheapest ticket and the fastest route were with one day in Doha. It was leaving us 15 hours of free time to explore the city and surroundings. So we took a chance and went.
One of the best ways to get a glimpse of a new country would be to buy a plane ticket to one destination with at least a day-long layover in another. We always try to choose tickets that include long transit time and allow us to leave the airport and explore the city where we land before flying further.
Flying to Asia through the Middle East sounded exciting. And we simply couldn't miss it.
***This post contains affiliate links. If you make a purchase or booking, we may earn a commission at no extra cost to you***
What is Doha Like?
What an interesting city Doha is. The capital of one of the richest countries in the world holds a fantastic combination of modern skyscrapers, classic Islamic architecture, and history. Arabian hospitality, oriental cuisine, a safari in the sand dunes, camel racing, and falconry make this city unique and special.
Only one day in Doha revealed us so much.
From the first minutes in the city, we noticed how extremely clean and taken care of Doha is. It ranks as one of the safest cities in the world and is safer than most cities in the United States, UK, Australia or other countries of the Western world. Local people are friendly, food is delicious, lots of events, shows and concerts are taking place every season.
With all the cleanliness and safety, Doha is not entirely walkable though. There are parks, alleys, a promenade, museums, galleries, markets, and beaches but all of them are far from each other and you'd need to take a subway or a cab to get from one place to another. Since everyone is having a car and driving around, there are usually not many people on the streets of the city.
When we visited, public transport was non-existent. But now, when Qatar is getting ready to host the World Cup, infrastructure is developing more and more. The subway, tram, and buses run in various directions which makes it easy to move around.
One interesting thing we noticed is that people don't tend to walk and spend time outdoors. Residents of Doha spend most of their time in the malls, hotels, restaurants or simply at home with their families. Perhaps the reason is the climate since Qatar is a desert country. But the truth is – you won't see many people on the streets. Exploring Doha on foot will be quite an adventure for sure.
---
RELATED POST: The Best Istanbul Sightseeing Ideas For Anyone Who Visits For the First Time
---
Is Doha Safe? Is It Safe For Solo Female Travelers?
Since Qatar is a Muslim country with Sharia law, many travelers, especially women, are concerned about safety. But, in fact, there is no reason to worry. Qatar is one of the five safest countries in the world, tourists have nothing to fear, regardless of gender.
The only thing you have to worry about is what you wear and how you act in public. Don't appear in the city center wearing clothes that show too much skin (obvious, isn't it?). If you are a woman, cover your head with a light scarf. If you don't, people may just ask you to do it.
Don't show too much affection to your partner, don't take photos of the governmental buildings, don't drink anywhere outside (except for bars in hotels) and don't litter. Show respect and obey these simple rules. That's it, that's not much.
If you do not want to use public transport, call a taxi, it is relatively inexpensive here.
Doha (and Qatar in general) is a very safe city. Because of the Sharia law, anyone who commits a crime (even like pickpocketing or scamming) will go to jail and have serious consequences. You shouldn't worry about scams, robberies or attacks, they don't happen.
Life in Doha, Qatar
One interesting fact we discovered for ourselves in Doha was how many foreigners work in this city and the entire country. When we were waiting in line at the airport to get through customs there were a few hundred people from a few African countries waiting with us. They came on a working visa and waited for the officer to stamp their permit. All those people held passports and a green piece of paper saying "work permit". This is how we discovered for ourselves they were coming to work in Qatar.
Later, when strolling through the streets of Doha, we noticed how many workers of foreign origin were flooding the city. They spoke French, Russian and Turkish. Many of them were from Africa, Asia, and Europe. All of them held jobs in hotels, malls, construction sites and cleaning services. It was difficult to spot a Qatari person performing the same type of job.
In one of those hotels, where we stopped to rest and get a snack, we met a girl from Eastern Europe. She was one of many foreigners working for the well-known hotel chain.
She has been living in Doha for almost five years enjoying her job, benefits, and Qatar as a country. From this girl we learned that Qatari people are usually holding management (or higher than that) positions, offering all entry-level jobs to foreigners. This is why it's not common to see them around. Perhaps we should look into hospitality careers in Doha as well. This is a great job that pays well and helps to travel. And what if the opportunity arises not only to visit Doha on a stopover but stay there a little longer.
Does my content help you plan your trip? If yes, I'll appreciate a cup of coffee from you, so I could produce more free guides and itineraries!
How to Spend One Day in Doha on Your Layover
If you don't want to join the Qatar Airlines layover tour (which is very basic and gives a brief introduction to the city), the best way to see Doha in one day would be to take a 24-hour hop-on/hop-off bus tour, hop on a metro or get a cab at the airport and go to the city to explore on your own or combine your self-guided walks with a fantastic half-day desert safari and camel rides. Foodies should also consider taking a food tour around Doha to understand what locals eat.
In my honest opinion, if you have only one day in Doha, spending half a day on your own and half a day on a tour will be your best bet. Why? Because with a tour you'll get a chance to see more than just a city and have a truly unique experience. These tours have a very reasonable price and are held by a trusted well-known company.
I wish that's what we did when visiting Doha. But Mark and I had less time and didn't even know we could go on a tour at all.
If you feel like taking it slow and exploring on your own, here are a few suggestions for what to see in Doha in a day:
Walk Along the Waterfront Promenade
A pedestrian zone by the water with a length of 7 kilometers is known as Corniche or a waterfront promenade. It stretches along the bay and from there you can see skyscrapers, the building of the Museum of Islamic Art, office buildings and hotels.
This area is a symbol of the economic prosperity of Doha and Qatar as a whole. Besides the prestigious objects, there are green parks and places for recreation.
Explore the Area of Pearl-Qatar
Pearl-Qatar is an artificial island with an area of about 4 million square meters. Here, you'll find expensive boutiques of Roberto Cavalli, Alexander McQueen, Giorgio Armani, Kenzo, Balenciaga, and others.
Also, this area is famous for restaurants serving Italian, Lebanese, French, American, Japanese and a few other cuisines. Even if you don't plan to shop or dine here (which is more pricey than anywhere else), it is still very pleasant to walk and admire the views.
Do you want to maximize your layover in Doha? Arrange a tour in advance, you won't regret!
Take a Walk in the Souq Waqif Old Market
Where to go in Doha to feel the very spirit of the east? Of course, head to the Souq-Waqif market.
On the grounds of the bazaar, there is a whole tourist center as well as a lot of cafes and restaurants with a traditional setting and classic national dishes. In addition, here you can buy souvenirs and handicrafts. The market is organized in such a way that there is no familiar fuss and crowds.
Visit Katara Cultural Village (West Bay Lagoon Area)
Katara Cultural Village is an Ethno village with scenic views. On its territory, you'll find theaters, cinemas and galleries full of the works of Qatari artists.
In the evenings, musicians and dance groups perform here which is so fascinating to watch. From time to time, there are masterclasses on traditional crafts. Admission is free and the village is open around the clock.
Spend an Hour or Two in the Museum of Islamic Art
This interesting museum is the main museum of the country and at the same time the largest museum in the Gulf. The architecture of the building is impressive. With several huge stone blocks of the building being one above the other, it makes a harmonious composition in the form of a tower.
The museum has a collection of Islamic masterpieces that were created over a period of 14 centuries. Visitors can see paintings, ceramics, textiles, manuscripts, and other Islamic artifacts.
Admission to the permanent exhibition is free, to all temporary ones are for the payment. See more information on their website.
Go to One of the Beaches in Doha
Doha has an incredibly beautiful sea but there are only a few public beaches in the city. Most of the beaches where tourists can swim belong to hotels.
One of the most popular is Katara Beach in the Katara Cultural Village. For 25QAR (€6) anyone can visit it, for children under 16 years old admission is free. The beach is open from 10:30 to 22:00, swimming after sunset is prohibited. On this beach, all women should swim and sunbathe in shorts and a T-shirt, men should wear longer swim trunks.
This beach is famous for the kayak, banana and catamaran rides, water skiing, wakeboarding, and parasailing. There is also a play area for children.
A lot of Doha hotels provide access to their beaches and pools for those who are not guests. For example, the swimming pool price in Doha Crowne Plaza hotel is 150-200 QAR (€35-45), at InterContinental – 150-250 QAR (€35-57) per day. The price differs since it may include access to the gym and sauna, cocktails and even food. Check the details on the official websites.
Long Layover in Doha – What to Do If You Have More Than One Day
If you are planning to spend a weekend in Doha or come for a long layover, my best advice for you is to leave the capital and see the country a bit. And the best activities in Qatar to do are:
Venture Into the Desert
It is one hour's drive from Doha to get to safari in the desert. And to experience this adventure in full, it is better to take a tour.
Besides the hour's drive along the dunes, you get to spend some time in the tour operator's camp on the shores of the Persian Gulf. There, you can plunge into the cool turquoise waters of the sea, enjoy the quietness of the desert, watch the sunset and have dinner right on the beach.
The best tours to the desert in Qatar to consider are the sunset desert safari day tour with dune bashing and a half-day tour with camel rides.
Spend a Day or Half a Day on the Banana Island by Anantara
Banana island is actually that place where you'd want to stay at least one night if budget allows of course. The only hotel on the island is pricey but simply gorgeous and guarantees you'll have an excellent stay.
Banana Island by Anantara is basically its own ecosystem with its own beaches with crystal clear water, spas, restaurants and other entertainment options that you might want while on vacation. It also has excellent facilities and a playground area for kids.
The restaurants here are really excellent, which is confirmed by restaurant awards and numerous guests who specially come here for dinner from the mainland.
If staying overnight is not an option, hop on a ferry from Doha and visit the island for some relaxation and meal at the world-class restaurant.
Visit Dairy Farm Baladna
After June 2017, when neighboring Arab states declared a blockade in Qatar, the country had to start the production of many own products, including the dairy which was previously imported from the UAE.
Today, in the middle of the desert, there is the Baladna farm, which means "Our Motherland" in Arabic, with 14,000 cows producing milk and dairy products for the domestic market.
In addition to the farm, there are restaurants, cafes and a small amusement park where you can come for breakfast or lunch with the whole family, and at the same time watch the milk production process. It is probably not the must-visit place in Qatar for adults. But those who travel to Doha with kids will definitely find it interesting. Check more details on the farm's website.
Al Zubarah Archaeological Site
Al Zubarah is a restored 18th-century fort, a UNESCO World Heritage Site, which is one of the historical places in Qatar. Located 106 kilometers from the capital on the northwest coast of the country, it serves as a great base for Instagram worthy photos and offers great views.
In the past, this small settlement was considered one of the most important centers of navigation and trade in the Persian Gulf.
Khawr Al Udayd
If you would like to see the place where the sea meets the desert, plan to visit this nature reserve. Having a unique ecosystem, it offers great sand dunes safari, camping, and fishing.
To get here, you have to overcome the sand dunes which means a 4 wheel car is required. So you have two options – rent a car at the Doha airport or go on a tour. Tours that offer trips to a desert usually cover some of the Khawr Al Udayd nature preserve as well.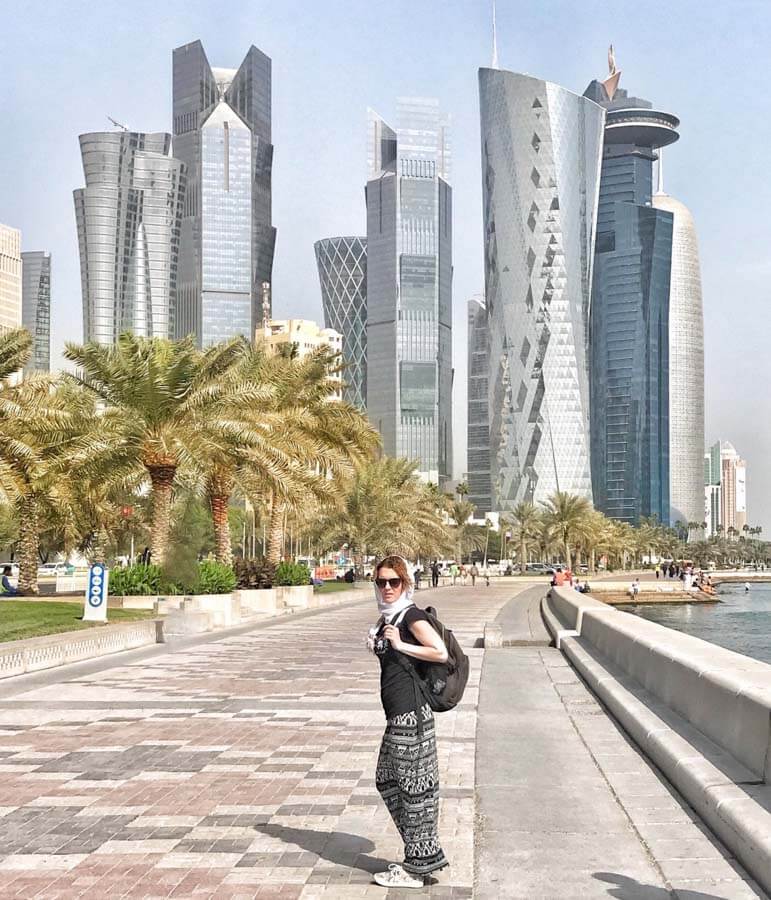 Verdict – Is Doha Worth Visiting?
To sum up and answer the question that many travelers ask – yes, Doha is worth spending your money and time. Qatar as a country is one of the most high-tech and safest places in the Middle East, although it is not quite popular yet. According to the UN, Doha ranks second in the world in terms of safety.
What's interesting, the city offers a wide variety of activities. You can visit for the beach, sightseeing, cultural or educational purposes, for sports and adventure, gastronomy and pilgrimage.
Everyone can find something interesting here.
Families with children will have access to numerous entertainment centers for children and adults. People who love the beach will be able to have a great time on the ultra-modern beaches equipped with all amenities. Travelers who enjoy history and culture will find museums, colorful markets, and historical sites.
Doha is an excellent city for vacationers who are looking to combine a beach holiday in a coastal hotel with packed tours. It is also suitable for young budget travelers. There are quite a few night clubs in the country, affordable hotels, and various opportunities for active recreation.
Doha is that city where you can have an adventurous or quiet relaxing holiday. It is still one of the least touristy places with a lot of cool things to do.
Until next time Qatar!
We enjoyed Doha a lot, even though it was such a short visit. Before our flight, we've been questioning ourselves if having such a long day in the unknown city was the right thing to do. However, after the day there was over, we regretted we didn't book a ticket with two or even three-day stopover. I guess we should visit again and visit for longer.
Bye-bye Doha, what a lovely city you are!