Tips on How to Avoid Tolls and Find Free Parking in Bergen, Norway
Are you coming to Bergen by car by any chance? Are you wondering if there are any free parking spots in the city?
Free parking in Bergen is difficult to find.
Local authorities are trying to make Bergen more "green" and walkable. They encourage guests and residents to use public transportation, bike and walk more. This is why you'll find tolls on every road leading into the city center and limited parking spots. Those parking meters and garages that exist are usually pretty expensive.
Government is doing a great job by restricting vehicles into the city. There are fewer cars on the streets indeed.
Although I support the idea of making Bergen more environment-friendly the cost of public transportation doesn't really help. Paying nearly $5 for a tram ride one way seems a little excessive. Especially, with taxes being gone through the roof, prices for public transportation for residents could be if not free then at least cheaper.
If you are looking to save on parking and tolls, I hope this post will help!
---
READ MORE: DREAMS COME TRUE OR HOW TO VISIT NORWAY WHEN YOU ARE ON A BUDGET
---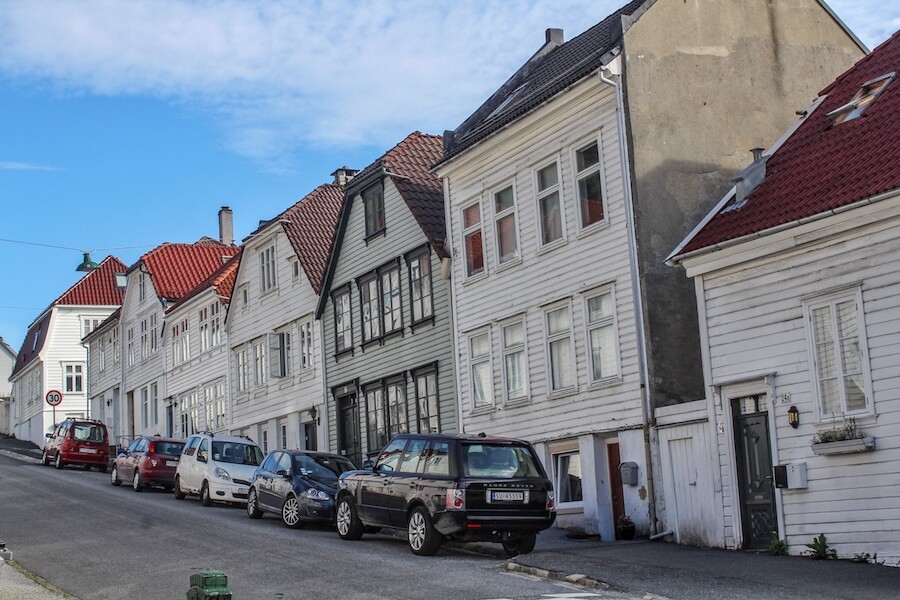 How to Find Parking in Bergen Free of Charge
So, if you happen to visit Bergen while driving a car, I would rather park it a little bit outside of the city center and walk towards the old town on foot.
When Anya and I were looking for free parking in Bergen, we could find zero information on this topic on google. We got an impression that free parking as such doesn't exist. Lots of information is out there about the garages but of course none about the free spots.
This is why I turned to google street views and started simply to "walk" the virtual streets of Bergen looking for free parking. After getting an idea of where to possibly park I went for a ride to check if parking for nonresidents was available and free indeed. Together with Anya, we went to all neighborhoods that were relatively close to the city center and found only a few options were to park for free. All of it was done in July 2018. Below is what we have discovered:
Side note: Another thing about Bergen is the number of tolls in a city. There are lots of them but the majority is in the South. That is another way the authorities restrict incoming traffic to Bergen.
---
Are you looking to rent a car? We personally use Discover Cars for its fantastic deals and amazing benefits. They have some of the best prices in Norway and Scandinavia in general. Check them out!
---
Option 1: Free Parking in Bergen While Avoiding Tolls if You are Coming From the South:
If you are coming from the South, you can find street parking in Damsgård and Frydenbø neighborhoods. Try Nylundsveien street.
I believe that is the closest spot to the bridge. From there it is about 15-minute walk to Bergen University which is practically downtown area. We've used those spots a number of times. If you can't find parking on Nylundsveien street, drive around. There are always spots available.
Now, to get there avoiding tolls is a little trickier since there is a toll on 580 going North. To avoid it you can turn left onto 556. Make sure to take a right turn to the left, otherwise, you'll hit another toll, right on 540. Your route should look like this:
** UPDATE JUNE 2019: It seems that new tolls have been added in the Bergen Area and now it is impossible to avoid tolls completely. Check this map for reference. But you can still find free parking.
---
READ MORE:
SHOULD YOU VISIT ULVIK ON THE WAY FROM BERGEN TO HARDANGERFJORD?
17 MOST BEAUTIFUL PLACES YOU HAVE TO VISIT IN NORWAY IN SUMMER
---
Option 2: Free Parking in Bergen in the North:
If you are driving from the North, consider Starefossen neighborhood, which is roughly 20-25 minutes walk to the city center. If getting here from the North, you won't be passing through any tolls. From any other part of the city, expect to pay.
The neighborhood itself is very quiet and peaceful. And, it is a really good location for hiking to Fløyen and other trails in Bergen Fjellstrekninger mountains. Even if you don't go hiking, the views of the city from this neighborhood are stunning.
One local lady told us that we were supposed to have a residential permit to park here, but we have checked many cars and they didn't have the permits displayed. So we took our chances, left our car there and everything was good. It worked for us but double check.
Also, a good website to check the tolls is www.fjellinjen.no
It shows on the map where the tolls are, so you can plan your way around it. However, you cannot avoid tolls driving through Bergen unless you take a long detour by 580 and E16. Considering the gas cost you will not save any money by taking it.
---
Do you have more tips on parking in Bergen? We would love to hear about them!