What is Everyday Life in Istanbul Like? Tips For Foreigners & Digital Nomads
Last updated on October 21st, 2022
I don't remember when was the last time when I've written a post for my living abroad series. But today is a day when I want to do that and share a few thoughts about our life in Istanbul, Turkey. Actually today is exactly 8 months since we came to live here. So, this might be a good time for making conclusions.
We moved to Istanbul in December of last year and I vividly remember the day when we made this decision. But at that time we actually had no clue we were going to move to Turkey and make a long-term base on the Asian side of Istanbul. Living our digital nomad life and spending a few months in a new place worked just fine for us.
In December, we were still living in Romania, constantly moving between Bucharest and Brasov. But knowing that our allowed 90 days in the country were expiring, we had to decide where to move next. So we decided. And packed our bags for Istanbul. And this is where we made a base.
For us, life in Istanbul is not super mega easy but to be honest, it is not that hard. We believe this is a fantastic city to live in if you make good money (how much you need is below) and know exactly why you are here.
During the summer, we were partially living in Bodrum and traveling along the Aegean coast of Turkey. Istanbul in summer is somewhat tough. Yet, when it was time to return to Istanbul, we looked forward to it.
Moving to Istanbul – The Basics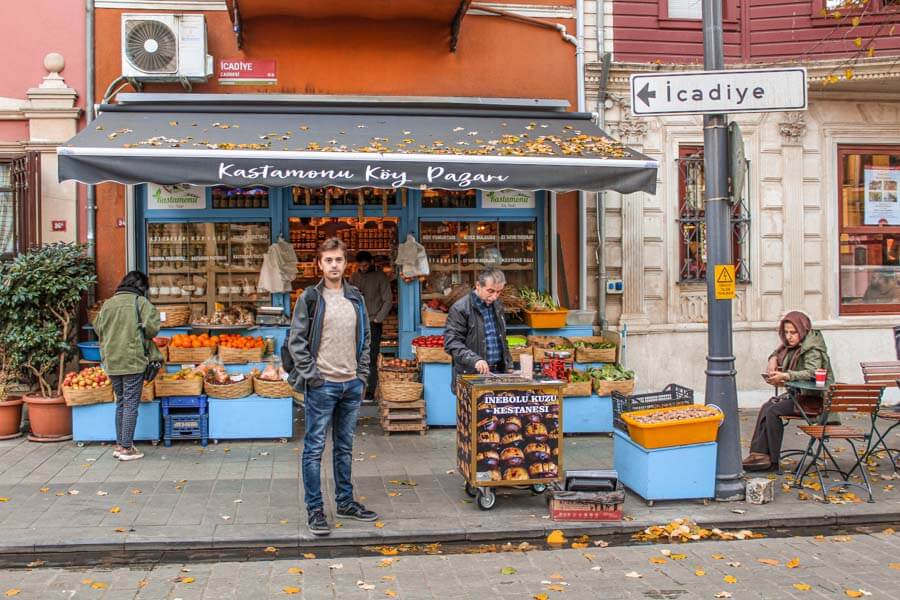 Moving to Istanbul (or any other city in Turkey) and becoming a resident of the country is one of the easiest things to do. In fact, this was the reason why we decided to live here and have some type of long-term home.
The original plan was to spend winter in Istanbul (as our visas allowed us) and go back to Georgia. Because in Georgia, you can literally live 365 days a year on a tourist visa. However, after making new acquaintances and meeting other foreigners who also lived in Istanbul, we learned that staying a year (and more) in Turkey was also as easy as in Georgia, with the only difference that we had to apply for a residency and pay for it.
The procedure of becoming a resident of Turkey is quite easy and straightforward. You definitely need to spend some money and time on it (preparing some documents and sending them to immigration) but overall, the entire process is pretty simple. Especially if having a local helping you (more on that later).
What is the Easiest Way to Come & Live in Istanbul?
So the easiest way to come and live in Istanbul is at first to come to Turkey as a tourist but then apply for a residence permit on a tourist basis (which is issued for one year) while being in the country. Other reasons for obtaining a residency can be based on work, study, on the basis of purchasing a property, opening a business, or a marriage with a citizen of the Turkish Republic.
But in any case, the best and worry-free way to apply for a residency is when you are already in the country.
The majority of digital nomads and retirees apply for a residency based on tourism. I am going to write a separate article with all the steps we took to become residents. Feel free to sign up for a monthly newsletter to know when that post is up on the blog.
But shortly, if this is something you consider for yourself, to begin your application process you need to collect a few documents and send them to the Ministry of the Interior for Immigration Affairs. From the moment of filing the application, it takes about a month to hear from Immigration about the appointed day and time when to submit the entire package of documents. Once submitted, if all the documents are in order and nothing is missing, it takes up to 90 days on average to receive an answer.
While waiting for a residence permit, you cannot leave the country, unless with a special document for a good reason, up to 15 days. After the year, when the permit expires, you can renew it again if you wish.
What is Daily Life in Istanbul Like?
And now let's actually talk about daily life in Istanbul. What are living conditions like? What are the living costs in Istanbul like compared to other cities? Is this city safe? And what about the people? Are they nice to foreigners? How do they treat Americans living in Istanbul?
All of these are good questions that we also asked not long time ago.
Well, I don't know what type of picture you have in your head about Istanbul. But to tell you the truth, life here is very similar to life in any other huge city in the world. Of course, there is its own cultural difference, vibe, and style of architecture. And it is bustling with life and indescribable energy. But being a liberal diverse city, at first sight, Istanbul easily reminds of somewhere in Europe.
People here as anywhere else get up early to go to work, kids go to school, others to the gym, for breakfast, walk, or talk. Depending on the neighborhood, life either can be too hectic and chaotic or pretty calm and slow.
If you are American thinking to come and live in Istanbul, there is absolutely nothing to worry about. The most important thing is to choose the right neighborhood where to live as it will define how much you'll actually enjoy the city.
Some neighborhoods are stylish and modern while others are old and sort of neglected. You don't want to end up living next to very religious and radical people. And you don't want to live among refugees or those who don't have legal status in the country. So that's important. You are also welcome to read my post about the most unsafe Istanbul areas to avoid as they are very dangerous.
What else to remember is a fact that the majority of people here do not speak English. In most cases, you'll need to switch to a mixture of sign language and English of a first grader. If you are moving here for a long time, you should be patient and learn at least some Turkish. The language is pretty simple and when a foreigner tries to speak it even with hundreds of mistakes, the locals get incredibly inspired.
Turkish Mentality
From the peculiarities of the mentality, I can highlight several things:
1. Everyone thinks it's his business to know everything. Often people who you meet for the first time ask personal questions that, in my opinion, they shouldn't be asking. But in Turkish culture, it is ok to ask. Also, in Istanbul, there is almost no privacy because of the apartment complexes that are built "nose-to-nose" to each other.
We literally can see the whole life of our neighbors. And we often have to draw the curtains for them not to see us. You'll say that almost anywhere in Europe is like that. And I'll answer – no. In Istanbul, it is more so than anywhere in Europe. And people are not worried that others see what's going on behind their doors and windows.
2. The second point is curiosity. Here's a sequence of questions that we often answer when meeting locals:
What's your name? Where are you from?
Are you guys married (none of us has any rings on our fingers)? Oh, you are? I thought you were just living together. (And then they look with a mixture of surprise and disbelief.)
What are you doing in Istanbul?
Are you just living here?
How do you make money?
What is your job?
Do you make enough to live in Istanbul?
These questions usually come in this exact order. At first, they were so annoying and I was easily getting upset.
Why should it matter where do we come from and if we are making enough to live in Istanbul? And whose business is it to know if we are married or not? I can understand when people ask this question in the far corners of conservative Turkey but not in liberal Istanbul.
But no, for Turkish people it's a norm. It's just part of their culture. And you just need to know that and let it go. Otherwise, not to come to live here at all or completely isolate yourself from others.
3. Way of renting an apartment
Most of the apartments rented for the long-term come unfurnished. This assumes you have your own set of furniture. But you don't have to buy a new one. It's easy to find everything (used) on the Sahibinden website.
If you are living in a nice neighborhood not far from the Bosphorus or the Marmara Sea and making good money then no doubt, life here should be easy (enjoyable) for you. If the salary is below or around the minimum, let's be honest, it will be harder.
Cost of Living in Istanbul
Before coming to Istanbul for the first time, some people we got to meet were telling us how cheap Istanbul was. So we were pretty confident that living costs in Istanbul were not high. But then we moved here, started to look for an apartment, checking out various parts of the city, and figured that in reality, Istanbul is not that cheap.
Of course, the perception of cheapness depends on how much you make and what your living standards are. But overall, for a comfortable life in Istanbul, you have to pay probably as much as you'd pay in many cities in Europe.
On average, you need at least $1300-$1500 per month for a single person and $1600-$1800 for two. But this is the amount of money to have for a comfortable life when there is no need to limit yourself in anything. This amount will be enough to cover nice housing, food, occasional eating out and entertainment, buying clothes, using public transportation, paying for some basic medical services, and even renting a car on some occasions.
Those who prefer a rather modest living can definitely find ways to spend less. Some people manage to live here even with $500 per month. But let's be honest. The less money you have, the less you can afford. And the more your quality of life will change.
In fact, Istanbul is the most expensive city in Turkey. It is also one of the most important cities in the world which in turn makes it more expensive compared to other destinations. So you cannot expect it to be cheap. Yet, Istanbul is a land of diversity and contrasts which means it is still possible to find ways to live here even on a tight budget.
Okay, let's put general talk aside and actually bring up the actual numbers.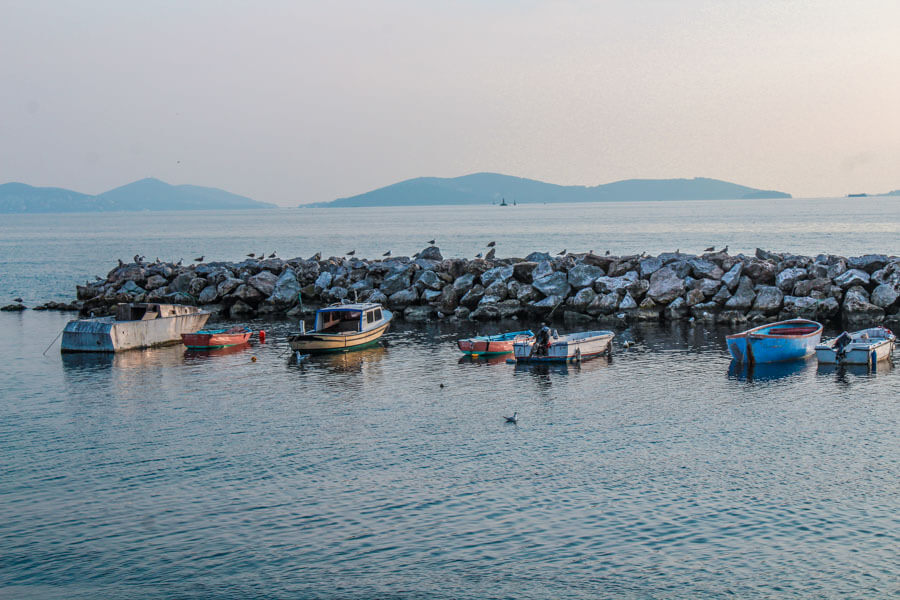 Cost of Rental Apartments
The cost of renting an apartment in Istanbul for the long-term depends on many factors. Some of them are the area, the age of the house, the condition of the apartment, availability of gas, the proximity to public transport stops, Bosphorus Strait, or the Marmara Sea. Also, the price depends on either you need to pay a broker for his/her services or not.
On average, you should expect to pay between $500-$600 per month for a furnished 1-bedroom apartment in a good neighborhood but farther away from the city center. This price is based on at least a 6-month lease. For example, in Kadikoy, Sisli, Levent, and Sariyer neighborhoods where many foreigners live, you can find a flat for this price.
Such a flat will have furnishings, gas (hot water and heating), possibly AC, stove, and geothermal heating. The lowest rental price will be for an apartment without a heating system.
Of course, there are areas of the city where the minimum rent for an apartment starts from 1,800-2,000 TL ($250-$270) per month. But my goal in this post is to describe the average price of nice housing in Istanbul, not the cheapest (often not so comfortable) accommodation.
The Cost of Food in Istanbul
Your total monthly food bill will, of course, depend on your diet and needs. So I can't tell how much you'll be spending on food. However, here is a list of the main products and their average prices in Istanbul chain stores such as ŞOK, MOPAS, BIM. These stores offer the best (minimal) prices. The products will cost a little more in Migros and Carrefour stores.
Baguette, 250 gr. – 3.25TL ($0.45)
White bread, 500 gr. – 2.50TL ($0.35)
Toast bread, 500 gr. – 8.50TL ($1.15)
Milk, 1-liter pack – 4.50TL ($0.6)
A pack of 30 chicken eggs – 18.5TL ($2.5)
Cheese, 1 kg, depending on a type – 30.00-60.00TL ($4-$8)
250 gr. a pack of butter – 17.5 TL ($2.4)
Sunflower oil, 1 liter – 12.95TL ($1.75)
Chicken thighs, 1 kg – 16.5TL ($2.25)
Ground beef, 1 kg – 47TL ($6.4)
Rice, 1 kg – 7.3TL ($1)
Tomatoes, 1 kg – 3.5TL ($0.5)
Cucumbers, 1 kg – 4.5TL ($0.6)
Potatoes, 1 kg – 2.25TL ($0.3)
Bananas, 1 kg – 17.00TL ($2.3)
Istanbul has a lot of markets where you can buy all of the above products paying less. For example, during the harvest season, cherry tomatoes on a branch cost 1.5 lira ($0.2), cucumbers 2 lira ($0.30). So if there is a desire to save money, then it is better to buy products on the market.
The minimum total amount of money for groceries alone and home cooking that you'd need for Istanbul, depending on the season, is around $300 for two people. This amount for the most part covers grains, fruits and vegetables (including more expensive ones such as avocado, Brussel sprouts, or asparagus for example), meat once or twice a week, and seafood. However, if you plan to eat out as much as at home, then definitely add another $120-$150 on top of that.
I don't know if you've seen any of my other posts but the cost of living in Istanbul for tourists article may come in handy. There, I speak in great detail on how much all things cost, including street and restaurant food, public transport, entertainment, various activities, etc. Give it a read to find out more about Istanbul prices.
Living in Istanbul Pros and Cons
Despite the intensified Islamization of the entire country, Istanbul is a European city. Yes, there are definitely conservative areas here and yes, there are many women wearing hijabs. But there are still beautiful fashionable neighborhoods where women 70+ years old go for a quick walk to the seaside with bright makeup, stylish haircut, and manicure.
There is this Nisantasi neighborhood which is more like the second Paris. Bohemian Cihangir with coffee shops, wine, bars where Turkish actors, artists, and musicians live. And then Arnavutkoy, where at every step you'll find restaurants, cocktail bars, taverns and the feeling that you are somewhere else in Italy or Greece.
Istanbul rightfully deserves the title of one of the most colorful and vibrant cities. And, to speak frankly, everyone who comes here can see anything that he wants to see.
Yes, I love Istanbul with all my heart. But at the same time, I notice all its problems and flaws. This megacity, like any other metropolis in the world, has pros and cons and here they are:
Advantages of Living in Istanbul
1. One of the biggest advantages of living in Istanbul is definitely the weather. The city gets some snow in winter and rains in late autumn but it never gets unbearably cold.
For the most part of the year, it is sunny and warm. Winters are unpredictable and chilly but they are short and still see sunny days. March to May in Istanbul is absolutely gorgeous and one of the best times to be there.
The only two months that we personally don't like are July and August. During this time, humidity with heat makes it difficult to breathe and there are too many mosquitos around.
2. Another advantage of living in Istanbul as a foreigner is the kindness of people. They are welcoming, hospitable, and ready to help. In point of fact, it can be also a disadvantage (I talk about it below) but we personally believe that people create those extra special moments for us.
If you are in need or encounter a problem, there will be always someone who'll help you in one way or another. Someone else will always offer free tea and snacks. People will be inviting you to their homes, cafes, and even lives. They are so open and friendly!
3. Istanbul is a city of contrast, freedom, and variety. It is easy to get lost here in the crowd and become as if invisible which you can never do if you live in a small town.
4. Food and Turkish cuisine are other reasons why many people love it here. In Turkish cuisine, anyone can find delicious dishes for his taste. Vegetarians, meat-eaters, lovers of a variety of sweets and cakes have plenty of options in Istanbul.
5. Good connection with other countries and very reasonable prices for flights. Istanbul has 2 operating airports from where you can get to any city in the world or anywhere in Turkey.
6. Istanbul is a multicultural city where you can meet people from all over the world, try various foods, and visit different events. If I could compare, I'd definitely say that Istanbul in this sense is like London or New York but comes at a much cheaper price.
7. Besides these points, I can also mention a very rich culture, lots of entertainment, historical sights, and many things that can keep you busy for years (literally). There are a lot of various pretty districts and neighborhoods with stylish cafes and restaurants, street eateries, and an architecture that differs from everything that you have seen before but at the same time, it has similarities with the best cities in the world.
8. Entertainment deserves a separate bullet point as I believe it comes as a real advantage. A huge city Istanbul has action 24 hours a day. You can find absolutely any entertainment you like. Various concerts in all styles, exhibitions, films, festivals, museums… If you know Turkish, you can participate in all sorts of events almost every day.
You can go to the gym, take drum lessons, go to concerts once every couple of weeks, to a Jazz bar, swimming pool, attend exhibitions, music and film festivals, meetings of expats, play board games, hike (in a city!), bike or anything else really. Also, there are a lot of places for walking, coffee drinking, and city exploration. We've been here for so long but haven't even covered half of all places we wanted to.
9. Cats. Istanbul is indeed a city of cats and living here among them is quite an experience! Cats here are everywhere. They are in the metro, in cafes on chairs, in shops, even in offices. Istanbul cats are well-fed, clean, pretty, and taken care of. Cat's food and water are on each corner and even cat's houses and hostels are scattered throughout the city. So unique and you won't find it anywhere else!
Disadvantages of Living in Istanbul as a Foreigner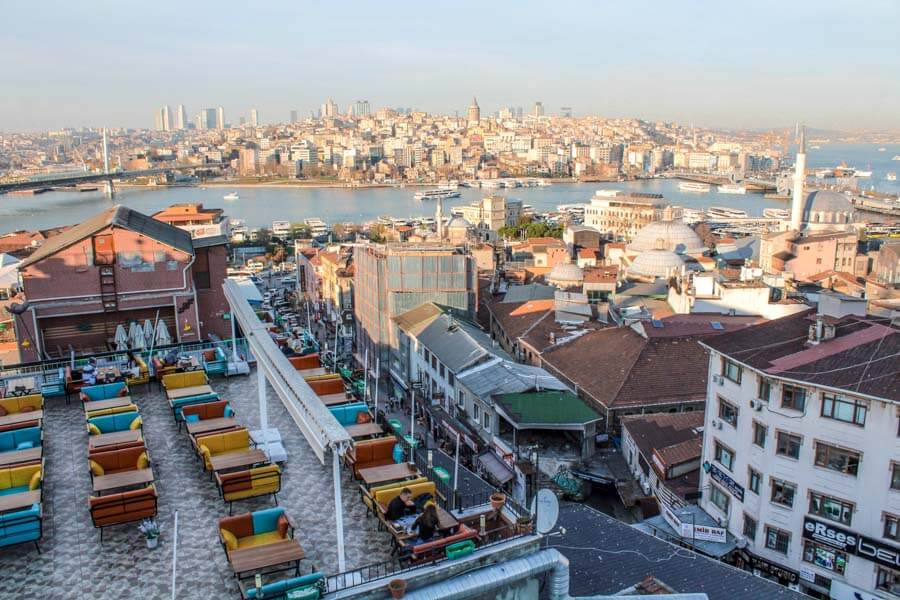 Of course, as any place in the world, Istanbul has its own downsides. While I can't really talk about any bad things, I want to mention why I think Istanbul is not for everyone:
1. The lack of normal transport in non-tourist areas. The metro is still being built and it's not that easy to get to the suburbs. If you end up living on the outskirts of the city, it will take forever to get to the heart of Istanbul and back home.
2. There are too many cars and traffic jams that take over the city. Again, it is probably a problem for all large cities, so Istanbul is no different in that sense. But traffic here is pretty intense. You just can never be sure that you will get where you need by a certain time because traffic jams can happen at any minute! If you plan to work online or not far from home, then you probably won't be noticing it much. Otherwise, it may take hours to get to the workplace.
3. People here are smoking from all nooks and crannies. Sometimes they smoke so much that you can't enjoy your time in a park or cafe, or even when sitting on the balcony of your own apartment because of neighbors smoking nonstop. So the best way is either to adjust and accept it as it is or not to move to Istanbul at all.
4. Excessive curiosity and gossip as a lifestyle don't appeal to me either.
5. Istanbul is not a cheap city and the gap between the poor and rich is big enough. As mentioned above, as a minimum, you'd want to have at least $1300 per month for 1 person to live comfortably here but with this amount of money don't expect too much. It will cover just the basics, nothing extraordinary. If planning to travel around the country, plan to budget more.
6. Istanbul is noisy. It is one of the biggest cities in the world with a lot going on 24 hours a day 7 days a week. Even if you are living in a soundproof apartment, you can still hear some music, talking, laughing or late night chit-chats from 1 of the 20 million neighbors. That being said, if you are used to living in a country or a very quiet place, Istanbul is definitely going to disappoint you very fast.
7. There are not many beaches directly in Istanbul old quarters. You can go swimming on the outskirts of the city (like in Princess Islands, for example) or become a member of some private posh clubs that have access to the sea but there is no way to hit the beach. And in summer when the temperature in the shade is +33 you really want to hide in a freezer or go to the beach.
8. There are very few places for walking with children and almost no playgrounds in my understanding of the word. There are playgrounds in big parks where at first you need to get to but that's pretty much it.
9. All imported goods are taxed, and their final price sometimes doubles. Taxes in Turkey are insanely high and you feel it every time when you go to the grocery store or try to order something online. All foreign products are incredibly expensive and you have to stick mainly to Turkish produce to be able to meet the budget.
If buying a new car, you end up paying almost double the price because the tax equals the same amount of money. The same comes for a cell phone. If you want to use a Turkish sim card in a phone purchased in another country, at first you have to pay a few hundred dollars in taxes for it.
Also, you cannot really order some products from another country if their amount exceeds 50 euros. Ordering any item online will cost you much more because of the tax.
10. Last but not least is people. Again, I am talking about people. For me personally, for the most part, people in Istanbul are incredibly nice and friendly and it is an advantage to be around them. Although someone else may not feel comfortable. I have friends who totally disliked Istanbul because they couldn't understand the Turkish culture of daily interaction and relationships with other people.
People in Istanbul are friendly and always ready to help but they can be somewhat intrusive and too sociable. You'll have to learn how to communicate with taxi drivers, random sellers, your neighbors and answer a million different questions. Some of those questions are about the amount of your salary and the reason for not having children, for example.
A salesperson from the nearest shop may become your brother and a friend at the same time. He will ask hundreds of questions about your life and tell you all details about his (literally).
11. Oh, and one more thing to mention. It's the Internet and if you are a digital nomad then it may become a problem. Internet here is rather slow and in many cafes and coffee shops non-existent. You may need to invest extra to get the best package for your apartment and not to expect a lot when you are out in the city.
Life in Istanbul After Pandemic – How Much Has Changed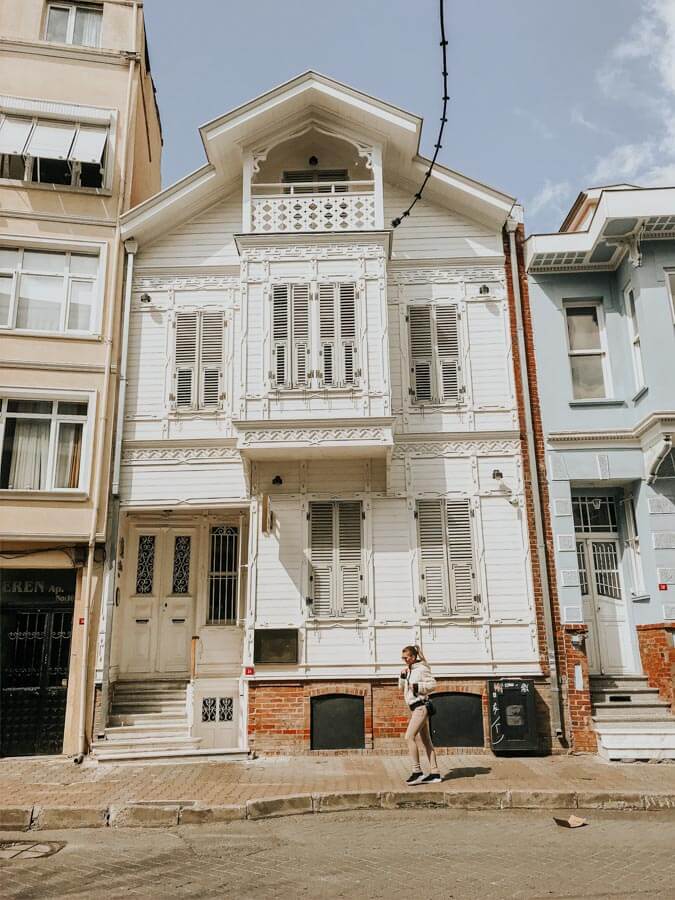 We moved to Istanbul in the winter before corona madness hit the world. We stayed through the lockdown and after it. In fact, we are still here with occasional travels around the country, so I feel confident sharing how much things changed here and if they changed at all.
Life in Istanbul definitely got different but to be honest, not that much. I don't want to talk about how things were during the lockdown (because that's not the purpose of this post) but rather how things are these days after months of closure and life under restrictions. However, I can judge only from the digital nomad's perspective, not someone who works or studies here.
So our lifestyle hasn't changed much. (Okay, we lost more than 50% of our income but that would happen in any country.) We started to wear masks everywhere we go and avoid crowds. Other than that, nothing else changed. For us.
Istanbul definitely seems to be quieter with fewer tourists but businesses work as they did before, people gather and drink tea as they did in the past and life seems to be the same.
The city underwent some major changes and created new rules (like anywhere in the world) that transformed the routine. However, visually, things don't seem to differ that much.
Wearing masks became mandatory, malls, governmental organizations, and some stores and restaurants check the temperature at the entrance, restaurants, cafes, and bars slightly changed their working hours, schools changed a teaching plan and shifted more towards online courses, Turkey's economy got hit and a lot of people lost their businesses.
Yet at the same time, surprisingly, new businesses started to pop up and some people found profit in this hard for the world times.
On a global scale, Turkey is dealing much better with crisis than most of the countries. So this is probably the reason why life in Istanbul is more or less stable.
Final Word
Istanbul, as a huge metropolis albeit with a touch of oriental flavor, is the business center of the country. The level of stress, some type of organized chaos, and at the same time excitement here can probably compare with New York.
Istanbul is definitely a very, very unique city where everyone can create the life he wants. Yet, this city is not for everyone. It can be overwhelming for some.
If you are considering a move to Istanbul, I highly recommend to come and spend at least a few weeks here to get a feel of the city. But don't visit as a tourist. Come with a goal to visit different neighborhoods, try to immerse in the culture, and observe the locals. It is very important to understand which neighborhood you love and where you'd like to live. Otherwise, there is a risk of disliking the city.
I hope you got a feel of what life in Istanbul is like and either it may be a good place for your next move. If there are any more questions, feel free to ask them in the comments. Or follow me on Instagram where I post tons of content about Istanbul and Turkey.
Are you curious to know what's life like in other places around the world? Check my following posts:
Life in Ukraine – Things You Should Know & Things to Expect
Living in Tbilisi, Georgia as Digital Nomads – How is That Like?
Living in Vietnam as a Couple For Under $1000 per month – How?
Why Our Life in Los Angeles Never Felt Like Home
Digital Nomad & Expat Life in Kuala Lumpur – Pros & Cons
The Reality of Daily Life in Cambodia – What Every Traveler Should Know