Our Life in Los Angeles Over Three Years: Why It Never Felt Like Home
Last updated on September 4th, 2023
Ahh Los Angeles, a city of dreams, sun, surf, sand, and.. Hollywood. The largest city in California and the second-largest urban area in the United States remains a destination for many people from around the world. They come to visit, they come to stay. And learn what life in Los Angeles is all about.
When I visited Los Angeles for the first time in my life I knew right away I wanted to move there. And who wouldn't, right? In this city sun shines every day, palm trees bend along the way, the mountains are on the right, the beach is on the left, everyone seems happy and content.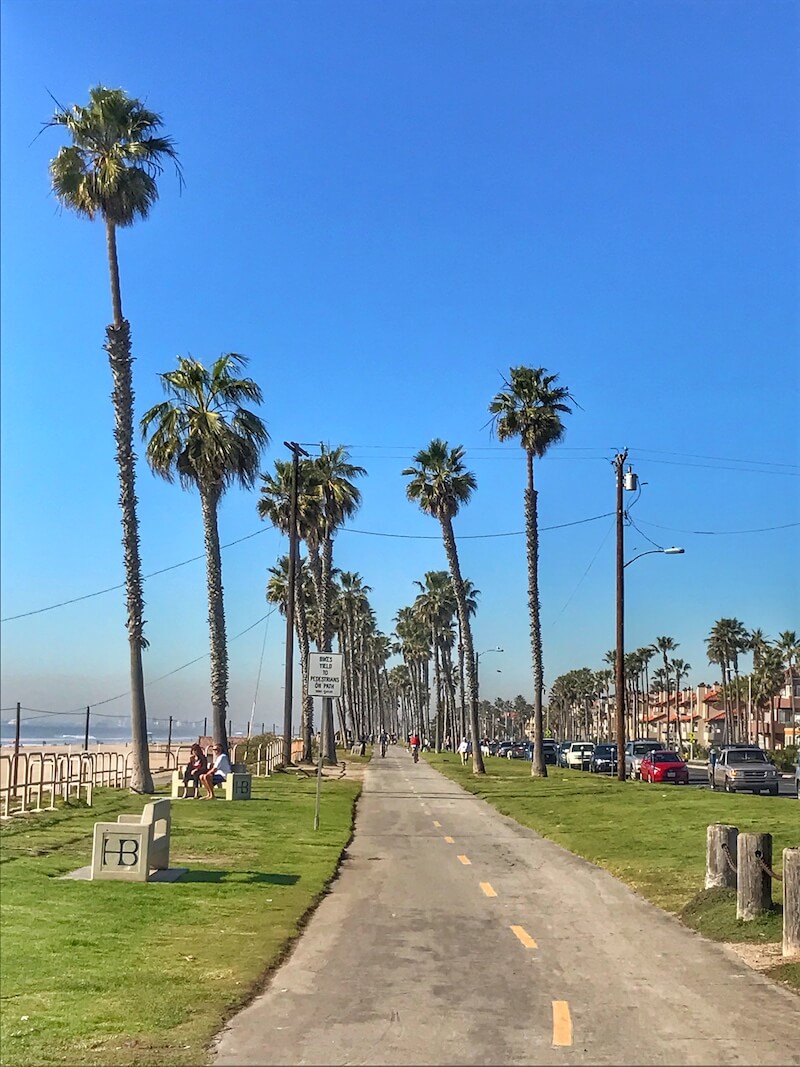 On one December day, I flew to LA with my friend from a snowy, windy city in Kentucky state. Most of the country at that time was getting snow, ice, and lower temperatures.
In Los Angeles, unlike the rest of the country, the weather was almost perfect. Daily temperatures were 60-70 degrees and the sun was smiling down on us. Besides the weather, we felt how vibrant, diverse, health-conscious, and entertaining LA was. I experienced love from first sight which convinced me that LA and I were meant for each other.
At the end of our mini-vacation, my friend and I returned to freezing Kentucky having a dream in our hearts to go back to a world-class city.
At that time Mark and I were dating and planning our future together. Both of us were ready to leave Kentucky and experience other corners of the U.S. We knew we didn't want to stay on the East Coast, but where to move next was not clear as well.
The same friend, I traveled to Los Angeles with, was planning to move to a city of angels and offered to relocate with her together. It was a sign and it was an answer. We agreed pretty quickly without analyzing and evaluating this offer for long enough.
I personally was very enthusiastic about the opportunity to call the city that fell so deeply into my heart our home. And since I was so eager to move to the sunniest place in America, everything else didn't really matter.
Mark also got excited about the opportunity to move to LA even though he has never visited himself. He trusted my emotions and went with my gut. We believed that moving to Los Angeles meant getting exposed to endless opportunities, saying "goodbye" to winter clothes, enjoying summer every day during each season, and just being happy because we were going to be in LA.
What a mistake it was to believe that the land of promises was ready to receive us with open arms. The reality turned out to be completely different from what we have expected and drew in our minds.
My mistake was to base my decision on the move to Los Angeles after spending only a week there as a tourist. And also listening to stories of my friend who extolled the city's virtues.
Our mutual mistake with Mark was not to leave LA after we spent a year there. We felt something was wrong and the city was not the place for us, but we kept lingering on in Southern California for almost 4 years. I guess if we left on time then we would have probably found fewer downsides about life in Los Angeles.
Don't get us wrong, we are thankful and glad we got to live in LA. We had wonderful moments there.
Yet, the level of daily stress was too high, anxiety and at times depression was taking over. Both of us developed a few health issues related to the pressure and tension of daily life in the largest city in California.
After going on our around-the-world trip and leaving LA routine behind, our health improved. And we got back to our happy and true selves.
---
RELATED POST: 5 BEST CITIES IN NORTH AMERICA TO MOVE TO THIS YEAR
---
So here are the main reasons why life in Los Angeles was not for us:
COST OF LIVING
We are not the first ones who will tell you that life in Los Angeles is expensive.
It's mainly expensive because of unreasonably high prices for housing.
Prices for groceries are almost the same as anywhere else in the country, gas prices are higher compared to the countryside, but not more than in any other large city of America, restaurants are more expensive, entertainment is probably about the same.
But housing is taking away a good chunk of money out of each paycheck. Comparing to all other states where I used to live, including Washington DC, the most expensive place for me personally was LA.
Most of the large cities in America are expensive. Boston, New York, Washington DC, Miami, San Francisco. It is very costly to live in all of them. But while other cities have higher prices, average wages in those cities are higher to match.
The problem with Los Angeles and actually the entire California region is that locals have lower incomes and with having higher prices they can't rent or buy a house without sharing it with somebody else.
We thought we were making good money while working and living in LA. In reality, we were spending almost all of it on basic necessities.
We lived comfortably, but without any luxury. Our salaries went towards rent, car loans, car and health insurance, phone bills, utilities, gas, groceries, occasional eating out and entertainment. Nothing extravagant or extraordinary. For gas alone, both of us paid together five hundred dollars per month just to commute to and from work.
TRAFFIC IN LOS ANGELES
Just a few days ago I read an article that Los Angeles got the worst traffic congestion in the U.S. for the sixth straight year. Oh yeah, during the time when we lived there it felt like it was the worst. We drove in rush hour in Washington DC, New York, San Francisco, Miami, Chicago, and have never spent nearly as much time in traffic as we were spending in Los Angeles.
For me personally, it was taking on average 1 hour 20 minutes to drive one way to work, instead of regular 25 minutes. It wasn't even a rush hour yet and we didn't live too far. Howbeit, it was taking a good chunk of my time to commute. I was leaving our home usually around half past five in the morning with hopes to make it on time at seven o'clock. And I was still late sometimes.
With LA traffic we never knew when was too early to leave to be on time. Every day each of us was spending up to 3 hours just to commute to work and back home. Some of my colleagues were spending more time because they lived farther. If we wanted to explore the surrounding area, the time spent in a car was adding up.
I remember one time when driving on Saturday morning from Calabasas to Disneyland in Anaheim, it took us 2.5 hours to get to the park instead of 55 minutes without traffic. Leaving on Saturday before 8 am didn't mean that there was not going to be any jam. LA was always so unpredictable! And many times it was just so frustrating and disappointing!
We have known only two people in LA who told us they didn't mind traffic and actually enjoyed being stuck in it. They told us they could listen to their favorite music or call a friend to chat over the phone.
Well, all our friends were busy living life and there was no-one we could call every single day just to jabber. Plus, we personally preferred spending 3 hours of our time each day on walking, hiking, spending time with each other, talking to someone face to face and doing something meaningful than just being caught in a traffic jam.
Traffic in LA steals your time and it steals your life. Unless you live close to your work or work from home then you might be spending fewer hours in a car. But once you want to get out and explore the city, go to the beach or mountains, you will learn really quickly what LA traffic is all about.
---
RELATED POST: MOVING TO KENTUCKY? HERE IS WHAT YOU NEED TO KNOW
---
CLIMATE IN LOS ANGELES
In the beginning, we experienced some sort of euphoria regarding the weather. After spending years in different states with humid and cold winters, it felt wonderful to move to a warm place that felt like summer.
We thought that time has stopped.
There was no rain, no snow, no slush, and no season. In the beginning, every day felt like summer. We could work on our tans, swim in outdoor pools, or wear shorts and tanks most of the time. We felt great, but only for the first six or seven months. There was way more to life than getting a tan or spending time in a pool.
To some, it may sound strange, but we started to miss foliage, first snow, rainy days, and seasons. Plus, after the first year in LA, we learned that it was not that perfect summer with many colors, flowers, and beautiful days as you may think of. Most of the year in Los Angeles is usually very hot (unless you are hanging out near the ocean all the time), too dry and plain.
The only time when you can enjoy green colors, blossoms, and flowers is from February to April. All other months look pretty much alike.
By the way, if you want to visit LA when the weather is at its best, go at the end of winter or beginning of spring. From December to February the weather does not feel like summer at all. Sometimes it's raining and some other times there are very strong gusts of cold winds, coming from nearby deserts. Many times we were wearing winter jackets and boots because it was that cold.
At the end of April, the beginning of May heat is coming back and the grass, trees, and leaves change their green color to yellow very quickly, leaving everything around look as dry as straw.
Do not expect to experience seasons in Los Angeles. Sure, you can always escape to the nearest mountains, but even there you won't get a lot. Besides that, it usually takes from two to three hours to drive to a wilderness. We guarantee you won't be able to leave LA's heat and busy life on a regular basis.
PEOPLE IN LOS ANGELES – TOO MUCH OF SHOW OFF AND GLAMOR
We don't have anything against LA residents. But this city is definitely not a place where you want to experience how welcoming, friendly, and nice American people are. This is probably the only place in the U.S. where the most self-centered, boastful, and glaringly materialistic people live.
It is part of LA culture to buy fancy houses, cars, clothes, and other things in order to feel important. What you wear, what restaurants you go to and what shop your jeans come from comes to the fore. During all our years spent there, we noticed how much show is put on a display in Los Angeles. So many people love to pretend to be someone they are really not.
Probably every third person you meet in the city of angels will tell you that he or she is a producer, director, well-known actor, model, singer, music writer, app creator, company CEO, and so on when in reality he or she has a totally different job.
I have known people who have been working for years in housekeeping, bartending, retail shops, but claimed that they were Assistant Directors or Producers who were working on a "big TV show or movie project". Others got a chance to serve a drink to a celebrity, take a picture with him/her, and later state that celebrity was a friend or someone they used to work with while shooting a new movie. We have hundreds of stories like that. So fake!
It felt like LA was a land of broken promises where dreams of many people did not come true, but they kept knocking on closed doors believing how important and awesome they were. Also, there was often an impression that those storytellers felt ashamed of their true selves and what jobs they held. Why would they lie and make up stories?
No doubt, there was a percentage of people who were lovely, genuine, and down-to-earth. The majority of residents, unfortunately, were opposite to that, making it challenging to live in LA.
VALUES
If we had to summarize, we would just say that our values did not go along with what Los Angeles was about. We love living simply, going to church, and connecting on a personal level with others.
In Los Angeles it was difficult.
Most of the people were either too busy with jobs and careers or too self-absorbed. It was challenging to make friends (not acquaintances) and connect with others. We appreciate the slow pace of life, more quality time with each other, and the balance between life, work, and family. Things, houses, cars, clothes, job titles do not matter. The weather alone is not a defining factor and cannot substitute other things in life.
There were a few more reasons why we left Los Angeles, but these five were the main ones.
LA was our base for almost 4 years, but unfortunately (or who knows, maybe, fortunately) it never felt like home. From the very first day in Los Angeles, we didn't feel comfortable, but we were hoping to adjust and start liking it one day. With every new month, it was getting more and more difficult and we were not able to adjust. Now, looking back in time, we are questioning why we didn't leave sooner.
Thank you, LA, for having us, and thank you guys for reading!
Have you visited or lived in LA? Let us know in comments how your experience was!
---