Liptovsky Mikulas in Slovakia – Guide to a Lovely Gateway Town to Low Tatras
Last updated on July 20th, 2023
My first acquaintance with Liptovsky Mikulas in Slovakia happened in the fall of 2019 when I briefly visited the town on a trip to Demänovska Dolina in Low Tatras and then went to a waterpark with thermal waters in the area.
At that time Mark and I came to spend one month in Poprad and we didn't know that 3 years later we'd return to Liptovsky Mikulas having a chance to discover it more in depth.
So here we are. Sitting in the living room of our comfy flat, looking through the window at the forest and mountains that surround us here in Mikulas and I am writing a quick guide to this beautiful town by the Liptovska Mara Lake.
During the months that Mark and I spent in this part of Slovakia, we've traveled all over the Liptovsky Mikulas region and beyond. Thus I want to share all of my favorite places and things to do in the town and in close proximity to it.
There is really a lot to discover even if it doesn't seem so at first glance!
---
Please note: This post contains affiliate links. I may earn a commission if you make a purchase or booking by clicking a link (at no extra cost to you).
---
Why You Also Shouldn't Skip Liptovský Mikuláš in Slovakia
For many reasons. But if you are visiting Slovakia, you can't miss it during the hiking season, during the foliage, and of course in winter when nearby mountains are perfect for skiing and other winter sports.
Although if you are visiting Slovakia on a first short trip with a goal to go to the High Tatras Mountains or if you are visiting solely the southern part of the country, then planning a separate trip just to Liptovsky Mikulas probably doesn't make much sense.
But, if you are let's say on a road trip in Slovakia and just passing through or if you want to visit from Bratislava, Budapest, or Vienna to see other mountains than High Tatras, then Liptovský Mikuláš is a wonderful destination where to stop.
Nestled at the foot of the Tatras, on the banks of the Vah River the town offers entertainment for every taste.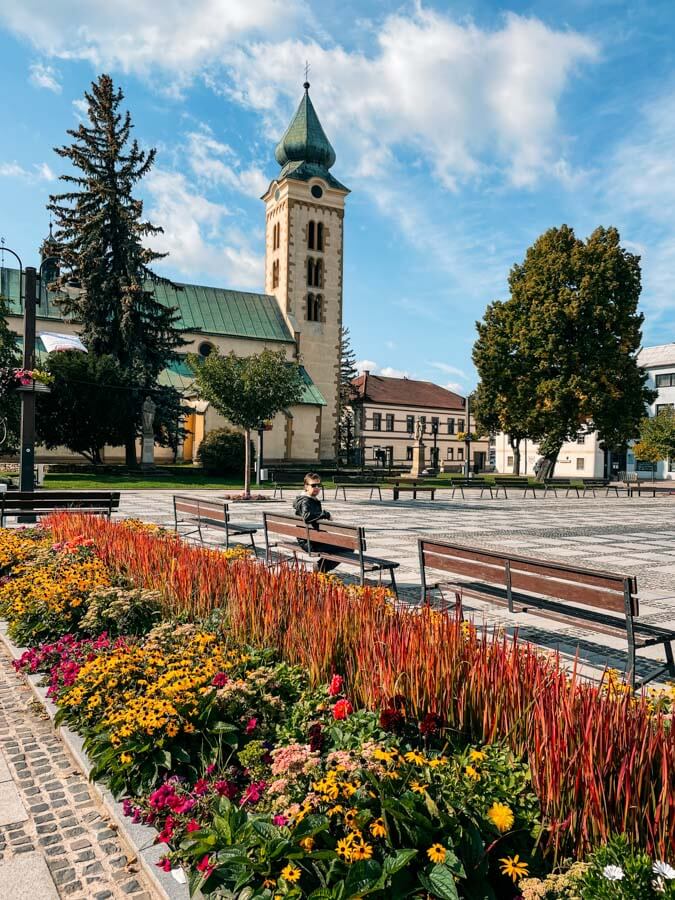 Despite the fact that Liptovsky Mikulas is not too big, it has everything you need – nice shops, hotels, restaurants, a bank, and a post office.
I found here an amazing dentist, cosmetologist who did wonders to my skin charging almost the same amounts of money as I pay in my hometown in Ukraine (if you need one too, send me a message and I'll share her info), lab where to do blood tests without referrals, and a big gym.
There is also a large, cozy pedestrian area in the old town where you can easily wander through the picturesque streets and admire the scenery. Or where you can sit on the veranda of one of the many nice restaurants trying delicious Slovak dishes, visit cultural sights on the main square Námestie Osloboditeľov, and one of Mikulas's museums.
There are also several sights within a short distance of the town. I talk about them as well as about all other things to do in Liptovsky Mikulas below in this post.
Quick Introduction & History of Liptovsky Mikulas, Slovakia
Liptovsky Mikulas (or Liptovský Mikuláš as it is right to say in the Slovak language) is situated in an ecologically clean region, although not in a forgotten place but in the middle of civilization and comfort.
The first mention of this small town (actually not that small – its population is 34,000) was in chronicles in the 13th century. By the 14th it began to play a significant role in the economic life of the region and in the 17th century became the capital of Liptov county. In the 19th century, it became one of the centers of the Slovak national movement.
In fact, for many centuries until 1918, Liptovský Mikuláš was part of Hungary. It was one of the most important craft centers where masters united in guilds.
The first amateur theater and the first cultural association of amateurs of the Slovak people "Tatrin" began here. In 1848 the main political document "Demands of the Slovak People", signed in the old town, played an important role in the self-identification of Slovaks.
Transportation to/in Liptovsky Mikulas
Liptovsky Mikulas has excellent rail and road connections with the cities of Bratislava and Košice. There are many trains that pass through the town at different times every day, so it is easy to get to/from Mikulas from various other destinations. You can find information on all timetables here.
E50 express highway passes through the southern part of Mikulas, so getting by bus and car is very easy too.
If you want to see more in less, rent a car. In this way, together with seeing Liptovsky Mikulas, you'll be also able to go on a road trip through Slovakia and visit other beautiful places.
We prefer this company and actually rented a car through them in Krakow as it was much cheaper for the long term. But they also have good deals in Bratislava.
The Jasna resort with its best ski slopes is only 15 km away from Mikulas. With a car, you'll be able to go there in summer for hikes and in winter for skiing.
Those who prefer to go by public transport can reach Jasna by regular city buses that run frequently from Liptovsky Mikulas to most Jasna hotels and tourist center. To find schedules and more detailed routes, it is best to visit this site.
If you don't have a car and need to use a taxi, that is possible too. The main ranks of taxis are located at the bus and train stations and near the bus stop in Mikulas's center.
There is also a SKI&AQUA BUS bus that provides connections between Liptovsky Mikulas and ski resorts with water parks during the winter season. Tickets are on sale at the information center.
Liptovsky Mikulas Accommodation
CHATEAU GRAND CASTLE – my number one pick for those who love unique hotels because here you can stay in a real castle with its ancient history and get royal welcome. Located a bit outside Liptovsky Mikulas in the nearby village Liptovský Hrádok, the castle offers 15 exquisite rooms, each of which has its own unique interior, furnished with luxurious furniture.
TIMEOUT CITY HOTEL – a modern new hotel near the historic center of Liptov Mikulas with some of the best reviews.
AHA JASNA APARTMANY – great alternative to a hotel on the way to Demanovska Valley. This area is best for winter trips to Liptov and for summer trips when you need a perfect escape to the wilderness.
CHATA ADAVY – for that stay when you can unplug and hide from the entire world. Located in the forest near Liptovsky Mikulas in a beautiful ecological area great for hiking and uninterrupted moments of natural calm.
What to do in Liptovsky Mikulas
Liptovsky Mikulas as a town is small and in the beginning, it may seem that there is not much to do. While it's true to some extent, the number of activities is really big if you have a car and ready to explore outside the ski resort Jasna.
Here are the most fun things to do in Liptovsky Mikulas on any visit:
Go to Hai Nicovo Forest Park
Start your visit with the best views of Liptov Mikulas and a bit of nature exposure.
Hai-Nicovo Forest Park is perfect for that since this is a cultural and recreational area with educational walking trails, a running route, memorial park, and playground for children.
It is nicely located on the top of the hill, which is why it offers a stunning view of the panorama of Liptovský Mikuláš, Liptovska Mara lake, Liptov town from above in a distance, and Low and High Tatras. It is undeniably the most beautiful viewing spot in the Liptov area.
If you leave a car here, you can walk to the memorial park on a beautiful road lined with trees or follow one of the trails for more stunning views. It is really easy to spend here a few hours and take beautiful photos with a stunning backdrop.
We loved coming here in the morning with a cup of coffee or after work to meditate and enjoy the views.
Soak Your Senses in One of the Best Therms in Slovakia
Liptovsky Mikulas region is home to some of the best thermal pools in Slovakia and a few of them are located within close proximity to the town.
Just like the 'Beshenova' Thermal bath & Waterpark across the Liptovska Mara Lake in the village of Beshenova. It is open year-round and is especially pleasant to visit in winter or late fall when the air is cold but water in thermal pools is hot enough.
In the low season from October to May part of the outside thermal area is closed but it's mostly part of the aqua park, thermal pools, as well as indoors aqua park, stay open.
Pop in the Second Largest Art Gallery in Slovakia
And that is the Gallery of Petra Michala Bohuna, located in the Old Town of Liptov.
The building where the gallery is located is an old Soviet-looking one. But it has a huge collection of medieval art (second-largest in Slovakia) which presents the development of artistic creation in the area of ​​northern Slovakia from the Gothic period to the present day.
Go Biking or Walking Along the Vah River
Not far from the old town of Liptov, you'll find a river with a bicycle and walking path along it which is another good place for a relaxing couple of hours.
Rent a bike in the old town or simply go for an easy walk from Paludzansky bridge to the Okolicne district, where you can see the historic mansion and the Franciscan monastery with the church of St. Peter of Alcantara.
The path passes near an indoor swimming pool and tennis courts and has a couple of bicycle stations. You can walk on different sides for different views and perspective.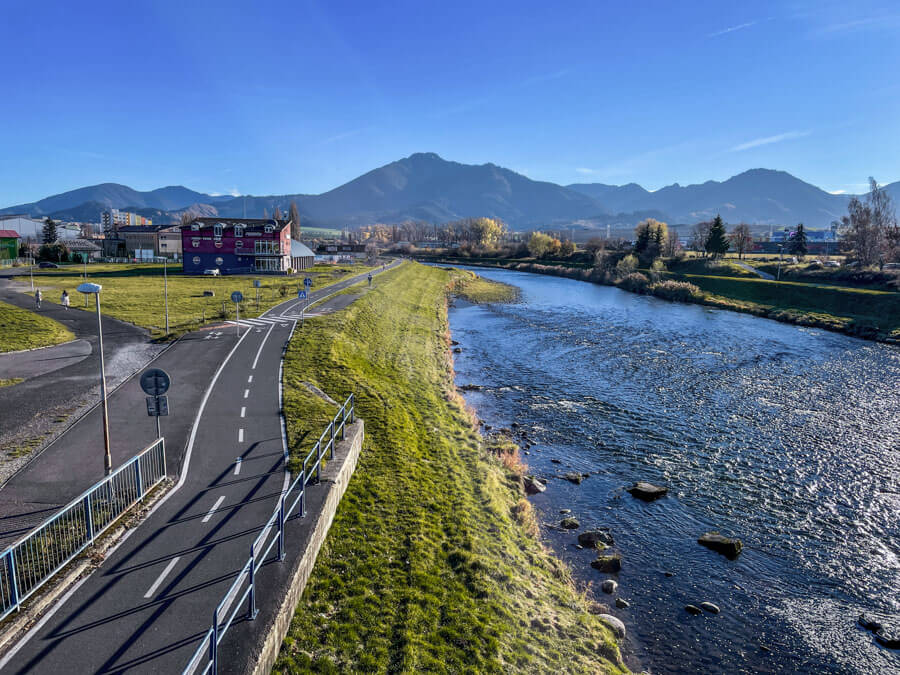 Do Water Activities on Liptov Mara Lake in Summer
Near Liptovsky Mikulas, there is also the possibility of relaxation on the largest Slovak water reservoir, also known by the name Liptovsky Sea.
This reservoir is a top destination for water fun in summer for singles, couples, and families with children.
During the summer months (and partially in September) you can swim there, surf, boat, go on a sightseeing cruise, go fishing or take a walk to the protected nature reserve of the Ratkovie peninsula and the archaeological open-air museum Havránok.
There is also a camping site by the water which is great for people who travel with a camper.
See a Reconstructed Traditional Village in the Area
Not directly in Liptovsky Mikolas but after a short drive away in the village Pribylina, you'll find this unique and very interesting museum under the open sky Liptov Village Museum.
Wooden houses there come from several villages around Liptov, mainly from the area now flooded with water of the Liptovska Mara lake. In fact, all houses are copies of original folk wooden buildings with numerous original elements.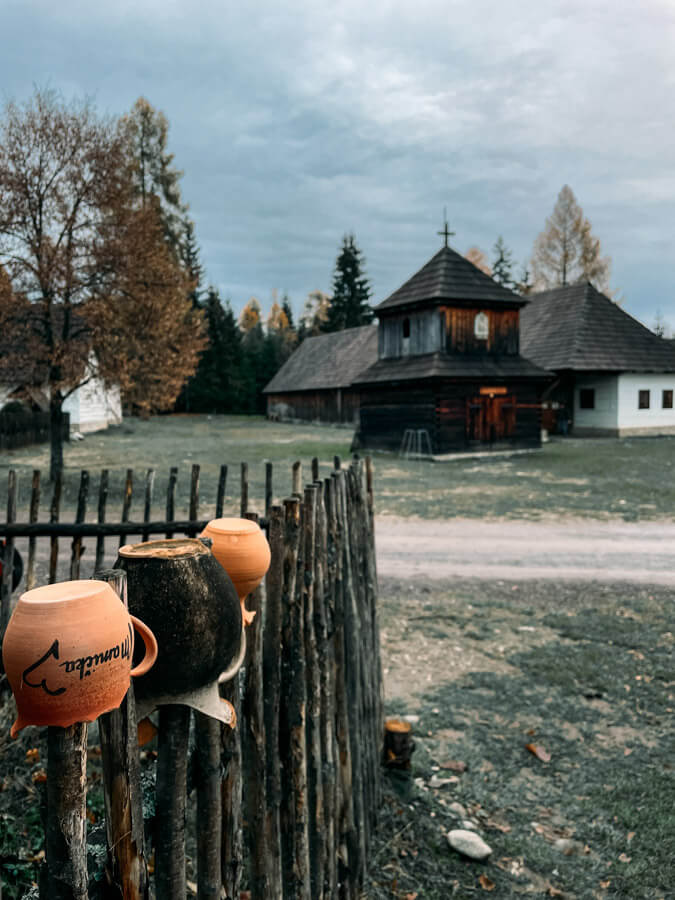 This museum is unique in some way. Firstly, it keeps a reconstruction of two exceptional medieval stone structures – an early Gothic church of the Holy Virgin and a Gothic-Renaissance mansion. And second, there is a nature trail through the forested park and a mini railway with an educational train which will be interesting for both kids and adults alike.
Or Soak in Natural Hot Springs in Liptovsky Jan
Liptovsky Jan is a village adjacent to Liptovsky Mikulas where it is easy to get by bus, taxi, or even on foot. It is a special place in the Liptovsky Mikulas region as it has a lot of natural beauty, caves, mineral springs, and thermal waters.
If you are visiting the area from April to October and love natural hot springs, make a stop by Thermal Springs Kad'a, a clean and free of charge pool with thermal water, a beautiful stream nearby, and a green park area.
Due to the underground spring, the bubbly water in the pool gets mixed with mineral water and is warm enough for bathing until almost winter. Although some people like to soak in there even when it's pretty cold outside.
Near the pool, there is also a mineral water pump room where you can get very delicious rich with minerals drinking water.
Learn How to Raft a River if You Have More Time
Liptov has a very unique sports complex where tourists can learn how to raft the river or even watch professional athletes from around Europe train on a stormy river nearby.
It is probably not a place to go to on a short trip through Slovakia. But if you have more time in the area and look for something unique to do, this can be a nice attraction. Follow the link to google maps to see the location and visit their website for more details.
Go Hiking in Low & West Tatras & Right From the City
Liptovsky Mikulas, being surrounded by mountains, has many hiking trails nearby that offer some awesome views.
Of course, if you have never been to Slovakia before, you may want to go hiking in High Tatras or Slovak Paradise at first. But if you are road tripping through Slovakia, it is well worth taking a detour here in this town for a short time and hitting one of the local trails.
The easiest one which gives a great overview of the town is a trail to Lavicka Panorama viewing spot. If you have a car, leave it in this area and go hiking either to panorama point or beyond.
If you are interested in the northern side of the Low Tatras and the natural beauty of its park, then go on a moderately difficult hike that takes about four hours on average from Iľanov via Poludnica to Závažná Poruba along the Demänovská Valley Educational Trail. Another one is from Liptovský Ján through the Stanišovská Valley to Smrekovica.
Hit the Slopes During Winter
The area around Liptovsky Mikulas is undeniably the best and cheap winter destination in Slovakia for skiing. And what's particularly great about it – there are slopes for all types of skiers, even for those who have never skied before.
Ski Opalisko is exactly that type of smaller ski resort perfect primarily for families with children and beginners. Local slope there is only 350 meters long and belongs to the medium difficulty category. Night skiing with lighting, artificial snowmaking, and a restaurant are available in the area.
Other ski resorts to choose for winter travel in Liptov are Ski Center Demyanova, Ski Center Žiarce, and Jasna Low Tatras.
Take a Peek at the Museum of Nature Protection and Speleology
This unique museum will be interesting to families with children visiting Liptovsky Mikolas on a trip to Slovakia.
It consists of the exhibitions of Karst Caves and Protected Nature of Slovakia as well as the interactive exhibition of natural ecosystems which is complemented by light and sound effects. The entire walk through the museum is a real experience.
Its greatest treasures include the skeleton of a cave lion, a model of a meteorite, a cave exhibit with drops, and an observation deck with a beautiful view of the city and the surrounding mountains.
The only thing – you'll need to use google translate to translate info boards into your language.
Spend a Day in the Largest Waterpark
Another place where to spend a whole day in Liptov is the aquapark "Tatrallandia", the largest complex of water entertainment in Slovakia, the Czech Republic, and Poland.
Tatralandia has many tempting water attractions and consists of 14 pools, 10 of which are open all year round and their water reaches a pleasant temperature of 38 degrees Celsius. There is also a climbing wall with a waterfall, water spouts, geysers, and massage sessions.
The Tropical Paradise indoor complex offers a pool with sea water and a pool for snorkeling, a Surf Waves simulator with endless water slides.
Part of Tatralandia is the Celtic Sauna World with massage, water and steam saunas, as well as a Wellness Center offering body wraps, face masks and massages. Find more details on the Tatralandia website.
Get Lost in the Longest Cave Demanovska Cave of Liberty
Well, okay, you don't really want to get lost but joining a tour in one of the most popular caves in Slovakia is a must.
Demänovská Cave is the longest Slovakia cave with a total length of 13,000 meters, of which 1,600 meters are open to visitors.
It is among the most intersting caves in Europes due to the fact that it has a permanent ice filling in one of its halls called "Ice Hall" has a constant temperature below zero what helps to contain permanent ice sheets and hanging ice pillars with figures created by nature.
Demänovská Cave represents part of a huge karst system piercing the soft limestone bedrock of the valley and stands out for its quantity, aesthetic value and variety of forms of drip decoration. In addition to traditional stalactites, stalagmites and stalagnates, you can find drop waterfalls, ponds with "water lilies" and formations called "rococo dolls".
If you are in the area of Liptov, don't miss this cave as it is a true gem of Slovakia.
Explore Historic Center of Liptov Mikulas
And the final thing to do in Liptov is just to go for a quick stroll around the historic Old Town. It should be interesting not only for lovers of monuments but for many others when you know what hides behind the walls of buildings.
You'll find there the old Synagogue that holds various exhibitions and cultural visits throughout the year. Next, the Church of St. Nicholas, a picturesque fountain of Metamorphosis – a tribute to the memory of all the great people who came from Liptovský Mikuláš, Lutheran church, and Gothic monastery of Franciscans (where you can walk or bike to which I mentioned above).
The main museum of the city is the Janko Kral museum, which is located in the former Ileshgazi manor. The exposition tells about the history of the city from 1286 to the present day.
Top Cafes & Restaurants Where to Eat in Liptovsky Mikulas
This list of cafes and restaurants in Liptovsky Mikulas is based on my own picks. Mark and I tested many places and these ones are our favorites:
Moment – best cafe in town for breakfast. Menu is seasonal, so items often change. But in summer and early fall, they cook an amazing omelette with radishes, avocado toast with prosciutto, pancakes, and have a very good coffee.
Adjoining part of the cafe is the cafe's bakery where you can also buy cinnamon rolls or other sweet pastries and have them with coffee or tea.
Aurelica coffee – our favorite cafe for morning coffee on many days. It is famous for its many methods of roasting coffee and different types of drinks. The cafe has a unique design, cozy atmosphere, and good service. So a stop here will guarantee a good mood for the whole day.
Karma coffee – another great cafe for coffee drinks on the central street of old town. There is a big selection of beverages and always homemade desserts.
Arch cafe – a nice cafe outside old town for people who want to hide in a cozy space with a laptop. They have a big selection of desserts, beverages, and the best croissants in town. Some food is on the menu too.
Bonsai – the best Asian restaurant in Mikulas, to be more specific – the best Vietnamese food restaurant. Prices are average but the food is so good, just like somewhere in Vietnam. We ate here a dozen of times and would return more and more.
Restart Burger – also in Old Town, just on the opposite side from Bonsai. Here, you'll find the best burgers, chicken wings, and in-house fries with sauces. This place has really some of the best burgers we ever tried.
Cafe Tapas Mustiky – great cafe for tapas, appetizers, and evening drinks.
Velvet Pub – one of the best places for cocktails, pub atmosphere, and music.
Liptov Pizza – if you are craving good pizza while visiting Liptovsky Mikulas, this is the place to go. No dine-in option here, just take-out and delivery.
Liptovska Izba – an authentic restaurant in the old town offering a wide range of traditional Slovak dishes.
---
This is it on Liptov now. Do you have any questions? Let me know in the comment section and I'll get back to you as soon as I can!
More Hidden Gem Places in Europe
If you love secret spots and hidden gem places as much as I do then you will also enjoy the following articles from other parts of Europe: