Hiking in Lovcen National Park – Hikes & Tips for a Great Adventure
Last updated on July 5th, 2023
Are you visiting Montenegro any time soon and thinking to hit Lovcen National Park hiking trails? I would love to share a few ideas and our own experiences.
It seems that for the most part, people who visit Lovcen mainly go to Njegoš Mausoleum, the village of Njeguši, Kotor Serpentine or Etno Selo Sveti Georgije, missing out on all the beauty hidden among the mountains. And all the hiking trails that Lovcen National Park has to offer.
Definitely, Njegos Mausoleum is worth a visit but there is so much more to this area.
For us, Lovcen National Park became some type of a getaway place when we were living in Budva. Especially during the fall. When it was hot near the sea, the park was cool and pleasant.
In October, when Budva, Kotor, Herceg Novi, and coastal towns kept reminding about the summer, Lovcen Park experienced fall foliage in full swing. In fact, it is one of the best places where to go when visiting Montenegro in autumn.
On many occasions, we would take a car and just wind through the park, stop where we felt like it, and walk around. This is how we learned about some amazing hikes in Lovcen that open up a stunning view.
If you are planning to visit Montenegro, I highly recommend unwinding and going hiking in Lovcen National Park. And, once in the park, go off the beaten path and see more than Mausoleum. Lovcen is breathtaking! And if you are traveling with kids, there are also easy paths for the entire family.
Before I jump to hiking trails, check what else to know before the Lovcen National Park hiking trip.
---
Please note: This post contains affiliate links. I may earn a commission if you make a purchase by clicking a link (at no extra cost to you).
---
Things to Know Before Going to Hike in Lovcen National Park
How to Get to Lovcen National Park (By Car Or Public Transportation)
Unfortunately, the only way to get to the National Park is by rented car (and this is the best company in Montenegro to rent it from) or taxi transfer. There is no way to reach it by public transportation. Another option includes bus #32 from Kotor to the city of Cetinje, where you can grab a cab, hire a car with a driver or walk.
Some experienced hikers walk to the mausoleum inside of the park (and back) from Cetinje. The entire distance is about 20 kilometers one way but the road is twisty and narrow with a series of steep bends.
The truth is – it is very scenic since you can see magnificent mountain landscapes almost at each turn. Still, it is very challenging and time-consuming for most travelers, especially those who are short on time.
So rent a car to save time and go on a scenic drive through the park. Read my tips on renting a car in Montenegro and driving in Montenegro as a tourist to have a smooth experience.
If you prefer going with a tour, consider a group tour of Lovcen National Park that includes a visit to Cetinje and Mausoleum or this one if staying in Podgorica. Those who seek more action should take a look at this adventurous biking tour from Kotor.
Assuming that you can rent a car, the best way to get to the heart of the park is by driving from Budva or Kotor. Recently a new road was built on the stretch between Zanjev Do and Lovcen Mausoleum, so today it is much easier to get to the park from Kotor. And that drive is absolutely spectacular.
Yet, if you can, do not drive the same road twice and better make a loop. If going from Budva, on the way back take the Kotor serpentine road. And vice versa, if driving from Kotor, go back through Budva. Each route is beautiful in its own way and there is plenty to see.
Highway M2.3 from Budva to Cetinje has quite a few vistas offering a fantastic view of the coast, Sveti Stefan, Petrovac, and nearby mountains. So if you want to stop, there are plenty of options for that. If you are keen on visiting Cetinje and the monastery, it is a short drive away.
---
RELATED POST: SAFETY IN MONTENEGRO – WHAT TO KNOW BEFORE YOU GO
---
What to Do in Lovcen National Park
In addition to all the hikes that I am going to mention below, Mausoleum and Mount Lovcen, people love coming to the park to admire nature, meditate and just walk.
The local area has a large number of pastures and picturesque villages with the traditional architecture of Montenegro. An example is the village of Njegusi which has a special ethnographic value – it was a place where the royal dynasty of Petrovich lived. There, you can purchase homemade cheeses if you wish. In fact, Njegusi is famous for the street of prosciutto (and wine.) Feel free to go to any house where you see the sign about the sale.
If you are driving from Budva, I recommend making a first stop in the village of Ivanova Korita and getting a cappuccino (wine?) or delicious lunch. Two restaurants, one at Monte Rosa Hotel and another one at Konak Hotel offer excellent food of national cuisine.
And at the very top, where the Negosh mausoleum is located, there is a panoramic restaurant. Each of these places has a beautiful outdoor terrace. When the weather is nice, it is so pleasant to sit outside, admire the mountains, clouds, and nearby coniferous forest.
Check prices and availability for Monte Rosa Hotel on Booking.com
Check prices and availability for Konak Hotel on Booking.com
One of our favorite places to eat in Lovcen was Kraljicin VRT cafe. This place is conveniently located along the main road and has a big board with its name on it. The food is absolutely delicious and so cheap.
There are two beautiful outside patios – one in front of the building and another one in the back. Seating inside is also available. The pizza was the best we tried in Montenegro. As well as it was probably the cheapest place we have eaten at during all our time in the country.
Try their gigantic pizza, pancakes (called palacinki,) soup, and tea (ask for herbal that is picked in the mountains).
If you are spending all day long in Lovcen National Park hiking, on the way back, if taking a road to Kotor, make another stop in Horizont Restaurant. And do it better for the sunset with a glass of wine, local cheeses, prosciutto, and olives. The restaurant is located not far from Njegusi village and has a surreal view with pretty good food.
There is also Nevjesta Jadrana restaurant farther along the road, but it's very average with poor service and too greasy food.
Parents who travel with kids to Lovcen National Park can bring their little ones to Adventure Park. It has 6 types of tracks for adults and children. Kids the age of 5 and older are allowed to visit. Ticket prices go from 8 to 18 euros.
Side note: If you decide to go to Njegoš Mausoleum, you have to pay to go through some type of gate and then separately for the entrance to a parking lot. During busy times, the parking lot is full and there is no way to park your car.
And unfortunately, a person who charges at the gate does not tell about it. So there is a possibility, if visiting during the busy season, that you may end up paying just for the entrance and driving around while not being able to find parking and go to Mausoleum.
If you want to avoid this, come early or go on one of the hikes that I talk about below, or simply come with a tour in July and August.
---
RELATED POST: BEST BEACHES IN MONTENEGRO NOT TO MISS
---
Prices in Lovcen National Park
Entrance to the territory of the Mausoleum is 3€ per person (excluding children under 7 years old)
The cost of visiting the Mausoleum – 3€ per person
Bicycle rental – 2€ / hour
Bicycle rental – 7€ / day
Guide services – €100 / 8 hours
Accommodation on average costs 50€ / night
Camping: Tent – 5€ / day, RVs – 10€ / day
Use of campgrounds with amenities – 10€ / day
Bonfire in specially designated places (the price includes the required amount of wood) – 5€ / day
Jeep safari – 20€ / day
Permission to collect berries, mushrooms, herbs, and flowers (per person) – 5€ / day
Things to Know About Hiking in Lovcen
The majority of hikes start in Ivanova Korita, so you need to base yourself there. Ivanova Korita is a tiny forest village (mainly with an adventure park, restaurants, and hotels) on the main road from Cetinje to the Mausoleum of Petar II.
Besides hiking trails, in the same area, you'll find a Visitor Center and educational trail.
Locals love Lovcen and frequent it often, especially during the summer when trying to escape the heat. We've even seen a few groups with students having a field trip there. Nonetheless, on our hikes during the off-season, we haven't met anyone.
If you are not staying overnight but want to go hiking, when you arrive, park your car near the Visitor Center or hotel Ivanov Konak. From there you can have a short walk to one of the trailheads. Although, summers are usually busy and parking by the hotel may not be an option. Park a bit farther and along the road.
Lovcen National Park Hiking Trails
Now, let's get to the point. Here are some truly amazing hiking trails in Lovcen National Park that guarantee quite an adventure.
WOLF TRAIL (A LOOP) & DETOUR TO BABINA GLAVA
Difficulty: Easy
Length: 4.4 miles (7 km) of the loop, detour to Babina Glava another 2 miles (3.2 km). It takes between 3 and 4 hours to hike.
This is one of our favorite hikes in the entire park and I believe one of the best hikes in entire Montenegro. The trail has numerous viewpoints and those views are absolutely mindblowing. We loved that the hike was easy and mostly flat. It gave us a great overview of the park, coastline, and mountains. It took us 4 hours to make a loop with a detour and return to the same point where we started.
The most remarkable thing about this hike was the walk through a magical autumn forest. Seriously, we felt like we entered a different world where trees talked and elves lived. We thought that the birds were singing only for us and the wind was whispering something to the leaves.
The lady at the visitor center told us that Wolf Trail is absolutely gorgeous during any season. She advised returning in winter to experience a totally different wonderland.
So no matter when you visit, go on this hike. You will fall in love with a place and transfer for a few hours in a fairytale.
The hike (loop) is around 7 kilometers. It starts near the Ivanov Konak Hotel. There is an asphalt road that goes to Dolovi village. Before you get to Dolovi, you'll see a few signs pointing to a hike through a forest on your left.
I recommend going through Dolovi, especially if you are doing it in the summer. The reason for that is no shade in the village. On a hot day, it may be difficult to hike under the scorching sun. Hike through the forest has a lot of shade.
After Dolovi, follow the signs toward Babina Glava and Kuk. From there the road becomes a gravel one. Follow the markings and a big path.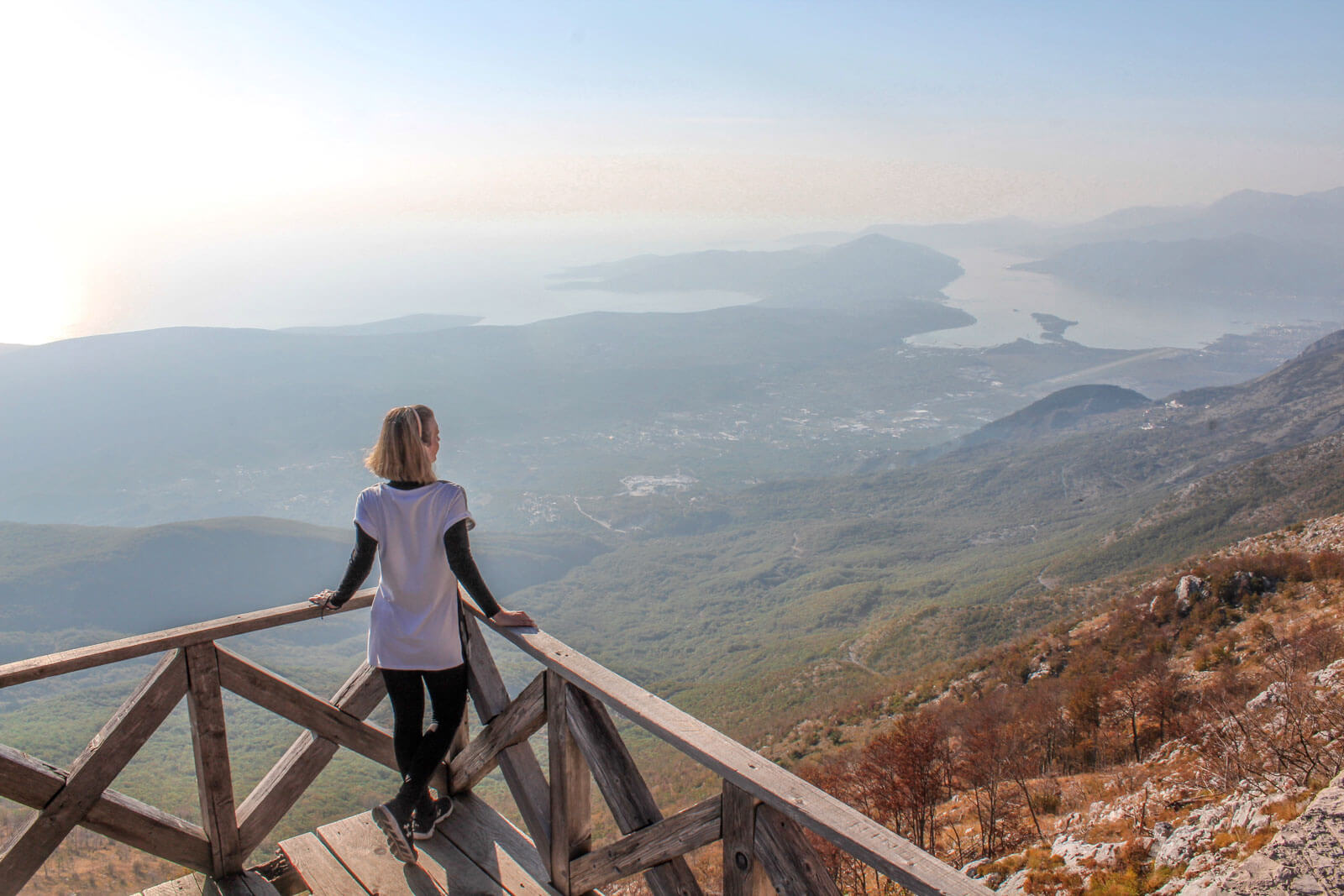 Side note: The southern part of Lovcen National Park has a lot of wildlife, including bears and wolves. This is why this trail has such a name. But do not worry, there are no wild animals in the area with hiking trails. Just elves, remember? It is going to be absolutely peaceful and relaxing.
HIKE TO THE MAUSOLEUM FROM IVANOVA KORITA
Difficulty: From Moderate To Difficult
Length: 5.5 miles (8 km) with some climbing
This is a great hike for half a day (or possibly more) that will bring you through a forest to rocky outcrops and meadows of grass and then all the way to the mountain and mausoleum with fantastic views.
We thought about taking this hike and even walked a little bit but never really did it in full.
If you decide you want to do it, here are a few options for where to start.
The starting point is near Hotel Monte Rosa or Ivanov Konak Hotel. From there you have to follow signs towards Mali Bostur and Prti Jaskyna (if starting from Hotel Monte Rosa.) If from Ivanov Konok hotel then you'll see a sign towards Velji Bostur and from there signs towards Prti Jaskyna and Mali Bostur.
Technically, Mali and Velji Bostur are connected in a loop and the path (which is not really a path but more of a gravel road) goes through the forest with minimum views. All the views start on a path to Jezerski Vrh or Mausoleum. However, keep in mind that the last part is the most challenging one. It is very steep and everything you do is just climb up. In summer, if hiking in the afternoon, it is very exhausting.
The markings are clear and you'll definitely know where to go. For the best experience, I recommend making a loop. Although, one thing to remember. If you decide to hike all the way to the mausoleum, keep an eye on the road. You have to cross it only once almost right after you pass a spring. When you get to the first parking lot, do not follow the road. You'll see another path on the left and this is where you have to go.
On the way back, after passing Prti Jaskyna, instead of following the same path, turn to the right (or left, depending on where you came from.) There are no other trails, so you won't be lost.
The hike towards Mausoleum's viewpoint and back is around 8 kilometers but one-third of it is very steep. And with a hike, you still need to pay an entrance fee which is 3 euros per person.
If you don't want to go to the mausoleum, there is an alternative to hike to Lovcensko Lake. This is when you actually cross the road to the mausoleum near the parking lot the second time and follow another path to Bukovica and Njegusi.
The lake reminds more of a paddle than a lake but it offers almost the same views as the mausoleum does.
HIKE FROM IVANOVA KORITA TO KUK POINT
Difficulty: Easy
Length: around 8 miles (12.8 km) if taking a loop or 3.8 miles (6.11 km) if not. It takes between 4-5 hours or 2-2.5 hours accordingly
A hike to KUK point is a very beautiful hike that opens truly dramatic views of the coast, Tivat, and fjords in a distance. It can be done as a loop (12.8 km) or as a quick hike to KUK lookout and then back (6.11 km.)
If doing it as a loop, you can start at two different places. One starts the same way as the Wolf Trail described earlier and goes through Dolovi village. In Dolovi though, once you step on a gravel road, you'll see signs towards Babina Glava (to the left and you don't follow that) and KUK (to the right and this is where you go.) Another one starts near the church 'Svetog Petra Cetinjskog' and winds to Velji Bostur.
We didn't go on a loop, only half of it through the Dolovi village. Everything we wanted to do while on the trail was taking one million photos. It was spectacular. There were multiple vistas and the entire path was all about views. In KUK we turned back and followed the same path.
If you are hiking in summer, expect it to be hot. Most of the path is in open sunlight. Don't forget water, a hat, and sunscreen.
Where to Stay in Lovcen National Park
If you are looking to stay closer to the park and have a car, take a look at Njegusi village. Recently a few new properties popped up there like Ethno Village St. George with the pool and beautiful mountain views, for example.
Among other unique places to stay are Hotel Gradska Cetinje (in the historic center of Cetinje) and the Astoria Hotel in the Old Town of Kotor.
Check prices and availability for:
More Inspiration Posts on Montenegro Hiking & Outdoors Activities
---
This is it for now. Have you guys been to Lovcen National Park? If yes, share in the comments how you liked it! Also, pin this post to refer to it later!