My #1 Montenegro Itinerary For First Time Visitors – One Day to One Week in Montenegro
Last updated on June 11th, 2023
I've made so many trips around Montenegro when I lived there that I thought it could be helpful for me to gather all my travels and adventures in one long Montenegro itinerary. I also often get questions from people trying to organize their vacation and needing a few tips, so I wanted to make it easier to find all information in one place.
This 7 days in Montenegro itinerary is good for travelers who visit the country for the first time and want to receive a good introduction by seeing the most popular sights within a short timeframe. Every day here is packed with activities, starts early, and ends late.
If you have lots of time you can mix and match these destinations and itineraries for each day to fit your schedule. Also, you can extend them to 10, 12 days, and even 2 weeks. While Montenegro seems to be small, it is full of natural wonders together with a big variety of recreation possibilities. People tend to underestimate its size when looking at the map.
So you can really have an eventful vacation whether you plan to spend a few days or even two weeks in Montenegro. And to help you plan your perfect holiday, besides this one week itinerary I also have other posts that answer more questions about Montenegro travel.
---
Please note: This post contains affiliate links. I may earn a commission if you make a purchase by clicking a link (at no extra cost to you).
---
Weekend in Montenegro Itinerary
I start this short Montenegro itinerary in Herceg Novi because usually spending 2 or 3 days in Montenegro is more popular among people who come from Dubrovnik, Croatia. It is very easy to cross the border between two countries and see more on one trip.
Those who fly from other European cities or even from anywhere in the US or Canada usually come for at least 5 days. And they start their travels either in Podgorica or Tivat.
So if you are one of those travelers who visit Montenegro for longer, feel free to use recommendations from this itinerary in your preferred order. Otherwise, if coming from Dubrovnik (or Bosnia), do not skip Herceg Novi.
The best way to plan a trip to Montenegro and see the maximum on this itinerary would be a combination of a self-guided trip by car and joining an organized guided tour.
For car rental, the best car hire company is LocalRent. They offer the largest number of rentals in multiple cities and simply the best deals. You can find out more about them in my guide to driving in Montenegro.
For tours, I personally like to stick to GetYourGuide and Viator. Both of them offer a good selection of tours but from slightly different companies.
Day 1: Herceg Novi – Savina Monastery – Žanjic Beach – Blue Cave – Bay of Kotor
Sometimes I feel guilty when I don't give much credit to Herceg Novi throughout my posts. It's really a nice city with a beautiful old town that is worth a day. So once you reach it, make sure not to skip it and spend at least a few hours there.
In fact, Herceg Novi is the greenest city in Montenegro with a huge collection of hundreds of species of exotic plants from all over the world that grow in the yards of local residents and right on the streets. Herceg Novi is also called the city of a thousand steps which offers beautiful panoramas from a bird's-eye view.
For a better acquaintance, join an excursion (either the one on spot in the city center offered by different tour companies or organized in advance gastro tour that also includes a trip to one village in the area).
When on a self-guided tour throughout the city, don't miss the Savina Monastery, Old Town, and three fortresses – Forte Mare, Kanli Kula, and Spanish fortress. And then continue your sightseeing walk by the sea – take an excursion to the Blue Cave, Zanjic Beach, and Mamula Island (excursions are also on sale almost on each corner in old town).
If you are short on time, have only one day in Montenegro, or want to see more of the area than suggested above, then go on a day cruise that includes more places in Kotor Bay. One of the departure points is in Herceg Novi and this 8-hour tour offers a cultural heritage itinerary with a visit to UNESCO sites. During the summer months it sells out fast, so you may want to book it in advance.
Accommodation for the 1st day in Montenegro
If it fits in your budget, I would definitely recommend staying at One&Only Portonovi. It is a luxurious, relatively new 5-star property with outstanding amenities and service that delivers the best experience. It also has a sister property with a different type of accommodation and much lower prices.
For a mid-range budget, there is a beautiful Hedera Residence in Kumbor or Kapetan Luxury Apartments in Old Part of Herceg Novi near the beach.
Overall, Herceg Novi area has many beautiful hotels and apartments and it is a nice place to stay for people who want to combine a beach and history trip with outstanding views and further explorations of Kotor Bay.
Day 2: Risan – Oyster Farm – Perast – Bajova Kula – Kotor – Prcanj
When planning your 2 days, 7 days, or 10 days Montenegro itinerary, I highly advise devoting a full day to Kotor Bay. That's just a must-visit place no matter how long your trip is going to be.
The route around it (that I offer for the second day of the stay in the country) is designed for the whole day, so you need to leave right in the morning to cover everything.
If you decide to rent a car in Herceg Novi, it will take between 30-40 minutes (depending on where you stay) to drive along the scenic route to Risan, where I suggest you make the first stop.
On the way to this town, the road winds by some beaches and vista points where it's also worth slowing down to take photos and contemplate the scenery. In fact, you can stop in any village that you like, just because the entire area is so pretty. One of the villages we like is Kamenari where it is possible to rent a SUP and go paddleboarding or go on a scenic walk towards the Church of St. Ana.
And then continue to Risan which is notable for being the most ancient settlement in this area, although it doesn't look like that.
What's interesting, Risan is located just a few kilometers from ancient Perast and is strikingly different from it. You can even describe it as abandoned and absolutely not touristy where you can feel the real Montenegrin spirit in local cafes. And it has a very unique attraction – Roman ancient mosaics.
It is worth allocating an hour for a walk around Risan (seeing also Illyrian Fort, town's churches, weekend market, Banja monastery) and then stopping to try some of the best oysters in the region.
On the stretch of the road between Risan and Kotor, there are a few great oyster farms, but the one I'd particularly highlight is this one near the Banja monastery. Besides oysters, they also offer mussels, shrimp and fish and you can eat them while enjoying the wonderful views. Do not expect a fancy restaurant. It is rather a small eatery but it's clean and everything is very delicious.
The next stop on this Kotor Bay itinerary is Perast. It is the most romantic of the cities of the Bay of Kotor and also one of the most beautiful places in Montenegro. Sailors and great captains used to live there making it also one of the richest towns of old times.
You'd need 1-2 hours there which should be enough to climb the bell tower of St. Nicholas and hop on a boat to Saint George Island and Our Lady of the Rocks.
The majority of boat tours that are offered in Perast are not really tours. They are rides to the islands with minimum information. So you want to inquire about what's included in the price when booking on spot. Otherwise, there are many organized tours offered directly from Kotor that you can see here.
At the end of a Perast visit, if hungry, pop in one of the local restaurants by the water. They are pricey (tourists oriented) but some of them (like Bocalibre, Perast Lake Promenade, Konoba Skolji for example) are among the best restaurants in Montenegro.
After Perast, the next place that many people will enjoy is a nice small beach with a restaurant called Bajova Kula. If you have only 2 or 3 days in Montenegro, you may want to swim in the Bay of Kotor and relax at this beach, especially since it's on a road trip around the Bay.
The beach is really small, but it has clean water and a beautiful setting. The only thing to remember is that in the high season there are a lot of people and sun loungers need to be booked in advance.
If you still have time after all these activities, devote it to the next stop – Kotor. You'd need at least 4 hours there but that's for a really quick visit. Kotor has so many things to do that you may want to pause there and devote an extra day or return later.
If reaching Kotor in the evening, I'd advise you better skip it and leave for the next day. But instead, go to a small village Prcanj which has cute fish restaurants by the water and offers a view of Kotor and Perast. It is a perfect place where to have dinner before stopping for the night in the same area or in Kotor.
Accommodation for the night
There are a lot of hotels, guesthouses and airbnbs in and around Kotor. For something very unique in Old Kotor, take a look at the Boutique hotel Astoria. It has a very unique interior and decor, clean rooms with large beds, and the best location. The hotel, although looks like built in a cave, has modern furniture and bathrooms.
We personally love the outskirts of Kotor more because they are very quiet and authentic. For example, in Muo village there is this cozy Biskupović apartment by the water or Palazzo Sbutega in Prcanj.
I also love Dobrota on the other side near Kotor. Each year, more and more new modern mini hotels pop up there like this Corso Levante Luxury Suites hotel with rooftop pool. Or this apartment for a lower budget.
Does my content help you plan your trip? If yes, I'll appreciate a cup of coffee from you, so I could produce more free guides and itineraries!
3 Days to 5 Days in Montenegro Itineraries
If you have more than a weekend but 3 to 5 days in Montenegro, I really recommend seeing more of the coast and heading into the mountains. In this way, you'll get acquainted with the different scenery.
Day 3: Fortress Gorazda – Njegusi – Lovcen National Park – Cetinje – Budva
The following day is also packed with activities, so you want to wake up early.
If you haven't seen anything in Kotor yet, then make sure to spend some time there since this city has a lot to surprise with – interesting hikes, an old bazaar, museums, entertaining tours, wine shops, and more. For inspiration and ideas, check my guide on the best things to do in Kotor.
Otherwise, if you were able to explore Kotor on the previous day, start this third day in Montenegro with a trip to the nearby mountains or going on one of the amazing day trips from Kotor.
After leaving the city, the first (quick) stop you can make is the Gorazda fortress. It is the most modern and reliable building of its time (built in 1886), although not well maintained and has partially overgrown with grass. It is not really a place where to hang out for too long but I suggest you make a stop to enjoy the view of Kotor Bay, Tivat, Kotor city, and on a bright sunny day even Herceg Novi.
After that, continue to drive towards Njegusi on a twisty road called Kotor Serpentine. The road will be passing by other vista points like this observation deck and a few restaurants like Horizont where you can stop to have a drink or cheese platter with the Kotor Bay view.
The next place on this itinerary is Njegusi, a village in the mountains near the Lovcen national park, famous for production of Montenegrin prosciutto. Time needed for the village is between 30-60 minutes to taste prosciutto and cheeses that are all made here.
There are many tours to Njegusi that start either in Kotor, Tivat, or Budva. But it is absolutely possible to go on a tour on your own. Just stop by the house where you see a sign saying "prosciutto, cheese, honey" or "tastings" and ask if the owner offers degustations. In most cases he will.
Another option, for those who don't rent a car, is to go on a tour that includes visits to most of the places I mention for this day and two more spots. For example, this great Njegusi – Saint Stefan tour or National Parks & Wine tasting.
After Njegusi, proceed to Lovcen taking this scenic drive and making stops along the way to take photos. In Lovcen, visit Mausoleum and observation deck with more views. You'd need to devote at least 2-3 hours there, which already includes a drive to the park.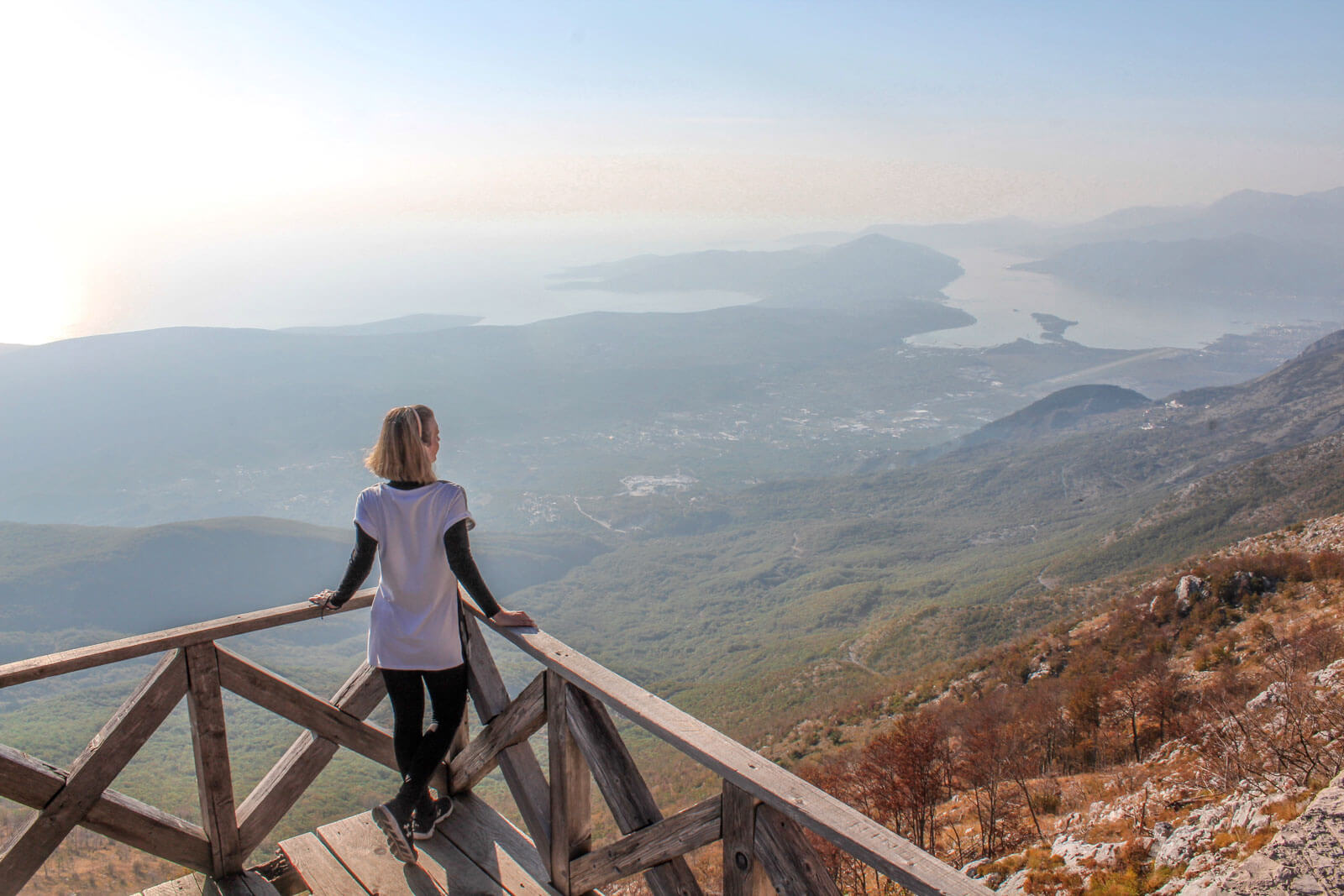 In fact, Lovcen National Park can be another place where to spend a day. It is a favorite spot for locals where to hide from heat during hot summer days, where to go on a hike or change of scenery. I invite you to read my guide to Lovcen to understand if it can be a good destination for you to which you'll want to devote more time to.
If you prefer to travel quickly, then you probably will be exiting the park around lunchtime. So you can have a meal either in the park (in my post about Lovcen I mention a couple of nice places) or in Cetinje which is the next stop on this 3 day in Montenegro itinerary.
Cetinje is considered cultural and historical capital. Tourists usually go there to see Cetinje Monastery, the main square, and buildings of the former embassies.
After Cetinje, on the way to Budva, there are two more places that may be interesting to some people. One of them is Lipa Cave (which will be particularly interesting for families who travel with kids to Montenegro) and Kosmac Fort.
In the early evening get to Budva where spend the rest of the day and spend a night if you wish.
Tours to join to see some places from this Kotor itinerary for people who don't rent a car
Accommodation for the night
A good place where to stay for this and possibly next a few nights would be Budva, Becici, Rafailovici or Przno. The choice of accommodation is huge and suits different budgets.
If on your trip to Montenegro you'd also like to spend a few days by the beach, I recommend you look into Becici or Rafailovici. Both of them have the best sandy beaches in the country, a large selection of villas and apartments, and offer many excursions. And then if you feel like you want to go to a nice restaurant or bar, Budva and Sveti Stefan are near.
Among accommodation options, very popular are apartments and there are fewer hotels. For a mid-range budget, I can suggest the Eukaliptus apartment or Sunset Becici.
For a more upscale stay, check Zeta hotel located right on the beach.
Day 4: Budva – Becici – Przno – Sveti Stefan
For day 4 in Montenegro, I recommend taking it easy and spending time in the vicinity of Budva. And if visiting in the warm season, of course, relaxing by the sea. There is a wide range of activities to do in the area, including many beautiful Budva beaches and walking trails on this part of the Adriatic coast.
If breakfast is not included in your accommodation's nightly rate, then go for a morning walk along the Budva embankment and then have breakfast in a coastal cafe or in Old Town. It will be the best start to a full day of relaxation.
One of our favorite breakfast places in Budva Old Town is Veranda Cafe Bar (photos below). We loved going there on many occasions in the early morning and taking the table near the deep old stone window overlooking the sea. And then walking around the old town, which easily takes you to the medieval past and fills you with the atmosphere of amazing peace and joy.
For a better understanding of history, join a sightseeing tour of Budva's Old Town and crystal clear beaches. Some tours, like this unique ancient Budva shore tour, also include wine tasting, panoramic drive, and a trip to Sveti Stefan.
If you prefer to be on your own, just hop on a bus (or go by rented car) and explore nearby villages on your own. All of the coastal towns are well connected with each other and it is easy to travel between them by public buses that depart from the main Budva bus station.
On the stretch between Budva and Sveti Stefan beautiful places to visit are Kamenovo beach, Przno beach, Queen's beach, Praskvica Monastery, Milocer park, and St. Sava church which is one of the lesser-known sights in Montenegro.
From Budva, you can also visit Tivat, either by boat on a tour, by car, or by bus. There, walk on the boardwalk, go to the botanical garden, visit the Bucha Palace, the city's various parks, beaches, and the famous Porto Montenegro yacht marina.
Accommodation for the night
The same where you stayed on the previous night – around Budva. If you are looking to check-in in the new property, I can also recommend Petrovac, Sveti Stefan, or Przno. They have nice beaches as well and coniferous groves nearby. Przno is an old fishing village by the sea with a very relaxing atmosphere.
It's so nice waking up there and going for a swim before everyone else wakes up and the village's small beach gets full of people.
In Przno, if budget allows, a beautiful romantic Maestral Resort can surprise even the most demanding traveler.
Day 5: Montenegro's Coast Towards the Border With Albania
On this day, I suggest exploring more of Montenegro's Adriatic coast and going beyond Sveti Stefan to Ulcinj. For that, you can also travel by public bus if you don't want to rent a car.
The main points of interest are Petrovac, Bar, and Ulcinj, although between them there are more settlements, side roads and beaches where to stop to take photos, see the view, or take a break to eat in a nice restaurant.
The road on its own is an attraction too. It runs along the Adriatic coast, which you can admire endlessly and where you can find a big number of beaches and hidden coves.
Distance from Budva to Ulcinj is less than 70 km, but it is easy enough to travel on it all day long. It's tempting to check out every beach and go for a swim there or for a walk.
On this day of your itinerary, you'd also need to leave early – around 8:00.
One of my favorite Montenegro cities on this route is Bar. It has Old Bar and New Bar. In the Old Town (entrance 3€), there is a mosque, a 17th-century fortress, a church and a cathedral, and old olive tree (2000 years old). New Bar is the largest port in Montenegro and a popular destination for shopping.
The next stop will be Ulcinj, an old pirate town. If on the way to Ulcinj you'll be stopping to swim on the beaches and go on an excursion in Bar, most likely you'll get to Ulcinj in the late afternoon. An hour's walk there will be enough to feel the city's charm and not get very tired.
If you have time, you can also relax on the largest sandy beach in Montenegro – Velika Plaža (Long Beach). Let yourself soak up the warm sand and swim in the warm sea.
After a short visit, go to the famous island of Ada Bojana. Besides the nudist beach, it is also famous for vibrant fish restaurants on the water where delicious dinner will complement the impressions of this place.
Accommodation for the night
The same where you stayed on the previous night – around Budva or anywhere else on the coast. You'll have enough time to return. And following day's itinerary starts from the same location.
One Week Montenegro Itinerary
All of the 3, 4, and 5 days itineraries I mentioned above could easily be stretched out longer. Or you can swap some of them with the following days and go to the North of Montenegro.
And for that, I recommend one of the itineraries below!
Day 6: Virpazar – Mrtvica Canyon – Moracha Monastery – Biogradske Lake – Tara Canyon
This day on the Montenegro itinerary is an exact copy of one of the trips that we took when lived in Budva. If you follow the same plan then I suggest you stay overnight in Mojkovac, Podbisce, or Dobrilovina. If you skip some activities, then you'll have plenty of time to reach Durmitor National Park, one of the highlights of the Balkans.
This travel plan takes you from the hot Adriatic coast to the north of the country where freezing rivers meet the mountains. Pack some food, plenty of water and snacks. You'll need them today.
You'll also need to leave very early in the morning (earlier than on previous days) to check in to your accommodation during the daylight. Why? Because after Podgorica, the road becomes very scenic, so you don't want to drive there when it's dark. Otherwise, you'll miss some pretty sights.
So, after leaving your accommodation, drive on the Adriatic highway in the direction of Sutomore. Then take road E80 towards Virpazar. Make a stop there for an hour or so to have breakfast and coffee on the outdoor terrace of a local restaurant and go on a quick walk around the village.
Some boat tours depart from Vipazar to Skadar Lake, so you can squeeze the excursion into your itinerary too. And quickly drive to the observation deck to see lake from above.
After Vipazar, the road leads past the famous for this area Niagara Falls and Cijevna Canyon. You can make a quick detour to see both.
The next on the route is Podgorica, but due to the very minimum of attractions there and Soviet imprint, this city is one of the least attractive in Montenegro. It is better to devote time to nature and scenery.
And for that, I highly recommend making a stop by Mirtvica Canyon to go on one of the best hikes in Montenegro. It can be a 3, 4 hours hike if you walk quickly and don't stay for too long by the gate of wishes.
After Mirtvica (which should be sometime around/after 3 pm), a short drive away is Moraca Monastery, a mountain monastery, an inspiring and very peaceful place. Continue on to Tara Canyon through Kolasin and Mojkovac. But make another detour to Biogradska Gora forest with a lake.
Kolasin is a nice town, popular in winter for skiing. In summer and autumn season, it is a destination where to base yourself to go for rafting, mountain biking, rock climbing, and hiking. It is also a good place where to stop where to have a meal.
If you go hiking in the Mrtvica canyon, spend some time in Kolasin, visit Biogradska Gora, and all those other sites along the road mentioned above, you'll be around Tara canyon in the evening. So it is much better to stop overnight in that area.
In any other case, you can make it to Durmitor in the evening and spend the next entire day there.
Tours to join for this day of Montenegro travel itinerary if you don't rent a car
Accommodation for the night
And for accommodation, I can recommend Etno Village Stitarica near Mojkovac or Koliba Coric (where we stayed). Another option is Tara Riverside by Tara river or hotel Ravnjak with on-site restaurant. The last one offers guided hiking and rafting on the river.
Otherwise, if you prefer, the next stop where to stay is Durmitor.
Day 7: Tara Bridge – Zabljak – Black Lake – Sedlo Pass – Piva Lake
Okay, on this day continue your journey through the northeast and explore one of the most beautiful places in Montenegro – Durmitor National Park. But before you get there, drive on the scenic road P4 that goes along Tara canyon.
Make a stop near the Tara Bridge (the arched bridge across the Tara River is almost the most famous landmark) where it is possible to go rafting, ziplining or join one of the hiking tours. We spent 1 hour in the area just walking across the bridge, taking photos, and sipping coffee with a view of the canyon in Caffe Tara.
After Tara bridge, another stretch of a scenic road brings you to Zabljak, the center of mountain tourism in Montenegro. This town has all the infrastructure (housing, cafes) which is also a perfect spot where to spend a few nights.
If you love hiking or camping, why not come here for a longer period of time? Tourists visit this park to view the Black Lake and 17 other glacial lakes, and the highest peaks of Montenegro such as Bobotov Kuk (2522m) with Savin Kuk (if you climb to the top in clear weather, you can even see the whole country from a height of 2000 m). There is also a cable car that goes to the top of the mountain.
If you want to check off a bunch of hiking bucket list experiences, take a look at this Durmitor National Park hiking guide and extend your week in Montenegro. By staying overnight, you also get a perfect opportunity to see Black Lake in the early morning and enjoy its tranquility. At this time, there are still no tourists and you can take a walk along the lake's banks and ride a boat on its waters.
After that, follow the most scenic drive Sedlo Pass which connects Zabljak and Piva Lake, going through the heart of Durmitor.
All of the activities and places mentioned for this day can be easily visited in one day. It takes between 2 and 3 hours to drive back to Podgorica, Budva, Tivat or Herceg Novi, so you can return late at night to the city from where you need to leave Montenegro.
However, people who love the mountains and dramatic views will appreciate staying in this part of the country longer.
---
This one day to one week itinerary for Montenegro is perfect for people who come to the country for the first time or those who visited before on a very short trip. But you can use these ideas to plan your own vacation.
Do you use Pinterest? Please, help me share my post!