Munich to Oberammergau Road Trip – How to Turn It into Adventure
Last updated on July 29th, 2023
Our very first road trip in Bavaria, which was a day trip from Munich to Oberammergau, left such an impression that it even got its own post. We planned it spontaneously without doing much research beforehand and went in a slow mode making stops in places that my German family recommended visiting.
Originally we thought to go by train thinking it would be a scenic ride but then remembered how much beauty on this stretch of the road is mainly accessible by car, so we quickly decided to drive instead. And it was a great decision to make.
Munich to Oberammergau day trip is definitely one of the best quick trips in Bavaria that is wonderful for people who look to visit German palaces and castles and combine their visit with a bit of hiking together with nature walks and beautiful Bavarian towns.
If you have a driver's license and are willing to rent a car, this self-guided short road trip to Bavarian Alps will be a nice introduction to the region. Traveling by train from Munich to Oberammergau may be more common but going by car provides wider options to see more places and travel at your own pace.
---
Please note: This post contains affiliate links. I may earn a commission if you make a purchase by clicking a link (at no extra cost to you).
---
Planning a Munich to Oberammergau Day Trip by Car
The distance between Munich and Oberammergau is less than 100 km. It can be easily done in one day if you plan to return to Munich in the evening. However, I recommend you hit the road early since the number of activities is high even though it doesn't seem like that at first sight.
The best company where to rent a car is this company. This aggregator just works best for Germany as they have the lowest prices compared to others but very good deals. We rent a car only through them and are always happy.
You can also combine a day trip from Munich to Oberammergau with other road trips in Bavaria. In that case, you'll have one big road trip through southern Germany which you can plan for as little as a week and as much as a month or longer. With my other road trip from Munich to Mittenwald, you can also do a circular drive and see some hidden gems and popular tourist sights in the Bavarian Alps.
With a few towns and gas stations along the way, there are plenty of places where to get food and gas. However, if you travel on a budget and/or plan to go hiking, pack some food and snacks with you. Otherwise, stop by Lidl or Rewe grocery store to get hot food or packed cold dishes.
When traveling in summer, don't forget sunscreen and hat. If thinking to visit this part of Germany in the fall, plan it from the second week of September to mid-October as this is the best time for fall leaf peeping, depending on the year though.
Highlights of Munich to Oberammergau Road Trip
Munich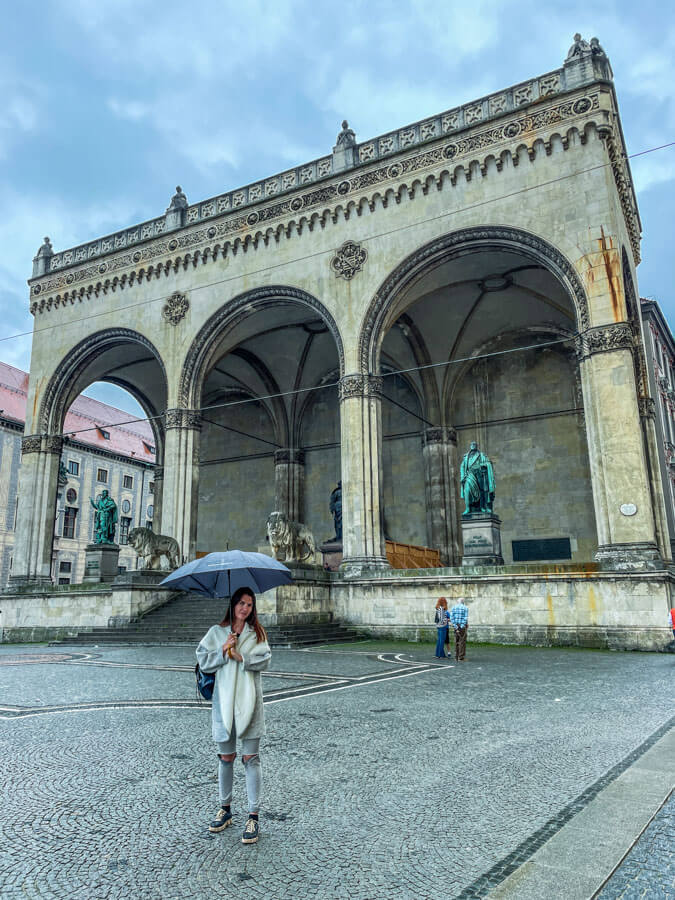 Every road trip in Bavaria should start in Bavaria's capital – Munich. It is a glorious city, not inferior in popularity to Berlin or Cologne which has not only a huge number of architectural monuments but also historical sights, ornate city squares, quirky beer gardens, old German restaurants, and variety of shops.
For many, Munich is associated only with Oktoberfest, but the city has much more to offer – architectural works of art, entertainment, shopping and magnificent nature that heals. With a high number of parks and green spaces, it doesn't even feel like a metropolis. Many of the main attractions are located in the city center and are easily accessible on foot or by bike.
The number of activities in Munich is high, so it may be confusing to build an itinerary and decide on places of interest.
If you are traveling here for the first time, don't miss a self-guided walking tour of the old town around Marienplatz, Nymphenburg Palace, English Garden, Hofbräuhaus brewery, Munich Residency, Viktualien market, and New Town Hall.
For short visits, joining a tour of Munich's old town highlights will give a good presentation of what the city is like as well as help you discover its past and present.
Farchant
The first stop on Munich to Oberammergau drive is a small cute village Farchant with a view on all sides. It is facing the Karwendel Mountains including the Zugspitze, Germany's highest peak, so those views are magnificent.
The reason I recommend stopping here is to enjoy the silence of nature, have breakfast (prepare it in advance and pack it with you) in the meadow on the blanket, and possibly go on a quick mini hike to Kuhflucht waterfall.
This waterfall is 270 meters high consisting of 3 smaller waterfalls and surrounded by walking trails. It takes between 40 and 60 minutes (depending on your pace) to walk from Farchant to it via the adventure trail through the forest.
If you don't feel like hiking, there is also a scenic trail by the river where it's nice to walk and contemplate the beauty of the mountains and neat houses. Park your car in the village (just make sure that's not a private spot) and enjoy the stroll!
We stopped here on a few occasions for an hour or so when going to Garmisch and on this road trip from Munich to Oberammergau. The first time it was very pleasant to go on a hike and second time just sit by the river in the western part of Farchant.
Ettal Abbey
From Farchant, go back to the main road towards Oberammergau and drive through the forest to Ettal village in the mountainous part of Bavaria. This small village is famous for Ettal Abbey, a Benedictine monastery that is considered one of the largest baroque monuments in southern Germany.
The abbey was founded in 1330 by the emperor of the Holy Roman Empire by Louis IV of Bavaria. He solemnly promised to build an unusual monastery that no one has ever seen before.
Initially, a Gothic temple was erected but starting from the 18th century, after the fire the gothic elements of the building began to be gradually replaced by the baroque ones. So the temple gained a new look and took on a baroque appearance which we can see today. And here is what you see inside:
Nowadays, Ettal Abbey is one of the most popular architectural landmarks of Germany that attracts pilgrimages every year as well as it is a center of culture and education. It has a prestigious gymnasium and its monastery is home to 55 monks who still live, pray and work here.
The monastery has a distillery (liquor production), brewery and cheese farm, printing house, and hotel with restaurant. At the cheese farm, you can see the process of cheese production and buy regional cheese (like beer cheese with onions, cumin cheese, spicy cheese with wild garlic, or others).
We, in particular, loved taking a break in the monastery's ancient 'cafe 133o' with a large assortment of sweets, baked goodies, paninis, local beer, and coffee drinks. I ordered a local made in monastery radler which was one of the most delicious radlers I tried in Germany.
Useful Information Before a Visit to Ettal Abbey
Brewery and liquor distillery offer tours that include beer tasting for adults and soft beverages for children and teenagers. A liquor distillery conducts tours on Mondays and Thursdays at 16:00 and brewery on Fridays and Tuesdays at 10:00.
Tickets for tours of both the distillery and brewery are available at the monastery shop next to the basilica. Check limitations and ticket prices on this page, using translation.
And in the end, you can purchase a healing liqueur 'Klosterliqueurs' which is made according to a medieval recipe and consists of forty alpine herbs. Or taste craft monastery beer in its hotel restaurant.
Am Plansee
The next stop we absolutely loved visiting after Ettal Abbey was Plansee, the second largest lake in Austria's Tyrol region. It was perfect to come here to put our feet in the water and go on an easy walk to Heiterwanger See which, by the way, is connected to Plansee by a narrow canal.
On a hot summer day, Plansee invites visitors to a wide variety of activities on the water. But apart from them, there are also other experiences available in the vicinity like hiking, cycling, and even cheese tastings.
If you split this one day road trip from Munich into two days and decide that you want to spend one long day in Plansee, there will be definitely a lot of things to do. Particularly if visiting from late spring to early fall.
For example, you can take a circular hiking trail of medium difficulty, suitable for families, to the idyllic Stuiben Falls. Or go on a boat ride (departs from the area of hotel Forelle and Seespitze) around Plansee and Heiterwanger lakes. In summer, boats run regularly on a daily basis.
Then, of course, you can just spend one whole day relaxing in the sun and swimming in the lake's crystal clear waters. Plansee is among the cleanest lakes in Austria with a refreshing water temperature that ranges between 17 to 21°C in summer.
And one place that I bookmarked for our returning visit is Musteralpe cheese farm and restaurant. They are open on Wednesday and Thursday from 10:00 to 20:00, on Friday and Saturday from 10:00 to 22:00, and on Sunday from 10:00 to 18:00.
It is a wonderful place to visit for the entire family because there are farm excursions available where visitors can learn interesting insights into the craft of cheese making, taste fresh produce, and in the end eat traditional delicacies of Tyrolean cuisine in their onsite restaurant.
Linderhof Palace
Linderhof Palace in Ettal is one of the most artistic and stylish palace complexes of the 19th century. Of all three palaces built by King Ludwig II of Bavaria, Linderhof was the only one built during his lifetime where he actually got to spend a lot of his time.
This masterpiece, influenced by French architecture and modeled after small summer palaces is definitely worth a day trip from Munich. As a rule, many tourists go to Oberammergau particularly for this palace. They get to Oberammergau by train from where it is easy to catch a bus near the railway station straight to Linderhof.
With a car, reaching this area takes much less time which allows to include other sights in the itinerary.
Linderhof Palace is located in the middle of a picturesque park with an equally beautiful pond and fountain. So, in addition to visiting the palace, plan an hour or two for a walk around the royal grounds with flower beds and numerous pavilions hidden in the depths of the park.
The architecture here is made in the Baroque style while the interior is simply striking in its richness and luxury. Halls and rooms are literally made of gilding and are decorated with elegant porcelain, expensive tapestries, mirrors, and statues. Colorful images and paintings are everywhere on the walls and ceilings.
Useful Information Before a Visit to Linderhof
We visited Linderhof Palace in the evening on Sunday after 6 pm before making our last stop in Oberammergau. And it turned out to be the best choice. The entire area was completely empty which made us feel like we were guests of one royal family.
Yes, the palace was closed and we couldn't get inside but it was rather an advantage. There were no people (besides just another couple), so we could take photos without crowds and enjoy the serenity without interruption.
If you don't care for the interiors of the palace, come to Linderhof in the evening as well. With the sunlight at this time of the day and empty grounds, it takes on a very special vibe perfect for photography and quiet walks.
Palace is open from 9 am to 6 pm every day from April to October and from 10 am to 4 pm from the end of November to March. During this time you can get an excursion throughout ten halls that are open for tourists. Although the most interesting halls are Mirror Hall, Royal Bedroom and Musical Salon.
In winter, the palace takes on an especially charming appearance and becomes a truly romantic destination to visit in Bavaria.
For more information and helpful tips about the Linderhof palace, check their source.
Tours to consider to Linderhof Palace if you don't plan to have a car
Oberammergau
On this day trip from Munich, we decided to make a stop in Oberammergau at the end of the day. While it is a beautiful and unusual village protected by UNESCO where you can technically spend many hours just wandering around, we wanted instead to explore the nearby alpine meadows filled with history and natural beauty. This is why we came here in the evening and spent overall two hours.
You may want to come for longer or possibly stay overnight here to have the next morning in the village. Mainly considering the fact that shops and other businesses close early. So evenings here are pretty much quiet.
Oberammergau is a small village that attracts people to come to admire painted houses, decorated with frescoes based on German legends and fairy tales, traditional ornaments and simply beautiful intricate patterns. The impression is as if you are in a fairy tale. Well, just because it looks like an open-air art gallery!
But besides pretty houses and shops of carved wood, it is a nice village in the Bavarian Alps where to base yourself, indulge in local cuisine and enjoy a few activities.
Things to do in Oberammergau
Among the places to visit and things to do in Oberammergau are the next:
Pilatushouse – a house that strikes with the beauty of the facade and where the painted columns resemble a 3D effect. Inside there is a gallery with amazing art objects.
Oberammergau Museum and store – offers exhibits of images on various topics which are created by woodcarving. Most of the masterpieces are on religious themes, but there are also funny variations of fairy tales.
Oberammergau church – at first sight low and plain in appearance but it is pretty impressive if you get closer, especially in the sun. The building is visible from anywhere in the village, has luxurious interior decoration and abundance of light.
Laber – this is a great area for snowboarding and skiing for a winter visit. And where to hike from spring to fall for beautiful views of the area. There is a cable car to take if that's what you prefer more.
Kofel – another mountain located next to the village which is 1342 meters in height. From Oberammergau, you can follow a hiking trail here to admire the picturesque beauty of the surrounding area.
Wellenberg – warm pool with slides and mountain views where you can bring your own food. Good for a longer visit in warmer months of the year.
Where to Stay on the Way From Munich to Oberammergau
If you don't plan to return to Munich but instead think to combine this road trip with other road trips in Bavaria, then take a look at the following accommodation options.
Besides Oberammergau which is full of hotels, there is a small village Graswang nearby where this guesthouse is located. It's on the way between Linderhof and Ettal at the foot of the mountains in a beautiful natural environment next to alpine meadows.
Another option is to return to Ferchant which has a very quiet location next to the forest and Loisach river. For a stay in a rustic Bavarian country house, hotel Föhrenhof Garni meets all the needs. There is also a large filling breakfast on offer with a big selection of food items.
And the last option, if you love unique places, there is a chance to stay next to the Ettal monastery in its own hotel – Klosterhotel Ettal. Being surrounded on all sides by original nature and having all comforts for a nice stay, it offers ideal conditions for an unforgettable experience.
Our Favorite Restaurants on This Bavaria Road Trip
Da Nico – Italian restaurant with very tasty Italian cuisine and the most beautiful view of the mountains with Zugspitze in the background.
Mundart – restaurant of German cuisine in Oberammergau. You'll get here huge portions of Bavarian dishes with an artsy touch.
1330 Cafe on the grounds of Ettal Monastery. In this cozy establishment, you can enjoy incredibly delicious cakes with coffee or beer right from the monastery. Nonalcohol beer is available for drivers.
Grobl Alm restaurant – traditional Bavarian food restaurant in a quiet village with a nice view of the Alps.
Munich Travel Essentials
Here is a quick list of helpful websites that you can use to plan your trip to Munich:
More Road Trip Ideas for Europe Travel