25 Photos to Inspire You to Visit Bergama, Turkey & Ancient Pergamon
Last updated on August 30th, 2023
Among all the towns and cities I've visited throughout the years of travels, some imprinted on my memory more distinctly than others. Bergama in Turkey is just one of them.
I am not sure what exactly impressed me so much – either endless opportunities to take an excursion into the past or just the fact that I was visiting such a city for the first time. In any case, Bergama promised to help me step back in time and immerse myself in history.
This captivating ancient city in Turkey, which is inscribed on the UNESCO World Heritage List, promised to surprise and intrigue at the same time.
I don't think I would ever find out about Bergama if it wasn't because of the coincidence. Last year when planning a road trip from Istanbul to Izmir, Mark and I didn't want to take a highway. Instead, we wanted to drive a longer route and go along the coast while visiting small towns.
We also wanted to turn this road trip into an adventure and stay overnight somewhere in a unique place. And Bergama was just one of them. So we basically just found it on a map and decided to make a stop there. And to our surprise, it was the right thing to do because later we learned how much history was hidden behind the city's walls.
Bergama is located 107 km north of Izmir and 26 km from the coast of the Aegean Sea. It's easy to get there, especially if you are visiting the Izmir region and Turkey's Aegean coast.
We originally planned to spend a day in Bergama but then turned it into 2 days. If we had not booked Airbnb in Izmir for the following day, we could have stayed even longer. Yet, 2 days was enough to understand what was making Bergama so special.
---
Please note: This post contains affiliate links. I may earn a commission if you make a purchase by clicking a link (at no extra cost to you).
---
Why Should You Visit Bergama, Turkey?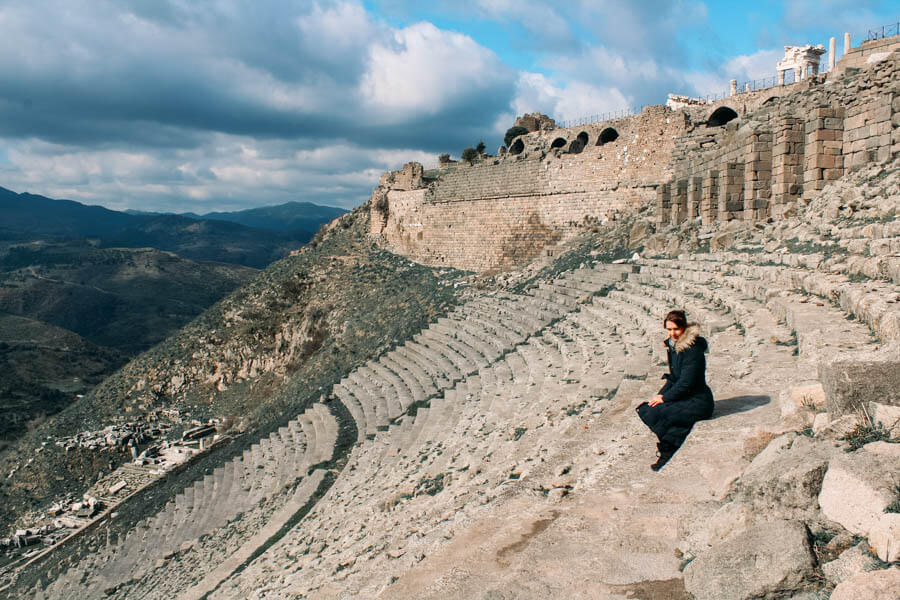 Interestingly, Bergama is a very famous city in Turkey. Many people all over the world know a lot about it and dream to visit. Yet, many others have no idea what and where it is. Some people get confused since they hear "Bergama" but automatically think of Bergamo in Italy. But these two are different cities. Turkish Bergama is really special. It should be on everyone's list of places to visit along the Aegean coast of Turkey.
If we take purely official information, then you should visit Bergama for the sake of antique relics and the second-largest library in the ancient world. In fact, there were so many relics that part of them was taken to a separate museum in Berlin and an exhibition in the British Museum in London.
Bergama or ancient Pergamon, or Pergamum was also home to one of the Seven Wonders of the World – the great altar of Zeus.
Bible mentions it as one of the seven churches of the Apocalypse. And in the famous Pergamon Temple of Asclepius, doctors treated their high-ranking patients using physiotherapy and hypnosis. Oh, and some enterprising residents of Bergama in ancient times, after the ban on the export of papyrus from Egypt, invented parchment.
Without all these fascinating details and historic places, Bergama is still a small lovely city that deserves attention. Narrow cobbled streets with colorful houses turn into steep staircases and lead to the top of the hill overlooking the valley.
The main square and central streets are surrounded by authentic Turkish restaurants, ancient facades and cars, noisy markets, and a friendly atmosphere It's just so nice to walk along the central streets or old residential quarters and take pictures of local residents and their life in this provincial Turkish town.
Pergamum was considered a fabulously rich city. This is not only due to the establishment of competent trade relations but because the city was famous for its incredibly fertile land. To this day people here grow grains, olives, and grapes. They make fragrant oils, incense, and linen for sale. Typical colorful facades welcome you at every turn.
Bergama is an important, unique, and truly beautiful city. And it is not surprising that both old and young people, archeology lovers, and Sigmund Freud fans dream of visiting this place. As you can see, you too shouldn't miss this wonder of the world.
How to Get to Bergama From Istanbul or Izmir
You have several options on how to visit this city – from the adventurous and more romantic way on a budget to a more practical and the most convenient way.
The first option is to take a ferry IDO from Istanbul (from one of many districts) to the coastal city Bandirma. There take the train to Izmir but get off in the village of Soma from where you can reach Bergama in 40 minutes by dolmush shared taxi.
This option is not for everyone. But if you love adventure and have more time on your hands, this route is a way to go.
The second option is to take a direct bus from Istanbul, Bursa or Izmir. The only problem is the location of the bus station. In Turkish cities, bus stations are usually located on the outskirts. And in such destinations as Bergama, it may be somewhat difficult to get to the center. You may end up waiting for a dolmush shared taxi for a long time. Although taking a taxi is not a problem.
Your third option (less convenient but perhaps it will work better) is to fly to Izmir, take a suburban train Izban (more like a subway) and go to the last stop Aliaga. In Aliaga, take bus #835 that will bring you to Bergama's city center. This route takes 2.5 hours to get from Izmir to Bergama. Train and bus work in conjunction, so you can be sure you'll make it on time.
And the last option, favorite for many as it is also the most convenient way, is to go to Bergama by your own vehicle.
The first time we visited ancient Pergamon in Turkey was by car. I have earlier covered the topic of car hire and driving in Turkey, so if you need tips check it out. But shortly, I suggest you compare prices between DiscoverCars and LocalRent to find the best deal, these are the top companies for car hire in Turkey.
But what I can add here is that going by car was really a wonderful experience. Driving was enjoyable, the roads were in excellent condition and there was so much to see on the way.
Where to Stay in Bergama – Best Bergama Hotels
Due to the fact that most tourists prefer to stay in Bergama only when passing through, there are few large hotels here. The largest and most expensive hotels, as well as two of its campsites, are located south of the city but they don't have very good reviews. The best way is to stay in one of the local guesthouses located in the old town. Modern city and its old part are separated from each other by several bridges-aqueducts and it's easy to walk between them.
We stayed in the old part at the foot of the ancient Pergamon in a boutique B&B Elaia Hotel. Our budget was no more than €50 per night (but we hoped to find something cheaper) and rooms in Elaia cost even less.
Overall, we were interested only in a few hotels such as Akropolis Guest House (in a modern part of Bergama with a swimming pool, garden and fireplace room with live music), Hera Butik Hotel (all rooms have an extremely unusual interior), and Elaia Hotel. But eventually, we chose Elaia which was the right decision to make.
The location of this hotel is simply beautiful. In the early morning and late evening, we were on our own with a gorgeous view of the city, with centuries-old cobblestones under our feet and beautiful authentic buildings around.
Our room with two large windows in a historical old stone house and quality wood furniture with cute antiques from the flea market was perfect to relax after a busy day of sightseeing. You can see the photos below to understand what it was like.
And then the owner Vedat made our stay even more special. The breakfast he made for us, his care and desire to make us happy turned all those moments into unforgettable memories. This is our room and one of the streets in the neighborhood where the guesthouse is located.
And here is an inner courtyard. On a warm day, it's a perfect place to sit outside and relax.
If you are looking for more options on where to stay in Bergama, here are more options:
Athena Pension – mid-range hotel with high ratings on all aggregators. It is located just 1.4 km from the city center and offers excellent breakfasts. This hotel also has a very beautiful courtyard, everything looks extremely atmospheric and cozy.
Odyssey Guesthouse – a budget hotel with quality service, the necessary level of comfort, delicious breakfasts, and reasonable prices.
Things to Do in Bergama, Turkey – Quick Overview
Bergama, although small, is full of sights. Even a cursory examination of the old city and those incredible aqueduct bridges that connect it with the new city is an entertaining activity itself. But of course, bridges are not the main attractions, so I am not going to concentrate much attention on them. Here is a list of must-visit and must-do things in Bergama:
Pergamon – Antique Acropolis on Turkish Soil
Bergama Acropolis, called Pergamon, is the very, very place of the ancient Greek city of Pergamum, the capital of the Pergamon kingdom. It is located at the very top of a fairly high hill – 270 meters above sea level.
The territory of the Acropolis in ancient times included temples and theater, palaces and sanctuaries, a library, and sleeping quarters. And the main, ordinary, residential part of the city of Pergamon seethed below in the valley, right where the small but very bright nowadays city of Bergama is.
Let's just say that the Acropolis of Pergamon is comparable to the Acropolis of well-known Athens. However, Pergamon has the steepest amphitheater in the world and sees much fewer tourists. Also, if in Athens you need to walk 15 minutes uphill to reach the Acropolis, then in Bergama you can take a cable car which is pretty convenient. If you have your own car, you can also drive up to the top and park a car near the entrance.
If you haven't seen yet a single large ancient city, Pergamon Acropolis will definitely leave an indelible impression. Especially with the scenery around it, this place looks amazing.
Here is more information about the ticket price and schedule.
Ancient Pergamon Asklepion in the Old City
3 km south of the Acropolis, there is another object to visit – Asklepion. The fastest way to get to it from the city center is either by taxi or by car.
But for those who have more time, I recommend walking on foot. It takes between 20-40 minutes to walk (depending on where in the city you stay) but it gives an incredible opportunity to see more of Bergama. The pedestrian one-and-a-half kilometer road starts at the main post office near the Kursunlu Mosque.
So what is Asklepiom and why should you visit?
Asklepion used to be a hospital where Roman doctors treated the emperor and his subjects with the help of mud baths, herbs, and psychotherapy. According to historians, Galen – the famous doctor of the Roman Empire and personal therapist of Emperor Marcus Aurelius – worked here all the time.
The main part of this place is the ruins of a temple, a theater, and several sacred wells. Since the territory looks more like one big ruin, it will be more helpful to organize a guided tour in advance as audio guides are not available here.
The walk with a guide will be much more interesting. Otherwise, it is worth reading the information about Asklepion in advance in order to understand how the buildings and structures were used. It is worth devoting about 2 hours to Asklepion.
Visit Asklepion and Ancient Pergamon on a tour from Izmir or Kusadasi
Red Basilica
Another wonder of the world or at least a wonder of Turkey is the Red Basilica or Red Hall, or Kizil Avlu in Turkish. It is one of the grandest buildings of the Roman Empire that have survived to this day. The Basilica represents the ruins of an ancient Christian church and has an unusually rich history.
Originally, in the 2nd AD when Egyptian religion was in Rome Empire, it was built as a temple of the Egyptian God Serapis. Later it was turned into the basilica that John the Theologian mentions in Revelations as "one of the seven churches of Asia Minor, the home of the devil's throne". And during the Ottoman Empire, one of its domes was rebuilt into a minaret, so it became a mosque. At some point, it was also a Jewish Synagogue.
The project of the temple complex was a grandiose achievement of the architecture of those times. Nowadays, the basilica looks more like one big ruin with just another restoration work underway. Although knowing which role it played throughout the years arouses great interest and desire to see it with your own eyes.
What Else to Do & See in Bergama?
If you have time after visiting these three largest impressive sights, there are a few more interesting places to go:
Archeological Museum. The exposition of the museum contains exhibits with sculptures from the excavations of Pergamon's Acropolis and Asklepion, fragments from the Temple of Zeus, and a Roman spa town 20 km east of Bergama.
Turkish baths which, by the way, are almost 3 times cheaper than in Istanbul. They date back to the 16th century.
If you have a car, drive 25 km to the coast to the beaches of the town of Dikili.
Where to Eat & Drink in Bergama
Red Basilica Cafe – the restaurant overlooks the Red Basilica. The food is delicious, the service is excellent, and the ratings are high. The staff speaks English and can tell you some stories about the city. Prices are more expensive because of the location near the basilica. Yet, the price-quality ratio is good.
Arzu Pide & Corba – good salads, corba (soups), and delicious pide with regular tomato gravy. Cheese pide comes with small pieces of lamb.
Meydan Lokantasi – a popular local eatery with a wide variety of dishes, including fish. You can also have here a glass of wine or beer.
Pala Kebab – one of the oldest establishments in the city that sells good Izmir style kofte for €3. On the second floor, there are narrow tables with bells that you have to ring to call the waiter.
Bahçe Cafe & Bar – here you can have a delicious meal at a reasonable price. The main advantage of this place is very cozy outdoor tables where it's pleasant to sit and eat or just drink beer.
More Photos to Inspire You to Visit Bergama, Turkey
Bergama is a wonderful city on the way from Istanbul to the Aegean coast. You can also visit it on a trip from Izmir, Ayvalik or Kusadasi, spending a couple of days here. There are so many interesting things to do and see that you can easily spend more time. We came for two days but to be honest, we were in a rush and in the end, still didn't get to experience everything. So we will need to return.
If you are looking for low prices and a slow pace then you can safely stay in Bergama for a week. It's definitely a good amount of time to enjoy ancient architecture and go on a trip to the sea to neighboring Dikili. It's difficult to describe in words what a unique and special destination it is. This is why I am sharing a mini collection of my photos
---
This is it on Bergama ancient city for now. Do not miss this town when planning your Aegean coast of Turkey itinerary! Or perhaps you have already visited it. Can you relate to my impressions? If you are planning a trip to Turkey now, is Bergama on your list? Let me know in the comments below!
If you will be in Bergama, also don't miss a bit of the village life in nearby Kucukkoy village!
And for more inspiration, check some other posts for travel in southwest Turkey: