My 21 Favorite Places to Visit in Bodrum (Peninsula) That You'll Love Too
Last updated on September 23rd, 2023
Recently, we have spent almost two months in Bodrum. I thought it was enough time not only for lazy days on the beach after a long working day but also for driving around and exploring the peninsula. However, it turned out that two months was not enough for us. Because we were working a lot and because there were just too many cool places to visit in Bodrum.
While this trip is still fresh in my memory, I would love to share a list of Bodrum activities and places that we personally loved. Depending on your interests and preferences, you will also find some of these spots interesting and unique.
Whenever you are visiting Bodrum, try to hire a car, get out of the city, and discover the peninsula. There is a lot to see outside the city, especially during Bodrum's spring and fall seasons!
---
Please note: This post contains affiliate links. I may earn a commission if you make a purchase by clicking a link (at no extra cost to you).
---
Interesting & Unique Places to Visit in Bodrum
1. Ancient St. Peter Castle – Bodrum Wonder of the World
I want to start my list with one of the most historic Bodrum tourist attractions that is of big interest to many. This castle (to me looks more like a fortress) is the most important symbol of Bodrum. It was built by the Knights Hospitallers of Rhodes in the 15th century and dedicated to St. Peter. It is more like a huge complex with several exhibitions where you can visit the Museum of Underwater Archeology, check the gallery of glass and amphorae, and see the remains of a 14th-century ship.
Within the walls of the castle, there is a luscious garden with pomegranates, mulberries, aloe and quince, and beautiful peacocks that imposingly walk in shade.
Another reason why many people visit is the view of Bodrum from above. If you climb the Commander Tower, on top of it you get an incredible panorama of the picturesque hills, marina, and the sea.
It is better to go to such an ancient and historical place with an experienced guide. He/she will be able to tell you the history of this place and understand its historical value. If budget allows, you can request a guided tour.
2. Bodrum Museum of Underwater Archaeology
Among all Bodrum attractions, it is worth highlighting the Museum of Underwater Archeology which is part of St. Peter's castle. To visit it, you pay for the entrance to the castle and visit it on your own as part of a general tour.
Here you will find not just a dusty collection of lifeless relics but unique, artful, and breathtaking artifacts. The museum displays exhibits dating back to the Bronze Age, Archaic, Late Antique, and Hellenistic periods. Among the most interesting ones are household items and decorations of the Bronze Age, amphoras raised from the bottom of the Aegean Sea, parts of sunken ships, Princess Ada's impressive jewelry, glassware of the XII century, fossilized seashells, and more.
For the fullest museum visit, you probably need about an hour or so. Don't forget sunscreen, hat, sunglasses, camera, comfortable shoes, and water – there are no grocery stores near the museum (castle).
3. Bodrum Old Town
One of the most interesting districts of Bodrum lies right behind the St. Paul castle. Its narrow streets are lined with vines and stone houses hidden behind them like a postcard.
The main part of the city has been modernized, therefore, it is one of the few areas where you can still feel the atmosphere of the fishing village, which it once was before the advent of tourism here. It is an incredibly inviting place for an afternoon stroll and a photographer's paradise. There are many cute boutiques and cafes to relax after the walk.
There is also a lovely market with lots of handmade jewelry, clothes, accessories, Turkish souvenirs, and famous Bodrum sandals and leather bags. Prices at the market are higher than average but you can find some really unique items. Every time I went there, I couldn't pass by without purchasing at least something. And if you can buy only one item, choose leather shoes, Bodrum is famous for them!
For some quirky hidden restaurants in the old town, turn onto Sanat Okulu street.
4. Zeki Muren Arts Museum
If you are looking for some unique things to see in Bodrum city, I suggest you check out the local Zeki Muren Museum of Art. It was built after a famous Turkish singer Zeki Muren who was also a composer and actor. And the museum is actually located in a singer's house. People know him for his contributions to music in the same way as Elvis.
The exposition of the museum consists of many of his personal belongings, souvenirs about his outstanding career, other things and information that directly explains how Muren became an icon of modern Turkish music. This museum is definitely not everyone's cup of tea but many people will appreciate a visit here. Especially considering that you need only an hour, a maximum of two to learn about everything.
5. Famous Bodrum Windmills
Among other Bodrum must see places are the old white-stone windmills. They are located in a picturesque place between Bodrum and Gumbet where they have been standing for more than three hundred years. And although windmills on their own are in a dilapidated state and do not sparkle any interest, the breathtaking panorama opening from the mountains makes this area a must-see.
On the one hand, from here you can admire the beautiful views of Bodrum and the castle of St. Peter. On the other side, you see the Gumbet bay.
You can get to the mills both independently by dolmus or a private transfer, or as part of an excursion tour. We made a quick stop by car.
There is a cafe on the territory where you should try a rather unique drink – freshly squeezed pomegranate juice without seeds. It is worth devoting about 1 hour for sightseeing and taking photos.
Here is the address of the cafe next to the Bodrum windmills.
Tours in Bodrum not to miss: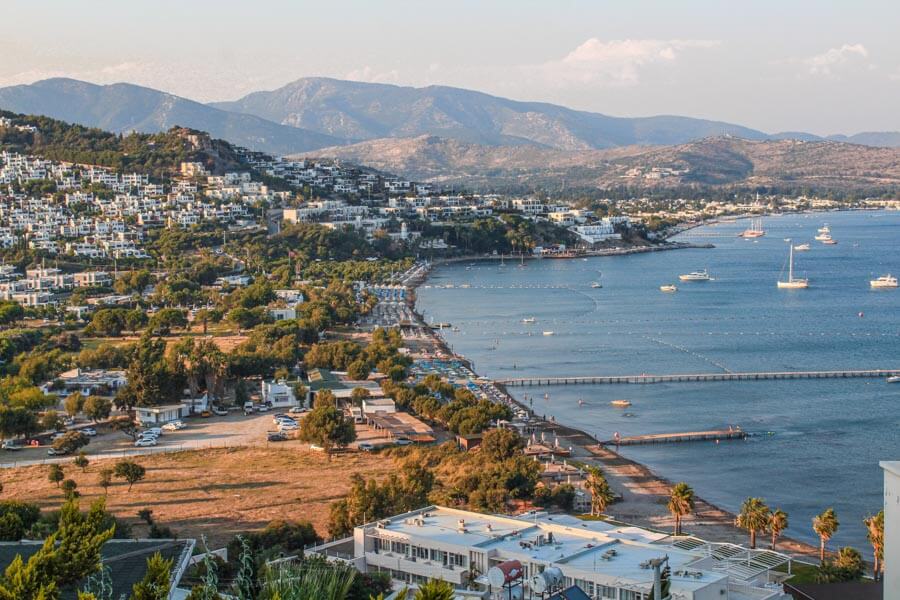 Best Cafes, Restaurants & Bars in Bodrum
6. Cafe Del Mar
The first cafe on my list is a Cafe Del Mar in Bodrum old town which is a bit hidden away from the eye and located on the beach line. To the right and left of this place you will find many other restaurants and bars. But I wanted to say a few words about Cafe Del Mar where we stopped for a quick meal which actually lasted almost 3 hours. And this cafe was fantastic.
So I am highlighting it for the food, good (as for the city center) prices, lovely services, and dining experience almost in the sea. We ordered something simple as chicken kebabs but there was so much food on our plates that we had to pack it for later.
My favorite part was eating by the water while enjoying the view of the castle and the Aegean Sea. Someone else next to us came just for drinks and a quick swim.
With quiet relaxing music in the background and a pleasant breeze from the sea, it's easy enough to lose track of time. We came for an early dinner but stayed until sunset. Even though we spent too much time in only one cafe, it was well worth it!
You can find this restaurant here.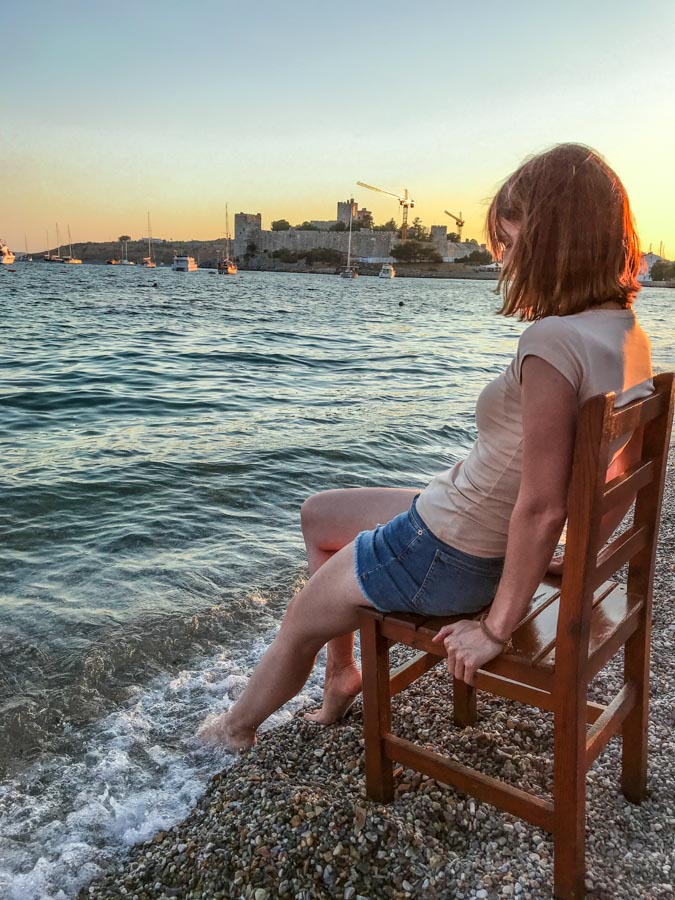 7. Curly's Demeter Restaurant & Pool Club
Not far from Ataturk Street, just a 5-minute walk away, you can find this nice and cozy restaurant with international cuisine. It has its own garden where you can enjoy delicious food in the shade of fragrant tangerine trees. And my favorite part is a small lovely pool where everyone who eats at the restaurant can swim during the day.
There are always a lot of locals here because the menu still focuses on the national cuisine. Popular dishes are lamb and beef steaks, Ottoman-style barbecue, kebabs, and smoked fish dishes. There are also various pizzas on the menu, fresh juices, all kinds of cocktails, beer, and wines. The portions are generous.
From early morning until noon, guests can order a traditional English breakfast with Turkish coffee.
I personally loved it for the idea of being able to swim in the pool. You come here to eat (and the food is great) but can swim and sunbathe as well.
The restaurant address is here.
8. Zazu
Would you like to taste the most delicious fish and seafood in Bodrum? Then check out my other favorite restaurant called Zazu. It is quite popular among locals and is always full of people. They cook seafood here like nowhere else. The menu offers stuffed fish and squid, juicy mussels, shrimp casserole, baked seafood mix, and other rare delicacies. Each week the menu is complemented by some original chef's dish.
Parents will appreciate the fact that there is a children's menu. Kids should love Zazu's cheeseburger, eggplant puree, chicken sandwich, or tuna sandwich.
Oh, and there are also some very good desserts like custard with ice cream (ever tried them together?), panna cotta with wild berries, pumpkin pie with ice cream, and more.
Zazu is open in the morning for a hearty breakfast. It includes three types of cheese, olives, boiled eggs, meat cutlet, vegetables, toast with honey. In the evening after 21.00, there is live music and shows.
I love this place for the atmosphere, very delicious seafood, and live music in the evening. The average bill for two with hot meals, snacks, coffee, and two glasses of wine is around 150 TL.
Find the location of this restaurant and read more reviews here.
9. Mabolla Bodrum Bar
And here is a truly amazing bar in Bodrum where besides the luxurious presentation of good food and cocktails, you get a calm peaceful ambiance with live music in the background.
We also stumbled upon this bar by accident when wandering around towards our car which was parked nearby. It was pretty easy to miss this place since it was a bit hidden in bushes and behind the fence. So yeah, you won't see many people there since Mabolla Bodrum is away from the coast and Old Town.
We really enjoyed every single aspect about this bar, starting with the atmosphere and friendly welcome and finishing with the drinks and music. The music here, by the way, is never too loud, so you can enjoy a conversation. Prices here are average but lower than anywhere near the coast.
Here is the address of this bar.
Instagrammable Places to See in Bodrum
10. Bee Bistro & Cafe in Turgutreis
I should have probably put this cafe in the section about the best Bodrum cafes but instead, I am dropping it here. Why? Because it is really an Instagram worthy spot.
Everything is just so pretty in this cafe, including the food, drinks, and setting. The interior design was created by the owner and it's full of many stylish details. The owners, by the way, are always in the cafe and they welcome you even before you step inside. Both main dishes and desserts on the menu are very delicious. I ate there a few times, enjoyed every single meal, and took a bunch of instagrammable photos.
Oh, and by the way, speaking of food. Turkish breakfasts and hamburgers there are incredible and you simply have to try them. The San Sebastián cheesecake is one of the best cheesecakes I have ever tasted. No matter what you order here, also don't miss San Sebastián with a glass of Turkish chai! And, if you are staying in Turgutreis, come to Bee Bistro & Cafe for breakfast.
11. Sianji Well-Being Resort
If I had my own list of top 10 hotels in Bodrum, Sianji Well-Being Resort would be definitely on that list. In fact, many publications do mention this resort as one of the best beach hotels in Bodrum. It has a fancy spa, outdoor pool, a beautiful beach with fine sand that is perfect for families with children, and lots of space for every guest. And in my humble opinion, it is one of the most postcard-worthy Bodrum resorts. I am leaving a few photos for you to judge.
The entire territory here is clean and full of pretty details, villas near the pool have a sea view (as well as most of the rooms in the main building), there are many exotic decorations, and overall this resort feels like a bit of paradise. Oh, and this Bodrum resort prides itself on the excellent organization of honeymoon stays. It is definitely worth your money.
We had a very short vacation here and it certainly was not enough. Sianji Hotel surprised us with superb service and amount of activities. And their clean beautiful beach. The staff was very helpful, trying to go above and beyond to create unforgettable memories for each guest.
If you can, come at least for a night (better two). Otherwise, if not able to stay, visit for drinks in their top-floor bar. It has an outside terrace with so incredible views.
Check availability, rates, and more photos here.
12. Melengic Balik Restaurant
Another place on the list should be probably in another part of this post. But again, I am dropping it here. Melengic Balik restaurant is a romantic restaurant by the sea with absolutely gorgeous decorations, very pleasant music, a unique colorful setting in a perfectly picturesque location. It is located on the beach in a chic village Gümüşlük and offers beautiful sunset dinners.
This restaurant is one of the most instagrammable places because of the tables in the sea (see photo below) where you can have dinner, overlooking a harbor. Being one of the last restaurants on the shoreline, it's somewhat hidden from the eyes. If you want to get the best table near the water (or in the water), come very early or better make a reservation. For the food, Melengic Balik restaurant mainly focuses on seafood and has good octopus, calamari salad, and meze.
To be honest, the food here is not better than the food in nearby restaurants, yet it's more pricey. Sure thing, since you mainly pay here for the atmosphere and vibe. If you don't feel like this is your type of place, choose another restaurant on the beach. There are quite a few other fantastic places where to eat on the same beach near the water.
NOTE: If you are coming from anywhere in Bodrum, you need to take a cab or one of the minibusses (dolmus taxis). If reaching by car, park along Karnak street away from the village (not to get a ticket) and walk here.
13. Mavi Suite Turkbuku
Mavi Suite in Turkbuku village in the northern part of the Bodrum peninsula is a lovely hotel with 40 rooms located right by the sea. It has a restaurant facing the beach and most of the rooms overlook Turkbuku Bay. The entire property is very cozy, clean, and is a great deal for those who are on a budget but want to stay near the beach in one of the most picturesque Bodrum villages.
However, the reason I included it in this list of the best places to go in Bodrum is not the hotel itself.
Mavi Suite has its private beach with a bar and a big patio where guests can sunbathe and relax. But the beach and outdoor area are open to outside guests who can come for a day there. The requirement is to spend a minimum of 200 TL per person at their restaurant and bar which gives you access to all facilities and Instagram-worthy beach.
We discovered this hotel also by accident when actually visiting Cilek Beach Club nearby. And we personally loved it. They were one of a few places in Turkbuku that actually had a sandy (although small) beach together with a wooden platform beach. What makes it an Instagram-worthy spot is a cool swing in the sea.
Also as a guest, you can join scuba diving, water skiing, and play table tennis if you wish.
If interested to see the property for a possible stay, check the rates, reviews, and availability here.
14. Aspat Termera Resort Village
Aspat Termera is a new private resort-like mini-village built around the Aspat beach outside Akyarlar that reminds of somewhere in Italy. While the beach itself is one of the most beautiful beaches (and I talk more about it in my other post here), it has been privatized and you need to pay to get in. Not everyone will do that with many free beaches around.
If you don't plan to go to this beach but have a car and travel from Bodrum to Akyarlar or Turgutreis via a scenic coastal road, you can make a stop at the Aspat Termera resort just to walk around, possibly ride in a gondola, and enjoy the atmosphere. The village has water canals where people kayak, a few cafes by those canals, shops, and a pretty inner courtyard with a marina.
15. Duru Butik Hotel
Duru Butik hotel is a small guest house in Bodrum center that offers very basic accommodation and amenities. Being 2 minutes away from all main Bodrum sightseeing spots and 5 minutes away from the sea, it can be a decent hotel to stay for budget travelers who also look to be in the very center.
However, as with a previous hotel, I mention this one for a totally different reason. If you are in search of bright colorful places in Bodrum that will make an Instagram perfect photo, add Duru Butik hotel to the list of things to see.
This property has such a pretty courtyard full of flowers and old antiques, a swing, a hammock, and an area with cushions to relax. As an outside guest, you can stop here for Turkish chai and photos. There is just so much to photograph!
Other Really Cool Places to Visit in Bodrum
16. Aquapro Dive Center
If you are looking to go diving in Bodrum, check the Aquapro Dive center in Bitez village. This center is famous for its unique diving sites, excellent organization, and a 5* service. Also, what is important for many, they help to have an enjoyable diving experience without fear and anxiety. Among all the companies, for many reasons, these guys have earned special trust.
All divers get well-maintained equipment, helpful and experienced instructors, clean and comfortable boat, and meet all required safety measures. This club has something to offer to all types of adventurers. It is really great for both beginners and professionals as instructors divide all divers into groups according to their level of experience.
The cost of a diving tour depends on the number of dives, so check details and prices in advance.
During the dives, the club's crew takes pictures of you underwater. If you wish, you can purchase them after the tour.
17. Zai Bodrum
The first time I went to Zai, I got a feeling that I was in one of Ubud's warungs or some other magical Bali meditation spot. Because Zai is a happy elegant place in Bodrum that has a library cafe concept where everyone can chill and distract from beach life.
Once you enter the premises, you find yourself in a big lush garden with water streams, flowers, art displays, a big library, comfortable seating options, and very delish food and drinks. You can come here with a laptop to work, do some reading with a tea or dessert, or have an Instagram worthy meal. We were there a couple of times and one time there was a temporary exhibition which attracted many artsy souls.
If you need a bit of relaxation in between your beach activities or a perfect coworking space in Bodrum, I highly recommend you Zai! Or, if you are just looking for a unique cafe in Bodrum, visit Zai too. They are located not far from the main road, so it is easy to get there by car or dolmus taxi. Here is their location by the way.
NOTE: In July and August it gets incredibly hot during the day. So the best time to visit is in the morning or after 16.00.
18. Sarnic Beach Club
We have been to 5 beach clubs in Bodrum and Sarnic Beach club turned out to be our favorite one. I highly recommend you checking this place out and spending one fantastic day on their beach! Overall, Bodrum is famous for its beach club concept when you pay a certain amount of money for a day by the beach and get drinks and food included in that price.
And Sarnic Beach Club offers just that.
Among all beach clubs, this one has one of the lowest entrance fees, yet the highest number of activities. Besides that, the menu is pretty extensive and everything is very delicious. Some people complain and say that food prices are high (yes, they are) but hey, you are not paying for the food alone. When spending a day in a beach club, you have access to their amazing beach, diving platform, water swings, hammocks, loungers, music, wifi, and a vast area for relaxation. Check out some of my photos to understand more.
The entrance fee is 150 TL per person (€17 based on today's exchange rate) which already includes drinks and food on the menu. No matter if you drink or eat, in the need of the day you still need to pay 150 TL. So you better spend it!
In some resort-like cities in Europe, you pay only €15-€20 for a sunbed somewhere on the crowded beach. But here, for this amount of money you can be hanging out in one of the nicest places in Bodrum with access to a gorgeous beach and fresh delicious food.
19. Dibeklih Culture & Art Center
Dibeklih Culture and Art Center is a complex with a shopping center and dining establishments that also hosts various seasonal art and cultural events in Bodrum. The amenities here are pretty basic but beautifully designed grounds offer fantastic views of the hills.
Small galleries here have interesting exhibits, a steak restaurant live music some nights, a coffee house and bar offer decent food and drinks. In the summer months, this center hosts concerts and Bodrum jazz festival as well as holds movie nights under the open air next to the film cafe bar.
Dibeklih Culture & Art Center is a fantastic stop to make for art lovers, those who are in the area and want to have a Turkish breakfast in a beautiful serene setting or a cup of Turkish coffee, see an exhibit, or visit one of the festivals. For more details and events, see their website.
20. Bodrum Dolphin Park
Among the best things to do in Bodrum with children and on your own is to go to a Dolphin Park which boasts the most comfortable living conditions for dolphins and other sea animals. Shows in high season take place only a maximum of four times a week in order to have time to recover and rest.
The dolphinarium is a fenced open-air section of the bay where in addition to traditional performances, guests can do the next:
– go for a walk along the adjacent beach (entrance to its territory is free for everyone);
– have lunch at a restaurant serving freshly caught seafood;
– join swimming with dolphins and performers.
The dolphinarium is located outside the peninsula but reaching it is easy and quick. The best way if to go by dolmus or a cab.
The show schedule is on Wednesdays, Fridays, and Saturdays at 16:00. The adjacent area and restaurant are open daily from 9:00 to 18:00. The prices for interaction and swimming with dolphins vary. Get answers to all your question on the Bodrum dolphin park website. The website for some reason removed the English version and all information is there in Turkish now, but google translator does a good job translating.
21. Karaada (or Black) Island
Kara-Ada or Black Island looks more like a green island in a distance but not black. It is actually covered with a thick layer of exotic greenery. On the slopes of the island mountain, you can admire a pine forest and amazing thickets of amber trees. However, the elongated land area owes the name of a 'black island' to a large number of mud and mineral springs on its own territory.
Every year thousands of tourists come here for health improvement and relaxation. The summer months of July and August are somewhat hot for mineral springs but other reasons to visit are diving and swimming.
In fact, Karaada island is of big interest to divers. A ship and even an airplane were sunk near its banks especially for diving reasons.
The most convenient way to reach the island, if you don't have your own boat, is on an excursion or rented yacht.
---
So, it is my list of best places to visit in Bodrum on any occasion. Some of them close for the winter but many stay open year-round.
Have you been to Bodrum? Can you add anything to this list? Is it going to be your first time in Bodrum?
Compare it to Marmaris
and see which destination is better for you!
Oh, and don't forget to pin it to save for later!