22 Spectacular Stops on Columbia River Gorge Drive
Last updated on August 14th, 2023
If you are considering visiting Portland and wondering what are great road trips or weekend getaways in Oregon or Washington, Columbia River Gorge drive is the first to come to mind.
This post provides fantastic ideas for seeing incredible lush state parks and waterfalls near Portland, hiking spectacular trails, learning about the history and development of this area, soaking in hot springs, visiting farmlands, dams, and much more.
With so many activities and really cool things to do, a Columbia River Gorge road trip will be a true adventure! We've driven this stretch of road a few times while living in Portland and restoring a Victorian-era house. After all our visits it still didn't feel like it was enough. I am absolutely sure that you guys will love going on this road trip as much as we did!
Note: If you are flying into Portland out of state and need to rent a car, the best company is DiscoverCars. They offer competitive rates as the aggregator searches all the big car rental companies and finds the best price.
---
Please note: This post contains affiliate links. I may earn a commission if you make a purchase by clicking a link (at no extra cost to you).
---
Planning a Columbia River Gorge Road Trip
A Columbia River Gorge Drive can be split into two separate trips. There are two roads running along the river. One is in Washington state (called Evergreen Highway) and another one on the opposite side in Oregon (called Historic Columbia River Highway.) Both of them are just spectacular. So you'd definitely want to drive on both sides.
You could always make a loop by crossing one of the bridges to the opposite side and returning back by another road. One more option is to combine this road trip with another one in Washington or Oregon. For example, with a road trip through Mt. Hood National Forest.
The length of the drive (one way) is only around 120 miles. Yet, with many stops that have a lot to offer it is very possible to end up driving this stretch one long day. We went on two separate road trips, spending about 10 hours on each.
With a few towns and rest stops along the way, there are plenty of places where to get food and gas. However, if you plan to go hiking, pack some food and snacks. It is so amazing to have a mini picnic next to the waterfall or on the top of the hill overlooking the river.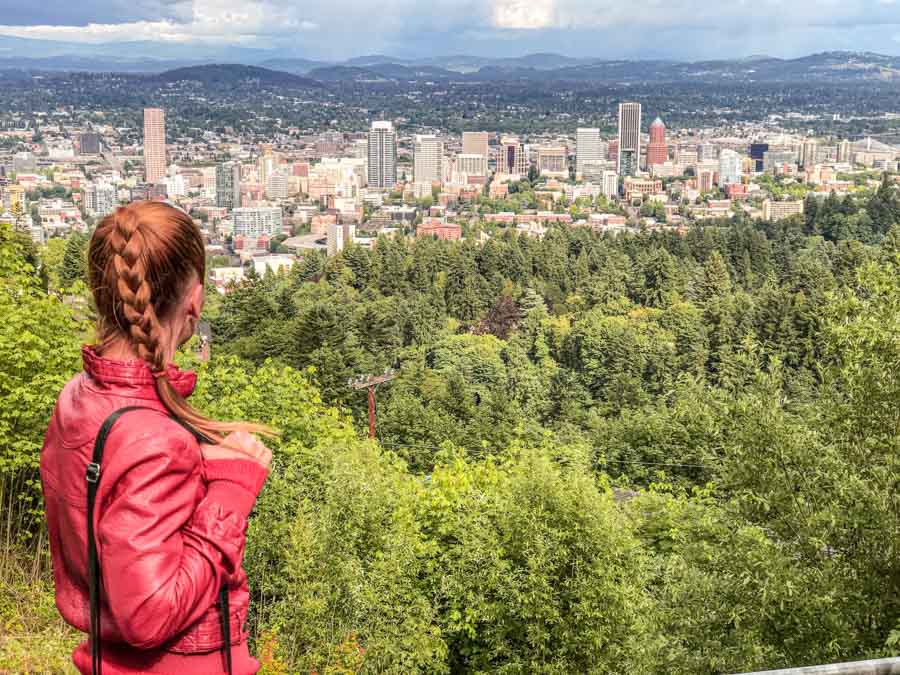 How Long is Columbia River Gorge Scenic Drive?
The distance of Columbia River Gorge drive in Washington state is 102 miles and in Oregon 85 miles. If you drive it straight without making any stops, the road trip will be less than 2 hours.
But even if you are passing through and not planning to detour, it is simply impossible not to make a few stops along the way just for the scenery and a couple of photos. Plus, often in Oregon, historic Columbia River highway gets crowded and it is very easy to get stuck in a traffic jam.

Overall, plan to spend at least 4-5 hours on this drive on any side, if you are only passing through. Those who are taking it slowly and want to make the most out of their time should expect to spend one full day on this road trip.
10 Best Stops on Columbia River Gorge Drive On Washington Side
Vancouver
The best place to start your Columbia River Gorge drive in Washington state is from Vancouver. This small, at first sight unremarkable, the city has a few interesting attractions.
In the morning, for breakfast pop into the authentic little diner Joe Brown's Cafe. They have a great choice of home-style American breakfasts and a nice atmosphere. If a classic old school diner is not your thing and you are looking for a healthier option, then nearby Foode Cafe & Catering offers a wide range of meals, including vegan options.
In Vancouver (maybe not on the same day when you go on a road trip but on a day before or after,) don't miss a Fort Vancouver National historic site and Pearson Air Museum. The first place has fort and barrack military houses and is a cool place to step back in history. The museum introduces you to the historical aircrafts and WWI fighters.
Cape Horn Viewpoint
The first stop from Vancouver should definitely be a Cape Horn Viewpoint. This is a relaxing overlook with an easy access trail and breathtaking views.
Park at the Cape Horn Upper Trailhead and go on a bit steep and narrow hike to the overlook which provides a striking panorama and fine introduction to the beauties of natural boundary between Washington and Oregon. Hundreds of feet below, at the foot of massive vertical cliffs, the Columbia River flows and impresses with its splendor.
If you are not in a hurry, hike a bit down to the Cape Horn Falls, although the best view opens up from the top.
Parking is limited and a bit tight, so be careful. And don't forget your camera. The views of the Columbia River and the wooded hills of Oregon are something to remember.
We spent 2 hours on a round-trip hike and a quick picnic at the lookout. Although it may take more time if you enjoy a slower pace.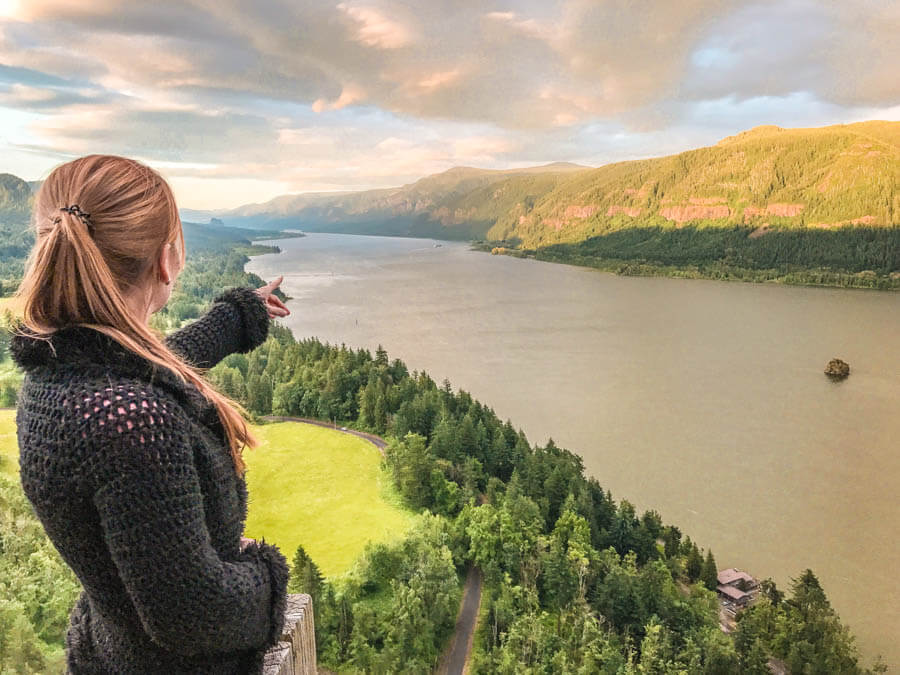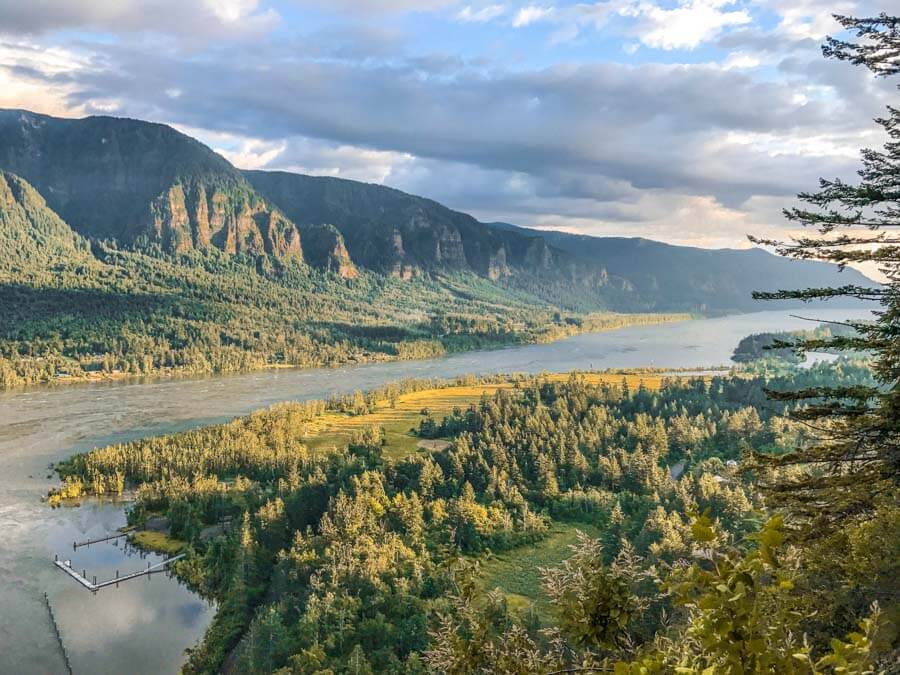 Beacon Rock
Another incredible stop to make is Beacon Rock – a beautiful hiking destination with expansive views over the Gorge. The rock is an enormous monolith and is the core of a vanished volcano.
The trail to the top is rather steep and goes in zigzags but don't let it scare you off. The hike is easy and quick enough, and you will be rewarded with mind-blowing views of the gorge and its cliffs, the islands dotting the Columbia River, Oregon's Mt. Hood, and the snow-covered cone of Mount Adams on Washington side.
Across the road are the trails and campgrounds of Beacon Rock State Park, a 4,500-acre sanctuary perfect for eagle-eye views, fishing, and boating.
Bonneville Dam
I wrote in detail about Bonneville Dam below. Scroll down to that part where I talk about stops along Columbia Gorge in Oregon.
Once you reach this dam, it is easy to walk (or drive) across the bridge to the opposite side. So you can visit Bonneville Dam no matter where exactly you are driving, in Washington or Oregon.
Stevenson
This at first sight unremarkable town is home to the Columbia Gorge Interpretive Center which has displays of models of early steamships and exhibits that highlight the geological features of the gorge.
Early rivermen used to stop at Stevenson to load the cordwood that fueled their steamships. You can recall the flavor of those days by visiting the 3-story Interpretive Center museum which has all the originals from old times. In general, this museum is an excellent place to learn history in a spectacular setting.
The nearby Rock Creek Park with walking trails around the ponds and waterfall is a pleasant spot for viewing the gorge and mountains.
If here in Stevenson you feel like grabbing something to eat, there are a few cool restaurants to stop by. Some of our favorites were the Walking Man Brewing pub and Big River Grill. The first one has delicious salads, burgers, pizzas, and crafted beers, and the second one a wide range of American dishes.
Carson Hot Springs
The next stop on Columbia River Gorge drive is for people who wish to soak away life's stresses. Carson Hot Springs Golf & Spa resort is built on mineral water springs and offers access to pools with mineral water, spa, sauna, massages, and facials.
Overall, it is a really nice place with a great atmosphere to relax and find your inner peace. And a lot of rooms have their own hot tubs where you can soak in mineral water too.
Outside guests who are not staying overnight, can pay for the use of a mineral water pool and bathhouse. The water in the pools is 100% from the spring, without any chemicals or city water. The resort is using air spray and special technic to cool the water down, so you can be sure of its quality.
Check prices and availability for Carson Hot Springs Golf & Spa on Hotels.com
Home Valley Park
From Carson hot springs, if time permits, you can go on a beautiful walk to Home Valley Park, which has a mini beach with river access and picnic areas. Those who don't have time to walk will need to drive only a few minutes to get there.
If visiting on a hot day and skipping a visit to hot springs, Home Valley park serves as a lovely spot for cooling off in the river.
When making only a quick stop here, take a look east from the park at Home Valley. In a distance, you can see an imposing pair of mountains – Wind Mountain in Washington and Shellrock Mountain in Oregon – known locally as the Guardians of the Gorge. Fishermen use this park for launching their boats to look for salmon and trout, and windsurfers take advantage of brisk breezes to skim on the river.
Cook-Underwood Road Loop
The next suggestion on what to do on the Columbia River Gorge road trip is to make a quick detour and follow a scenic Cook-Underwood Road. It starts in the little town of Cook where you need to turn left from the main highway and go north to Willard and then again south to tiny Underwood, where the White Salmon River joins the Columbia.
This road winds up and down through lovely countryside and has a few overlooks along the way with spectacular views of the Columbia River Gorge, the Hood River Bridge, and rising in the distance marvelous Mount Hood.
There is nothing in particular to stop and see but the drive is very lovely and enjoyable.
Does my content help you plan your trip? If yes, I'll appreciate a cup of coffee from you, so I could produce more free guides and itineraries!
Catherine Creek Day Use Area
After leaving Underwood, the more east you drive, the more you notice how the landscape changes. Rugged and lushly forested land slowly becomes dry, nearly treeless rolling hills.
On the nine-mile stretch of road between Bingen and Lyle, with cliffs to the left and railroad tracks to the right, there are few safe places to stop and admire the River Gorge view.
Catherine Creek Day Use Area, in particular, is one of those stops. It has scenic open grassy paved walking paths and hiking trails with lots of wildlife, blooming flora, and vistas with spectacular views. You can walk all paved trails in about half an hour and have 3-4 hours hiking adventure if exploring the entire Coyote Wall trail system.
Note: Parking is limited, thus on weekends during the day, you may have difficulty finding a spot.
Maryhill Museum of Art
The last stop on Columbia River Gorge drive on Washington side will be a Maryhill Museum of Art in Maryhill town. Like everything else along the River, this site also has majestic views. But besides the views of the river and Mt. Hood, the museum has something else in store for everyone.
First of all, the museum's building is a French-style chateau, surrounded by landscaped lawns where peacocks strut. Second, it is filled with surprising collections of art by Rodin and other European masters.
Inspired capitalist Sam Hill originally constructed this chateau of his favorite material – concrete. On a bluff beside the Columbia River, he also placed a replica of Stonehenge, which was a memorial to Washingtonians who fought in World War I.
This museum can be a cool quick stop for art and history lovers and everyone else who'd like to have lunch or snack in a beautiful setting in the middle of nowhere. There is a cafe in the museum with outstanding views.
|| RELATED POST ||
7 Places in the US That Have Snow in Summer
12 Best Stops Along Columbia River Gorge In Oregon
Portland
For this road trip, the best way to start it is from Portland. This city is known for its hipster, liberal, and environmentally-friendly atmosphere. If you are not from Oregon, definitely spend at least one full day (or even two) exploring Portland's walkable neighborhoods and city's dining scene.
Compared to other metropolises in the US, Portland is such a unique city with many exciting (and somewhat weird) things to do.
Jump on Aerial tram to get fantastic views of Downtown. Visit Washington Park and Japanese Garden. See a Catholic Sanctuary Grotto and famous McCall Waterfront Park. Also, I highly recommend you walking NE Alberta street and getting a bite there. Many quirky hipster cafes and restaurants are scattered along this street. Dining in most of them is quite an experience! Check my 2 to 4 days in Portland itinerary to have an idea of what to do.
After you've walked around, make sure to have a good night's rest before plunging into the Columbia River Gorge road trip.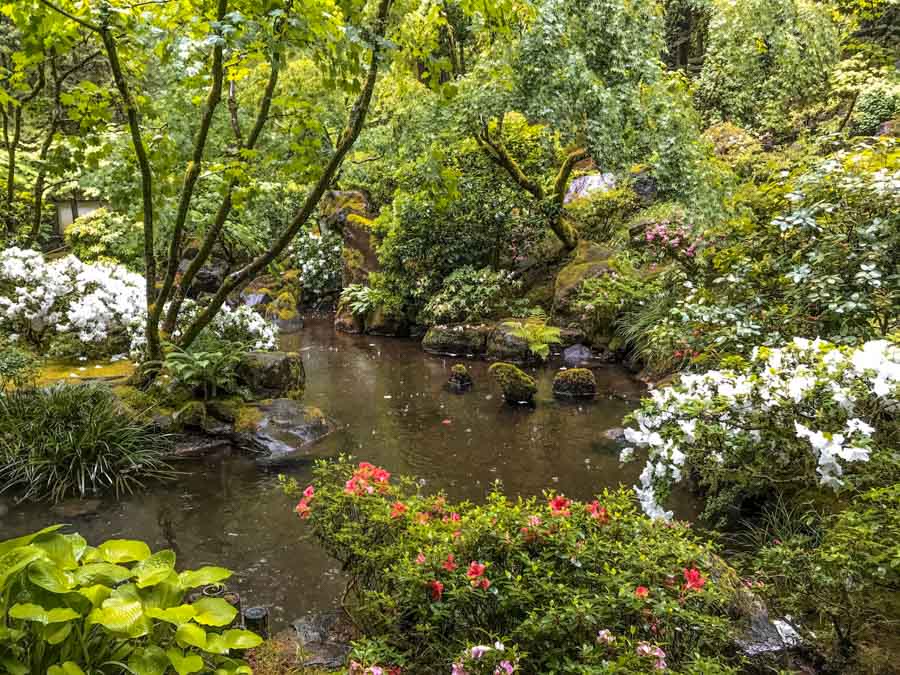 Crown Point Park
The first stop from Portland where it is a must to stop is Crown Point Park. This well-maintained preserve sits perched atop an enormous volcanic rock and rises more than 700 feet above sea level. It is an excellent place to observe the breathtaking beauty of the mighty Columbia River.
There are many spots in the park where you should take a break and get out of your car. But the most famous is Portland Women's Forum State Scenic Viewpoint and Vista House at the Crown Point State Scenic Corridor.
The first one is just a parking lot with a few signs and markers and a nice little gift shop downstairs, but a gorgeous view of the Columbia River Gorge. The second spot is an interesting building on a cliff with a cafe, souvenir shop, restroom, and of course views, views, views. Both of them are must-stops on your drive to have coffee with a wonderful view in the background.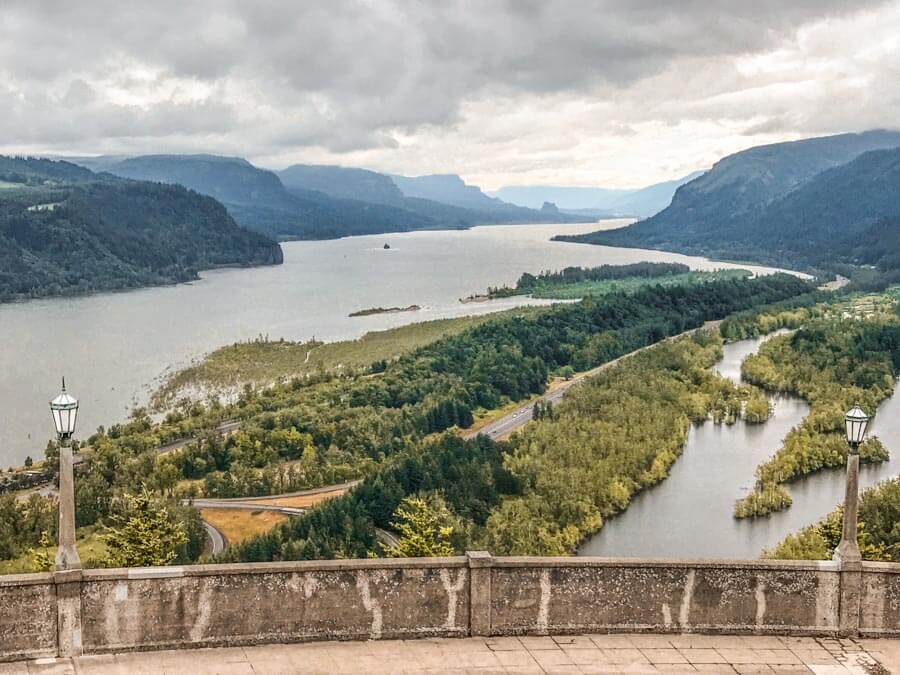 Multnomah Falls
There are a dozen waterfalls along the Historic Columbia River Highway. Only on the stretch between Crown Point State park mentioned above and Multnomah Falls, there are a few other waterfalls worth stopping by for a short period of time.
However, most people consider Multnomah Falls to be the grandest of them all. Divided into upper and lower cascades, the falls plunge a total of 620 feet. The icy cold stream resounds with a roar as it leaps and lands. Clouds of mist envelop the mosses clinging to the cliffsides.
The area has plenty of parking. A nature center with 1920s stone Multnomah lodge has fine views of the falls. Don't be in a hurry here and take a 1-mile paved trail (although muddy in some areas) to the top to see the view of the falls from above. The lodge serves very good breakfasts and is very inviting if you feel that's the place for a meal.
Among other Columbia River Gorge waterfalls to see on the scenic highway before you reach Multnomah are Latourell Falls, Shepperd's Dell Waterfalls, Bridal Veil Falls, smaller Coopey Falls, and Mist Falls, and Wahkeena Falls. Some of these cascades are visible from the highway. And some of these waterfalls are among the best waterfalls in Oregon.
Oneonta Gorge
Traveling two miles farther east through the dense forest brings you to Oneonta Gorge – a botanical area maintained by the U.S. Forest Service. It is much less popular than Multnomah Falls, that's why it is also much quieter. Oneonta Gorge is part of Ainsworth State Park, a lush forest with birch, maple, and fir trees.
A shady, moist, and cool narrow fissure of this gorge shelters a leafy array of lichens, shrubs, and mosses. And among them, there are a few breathtaking waterfalls.
That's what the gorge is famous for – for waterfalls, stormy creek, and hikes that suit various fitness levels. The easiest trails loop through Upper Horsetail Falls. And a fairly difficult one climbs 900 feet to Oneonta Falls. By the way, this hike partially goes in water (waist deep) but it is so much worth it.
If you decide to hike to Triple Falls (through Oneonta Falls,) expect to spend a minimum of half a day. In fact, Oneonta Gorge can be a great one day trip from Portland, if you'd like to return and enjoy it to the fullest.
Bonneville Dam
After the Oneonta Gorge, a 7-mile drive will bring you to Bonneville Dam. This huge dam, built in the 1930s, created a long lake on the Columbia River. And it was the first of many dams built to tame the Columbia River torrents. You can easily see it from a distance from the Columbia River Gorge byway.
The dam's Northshore Visitor Center on the Washington side has a massive hydroelectric generator that is as big as a house. Exhibits in the center display local Indian artifacts together with the history of the dam. A series of fish ladders or special terraces filled with water are on view as well.
Underwater fish-viewing windows allow a glimpse of migrating salmon which come from as far away as Alaska, returning to the waters where they first hatched. If you come in August or September, be ready to get blown away by the amount of fish passing by the windows.
On the Oregon side, there is a Bonneville Locks observation that many travelers overlook. From its viewing platform, you can watch an interesting process of lifting up a barge and see how together with ships and boats it passes through the locks.
Cascade Locks & Bridge of the Gods
Another stop on this scenic drive is easy to miss. Cascade Locks, a small town with a population of around 1200 people, can keep you busy for many hours.
First of all, there is an old Bridge of the Gods that connects Washington and Oregon states and offers phenomenal views. You can walk on it for free or pay a small fee to cross by a vehicle. The scenery underneath is spectacular.
Under the bridge, in Cascade Locks, is a small market where local people sell seasonal fruits, fresh, and smoked salmon. There are a few parks, nice restaurants, brewery and actually a really nice hotel with river views. One of the most exciting things to do here is to go on a two-hour cruise on a 600-passenger stern-wheeler.
Starvation Creek State Park
Falls. More falls and more hiking trails in this park. If you haven't got tired of all waterfalls yet, don't miss an opportunity to stop here. There are 4 stunning waterfalls on a one-mile-long trail.
Since it is located farther from the most famous destination on Columbia River Gorge drive, not many people end up getting to this point, which means that your photos will be crowds free.
Starvation Creek State Park can serve as a place for getting out, stretching your legs, using a restroom, or for taking Instagram worthy photos and enjoying another beautiful location.
Hood River
Hood River is a windsurfing city, famous for wind sports, mountain biking trails, hiking, wineries, and craft breweries. Although the name suggests that it should be a mountain town, in reality, it is not.
The main feature of Hood River is its steady wind conditions perfect for kite sailing and windsurfing. And since the town is built at the crossroads of the Columbia River Gorge and the Cascade Range, it offers panoramic views.
After parking your car, grab a bite at KickStand Coffee & Kitchen or Broder Ost. The first establishment has really good burgers, salads, homemade donuts, and coffee. The second restaurant is such a treat, with a wide and delicious selection of food. Nearby Celilo offers Italian dishes if you prefer them more.
Another known fact about Hood River is the number (and quality) of breweries. Full Sail Brewing Company, Ferment Brewing, pFriem Family Brewers, and Logsdon Barrel House & Taproom all offer good quality craft beers with the incredible service and excellent food.
Hood River is that city where you may want to stay overnight and continue your scenic Columbia River Gorge drive the following day. Or, if you feel like spending a few days in the area, then you can always go to the Mount Adams Recreation Area in Washington state, White Salmon City across the river, Post Canyon Park with a 40-mile network of trails, and nearby Mt. Hood National Forest.
When leaving the city, make a quick detour to Panorama Point. This Park is closed since no one maintains it at the moment, but you can park a car and follow the path to the top. It's a short walk.
Mosier Falls Swimming Hole & Wineries
Mosier, a cute little town located just five miles east of Hood River, has a lot for nature addicts and wine and history lovers.
If you have been driving all day long and got here in the late afternoon, go for a swim at Rock Creek Park or cool down in a delightful local swimming hole. Mosier Falls Swimming Hole can be accessible by a quick hike that starts right off the highway. Some parts of the trail are narrow and steep, so it may be difficult to pass but at least it's short and scenic.
Another great place to check out is Mosier Twin Tunnels Trail. It has trails for biking and walking.
And then the wineries. Mosier's wineries can compete with wineries in Northern California. Garnier Vineyards, Idiot's Grace Wines, Analemma Wines have amazing wines, tastings, extremely knowledgeable staff, panoramic views, and on some days even tours.
If you call Analemma Wines in advance, request a picnic basket to enjoy wine with cured meats and cheeses in their vineyard.
Tom McCall Preserve
Tom McCall Wildlife Preserve is a very picturesque park on the plateau. You can definitely expect here more views of the river and nearby area. The best time to go is from April to June or from September to October. In the spring, wildflowers bloom and the fall is pleasant and colorful.
The preserve has two hiking trails and a Rowena Crest Viewpoint for non-hikers. If you have time, I highly recommend to hike all the way to the top since it's a great point to relax, take photos of a Washington, Oregon, the Columbia River and even see Mt. Hood and Mt. Adams on a clear sunny day.
Columbia Gorge Discovery Center & Museum
If you are on a road trip along Columbia River Gorge with a kid(s), this museum is going to be a cool place to stop at. However, it's really great for all ages, not just little ones.
Covering the history of the Dallas and surrounding area, the museum has exhibits for all levels. Tickets cost around $10 for adults and children under 5 can enter for free.
Come here to learn about the history since Lewis and Clark, watch a show, let your kids participate in a scavenger hunt, see the birds, and walk one of outside scenic trails.
The Dalles Lock and Dam
And the last stop on a historic Columbia River highway scenic byway is the Dalles Dam. When the dam was built, it formed the shoreline of a lake within the river, the 24-mile reservoir to the east from the Dalles bridge. These days, this lake is frequented by bald eagles and nesting Canada geese.
A few more miles east of the dam, on Washington side is Horsethief Lake State Park. Besides the views of a Columbia River and interesting trails, the park is full of petroglyphs that are etched on the basalt cliffs and face the river. July and August here are unbearably hot but late spring and early fall are perfect for a midday stop.
Farther along, near Klickitat County Information Center & Scenic Lookout in Wishram, you can overlook the flooded site of historic fishing ground. There, American Indians have harvested salmon and then smoked the fish for consumption throughout the coming year.
If you wish, you can prearrange a tour on select summer weekends to view the navigation locks, powerhouse, and fish ladders. For more details, contact the Information Center.
Where to Stay on the Columbia River Gorge Drive
As mentioned above, the drive along Columbia River is rather short and you can drive it in one day. However, with many places where to stop and what to experience, you may want to consider spending one or two nights in a beautiful B&B near the river along the way. Especially, taking into consideration how many redesigned hotels, Airbnbs, and privately owned quirky inns are there.
Among the best lodging in Columbia River Gorge, take a look at Stevenson, Carson, and White Salmon on the Washington side, and Hood River with Mosier in Oregon.
Hood River Hotel – a retro-chic budget hotel in Hood River downtown. This phenomenal hotel has very good prices and can fit travelers on a mid-range budget. Charming rooms with comfy beds and extra touches make your stay special. Very good service and beautiful views.
Check prices and availability for Hood River Hotel on Hotels.com
Skamania Lodge – if you are looking for a beautiful resort in the middle of the wilderness in a peaceful setting near the Cascade Locks, then this lodge can meet all your expectations. With comfortable and clean rooms, fantastic service, pool, hot tubs, and a beautiful location, Skamania Lodge always gets great reviews.
Check prices and availability for Skamania Lodge on Hotels.com
Three Sleeps Vineyard B&B – maybe one of the most romantic places to stay in Columbia River Gorge. Built in a Tuscan style, this beautiful property overlooks the private vineyard on mountain slopes.
Check prices and availability for Three Sleeps Vineyard B&B on Hotels.com
Brookside B&B – a first-class Bed & Breakfast for family stays or romantic getaways in Oregon. They offer clean, renovated rooms fully equipped with everything you need for a comfortable stay. Excellent surroundings, a golf course, and a beautiful landscape in a very good location can help you unplug completely.
Check prices and availability for Brookside B&B on Hotels.com
As you can see, there are so many things to do in Columbia River Gorge. It can be a fantastic road trip for a few days, not only one day. With so many natural attractions, museums, dams, lookouts, cafes, wineries, every type of traveler in any age group will enjoy this drive.
If you are an international traveler who is visiting the US, don't forget to take care of your travel insurance. We personally like SafetyWing and use them for many trips – get a quote from there here.
Are you planning any other road trips in the US? I have written about road trips in Vermont, weekend trips in Kentucky, and road trips around Los Angeles. Check those out and you can always find more tips for travel in America here.