Weekend in Portland, Oregon – My Perfect 2 to 4 Days in Portland Itinerary
Last updated on August 14th, 2023
It took me almost two and a half years to write my version of the Portland itinerary. Not that I have been writing it for two years, no. But only two and half years after Mark and I left America I realized how much we enjoyed this city when restoring an old Victorian house there.
So I thought why not share all my favorite spots and points of interest in this very detailed post. No matter if you are coming for a few days during the week or for a weekend in Portland, all these places will have something to offer.
Portland, Oregon's largest city, has many names. Some people call it the "city of roses" or "the city of bridges". But, regardless of what you call it, you can be sure that you'll find this city unforgettable, flourishing, and very green.
Portland attracts tourists from all over the world with its local microbreweries, cozy restaurants, brunch cafes, distilleries, and bookstores. In addition, it also has the indescribable beauty of the natural landscapes that are situated in close proximity.
Planning a perfect 2, 3, or 4 days (or weekend) in Portland itinerary can be a bit overwhelming since there are so many things to do and places to visit. So this post will answer all the questions and ensure that you get the most out of your trip.
Note: If you are visiting from out of state, want to go on a road trip from Portland and need a car, the best company to rent a vehicle is Discover Cars. They offer the best deals, provide good support and easy cancellations.
---
Please note: This post contains affiliate links. I may earn a commission if you make a purchase by clicking a link (at no extra cost to you).
---
The Best Time of the Year to Visit Portland, Oregon
If you are wondering when to visit Portland, Oregon, you have to answer at first the question what's the final goal of your trip.
Weather conditions in Portland facilitate a visit there at any season. The temperature is comfortable throughout the whole year.
Summers are not very hot, with the maximum average temperature of about +95F (35C) in August. But even then the difference between day and night temperatures is significant. Nights are usually cool and very comfortable. Also, it doesn't rain a lot in the summer which creates comfortable conditions for various experiences. Additionally, this season is great since it's full of festivals and various events.
Winters are moderately cold. In January, the average temperature is around 40F (4.5C) and it rarely drops below zero. Although the possibility of a strong snowstorm is not excluded. Winters generally see a lot of rainfall, although recent years (perhaps because of climate change) were drier and sunnier.
If you want to see Portland in all its green and blooming beauty, be sure to go on vacation in the spring. If looking for mind-blowing foliage colors then plan for the early fall. May-June and September-October are the best months to visit Portland weather vise. But winters are perfect for cozy cafes, breweries, and romantic getaways in charming Inns. The city of roses has so many of them.
How Many Days in Portland
Many people, when planning their trip to Portland, often overlook this West Coast city thinking that there is not much to do. We were like that too. We thought that spending a weekend in Portland would be enough. But then after just a few days there we figured that we could easily spend a week or even more.
So when thinking about how many days you should spend in Portland, decide at first on the activities. If traveling to this part of Oregon for nature or glamping, then one day in Portland may be enough. A city person would want to spend 3 or 4 days in Portland.
If you will be spending only 2 days, then make sure to prioritize what you'd like to see. My 2-day Portland itinerary is packed with the highlights of downtown and some green areas inside the city. However, it doesn't include any sites outside Portland. Use ideas from the 3rd and 4th days to prioritize what you'd like to do.
Spending 3 days in Portland or more is ideal as it will allow you to cover not only the central part of the city but venture outside and visit wineries, breweries, spas, and waterfalls. Having time for a 4-day Portland itinerary is the best as it allows you to take it slower and experience everything in depth.
Getting To & Around Portland
Portland has its own international airport (which by the way is located right in the city and is easy to get to and from) with numerous direct connections with almost all US cities. This is why reaching Portland from any corner of the US and Canada is an easy thing to do. However, some travelers prefer to fly to Seattle, rent a car there, and drive to Portland.
If you are an international traveler, you may end up flying to Seattle too. There are many cheap flights between Seattle and cities in Europe and Asia, so going there is more convenient. Seattle international airport also has better rental car deals for those who plan to travel in Washington state before going to Portland. The two cities are also connected by train and getting from one city to another takes about 3 hours 30 minutes.
Once in Portland, you shouldn't worry about the car. It is one of the most walkable cities in America with many protected bike lanes and walkable bridges that connect the city. Getting around Portland is easy and enjoyable also because of the efficient public transportation system. You can take a bus, a metro (Max Light Rail), or a Commuter Train (WES Commuter Rail) to get places.
When we volunteered in Portland, depending on where exactly we planned to go, we were taking buses, metro, or our car. We also walked a lot. But the easiest way to get around the city was definitely by bus and train.
If you follow my 2 and 4-day Portland itinerary and stay only in the city, there is no need to rent a car. But since Portland has so much natural beauty around, you may want to venture outside, especially if coming to Portland for 4 days or longer. And for that, having your own vehicle is a must.
Nearby Mount Hood national park, stunning Columbia River Gorge Highway, and even the Oregon coast with its cute small towns are pretty close. So you can easily combine a trip to Portland city with a road trip through the state.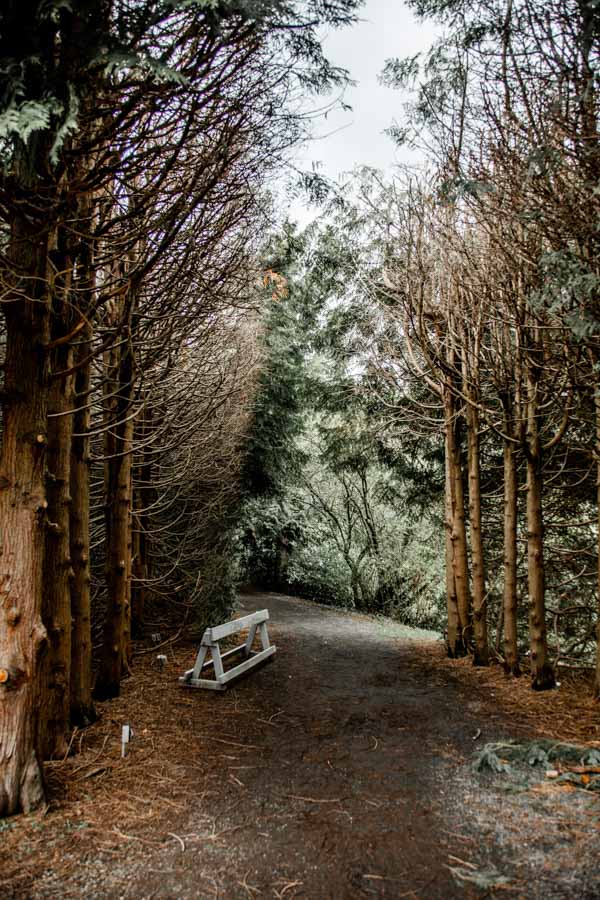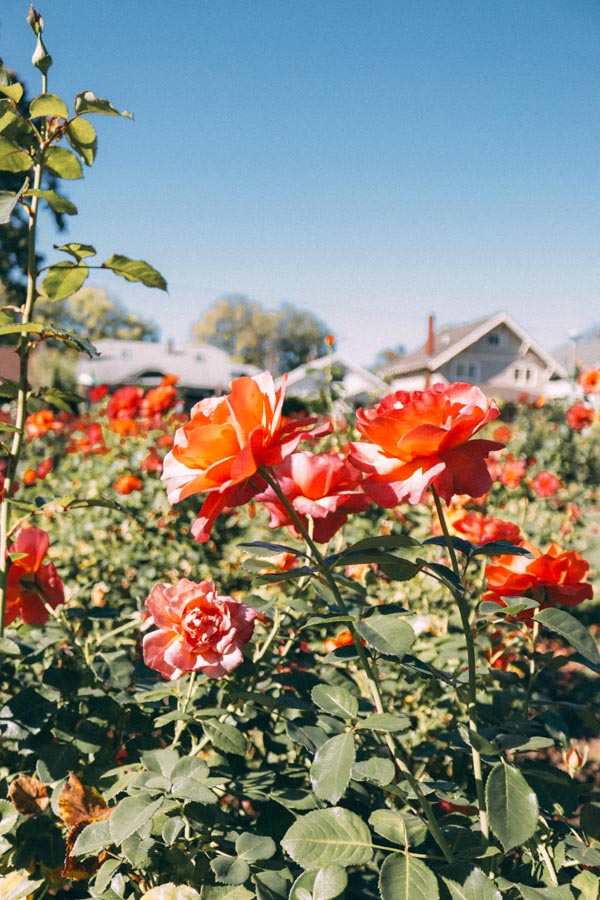 2 Days in Portland Itinerary – Ideas For a Weekend or Any Time During the Week
If you have only 2 days in Portland and visit this city for the first time, the best way is to spend these two days in the city center. Explore the Pearl District, downtown, two neighborhoods in Northern Portland and famous green spaces in the western part of the city.
Day 1 of my itinerary concentrates more on cultural and historical experiences while day 2 brings you closer to nature.
And of course, both days are packed with quite a few awesome places where to eat and try some of the best famous drinks and cocktails.
Day 1 in Portland
START YOUR DAY AT FULLER'S COFFEE SHOP
I assume that you are starting your day early and you are staying somewhere between Northwest and Pearl Districts. In this case, getting to an authentic diner with a feel of a small town will be easy and worth your effort.
Of course, if you are not having breakfast at your B&B or hotel, then get a classic diner experience in one of the best eateries in Portland. Fans of eggs, toasts, pancakes, waffles, hash browns, and never-ending coffee will have an old school American breakfast there.
Fuller's coffee shop is really one of the most famous and popular places among locals with very delicious food and lively ambiance. Expect it to be busy, especially if planning a weekend trip there. On a weekday, there also may be a wait time to get a seat but you can always call ahead and make a reservation.
If you happen to crave bacon, this is seriously a place to go to. These guys know how to load you up on it.
Alternative places where to have breakfast: Mother's Bistro & Bar is another classic breakfast and brunch spot in Portland with an amazing atmosphere and unique selection of menu items.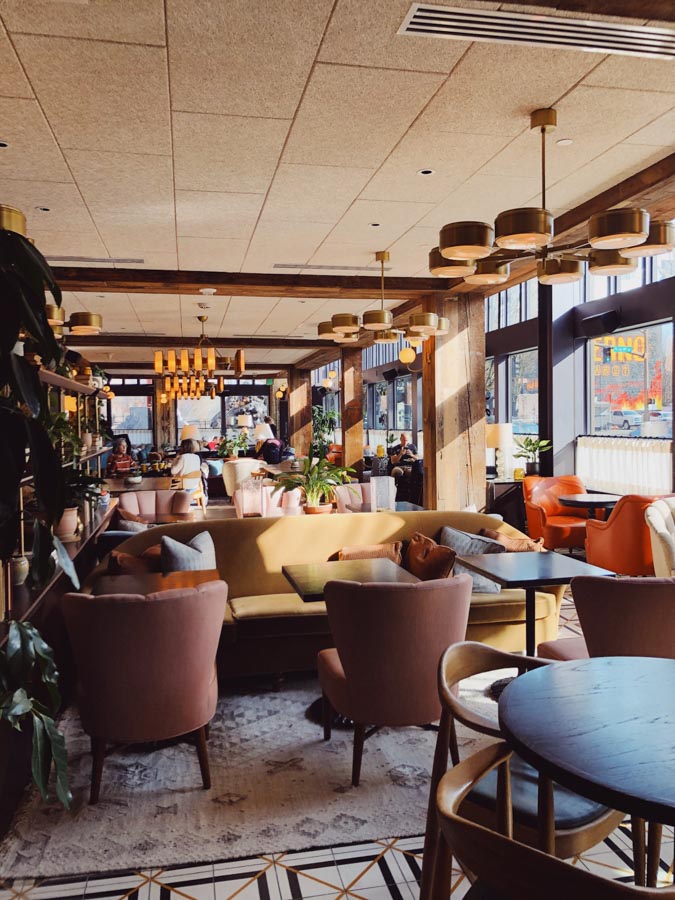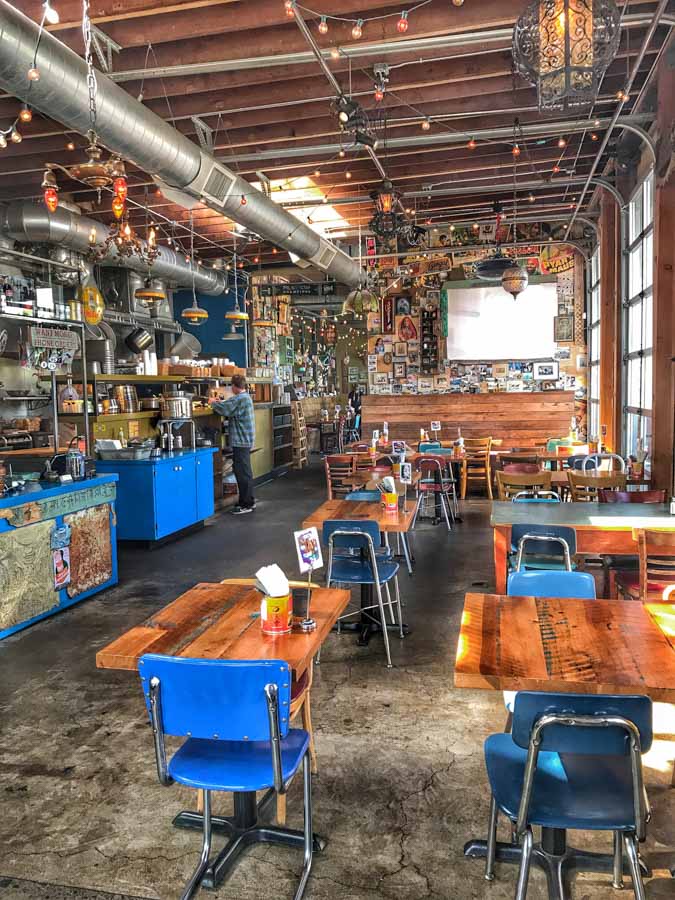 VISIT THE BEST BOOKSTORE IN THE US
Just two blocks away from Fuller's coffee shop is Powell's City of Books store – the biggest book store in the US with a rare section of unique books. I am not saying that you have to spend half a day here but why not to check this place out, especially if it's on the way.
Powell's books store is really huge. And it's always so busy. The site has countless rooms with different genres and spread out computers that can help you find a book you need. A huge number of children's books, new and used books of various genres mixed together provide an opportunity for anyone to choose the price and book they want.
Even if you don't plan to buy a book, it is still worth the trip here just to see how huge space is and how many books are in one place. The massive book inventory and people visiting and working in the store make it a fun trip.
We spent good two hours on a thorough walk-through on all four floors, taking photos and looking around. Instagrammers, by the way, will really appreciate this place since there are a few spots around the store where you can take cool shots.
For a really quick visit, set aside at least an hour. But for someone who is interested in books, store's cute little cafe, and a small gift shop with souvenirs from Portland, more time is definitely needed.
STROLL IN TOM MCCALL WATERFRONT PARK
Tom McCall waterfront park is always seeing various festivals and events. In the springtime, it also sees crowds of people who come to enjoy cherry blossoms in full bloom.
But in my opinion, it is a really nice park to visit at any time of the year. Don't spend a lot of time but come for a walk or bike alongside the river, have a relaxing time and take good photos with the Hawthorne bridge in the background. The Waterfront park trail opens up a gorgeous view of the two bridges and the water. On a hot summer afternoon, it's also a good place to splash around in the fountain and cool down in a breeze.
If you are visiting Portland for a weekend getaway, then come to Tom McCall park on Saturday morning. It has a nice Saturday farmer's market with fresh produce.
On any other day, there is an opportunity to rent bikes, tandem bikes, and go on a boat cruise down the river. Some river cruises like this 2-hour lunch cruise through downtown Portland offer food, live music, and tons of positive emotions!
Oh, and on a day with clear skies, you can even see Mount Hood from there.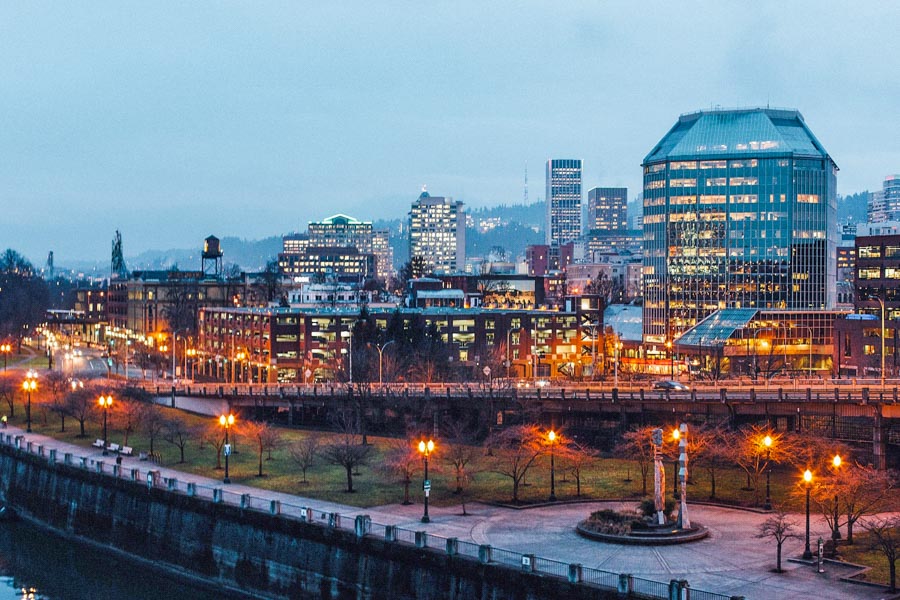 VISIT OREGON MARITIME MUSEUM
While visiting Tom McCall waterfront park, you may want to learn about the rich history of Portland's founders and rivermen in this interactive museum. The Oregon Maritime Museum is housed on the historic steam sternwheeler Portland. It offers visitors to explore the last operating sternwheel steam tug in the United States.
The get the best experience, the museum offers interactive tours packed with many facts. During the tour, you can take a glimpse into the history of Oregon's riverboat days. Very knowledgeable docents (who are volunteers there) will walk you through all the details about every aspect of the working steam-powered boat and show tons of models and artifacts.
Families who are visiting Portland with kids younger than 5 years old may want to skip the museum though. It will be difficult for children to appreciate maritime history and engineering technology.
The museum is open only on Wednesdays, Fridays, and Saturdays and the tour usually lasts a bit more than an hour. So if you really plan to visit, plan accordingly.
RENT A BIKE & EXPLORE PORTLAND CYCLING AROUND
Portland prides itself on being the most bike-friendly city in the US. Every year more new bike lanes and riding trails appear around the city and cycling on a bike here is a fantastic experience. When we were biking, it felt like we were in Europe, seriously.
So if you had to spend only a few hours in Portland and could pick only one experience, I'd definitely encourage you to go biking. Of course, if you enjoy this activity.
Besides Biketown PDX, a bicycle-sharing system, there are many privately owned bike rental shops around the city. You can literally rent a bike around almost every corner and follow famous routes in any direction.
Or for a more exciting experience, simply join a biking tour. Having someone show you all of Portland's hidden gems and tell interesting stories can help you fit much more in one day. For example, check this 2-hour bike tour which covers all main city sights or a 3-hour full tour of downtown.
Does my content help you plan your trip? If yes, I'll appreciate a cup of coffee from you, so I could produce more free guides and itineraries!
MAKE A QUICK STOP IN LAN SU CHINESE GARDEN
Lan Su Yuan garden is considered the most authentic Chinese garden in the world outside China. This tranquil oasis in the city center takes up the whole block and contains five elements of traditional Chinese gardens. Those elements are water, plants, rocks, architecture, and inscriptions. It's very calming and fascinating to come here for a walk.
This garden is situated in a busy noisy neighborhood but once you are inside, it's very relaxing and peaceful.
Pop in here to wind through the courtyards and pavilions. If budget allows, take a tour because guides do a great job describing all the nuances that go into planning a Chinese garden. There is also a beautiful tea garden on premises where you can rest and refuel with a lovely cup of tea and assorted light foods.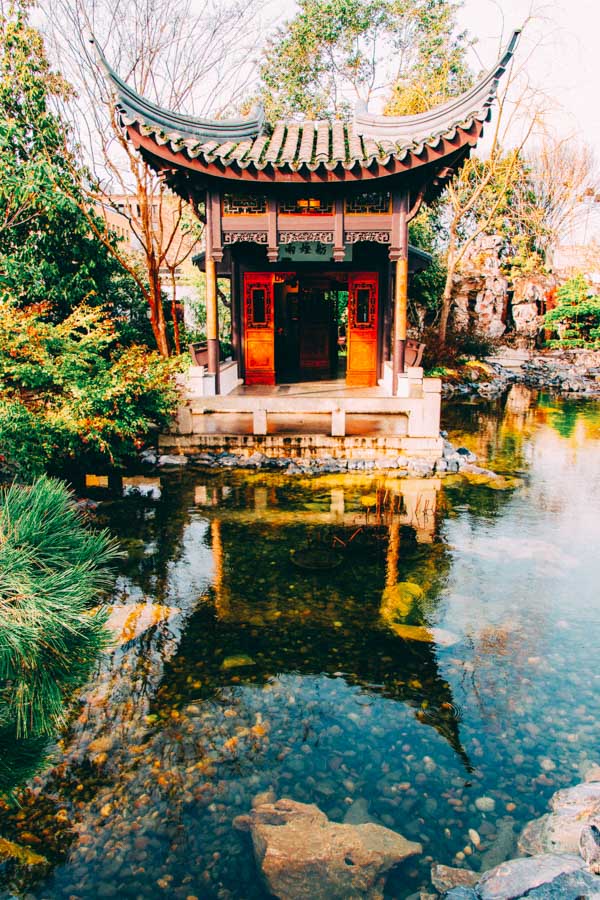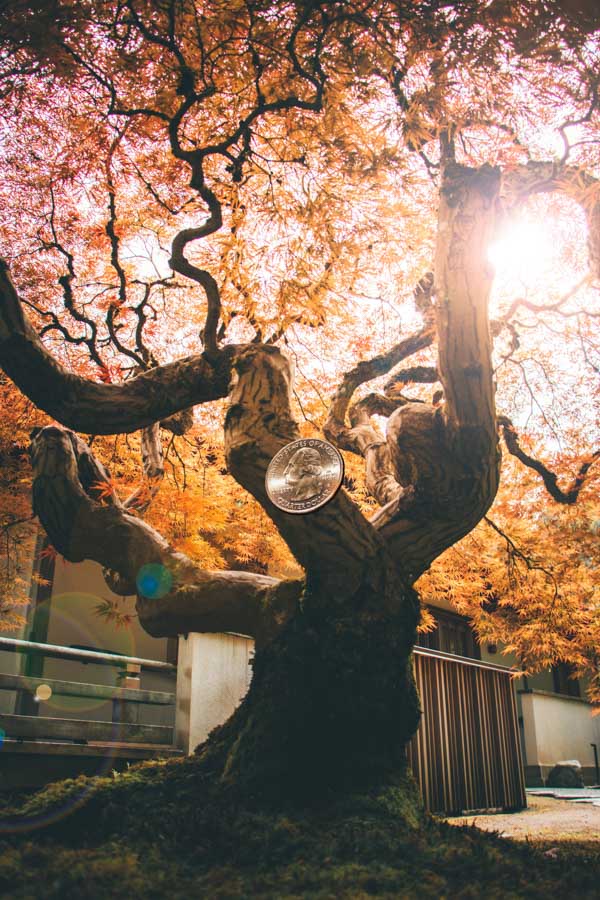 TAKE IN EPIC VIEWS FROM THE XPORT LOUNGE
In the end of the day, when you are done with sightseeing, why not sip champagne and enjoy oysters while taking in epic views of the city. Hey, another place with views of Portland, there are so many of them!
Xport Bar & Lounge, part of a very nice Porter Hotel, offers sweeping views along with the decor, vibe, and yummy snacks. Here, on the 16th floor, you can have a signature drink and a few bites while overlooking Portland's skyline, bridges, and even mountains in the distance.
On a chilly night, choose to sit near the fire under the open sky. It feels so romantic!
Day 2 in Portland
On the second day in Portland, you should get acquainted with the city through its green areas. Washington Park and Macleay Park in the western part of the city are homes to gardens, sanctuaries, Portland Zoo, hiking trails, and some historic houses.
Also, any of these parks is just a really great place to go for a quick hike in Portland or a day out in nature. With its size and amount of activities, you can easily spend an entire day there. See below the points of interest not to miss.
And for the evening, pay a visit to famous Portland's breweries or pubs.
VISIT THE JAPANESE GARDEN
Japanese garden in Portland rightfully deserves the title of a gem. Being different from the Chinese garden mentioned above, the Japanese garden also guarantees a spirit of tranquility and refuge from the busy city life. From the rose garden and ponds with fish to the hand-built waterfall, every part here is beautiful.
On our visit to Portland in the summer, our host recommended coming here the first thing in the morning to avoid crowds and have this garden to ourselves. And to be honest, it was a very smart decision. We really spent the first hour wandering on our own. This is why I am also recommending you to venture here in the early morning during the high season. In the off-season, any time of the day is good.
So, in this beautiful and serene place, you'll find a blend of bushes, rare unique trees, beautifully made paths and sculptures, fountains, ponds, and pavilions. Five separate gardens offer a unique environment and design. A gorgeous coffee house is a great place for a quick snack. See the garden's website for more details, pricing, and schedule.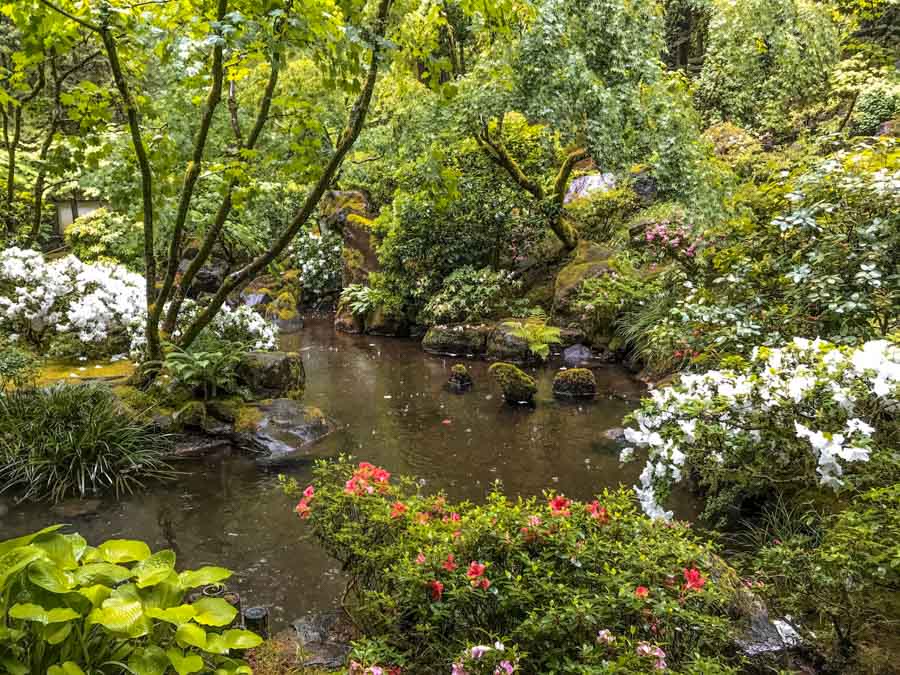 SEE WORLD'S ROSES IN THE INTERNATIONAL ROSE TEST GARDEN
If visiting the City of Roses from May through August, make sure to include to Portland itinerary a visit to the well-maintained International Rose Test Garden. During this time of the year, the garden boasts thousands of roses and offers space for meditation.
In any other season, it is also a must-visit. Lovers of peaceful walks in nature in the middle of a city will appreciate some great views of the downtown skyline and Mt. Hood.
From Memorial Day through Labor Day, there are daily free tours led by trained volunteers that start at 1 p.m. Additionally, guided tours for a symbolic fee are also available throughout the year. Read more details about the tours as well as history and how to get there on the garden's website.
From the downtown area or Pearl district, you can easily reach the International Rose Test Garden on foot, stopping for a meal at one of the cafes on the way there. Come here before (or for) the sunset when there are fewer crowds.
TOUR (OR WALK AROUND) THE PITTOCK MANSION
A beautifully restored mansion, which at the beginning of the 20th century belonged to a successful newspaper publisher Henry Pittock, today is a museum with interesting interiors, history, and art. Everyone who visits can go on a self-guided or group tour and transport 100 years in the past.
The house is built in heavy stone and has amazingly decorated rooms and interiors. Each room has a different design with many amazing details. Exploring the house will be very informative for both kids and adults alike. The mansion is really impressive and the hike through a forest park is a beautiful way to get there. If you are spending only two days in Portland and doubting either to go or not, you won't regret this visit.
Even if you don't feel like paying for inside access, it's still worth taking a trip for the views alone. From the lookout point (which is a front yard of the mansion,) you can get a wonderful view of the city and Mt Hood in the distance.
Check more information about the tours, prices, and schedule on the Pittock Mansion's website.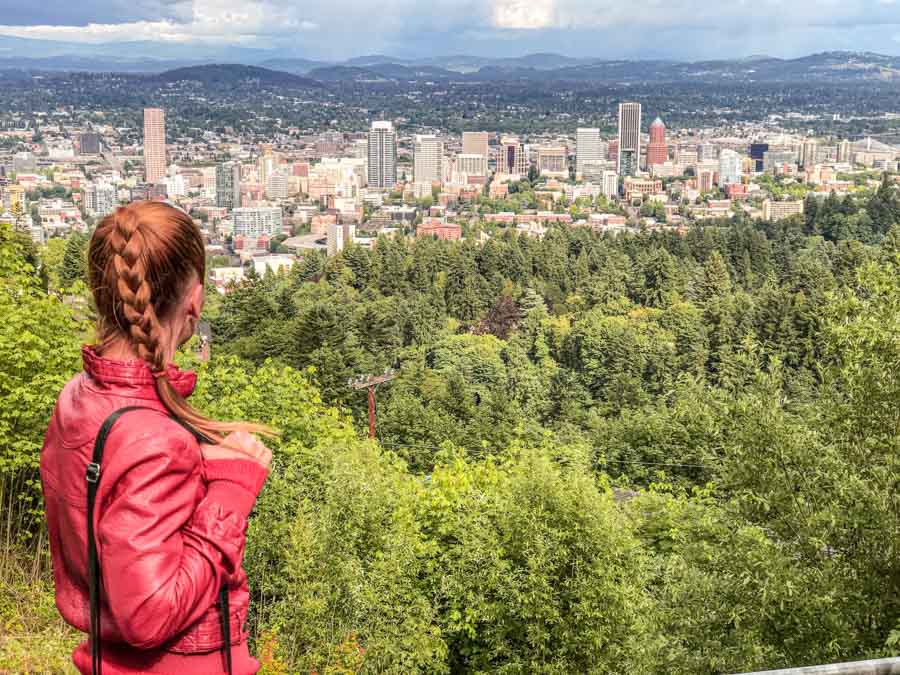 SEE A MUSEUM OF TREES IN HOYT ARBORETUM
Many cities around the US have their own arboretums. But honestly, none of them are as special as Hoyt Arboretum in Portland. You see, this place has 12 miles of trails that take you through a magnificent collection of rare trees.
Redwood, maple, magnolia and pine trees along with other types of trees and trails create various landscapes perfect for walking or jogging.
What's interesting, Hoyt arboretum is listed in many magazines as one of the most beautiful urban parks in America. And a lot of people from all over the world come here just to see many unique trees in one living museum.
This park is great for all ages and is a good place to hide from the heat and hike around. On a cold winter day, it looks very spooky when covered in mist.
VISIT OREGON ZOO
If you're an animal lover or traveling with kids, add to your Portland itinerary a lovely zoo situated in the nooks of the Portland ring forest. The zoo is not big but with all the exhibits you could definitely devote at least half a day to it.
The best part of the zoo is the first section with animals local to the Pacific Northwest only. It's very interesting to visit for this part alone, skipping the rest which is pretty much the same as in many other American cities. With many exhibits and educational activities, the zoo has unique animals. Just some of those are pink pandas, painted dogs, rare types of bats, polar bears, and sea otters.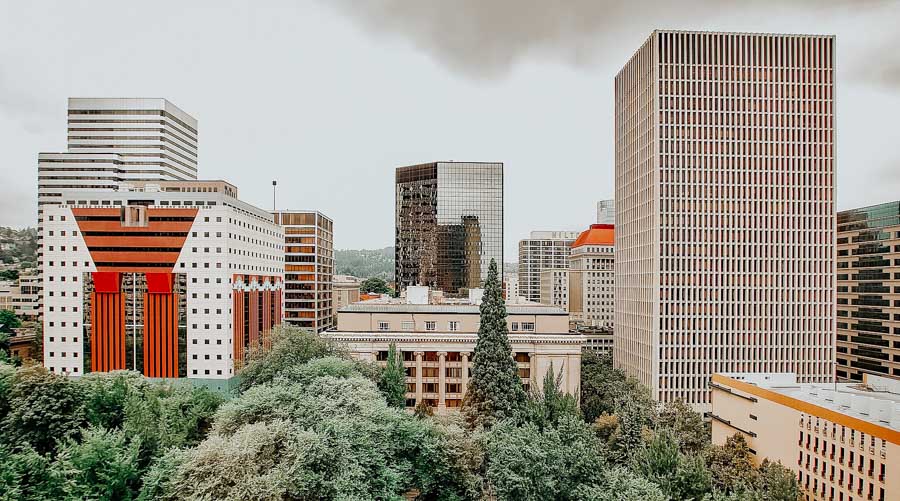 TAKE A WALK IN A MACLEAY PARK
Macleay Park is actually pretty popular among locals, that's why it often gets crowded. But you understand why after taking a fairy tale walk through this corner of a bigger Forest Park.
The reasons to visit here are multiple trails for hiking, biking, walking, and horseback riding. There is an abandoned stone house to hike to and wildwood trail with a lovely river that follows the main path.
So if you love nature and feel like stretching your bones in a beautiful forest, don't miss this place. Otherwise, you can return back to the city because there are still many cool Portland activities await you there.
GO ON A FOOD TOUR AROUND NORTHWEST DISTRICT
After you are done exploring the wooded area, head out to the opulent Northwest district. It is mainly famous for vintage shops, lovely family-owned stores with handmade produce, stylish cafes, and gourmet restaurants. Travelers who prefer to travel slowly can easily spend here an entire day, checking terrific eats and shops.
Here, as on a few other cool streets in Portland, you can go on a self-guided food tour, popping in almost any cafe or restaurant. All of the dining establishments have delicious food and a unique vibe.
Some of the most famous ones are:
– Elephants Delicatessen. A self serve establishment with incredibly delish and healthy options. Soups, sandwiches, cheeses, pastas, pizzas, a high assortment of salads, and many other foods are on sale here.
– The Dragonfly Coffee House. A cozy coffee shop with lots of books to read, plush armchairs to relax in, and many flavorful treats, lattes, and teas.
– Ken's Artisan Bakery. The best bakery in town that sells always fresh bread, croissants, and pastries. Try one of their famous tarts or cinnamon roll.
– Salt & Straw Ice cream. A local ice cream chain with so many unique flavors to choose from! There are actually four stores with this ice cream around Portland. But if you happen to be in this neighborhood only, don't miss this place.
If you are eager to get the most of your time, do a walking 3-hour long Northwest neighborhood food and drink tour.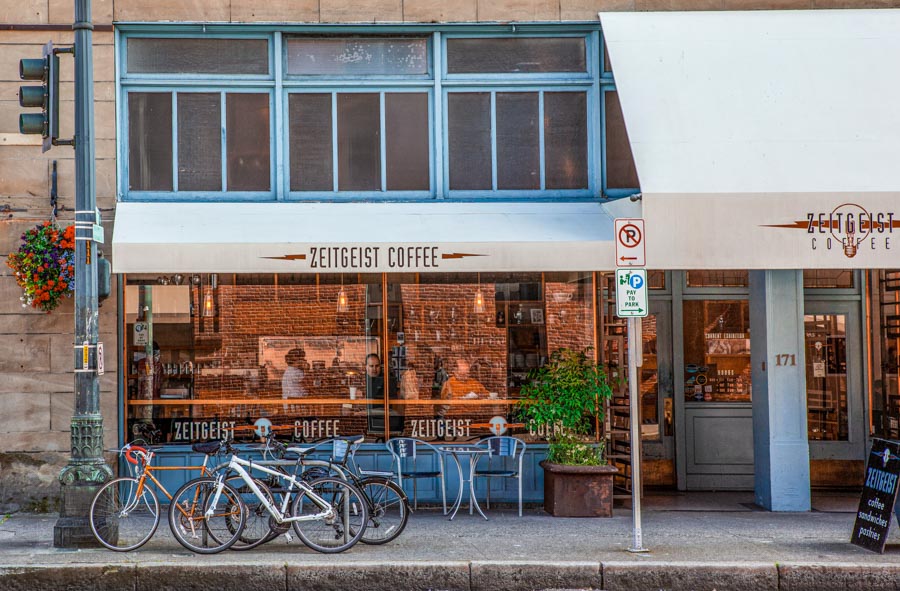 4 Perfect Days in Portland Itinerary
Day 3 in Portland
If you have 3 or even 4 days in Portland, it's a good time to explore the outskirts of the city since there are a few hidden gems not to miss! I offer you to discover the historic architecture, natural areas, cliffside catholic sanctuary, old hotel, famous Portland breweries, quirky eateries, and much, much more.
The third day though is packed with a lot of activities. You may need to push them to the following day.
START YOUR MORNING ON THE MISSISSIPPI AVENUE
On your third day in Portland, you can start a day with a trip to Mississippi Avenue. This one of the most popular streets in Portland started to get its trendy feel in the 90s. Back then it was somehow attracting modish souls who were buying condos and apartments and moving boutiques in. Today, it's home to many vibrant shops and unique restaurants, and the street is always busy.
Foodies can come here for the food crawl, spend literally all day long, and not even try everything.
But besides eateries, you can also pass a few hours pleasantly strolling the avenue, checking out local businesses, and taking pretty photos. With vintage architecture and wondrous Victorian-era houses (like John Palmer House, for example,) Mississippi Avenue is full of spots for Instagram-worthy shots.
Come here in the morning to have breakfast in a well-known brunch destination Gravy which specializes in biscuits and gravy. Next to it, there is a Land Gallery – a local eclectic shop with print art, gifts, shirts, souvenirs, and jewelry. Oh, and don't forget to grab a blueberry basil bourbon (or any other interesting flavor) donut from another famous place Blue Star Donuts.
VISIT THE GROTTO
From Mississippi Avenue, take a bus or uber to a place of peace, prayer, and natural beauty. Grotto or as the official name goes ' the National Sanctuary of Our Sorrow Mother' is a 62-acre site with a rock-carved grotto with a replica of Mary holding the crucified body of Jesus.
Additionally to the grotto, there is a church, sanctuary, gardens, meditation room, and even hiking trails. A 10-story elevator ride delivers visitors to the top of the nearby mountain with incredible views and stunning chapel.
It's really nice to walk around here, check the shrine, views, meditate, and reflect. Even if you are not Catholic or Christian, you can still realize a divine feel to this place. On weekends, it gets busy but on weekdays during the morning and early afternoon the sanctuary feels peaceful and uplifting.
If you happen to visit Portland for Christmas, come here to see the Christmas lights. They lit up the entire territory, including trees and grotto and it makes it look like a movie set. Grotto's website has information on mass schedules, events, and hours. It is a truly fascinating place to visit!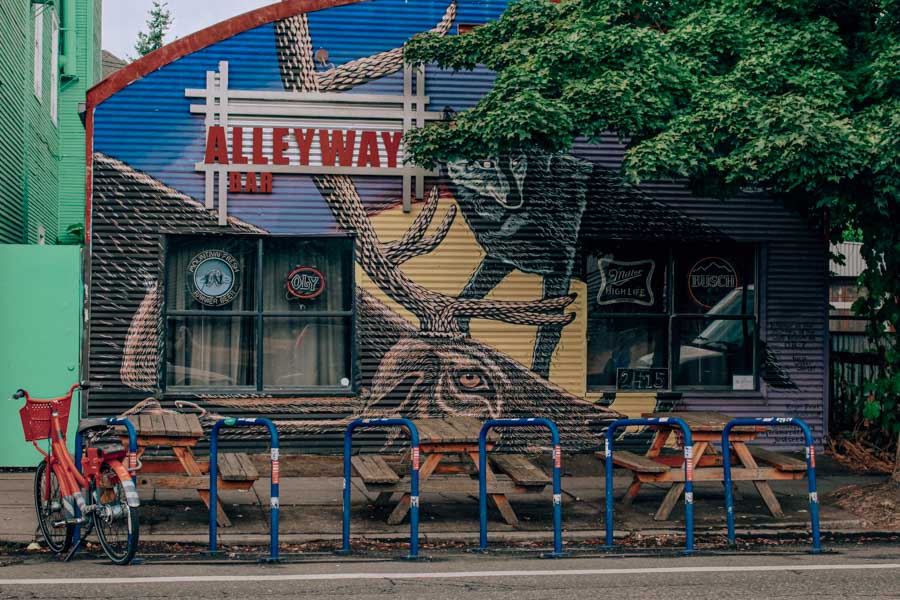 GO TO ROCKY BUTTE NATURAL AREA
Rocky Butte natural area is a small wonderful park with a lookout platform. There, you get a fantastic 360 view of the Columbia River, Portland's city airport, Mt St. Helen and Mt. Hood. And it feels like the city is laid out in front of you.
If you haven't seen any of Portland's city views yet, combine a visit here with a trip to Grotto. With the information standing on the top, you can see exactly what mountains you are looking at.
The only downside of this site is the number of people who come here. Don't go on Friday, Saturday, or Sunday if you want any sense of privacy. By the way, the cheapest and quickest way to get here from Grotto is by bus.
VISIT MCMENAMIN KENNEDY SCHOOL
From Grotto and Rocky Butte natural area, where you can end up spending a few hours, hop on a bus and proceed to the Concordia neighborhood.
It's famous for its event center and hotel which used to be an elementary school. If you love visiting architecturally beautiful structures full of history where in addition you can stop for a drink, a movie, or a swim then add this school to your Portland itinerary list.
So as Kennedy School is a hotel today, you can spend a night there. However, you are also welcome to visit as an outside guest.
Grab a beer or a glass of wine in the fancy upstairs bar, enjoy a movie in their theater, soak in their ceramic saltwater pool, dine in a fancy restaurant, or simply walk around the school. Photos and murals of the Kennedy school's past tell the history and add some mystery to this place.
When we visited, we really regretted we didn't have our swimsuits. For a very symbolic price (similar to the price of a latte) we could soak in warm waters in the scenic setting. But instead, we walked around for about one hour and checked out all sites.
The Kennedy School is hiding behind the trees and shrubbery, so you can be sure you'll have a peaceful atmosphere.
STROLL THROUGH BEVERLY CLEARLY SCULPTURE GARDEN
Beverly Clearly Sculpture garden in Grant Park is home to bronze sculptures of Ramona, Henry, and the dog Ribsy who are beloved characters in books of author Beverly Cleary. If you are a fan of these books or visiting Portland with children, it's a good place to visit on the way to your next destination. Children will definitely have a blast.
The garden is really small. But with a cool sculpture area and fountain nearby it becomes a nice spot on a hot summer day.
There is also a seasonal pool in the park where the general public can swim during the afternoon hours.
VISIT HOLLYWOOD DISTRICT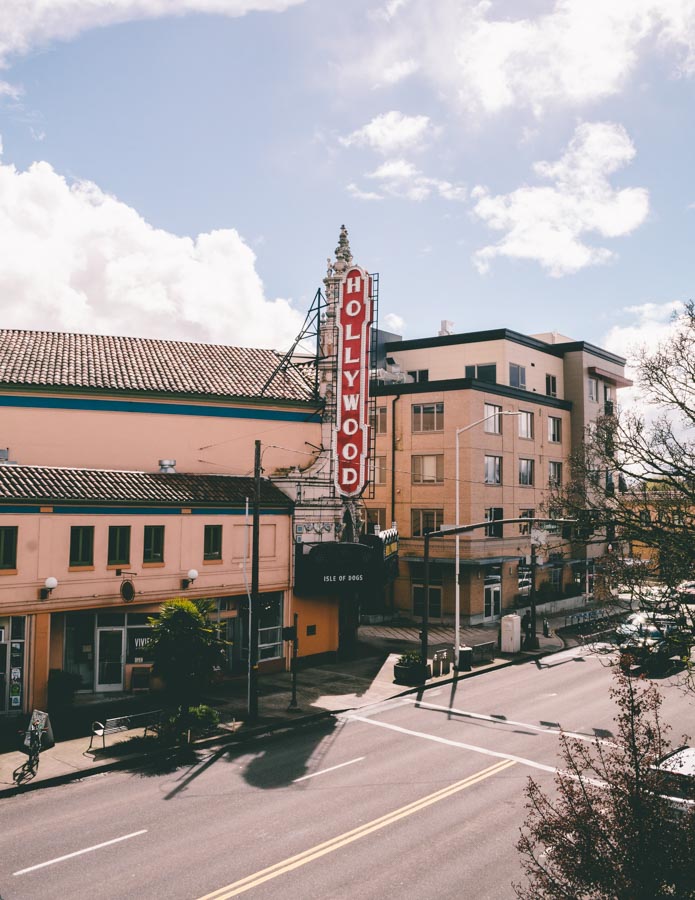 While the Hollywood district in Portland doesn't have anything in common with Hollywood boulevard in Los Angeles, it still can be a cool area for a quick visit.
Located only a few streets away from Grant Park, it makes it easy to get here. Since the whole neighborhood is rather small, you can easily roam around it in a few hours. For a really nice acquaintance with another Portland neighborhood full of greenery and lovely homes, start your walk from the north. That area is quiet and calm and you can have a very pleasant walk there under the trees.
Should you be hungry, there are a few places to stop for a meal. Hollywood district is famous for very good Asian food restaurants, so in case you were craving Asian food, the choice is big. Gado Gado family-style restaurant serves very good Indonesian food. Shandong offers Northern Chinese cuisine. The nearby Bluefin Sushi Bar has sushi staples with sashimi and specialty rolls.
Portland's Hollywood district is also known for its historic 1920s-era Hollywood Theater. If you have a desire and time, come watch a movie here. There are always some classic films, screenings, festivals, and various events that get featured here. This is a perfect place to catch a film in a superbly comfortable environment with relaxing seating. Admissions are cheap, food is good and the building is beautiful.
DO A BREWERY CRAWL
Oh, famous breweries of Portland… they are so famous that many people outside the US know its beers. And that's not surprising. With nearly 90 percent of US hops coming from Washington state and Northern Oregon, it is easy enough for the state to be a perfect spot for craft beers. In fact, Portland is the number one city in the world with the highest number of breweries in the city. Visiting Portland and not trying the local beer is the same as visiting Istanbul and not tasting kebab.
That being said, you should definitely check out at least one (better a few) breweries. For that, go brewery hopping on your own or join a group tour. Here is an excellent post on all breweries in Portland if you prefer to go on your own. And here are the top 10 beer tours around Portland, some of them offer brewery visits by bike.
Day 4 in Portland
SPEND HALF A DAY IN EDGEFIELD
Edgefield is a beautiful destination resort in Eastern Oregon that is home to a soothing, quiet Ruby's Spa, Winery & Tasting Room, Distillery Bar, and lovely lodge. It's easy to forget about the time here and spend one long day.
Come to see restored buildings with cozy interiors and a charming garden with a few hiking trails, play a round of golf, listen to live music, and, of course, sample local wines in the winery. After that, taste great food, get a massage and soak in a pool at the Ruby's Spa.
The best way to reach Edgefield (if not renting a car) is by bus. It makes a stop right by the McMenamins Edgefield resort.
GO ON A DAY TRIP TO OREGON WATERFALLS
Along with Seattle and Los Angeles, Portland is another West Coast city where you can experience nature (a lot of it!) without going far. Just 20-30 miles east and south of Portland gorgeous waterfalls, trails, forests, and valleys await to be discovered.
One of the most spectacular road trips in America along the Columbia River has its beginning near Portland too. If you don't have much time to drive all the distance, go and at least see stunning waterfalls. My guide talks about many stops on the Columbia River Gorge drive, including waterfalls. For this reason, you should even rent a car to venture out. Multiple companies also offer various tours if renting a car is not an option. Those who are really short on time can even join a flight tour.
By the way, for the car rental, since the airport is located in the city limits and Columbia River Gorge drive starts right by it, renting a car will save so much of your time!
In any case, no matter what you decide, a visit to Portland cannot be complete without a trip to the incredible Columbia River Gorge. You can skip many suggestions on this itinerary but try to find time for Oregon waterfalls. It's one of the most beautiful destinations in America!
VISIT WILLAMETTE VALLEY
Willamette Valley is known mainly for the production of the premier Pinot noir wines. However, besides wines as the main reason for people to visit, there are tons of other things to do in the area. Biking, hiking, visiting art galleries, riding a hot air balloon are just some of them. With a charming Inn, it is possible to stay overnight, especially if planning a weekend trip to Portland.
The majority of wineries are located in very close proximity to the city, so reaching them won't take a lot of time. See this map of the Willamette Valley region to get an idea of where wineries, restaurants, lodges, and spots with activities are located.
If you wish, you can spend your 4th day of Portland itinerary only here. If not, then come for a few hours to taste wines and learn about the production process. In case if having limited time and preferring someone to show you around, join a group tour.
We enjoyed a GreatOregonWineTour company that had stellar reviews and led a very informative tour. I know they are offering tours through Viator and through GetYourGuide. If you are interested, compare prices and see where it's cheaper. But there are many other fantastic companies to go on a tour with. I highlighted for our future visit BackcountryWine tours and Insiders Wine Tour.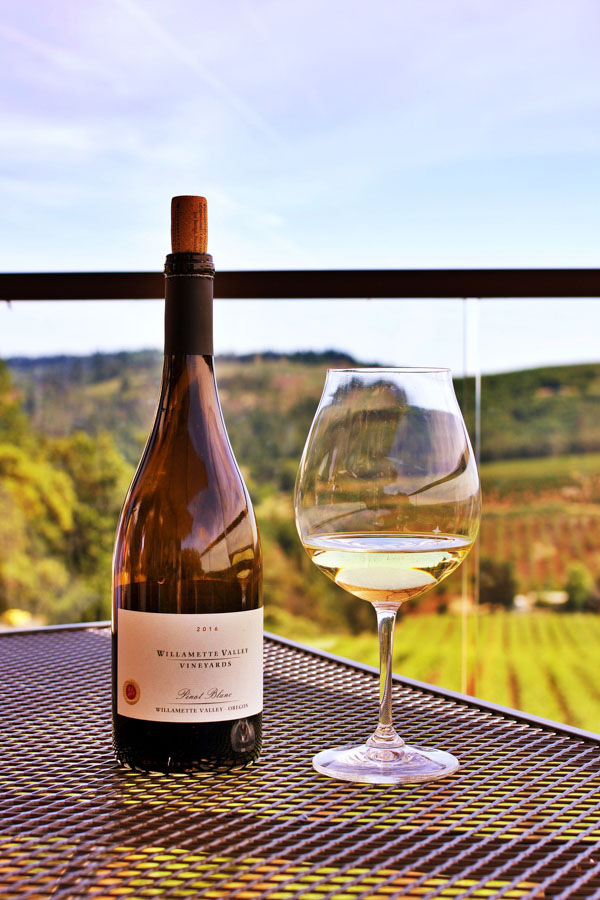 Where to Stay in Portland
Portland has a wide array of accommodation options available. From hostels for budget travelers to chic opulent hotels, everyone can find something on any budget. Yet for the most authentic experience (in my humble opinion,) Victorian-style Inns and privately owned guest houses can make your stay that extra special. So, if you haven't decided yet where to stay and plan to spend a weekend or all 4 days in Portland, check these options out:
Line and The Rose Victorian Guest House – if you are looking for a luxury stay in Portland and want to stay in a historic vintage home, this Victorian guest house is not to miss! Not only it is located in a very good location close to many restaurants and transit, but it has a magical atmosphere mixed with delightful service. Elegant and comfortable rooms have everything you need for an unforgettable stay.
Check prices and availability for Line and The Rose Victorian Guest House on Booking.com
Hotel Vintage – an upscale trendy hotel in the center of downtown Portland. With modern unique design details, chic suites, a pool, restaurant with local wines, and craft beers, this hotel is a great place to stay if besides the city explorations you would like to have a hotel getaway.
Check prices and availability for Hotel Vintage on Booking.com
McMenamins Crystal Hotel – for a comfortable and top-notch stay for a budget-friendly price you have to check this quirky hotel in downtown Portland. The decor in all rooms here has been influenced by the show 'From Blondie to The Flaming Lips' which is performed in The Crystal Ballroom just across the road.
Their spotless rooms, lovely indoor swimming pool, music-themed art gallery, lovely restaurant, own selection of crafted beers, and outstanding service make it one of the best hotels to stay in Portland.
Check prices and availability for McMenamins Crystal Hotel on Booking.com
HI – Portland Northwest Hostel – an excellent choice for travelers on a tight budget or those who are looking for a "community" type of experience. Located not far from the famous Mississippi Avenue, it has clean, comfortable rooms with all the necessary amenities.
Based on excellent reviews, this hostel has outstanding service and the staff makes you feel like staying with friends. Check reviews and prices here.
Check prices and availability for HI – Portland Northwest Hostel on Booking.com
Don't feel like any of these accommodation options is right for you? Click here to browse other hotels in Portland.
---
Planning your perfect weekend Portland itinerary can take some time. There are so many things to do in the city! But if you follow my tips, you'll surely have an amazing trip to Portland!
If traveling from outside the US, don't forget to take care of your travel insurance to know you are covered for any event. We personally like to stick to SafetyWing, click here to get a quote from them.
Are you planning a 1, 2, 3, or 4 days in Portland itinerary? Or maybe you are planning to spend more days in this city? Have you visited Portland before? Share in the comments!
Did you find this post helpful? Don't forget to pin it!