Is Istanbul Expensive in 2023? Guide to Prices in Istanbul & How Much You Need
Last updated on May 15th, 2023
Recently I returned from my quick 4-day trip to Istanbul where I met with real estate agents. The first thing I noticed was how much prices in Istanbul changed compared to the previous years when I lived there.
In fact, they became twice or even three times higher than a couple of years ago or even compared to the last year when things still seemed to be cheap.
Everything became more expensive from accommodation and transport to groceries and entertainment. And this is not only due to Turkey's currency devaluation and foreign trade deficit.
Negative interest rates, Russian war in Ukraine, and the massive immigration from Russia are all adding up and causing prices to rise. Also, the fact that airbnb constantly increases prices for short-term listings in Istanbul (as pretty much everywhere else) has a direct effect on long-term housing in Turkey.
That in turn bounces back and influences a slow increase in the value of an area for the residents, many of whom are pushed out to raise prices in their businesses due to financial constraints. It is a vicious circle that makes Turkey's prices go up more and more.
I thought to update this post right after my trip and mention the latest prices in Istanbul as they changed a lot and knowing them will help to plan your Turkey itinerary. It will help you understand how much these days a trip to Istanbul costs, overall how expensive Istanbul became, what is on average the cost of living in Istanbul, and how much Istanbul's travel budget should be.
This time I traveled with a $55 (€52 based on the current exchange rate) per day budget but I managed to spend less (excluding airfare). Mainly because it was not a vacation but more of a business trip where I didn't pay for entertainment. Although I didn't miss a chance to revisit a palace in the Sultanahmet neighborhood and spend half a day in a fishing neighborhood Arnavutoy.
But you can still have a very meaningful trip with the same budget as I had and I'll show you how below.
If after reading my Istanbul trip cost guide you still have questions, please drop them below in the comment section. And if you feel like sharing insight about your own travel budget for Istanbul, don't hesitate to do it! Even though I am visiting the largest city of Turkey at least once a year and regularly updating this post, I may be still a bit behind on all price adjustments.
---
Please note: This post contains affiliate links. I may earn a commission if you make a purchase or booking by clicking a link (at no extra cost to you).
---
Quick Tips on How to Reduce Your Istanbul Trip Cost
Planning a trip to Istanbul soon? Here are my favorite resources to help you minimize your expenses!
Quick Introduction to Prices in Istanbul
Accommodation Prices in Istanbul
There are two things you need to remember about the cost of accommodation in Istanbul. First – summer and winter prices do not differ much as in some other Turkish cities, particularly those by the coast.
Even though there is a big gap between the number of visitors in summer and winter, it doesn't influence the accommodation market directly.
Winter is the time of many conferences and business events as well as overall it is a good season for business travel. (Don't forget that many companies have their headquarters in Istanbul). So many hotels and airbnb flats stay occupied throughout that period. Plus, Istanbul in winter is becoming more and more popular too.
This is why the main criterion which defines accommodation prices in Istanbul is not the season but location unless you look into Princess Islands.
For example, a posh neighborhood of Nisantasi will have higher hotel prices in winter than let's say a quirky area of Balat and Fener. Because it is home to many offices and fashion stores that have huge winter sales and attract people from all over.
The same is about Karakoy or Moda neighborhood in Kadikoy. They will be also much more expensive than let's say a touristy area of Sultanahmet. In fact, in Moda, it can be even difficult to find a place to stay in winter if you are booking only two or three days in advance.
For more details about each neighborhood in Istanbul and how to find the best place where to stay, refer to my guide to the best areas in Istanbul. Also, don't miss a post about where not to stay in Istanbul to find out about areas that are better to avoid.
A second point that you should keep in mind – the cost of accommodation in Istanbul for you will depend on when exactly you make a reservation.
In January each year, Turkey goes through its annual price increase on public services and utilities. This influences all other prices that start catching up too within the next few months.
That means if you book your accommodation at the end of the year or during the winter, you'll score the lowest price. In spring, when hotels usually increase their room rates, prices are getting higher.
Also, the same applies to summer. When making the last-minute booking anytime in June-August (especially by the Bosphorus or sea in Istanbul), expect to pay much more than what you'd pay in spring for the same accommodation option.
Now, let's actually talk about how much accommodation in Istanbul costs, looking at every possible option.
Istanbul Hotel Prices
In budget-friendly hotels, room prices start from $32-$37 (€30-35) per night. But you need to understand that for this price, you won't get anything extraordinary. In fact, most hotels with such prices have either bad or very bad reviews. Yet, they are an option for someone on a very tight budget.
Prices for boutique or chain hotels with ratings of 8 (out of 10 points) and higher in good areas start from $55 (€52) per night. Just like Sayeban Hotel Istanbul for example, Dreamer's B&B or The Camelot hotel. Although they will be more expensive when changing the dates to sometime in July or August.
In good solid 3* hotels, you can rent a room for about $80-$90 (€75-€85) per night (like for example Corner Hot hotel) and for about $100-$120 (€94-€113) if this hotel has a view of the Bosphorus and very central location, like Osmanhan Hotel.
During the winter season, for just a little higher price, you can also find a room in 4* hotels (like the beautiful Sadaret Hotel & Suites Istanbul with a rating of 9.2). Luxury hotels in the off-season tend to reduce their prices significantly. For example, Swissotel The Bosphorus and W Istanbul often offer huge discounts.
Istanbul Hostel Prices
If you are on a very tight budget and need just a bed, expect to pay $14 (€13) per night.
For a bed in a nicer hostel with good ratings, like hostel Le Banc or MODA Drei, you'll have to pay on average $27 (€25). In the majority of places though, prices for a bed in a shared room are very close to prices for a separate hotel room.
Many hostels, like Agora Hostel for example, have stunning views of the Bosphorus, so they cost much more than usually a bed in hostel costs.
If budget allows and you are looking for a fun social experience then check the Second Home hostel and YOLO hostel (in the neighborhood where I lived).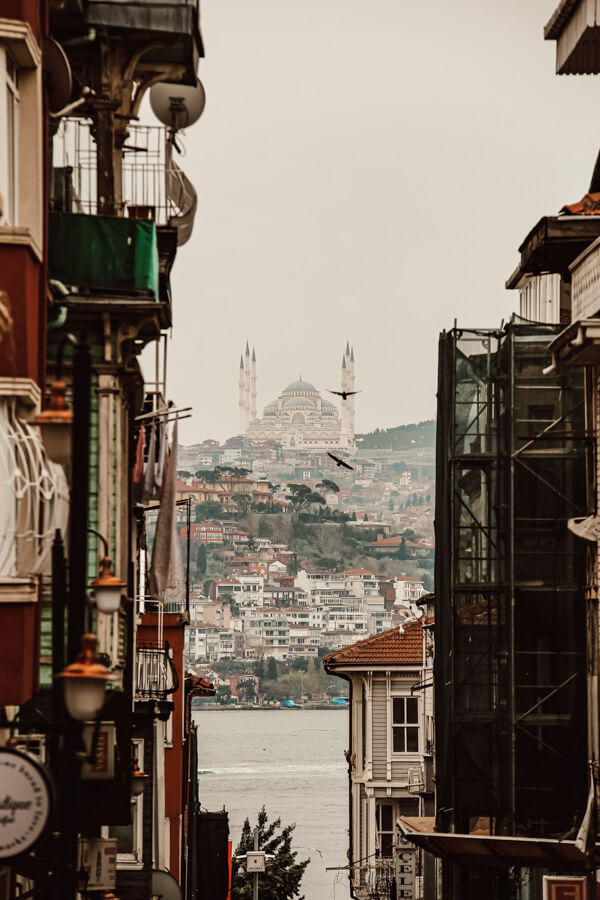 Prices of Apartments in Istanbul
The minimum price for a short-term apartment in Istanbul is between $32-$37 (€30-€35) per night. But to be honest, that's the price for a small basic studio, for a private room in someone's home, or if you get lucky for a new (nice) apartment that just popped up on airbnb and comes at a discounted rate.
So if you are lucky to find a new beautiful flat that costs this much, book it right away. As on average prices for nice stylish apartments in Istanbul start from $70 (€66) per night. Luxury holiday rentals start from about $120 (€113) per night.
If you can afford it, look for an apartment in a good location and with access to the roof. Istanbul has incredible views all over the city and it will be well worth your money to pay for an apartment with roof access. For example like this flat in Beyoglu or this cozy roof flat with Bosphorus views.
Cost of Transport in Istanbul
Istanbul is a huge city and while you can explore a lot on foot, at some point you'll need to use public transportation to get to different areas.
Public transportation in Istanbul is well-developed and reasonably priced, although at first it may seem difficult to understand. The Google Maps app does pretty well with route planning so you can easily refer to it.
The city has buses, a tram, ferries, Marmaray (metro under the Bosphorus between Asia and Europe), and a metro bus. Each time you need to make a transfer, you also have to pay the fare again.
Cost of Istanbul Public Transportation
From January 2, 2023, new tariffs for public transport in Istanbul are in effect. A single ticket for one trip costs 20 TL (€1 or $1.06), 2 trips – 30 TL, 3 trips – 50 TL, 5 trips – 60 TL, and 10 trips – 110 TL.
However, to be able to save (if you plan to use public transport a lot), it is better to purchase the Istanbul transport card (IstanbulKart). It allows you to spend less on each journey and when you need to make a transfer, the second trip after the transfer is 30-40% cheaper. Without a card, you pay the full price for any trip.
The cost of a card with a zero balance is 50 TL (€2.5 or $2.7), so you'll need to add money to be able to use it. It offers discounts on all types of transport, including ferries and Marmaray, although excluding Dolmuş (shared taxi). And then when you make a transfer, the first one if made within 30 minutes is 30% cheaper, the second one 50% cheaper, and the third one by 75%.
If you plan to make at least 3 rides on your trip to Istanbul, the price of IstanbulKart will pay for itself with all the discounts you get. You can also share it with another person.
For convenience, there is a possibility to pre-order IstanbulKart in advance and have it delivered to your hotel or apartment. In this way, you save time and help locals to make money without a need to figure out on your own where to buy it.
Otherwise, the Istanbul transport card is on sale at the metro and ferry stations or at kiosks that sell magazines, newspapers, and cigarettes throughout the city.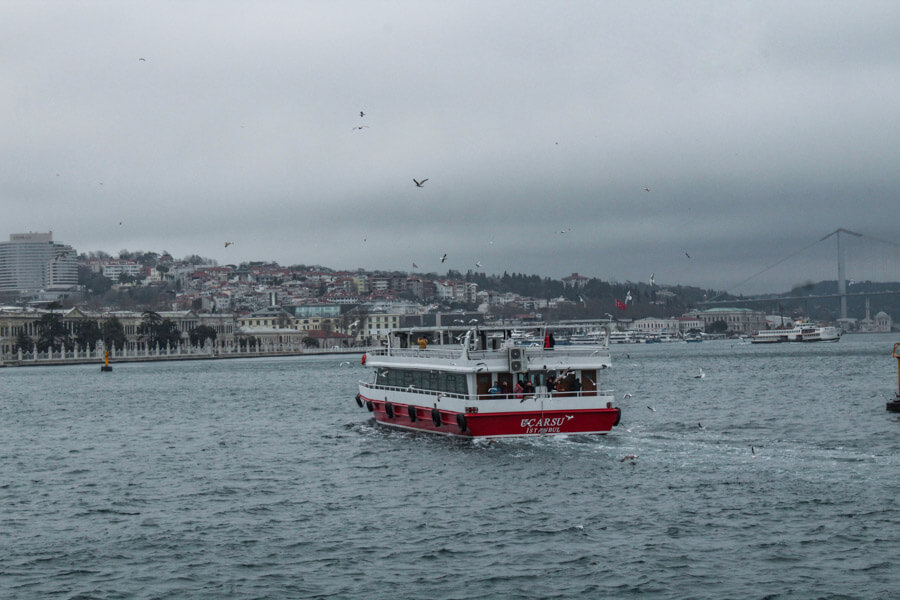 Prices For Istanbul Airport Transfer
For the Istanbul airport transfer, from any of the airports, you can easily get to the city center by public bus.
The fare from the new airport (IST) is between 68-96 TL ($3.6-$5.1), depending on which part of the city you are going to. For example, ticket to Taksim square costs 87 TL (€4.3 or $4.6), and to Kadikoy piers on the Asian side 96 TL (€4.8 or $4.9).
The end of January 2023 was also marked by the opening of the metro right at IST Airport. So now you can get to the city center by metro in 30 minutes and pay for a ride 12.77 TL ($0.67) with Istanbulkart. The metro is open from 06:00 to 00:00 and trains leave every 20 minutes.
An alternative here is a private transfer arranged in advance. Like this affordable private transfer in a minivan from the IST airport and, if budget is not an issue, a private car from Sabiha Gökçen airport.
Taxi Prices in Istanbul
The cost of a cab ride in Istanbul depends on the type of taxi. The drop rate for a yellow taxi is 12.65 TL ($0.67), cost per km 8.51 TL ($0.45). A blue taxi drop rate is 14.55 TL + 9.79 TL per km. And black taxi 21.51 TL with 14.47 per km.
On the Taksiyle, Online taxi cab fare calculation, you can calculate the approximate cost of the trip. Once in a cab, make sure to double-check that the meter is on.
There is also Uber in Istanbul now, although the BiTaksi is more popular in Istanbul. With this service, you get the usual yellow taxi but the price the application shows is approximate. At the end of the trip, the amount on a meter can be different.
There are thousands of taxis in the city. Getting one on the street is usually faster than ordering it in advance. But honestly, taxi is not the best mode of transportation in Istanbul during the day. The city constantly sees traffic jams and getting to the needed place by ferry, metro, and tram is often faster.
If you can avoid taking a taxi in Istanbul, better do it as much as possible. It is expensive, uncomfortable, and often the entire experience spoils the mood.
Prices For Car Hire in Istanbul
Generally, you do NOT need to rent a car in Istanbul unless you have plans to go to the Black Sea region, on a day trip around Istanbul, or down to the coast.
So, if you intend to travel outside the city, be sure to check my guide to car hire in Istanbul and Turkey. I explain in detail what are the best companies and the worst companies to stay away from, how much cars cost, and what to expect in general. Prices for gas are just a little cheaper than in Western Europe.
But shortly, if you need to rent a car for a couple of days only, the average price per day is €20 ($21.5) if you rent from a local through this company.
Renting a car on a long-term basis (1 week or longer) is better through a big aggregator, my favorite is Discover Cars as their prices are the lowest. An average price tag for a 1-week car rental through them costs €110 ($118) but is often lower, especially in the winter season in Istanbul.
Check their prices below and see for yourself:
Food Prices in Istanbul
How expensive is Istanbul in terms of food and drinks? If you didn't know that yet, I am going to tell you – Istanbul is a gastronomic paradise and there are plenty of options for high quality delicious and cheap foods in Istanbul.
During the entire trip, you can have only street food without a need to cook in your rental accommodation or dine in inexpensive restaurant. Although, many restaurants in Istanbul these days are increasing prices on their menus, others still have affordable options. You just need to know where to go.
In this huge city, you can find prices for any budget. Below I mention the average cost of a meal in Istanbul in non-tourist locations. There are lots of non-touristy places to eat at. So I do recommend you check those places out for an authentic feel and better prices.
Prices for Breakfast in Istanbul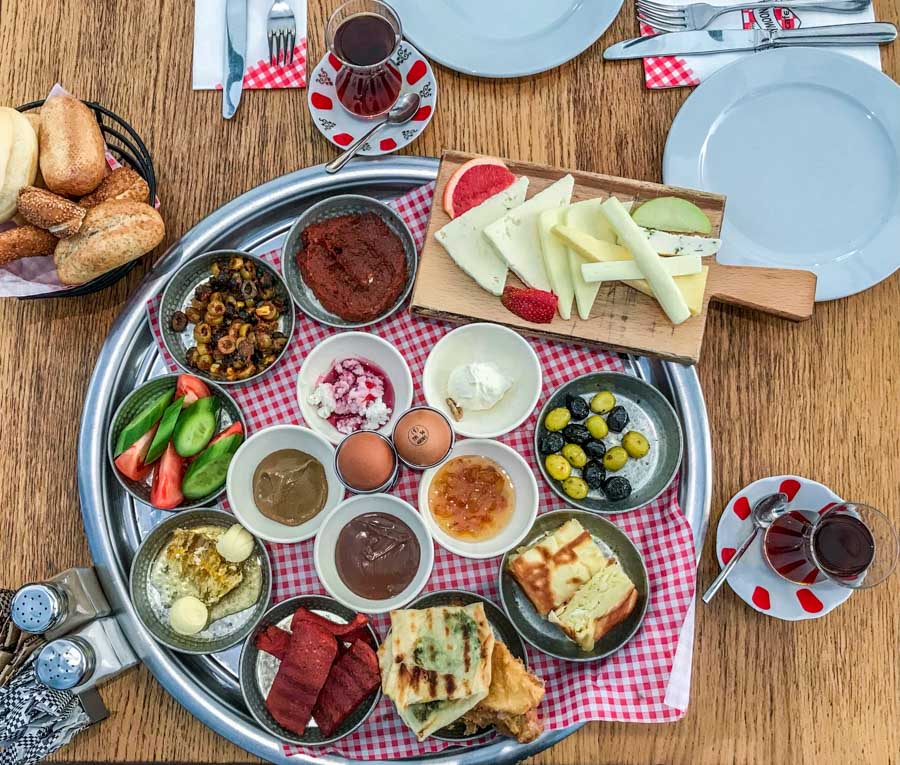 Price of a traditional Turkish breakfast depends on the type of breakfast you are getting.
A small plate kahvaltı tabağı (which includes several types of cheese, sausage, cucumbers, tomatoes, a boiled egg, olives, butter, bread, tea or coffee) costs about 80 TL (€4 or $4.3). But that's often not enough for people who like to have a big meal in the morning.
Serpme kahvalti, big breakfast goes for about 150-200 TL (€7.5-€10 or $8-$11), depending on the place. The same breakfast with a view of the Bosphorus or anywhere by the water will cost 250-300 TL (€12-€15 or $13-$16). However, the amount of food served during the serpme kahvalti is usually more than enough for two people.
Besides the Turkish breakfast, you can have a few other variations of meals that are considered breakfast food.
One of them is Menemen – Turkish scrambled eggs with tomatoes, green peppers, and spices. Some street food places offer it for as little as 40 TL ($2.1). But in the majority of places, it still costs on average between 60-80 lira ($3.20-$4.20). Bread comes together with it.
Another popular type of breakfast is burek with ayran or tea and price for that is between 45-60 TL ($2.4-$3.20).
The cost of the European style of breakfast (omelette or benedict eggs) per person costs between 120-150 TL ($6.3-$8).
Istanbul Street Food Prices
As for street food, Istanbul has so much to offer. In some ways similar to the Southeast Asia street food scene, it has many stalls, carts, and small street cafes with many meal options on a budget.
For example, the price of pilav costs between 35-45 TL ($1.85-$2.4), kumpir (stuffed potato) – 60-80TL ($3.2-$4.2). A decent doner goes for 40-60 TL ($2.1-$3.2) minimum, lentil soup in local style diner – 20-30 TL ($1-$1.6), in restaurants it costs much more.
The price of lahmachun (Turkish pizza) – 30-45 TL ($1.6-$2.4), simit – 8-12 TL ($0.42-$0.65), famous fish wrap or sandwich is 60 TL ($3.2).
Istanbul Restaurant Prices
Restaurants in Istanbul differ and average meal costs are different too. I would also add to this category casual diners, canteens, cafes, and restaurants with a view and upscale restaurants.
If you want to save money but still dine in a restaurant-type establishment, look for places with the name "Lokanta" or "Lokantasi". This type of local dinner has a counter with food, so you can see what's there on offer and pick up whatever you like. Usually, meat dishes are the most expensive but veggies, soups, grains, and simple dishes with chicken don't cost a lot.
So, lunch in such an eatery (just put on the map the word 'lokanta' and you'll find many locations) costs as much as 60 TL ($3.2). It mainly includes veggie dishes, soups, pasta, and chicken. But that is more than enough to have a filling meal.
Tea in a cafe costs around 11-13 TL ($0.6-$0.7), Turkish coffee is between 24-28 TL ($1.3-$1.5). Street coffee costs between 9-10 TL (around $0.5).
Chicken Kebab plate which includes rice, vegetables, and lavash in a restaurant costs between 110-135 TL ($6-$7.1). In a cafe or restaurant with a view, price for the same plate is usually 1.5-2 times higher.
Other Types of Food in Istanbul – Average Cost
As for other Istanbul food prices, I can highlight the price for groceries, desserts, and drinks including Turkish beer.
When speaking of food prices in grocery stores, it is important to note that finding a large supermarket in the city center is hard. Depending on the neighborhood where you stay, you may need to walk (or use public transport) to get to the nearest large grocery store.
So if you plan to eat at home most of the time, it is better to check on the map the location of a grocery shop as well as a food market and a smaller veggie shop before booking accommodation.
Supermarket prices in Istanbul depend on what exactly you are buying. Fruits, vegetables, ayran, Turkish bread, honey, olives, bulgur, cheeses (like feta), coffee, tea, and some Turkish sweets are rather cheap. The price of baklava in Istanbul on average goes from 200 to 400 TL ($10.5-$15.8) per kilogram.
Here are quick examples of food prices in Istanbul:
Water, 1.5 l – 8 TL ($0.42)
Coke 1.5 l – 19 TL ($1)
Eggs – 40 – 45 TL ($2.1-$2.4)
Ayran – 4.5 – 6 TL for 200 ml ($0.25-$0.32)
Bread – 9 – 15 TL ($0.5-$0.8)
Bananas 1 kg – 15 TL ($0.8)
Pasta, 500 gr – 15–20 TL ($0.8-$1.06)
Salmon fillet, 1 kg – 360 TL ($19)
Avocado, 1 pcs – 20 – 30 TL ($1.06-$1.6)
Price of beer in Istanbul, as of now, in stores starts from 36 TL ($1.9) per bottle and in bars from 65 TL ($3.5). In bars on Istiklal street and in Moda neighborhood, happy hour is pretty common (from 3 to 6 pm usually) and there you can find beer for as much as 55 TL ($2.9).
In popularly touristy areas, the price of a beer can be up to 135 TL per bottle ($7). Shops do not sell alcohol from 10 pm to 6 am.
Another expense is drinking water. Tap water in Istanbul is not safe to drink and you need either to filter it or buy bottled water.
The cheapest brand of a bottle of water of 10 liters costs 15TL ($0.8). But you can pay the same for 2 bottles of 1.5 liters if buying less.
The price of the dessert varies. On average, you'll pay 65-85 TL ($3.5-$4.5) for a cappuccino or latte and a piece of cake. A cup of cappuccino of its own, size 0,3 costs 65-70 TL ($3.5 or €3.3) depending on the cafe.
A cup of juice costs 25 TL (250 grams) or $1.3(€1.45) accordingly. But to find such a price, you need to look for special juice carts. They are popular throughout the city.
Turkey also has good local wines and not many places where to try them. One of the best wine spots is Solera Winery. A glass of local wine there will cost between 65-90 TL ($3.45-$4.75) on average. The cheese and meat plate starts from 115 TL ($6).
Does my content help you plan your trip? If yes, I'll appreciate a cup of coffee from you, so I could produce more free guides and itineraries!
Cost of Activities & Entertainment in Istanbul
There are so many activities in Istanbul that sometimes it's difficult to decide what to start with. Luckily for many travelers, a big part of the attractions are free and some museums cost only a few dollars. The city has a high number of parks with vistas, old fascinating architecture, and boardwalks.
You can spend your entire vacation only walking around the city, sampling various foods, seeing very different in style neighborhoods, and going on public ferry rides.
If you want to do a tour with a local, expect to pay anywhere from $25 to $100, depending on how long the tour will be and what it will include.
There are also free walking tours. One of my favorites is guruwalk, although civitatis also has some free tours on offer.
If you wish to visit one of the palaces and see how sultans lived, a guided tour with an admission ticket will cost around $70. Off-the-beaten path day tour around European and Asian sides (which gives you a full introduction to the city) costs somewhere around $125 per person.
Istanbul, like many other cities, also has its own Hop-On Hop-Off buses (price starts from $36 per person). However, try to avoid going on this ride on hot summer months like July and August, also during rush hours (in any season) and the second half of the day on weekends. Being stuck in traffic is no fun.
Bosphorus tours are very popular too. Budget travelers can hop on a public ferry and go in any direction. In this case, a one-way trip will cost between $0.50-$1. However, if budget allows, better join a guided Bosphorus cruise or an all-inclusive cruise with dinner that cost between $40 and $100.
Entrance fee to a non-touristy hammam is 85-95 TL ($4.5-$5) + 40 TL (around $2) for a massage and around the same amount for a scrub. The most popular and famous hammam with good service is Ayasofya Hurrem Sultan. But, since it is focused on tourists, the price there is much higher – between $80 to $140 per visit.
Prices of Museums & Shows in Istanbul
Besides the Istanbul activities that I mentioned above, I also want to mention museums, concerts, and nightclubs.
As for the museums, the admission fees for all of them cost somewhere between 55-180 TL ($2.9-$9.5). The most expensive is Topkapi palace where the entrance fee is 500 TL ($27) as per their website.
If you are planning to check many museums during your visit, I recommend purchasing an Istanbul Museum Pass. If in doubt, read my post about whether a museum pass in Istanbul is worth your money or not.
Entrance to the Blue Mosque, like any other mosque in Istanbul, is free. Other places worth seeing in Istanbul are Basilica Cistern, Archaeological Museum, Ataturk Museum, Kucuksu Palace, and Beylerbeyi Palace. Prices for those range between 55-135 TL ($3-$7).
As for the nightlife in Istanbul, there are also a lot of options to choose from for any taste and budget. The most famous areas with bars, pubs, and restaurants are Bebek, Nisantasi, Beyoglu, and Moda in Kadikoy.
The main part of Istanbul's popular nightclubs is concentrated in the Taksim, Levent, Etiler, Bebek, Ortakoy neighborhoods as well as on Bagdat street in Kadikoy. If you have a limited budget but still want to have a good time, go to the Taksim area. There, in addition to expensive clubs, you'll find establishments with fairly low prices. Besides that, most of them are open until the early morning.
Another popular entertainment activity in Istanbul is a whirling dervishes show. The entrance fee is usually between 660-850 TL ($35-$45) depending on the place. If you are a fan of dances and religious ceremonies that introduce local culture, you definitely won't regret it.
Other Istanbul Prices to Know About
Price for a Visa
Depending on the country you come from, you may need to get a Turkish visa before entering Istanbul. While more than 40 nationalities can travel to Turkey visa-free, others need to apply for a visa.
The easiest and fastest way to obtain a Turkish visa is via the electronic visa application system. Depending on the passport, the price is within the $50-$60 range. Indian citizens traveling to Istanbul will need to pay around $44 for a Turkish visa while holders of the UAE passport around $60.
Applying for e-visa in advance is less pricey and actually saves you time. There is a separate line in the airport for arrivals without visas to Turkey which is moving at a much slower pace and just steals time. In order to save it, take care of your documents before traveling.
Price of a Sim Card
If you need a sim card in Istanbul you can get a tourist package in any of the cell phone companies' offices around the city or in the airport. They all offer very similar deals for about 380 TL ($20). In this package, you get 15-20 GB of data, minutes, and text.
For those who are traveling in a group and want to stay connected, there is an option to get Unlimited Pocket WiFi. It works pretty well and might be much cheaper to use than getting sim cards for everybody. Pick up the device either at the airport or at the hotel.
Prices for Souvenirs
Souvenirs are on sale in Istanbul almost anywhere and prices range from $1.5 to $50.
Popular souvenirs like postcards cost $1.5 for ten cards, magnets on average $2-$3, a set of 6 traditional tea cups with saucers $5-$6, leather wallets for $15-$20, Turkish coffee around 10 TL ($0.53) per 100 grams.
Baklava and turkish delight cost more if they are in gift boxes. One flavor Lukum (Sade) costs 80-90 TL ($4.2-$4.75) per kg and with pistachios – 250 TL ($13.2) per 1 kg. The price for the most exquisite Turkish delight can reach 500 TL ($26.5) per kg.
Cost of Personal Hygiene & Beauty Products in Istanbul
One note before I start mentioning prices of beauty and hygiene products – they are quite expensive in Istanbul as well as vitamins and supplements mainly because the import tax in Turkey is high.
So anything that was made in Turkey is quite affordable in Istanbul but all foreign products are much more expensive than what they cost in most countries in Europe. So you may want to bring your own toiletries if there is a specific brand you use. And here are Istanbul prices for:
Facial skin care products – prices start from 380 TL ($20)
Sunscreen prices from 170 TL ($9) but they are quite limited in brands and protection factors
Shower gel from 60 TL ($3.20)
Hand cream 80 TL ($4.2)
Toothpaste from 18 TL ($0.95 for a paste made in Turkey)
NOTE: All electronics are very expensive in Istanbul and anywhere else in Turkey. Because the government imposes very high taxes on them. This is why it is much better not to come to buy phones, computers, or any other electronics in Istanbul.
How Much Other Things in Istanbul Cost
Monthly gym membership in Istanbul – 650-700 TL ($35-$37) and more in opulent areas
Movie ticket (yes, some theaters have English subtitles) – 80-100 TL ($4.22-$5.3)
A pair of Levi's jeans – 720 TL ($37.99)
Dress from ZARA store – 520 TL ($27.5)
Closed leather shoes from a Turkish manufacturer – 900-1000 TL ($47-$53)
Cost of Living in Istanbul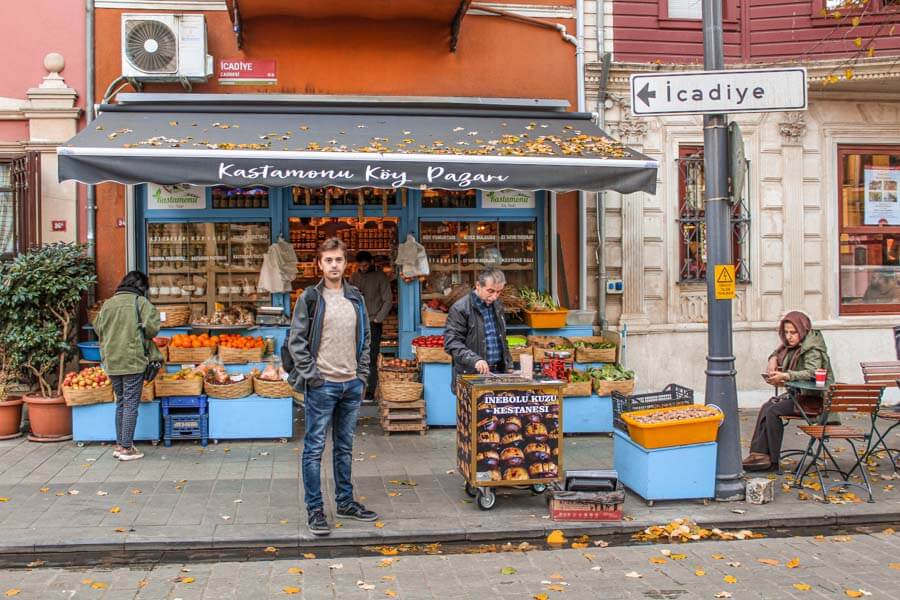 As prices in Istanbul went up rapidly over the last couple of years, the cost of living in Istanbul in 2023 also increased dramatically.
This year, you need to plan your Istanbul budget in that way where you have at least 28,442 TL ($1500 or €1410) for 2 people per month for daily needs, excluding accommodation.
Such an amount will cover groceries, occasional dining out in nice restaurants, buying clothes (they are cheap in Turkey), covering public transportation, gym, and having occasional doctor's appointments (like dentist, ENT doctor, or cosmetologist if there are minor issues) and/or buying medicine if needed.
This budget should be also enough to cover occasional travel, especially if you travel on weekdays and summer months, and if you don't mind long day trips, hot springs in the area, and hikes.
Of course, depending on your spending habits, it is very much possible to bring these living expenses in Istanbul below this budget. But realistically speaking, if you don't want to constantly live in survival mode, it is optimal to have at least this much money.
Long-term rent in Turkey goes from around $500 to $2000 per month where $500 covers the price of a small studio or 1-bedroom flat outside touristy areas in distant neighborhoods (like Avcilar for example, although away from the sea or Kucukkoy).
Realistically speaking, if you can allocate $1000 per month for accommodation alone, you can find a full-furnished 2 beds flat in a nice neighborhood close to public transport within a short commute to the main areas of Istanbul.
In a conclusion, shortly, I'd say you need to budget at least $2500 (€2350) per month for 2 to live in Istanbul comfortably. In the end, everything depends on your needs of course. Again, you can manage with a lower amount too. But that's the rough average this year which will be definitely enough for a simple but beautiful lifestyle.
The last thing to mention – yes, the cost of life in Istanbul is higher than in other small and large cities of Turkey. But don't forget that in Istanbul you receive much more comfort and opportunities.
FAQs About Prices in Istanbul & Istanbul Travel Budget
Now, before I finish this post, let's briefly cover a few more questions that I often receive from my readers about how expensive is Istanbul and about the average Istanbul trip cost. So:
Is Istanbul Cheap or Expensive?
The two most frequent questions I get from others lately are "is Istanbul expensive for tourists these days?" and "is Istanbul cheap?". Absolutely two opposite questions where both of them have the same answer and that is "yes".
Whether Istanbul is cheap or expensive for you personally will depend on many factors, starting from how much you make and finishing with what you consider cheap.
If you ask me, I'll say that Istanbul is nowadays unreasonably expensive. No, that's not the right way to put it. Accommodation is unreasonably expensive in Istanbul these days. It continues to increase and affect other prices turning this city into a very costly destination (especially considering how low wages are).
On this last trip I had to Istanbul I noticed that price tags for many products became almost as high as in some European cities. This past fall I lived in a small town in the Low Tatra Mountains in Slovakia where prices in supermarkets for many foods were much cheaper than in Istanbul, even though a couple of years ago it was totally the opposite.
Yet, at the same time, when I was talking to an acquaintance from Nyon town on Lake Geneva and mentioned a few prices in Istanbul, she was sincerely amazed how cheap Istanbul was.
This is why it is all relative.
The only thing which still stays true (and hopefully will for a while) – Istanbul still fits all types of budgets. It is still possible to find rather cheap accommodation options (if you have the patience to monitor prices), cheap street food still exists and is available on each corner as well as luxury hotels and lavish restaurants.
You just need to prepare for a trip well in advance and know where to go and what better to leave out.
What My Istanbul Travel Budget Should Be?
Of course, as much as you can afford but I'd say not less than $25 per day per person. But with this much money, do not expect anything extraordinary.
On average, an Istanbul trip cost between $50-$70 per day (excluding airfare, insurance, and visa) for two is a very realistic amount that will guarantee a decent level of comfort and even some tours if you are ready to meet one condition.
And that is – if you are ready to travel outside a busy summer season (which is so hot anyways), start looking (booking) your accommodation in advance, mainly concentrate on apartments (so you can even cook if you wish), and stick to free tours (as I mentioned above, this company of gurus has plenty of free tours) or purchase Istanbul museum pass and explore on your own.
Those who are fans of hostel beds can even have a lower Istanbul travel budget and plan to spend $25-$30 per day per person.
And then if you are looking to stay in a nice guest house or boutique hotel, go to traditional restaurants, and have private tours, expect to set a budget of $100-$120 per day for 2.
With a travel budget of $150-$200 per day for two people, you can have a high-end experience if traveling to Istanbul outside the June-August season.
But if you need help with planning your Istanbul travel budget and building an Istanbul itinerary, get in touch with me and we'll discuss all the options!
What is Average Meal Cost in Istanbul?
Another question I frequently get either in comments under my other posts about Istanbul or in a direct message is about the average cost of a meal in Istanbul.
Even though I answered this question in detail above, I thought to write a short answer here.
In 2023, you can expect to pay an average price for:
Turkish breakfast – 85-155 TL / person ($4.5-$8.2)
lunch for one in a local cafeteria-style establishment "Lokanta" – 60-80 TL ($3.45-$4.22)
dinner for two with wine – 400 TL ($21)
full-course meal in a traditional Turkish restaurant – 230-300 TL / person ($12.15-$15.85)
So… How Expensive is Istanbul? Average Prices in Istanbul For Two
Alright, to sum up how much an Istanbul trip will cost, let's estimate how much you can expect to pay per day for everything we discussed earlier. The following price breakdown is based on a mid-range budget and the assumption that two people are traveling together.
ACCOMMODATION: $35-$45 per night for a simple but nice studio flat (or even 1 bedroom) in a central (close to famous sights) area or 2,3* hotels. You can also read my posts about the cheap airbnbs in Istanbul and quirky Istanbul hotels to understand what you get.
TRANSPORTATION: $3 per day assuming that 2 persons take 2 journeys on a ferry, tram or metro. Bus trips will cost less.
FOOD AND DRINK: $20 per day for two if having kahvaltı tabağı Turkish breakfast and eating mainly street food or lokanta food during the day. This amount also includes ayran, juice and/or Turkish coffee and sweets. Multiply this cost by 2 if you plan to eat in old traditional restaurants.
ACTIVITIES: $20-$50 per day, depending on what type of activities you choose. Obviously, museums and shorter tours are cheaper. All day-long guided tours will cost more.
DRINKS & ENTERTAINMENT: $10-$20 per day. If you want to visit a dancing dervishes show or a Bosphorus cruise with dinner and entertainment, expect to pay more.
ADDITIONAL EXPENSES: Don't forget about the airport transfer fee, taxis if you plan to use any, and tips if you plan to tip.
So based on this Istanbul trip cost, you need to budget $88 for two people per day on a trip to Istanbul.
For this amount of money, expect to stay in a private hotel room (2,3* hotel) or entire apartment in a good area close to main Istanbul attractions, eat both street food and in casual restaurants, drink Turkish coffee and eat desserts, visit a few museums, palaces, go on a Bosphorus cruise and experience a nightlife.
This is a very realistic budget based on real numbers and Istanbul prices.
If you decide not to take any tours and stick only to free activities, then you can budget $50 per night for two. Those who stay in hostels and mainly discover cities on their own can expect to spend even less than that.
You should remember that Istanbul is a city where it is still possible to travel not spending a fortune. It becomes more difficult nowadays with the insane inflation but still possible.
Even on a very small budget, it is still possible to have a meaningful trip to Istanbul.
The main expenses are food and accommodation. But you can always skip the activities and choose a nicer more expensive hotel (as there are also many cool free things to do in Istanbul). Or stay in a cheaper accommodation but dine in upscale restaurants and go on tours. And the final expense still will be the same.
Note, this average cost doesn't include flights or travel insurance. For flights, compare prices on different aggregates. For travel insurance, if you want to save money, SafetyWing is a great company that offers flexible travel insurance policies at very good prices.
So, what do you think, is Istanbul expensive to visit or is it cheap?
In my experience, after living there and now being a frequent guest, I can see that Istanbul is still affordable. And hopefully, it will stay this way. Because if not, then I don't know how many locals will be able to survive there.
In any case, I'll be updating this guide to prices in Istanbul to keep you informed and make sure this information is accurate!