Is Istanbul Expensive? A Guide to Prices in Istanbul & How Much You Need
Istanbul, the largest city in Turkey, located in two parts of the world – Europe and Asia is definitely the city of contrasts. Here East meets West, radical Islam goes together with atheism, very rich live next to the poor, and old antiquity coexists with modernity. This city is so large that each district is like a separate state with its own culture and way of life. But how expensive is Istanbul?
Different people say different things. Some travelers note that prices in Istanbul are rather high and almost the same as in other major European cities. Others will insist that Istanbul travel cost is low. You know, everyone is going to be right because Istanbul fits all types of budgets.
I wanted to write this Istanbul trip cost guide to help you understand how much you need to budget. This guide includes prices for accommodation, transportation, food, and lots of various activities. So you decide how expensive is Istanbul for you.
---
Please note: This post contains affiliate links. I may earn a commission if you make a purchase or booking by clicking a link (at no extra cost to you).
---
Accommodation Prices in Istanbul
Istanbul is an amazing city for many reasons. And one of them is the number of various types of accommodation. There are a lot of choices to choose from for any kind of traveler and any budget.
You can find here really nice, clean, and quiet budget-friendly options or opulent places with splendid amenities. Whatever your heart desires.
Where to stay in Istanbul? That's a very good question to ask. I have written a very long and detailed guide to the best areas and neighborhoods in Istanbul. Take a look to find out. Also, I have a post about where not to stay in Istanbul since some parts are truly horrific.
Our favorite neighborhoods are Moda in Kadikoy on the Asian side and Cihangir with Karakoy on the European side. But for you, it may be something else. In my post, I give a lot of tips and explain which neighborhoods work best based on various travel styles and goals.
For now, to give you a better understanding of how much accommodation in Istanbul costs, I would love to mention a few words about the:
Hotels: In budget-friendly hotels, room prices start from 25-30€ but those options may have low ratings. Prices for hotels with ratings of 8 (out of 10 points) and higher in good areas start from 45€ (for example, Sayeban Hotel Istanbul or The Camelot hotel).
In good 3* hotels, you can rent a room from 50€ (for example, Corner Hot hotel, Dreamer's B&B, or Osmanhan Hotel). During the off-season, for just a little higher price, you can also find a room in 4* hotels (like the beautiful Sadaret Hotel & Suites Istanbul with a rating of 9.2). Luxury hotels in the off-season also reduce their prices significantly. For example, Swissotel The Bosphorus and W Istanbul often offer huge discounts.
Hostels: There are relatively few decent hostels in Istanbul that have good ratings and don't cost a lot, like Sanat Hostel Taksim or MODA Drei. In the majority of places though, prices for a bed in a shared room are very close to prices for a separate hotel room. So keep that in mind before making a decision about where to stay.
If money is not an issue and you are mainly looking for a fun social experience then check these top-rated hostels in Istanbul. I personally can highly speak of the Second Home hostel and YOLO hostel (in our neighborhood).
Airbnb: Oh, Istanbul has so many apartments for rent. If you decide to book this type of accommodation, try to find an apartment with a good location and access to the roof. Also, there are quite a few homes in Oriental or Ottoman style where you can have an authentic stay. Like this stylish flat not far from Galata or this budget-friendly flat with perfect views. There are plenty of beautiful entire homes that cost on average €30-€50 per night. Private rooms with shared bathrooms cost between €15-€20 per night.
Cost of Istanbul Public Transportation
Istanbul is a huge city and while you can explore a lot on foot, at some point you'll need to use public transportation to get to different areas.
Public transportation in Istanbul is well developed although it may seem difficult to understand. The Google Maps app does pretty well with route planning so you can easily refer to it.
The city has buses, a tram, ferries, Marmaray (metro under the Bosphorus between Asia and Europe), and a metro bus. Each time you need to make a transfer, you also have to pay the fare again.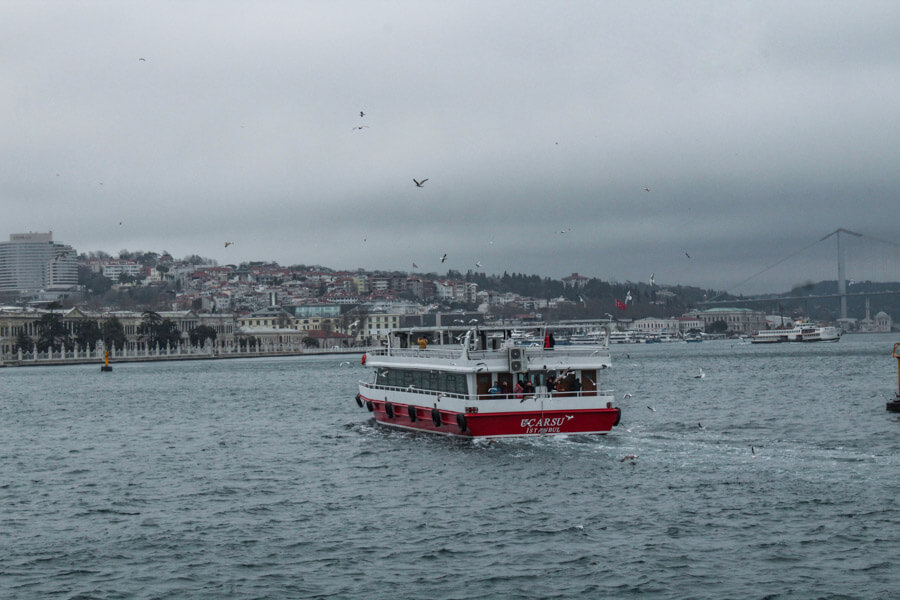 One of the best things to do in Istanbul is to hop on a ferry and see the city from the water while feeding the seagulls. So even if you don't plan to use any other type of transportation, use the ferry for that once in a lifetime experience.
To save money it is better to purchase the Istanbul transport card. First of all, because with the Istanbul transport card, the fare price is cheaper, and if you need to make a transfer, the second trip after the transfer is also 30-40% cheaper. Without a card, you pay the full price for any trip.
On average, with the Istanbul transport card, one trip by bus costs 2.6-4 TL (€0.40-€0.6) depending on the route. A ferry ride costs 3 TL (€0.45), Mamaray – 4 TL (€0.6). The first transfer, if made within 30 minutes after the first fare payment, will be 30% cheaper, the second one 50% cheaper, and the third one by 75%.
If you plan to make at least 3 rides on your trip to Istanbul, buying a transport card will come in handy. You can also share it with another person.
The transport card is usually on sale at the metro and ferry stations or at kiosks that sell magazines, newspapers, and cigarettes throughout the city. The cost of the card is 6 TL but you also need to make a deposit on the card.
Prices For Airport Transfer
For the airport transfer, from any of the airports, you can easily get to the city center by public bus. The fare is between 14-30 TL (€2-€4.35), depending on which part of the city you are going to.
There is an option to arrange an affordable private transfer in a minivan from the new airport and, if budget is not an issue, a private car from Sabiha Gökçen airport.
Taxi Prices in Istanbul
Fixed-rate in Istanbul taxi is 5 TL (€0.72) and each kilometer – 3.1 TL (€0.45). On the Taksiyle, Online taxi cab fare calculation, you can calculate the approximate cost of the trip. Once in a cab, make sure to double-check that the meter is on.
There is also Uber in Istanbul, but it's somewhat unofficial since it has been banned. The BiTaksi app is more popular in Istanbul. With this service, you get the usual yellow taxi but the price the application shows is approximate. At the end of the trip, the amount on a meter can be different.
There are thousands of taxis in the city. Getting one on the street is usually faster than ordering it in advance. But honestly, taxi is not the best mode of transportation in Istanbul during the day. The city constantly sees traffic jams and getting to the right place by ferry, metro and tram are often faster.
Prices For Car Hire in Istanbul
Generally, you do NOT need to rent a car in Istanbul unless you have plans to go to the black sea or on a day trip.
So, if you intend to travel outside the city, be sure to check my guide to car hire in Istanbul and Turkey. I explain in detail what are the best companies and the worst companies to stay away from, how much cars cost, and what to expect in general. Keep in mind that prices for gas are a little cheaper than in Western Europe. Among all the companies-aggregators to rent a car from our favorites are:
MyRentaCar is a major aggregator with good pricing, excellent customer support, benefits, and a great cancellation policy. Many times you can cancel on the day of pick up and avoid the fee. I talk more about them in my guide, so take a look.
Discover Cars is a large rental aggregator. They withdraw money immediately and in case of cancellation refund everything.
If you rent a car in advance, then an Economy class car will cost from 15€ per day. It will be a manual with liability coverage. Always read carefully the contract!
Food Prices in Istanbul
How expensive is Istanbul in terms of food? If you didn't know that yet, I am going to tell you – Istanbul is a gastronomic paradise. Especially for street food fans.
During the entire trip, you can have only street food without a need to cook at home or eat in a restaurant. Although, many restaurants in Istanbul are amazing. I highly recommend you try at least once a famous traditional Turkish breakfast or dinner with a show.
In this huge city, you can find prices for any budget. Below I mention the average cost of a meal in Istanbul in non-tourist locations. There are lots of non-touristy places to eat at. So I do recommend you checking those places out for an authentic feel and better prices.
Istanbul Street Food Prices
If you are looking for a Turkish breakfast, for that you need to go to one of the cafes or restaurants. I mention prices for this type of food below in the next category. But besides the Turkish breakfast, you can have a few other variations of meals that considered breakfast food.
One of them is Menemen – Turkish scrambled eggs with tomatoes, green peppers, and spices. Some street food places offer it for as little as 12 lira (€1.75). But in the majority of places, it still costs on average between 15-18 lira (€2.20-3). Bread comes together with it. One portion of Burek with ayran or tea will cost between 12 and 15 lira as well (€1.75-€2).
As for other street food, pilav, for instance, costs between 8-12 lira (€1.15-€1.75), kumpir (stuffed potato) – 15-20 TL (€2-€3). Decent doner goes for 10-15 TL (€1.5-€2.2), lentil soup – 5-8 TL (€0.75-€1.2), lahmachun (Turkish pizza) – 10-12 TL (€1.5-€1.75), simit– 2-2.5 TL (€0.30-€0.40), famous fish wrap or sandwich is 15 TL (€2.20).
Istanbul Restaurant Prices
Restaurants in Istanbul differ and average meal costs will differ too. I would also add to this category casual diners, canteens, cafes, and restaurants with a view and upscale restaurants.
A traditional Turkish breakfast, Kahvaltı Tabağı (which includes several types of cheese, sausage, cucumbers, tomatoes, a boiled egg, olives, butter, bread, tea or coffee) costs 20-30 lira (€3-€4.35) per person. For a plate for two the price is 30-40 TL (€4.35-€5.8).
Tea in a cafe will be around 3.5-4 TL (€0.50-€0.60), Turkish coffee between 7-9 TL (€1-€1.30).
Chicken Kebab plate which includes rice, vegetables, and lavash in a restaurant costs between 35-40 TL (€5-€6).
In a cafe or restaurant with a view (there are a lot of those places in Istanbul), the price is usually 1.5-2 times higher.
If you want to save money but still dine in a restaurant type establishment, look for places with the name "Lokanta" or "Lokantasi". This cafe often has a counter with food, so you can see what's there on offer and pick up whatever you like. Usually, meat dishes are the most expensive but veggie, soups, bulgur, and rice dishes don't cost a lot.
Prices for lunch in Lokanatasi generally start from 15 TL (€2.2). Tea is usually free and unlimited, although not every Lokantasi offers it.
When it comes to food and if you are visiting Istanbul for a short period of time, I recommend you go on a food tour. It will give a clear idea of what people in Turkey eat and what are the most famous foods in Istanbul. There are a lot of various tours on the market. I checked some of them and recommend this 4 hours long evening walks and food tasting tour and 7-hour private guided food tour. For more options, click here to see all the food tours in Istanbul.
Other Type of Food in Istanbul – Average Cost
As for other Istanbul food prices, I can highlight the price for groceries and desserts. Groceries are not that cheap. Mark and I have been just discussing that fact that the most expensive fruits and vegetables in Europe are probably in Istanbul (besides the most expensive cities, of course).
We've actually just returned from the store and I wanted to add this information here. We spent €10 and got 4 bananas, 5 big potatoes, 2 zucchini, one 200 grams pack of butter, 2 pears, 4 apples, a loaf of bread, and 300 grams of strawberries. Do you think that's too much or too little? I guess everyone can decide for himself but that's what we usually pay here.
Another necessary expense is drinking water. Tap water in Istanbul is not safe to drink and you need either to filter it or buy bottled water. The cheapest brand of a bottle of water of 10 liters costs 5TL (€0.72). But you can pay the same for 2 bottles of 1.5 liters if buying less. When we were visiting Istanbul for the first time, we were solely using our bottle with a built-in filter but once we moved, we started to buy water in the store.
The price of the dessert varies. On average, you'll pay 30 TL (€4.35) for a cappuccino and a piece of cake or a famous Turkish magnolia dessert.
A cup of juice costs 10 TL (250 grams) or €1.45 accordingly.
Turkey also has good local wines and a lack of places to try them. One of the best wine spots is Solera Winery. A glass of local wine will cost between 25-35 TL (€3.6-€5) on average. The cheese and meat plate starts from 45 TL (€6.5).
Cost of Activities in Istanbul
There are so many activities in Istanbul that sometimes it's difficult to decide what to start with. Luckily for many travelers, a big part of the attractions are free and some museums cost only a few euros. The city has a high number of parks with vistas, old fascinating architecture, and boardwalks.
You can spend your entire vacation only walking around the city, sampling various foods, seeing very different in style neighborhoods, and going on public ferry rides.
There are also free walking tours. Some of them are freetour.com/istanbul and istanbul.viaurbis.com. Google will help you find more but these have good reviews. So, if doing only free things, your only expense for activities can be food and public transportation.
However, there is much more to explore. If you want to do a tour with a local, expect to pay anywhere from €20 to €100, depending on how long the tour will be and what it will include.
In fact, I want to recommend you a tour my friend offers. She charges only €15 for an 8-hour long tour around Istanbul while bringing her guests to try Turkish breakfast, see the cutest neighborhoods, hear stories about Turkish weddings and way of living, and make hundreds of photos for your Instagram.
Mark and I went on her tour ourselves and have known her for a while and she does an amazing job, providing tourists with a great experience.
If you wish to visit one of the palaces and see how sultans lived, a guided tour with the admission ticket will cost around €50. Off the beaten path day tour around European and Asian sides (which give you a full introduction to the city) costs somewhere around €115 per person.
Istanbul, like many other cities, also has its own Hop-On Hop-Off buses (that cost €46 per person). However, try to avoid going on this ride on hot summer months like July and August, during rush hours (on any season) and the second half of the day on weekends. Being stuck in traffic, especially on a hot summer day, is no fun.
Bosphorus tours are very popular too. Budget travelers can hop on a public ferry and go in any direction. In this case, a one-way trip will cost between €0.50-€1. If budget allows, you can go on a guided Bosphorus cruise or on a day cruise with dinner that cost between €35 and €50.
Turkish bath is a quite popular activity too. Most importantly, if you want to have this unique Istanbul experience, do not go to Galatasaray Hamam. Yes, it has dozens of legends but at the same time prices are unreasonably high and service is poor.
In non-touristy hammams, the entrance fee is only 30-35 TL (€4.5-€5) another €2 goes for a massage and another €2 for a scrub. The most popular and famous hammam with good service is Ayasofya Hurrem Sultan. But, since it is focused on tourists, the price is high – between 80 to 140 euros per visit.
Cost of Entertainment in Istanbul
Besides those Istanbul activities that I mentioned above, this section also covers details on museums, concerts, bars, and nightclubs.
For the museums, the admission fees for all of them cost somewhere between €3-€10. The most expensive is the Hagia Sophia museum and Topkapi palace. The entrance fee for both of them, without a tour, costs 72 TL (€10.5).
Entrance to the Blue Mosque, like any other mosque in Istanbul, is free. Other places worth seeing in Istanbul are Basilica Cistern (or any other less crowded one), Archaeological Museum, Ataturk Museum, Kucuksu Palace, Beylerbeyi Palace. Prices for those range between 20-50 TL (€3-€7).
If you want to get around the majority of the museums of Istanbul, then try to buy the Istanbul Welcome Card. At first glance, it seems incredibly expensive (€112 for seven days). But it includes skip-the Line Pass for 12 Museums, 3 guided tours, 20 public transportation rides, Bosphorus Cruise, digital guide book and map.
Also, with it, you can get extra discounts for other famous attractions and Turkish baths. The Istanbul Welcome Card is very well worth it if you plan to use it on multiple occasions. In this case, it will pay off for sure.
As for the nightlife in Istanbul, there are also a lot of options to choose from for any taste and budget. The most famous areas with bars, pubs, and restaurants are Bebek, Nisantasi, Beyoglu, and Moda in Kadikoy.
The main part of Istanbul's popular nightclubs is concentrated in the Taksim, Levent, Etiler, Bebek, Ortakoy neighborhoods as well as on the Bagdat street in Kadikoy. If you have a limited budget but still want to have a good time, go to the Taksim area. There, in addition to expensive clubs, you'll find establishments with fairly low prices. Besides that, most of them are open until the early morning.
The cost of beer in Istanbul (as any other type of alcohol) is higher than in many major European cities. Turkey is a Muslim country and you should consider this before planning a trip. For example, shops do not sell alcohol from 10 pm to 6 am. In bars and restaurants, alcohol is on sale at any time.
Prices for a bottle of beer in the store start from 12 TL (€2), although more often it is around 20-25 TL (€3-€3.7). In a bar, prices for a glass of 0.5l start from €3 (happy hour price).
Another popular entertainment activity in Istanbul is a whirling dervishes show at the Hodja Pasha cultural center. The fee for that is usually around €19. If you are a fan of dances and religious ceremonies that introduce local culture, you definitely won't regret it.
Is Istanbul expensive for tourists? Average Prices in Istanbul For Two
Alright, to sum up how much an Istanbul trip will cost, let's estimate how much you can expect to pay per day. The following price breakdown is based on a mid-range budget and the assumption that two people are traveling together.
ACCOMMODATION: €25-€35 per night for a simple but nice Airbnb studio flat or private room in a centrally located stylish home, or 2,3* hotels. See my guide to the best airbnbs in Istanbul and quirky Istanbul hotels to understand what you get.
TRANSPORTATION: €2 per day assuming that 2 persons take 2 journeys on a ferry, tram or metro. Bus rides will cost less.
FOOD AND DRINK: €20 per day for two if having a Turkish breakfast in a cheaper cafe and eating mainly street food during the day. This amount also includes ayran, juice and/or Turkish coffee and sweets.
ACTIVITIES: €15-€40 per day, depending on what type of activities you choose. Obviously, museums and shorter tours will be cheaper. All day long guided tours will cost more.
ENTERTAINMENT: €7-€20 per day. A few drinks at the bar will cost two of you only a few euros. If you want to visit a concert or show, expect to pay more.
ADDITIONAL EXPENSES: Don't forget about the airport transfer fee, taxis if you plan to use any and tips if you plan to tip.
So overall, you need to budget €70 for two people per day on a trip to Istanbul. For this amount of money, you can expect to stay in a private hotel room (2,3* hotel) or entire apartment (a smaller one) in a less touristy area, eat both street food and in casual restaurants, drink Turkish coffee and eat desserts, visit a few museums, palaces, go on a Bosphorus cruise and experience a nightlife.
If you decide not to take any tours and stick only to free activities, then you can budget €50 per night for two. Those who stay in hostels and mainly discover cities on their own can expect to spend even less than that.
You should remember that Istanbul is that city where you can easily meet the budget. The main expenses are food and accommodation. You can always skip the activities and choose a nicer more expensive hotel or stay in cheaper accommodation but dine in upscale restaurants and go on tours. And the final expense still will be the same.
Note, this average cost doesn't include flights or travel insurance. For flights, compare prices on Expedia and Google Flights. For travel insurance, if you want to save money, SafetyWing is a great company that offers flexible travel insurance policies at very good prices.
So, what do you think, is Istanbul expensive to visit or not? In our experience, this grand city offers much but is still very affordable. And, it can surprise even the most demanding travelers!