Ultimate Guide to Renting a Car in Turkey – Things to Know & Avoid
Last Updated March, 2021
With very good roads, scenic drives, and epic viewpoints, renting a car in Turkey is the ultimate way to explore this gorgeous country. Pack some famous Turkish snacks, download Turkish songs, and go on one of many fascinating road trips. Turkey can offer so many of them!
We rented cars in Turkey many times and drove from Istanbul in various directions. Besides Istanbul, we also hired cars in Bodrum, Izmir, and soon will be renting a car in Antalya.
In this post, I would love to answer all the important questions about car hire in Turkey. If you are wondering where to rent a car, what is the rental price, what documents do you need, what about the car insurance, as well as what are the traffic rules and driving conditions in Turkey, I have it all here. I also provide info on cheap car hire in Istanbul, companies to avoid renting from, how to find the best Turkey rental car across the country, and different airports.
Even if you are a pro at car rentals, there is still something to know about the car rent in Turkey. After reading this guide, you'll be super prepared and know what to expect.
But before I delve into the nitty-gritty, let's go over why you should get a rental car in Turkey at all.
Please note: This post contains affiliate links. I may earn a commission if you make a purchase by clicking a link (at no extra cost to you).
1. Should I Rent a Car in Turkey?
Let's start with the most important question as many people have it on their minds. Should you hire a car in Turkey? And let me ask you back: why shouldn't you?
I understand a lot of people don't know much about Turkey and somehow assume it is better to avoid renting a car and driving there. I've heard from many of my friends and readers that they prefer to hire a driver or go on a tour instead of hiring a car. But guys, can you tell me why? Are you concerned about something in particular?
Turkey is an amazing country for renting a car. It is very beautiful and there is a ton to discover. Roads are in excellent condition. Driving is enjoyable and easy. While going on a tour is definitely amazing, none of the tours will ever be able to bring you to faraway corners or let you take your time and slow down in one place. Plus being behind the wheel gives you a sense of freedom you wouldn't have otherwise.
Public transportation is well-developed and you can get to almost any city and village by bus, train, plane, and dolmus taxi. However, many of Turkey's most scenic spots lay between towns and villages and you simply won't be able to get to them without your own mode of transportation. Aegean or Mediterranean coasts alone deserve a ride. With a car, you'll have a chance to go to remote beaches, hidden canyons, and lesser-visited historic sites.
So yes, you definitely should plan to rent a vehicle and go on a road trip of your dreams!
Are you convinced and ready to pick up a rental car? Then jump down to the section where I talk about which rental car company I recommend for a trip to Turkey.
2. Is It Safe to Hire a Car in Turkey?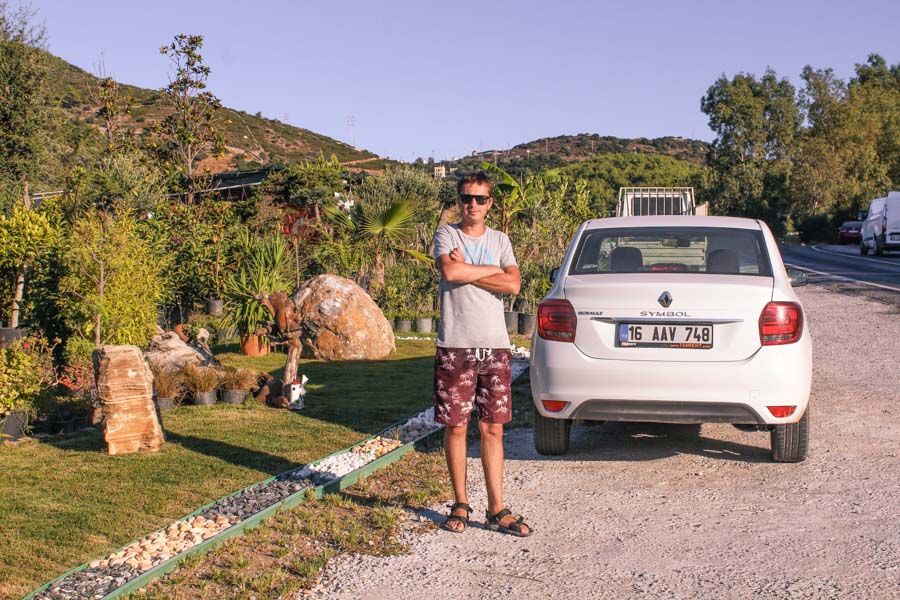 Is Turkey a good country for renting a car? Yes, absolutely.
And hiring a car in Turkey is absolutely safe. You shouldn't worry about any fraud or scams from companies because there are none. Everything is legit and by a contract. Unless you are renting somewhere in the middle of nowhere where there are no official companies.
The only note about safety I'd make is not really about the process of renting a car but rather about driving. It is not that easy to ride on mountainous roads, especially in winter. If there is even the slightest snowfall, some roads may be closed. So if you are planning to rent a car in winter to go to the mountains (for example to ski near Bursa), to avoid trouble, ask the dealer for a car with winter tires or take chains on the road.
Also, in many parts of Turkey, there are warning signs with animals on the roads. This is why be careful – there are migration routes to watch for. But if you are coming from Europe or the US, I am sure you are familiar with this.
Another fact to consider is that mountain slopes abound with serpentines. The surface of those is not very good and steep cliffs possess a risk since they don't have any roadside barriers. Driving on serpentines requires accuracy and attention. Eastern Turkey region, for example, barely has any paved roads, and driving there is a challenge. In that part of the country, it is advisable to hire a driver who knows local roads, rent SUV or go on a tour.
Overall, the procedure of Turkey car hire is absolutely the same as anywhere else in the world. So you shouldn't worry about anything on this part.
3. How Much Does It Cost to Rent a Car in Turkey?
Turkey is definitely not the cheapest country for renting cars but it is also not crazy expensive, especially comparing to Western Europe and the United States.
The price is significantly higher during the high season, which is rather long – from mid-April until mid-September. During that time the basic mini or economy car will cost around €20-25 per day. The bigger car will be more expensive. In the off-season, you can expect to pay around €12-16 per day for the economy class.
There are even some companies that offer car rentals for about €6-€8 per day but to be honest, I wouldn't recommend renting anything from them. I explain why below but if shortly, there are always hidden fees and you pay more in the end anyway. It just looks pretty and cheap in the beginning but then in the end you end up overpaying and stressing out a lot.
4. Best Car Rental Companies in Turkey
Since we stayed in Turkey for quite a long time, we rented many cars to get out of Istanbul for a few days and even weeks. We went on road trips for an extended period of time to the seaside, lesser-known villages, and just drive around Istanbul. We rented a car at Istanbul airport, Izmir, and Bodrum. There is another booking in Antalya we have in a few months, so I'll reflect on that too.
Because we rented from many different companies, I would like to provide the information based on personal experience and give recommendations on what worked best for us.
There are definitely many companies for renting a car in Turkey. But among all those we rented from, I want to start with our #1 pick MyRentaCar company. I'll also mention other suppliers but MyRentaCar is our favorite so far. For many reasons and I explain them here.
MyRentaCar – Best Car Rental in Turkey (For Many Reasons)
First of all, what you need to know is that MyRentaCar is a small aggregator that is quickly growing and operates slightly differently than the majority of similar companies. It is the most used car hire in Georgia (country) and Montenegro. These were two countries where they started to operate their business first but now they are expanding and offering their services in other countries, including Turkey.
Through MyRentaCar we rented cars in Montenegro and Georgia and every time it was a very good experience. That's why when we learned that these guys entered the market in Turkey, we decided to give them a try. And again, we are glad we did.
Second, what makes MyRentaCar the best car hire in Turkey (for us) is that they work only with smaller and local suppliers that they carefully select and check. You will not see here companies such as Alamo, Avis, Dollar, or any other big names. Usually, when renting through MyRentaCar, you'll get a vehicle from a small office company, maximum nationwide, but not international.
Any supplier (local car rental) that gets bad reviews or doesn't meet a level of standard gets removed from the list.
Third, another feature that makes MyRentaCar different (and special) from other aggregators on the market is that with them you receive a particular car that you book, not a car class (economy, compact, full-size, and so on). That means you choose a car that you like, based on your preferences and budget, and this is the car you will get.
So you know ahead of time the make, model, year, and options. However, as of now, this might go a bit differently for Turkey at the moment. Turkey is a new land for the company and they are still working out some details. So there is a chance you might get a slightly different car and not the one you booked. However, in our experience, it was never worse than what we aimed for.
Fourth, what is extremely important to us is customer service. MyRentaCar has one of the best customer services out there, if not the best one. We rented through many aggregators around Europe and the US and never had such an attentive and quick to respond staff. Usually, car rental companies don't pride themselves on good customer service. Here, it's totally different.
You can reach them by phone (British number), email, or 3 chat options through Facebook messenger, Viber, and Telegram. These guys always reply quickly, provide thorough explanations, and always assist with any problem that may come up.
Fifth, what we also like about MyRentaCar is that even with a slightly higher price for the rental, we are paying a much lower deposit (€100-€200) or no deposit at all. With any large well-known aggregator, you always leave a deposit (unless you buy full insurance) and it's always pretty high.
Speaking of the price, Myrentacar, as they first entered the Turkish car rental market, seemed to have a double price of what the lower-tier supplier's charge was. But now it's balancing out with the rest of the market, offering a more competitive rate.
Sixth, since Myrentacar works with local suppliers, you can rent a car not only in Istanbul airport, Antalya, Izmir, or Bodrum. But anywhere else in Turkey where you may think of. Literally. You can also find car rentals in Ankara, in Dalaman (airport and city), in Kusadasi, Alanya, or Cappadocia. There are cars for hire in Bodrum or Marmaris, Fethiye, or any other place. Even in smaller cities in Eastern Turkey such as Van or Kas. See it for yourself below.
Seventh, besides mini, economy, compact, and full-size, Myrentacar offers SUVs and luxury cars for rent. You can see all of them below when using a search bar.
FIND YOUR CHEAP CAR RENTALS IN TURKEY WITH MYRENTACAR
5. Other Car Rentals in Turkey
There are a lot of aggregators on the market you can rent a car through. Besides EDreams that we personally found unreliable (and I am talking about them below), there are still many other companies to choose from.
Among all of them on this list we personally used just one company in Turkey (I mention it below) and the rest we used in other countries. All of them worked well for us.
Normally, when renting a car in Turkey, we go with Myrentacar. But if at some point it gets unavailable then we'll go with one of these companies.
QEEQ (former EasyRentCars) – great service, point system, and lots of bonuses.
Skyscanner – it accumulates a lot of companies and gives you a lot of options.
Circular Car Hire – a decent supplier we used 3 times when renting a car in Istanbul. But they also have offices in many cities. If booking directly, they are a bit unclear about the mileage and deposit in a contract. But overall a very nice and reliable company. I believe they also partner with myrentacar aggregator. But you can always make a booking through their website directly.
6. Where NOT to Hire a Car in Turkey
EDreams Aggregator – AVOID IT AT ANY COST!
EDreams is an aggregator that you can often see on the first lines when searching for a car in Turkey on Skyscanner. We highly recommend you avoid making any bookings through them!
It seems that their entire concept is built on deceiving customers and using any excuse not to refund money, even if the problem is not your fault. Customer service is nonexistent and if any problem occurs, they'll take your money and disappear.
We booked a car through eDreams two times. The first time we had to cancel because our dates changed. Even though we canceled with weeks in advance and within the terms of our contract, they didn't want to refund our money. Why? Noone ever explained. They just ignored us for a long time. So we had to go through different tiers of support and spend two months on back and forth emailing, trying to return the money.
The second time, when we came to pick up our car rental at Istanbul airport (and booked it for one month) but the agent refused to release it due to the fact that we were in Turkey for more than 6 months (which we learned wasn't even their business), eDreams did absolutely nothing to help us find another car and refund money for this one.
After four months of multiple emails and calls, eventually, we had to get our bank involved to receive a refund. And what do you think happened? EDreams issued an official letter lying that we didn't show up, so that's why they charged us.
Wow, that came as a surprise. This large (Irish) international company has been around for many years. So we thought booking through them would be simple and enjoyable. Instead, they provided below zero support, deceived us, and stole our money (literally).
I am not sure if that's a new norm for some companies that try to survive after the pandemic. But myrentacar, on the contrary, during the same corona time offered us to cover the expenses for toll roads when we were charged twice. EDreams stole our money without providing any service and disappeared.
Green Motion – Cheap Car Hire in Turkey – AVOID IT BY ALL MEANS!
Well, the Green Motion company also has been on the market for a while. And unfortunately, they have also proved to be not reliable and transparent. More than that, a lot of people claim this company is the biggest scam. If you check reviews for Green Motion (in all destinations where they have offices), you'll see how bad (very bad) those reviews are. Make conclusions and learn from the mistakes of others not to fall into Green Motion's trap.
This company rents cars not only in Turkey but in many places around Europe. And in each of those places, they offer very cheap deals, hiding many extra fees and trying to get money out of the customer in the end of the rental. We had absolutely horrible experiences with this company not only in Turkey but in Montenegro and Spain. And every time while renting a cheap vehicle we paid much more in the end out of the deposit for something they made up.
Besides the money thing, agents on duty are always rude, often they don't speak English (or pretend they don't) and don't care about the customer by all means of this word.
Another thing besides the fact that they try not to return a bigger part of the deposit is that they are also super picky about the requirements. It can happen that they will not rent you a car (once you are at the desk) because of some requirements which are not even in the contract. For example, if a credit card is not valid for more than 3 months from the date you rent. Or you have been in a country for too long (in their opinion, although you are staying legally). Or if you are too young or too old (which happened to my friend's father).
The quality of their cars can be very poor. Once we hired a car from them with a bad tire which we complained about but they assured was fine. It burst on us right after we left, and then they made us pay for it (much more than what it really cost). Another time, they charged us for scratches that were on the car but they didn't want to mark on the contract assuring us there was no need.
Goldcar – Also STAY AWAY
This is also a budget car hire in Turkey. And pretty much the same as the previous supplier. Just a few things to add.
1. This company is very picky about a car's condition when dropping it off. They try to look for the smallest scratches to charge you a lot for it.
2. Their car fleet consists of very old cars and very new cars. Not much in between. But if you book a rental with full coverage, then you'll surely receive a very old car that will be falling apart. In case you reserve a car without insurance, expect to have a brand new beautiful vehicle because the company expects you to make even the smallest damage.
Upon return, you'll pay extra for it as Goldcar likes to find a dozen reasons why to take your deposit.
7. How to Rent a Car in Turkey
Renting a Car in Istanbul – Our Experience
In Istanbul, most often we rented our cars from the Sabiha Gokcen Airport since it was the closest to Kadikoy, an area where we lived. Also, it was the most convenient location to start traveling in Turkey.
If you're not flying into this airport but need to get there from the city, it is very simple. There are two kinds of express buses that go from Taxim and Kadikoy. It is convenient and cheap. I have more details on how to get to Sabiha airport here.
Many international rental desks are located right at the terminal on the first floor. But if you are renting from a smaller supplier (for instance through Myrentacar or directly like through CircularCarHire), then the pick-up is going to be a little bit different.
In some cases, a supplier may offer to pick you up while at other times it may be easier to grab a cab. Some of those companies that offer a pick-up service usually do not go inside the terminal. The terminal is huge, parking is expensive and they are not allowed to stop near the exit. So they choose to pick you up by their car outside only after you give them a call that you arrived.
For most of the travelers who come from other countries, it is not very convenient to make a call. Also, surprisingly, there is no WiFi at Istanbul airports, so you can't connect and send a message. Or if there is WiFi, it requires you to have a local number to receive a text message with an activation pin.
So in this situation, it is better to follow the signs to the nearby information desk where you can ask them to call the car supplier's number. Normally the rental company will tell you to go outside and wait by the column with some specific number.
In our experience, when we were on the way to car rental in Istanbul new airport (IST) coming from the city, it was much easier and faster to get a cab and pay €2 instead of waiting for a company to pick us up. On the way back, they dropped us off.
8. Common Car Rental FAQs
What Documents Do You Need For Car Hire in Turkey?
Mainly you just need a driver's license and a credit card.
A credit card must be in the driver's name and only such card can be used to leave the deposit. This means if somebody else from your group is paying for the car rental, that person cannot cover the deposit.
Also, keep in mind that a driver is required to hold the license for at least one year. But some companies require two years, so check the contract carefully!
Now, as an example, my California license has the issue date but that is the date when the particular card was issued. But not the date when I received my first DL. If you are in a similar situation and renewed your DL recently, there may be confusion (what happened in my case). So if you did receive a new DL recently, I strongly recommend carrying the old one with you to show that you actually drive longer than the current license says. Otherwise, you risk not getting a car.
That's what happened to me. I received a renewed driver's license in January and went to rent a car in February and the agent was refusing to release it to me saying that I was a new driver. So I needed to find my old license (thank God I didn't shred it) to prove that my driving experience was longer. Once I showed an old DL, he was convinced. Thus make sure to double-check on the date of your license.
Do I need an International Driver's License to Rent a Car in Turkey?
No. Car hire companies will not ask you for one and Turkish traffic regulations do not require an international driver's license. So do not waste your money on it.
Note for expats and digital nomads: If you are staying in Turkey for more than 6 months then some companies may check your last entry stamp and refuse to give a car (what happened to me and what I have described above). But other companies might not care. In my experience, those companies that refuse to release a car are large international suppliers (usually budget car hire) that are located inside the terminal (of any Istanbul airport). Although, none of them have it written anywhere in the contract.
Not sure where this made-up rule comes from. Green Motion said that it's a federal requirement but it is not. There is no such information from the government. And there is even no such information in their contracts. Other companies outside the airport do not care. So, it's a complete mystery, yet, be aware of that. Reentering Turkey solves this problem since you get a new stamp. Or better rent from local suppliers than international suppliers not to have to deal with it.
Does it cost more to have more than one driver?
Yes, pretty much always unless it is included in the package. But that happens rarely. Price varies from €4 per day to €20. Or it can be one fixed price for the entire period. For one week, I have seen a price for an extra driver from €20 to €50.
9. Things to Pay Attention To When Renting a Car in Turkey
1. Toll Roads
Always ask an agent how to use a toll system in Turkey.
Normally, rented cars come with an automated tracker to go through toll roads. However, some companies may charge extra fees for certain roads and bridges. In that case, it would be better to pay on your own instead of using a company's tracker.
Usually, an agent should mention all of this at the time of a pick-up but if he/she doesn't, it's better to clarify not to overpay in the end.
2. Pick Up/Shuttle Service
If a company you rent a car is not located at the airport, they may not have a meet and greet service. In this case, you'll need either to take a bus, cab or walk on your own.
If booking with Myrentacar, some companies offer to deliver a car to your location for an extra fee (sometimes without). Don't hesitate to inquire about it in advance.
3. Inspect Your Rental Thoroughly
Even if an agent marks everything on a contract in front of you, I still advise making your own photos (optional videos) as a precaution.
It may happen that upon return, they may try to accuse you of making a scratch that you didn't.
4. Try to Return Your Car a Bit Earlier
If you rent your car outside the airport during very early or late hours and if you have a flight that you need to get on, it is a good idea to come a bit earlier than your drop off time on the voucher says. The reason for that is that you may not find the staff present in the office.
In local small rental shops sometimes agents tend not to be on duty although they are supposed to. One time, when we had to drop off our car at 21:00 but came around 20:45, we found the office empty. After waiting for 20 minutes and having no one there, we had to ask a passerby to call the company. In total, after waiting for 30 minutes, the guy showed up.
It was a really strange situation but later we learned it's pretty common anywhere in Turkey. If we had a flight, we could have easily missed it. I am not saying this is what's going to happen for you but something to be aware of.
5. Ask If the Car Needs to Be Washed or Not
If you are renting from a small company, clarify if you need to return the car clean. Large international companies never require that but small local shops do. Usually, they are mentioning this upon pick-up but if they don't, better ask.
If you don't return it clean, the fee can be between 10-15 euros. But washing it on your own costs from 2 to 4 euros. Car washes are present on many gas stations and you can clean the vehicle when getting gas before the drop-off.
10. Things to Consider About Driving in Turkey
In general, driving in Turkey is like driving anywhere in Europe. Perhaps just a few things to note.
1. Traffic Rules & Fines
I would like to tell you briefly about the traffic rules since there are not many differences between the rules in Turkey and anywhere else in Europe.
In Turkey, you drive on the right-hand side of the road. Everyone should fasten their seat belts in the car, including the passengers on the back seat. Using a phone is not allowed.
Speed limits on Turkish roads depend on the type of vehicle. For standard vehicles, the speed is 50km/h in cities and towns, on two-lane roads outside of residential areas is 90km/h (for trucks 80km/h), on four-lane roads outside cities (free highways) – 110km/h (85km/h for trucks and RVs), on paid highways and motorways – 120km/h (95 km/h for RVs and trucks).
It is allowed to exceed the speed by no more than 10% of the established limit. For speed of more than 10%, there is a penalty. If you get a fine and pay it in a short period of time (up to 15 days), there is a good discount.
2. Driving Conditions
Not knowing the peculiarities of the local driving style in Turkey, you can get into an unpleasant situation even if you follow all the rules.
Driving in Turkey is easy. However, you need to remember that local drivers do not always follow the rules and are reckless not only on highways and motorways but especially in smaller cities and villages where traffic police are not common.
Therefore, I advise you to be attentive and careful on the road and watch not only your driving but also the driving of those around you. Also, pay attention to pedestrians. In cities, Turkish people somehow tend to walk often on the road and cross it in all the wrong places.
In small towns, like Bergama or Kusadasi for example, driving can get a little more chaotic.
Another thing to remember is that drivers don't yield when they are supposed to. They can suddenly stop for whatever reason and/or don't use turning signals. And this usually occurs in highly residential areas. So just drive within legal limits and watch what others do and you will have no problem.
3. Roundabouts
When you come to a roundabout, you are supposed to yield, as everywhere in Europe. Normally there is also a sign that tells you to yield to the traffic that is already on the roundabout. Sometimes there are a few signs!
However, we noticed that a lot of times cars on the roundabout will stop to let you go first, against the traffic rules. And this is not just a nice gesture. We assumed it is a caution against the drivers who violate the roundabout rules and just drive straight onto it without yielding. Unfortunately, there are too many of those drivers. We've seen that happen so many times.
So watch out and don't rush. Be the one who slows down on roundabouts even if you have a priority to go.
4. Crossroads
A side note to the above: there are many crossroads in Turkey that look like roundabouts but they are not! There might be small roundabouts in the middle that actually work as crossroads.
You'll definitely see a sign reflecting that but it can be very confusing. Just follow appropriate traffic rules.
5. Streets
Some old historical towns and cities have extremely narrow streets. Obviously, those were not designed for cars but they still show as driving roads on the maps. And if you have a small car, you can still drive but only if you feel comfortable with your driving skills and can feel well the dimensions of the car with respect to the surroundings.
It's very common to drive in between two walls having only a couple of inches left on either side of your car or make 90 degrees turn on a tiny street. If you look at the map and see that the streets look more like shattered glass pattern, it means that those are tiny streets. Better try to choose the widest and most straight road.
6. Police Roadblocks
Very rarely but it is possible to encounter a police roadblock. There are might be many reasons for that but you shouldn't worry about them. If police stop you, answer any questions they have and be on your way.
Also, police in Turkey have a right to stop any vehicle for a check. It can happen on a highway or a small road and even if you did everything right. This is normal. They may check your DL and car documentation, maybe do an alcohol test and ask you to open the trunk. Just don't stress about it thinking about a thousand reasons why they could stop you. It's all good and part of their job.
If somehow you got a fine for any violation, you should pay it. It is easy to do at the bank and through the ATM.
7. Traffic Police
Traffic police and military are often patrolling on Turkish roads. As with police roadblocks, here you also shouldn't worry about military convoys on the roads. They are pretty common in Turkey.
There are also cameras almost everywhere that record traffic violations. The most interesting thing is that cameras on the road determine not only the speed but also the type of vehicle. In large cities, there are cameras on traffic lights.
---
Are You Planning a Trip to Turkey?