Renting a Car in Turkey – Quick Guide With Practical Tips to Make It Simple
Last updated on May 21st, 2023
With very good roads, scenic drives, and epic viewpoints, renting a car in Turkey is the ultimate way to explore this gorgeous country. Pack some famous Turkish snacks, download Turkish songs, and go on one of many fascinating road trips. There are many of them in various directions that are worth adding to your Turkey itinerary!
Yet before you go, you need to prepare and answer a few questions, including the one where to rent a car in Turkey, documents not to forget, what to know about rental car insurance, and how to avoid scams (because yes, they are common among car rentals).
I cover that all in this post below, including tips for driving in Turkey, traffic rules, rental costs, how to rent a car in Turkey, and other practical information for a smooth process of Turkey car hire.
Mark and I rented cars in this country too many times when we lived there and we still do when we return to Turkey every year. Besides Istanbul, we also hired cars in Bodrum, Izmir, Antalya, Ankara, Cappadocia, and Dalyan and drove in different directions.
I reflect on all these destinations (and beyond) below and share my best tips accumulated over the years. So after reading this guide, you'll be super prepared and know what to expect.
And if you need a more in-depth look into car renting around different Turkish cities, don't miss my other guides about car hire in Istanbul, renting a car in Antalya, and car hire in Cappadocia.
Wondering What's the Best Company to Rent a Car in Turkey?
There is no single company (aggregator) that covers Turkey car hire equally throughout the entire country. The best company to rent a car in Turkey will depend on the region (and your final goal for Turkey car hire).
I personally book through (and recommend) two different companies, depending on the city where I need a car.
The first one has rentals from big companies and another one that works with the best local suppliers. More on what each of them offers and how to choose one for your needs is below.
---
Please note: This post contains affiliate links. I may earn a commission if you make a purchase by clicking a link (at no extra cost to you).
---
Renting a Car in Turkey – Key Takeaways
1.) Hiring a car in Turkey is essential if you want to save money on tours and see this country in a way that none of the companies will be able to show you. It is also a great choice for a long trip, as the car will allow you to see the scenery between cities, especially along the Aegean and Mediterranean Seas and in northeastern Turkey.
2.) Renting a car in Turkey is safe as long as you rent from a reputable company (more on them below) and purchase adequate insurance coverage.
3.) You need to be at least 21 years old to be able to rent a car. However, some companies require you to pay a Young Driver Fee on top of the vehicle rent if you are younger than 23.
4.) There are two best companies to rent a car in Turkey that proved to be the best. The first one is Discover Cars and the second one LocalRent. They target different needs but both have large car fleets, excellent service, and extensive Turkey car rental insurance. Which one will work best for you depends on a few factors. More on them below.
5.) Renting a car in Turkey is easy and quick. You just need to have a passport, driver's license (in the Latin alphabet), CC, digital copy of your voucher and have the desire to explore on your own.
6.) Do not be afraid to hire a big car. Parking (both free and paid) is available everywhere and it is never a problem to find a parking spot (besides Istanbul). While old cities have very tiny narrow streets, all large cities have ample parking garages and free street parking with enough room for big cars.
7.) Do not wait for too long to book a vehicle. If you find a car you like, try to book it immediately, especially if booking for a high season in summer or Velvet Season in fall. The best deals are gone pretty quickly and during the high season, there are not enough cars for a lower budget.
8.) Turkey driving style is not much different from driving style in other countries in the region (like driving in Cyprus, driving in Ukraine, or driving in Georgia for example). But Turkish drivers are known for not using turn signals, beating the red light, and passing where it is not allowed to pass. This is why just apply extra caution on the road when driving in Turkey.
9.) If you plan to drive in Turkey with a UK, US, or EU license for no more than 6 months, none of the car rental companies in Turkey will ask you for an international driver's permit (and there is no such law that requires you to have it). If you plan to rent a car in Turkey with an Indian license, then you do need to have IDP as showing it upon pickup is mandatory (and other countries where your home license is not in the Latin alphabet).
10.) One-way car rentals in Turkey are quite popular (and much cheaper than anywhere else in Europe). This is why you shouldn't miss a chance to hire a car at one destination and drop it off at another one if there is such a need.
Common Turkey Car Rental FAQs & Concerns
Should I Rent a Car in Turkey?
Let's start with the most frequently asked question as many people have it on their minds. Should you hire a car in Turkey? Which always makes me want to ask you back: why shouldn't you?
Probably because of the image created in the media, there is an assumption among many people that it is better to avoid renting a car in Turkey. I've heard from many of my readers that they prefer to hire a driver or go on a tour instead of hiring a car because they are not comfortable driving in Turkey on their own for no apparent reason.
But let me tell you this.
Turkey is an amazing country for renting a car and going on road trips. It is very beautiful and there is a ton to discover. Roads are in excellent condition. Driving is enjoyable and easy. Parking is ample and often free.
While going on a tour is definitely entertaining, none of the tours will ever be able to bring you to faraway corners or let you take your time and slow down in one place. Plus being behind the wheel gives you a sense of freedom you wouldn't have otherwise.
Public transportation in Turkey is well-developed and you can get to almost any city and village by bus, train, plane, and dolmus taxi. However, many of Turkey's most scenic spots lay between towns and villages and you simply won't be able to get to them without your own mode of transportation. Just like for example the stretch of the road from Fethiye to Pamukkale or Fethiye to Antalya.
Aegean or Mediterranean coasts alone deserve a good ride. With a car, you'll have a chance to go to remote beaches, hidden canyons, lesser-visited historic sites, and some romantic spots.
So yes, you should rent a car in Turkey if you are looking to have flexibility and freedom on your trip and actually save money.
Where to Rent a Car in Turkey
There are many rental offices of international companies across Turkey and many aggregators where to rent a car. Hiring a vehicle can be confusing with that number of booking websites, especially if you are visiting the country for the first time and don't know where to start.
Since we lived in Turkey for quite a long time and rented many cars in different Turkish cities either for a few days or even for a few months, we found two companies that work best for Turkey car rent.
And they are Discover Cars and LocalRent. Both proved to be reliable, transparent and show genuine care for the client. They also have excellent perks and customer care support. However, they work for different needs.
LocalRent – Best Car Rental for Hotel Delivery, One Way Rentals & Cheap Car Hire
LocalRent is the number one company to choose if you are looking to find cheap car rentals or a good selection of SUVs, need a car to be delivered to your accommodation, and when looking for flexible one-way car hire (for example to pick up a car in Istanbul and drop it off in another city and vice versa) as their rates for this service are the lowest.
What makes LocalRent unique is that they work only with local suppliers that they carefully select and check. Any supplier that gets bad reviews or doesn't meet a level of standard gets removed from the list immediately.
This is why when booking through them, you can be sure that you'll have a high level of quality service and always a good car.
And if something goes wrong, their customer service is just excellent, always helpful, and on top of everything.
Another feature that makes this company different from others is that they offer delivery of a rental car (or pick up) to your doorstep (for an extra fee). That means that it is possible to rent a car not only at the airport but pretty much anywhere around Turkey, including smaller quiet beach towns. In big cities, car rentals are available in different neighborhoods, not just at the airport. See for yourself.
CHEAP CAR RENTALS IN TURKEY WITH 'LOCALRENT'
Discover Cars – Top Turkey Car Hire for Airport Rentals & Best Insurance Packages
Discover Cars is another aggregator that is excellent for finding rental cars anywhere in Turkey. They work with all kinds of companies (including local and international suppliers) but mainly those that are located in and around the airport. They do not have the option to deliver a car to you but offer a 'meet and greet' service at the airport.
Discover Cars is great in the sense that it compares prices among all companies that join their network and offers different deals based on your needs, from lowest to highest price. So you have access to a huge car fleet which is very convenient when booking at the last minute.
What we particularly like about them is the transparency (no hidden costs and clear contracts), always very reasonable rates (even in the high season), and very good insurance packages for good prices.
What I recommend you do is compare prices between LocalRent and DiscoverCars in that city where you need a vehicle, and see which one of them has better deals based on your needs. Both of them are the best car rental companies in Turkey with the biggest choice of cars.
COMPARE PRICES & FIND A TURKEY RENTAL CAR WITH DISCOVER CARS
How Much Does Car Rental in Turkey Cost?
Turkey is definitely not the cheapest country for renting cars. But it is also not crazily expensive, especially compared to some countries in Europe like when renting a car in Norway or Germany, for example.
The price is significantly higher during the high season, which is rather long – from May until mid-October. During that time the basic mini or economy car will cost around $20-$25 per day. The bigger car will be more expensive. In the off-season, you can expect to pay around $10-$12 per day for the economy class.
I recommend you book a car rental you like right away to avoid the increase in price later.
You may also find companies on the market that offer car rentals for about $5-$6 per day but to be honest, renting anything from them is not a good idea. They always have hidden fees and make you pay more in the end. It just looks pretty cheap in the beginning but then in the end you end up overpaying.
Where NOT to Hire a Car in Turkey
EDreams Aggregator – Just Avoid It
EDreams is an aggregator that you can often see on the first lines when searching for Turkey rental car. I highly recommend you avoid making any bookings through them as they always have hidden fees, non-existent customer service, and misleading advertising.
It seems that their entire concept is built on deceiving customers and using any excuse not to refund money, in case you need to cancel a car or if there is any problem with a supplier. Customer service is very poor and if any problem occurs, they'll take your money and disappear.
We booked a car through eDreams two times. The first time we had to cancel because our dates changed. Even though we canceled weeks in advance and within the terms of our contract, they didn't want to refund our money. Why? No one ever explained.
They just ignored us for a long time. So we had to go through different tiers of support and spend two months on back and forth emailing, trying to return the money.
The second time, when we came to pick up our car rental at Istanbul airport (and booked it for one month) but the agent refused to release it for no reason, eDreams did absolutely nothing to help us find another car and refund money for this one.
After four months of multiple emails and calls, eventually, we had to get our bank involved to receive a refund. And what do you think happened? EDreams issued an official letter lying that we didn't show up, so that's why they charged us.
This large international company has been around for many years. So we thought booking through them would be simple and enjoyable. Instead, they provided below zero support, deceived us, and took our money not providing any service in exchange for that.
I am not sure if that's a new norm for some companies but with EDreams there are numerous complaints online for various reasons. They are just unreliable and you want to stay away from this aggregator, at least when renting a car in Turkey.
Green Motion – Cheap Car Hire in Turkey But a Bad One
Well, the Green Motion company also has been on the market for a while. And unfortunately, they have also proved to be not reliable and transparent. More than that, a lot of people claim this company is the biggest scam. If you check reviews for Green Motion (in all destinations where they have offices), you'll see how bad (very bad) those reviews are. Make conclusions and learn from the mistakes of others not to fall into Green Motion's trap.
When it comes to car rental in Turkey, this company's every location receives criticism and negative reviews for issuing cars in poor conditions, hiding many extra fees, and trying to charge more money at the end of the rental.
We had absolutely horrible experiences with Green Motion not only in Turkey but when renting a car in Montenegro and Spain. And every time while renting a cheap vehicle we paid much more in the end out of the deposit for something they made up.
Besides the money thing, agents on duty are always rude, often they don't speak English (or pretend they don't) and don't care about the customer by all means of this word.
Another thing besides the fact that they try not to return a bigger part of the deposit is that they are also super picky about the requirements. It can happen that they will not rent you a car (once you are at the desk) because of some requirements which are not even in the contract.
For example, if a credit card is not valid for more than 3 months from the date you rent. Or you have been in a country for too long (in their opinion, although you are staying legally). Or if you are too young or too old (which happened to my friend's father).
The quality of their cars can be also very poor. Once we hired a car from them with a bad tire which we complained about but they assured was fine. It burst on us right after we left, and then they made us pay for it (much more than what it really cost). Another time, they charged us for scratches that were on the car but they didn't want to mark on the contract assuring us there was no need.
Goldcar – Also STAY AWAY
This is also a budget car hire in Turkey. And pretty much the same as the previous supplier. Just a few things to add.
1. This Turkish car rental is very picky about a car's condition when dropping it off. They try to look for the smallest scratches to charge you a lot for it.
2. Their car fleet consists of very old cars and very new cars. Not much in between.
If you book a rental with full coverage, then you'll surely receive a very old car that will be falling apart. In case you reserve a car without insurance (for instance you have your own one), expect to have a brand new beautiful vehicle because the company expects you to make even the smallest damage. And if you don't make any damage, they'll make something up.
Upon return, you'll pay extra for it as Goldcar tends to find a dozen reasons why to take your deposit.
Is It Safe to Rent a Car in Turkey?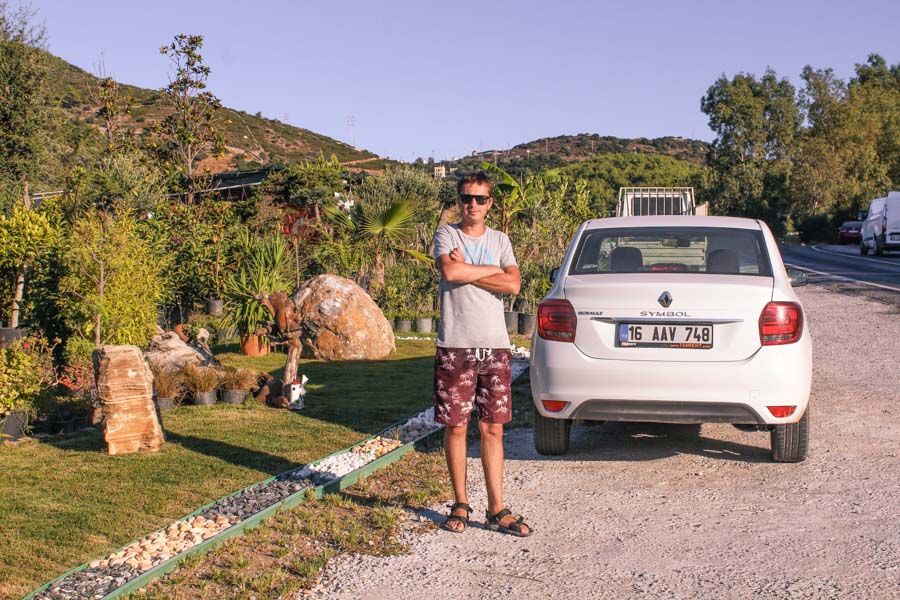 This brings me to another question I frequently get and that is if hiring a car in Turkey is safe.
Yes, it is absolutely safe to rent a car in Turkey (anywhere in the country from west to east) but if you take precautions and stay away from scam companies (like gold car and green motion) and unknown rental companies like small individual rental car offices often located near hotels or in touristy areas. Also, avoid renting from individuals or unlicensed operators.
When renting a car in Turkey even from a big international company, upon pickup make sure to inspect the vehicle thoroughly and take photos (videos) to take note of any damages or issues.
When driving around the country, always lock the car and keep valuables out of sight, especially in crowded areas and when leaving it for the night. Additionally, make sure to purchase full insurance coverage to protect yourself from any accidents or damages that may occur during your rental period.
And especially considering how affordable car rental insurance from Discover Cars is, purchasing it won't cost that much extra.
Overall, Turkey is a very good country and is safe, thus renting a car in Turkey is also safe.
The only note I'd make is not really about the process of renting a car but rather about driving. It is not that easy to ride on mountainous roads, especially in winter.
If there is even the slightest snowfall, some roads may be closed. So if you are planning to rent a car in winter to go to the mountains (for example to ski near Bursa), to avoid trouble, ask the dealer for a car with winter tires or take chains for the road.
Also, in many parts of Turkey, there are warning signs with animals on the roads. This is why be careful – there are migration routes to watch for. But if you are coming from Europe or the US, I am sure you are familiar with this.
Another fact to consider is that mountain slopes abound with serpentines. The surface of those is not very good and steep cliffs possess a risk since they don't have any roadside barriers. Driving on serpentines requires accuracy and attention.
Eastern Turkey region, for example, barely has any paved roads, and driving there is a challenge. In that part of the country, it is advisable to hire a driver who knows local roads, rent SUV or go on a tour.
Overall, the procedure of Turkey car hire is absolutely the same as anywhere else in the world. So you shouldn't worry about anything on this part.
Practical Things to Know About Turkey Car Rental
What Documents to Have For Car Hire in Turkey?
Mainly you just need a driver's license, passport, and a credit card.
A credit card must be in the driver's name and only such card can be used to leave the deposit. This means if somebody else from your group is paying for the car rental, that person cannot cover the deposit.
Also, keep in mind that a driver is required to hold the license for at least one year. But some companies require two years, so check the contract carefully!
Now, as an example, my driver's license has the issue date but that is the date when the particular card was issued. But not the date when I received my first DL. If you are in a similar situation and renewed your DL recently, there may be confusion (what happened in my case). So if you did receive a new DL recently, I strongly recommend carrying the old one with you to show that you actually drive longer than the current license says. Otherwise, you risk not getting a car.
That's what happened to me. I received a renewed driver's license in January and went to rent a car in February and the agent was refusing to release it to me saying that I was a new driver. So I needed to find my old license (luckily I still had it) to prove that my driving experience was longer. Once I showed an old DL, he was convinced. Thus make sure to double-check the date of your license.
Do I need an International Driver's License to Rent a Car in Turkey?
No. Car hire companies will not ask you for one and Turkish traffic regulations do not require an international driver's license. So do not waste your money on it. You can rent a car in Turkey and drive it for up to 6 months without any IDP. Just using your European, American, Canadian, UK, or Australian driver's license is enough.
I have driven in Turkey car rental with my license for over a year, was stopped by police on my 5th and 6th month of stay in the country for regular checkups and they never asked me for an international permit. Because there is no such law in Turkey requiring it.
However, if you come from India or UAE where your license is written in another language than English or Turkish, you do need to have IDP upon car pick up and with you when driving.
Note for expats and digital nomads: If you are staying in Turkey for more than 6 months then some companies may check your last entry stamp and refuse to give you a car because they say you are supposed to change your license to the Turkish one after 6 months.
This is not based on any legit laws. There is no such information from the government. And there is even no such information in their contracts. But something to be aware of.
Does it Cost More to Have More Than One Driver?
Yes, pretty much always unless it is included in the package. But that happens rarely. Price varies from $5 per day to $25. Or it can be one fixed price for the entire period. For one week, I have seen the price for an extra driver from $20 to $50.
Hiring a Car in Turkey With Insurance – Do You Need It or Not?
Whether to purchase car rental Turkey insurance or not is a personal decision that depends on your own experience and confidence.
If you ask me if we purchase insurance when renting a car in Turkey, I'll answer yes. In the past, we used insurance from a credit card company (located in the US). But after that time when we lost our entire deposit because this CC company didn't want to reimburse the money, we stopped relying on it. And now every time we are in Turkey (or any other country), we always buy car rental insurance.
The question is which type of insurance is better to purchase.
What you need to know is that every car you rent in Turkey comes with Third Party Liability (TPL) and Collision Damage Waiver (CDW) which means that in case of an accident or any damages to the car, you pay the amount up to your deposit. Depending on the company this deposit can be somewhere between $900-$1500, depending on the vehicle class.
But if you want to protect this deposit, you have an option to buy full coverage insurance which means your deposit will be protected. This coverage is not insurance for your vehicle but for your excess only. And it is a good option to have peace of mind without spending much.
The cheapest insurance and a number of different protection plans are offered by DiscoverCars. You can purchase insurance from them for as little as $7 per day which is the best value for the money. In addition, they usually offer nice bonuses like Roadside assistance and cover extra fees for Lost keys or lockouts.
Check Prices & See Turkey Car Rental Insurance Packages Here
Should You Rent a Car in Istanbul?
For your first or second short trip to Istanbul, there is no need to rent a car. In fact, having a rental vehicle with you will cause a headache. The city is gigantic and the number of sightseeing spots and places to visit will keep you busy for weeks.
However, if you wish to expand your horizons by exploring the surroundings of the city then hiring a car is a great idea. And for that, considering how hectic the streets are and how stressful driving in Istanbul can be, I recommend renting a car in Istanbul airport or nearby.
Do not hire it from rental offices located in hotels or in the neighborhood where you stay (like Sultanahmet, Karakoy, or Balat for example). Getting out of those will take so much time and energy.
Keep in mind, if you are renting a vehicle in IST airport and plan to drive to the Asian side, there are tolls on all three bridges (that cost between $1-$3 one way) and traffic is usually pretty intense.
Renting a car in Istanbul IST airport works great for those who plan to travel around the European side of Istanbul and go to Canakkale by ferry (with a car). Sabiha Gokcen works better if you plan to stay on the Asian side and go on day trips to the Black Sea coast or explore a bit of the Anatolia region by car.
Thus, if you plan to be in Istanbul for only a few days – you do not need a car. It is better to concentrate on the city and spend more quality time there. For all other reasons, I encourage you to have it because there are tons of activities on the outskirts.
For more answers about car rental in Istanbul, I offer you to read my rent a car Istanbul guide.
Things to Pay Attention To When Booking a Rental Car in Turkey
Toll Roads
Always ask an agent how to use a toll system in Turkey.
Normally, rented cars come with an automated tracker to go through toll roads. However, some companies may charge extra fees for certain roads and bridges. In that case, it would be better to pay on your own instead of using a company's tracker.
Usually, an agent should mention all of this at the time of a pick-up but if he/she doesn't, it's better to clarify not to overpay in the end.
Pick Up/Shuttle Service
If a company you rent a car from is not located directly at the airport, they may not have a meet-and-greet service (which they also do not mention upfront). In this case, you'll need either to take a bus, their shuttle, or a cab.
Find out about this in advance, so you know exactly where to go. Because if there is no wifi in the airport (which happens quite often), you may spend a lot of time figuring out your way.
Inspect Your Rental Thoroughly
Even if agent marks everything on a contract in front of you, I still advise making your own photos (optional videos) as a precaution.
It may happen that upon return, they may try to accuse you of making a scratch that you didn't.
Try to Return Your Car a Bit Earlier
If you rent your car outside the airport during very early or late hours and if you have a flight that you need to get on, it is a good idea to come a bit earlier than your drop off time on the voucher says. The reason for that is that you may not find the staff present in the office.
Some rental car agencies in Turkey may have limited service during certain hours, especially during late-night or early-morning hours. So you may need to wait a bit.
Ask If the Car Needs to Be Washed or Not
If you are renting from a small company (for example in Marmaris or Fethiye, or any other small city), clarify if you need to return the car clean. Large international companies at the airport never require that but small local shops often do. Usually, they are mentioning this upon pick-up but if they don't, better ask.
If you don't return it clean, the fee can be between $25-$30. But washing it on your own costs $1-$2. Car washes are present on many gas stations and you can clean the vehicle when getting gas before the drop-off.
A Few More Tips Before You Sign the Contract & Hire a Car in Turkey
Here are a few more things to remember when looking at rental cars in Turkey:
1.) White is the cheapest color when renting a car in Turkey, this is why it is the most popular. Chances are high that your rented vehicle will be white (if it matters).
2.) Returning the car later than the agreed period is subject to a fine. And by later I mean more than one hour, sometimes even less than that. If you know you will be late, better get in touch and let the agent know. In Turkey, companies are more strict with this rule. So if you know you need to extend your rental time, do it in advance.
3.) Before leaving the rental office with the car, do not forget to take photos of the vehicle even if the agent is telling you "everything is ok!"
4.) Always check that you have a spare wheel, key, jack, fire extinguisher, emergency triangle, and first aid kit.
5.) Check all the lights and all illumination on the inside.
6.) Be sure to take the manager's business card and add his number to your Whatsapp or Viber. They are always online and respond quickly.
7.) If you plan to drive on toll roads, ask about the payment options. Some cars have HGS stickers that allow you to drive without stopping but they are more expensive than when you pay on your own. For more information about tolls, see the general directorate of highways.
8.) And the last thing… if you plan to have a second driver then be sure to add his/her name to the contract. When paying and making a deposit, the card should be under the main driver's name, not the secondary one.
Alright, this is it for now. I was trying to cover all the main questions about the process of car rent in Turkey. If you have any other questions, please drop them in the comment section, so others could also see my response. And happy driving!
---
Are You Planning a Trip to Turkey?
I have tons of resources on travel in Turkey and how to make the most of your trip. Check out my Turkey Travel Guide page for more inspiration and practical posts to help you plan a trip. If starting a journey in Istanbul, here is my Istanbul travel planning page. And below are some of my most popular articles:
Need more inspiration for travel by car in Turkey? See the following posts: