Guide to Renting a Car & Driving in Dubai, UAE – Things to Know & Avoid
Last updated on June 5th, 2023
When Anya and I decided to come to the UAE to spend winter, we knew from the beginning that renting a car in Dubai was our only option if we wanted to see the country on our own terms and move freely around Dubai without spending much on public transportation and taxis.
So from our first day in the Emirates, we started to hire cars on multiple occasions trying out different car rental companies and car models. We hired a car in Dubai airport, Dubai Marina, downtown and even had one car delivered to our door in Ajman. We booked cheap car rentals in Dubai and once treated ourselves to a luxury sports car.
After so many bookings and after so many kilometers driven around UAE it seems that now we can answer any question about Dubai car hire. So I thought to sit down and write this post with our best tips for how to find the best car rental in Dubai.
It is a unique and fascinating destination that has so much to offer, it's mind-blowing. Especially when you want to have those one-of-a-kind experiences that Dubai is famous for. The tallest building in the world, the largest Ferris wheel, the biggest aquarium, the highest fountain… There are a lot of those impressive attractions of the largest, longest, tallest type that you may want to visit.
There is just so much to see and do in Dubai that, unless you live here for a while or spend at least a few months, it is hard to cover the grounds during a short vacation trip. This is why renting a car is the best bet if you want to save time. And money which I am going to talk about in detail below.
But before I jump to all nitty-gritty of car hire in Dubai, you can see the main highlights of this post.
NOTE: In this article, I talk about renting a car in Dubai since the Dubai International Airport (DXB) is the entry point into the country for many people. However, all the information here safely applies to the rest of the United Arab Emirates. One company that I mention (our favorite one) has rental cars all over the country. I also talk about it below.
---
Please note: This post contains affiliate links. I may earn a commission if you make a purchase or booking by clicking a link (at no extra cost to you).
---
Renting a Car in Dubai – Main Highlights of This Post
1. Should you rent a car in Dubai?
I personally highly recommend hiring a car in Dubai. Not taking a metro or taxi, but renting a car. By doing so, you will be able to save money on transportation (which is quite pricey here), cover more in less time, and visit all those places in Dubai that are accessible by car only.
2. How to rent a car in Dubai?
Renting a car in Dubai is easy and quick. You just need to have a passport, an international driver's license (we'll talk more about it below, mentioning every country that needs it and those who don't), be at least 21 years old, and have some driving experience.
3. Best place to rent a car in Dubai?
If you are looking to rent a car in Dubai airport, the best company is DiscoverCars. Among all aggregators that offer cars for rent at the airport, they often have the cheapest car rental rates as well as the best amenities and excellent support.
If you are looking to rent a car in Dubai outside the airport (like Dubai Marina, Jumeirah, Deira, or any other neighborhood) or want to hire a luxury or sports car, the best car rental company is LocalRent. They also have the biggest selection of sports luxury cars like Lamborghini, Chevrolet Corvette, Mclaren, Ferrari, and others.
LoclaRent also has cars for hire in Dubai airport. But companies are located outside the terminal, so you'd need to allocate extra time getting there. And depending on the season, their deals can be the most competitive.
Now, if you need to rent a car for one day in Dubai only, then the best company for that is VIPCars. They have the cheapest price among all companies for daily rent.
I'd recommend you compare prices on all aggregators to see who offers the best deal at the time of your booking.
4. How much does it cost to rent a car in Dubai?
During the busy time of the year which goes from October to April, the average rate of a rental car is $30-$35 per day. That's the price for something like Nissan Micra or the next class Toyota Corolla. More on that you'll find below in a section about the 'prices for car rentals in Dubai'.
In this post, I talk about all of these highlights in more detail. I also answer many other questions about car hire in Dubai and provide driving tips, information about the cheapest car rentals in Dubai without a deposit, parking, traffic, roads, cost of fuel, tolls, and more.
There are many small things and nuances that I learned during my rental processes and wanted to share. They are a little bit different than in the US or Europe.
So… Do You Need a Car in Dubai or Not?
Although one part of me wants to say that you definitely need a car in Dubai, another part tells me to slow down and remember that not everyone prefers a fast pace. Some people just love to take it slowly and be in one area on their vacation.
This is why the best way to understand if you personally need a car is to answer a couple of questions.
What is the purpose of your trip? Are you coming for a beach holiday in Dubai or to explore the city?
Is your trip to Dubai in the high or low season?
Do you plan to squeeze in a lot in one day or just go with the flow? Any plans to go on any day trips to other parts of UAE or a desert?
Are you traveling with someone else or on your own?
That Time When You Don't Need a Car (But You Still May Want to Have It)
The answer to the question if you need to rent a car in Dubai, first of all, will depend on the purpose of your trip.
If you are planning to stay in an all-inclusive or full board hotel and your main goal is to be by the beach and go on a few organized tours, then obviously you do not need a car. Especially if your hotel is close to the metro. Metro in Dubai, even though it is pretty expensive, is great and will allow you to reach many of the major points of interest.
Outside of metro reach, however, public transport becomes less convenient. There is a large bus system that works well if you're traveling between bus hub stations. But getting to a specific location might be tricky.
Taxis are great but they quickly become expensive, especially if crossing emirates borders or riding in a rush hour. All the cabs in UAE have meters and calculate the price based on distance and time. So every time you stay in a long queue at a traffic light or just wait in a traffic jam, you pay for that, even if your taxi hasn't moved at all.
Keep in mind that Dubai by itself is huge. It may not look like that when you check the map but in reality, distances are really long. Only going from Dubai Mall to Dubai Marina and back by taxi will cost you more than a daily car rent and gas together. Covering longer distances (including those to other emirates) by public transport or taxi will be much more costly and time-consuming.
That being said, if the main goal of a trip is to spend time on the beach and just occasionally get out of the hotel which is close to the metro or bus stop, then there is no need to have a car.
That Time When You Need to Rent a Car
If the reason you are coming to Dubai is to experience all of Dubai's attractions, see this city in all its splendor, and move around a lot, then yes, absolutely, you need to rent a car!
Especially considering that Dubai's (as UAE's) entire infrastructure was developed for cars in mind! Driving on Dubai's roads is enjoyable, signs are easy to understand, parking is ample and often free. Driving anywhere at any time is very safe. You can leave your car anywhere without being worried about it.
When it comes to driving, Dubai and UAE as a whole are a lot more like the United States. There is more fluent traffic flow with less concern about who's got the "right of way', lots of highways and interchanges, much fewer signs on the roads making it easier to understand your actions. Parking lots are always big and finding a free spot is never a problem.
Many times when I sit behind the wheel and start my journey here, I get the impression that I am back in the States.
I also like the fact that most rental cars in Dubai are new. It's common to get a car with only 15, 10, 5, or even less than 2 thousand km on a dashboard. This new car smell always adds additional pleasure to a drive, ha.
Also, remember that each season in Dubai is excellent for driving. Even in summer from June to August when days are hot and humid, you'll want to get on the road to drive around at night. Evenings and early nights are excellent for walks, evening shows, visiting malls, boardwalks, and many neighborhoods.
All other seasons, particularly winters are best for long road trips around UAE.
Where to Rent a Car in Dubai, UAE
Since the whole country is designed for drivers, and millions of tourists and business travelers come here every year, rental cars are extremely popular. Therefore there is an overwhelming number of rental shops and rental companies, especially around Dubai.
Choosing the right company, especially if you are visiting Dubai for the first time, may be confusing.
Booking directly from a rental shop or walking into their office on spot would be your most expensive option. This makes sense only then when you have a rental shop near your hotel and just want to get a car for a day without too much hustle. In any other situation, for a good deal and most convenience, it is best to use an aggregator.
And there are two ways how to rent a car and how to find the best car rental prices in Dubai:
Best Car Rentals in Dubai Airport
The best aggregator to use to rent a car in Dubai airport is DiscoverCars. It works mostly with large international rental companies that can be found only in the terminal of the airport. Alamo, Budget, Thrifty, National Car Rental, Hertz, EuroCar, and other suppliers offer car rentals through them. And the price is often lower than from other big aggregators.
In my experience, among the whole bunch of aggregators, DiscoverCars tends to be the most transparent and provides the best deals for car rent at the airport of Dubai (although their prices in Sharjah and Abu Dhabi airports are also the lowest).
I also like them for their wide range of amenities, excellent customer service, often free second driver, discounted child seats, and great insurance packages.
FIND CHEAP CAR RENTALS IN DUBAI WITH DISCOVERCARS
Renting a Car in Dubai City
The second company that I also love and choose often is LocalRent. It offers cars for rent anywhere in Dubai and the UAE but it is particularly great for people who need to rent a car anywhere in Dubai city, not just in the airport and those who don't want to leave a deposit.
Or if you want to rent a vehicle not on the day of arrival but later during the vacation without a need to go back to the terminal. With LocalRent you can literally hire a car anywhere in Dubai – in Dubai Marina, Deira, Palm Jumeirah, JLT, and any other neighborhood.
LocalRent works only with local companies that are scattered throughout the city. And in case there is no rental shop in your neighborhood, a rental car company can always deliver a vehicle to your door at a symbolic price.
I personally rent cars through LocalRent in many destinations where I go like Montenegro, Georgia, Cyprus, Turkey, and many times Dubai.
They have reasonable prices, all necessary add ons (including those like child seats, sim cards, second driver, etc.) and their website is very convenient to use. You see all the fees upfront, supplier's business hours, and whether or not you need to pay extra for out-of-hours and delivery fees. There are no hidden fees or extra charges that come up later.
Another great advantage is that on this site you can often find a car without any deposit and book a specific car rather than a class. Here you can choose the exact model, year, color. This is especially great if you want to treat yourself to something nicer for the occasion. Like a luxury BMW model for your birthday or an Audi S6 for a hot date. They have a wide selection of exotic car rentals like Lamborghini and different sports cars.
In addition, LocalRent has one of the best customer services I've experienced and through them you can rent a car in Dubai without a deposit. Check it for yourself.
FIND BEST CAR RENTALS IN DUBAI WITH LOCALRENT
Best One Day Car Rental in Dubai
When it comes to a one day car rental whether you hire a car for 24 hours or just for a full day in Dubai from early morning to the late evening, the best aggregator to use in my experience is VIPCars.
Usually, with any other company, the rate per day decreases if you rent a car for 3 days or more and daily rates are pretty high. But with VIPCars, renting a car for a day is reasonable as they don't include extra charges. If you compare their deals to others, you'll see that they really offer the lowest rates for daily rent.
In fact, sometimes (depending on the month and season) VIPCars has quite good deals at the airport too, so you may want to look at their prices as well when thinking to hire a car at Dubai international airport.
Prices of Car Rentals in Dubai
The average cost for a rental car in Dubai is around $25/day. Depending on the time of the year that can get you a small car, something like Nissan Micra or the next class like Toyota Corolla.
During a busier time of the year, the price tag raises to $35 per day. Although during the less demanding months like the second half of January, first two weeks in February, July and August, there are even rental cars for $17 per day at the airport.
A full-size class, something like Hyundai Elantra or Kia Sportage, is going to be around $35-$45 per day. SUVs with 5 – 7 seats go for about $45-$55.
For the Premium class, something like Volvo S90 or Lincoln MKZ, a price can start only at $100 per day, if renting for at least a week. Something like BMW 5 Series or Mercedes C 200 is listed at around $150 daily.
UAE rental car prices are not super cheap, never are. As the country itself is not considered a budget destination. So would a rental car be an unnecessary luxury? I think it is rather the opposite.
Considering the transfer costs and taxis alone (and to be honest, even metro rides), your daily rental cost will be lower. Especially if you are traveling with a partner or a family.
Although the biggest costs come from tour packages. There is a lot to see and the distances are long. A good full-day tour can easily be $100 per person. Multiply that by two or even a family of four, and quickly cover a rental car for a week or longer.
Renting a car for 1 to 3 days is going always to be more expensive per day. The longer you rent, the cheaper the price becomes. For better price consider renting for longer periods.
When we come to the United Arab Emirates, we prefer to rent for the entire duration of our stay, whether it's for a week or a full month. The very best car rates start at 30 days and more.
When we travel abroad, especially with the car, we prefer to stay connected with reliable simcards. I recommend you do the same.
Dubai Rental Car Insurance
Before booking a car on any website, carefully check for what is included in your rental package.
By law, all rental cars in the UAE should come with Third Party Liability (TPL) Insurance. It covers damages and injuries caused to other people and vehicles in case of an accident that occurred at your fault. However, this minimal coverage leaves you liable for all the damages and repair costs that have been done to your rental car.
Besides TPL insurance, many rental car companies also include a Collision Damage Waiver (CDW) which also covers all damages done to your car but doesn't cover personal injuries. This type of insurance covers everything above your deposit but excludes mirrors, roof, underneath, tires, windows, and windshield. The deposit left with this insurance ranges on average from $280 to $850.
All of the above is applicable if the contract terms are met, meaning that the driver's name is in the contract, there is no alcohol in blood, and there is a police report including all damages, even minor ones.
CDW is a good thing to have, but remember that it usually doesn't cover the roof, underneath, tires, mirrors, and windshield.
The next tier of insurance when booking online is Super Collision Damage Waiver (SCDW) which covers everything but above the deductible and Full Coverage that also covers everything and your deposit. These options are great because they also cover things like breakdown assistance and give Personal Injury Protection. But when purchasing Full Coverage online, you still need to leave a deposit.
The most convenient option for some people though may be Full Coverage insurance purchased from the supplier directly at the time of a pickup. It is different from Full Coverage purchased online in that way that it doesn't require any deposit. It is usually good for people who don't drive on a regular basis or don't feel comfortable behind the wheel in highly populated areas.
Despite all the other costs, the price for Full Coverage in the UAE isn't very high compared to Europe, for example. There it usually costs around $25-$30 per day. In Dubai, Full Coverage costs much less but for exact pricing, you need to browse the website and see if it is available for that car that you book. One time it cost me $172 for 18 days, another time it was $41 for 30 days.
Full Coverage from a supplier is usually more expensive but at least you know it covers everything.
Procedure of Renting a Car in Dubai
The rental process in Dubai is as standard as everywhere else. However, there is one thing I noticed that companies like to do differently in the UAE. Many companies, once they receive a booking, try to prepare the documentation before you arrive to make things faster and easier for everyone.
Somebody from the office usually contacts a person on the booking inquiry and asks to send a copy of the first passport page, entry stamp (only if a person is already in the country), copy of a Driver's license (front and back), International Drivers Permit, and a copy of a Credit Card to make a deposit.
In the beginning, it was very confusing to me. I didn't feel comfortable sending my credit card information to someone online. But later I learned that everything they need to see is a credit card picture with the last 4 digits and the driver's name on it. So you may do the same. Just send a copy of the front side of a credit card with only 4 last digits visible and your name.
It is a very common practice here and it is safe and secure.
Once you come to your pick-up spot either at the airport, front of your hotel, or a rental office, read the rental agreement attentively before signing it. Next – proceed to inspect the vehicle but take your own photos or/and a video of all damages and scratches.
I had that experience once when a person who was inspecting a car didn't want to put a mark of a scratch on the contract telling me it was not a big deal. But upon drop off, he tried to blame me for the same scratch. Having pictures helped to resolve this issue.
Also, clarify whether you need to wash your car before the return. Some companies require to return a car in the same condition as received, which means clean inside and outside. Others don't although their contracts say to bring back a clean vehicle. However, in any case, do not leave trash inside. That you might get charged for.
Required Documents For Car Rental
The list of required documents to rent a car in UAE and Dubai is pretty much the same at every company. What you need is:
Passport
Driver's License. With at least 1 to 2 years from the issue date. I know that for the US driver's Licence, they only show the last issue date. If you renewed your license recently, that may be an issue when renting a car as it might look like you have only been driving for a short time, even though you might have driven for the last 20 years or more.
In this case, it would help to carry your expired license as well or at least have a picture of it. Also, the driver's age must be no less than 21-25 years old, depending on a supplier. Check Terms of Agreement for details.
International Drivers Permit. This is important because this document is required for many countries even if they have a foreign license, whether it is in the Latin alphabet or not. The only exception to this rule is the driver's license of the Gulf countries, Australia, New Zealand, South Africa, United States, UK, and some countries in Western Europe (such as Austria, Belgium, Denmark, Finland, France, Germany, Ireland, Italy, Netherlands, Norway, Portugal, Spain, Sweden, Switzerland).


If you are from any other country in Europe or anywhere else in the world, y

ou need to have an international driver's permit

. Do not make the mistake of not taking it with you.
Proof of legal presence in the country. That is either your entry stamp within 30 days or your e-visa. If you happened to overstay, there is no way to rent a car. That also might be a problem if your drop-off date falls outside of your stay allowance, even if you're planning to apply for a visa extension later.
Credit Card with driver's name on it. Most companies don't take Debit cards for deposits. Some that do may require a larger deposit.
Voucher. No need to print it. You can show it on your phone.
Local Phone Number. Not always, but some companies require it. Because technically companies want you to be accessible. You can use the one you're given at the airport. More about that – check the Sim Card section below.
Be very aware: when renting a car in UAE, if you fail to provide all the required documentation, a car rental company can decline you a car without a refund. This goes across every contract I read. So always make sure to read the Terms and Conditions and that you have everything you need.
And as everything is straightforward, the most common mistake is missing the International Drivers Permit, especially for the European residents. Not every European country's license is accepted in the UAE on its own.
Choice of Transmission
The majority of car rental companies in Dubai have only cars with automatic transmissions these days. If you prefer the manual transmission, then it is going to be hard to find one in Dubai.
I checked listings of many companies and it seems that even if they have a manual car listed on the website, in reality, that listing is old and inaccurate.
A car with a manual transmission can be only rented at the Dubai International Airport but at a much higher price than its automatic analog.
However, if you are flying into Abu Dhabi International Airport or just planning to rent a car there, that's a different story. The lowest car prices in Abu Dhabi are for manual cars. Although the automatic options are just slightly more expensive.
Renting a Luxury or a Sports Car in Dubai
The United Arab Emirates and especially Dubai are known for their luxury and sports cars. There are a lot of such models in the city and renting one of them is easy.
Thus if you ever wanted to rent a sports car, Dubai is the right destination to do that thanks to a huge selection of cars and excellent roads. This option comes at a very high price but, as many people say, the entire experience is worth every penny. The price usually ranges between $700 and $2000 per day.
But I've seen many sports cars on the LocalRent site for not more than $1200. Just select your date and choose Luxury to see all options available.
What is it Like to Drive in Dubai and UAE?
Two main things to know about driving in Dubai and UAE is that anywhere in the United Arab Emirates driving takes place on the right-hand side and the country uses a European traffic rules system. Although there are fewer kinds of road signage and a better intuitive flow. What I mean, for example, is that it is always clear who has the priority without additional signs pointing the right of way.
Overall, I wouldn't say that the driving style here is aggressive. Even in Dubai, as it often is in large cities. Occasionally, a fast and expensive car might zip by you at a high speed on a highway, but not very often. After all, fines are very high.
People here are pretty good about using the turn signals. Also, if you are on a highway and need to slow down rather rapidly, you're supposed to use emergency lights to let cars behind you know you're stopping.
There is not a lot of road rage and there is a reason for that. Using inappropriate gestures, curse words for others to hear, or yelling is illegal here. If a police officer witnesses that or someone reports such behavior, this could quickly lead to an arrest. So you won't see any of that on the roads.
Also, don't use obscene gesticulation from your side when driving in Dubai. Even as a foreign tourist, you can get big fines, deportation, and sometimes jail time for that alone.
Alcohol is very limited in the UAE. Plus there is a 0.0% tolerance for alcohol with very tough penalties meaning it almost excludes the possibility of drunk driving.
It is a custom in Dubai to flash your high beam lights in the left lane. That is a request to change to the right lane and give way to the oncoming faster traffic.
In the UAE, overtaking and undertaking can be done on all lanes and not only on the left lanes like in many other countries. So feel free to do it on the right lane too, just don't cross to the shoulder.
Roads in UAE and Dubai
Dubai roads and highways in UAE are first class and are one of the best in the world. Asphalt has very good coverage, nice and flat. Road works are common as road repairs quickly happen where needed.
The signage is very clear and everything is duplicated in English.
The maximum speed limit is usually 120km/hour on the highway, but either it is 120km/h or 110km/h or less, the speed is always clearly marked by the signs. Abu Dhabi-Al Ain highway and the Sheikh Khalifa highway both have limits of 160 km/h. Highways also have the minimum allowed speed of 60km/h.
United Arab Emirates has built a lot of highways, so if you want to travel from Dubai somewhere else, you're able to quickly drive through the cities without street lights and other obstacles. However, expect rush hours at usual times in the mornings and evenings. And around 4 – 5 pm on the weekends, as people go to the city centers for activities.
One small rule, which is different from Europe, if you are on an unmarked crossroad, yield to the traffic on the left (as in Europe you yield to the right). However, finding an unmarked road in the UAE is rather difficult.
Toll Roads
There are 7 toll points in Dubai and 4 in Abu Dhabi. All of them are marked by a big white gate with a red logo that says SALIK. Turns that lead to a toll gate also have a sign with a white toll label.
All tolls are automated and you don't need to stop for payment. Rental cars always have a toll tag that tracks all toll crossings. So feel free to drive on any toll road since you can pay for it later upon car return.
If you wish to avoid tolls, you can easily do so. Use Google Maps navigation and select the 'avoid tolls' option. Google knows very well all the toll points in Dubai and UAE and offers good routes. However, some routes might be significantly longer. Sometimes it gets absurd when you need to go somewhere where it only takes 5 minutes, but to avoid the toll, you may need to drive around for 25 minutes through the neighborhood and traffic lights.
So avoiding tolls isn't always worth it, but oftentimes it saves a good amount of money. But keep in mind that taking a toll route rarely helps you avoid traffic.
In Abu Dhabi, the toll system works differently. You need to pay for a toll only during the peak hours from 7 am to 9 am and from 5 pm t0 7 pm on working days. The cost for passing the toll by any vehicle is the same and costs around 4AED, but rental companies charge extra 1-1.5AED for every toll crossing.
Parking in Dubai
Almost all of the asphalt street parking in Dubai and other emirates is paid to park. It is always clearly designated with lines and signs. Information about the parking timings, fees, and types of payment available are also indicated on the payment booths in the parking areas.
Street parking is free on Fridays and public holidays, although it may change since the country switched to a new weekly schedule. Previously, the working week was from Sunday to Thursday with Friday having free parking.
Recently that has changed, the schedule switched to Monday through Friday, so there are talks about pushing free parking to Saturdays. But for now, it is still free on Fridays anywhere around Dubai be it a mall, road by the beach, or downtown area.
There are 7 different ways to pay for parking in Dubai such as:
official currency coins
credit card
text message
UAE Government transportation apps
prepaid/rechargeable parking card
seasonal parking card
Nol card
Most of these payment methods are for the residents. As for tourists, the simplest way to pay is by the Parkomat. They are always nearby, just look around and you should be able to find one easily.
Parking fees and times differ depending on the location. Usually, the fee starts at 2 AED (~$0.55) per hour. In the parking garages, the fee often starts at 10 AED (~$2.70) per hour. Valet parking is also very popular and usually is around 50 AED (~$13.50). At the time of writing this post, the exchange rate is $1 = 3.65AED
However, despite the first impression that there is no free parking and you have to pay every single time you park a car, that is not true. There is plenty of free parking available in Dubai. Paid parking is rather a question of convenience than necessity.
If you see a parking spot marked with white lines but no paid parking sign then you are good. Just make sure, there is no such sign 15 meters from you that you didn't see. There is often street-side parking available in the residential neighborhoods away from the main road. Just make sure you're not blocking any exit gate and no signs, of course, forbidding parking.
Another thing to remember about free parking in Dubai is that any non-asphalt area is free for parking. It often looks like a piece of land that should have a building on it, but it just hasn't been used yet. Some of these sandy areas can have a fence around which means that parking is not available. But most of them are free to park. Once you see that and there are other vehicles parked too, feel free to leave your car.
Most malls offer free parking at least for the first 2 hours. After that, the usual price is 10 AED per hour. The Dubai Mall gives you four hours free. Although there is a great underground parking garage in Dubai Opera garage near Burj Khalifa that is always free.
For more information about free parking, refer to my other article with all free parking spots around Dubai city.
Other Things to Know Before Renting a Car & Driving in Dubai
Gas Stations
Getting fuel in Dubai and UAE is an easy and simple process. There are plenty of gas stations around the cities and small towns and gas is cheap. It is much cheaper than anywhere in Europe and even cheaper than in many states in the US.
Interestingly, gas stations in UAE do not display prices on price boards by the road. The fuel cost is pretty much the same everywhere around the country, perhaps this is why. You can still see the price per liter on a small pump display when you pull up close. The last time I was getting gas, one liter of 95 Special was 2.66 AED (~$0.70). At that time it was the highest price for a while. Still, in comparison to Europe, it is a very reasonable cost.
For current prices, check constantly updated fuel prices in UAE here.
The three largest station networks are EMARAT, ENOC & EPPCO, and ADNOC. These are regular modern gas stations with good bathrooms and a little convenience store. Sometimes a cafe would share a space in the station. Also, these stations always accept credit cards. Other smaller stations may not so better ask first.
Each gas station offers a few types of fuel but most cars take 95 Special, luxury cars use 98 Special. These are the most regular fuel types here. And there is diesel available too. But finding diesel cars for rent in Dubai is hard.
Gas stations in UAE are not self-service. When you need to fill up your car, just pull to the pump. A station worker will come to fill your tank and take payment. You do not need to get out of the car. He may start washing your windows and will expect a tip. But tipping is not mandatory, it is up to your discretion.
All station workers speak English.
Car Wash
Carwash services are very popular in UAE, particularly in Dubai. And it soon becomes obvious why. Visiting a country built in the desert means that there will be a lot of dust and… sand. A shiny clean car becomes dirty and dusty just in a matter of a few days.
So if you plan to rent a car in Dubai for a longer period of time (more than 3 days), you'll want to wash it. If you don't, the amount of dust may create difficulties for visibility in certain light conditions. Plus a very dusty car will stand out in a parking lot of a mall since most locals wash their cars to a shine regularly.
Many gas stations often have equipment with car washing facilities. That would include automated drive-through washes, manual labor stations, or both.
When you see both facilities, that means that the service is usually sold as a package. Meaning you make a payment, then use a drive-through wash, then pull up to the manual station and wait outside for 5 – 10 minutes as workers thoroughly clean your car inside and out. To use this service, pull up to the drive-through station and wait until a worker comes to you. The regular package costs around $10.
Another popular business model here is a carwash on the parking lot of a mall or grocery store. This type of carwash is cheaper and often more convenient. You just park a car in the parking lot and one of the guys comes and offers to wash your car. He is usually part of a team that has all the equipment to wash vehicles.
This carwash costs between 15-20 AUD (~$4 – $5.5) and is very handy if you need to return a clean car to the rental company after a short rental time.
If you go with this option, have cash since that's the only method of payment. And go enjoy your time at the mall or do all grocery shopping while your car is getting refreshed. It is convenient and a very popular service here.
Sim Card
When you travel by car, it is better to stay connected. This way you can contact the police in case of an accident. Or call your rental company in an unlikely case of breakdown. Also having a data plan on your phone helps navigate through traffic which in UAE happens very often. Also, some rental companies require you to have a local number to add to the contract.
Thankfully, it is very easy to get a mobile plan in UAE. You don't even need to look for a mobile store or kiosk selling sim cards.
Every tourist who flies to Dubai receives a free sim card from the border officer. It is usually given along with the stamped passport. This sim card is a small tourist bundle with 1GB and a few minutes provided by a mobile company Du – one of two large cell operators in the country.
Once you activate it (there are simple instructions on the package), the plan will be valid for 24 hours. Before or after it expires, go to Recharge Page, enter your local phone number and select a plan that fits you best. The smallest one costs 49 AED (~$13) and gives you 2GB of data and 30 minutes. It is good for 28 days.
In my opinion, this is the most convenient way to have data on your phone. There is no need really to shop for other operators, as prices are generally the same.
In case of an emergency, you can call the following numbers while in Dubai or anywhere in the UAE:
999 for Police
998 for Ambulance
997 for Fire Department
What to Do in Case of a Road Accident in Dubai & Anywhere in the UAE
First, contact your rental company, that emergency number that they give you at the time of a car pick up. They will coordinate with you about what to do next. They may call the police or might have you call them. Usually, the police come very quickly, within 10 – 20 minutes and the police are the only ones to decide who is at fault.
A driver at fault will get a Red Card from a policeman while the other person will receive a Green Card. You want to get a Green Card of course.
Fines and Violations
It's better to be a responsible driver and be aware of local regulations:
Mandatory seat belts for all
All passengers in a car are required to wear seat belts including those sitting in the rear seat. A failing driver will get a fine of AED 400 (~$108).
Children up to four years of age must sit in a child safety seat. Fine is 400 AED.
The front seat passenger should be at least 145 cm tall and not younger than 10 years old.
Reckless driving
Reckless driving will incur a fine of AED 2,000 (~$545) and have the vehicle impounded for a period of 60 days. For a rental car, this will result in a serious fee of $1000-$2000.
The same punishment and fine will apply to drivers who endanger the lives of others.
Driving under the influence
Don't! Drivers caught under the influence of drugs or alcohol will face imprisonment and/or a minimum fine of 25,000 AED (~$6,850).
Traffic signals
Crossing on red light results in a 1,000 AED (~$270) fine and impounded vehicle for 30 days. For the rental car, you will have to pay a fee of 3000 AED (~$820) to release the vehicle right away. Try not to beat red lights.
Good thing that street lights don't turn yellow right away. First, they flash in green for a couple of seconds, giving you more time to decide whether to stop or not.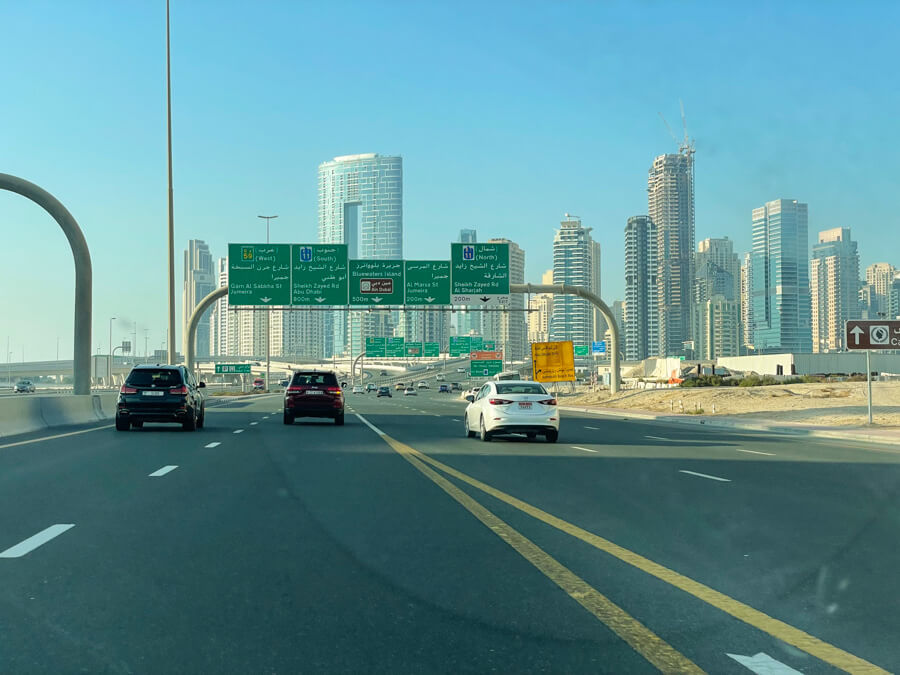 Distractions
Using phones while driving or any other distractions will cost 400 AED. I always pack a phone mount like Lamicall Car Vent Phone Mount or Magnetic Phone Car Mount. These work great in almost any rental car and are very small to bring with you.
Speeding
Those who exceed the speed limit get fines ranging from 300 AED up to 3000 AED (~$820). There is a sort of an unspoken rule about a 20km allowance over the speed limit. Legally this is not true.
Illegal Parking
Illegal Parking results in a 400 – 1000 AED (~$110 – $270).
5 Main Things to Remember Before Hiring a Car in Dubai
I know, this post is long and I give a lot of details. But if I had to highlight only a few main bullet points of Dubai car rent, I'd recommend you remember the following tips:
1. When hiring a car, always check the list of required documentation. If you fail to provide the right papers or copies, the company reserves the right to refuse to release a car and refund your money!
2. Alway check the included mileage in the contract as not all rental cars come with unlimited kilometers. If you plan to travel outside Dubai to other emirates within a short period of time, that will be important. The average amount included in the contract is usually 200 – 250 km per day (it is summed up for the whole rental period) and 100 – 150 km daily for premium cars. Additional charge per kilometer is from 0.25 to 1 AED/km.
3. No matter what a good driver you are, it is NOT ALLOWED to take a rental car in Dubai off road. That means no driving in the dunes in a rental vehicle, even if you hire a jeep and purchase full coverage insurance! It is possible to go only to that part of the desert where there is asphalt. But for dune bashing, you'd need to join a tour.
4. If visiting in winter, better avoid driving in rain. There is no drainage system in the UAE, so even light rain causes floods and deep puddles. And considering the fact that locals don't know how to drive on wet roads, there is lots of chaos and heavy traffic! Heavy rains and floods are very rare in Dubai but still keep it in mind in case you visit and they happen.
5. Take local traffic laws seriously. Running a red light will cost you around $1000 in fines and it goes without saying that UAE (including Dubai) has zero-tolerance towards alcohol intoxication. So if you are leaving a bar where you had at least one glass of beer or wine, better take a taxi.
Conclusion
The United Arab Emirates is a wonderful country for road trips. Dubai in turn is a wonderful city for driving that needs to be explored by car.
With excellent roads and many attractions scattered at long distances, it will make much more sense to rent a car in Dubai and get around at your own pace and terms. It will also save you time and money.
If you have a Driver's Licence and enjoy driving, hiring a car will be the best choice and exploring Dubai by vehicle will bring tons of positive emotions. Renting process is easy and hassle free.
If you are coming to Dubai any time soon and wondering if you need to rent a car, definitely do it! Don't miss an opportunity to experience this city as locals do and even navigate outside through the desert to other emirates.
At the same time, don't forget to be responsible and alert behind the wheel and watch out for camels!
I hope you found this guide useful. If you saw something I missed or is not accurate anymore, please let me know in a comment section below or through a direct message.
Safe travels and have fun driving in Dubai!