How to see the world as a Corporate Flight Attendant. Tips from VIP Air Hostess
Last Updated on October 31st, 2018
What comes to your mind when you think of a job of a flight attendant? Most people automatically think about a commercial Airline cabin crew. But did you know that there are other options as well? Men and women have created lucrative careers and endless adventures working as flight attendants on private jets. Although a career in corporate or business aviation is insanely competitive and can be incredibly demanding if you want it more than ANYTHING it can be yours too.
It won't land in your lap without hard work, sacrifice, and a little luck, but you can be a commercial flight attendant, corporate flight attendant, or whoever you really want to be if you put effort and all your energy into your dream.
Today's article includes a story and tips from VIP Air Hostess who went above and beyond to make her dream of a corporate cabin crew come true.
Her name is Yunna and she is originally from Ukraine. Yunna has been working for a corporate airline company for a while and knows precisely how much energy one needs to put in order to see the world as a flight attendant.
She is not one of the cabin crew members you meet on a plane when fly to visit your mama. Yunna works onboard a private aircraft.
This girl is living her dream in Miami, Florida while serving as a VIP Air Stewardess.
Hi Yunna! Can we ask you why did you decide to become a corporate flight attendant?
I started my journey in aviation working as a customer service representative at a small private airport. When jets stopped by to refuel I was fascinated by the sleek and immaculate planes. Sometimes I would notice celebrities boarding the planes.
And I was always curious to see what the inside of a luxury jet looked like…
What it would feel like to fly on one?
One day we were shooting photos for our company website. They asked me if I could pose in front of an airplane in my work uniform.
I put my hair in a bun and wore a navy blue shirt and a skirt. We took a few shots inside the plane. I did the "briefing" pose demonstrating the emergency exits, pretending as if I were a flight attendant.
This is the moment it dawned on me that I could actually become a flight attendant.
I wanted to become a professional somewhere where it was never boring. So I decided to pursue this calling. And I was never wrong taking that step.
As a corporate flight attendant you are challenged with coordinating last minute plans. You constantly communicate with your pilots and create incredible and perfect experiences for passengers.
I enjoy the challenge of creating something for clients that they are thrilled about. I like discovering how much I am capable of and learning from my mistakes.
There is always something that happens as a corporate flight attendant that requires problem-solving and thinking outside of the box. It's these challenges that keep me on my toes.
---
RELATED POST: LIST OF INTERESTING JOBS THAT REQUIRE TRAVEL, PAY WELL AND HELP YOU SEE THE WORLD
---
After talking to Yunna and asking her tons of questions I got so much valuable information about the job as a corporate flight attendant.
If you decide to pursue a career in this field as well, I hope this article will give you an insight on how to see the world as a flight attendant on private jets.
Let's start with a first thing first.
What are the main differences between Commercial & Corporate Flight Attendant jobs?
Layovers
Commercial flight attendants would rarely have more than a 24-hour layover. Corporate ones can have anywhere from a couple hours to several days in one place. The longest layover Yunna had as a corporate flight attendant was 7 days in France.
Your crew
Commercial flight attendants travel with more crew members in their team. Usually, depending on the type of aircraft of course, anywhere from three to five cabin attendants will be working in a cabin at the same time. Most likely in private aviation you will have two pilots and only one cabin attendant for the entire plane. Say it's an ideal position for an introverted traveler.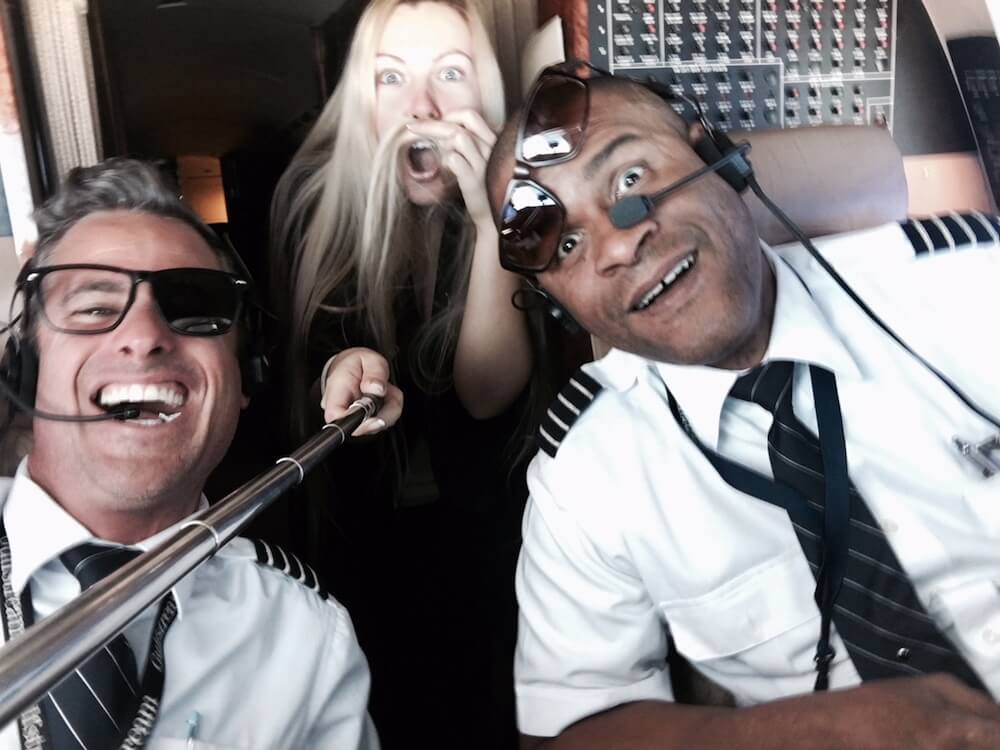 Responsibilities
In Corporate aviation, you'll have the entire plane to yourself and a maximum of 25 passengers per plane. This is a big pro but with that comes more. You'll be a super-woman or man whose responsibilities include (but not limited to) cleaning, catering, preparing the cabin for take-off and landing, safety checks, after flight inventory check and replenishment, and incidental reports. You will have a lot on your shoulders.
Commercial flight attendant responsibilities are divided between all crew members. Additionally to responsibilities mentioned above commercial airline cabin crew have to attend a brief meeting before each flight, clock in and clock out in the pax, check tickets and seating, complete greet and safety checks, serve food and drinks, and write incidental reports.
Training
Most commercial airlines will pay for your initial training and you will need to do your recurrent every year. Corporate flight attendants, for the most part, will be paying for their own training themselves. Some companies though may provide a training, but it doesn't happen often.
Don't let it make you doubt. Even if you have to pay for the training, the pay off will be high and quick enough.
Pay
Earnings as a corporate flight attendant depend on a few key factors. Those include your experience, certifications, flight schedule, responsibilities, location, if benefits come along with your salary or not, international versus domestic travel, and more. To give you an example, an average yearly salary for commercial flight attendants is around $40,000 a year while corporate flight attendants make around $50 000 a year.
What is it like to be a Corporate Flight Attendant?
Being a corporate flight attendant is a demanding job that requires a lot of energy and passion. Don't believe those who say it's easy.
You need to invest a lot before you start seeing the results. Becoming a flight attendant on a private jet can open up many opportunities to see the world, move to another country and build a meaningful career. But you have to work hard to make it happen.
Generally, a business aviation crew has 14 hours duty day with a maximum of 10 hours flight time during the 24 hour period. However, flight attendants may be assigned to the longer duty days with more than 8 hours of rest prior to flight.
There are crew rest areas on some aircrafts but as a corporate flight attendant you rarely get to use them. So count on standing for long hours.
During transatlantic flights it is acceptable to stretch legs for 15-20 minutes between passenger checks. But its really based upon time of a day and passengers' needs.
The longest flight Yunna has done was around 20 hours going from Hong Kong to Las Vegas with two pit stops and a crew swap on her way. But she only had two passengers and that allowed her to get a lot of rest with her seat fully reclined. You shouldn't be expecting moments of rest during your time in the air. Instead, expect that "flight attendant call" button will go off at any moment.
---
RELATED POST: WORKING NOMADS: HOW DOES IT REALLY FEEL TO BE A REMOTE WORKER?
---
What do you need to land a job?
First of all – don't be afraid! Prepare to get your certification, write a nice resume and promote yourself like crazy. Attend job fairs and connect with other people who are already working in this field.
Do your due diligence, research each of the schools that will help you get a certificate and choose the one that best suits you.
Make sure to have a clear vision of what you want to get out of your training experience. This is a very competitive industry. Having previous experience in hospitality, customer service or medical industry will look very good on your resume too.
Yunna's tip: confidence and professionalism is important, but your positive attitude is everything! And don't give up!
Don't forget to check Yunna's Instagram profile and follow her adventures around the world. She has a lot of stories to tell.
Do you like this post about How to see the world as a Corporate Flight Attendant? Show us some love and share it on Social Media channels!