How to Become a Corporate Flight Attendant & Find a Job
Last updated on April 4th, 2023
Are you looking for a job that would let you travel the world on a private jet and get you the 6 figures salary a year? Do you love to fly? Are you ready to go above and beyond to deliver the most exceptional service? If you answer yes then a corporate flight attendant job might be right for you.
However, getting it is not easy.
Yet, a lot of men and women have created lucrative careers and endless adventures working as cabin crew on private jets. So you can do too.
Although a career in corporate or business aviation is insanely competitive and can be incredibly demanding, if you want it more than anything it can be yours.
Definitely, this job won't land in your lap without hard work, sacrifice, and a little luck. But you can become a corporate flight attendant (or call it VIP flight attendant or private jet stewardess) or whoever you really want to be if you put effort and all your energy into your dream.
How to Become a Corporate Flight Attendant – Introduction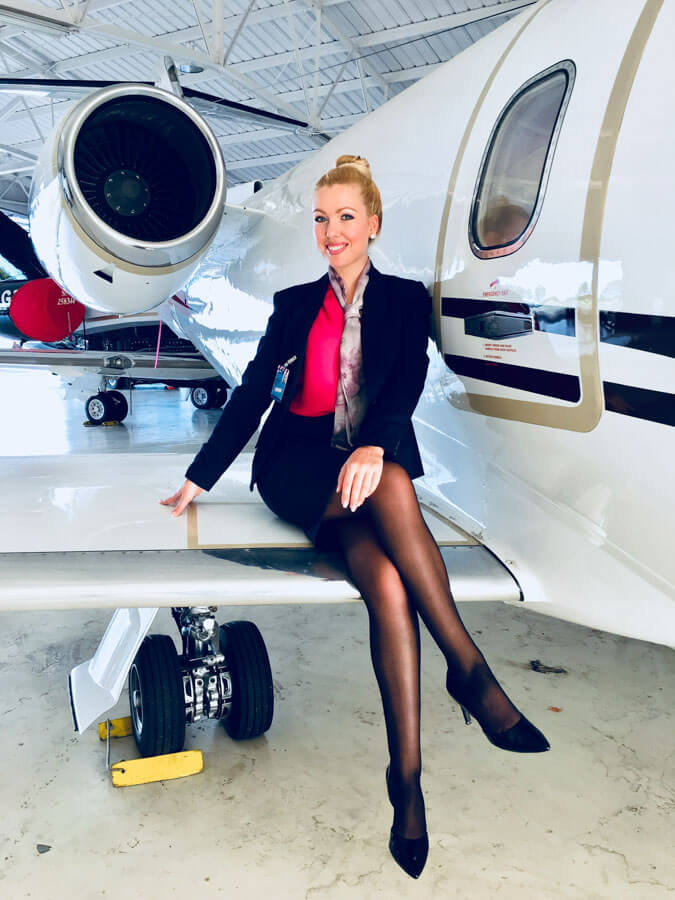 Before I get to all the tips and recommendations on corporate cabin crew jobs, at first I'd love to tell you a few words about who I am and why I am sharing this post. Most likely, you landed here for the first time.
So one of the goals of creating this blog was to inspire others to discover our world through the life and work abroad. I am usually writing a lot about travel, digital nomad lifestyle around the world, and how to move to another country.
And today's article is a bit different. Today, I am sharing a story and tips from one of my friends who is a VIP air hostess in the US. She went above and beyond to make her dream of a corporate cabin crew come true.
Her name is Yunna and she is originally from Ukraine (where I come from too.) This girl has been working for a corporate airline company for a while and knows how much energy one needs to put in order to see the world as a private jet flight attendant.
She is not one of the cabin crew members you meet on a plane when you fly to visit your parents. Yunna works onboard a private aircraft. This girl is living her dream in Miami, Florida while serving as a VIP air stewardess.
I really wanted to interview her and share it with you guys.
First of all, because Yunna's tips will be helpful for many of you. And second, because she is a great example of how a person can achieve their goals no matter what the background and circumstances are. This girl comes from an underprivileged country with fewer opportunities but it wasn't an obstacle to reach her dream.
I hope her story will inspire you. If you decide to pursue a career in this field, I hope Yunna's tips will help you make a plan for how to become a corporate flight attendant.
Hi Yunna! Why Did You Decide to Become a VIP Flight Attendant?
I started my journey in aviation working as a customer service representative at a small private airport. When jets stopped by to refuel, I was fascinated by the sleek and immaculate planes. Sometimes I would notice celebrities boarding the planes.
And I was always curious to see what the inside of a luxury jet looked like…
What it would feel like to fly on one?
One day we were shooting photos for our company website. They asked me if I could pose in front of an airplane in my work uniform.
I put my hair in a bun and wore a navy blue shirt and a skirt. We took a few shots inside the plane. I did the "briefing" pose, demonstrating the emergency exits and pretending as if I were a flight attendant.
This is the moment it dawned on me that I could actually become a flight attendant.
I wanted to become a professional somewhere where it was never boring. So I decided to pursue this calling. And I was never wrong taking that step.
Could You Please Give a Corporate Flight Attendant Job Description?
As a corporate flight attendant, you are challenged with coordinating last-minute plans. You constantly communicate with your pilots and create incredible and perfect experiences for passengers.
I enjoy the challenge of creating something for clients that they are thrilled about. I like discovering how much I am capable of and learning from my mistakes.
There is always something that happens as a corporate flight attendant that requires problem-solving and thinking outside of the box. It's these challenges that keep me on my toes.
What are the Main Differences Between Commercial & Corporate Flight Attendant Jobs?
Layovers
Commercial flight attendants would rarely have more than a 24-hour layover.
Corporate ones can have anywhere from a couple of hours to several days in one place. The longest layover I had as a corporate flight attendant was 7 days in Spain.
Your Crew
Commercial flight attendants travel with more crew members in their team. Usually, depending on the type of aircraft of course, anywhere from three to five cabin attendants will be working in a cabin at the same time.
Most likely in private aviation, you will have two pilots and only one cabin attendant for the entire plane. Say it's an ideal position for an introverted traveler.
Responsibilities
In corporate aviation, you'll have the entire plane to yourself and a maximum of 25 passengers per plane. This is a big pro but with that comes more.
You'll be a super-woman or super-man whose responsibilities include (but not limited to) cleaning, catering, preparing the cabin for take-off and landing, safety checks, after flight inventory check and replenishment, and incidental reports. You will have a lot on your shoulders.
Commercial flight attendant responsibilities are divided between all crew members.
Additionally to responsibilities mentioned above commercial airline cabin crew have to attend a brief meeting before each flight, clock in and clock out in the pax, check tickets and seating, complete greet and safety checks, serve food and drinks, and write incidental reports.
Training
Most commercial airlines will pay for your initial training and you will need to do your recurrent every year. Corporate flight attendants, for the most part, will be paying for their own training themselves. Some companies though may provide training, but it doesn't happen often.
Don't let it make you doubt. Even if you have to pay for the training, the pay off will be high and quick enough.
Pay
The salary of a corporate flight attendant depends on a few key factors. Those include your experience, certifications, flight schedule, responsibilities, location, if benefits come together with your salary or not, international versus domestic travel, and more.
To give you an example, an average yearly salary for a commercial flight attendant is around $40,000 a year while corporate flight attendants usually make between $50, 000 and $70,000 a year. Those who have been in this career for many years make more than $100,000.
|| RELATED POST ||
What Is It Like to Be a Corporate Flight Attendant?
Being a corporate flight attendant is a demanding job that requires a lot of energy and passion. Don't believe those who say it's easy.
You need to invest a lot before you start seeing the results. Becoming a flight attendant on a private jet can open up many opportunities to see the world, move to another country, and build a meaningful career. But you have to work hard to make it happen.
Generally, a business aviation crew has 14 hours of duty day with a maximum of 10 hours of flight time during the 24 hour period. However, flight attendants may be assigned to the longer duty days with more than 8 hours of rest prior to flight.
There are crew rest areas on some aircrafts but as a corporate flight attendant, you rarely get to use them. So count on standing for long hours.
During transatlantic flights, it is acceptable to stretch legs for 15-20 minutes between passenger checks. But its really based upon time of a day and passengers' needs.
The longest flight I have done was around 20 hours going from Doha, Qatar to Los Angeles with two pit stops and a crew swap on my way. But I only had two passengers and that allowed me to get a lot of rest with my seat being fully reclined.
You shouldn't be expecting moments of rest during your time in the air. Instead, expect that the "flight attendant call" button will go off at any moment.
Tips On How To Become a Private Flight Attendant:
Below, I would love to share from my personal experience what one has to do to become a private jet flight attendant.
Complete Your Corporate Flight Attendant Training
First of all, do research for corporate flight attendant training in your area and inquire about the pricing. While training is usually self-paid, the job you're about to take is pretty lucrative to cover the costs within the first couple of trips. So let that not scare you away.
Each corporate flight attendant training consists of a few certifications and gives education in all major areas of a flight attendant position.
To make it easier to understand what such training includes, here is the list of all certifications. Some of them are required while others are optional. I explain in detail:
• General Emergency Training Certification – this training is required by the FAA and must be completed every two years. And yes, you take care of that on your own.
• In-flight Services Training Certification – this training is not necessarily "required" but you will be hard-pressed to find work without this level of specialized training on your resume. I highly recommend doing it.
• CPR/AED/First-Aid Certification – required. There are always many options where to go through this course.
• Food Safety & Handling Certification – recommended. You can obtain this certification online.
From the start, you need one initial training. Then after 2 years, you'd need to do your recurrent emergency training (to keep your qualification.) This first initial training usually lasts between 5 days and 2 weeks (depending on the intensity.)
However, generally, initial training is no longer than 7 days and it covers cabin safety and emergency procedures for the variety of aircrafts you'll possibly be working with in the future.
You need to research and find a credible school in your area (or you may need to travel to another state.) There are many schools on the market and it's easy to find one online. Compare the pricing and choose that school that fits your needs and budget.
Although it's not enough to get training from any school. Reputation matters. This is why it is important to attend aviation meetups, become a member of different Facebook or LinkedIn groups, ask questions, and network. Other people who are working in this field will definitely recommend a good school.
Keep In Mind a Few Things
1. While aviation background is welcoming everyone, I often meet the freshmen who are very new to this field and don't understand that it takes effort to break through and soar into success.
2. As a rule, a person applying for a VIP flight attendant job should be skillful in culinary arts.
Some culinary & service training is nice to obtain as a bonus but from my personal experience isn't the tip of an iceberg. As long as you're aware of food safety handling and transportation of the food you should be good. You don't want your VIP client to get sick from improperly stored caviar or rotten orange juice.
3. Most of the time you'll be working with catering companies that are well equipped and provide exceptionally well-sealed meals for your VIP flight. Look up how it is done. Do some tutorials on Youtube. Get creative.
Also, such skills as one of a sommelier are highly appreciated in the industry.
4. Some hospitality and medical experience are welcome as well as knowledge of other languages. However, the main criteria remain the know-how and the ability to be flexible and organized.
5. There's a possibility that some companies will train you before they hire you, but it is not very common. Most of the time only commercial airlines train their flight attendants.
6. Commercial flight attendant experience isn't necessary for applying for a corporate stewardess job. In fact, it is much better to come fresh because it is a different pace.
Where to Look for VIP Flight Attendant Jobs?
Private aviation is a very competitive industry with thousands of new graduates every year. So how realistic to find a job after obtaining the flight attendant training only depends on your interpersonal skills and ability to put yourself out there.
My tips for a successful job search is to network like a pro. Do your research and attend NBAAs, local aviation meet-ups and trainings, enroll in staffing agency programs offered by your training facility, etc. You never know who would potentially offer you a job, so network and network some more.
Prepare to send your CV to aviation companies hiring nationwide and also source for local VIP airports and drop off your resume in person there.
How to Prepare Your Resume? And What Should You Know About the Interview?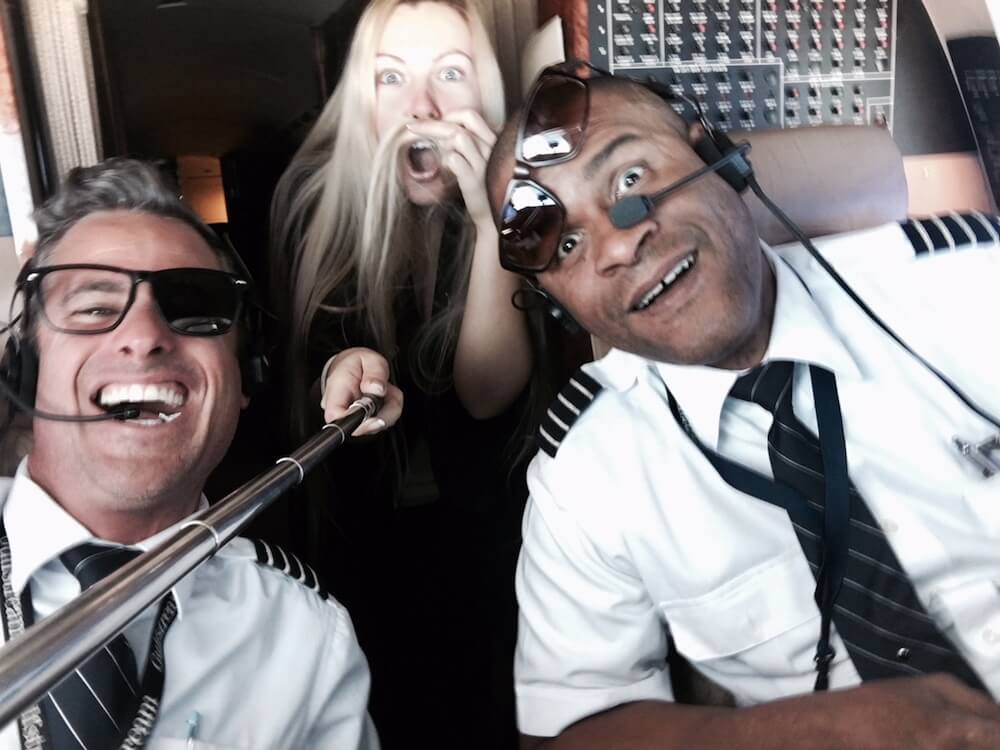 Generally, corporate flight attendant resumes are similar to resumes for any other business. You would want to put the general candidate info first, your education and training, work history, and all extra skills in the end.
Whether you want to add a photo to your resume for an added effect is up to you. Many companies like to see in advance who they're dealing with, so I'd recommend including it.
You could do your research and find more examples and templates on websites like Jobhero or LiveCareer.
Your resume is like a billboard. Think of a resume as a tool for marketing yourself. It's more than just a document. It outlines your background, your skills, and your education so that a potential employer is quickly and easily able to see how your individual experiences can contribute to a company's success.
Many times interviews in this field are carried by phone but be prepared to show up for a personal interview. The first impression is crucial to forming long-lasting relationships.
– Be positive, dress professionally, and become memorable.
– Choose your accessories wisely.
– Have your outfit neat and pressed, and your shoes polished. Always wear tights should you choose to wear a skirt or a dress. Heels are welcome but not too high like stilettos. Shoes should be covering your toes.
– Remember that you have to feel comfortable and yet look professional. I like to add a flight attendant scarf as a pop of color to my outfit.
– Remember to be confident and showcase your personality. I know how hard it is to keep calm and not get nervous. It is ok to be nervous. You could bring up an off-topic subject or describe your hobbies or something that gets you excited to ease the tension.
– Be prepared to answer why you would make a great asset for the company and smile, smile, smile. Your personality and humor goes a long way and could save you in some nerve-wracking meetings.
– After the interview, follow up with emails and phone calls but don't be too pushy. It generally takes a lot of time and energy to find a job. Some companies have the wait time as long as 2-5 months after they approve you. So you have to follow up and stay positive.
– If you don't get a response from one company or your interview didn't go well, don't be discouraged! Now you are more skilled and prepared for the next interview and you know exactly how to plan ahead. After all, learning is key to success, don't forget that.
NOTE: There is no need to work as a commercial flight crew before trying to enter the corporate world. It is actually preferred not to have any flight attendant experience at all.
The company would rather train you and teach you ways to work on private jets rather than re-train the old ways and habits you've gained while working with commercial airlines.
Whether you got experience working in hospitality or any other industry (including commercial airlines,) chances to get hired are equally the same for everyone.
So How Do You Attend Aviation Meetups & Where to Find Them?
While networking is an extra tool that is not mandatory for your job search, I find it critical. There are various websites and aviation meetup group. Conferences like women in aviation or NBAA take place nationwide. You'll need to do your research online and attend as many as possible. The last one you could find on the official NBAA website.
There are plenty of staffing agencies outside training facilities. Although many flight attendants prefer not to go through an agency, it does make you look good on your resume if you're a part of a reputable aircrew network.
In order to find one, you would need to google 'flight crew staffing agencies' in your area.
The most popular job search websites and networks in the industry are Bizjet, LinkedIn, Aviationjobs, Flycontract. Some of them have paid memberships where you receive updates on email about new jobs in your area.
Zip Recruiter and Indeed would also have flight attendant job offerings, so you can keep an eye on those. Also, it is a good idea to place your CV on as many platforms as possible.
Final Word Briefly
So, first of all – don't be afraid! Prepare to go through training and get your certification, write a nice resume, and promote yourself like crazy. Attend job fairs and connect with other people who are already working in this field.
Do your due diligence, research each of the schools that will help you get a certificate, and choose the one that best suits you.
Make sure to have a clear vision of what you want to get out of your training experience. This is a very competitive industry. Having previous experience in hospitality, customer service or medical industry will look very good on your resume too. Working as a commercial flight attendant is not important at all.
My tip: confidence and professionalism are important, but your positive attitude is everything! Don't give up!
*************************************************
Alright, so that was it for today. If you have any questions, feel free to ask them in the comment section. Once I answer, other readers will be able to see them in the future too. To find out more about Yunna, you are welcome to check her Instagram profile. And good luck!