Snowy Holiday Destinations in the United States to Visit Any Time of The Year
Last Updated on July 17th, 2019
If you are looking for snowy holiday destinations that can be visited not only in winter but summer too, you are on the right page. This post is for every snow and cold lover.
When you live at higher altitudes or in northern regions where colder conditions prevail throughout the year, you definitely won't be thinking how to extend your winter when summer comes. Most likely you are dreaming about the sun, palm trees, and beach. And who would ever want to go skiing or hiking in snow when the winter is over, right? We are like that too, so totally get ya.
Nonetheless, there are people in this world who enjoy cold more than anything else. They feel at ease and enjoy life in full when a street thermometer shows a temperature outside of no more than 55 degrees (12 degrees Celcius.) The lower the better it is.
You know you don't really need to be a winter lover to appreciate the beauty of this wonderful season.
I personally can't tolerate cold, that's why every year together with Mark we are trying to escape winter somewhere where it's warm and nice.
But part of us always misses snowy white days with crispy fresh air and snowflakes on our lashes.
We don't miss that sloppy slushy winter that can give you depression. You know the one when on a daily basis you have to battle the front door of your home because it is blocked by unreal amounts of snow. Or when you need to scrape ice off the windshield early Monday morning or try to hide away from slush waves that chill your bones.
No, the winter I am talking about is the one with beautiful sunny but frosty days. So sunny that you are warm without a jacket, and so frosty that snow doesn't melt. With crunchy snow under our boots, magically looking trees powdered with snow against a blue clear sky, and fresh, fresh air.
Winters like those exist. And, surprisingly, you can experience them not only during the winter (what?)
We got a chance to visit some absolutely magical places in the United States where winter lasts well into summer. These snowy holiday destinations are great to visit during any season, not only winter.
So if you miss cooler temperatures and question what are the best places to visit in summer for cold lovers, see this list!
---
RELATED POST: VISIT VERMONT IN FALL TO MAKE THE MOST OF THE SEASON
---
Snowy Holiday Destinations in the United States for Any Season
Mount Baker-Snoqualmie National Forest, Washington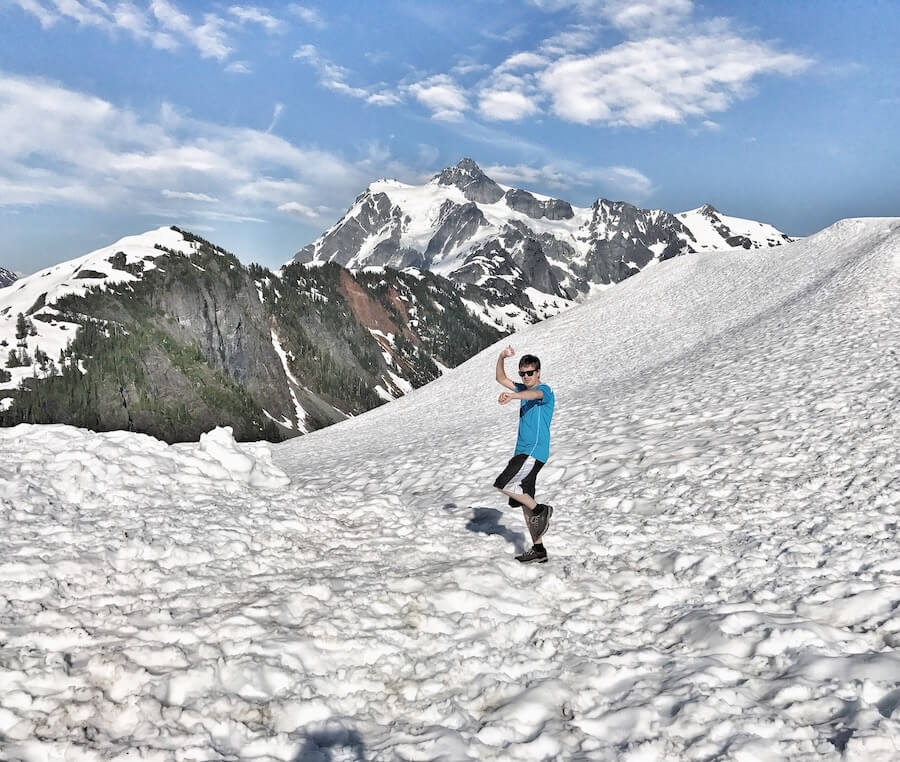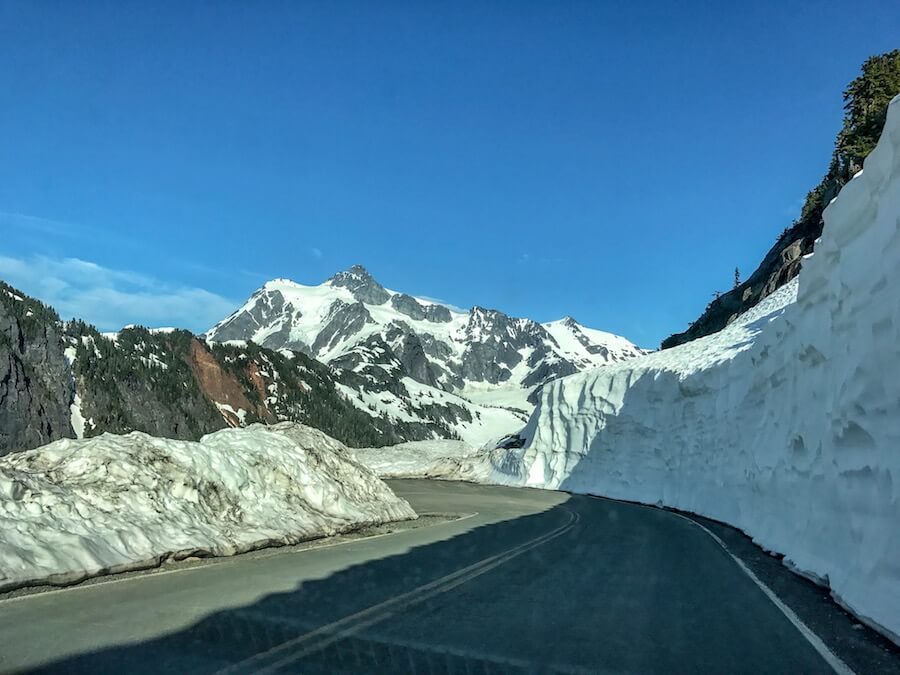 Visiting Mount Baker-Snoqualmie national forest last July turned out to be a complete surprise.
We drove to Lake Ann Trailhead with a goal to hike all the way into the wilderness to get closer to Mount Shuksan but instead confined ourselves to walking in snow near the parking lot.
There was so much snow in July that most of the hiking trails were closed and, for the most part, people were skiing. It was so interesting to watch skiers wearing shorts and tanks while spending hours in the snow. Noone ever got cold! The sunset over snowy peaks was gorgeous and we had a blast, but regretted a bit there was no snowboard in a trunk of our car.
If you take Mount Baker Highway (Road 542), there are plenty of activities along the way. Getting to Artist Point area will open up a winter wonderland for you. Anything before that reminds more of blooming spring than summer.
Inyo National Forest, California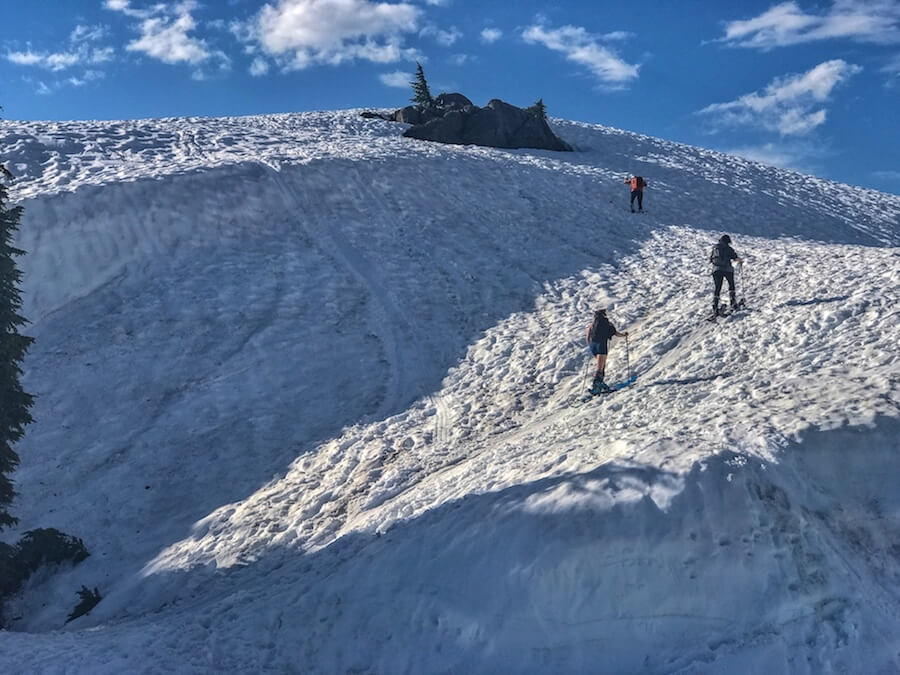 What we always loved about California when lived there was the diversity of the state. Look to sunbathe in the morning and hit the slopes in the afternoon? Visit wineries, drive one of the legendary roads, go to volcanic area, hot springs or a desert? Or perhaps you are looking to swim in a lake and enjoy the mountains? No matter what your heart desires, California has it all.
Inyo National Forest, in the eastern part of California state, which is part of Yosemite national park, keeps attracting skiers and ice climbers year round.
To be able to see and enjoy snow in summer head to Saddlebag lake, walk around it (less than 3 miles) or take a boat to get across and hike to North Peak. You'll be getting more and more snow while hiking up to the peak. If you would love to ski, keep in mind that slopes are rather challenging and suit more for backcountry skiing. Be careful in late summer. Snow turns into ice what makes it a bit dangerous.
Mount Hood National Forest, Oregon
Driving two and a half hours away from the largest city in Oregon will bring you in winter fairytale, which is probably one of only a few places providing year-round access to snow.
Most of the ski descents there are steep and only experienced skiers or snowboarders should be conquering them. But you can drive to Mount Hood area to get a breath of fresh crisp air, play snowballs and drink a cup of hot chocolate in Timberline Lodge restaurant overlooking the snowy peaks.
It is a perfect getaway in Oregon in case lower elevations are hot. Sometimes, like last June, for instance, a snowstorm can come as a surprise!
---
RELATED POST: 6 LESS VISITED PLACES IN THE U.S. THAT WILL BLOW YOUR MIND
---
Crater Lake National Park, Oregon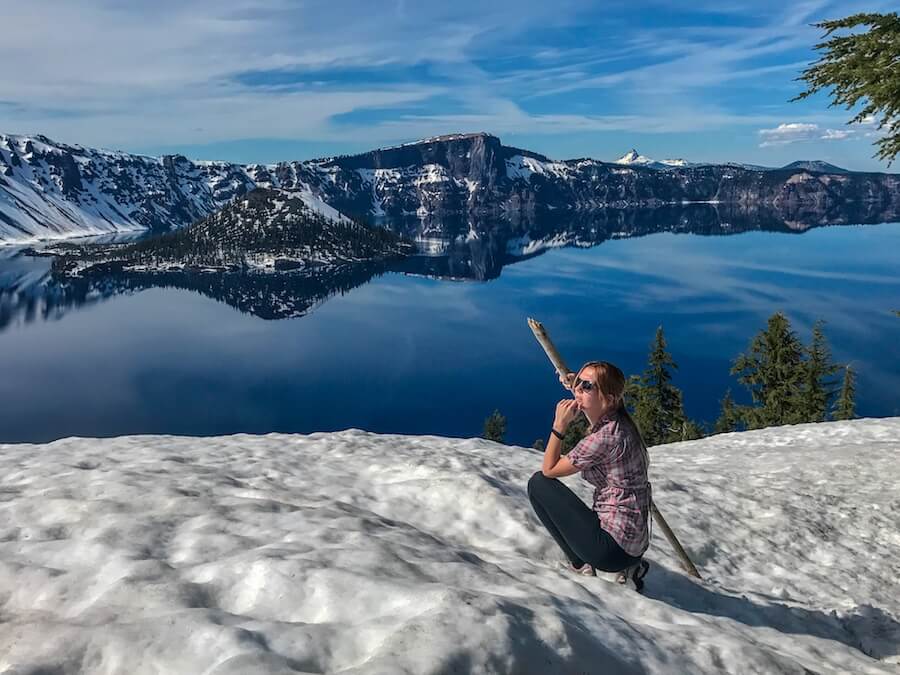 If you haven't been to this one of the best summer holiday destinations in the U.S., you absolutely should plan a trip here. Crater Lake National Park is magical year-round but in summer it is especially beautiful.
And did you know that winter in this park usually doesn't leave until the beginning, sometimes mid-summer?
We didn't know this fact and last June when visited Crater Lake for the first time. What a disappointment it was to arrive, fully equipped with hiking gear, at the beginning of summer with hopes to go hiking, but instead find out that the main road was closed due to snow.
The snow in Crate Lake National Park often doesn't melt until the mid of July. Rangers at the park told us there were years when snow in summer never went away completely making winter in that area a year-round season. Check some awesome Crater Lake's hiking trails here.
If you would love to stay overnight, I highly recommend choosing a historical Crater Lake Lodge. It is overlooking the lake and offering lots of history. Comparing to lodges in other national parks, Crater Lake Lodge almost never gets crowded.
White Mountain National Forest, New Hampshire
Didn't expect to see one of the states on the East Coast? Among all the places to see in the USA, New Hampshire is rarely on the list. But I highly recommend adding this part of New England to your itinerary. And there is a chance you can still see winter in White Mountain National Forest sometime in July.
Choosing this place for a holiday getaway in winter guarantees there will be a lot of snow.
But in case you didn't get enough winter fun, visit in spring or even summer. Tuckerman's Ravine, in Mount Washington area, is a spot for a spectacular backcountry adventure.
If you do visit in summer, to be able to see snowfields around the park you have to hike. It will take up to two hours to hike one way into the base of Tuckerman's Ravine. The area every year gets blessed with much snow well into summer, so besides a great workout, you'll be witnessing winter wonderland.
For more details, go here.
Mount Rainier National Park, Washington
Mount Rainier is probably the only place that many people know about not only in the U.S. but outside the country. It is a popular training ground for those who are getting ready to trek higher climbs in Himalayas and Alaska, thus keeps attracting climbers from across the globe.
It is such a grand place. And it can be a great vacation spot if you love being in nature away from hustle and bustle.
By no means I encourage you to go trekking to the top of this mountain. But visiting the National Park, hike a bit or walk in its wilderness is a must.
You don't need to be a professional mountaineer to be allowed to ski, and especially play in the snow.
Depending on a trail, you may need to get a pass, as well as some special equipment. But there are always some easy and moderate hikes when you don't.
If somehow in the middle of summer you find yourself in Seattle or anywhere near, and suddenly start missing the snow, head to Mount Rainier National Park to experience winter one more time.
One of the trails to snowfields starts from the Paradise parking lot towards Muir Snowfield. You don't need to hike all the way up to feel colder temperatures and get to the snow. Of course, it depends on the year, but very often there is still enough of snow right near the Henry Jackson Memorial Visitor Center until mid-end of July. If not, hike in a direction to Mcclure Rock and very soon you will be approached by winter.
Professional mountaineers or those who hire a guide should look into Anvil Rock and Gibraltar Rock slopes.
If you would love to visit in winter, Mount Rainier National Park is an amazing choice. Just being there and walking around helps you to disconnect from the entire world.
---
RELATED POST: AWESOME WEEKEND GETAWAYS FROM LOS ANGELES TO MAKE YOU WONDER
---
Grand Teton National Park, Wyoming
Some of the most splendid scenery in Wyoming can be found in Grand Teton National Park. And it is clear why. The solitude and majesty combined in one place keep attracting more and more wildlife and nature lovers each year.
Honestly, I really believe that Wyoming is one of the best places to go in the USA in summer. It is so incredibly beautiful.
I visited in May and oh my gosh, there was so much snow! I can only imagine how astonishing this place gets in the winter time.
Most likely you won't be visiting just for the snow. And why would you? But in case you have an urge for playing snowballs while touring Grand Teton in summer, there is a place in the park where you can find that.
Be ready to put your boots on, hike a dirt trail and get a little bit muddy.
Lupine Meadows Trailhead, which is usually flooded with visitors, is a gateway towards winter wonderland. Don't worry, the trail to snow peaks gets rarely crowded. Majority of hikers prefer other trails that also take their beginning from Lupine Meadows Trailhead. You need the one towards Nez Perce. The farther away from the trailhead you walk the more winter wonderland you get to see.
Check the map for details on how to get to the trailhead. And one more here.
You can find so many beautiful lodges, hotels and Airbnb not far from Grand Teton National Park. If coming with a family, take a look at Teton Club lodging. Each room is spacious with a full-size kitchen and private balcony. The hotel is conveniently located in the heart of Teton village where all the shops and restaurants are within walking distance, and right next to the slopes. Still, it is very quiet.
---
This post contains affiliate links. If you follow one of them and make an order, we may receive a small commission (for which we will be mega grateful) at no extra cost to you.
---
Have you been to any of the destinations mentioned above? Share in comments, please, how your experience was! And don't forget to pin it for later!