How to move to another country and start a new life abroad?
Last updated on June 14th, 2023
Are you thinking to start a new life abroad anytime soon? Oh, I know how you feel.
I have moved so many times in my life. The very first time when I moved I was 18. At that time I have finished high school in my hometown in Ukraine and was on the way to the capital to go to university.
Seven years later another move happened, this time to the U.S. Actually, I went there as an au-pair with a goal to continue my education but life gave me a chance to settle and become a resident of the United States.
I lived in America for 10 years. During that time I probably moved around more than most people do during the entire life. I moved from the East Coast to the South and then all the way to the West, spending a good chunk of time in 5 different states. And in each state, I also moved multiple times, either hopping from one city to another or changing apartments on so many occasions.
And then last year my partner and I have moved out of the U.S. with a dream to live in other countries around the world. Before we departed we set a goal to move to Europe or Southeast Asia for a few years, work there, travel, explore the continent and let life take us further. But, instead of settling in one place we ended up traveling around a bit and living for a few months in different places. Since the moment we left America, we have lived in Vietnam, Bali, Georgia (country) and Montenegro. Now we are living and traveling in Istanbul.
The plan is to keep living the same lifestyle but being able to find a place where we'll want to settle for at least a year. So far we haven't found this place yet. That's why we keep moving around and starting a new life abroad every single time we move. At some point, we started to feel a bit stuck in life with travels and constantly moving from one place to another but overall we love the experience.
Moving to another country and starting a new life abroad is an absolutely amazing experience
Both of us love this lifestyle of slow travel and the ability to move between the borders freely. We hope we will be able to continue in the same vein or as long as we feel like it.
If you have ever moved to another country, you know the feeling of excitement, happiness and at the same time confusion that fills your heart. You can't explain it but you know how it makes you feel. If you haven't moved yet, I can assure you that it is a truly wonderful experience that will enrich your life.
Just being able to immerse in a different culture and understand other people's way of living is priceless.
Noone, who has ever moved though, will tell you that starting a new life abroad is easy. But it is always a rewarding and enriching experience. Somehow it helps you shift things inside your head and see the world through a new prism.
Moving abroad and starting everything afresh is not only exciting but intimidating at the same time. And I know why. I have been (and sometimes still get) in those shoes too. That's why here are a few thoughts, based on my own experience, on what to know when thinking to move to another country and start a new life abroad.
READ MORE: I WANT TO MOVE ABROAD, WHERE DO I START?
READ MORE: MOVING ABROAD CHECKLIST: 8 THINGS TO CONSIDER BEFORE THE MOVE
You do need to save money before you go
There are people in this world who manage to do a lot of things for free or for very little money. We actually do too in many cases. But for the most part, there is a price you have to pay for things in life. If you think (or if anyone ever told you) that you can change your life in a blink of an eye when you have no money – this is not true.
Every time I was deciding to move to a new place, I knew I had to save money first. And I always did. Except for a few random horrible situations when I was making so little money that I couldn't save at all and couldn't afford to pay for my accommodation. Other people helped me out by letting me stay in their house for free for a few months. But that's a totally different story.
When coming to the U.S. as an au-pair, I had money with me just in case. I know, usually, au-pairs don't stress about saving before joining a family. Usually, they know everything will be taken care of for them. But I was different. I saved and saved a lot before coming on an exchange program to a totally new to me country.
When together with Mark we made a decision to leave the States and move overseas, we started to save like crazy too. We knew we would be working and making at least something to support ourselves, but we had to save to make sure we feel comfortable. It's just who we are. We can't enjoy life (no matter how amazing it may be) if there is a money pressure.
Whatever we saved could potentially help us live in different countries around the world, without a job for about two years. We would be still very stressed without any income but we could make it.
I don't really want to share a number, how much we personally saved, because it may confuse you more. For most people, the same amount of money would probably last less than a year.
We are just very strict with ourselves and can manage to live on a low budget. Life taught us many lessons on how to adjust and make the most of your penny.
There is probably no specific number how much you should save before a move. Different people need different amounts of money. Some advise saving a minimum of $15K, others $30K. It all depends on your own lifestyle, preferences, habits, where exactly you move, etc.
On average, if you move without a job, it is very manageable to live in many places under $1000 per month as a couple. In Vietnam, for instance, we lived under $700 per month and were happy. You can read this post to find out details. Or even better, read my post on how to travel the world for less than $10K a year for two. This is the amount of money we lived on. And we had a pretty comfortable lifestyle.
Decide for yourself how much money is enough and start saving.
Securing a job is not the only way how to move abroad
Seriously, those days when someone had to sponsor you to move to another country are gone. Today you can just save money, do some planning, pack your bags and set off to a country of your interest in the long term. And you can find a job along the line, either on spot or online.
So many people today (including us) work online or on the go. When we were living in Vietnam, our neighbor was a guy from the UK who came to Southeast Asia some time ago as a backpacker, traveled around and then found an English teaching job and settled in Vietnam. He wasn't securing it in advance but was confident enough he could find it once he arrived in a country. And he did.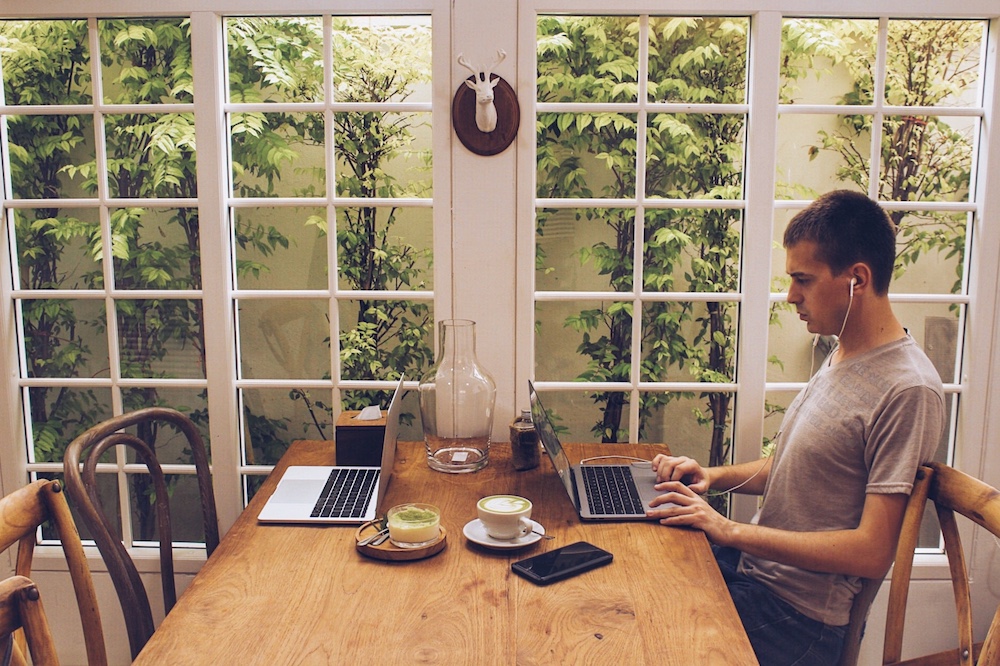 I have a friend from Ukraine who holds a Ukrainian passport and currently lives and teaches in China. Someone else I know lives in Sri Lanka and works as a photographer. Another friend (also with the Ukrainian passport) moved to Dubai without a job and connections but after a few months there started to work for Emirates airlines. Oh my gosh, I have so many friends and acquaintances who have already done it and continue living this lifestyle.
It doesn't matter which country you hold a passport from. I am originally from Ukraine and remember how challenging it used to be even to travel, not to say move abroad. But I still did. If you are an American, Canadian, Australian, EU citizen, etc. then you have so many more privileges in this world than someone else who comes from a developing country. Yet, it doesn't matter. If there is no zest and clear vision your passport won't help at all.
Is it going to be easy? No. The only thing which is easy is laying on the couch and eating popcorn. But honestly, even then you need to put some effort. Overall, life is not easy but it is so much fun.
---
RELATED POST: WHEN YOU FEEL STUCK IN LIFE – TO TRAVEL OR SETTLE DOWN?
---
You can move light and be totally fine
So many people, when moving, are trying to move all their stuff with them to a new place. Some get a job offer from a company and relocation allowance which covers the moving costs (yay) and pack every single thing they can. Others pack a few suitcases and are ready to go.
To make you smile, here is a quick story. One of my roommates, when moving overseas, was packing her old rusty frying pan, the one she hasn't been using for years but loved so much. Familiar situation? I and our other roommate were trying to convince her not to take this piece of iron (along with other things) but it didn't help. She believed it was going to be difficult to replace this pan in her new country. We've been laughing at this later but at the time of her move, I was pretty sure she went bananas.
Do not do the same mistake. You may not be packing a pan but there may be something else that you absolutely do not need.
We learned how to pack light and live a minimalistic lifestyle and advise you to do the same. In most of the countries where you may be moving to (let's assume it's not in the middle of nowhere), is easy to rent a furnished apartment or house with everything you need in it. Maybe there won't be any blender or panini maker (we actually had it in the apartment we rented in Vietnam) but you'll have everything that is needed for a comfortable life.
One of our most comfortable apartments actually happened to be in Tbilisi in Georgia and Budva in Montenegro.
When we were moving out of the U.S. we shipped a few boxes to my family in Ukraine (just in case, you know) with stuff that we haven't used until this day yet. We thought if we settle in Europe and need something of what we packed, it will be way easier to get it from Ukraine than from the U.S. Later we decided to go to Asia and packed two huge suitcases with lots of unnecessarily things. If I say we haven't used half, I will underestimate this fact.
If you come from a Western world country and think that the rest of the world doesn't have all the important necessities, it is wrong. It may actually cost more to move things around than just buy them in your new home country. And from our own experience, you do not need much anyways. You also won't have a desire to spend money on things when so many experiences are awaiting you there.
I do recommend taking items you know for sure are essential (this is our list of things to take when moving abroad or traveling long term) but know how to prioritize.
Take good care of your health before, during and after the move
Yes, yes and yes. Being healthy should be always your number one priority. But when you plan to move to another country and start a new life abroad, you want to be especially confident in your health. Nothing can be worse than running around trying to find a hospital instead of having new experiences.
Of course, with time, after you move and settle you'll need to do regular checkups and know where to go in case of an emergency. However, it should be part of a routine, not a crazy necessity. If you are taking any medicine, make sure to pack enough of what you need. If you are suffering from chronic conditions, don't forget to take all the medicine that helps you. It may be challenging to find it in the beginning when everything is new. If you need to extract a tooth, undergo surgery or get special treatment, do it before you leave.
Eat healthy, exercise, get good sleep, take vitamins long before you even start packing your belongings.
A lot of people buy travel insurance, we do not. Once in a few months, we keep returning back to Ukraine to go through all the checkups. And in many other countries, we travel to, it is easy and cheap enough to see a doctor without any insurance. But it should be your own choice.
If you are already on your way to a new country, the following post on how to settle abroad as an expat provides more tips. I am truly excited about your move, it's going to be a totally new chapter.
---
Have you ever lived abroad? Where did life take you? What are your thoughts on this topic? Don't hesitate to share in the comments!
Was this post useful? Pin it for later!