11 Best Thermal Pools & Hot Springs in Turkey to Visit on Your Trip
Last updated on July 2nd, 2023
Thermal pools and hot springs in Turkey are not very familiar to the average visitor. Traditionally, people who visit Turkey on their holidays come to the country for a beach holiday, for cultural tourism in beautiful Turkish cities, for seeing ancient sites, or possibly going on a road trip. That's pretty much it.
Meanwhile, Turkey has excellent balneological resorts. Some are bigger, some smaller but they all provide excellent conditions for wellness and rejuvenation for different budgets.
In fact, there are more than 1000 thermal springs with various mineral properties that have enormous benefits after bathing or drinking such water. According to the statistics of the Ministry of Tourism of Turkey, there are 17 thermal spa resorts in total around the country as well as peloid therapy health resorts (with mud baths and thermal mud treatment).
I'd love to talk about the 12 best of them. Why do I think they are the best? Because it's easy to reach them, staff speaks English, and they have good conditions for recreation.
So this list will give you an idea of how much bathing in Turkish hot springs costs, what diseases the water helps with, and which hotels are nearby.
I've been only to a few of these thermal pools and others are still on my bucket list of places to visit in Turkey. Don't miss them too!
---
Please note: This post contains affiliate links. I may earn a commission if you make a purchase by clicking a link (at no extra cost to you).
---
How to Get to Turkish Hot Springs
Each destination with hot springs on my list can be easily reached by public transport or on a tour. But if you have a driver's license, I recommend you better rent a car and go on a road trip that would include multiple stops, including thermal pools.
Looking forward to renting a car? Then don't miss my guide to car hire and driving in Turkey!
Turkey Thermal Springs On a Map
Best Hot Springs in Turkey to Add to Your Itinerary
Famous Pamukkale Thermal Pools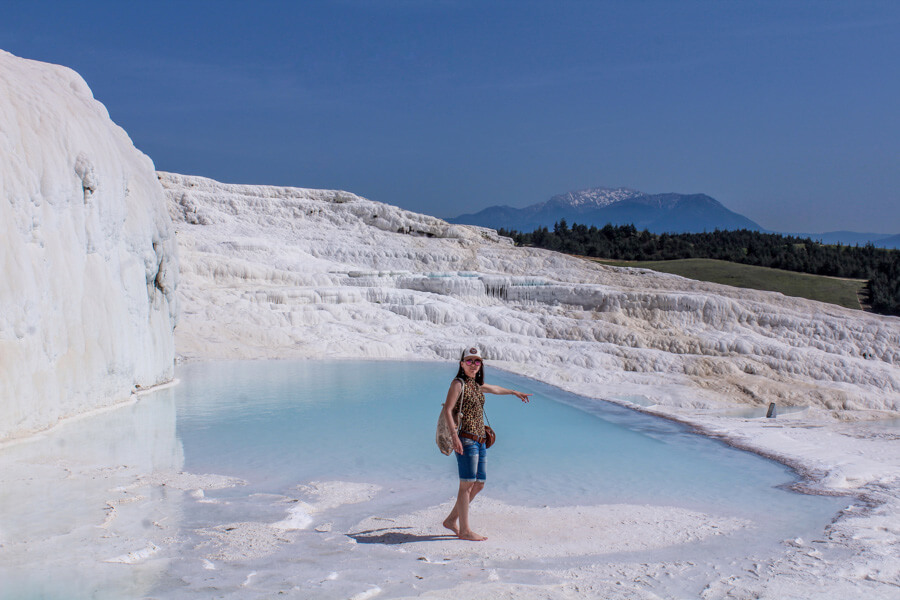 One of the most popular and well-known thermal springs in Turkey is Pamukkale. Located not far from the Turquoise Coast, it makes it easy to combine a visit here with a vacation in Bodrum or Marmaris, or any other resort town on the Mediterranean or Aegean Sea.
Pamukkale, which literally translates as "Cotton Palace", has a total of 17 types of baths with different temperatures: from quite comfortable 36 to 100 degrees Celsius. The water contains dissolved calcium carbonate, which settles at the bottom of the streams, turning it white. There are also a few sources of drinking water.
Pamukkale springs are great for people who have problems with the spine and musculoskeletal system. Also, frequent visits help with cardiovascular, skin, and gastrointestinal diseases of all forms and diseases of the nervous system.
Most tourists who visit Pamukkale mainly come for a day or two on a tour just to see the travertines, ancient city Hierapolis and swim in the Cleopatra pool.
But if you are looking to stay longer just for the hot springs, you can surely do it. With a few pretty lovely hotels in Pamukkale (some have pools with mineral water) and many more spa hotels in the region, you can have a nice hot springs vacation.
Hotels in Pamukkale Thermal Resort
Venus Suite Hotel – a very nice hotel for someone on a budget with a pool and excellent restaurant. We loved our stay there for a clean room with a view! If staying here, request a newer room on the higher floor, the view will be mesmerizing!
Bellamaritimo Hotel – another excellent option with a pool and close to the central entrance to Pamukkale hot springs.
Karahayit Hot Springs
Karahayit is the younger brother of Pamukkale located very near. Most people combine a trip here with a tour of Pamukkale.
Karahayit has five different springs and red-brown travertines with water +67С degrees that are located in one central park. The composition of the water is dominated by iron salts, so this is why it has a brownish-yellow tint. Liquid flows into pools or bursts out of the ground in a fountain.
Swimming directly in thermal springs is difficult since the temperature is very high. But a wellness ritual that includes healing mud wraps, quick dips in hot travertines, and then cold showers, helps to treat varicose veins and bronchial asthma. Also, Karahayit is a popular destination for drinking mineral water as it helps with gastritis and stomach ulcers.
For those who want to extend the procedures and stay a few days in the area, there are hotels nearby. Most of them mix thermal and cold water together in outdoor pools.
If visiting the Karahayit public hot springs in summer, swimming costs around 3 euros. During the low season, entrance is free.
Hotels With Thermal Pools in Karahayit
Hierapark Thermal & Spa – in all respects a good hotel with a nice spa complex. Excellent choice for travelers on a low and mid-budget.
Pam Thermal Hotel Clinic & Spa – with luxurious thermal baths surrounded by pine trees.
Doga Thermal Health & Spa – a beautiful property with a spa complex, pool with mineral water, and, most importantly, a thermal bath right in the room!
Denizli Springs
The most famous thermal spring resort in Denizli is Pamukkale. Sure, everyone knows about white travertines. But not everyone heard about other natural hot springs in this area that are just as useful as Pamukkale springs. Just some of them are Saraykoy, Tepekoy, Babadag, and Kabaagac.
Hot springs in Saraykoy for example contain a lot of sulfur, so they are used to treat skin diseases and pathologies of the musculoskeletal system. Near the village Kabaagac, there is a spring with the same name with water effective for digestive disorders.
Tepekoy springs, in addition to sulfur, contain an increased concentration of soda. When taken orally, this water treats diseases of the gastrointestinal tract, and when bathing, it helps with problems of the musculoskeletal system and skin diseases.
Trips to Denizli district from the resorts of the Turkish Riviera are almost 2 times cheaper than trips to Pamukkale. And visiting hot springs costs 2-3 euros only, not 20-30 like in Pamukkale.
All hot springs in Denizle are easily accessible by rental car or public transport. Some villages have hotels not far from thermal springs, so there is a chance to stay somewhere else than Pamukkale or Karahayit.
I'd recommend you rent a car in Pamukkale or Denizli and visit a few hot springs in the area during one trip, including a Kaklik cave with underground travertines and thermal water.
Hotels in Denizli
Casa Bianca Hotel – a good hotel near the center of Denizli offering views of the mountains.
Haciely Thermal Hotel – a very nice budget hotel with a mineral bath in the room.
Yalova Hot Springs Near Istanbul
My other favorite thermal pools in Turkey after Denizli are as well known as Pamukkale. They are located in a resort city Yalova which is full of different hotels, apartments, an entertainment center, thermal pools, hammams, saunas with thermal water, and even sultans' baths.
Since Yalova thermal resort is very close to the shore of the Sea of Marmara and Istanbul, it is popular with everyone who likes to combine wellness and relaxation on the beaches and wants to do some sightseeing in Istanbul. You can just hop on a fast ferry in Istanbul and be in Yalova in a little more than 1 hour.
I like Yalova not just for the hot springs but that it's actually a small but developed beautiful city with parks, a nice center, and walking area near the sea. Plus, if you rent a car, you can go explore the Peninsula and go to the local mountains.
In addition to the main thermal treatments, hotels in Yalova also offer massages, manual therapy sessions, acupuncture, and paraffin wraps. We liked visiting just for 2-3 days to spend time in a hotel with thermal water to be able to recharge. But many people were coming for a week and two weeks to treat actual diseases.
Thermal water here is good for treating diseases of the digestive system, neurology, skin, obesity, diabetes, dental diseases, and others.
Beautiful Yalova Thermal Hotels
Limak Thermal Boutique Termal Otel – hotel with Versailles-inspired interior decor, its own spa center and in-room thermal bath.
Termal Elit Hotel – excellent budget-friendly hotel close to the public spa and springs. All rooms here have private bathrooms with 24-hour natural thermal water.
Thermal Saray Hotel & Spa – hotel with its own thermal pool and spa area.
Balcova Thermal Springs Near Izmir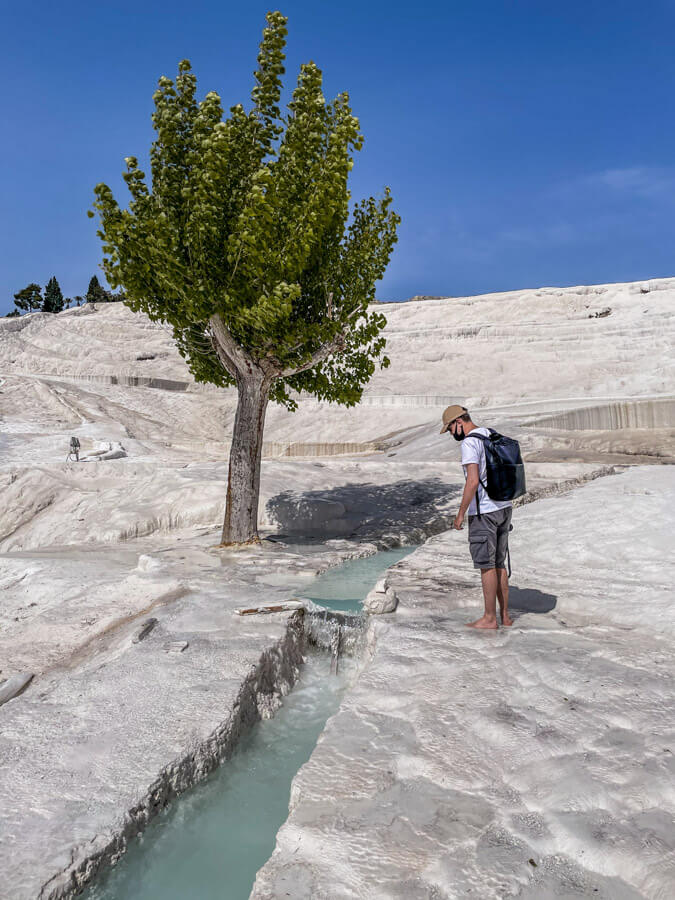 Balcova is a wonderful thermal resort near Izmir that you shouldn't miss if visiting that area during the off-season. Particularly if visiting this part of Turkey in January. During this month (as well as two other winter months), the sea is cold and you can't really go to the beach. But going to a thermal pool gives a perfect opportunity to swim and have a full-fledged spa treatment.
The temperature of the water in the Balcova pools is from 60 to 80 degrees Celsius. It fills in the snow-white recesses and looks bright blue from above. The water is rich in sulfur, calcium bicarbonate and sodium chloride which helps to treat skin diseases, chronic inflammation, rheumatism, post-traumatic, and endocrine disorders. Resort spa centers are excellent for relieving stress and offering guests pleasant rejuvenating treatments.
If you are looking to spend a vacation in Turkey to be able to visit hot springs other than Pamukkale, consider hot springs in Balcova. In this case, you'll be able to see Izmir, lovely villages nearby, visit one of the wineries (which Izmir is famous for) and spend time on a thermal resort.
Thermal Hotels in Balcova Izmir
Kaya Izmir Thermal & Convention – hotel with the largest thermal and spa facilities in the Izmir region.
Wyndham Grand Izmir Ozdilek – large famous chain hotel with a large spa with thermal water.
Sultaniye Hot Springs Between Marmaris & Dalaman
To the east of Marmaris and to the west of Dalaman, there is a small village Sultaniye on the shore of the lake Köyceğiz. Its mud and mineral radon baths (with water temperatures from 25 to 43C) treat a number of diseases.
In addition to radon, the water contains a lot of sulfur (this is why it has a specific smell) and calcium chloride. Therefore, the resort successfully treats the musculoskeletal system and carries out anti-aging procedures. There are also healing muds near the spring that are used for therapeutic massages and body wraps.
Sultaniye, even though it has hot springs with wonderful properties, is not really developed yet. There are no nice hotels (mainly guesthouses and smaller properties) but nothing with high comfort.
Thus the best way to visit thermal pools and mud baths in the area would be on a day trip from Fethiye, Marmaris, and Dalaman. Another option is to make a stop there for a few hours if going on a road trip along the Turquoise Coast or when visiting Dalyan. Since Sultaniye hot springs are far from big cities, prices for the thermal springs there are one of the lowest in Turkey.
Hotels Near Thermal Springs in Sultaniye
Grenadine Lodge Hotel & Villas – this hotel is not in Sultaniye but in nearby Dalyan. It is close to Dalyan mud bath, Kaunos ancient city, tombs, and Iztuzu Beach favored by Caretta turtles.
Dalyan Yunus Hotel – another hotel built on thermal springs and healing waters of Dalyan. From here it's just a short drive to Sultaniye.
Kizilcahamam Thermal Springs Near Ankara
Kizilcahamam is a very popular (among Turkish people) thermal resort, but it's barely known among international travelers. A convenient location near Ankara on the highway to Istanbul allows you to visit either on an independent visit to the capital of Turkey or on a road trip Istanbul-Ankara.
The area of thermal springs is simply beautiful. It is situated at the junction of the continental and maritime climate with many coniferous trees around. There are 4 types of water good for bathing and drinking – thermal water, mineral, underground well water, and clean water from mountain glaciers.
The healing properties of hot springs help people suffering from arthritis, osteochondrosis, psoriasis, and gynecological diseases. You'll find that resort offers various baths, sources with drinking water, and spa water treatments. The only inconvenience is separate bathing for men and women. Prices start from around 15 euros per person for a day at thermal pools.
You can come for a night and stay directly near the springs (in hotels) or in one of the many villages nearby and then just drive to springs on a daily basis. Another option is to spend a day at Kizilcahamam on a day trip from Ankara.
Thermal Hotels in Kizilcahamam
Among all hotels in Kizilcahamam (there are only a few of them), booking online is possible only for Cam Thermal Resort & Spa. Other hotels you'd need to book directly. But many of them don't seem to have nice reviews.
There are also a few guesthouses open to visitors.
Bursa Hot Springs
The city of Bursa is another wonderful destination for thermal tourism in Turkey. It is only one hour drive from the thermal resort of Yalova and 2 hours away from Istanbul, so you can easily visit it on Istanbul's weekend trip.
Bursa and its environs have a large number of thermal springs with a different spectrum of activity. But the most famous one is Cekirge district with an extensive hotel infrastructure and a large number of hotels with their own mineral baths. Besides hotels, there are also hammams and public thermal pools. The temperature of thermal water in the hot springs ranges from 47-78 C.
Bursa thermal water allows getting rid of rheumatic diseases, disorders of the musculoskeletal system, and atherosclerosis. It also restores metabolic disorders and has a beneficial effect on diabetes and gout. Drinking Cekirge water helps in the treatment of liver and biliary tract diseases.
You can come to Bursa at any time of the year. Although in summer it is a little hot there, in winter it is very pleasant to relax in hot springs. Additionally, you can also go skiing to a nearby ski resort on the slopes of Mount Uludag.
Hotels Near Thermal Springs in Bursa
Hilton Bursa Convention Center & Spa – 5 * hotel in modern and classic Ottoman style. It has its own thermal spa and offers a beautiful view of Uludag.
Almira Thermal & Convention – 5-star hotel with its own spa, outdoor pool with terrace, and as an addition – four restaurants and three bars.
Afyon Thermal Resorts
I should have probably started this list of hot springs in Turkey with the city Afyon (or as the full name suggests Afyonkarahisar). It is the seat of thermal medicine in Turkey and is the "thermal capital".
The mineral waters of the Afyon region are among the seven most healing springs in the world. According to its characteristics, Afyon takes 1st place in Europe, and the closest competitors – the thermal springs of France and the Czech Republic – are 2-3 times lagging behind in terms of various indicators.
Thermal water contains about 36 useful minerals with a concentration of about 3-3.5 grams per liter and has no heavy and harmful elements. In Europe, for example, the maximum concentration of minerals in the water is 1-2 grams. The hardness of the water is one of the highest and provides instant penetration through the skin.
Hot springs of Afyon offer multipurpose usage such as soaking in pools, drinking mineral water, having mud baths, and using water for inhalations.
I personally have this city very high on my list. Afyon is very unique not only because of the hot springs but because of many interesting historical monuments around it. There are caves, necropolis, the ruins of Byzantine monasteries and churches, as well as remains of multiple ancient cities.
Not far from Afion is the Turkish country of lakes, both fresh and salt lakes, surrounded by picturesque cliffs and valleys.
Hotels With Thermal Pools in Afyon
Ikbal Thermal Hotel & Spa – the best (for me) 5* thermal hotel with outdoor pools where you can swim all winter long.
Aforia Thermal Residence – apartment-style rooms that come with a private thermal water tub.
Ayder Hot Springs in Rize
The mountain town Ayder on the Black Sea coast of Turkey is known for its mineral thermal springs since the 17th century. It has an excellent location and is somewhat reminiscent of the European alpine villages of Austria and northern Italy.
The explanation for this is the amazing similarity of the eastern Black Sea coast of Turkey and the mountainous part of Central Europe. Ayder has evergreen forests, alpine flower beds, alpine fragrant pastures, cascading mountain streams, and rivers.
Until recent years, this town was never considered thermal. Most people were visiting only for the mountains and spectacular nature. But then it was discovered that the chemical composition of the healing water had a significant amount of minerals and sodium sulfate. And that in turn provided wide opportunities for physical therapy and rehabilitation as well as treatments of many diseases.
Today, Ayder has a few very nice hotels and villas where visitors can combine wellness and thermal spa vacation with hiking in the mountains, getting to know the local cuisine, and spending time on the Black Sea coast of Turkey.
Thermal water in Ayder cures rheumatic diseases, diseases of the skin and internal organs, arthritis and gynecological pathologies, diseases of the kidneys and urinary tract. The best time for treatment is late spring through early fall.
The only disadvantage of this destination is that English is not common in the area at all.
Thermal Water Hotels in Ayder
Ayder Villa de Pelit – a beautiful hotel in a beautiful location that reminds of somewhere in the Alps. Some suites have tubs with thermal water.
Efulim Apart – a private apartment in Ayder near the springs.
Hot Springs in Bolu between Istanbul & Ankara
Thermal springs in the northwest of Turkey are part of the balneological resort Bolu where the Turks themselves like to relax. Bolu province is not only about hot springs. It is a strikingly beautiful area with a national park in an attractive mountainous area with a long history. Here you can mentally relax, hike, find all the shades of greenery, and improve your health.
Not far from Bolu there is a popular ski center, where in winter you can also ski. And the most beautiful time to visit this area is autumn when you can appreciate the foliage and a bright palette of colors.
Bolu thermal springs are rich in calcium, magnesium, carbon monoxide, bicarbonates, and sulfates. They help with diseases of the liver, kidneys, genitourinary system, and gallbladder. Thermal water there is used for drinking, inhalations, and bathing.
Bathing costs 2-3 euros. In addition to treatment, you can visit the three national parks Seven Lakes, Abant Lake, and Golcuk Nature Park as well as see the monuments of the times of Byzantium and the beginning of the Ottoman Empire.
Hotels Near Hot Springs in Bolu
Gazelle Resort & Spa – hotel with a thermal water spa in the middle of the forest.
Narven Theral Town – a thermal town with lots of options for accommodation, dining, and attractions. You need to contact them directly.