Unique Things to Do in Bergen, Norway for the First Time Visitors. Tips From a Local.
Last updated on May 5th, 2023
Once upon a time, Bergen was the largest wooden city in Europe and the capital city of Norway. Today, it is a culturally rich and action-packed destination that also serves as a gateway to the fjords and some incredible road trips in southern Norway. There are so many spectacular things to do in Bergen that one visit is never enough.
And, if this is your first visit, it may be confusing where to start and what to see first.
We didn't know anything before coming here for almost a month. After spending some time in the second-largest city in Norway we realized how much we love it and how much more time we need to cover everything that interests us.
Here is the list of special things to do in Bergen to help you make the most of your time in this picturesque city. I bet, even if you are revisiting, you'll still find attractions you haven't seen and done before.
Take Small Excursions and Visit one of the Museums in Bergen
Bryggen
When you start researching information on Bergen, most likely the first pictures to pop up will be those with iconic wooden houses along the water.
Today this is a UNESCO world heritage site and you shouldn't miss it. Don't limit yourself to a walk and photography only. Look inside the Hanseatic museum which represents the living conditions of the past days. Visiting places like this reminds how blessed we are living in a world that has heating, hot water, and electricity.
Opening times: from May to September. Monday – Sunday from 10 am to 4 pm.
Entrance fee: 90 NOK for adults, children under 16 – free.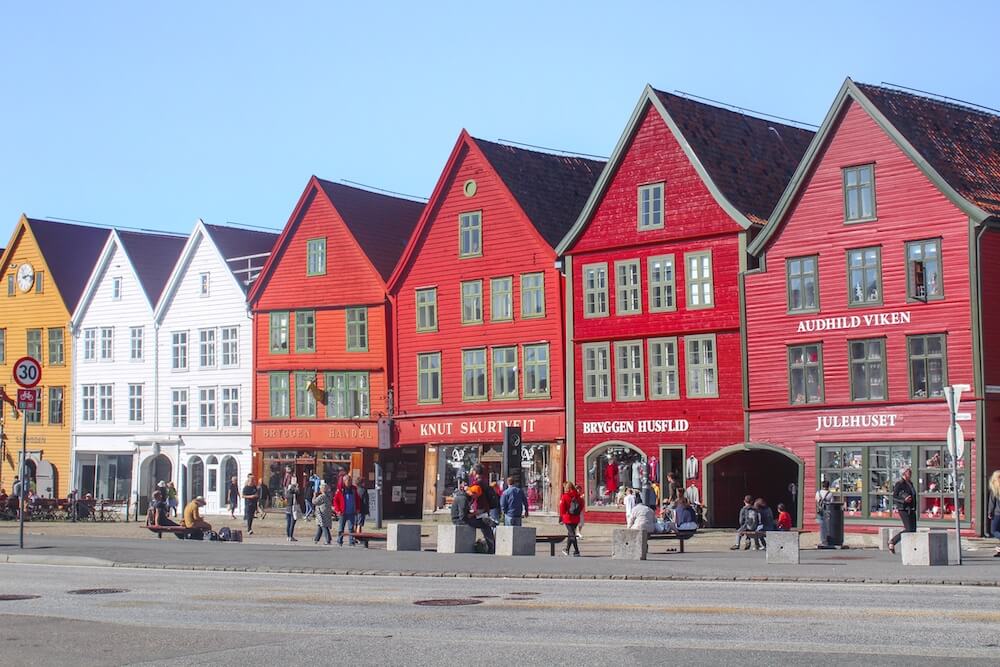 Gamle Bergen (or Old Bergen) Museum
It is an open-air museum that consists of 50 wooden houses, dating from the 18th through 20th centuries. The museum shows how Bergen looked like in the past.
Opening times: from May to September. Monday – Sunday from 9 am to 4 pm.
Entrance fee: 100 NOK for adults, children under 16 – free.
Visit Fantoft Stave Church
A replica of a medieval stave church that was built in 1150 but unfortunately burnt down in 1992. Must visit and get acquainted with this piece of art.
Opening times: from May to September. Monday – Sunday from 10:30 am to 6 pm.
Entrance fee: 60 NOK for adults, children under 16 – 30 NOK.
Visit Nygardsparken
This is the largest public park in Bergen with walking trails, a garden, and a beautiful fountain.
The upper part hosts a cafe and on Sundays, a street food sale is there.
Nygardspark is located two kilometers from Bryggen. So, you can easily walk there while getting acquainted with other neighborhoods.
Opening times: year-round.
Entrance fee: Free.
Gamlehaugen
The King's official residence in Bergen that looks more like a fairytale castle.
Today this property is open to the public and has a beautiful mansion, park, museum, and even a small beach on its premises. In the past, a mansion used to be a residence where the wealthiest families of Bergen resided.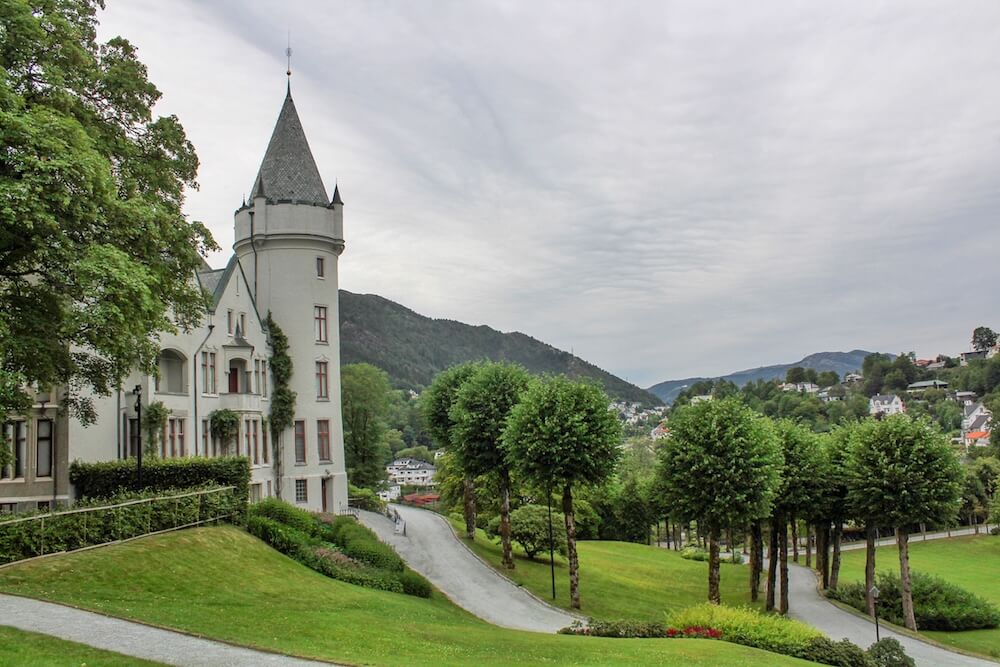 We loved it for the seclusion, sunbathing, and picnicking opportunities, amazing views, and fewer people. Gamlehaugen is not really located in the city center, but you can get here by bike, car, or public bus.
Our favorite part was to stroll from Gamlehaugen along the water following Straumeveien walking and biking path. The views are gorgeous!
Opening times: the territory of the park is open daily year-round. The residence is open on Tuesdays, Thursdays, Saturdays, and Sundays from 12 pm to 3 pm.
Entrance fee: park and grounds are free.
---
READ MORE: 17 MOST BEAUTIFUL PLACES YOU HAVE TO VISIT IN NORWAY IN SUMMER
---
Go Hiking in Bergen and See the City From Above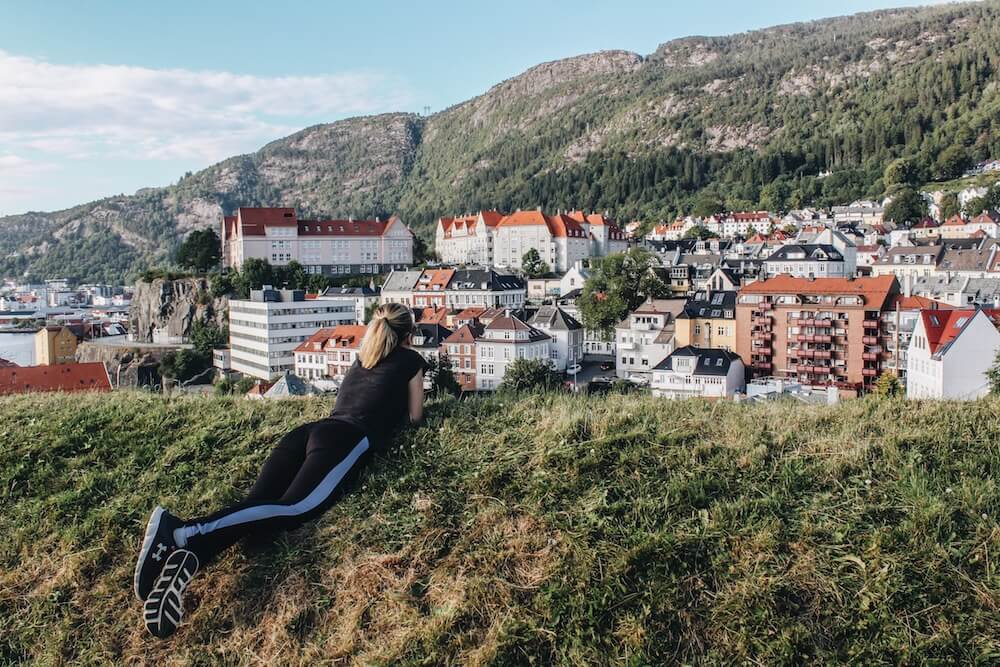 It is always nice to stroll around the city or harbor, but looking at it from above is going to open up a totally different perspective. No, we do not imply touring the city by helicopter. In fact, you don't have to spend any money at all.
Consider the following hiking trails in Bergen to get a bird's-eye view of this cool city.
Hike to Sandviksfjellet
A combination of a good hike, exercise, and a spectacular view awaits you here.
To get to the top you need to follow a scenic walk Fjellveien, signs to Stoltzekleiven, and then walk 800 steps to the top of Sandviksfjellet.
It is intense and you need to have proper shoes and clothing.
Hike to Mount Ulriken
The beginning of this hike takes place in the eastern part of Bergen. To get there you either hike from around the Haukeland Hospital area or take a cable car. It gets windy on the top, so you may need a light jacket (depends on the weather though.)
The views are stunning on clear days and if you have the desire to continue, from there you can find other hiking paths that lead in Bergens fjellstrekninger wilderness. As with the previous hike, this one also requires you to have good shoes, preferably with a thick sole covering your ankles.
Go up to Floyen
It is probably the busiest and the most touristy vista. Some people either take a funicular or walk the path that starts behind the lower station and goes in serpentines uphill. We wouldn't recommend doing either one.
Instead, start in Starefossen neighborhood where tourists usually don't go.
Walking up this path will open amazing views of Svartediket Lake, the city, and the harbor. We guarantee you will be one of a few people on this path.
Check out the coordinates to the beginning of the trail to get an idea of where to start.
Cycle Around Bergen
Bergen, like many other European cities, has areas with bikes for rent. Biking trails extend far outside the city limits, so taking a bike for the entire day enables you with the opportunity to see the nearby scenery.
Self-serve bike stations, as well as bike shops, are located throughout the city, so renting a bike is easy and fast.
If you rent a bike through self-serve bike stations, you will be able to bike as much as you want, up to 45 minutes at a time, paying only 45 NOK per day. Get a bike in one part of a city, ride around for 45 minutes, drop it, walk around, and repeat. For more information, check out the Bergen City Bike website.
Take an Old Scenic Steam Train (during the summertime only)
This is one of the coolest Bergen attractions during the summer. The old train station is actually located outside the city, but you can get here by catching a bus or driving a rental car.
Every Sunday during the summertime you can take an old steam locomotive to ride an 18-kilometer-long stretch between Midttun and Garnes stations. From time to time special events are held onboard the train. You can come by yourself, with a friend or with an entire family. Activities and attractions are going to surprise everyone!
Opening times: Every Sunday from mid-June to mid-September.
Entrance fee: ticket prices are here. For more information about the rides and events, check out this practical information.
Bergen Things to Do: Have Dinner Out
We personally didn't get impressed with Norwegian cuisine. In fact, to this day we are not sure if there is one at all.
Mark and I got an impression that Norwegian cuisine bears some globalization. Pasta, pizzas, tacos, burgers, fries, and meatballs are offered in different restaurants and presented as traditional dishes. But we can find all of them in any other Western European city.
Also, eating out in Norway is expensive. If you are a budget traveler, going to restaurants on a daily basis is definitely going to break your bank.
Still, if you budgeted to dine out, or would like to treat yourself with a nice dinner and atmosphere, check out the following list of places where to eat in Bergen. A local family we housesat for, gave us all these tips. We visited each of them (didn't eat at each of them though,) checked the menu, the vibe and believe these are pretty good options.
Where to Eat in Bergen
Godt Brod
A local chain that offers a selection of sandwiches and beverages using only natural ingredients. They also sell a few baked items but those are below average.
There is a number of Godt Brod cafes around the town. You can find them at the lower station of the Floyen funicular, near the university, near Korskirken and Vestre Torggate.
Baker Brun
I learned about this pastry shop from one of the readers who recently got in touch to share one of the places she personally enjoys going to when in Bergen.
We personally haven't been to this bakery but based on some comments on Google, they seem to offer freshly baked bread, cheesecakes, cinnamon buns and sandwiches. If you happen to go to this place, share your thoughts guys on how you like it.
Colonialen cafe
A cute cafe that sells delicious sandwiches. There are a few of them around the town such as Colonialen Paradis, Kranen, Fetevare, and Litteraturhuset.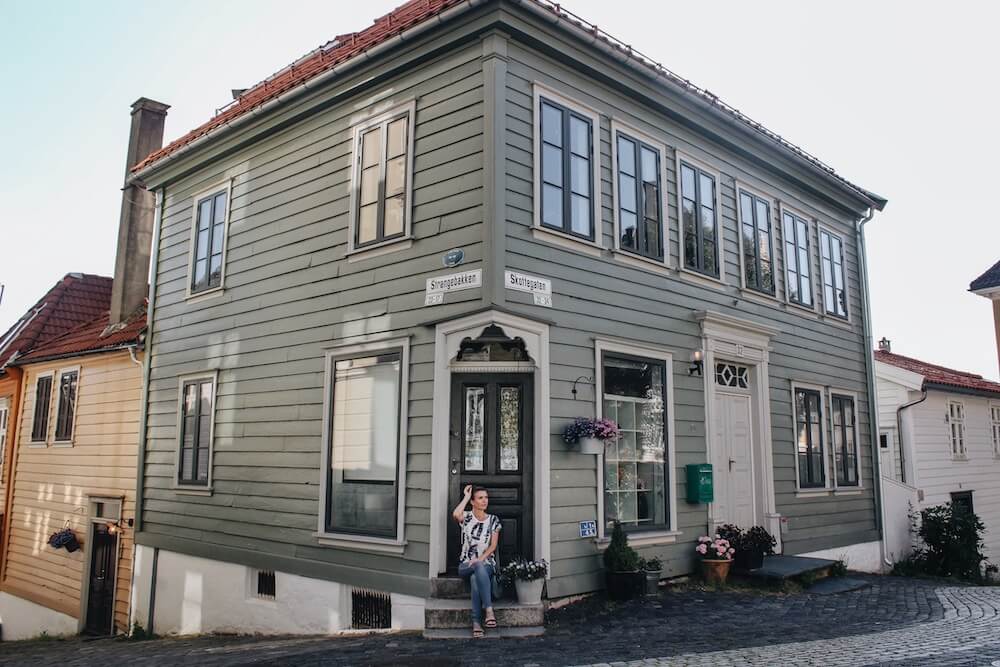 Hoggorm
The newest pizza place in town that serves oysters too. The place may not be on google yet since it is new. The address is Nygardsgaten 29, 5015 Bergen. The place is tiny, so look for a green door.
Zupperia
A very nice restaurant in downtown, offering soups and other dishes from all over the world.
Pingvinen
One of a few places with traditional Norwegian dishes. Also, a good selection of drinks.
Cafe Kippers
Located on the banks of Nordnes peninsula with an outside terrace where you can dine and watch the boats pass by.
Hallaisen
A tiny ice-cream shop which becomes a bar at night time. It sells homemade ice-cream in flavors that you may not have tried yet.
Dwell
Organic foods and drinks in a relaxing atmosphere. The place also offers yoga classes and turns into a club several nights of the week.
Buy a Souvenir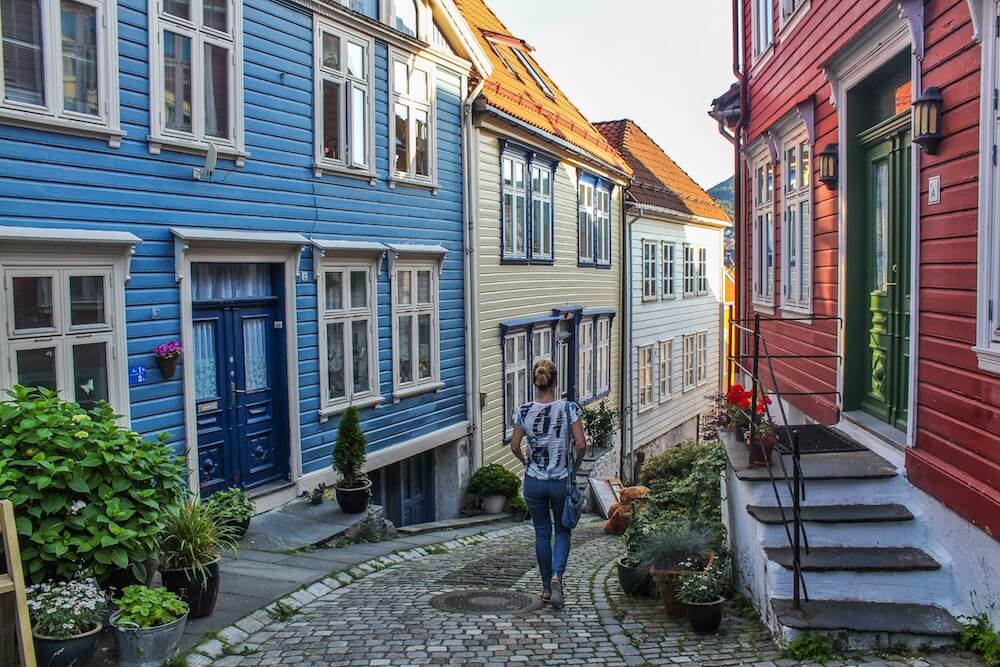 Bergen has many small souvenir and gift shops. They sell magnets, postcards, traditional clothes, tableware for the kitchen, jewelry, local crafts, and more memorable things.
If you want to get something unique, purchase a traditional Norwegian sweater, moose leather vest, cheese slicer, sweet treats such as bamsemums (marshmallow teddy bears with chocolate coating) or seigmenn (colored gummi-men) and "classic" Norwegian souvenirs. Those are wooden trolls, Vikings, and moose.
Don't stick to the main street. Instead, explore back alleys that have many unique specialty shops with lots of interesting souvenirs.
Side note: unfortunately, not all of the shops offer handmade merchandise. A lot of them are full of cheap plastic. Make sure to stroll through quite a few shops to find high-quality goods.
Bergen Things to Do On a Rainy Day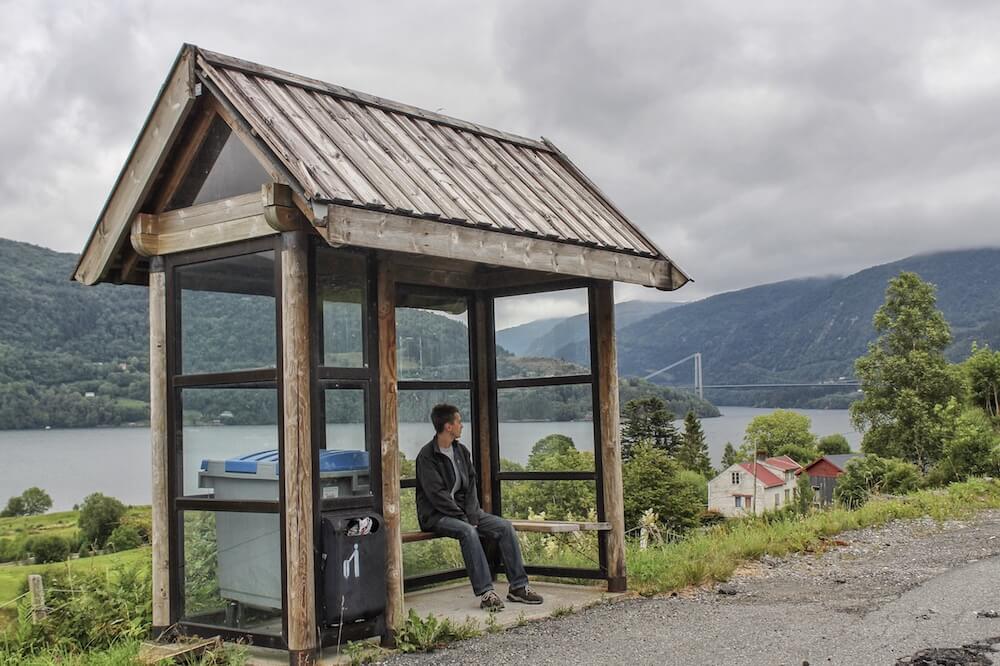 The following places and activities are great for a rainy day for families, couples, and solo travelers. But also they are perfect for a snowy, cold day and any other time when you feel like not being outside.
Go to ADO Arena
This is the largest indoor pool in and around Bergen. The pool is 50m long, has diving boards, inflatables, and a sauna. It consists of separate areas for jumpers, those who are learning how to swim and others who came to swim on their own.
Activities are ample for children and adults. So if you are traveling with kids, they will be happy.
You can come and swim on your own or buy a private or group course.
Visit One of KODE Museums
Kode museums include four different museums under the same name and composer homes around Bergen.
KODE 1
This museum is solely for craft and design. It has a permanent exhibition of silver and gold objects and a collection of European and Asian antiques with paintings.
KODE 2
This one is home to temporarily exhibitions and has the largest art bookstore. The shop sells books on visual art, architecture, photography, posters, gifts and children's books. Additionally, there is a cute cafe.
Since exhibits always change, you'd need to check their website for upcoming ones.
KODE 3
This museum presents a collection of works by Edward Munch, a Norwegian painter, and printmaker. Here, you can find paintings from the Golden Age of Norwegian art and about Bergen.
KODE 4
An art museum designed only for children. It is a unique place to visit in Bergen if you have kids. Besides exhibits, children have access to an art laboratory where they can learn and explore the world of art through play and experimentation.
Part of KODE museums is Troldhaugen, home of a composer Edvard Grieg. His home includes a villa, the composer's hut, graveyard, modern museum building and concert hall.
From May 1st to September 30th you can purchase a combination ticket that includes a bus from Bergen Tourist Information Center, guided tour of composer's home, 30 minutes concert in a concert hall and a return bus ticket back to Bergen center.
---
If you are coming to Bergen by car and wondering where to park and how to avoid tolls, check our post about free parking in Bergen. On the way from Bergen to Hardangerfjord, a cute little town Ulvik is a true gem, add it to your itinerary as well as Modalen on Mostraumen Fjord.
If looking for information on how to travel to Norway on a budget, we have some tips too. In case you are thinking to take a tour, here is a review on Norway in a Nutshell from our fellow blogger.
Have you been to Bergen? Can you add anything to this list of things to do? If you find this post useful, save it to Pinterest to refer to it later!