Minsk in Belarus: 10 Irresistible Reasons to Visit This Year
Last updated on December 12th, 2022
During 26 years that I spent in Ukraine, I have never visited my country's neighbor Minsk in Belarus. The reason for that was not due to lack of opportunities, no. I simply didn't want to go there.
I have always thought that Minsk would be just like Moscow or Kyiv where I was spending so much time during my student years or later when I was living and working there. Hearing stories from my peers or coworkers who went to Minsk on so many occasions didn't really inspire me too.
I guess this is natural when we, people, tend to like or want to explore something totally new to us or our culture. Someone who lived all his life, for example, in Spain or the Americas may find countries from former USSR fascinating. While those who come from one of those countries are eager to discover something totally new.
So this is how I was. For many years I was rejecting any idea to visit any post-soviet destination. And Belarus was no exception here.
Now, I am writing this post from a kitchen in our rented apartment in Minsk. Mark and I arrived in this city last week and still haven't left. Do you know why? Because we are liking it so much. And actually having a serious talk about the possibility to return (we are going back to Ukraine for some time) and live here short-term as digital nomads.
Belarus happened in our life only because we were on the way from Lithuania to Ukraine and didn't want to fly (it's just not my thing, you know.) So we decided to take a train from Vilnius to Minsk and give it a try.
And omigoodnes, how much it impressed us (in a good way.)
1. MINSK IS EXCEPTIONALLY CLEAN AND QUIET
I remember how forever ago, before traveling outside Ukraine for the first time, I always believed that countries in Western Europe were super mega clean, everyone was incredibly polite, streets were quiet and in perfect order.
Why in the world did I think so? No idea. But later in life when I started traveling, I faced the truth: most big cities in Europe are more or less dirty, have homeless people, beggars and often are noisy. Not every city of course. But a lot of them.
Minsk is not like any of that. Everywhere you go, it is exceptionally clean and taken care of. All day and night long city janitorial service workers sweep, sweep and sweep some more. They constantly pick up the smallest pieces of trash from the ground, empty trash bins, mow grass and make the city look pretty.
Residents of the city for the most part also don't have a habit to litter what really helps. Every neighborhood and street looks unbelievably clean.
Another thing we noticed is how quiet, as for the capital, Minsk is. During rush hour there are never too many cars on the roads, big crowds in a subway, railways station or at the bus stops. Even the city center doesn't see too many people.
Also, there is a complete absence of ambulance and other special services sirens. Everywhere, all over the world, on the streets of each capital, almost every hour you hear howls of sirens. In Minsk, you don't. Either it's related to traditions or instructions that do not allow sirens because they disturb the peace of others.
In any case, this silence of the city streets makes Minsk the calmest city in Europe.
2. MINSK IS VERY SAFE
As city janitorial service workers keep the city clean as police officers make it feel safe.
In many other European capitals, you know that you have to keep an eye on your bag and pockets, be extra careful when walking in the evenings somewhere on the outskirts or even in the city center. It doesn't always feel safe.
Minsk is one of those a couple of capital cities where you can wander around the main square or suburbs in the middle of the night with a suitcase of money and not worry about anything. Seriously. It is so safe.
If something goes wrong, for instance, there is a fight, a beggar or drunk person on the street, the police will be there right away. There is a law that doesn't allow smoking and drinking anywhere near the public, begging for money, listening loudly to the music (especially at night) or doing anything that disturbs the peace of other people.
I wouldn't even show too much affection (like kissing, hugging, touching) which you could do in many countries around Europe. It is not because the police will come and get you, no, but because culturally Belorussians don't do that excessively.
A lot of visitors to the Belarusian capital note that they have this feeling of incredible safety and security. You will do too. Minsk is probably the calmest, the quietest and safest city in Europe.
3. IT HAS SOME COOL HISTORICAL SIGHTS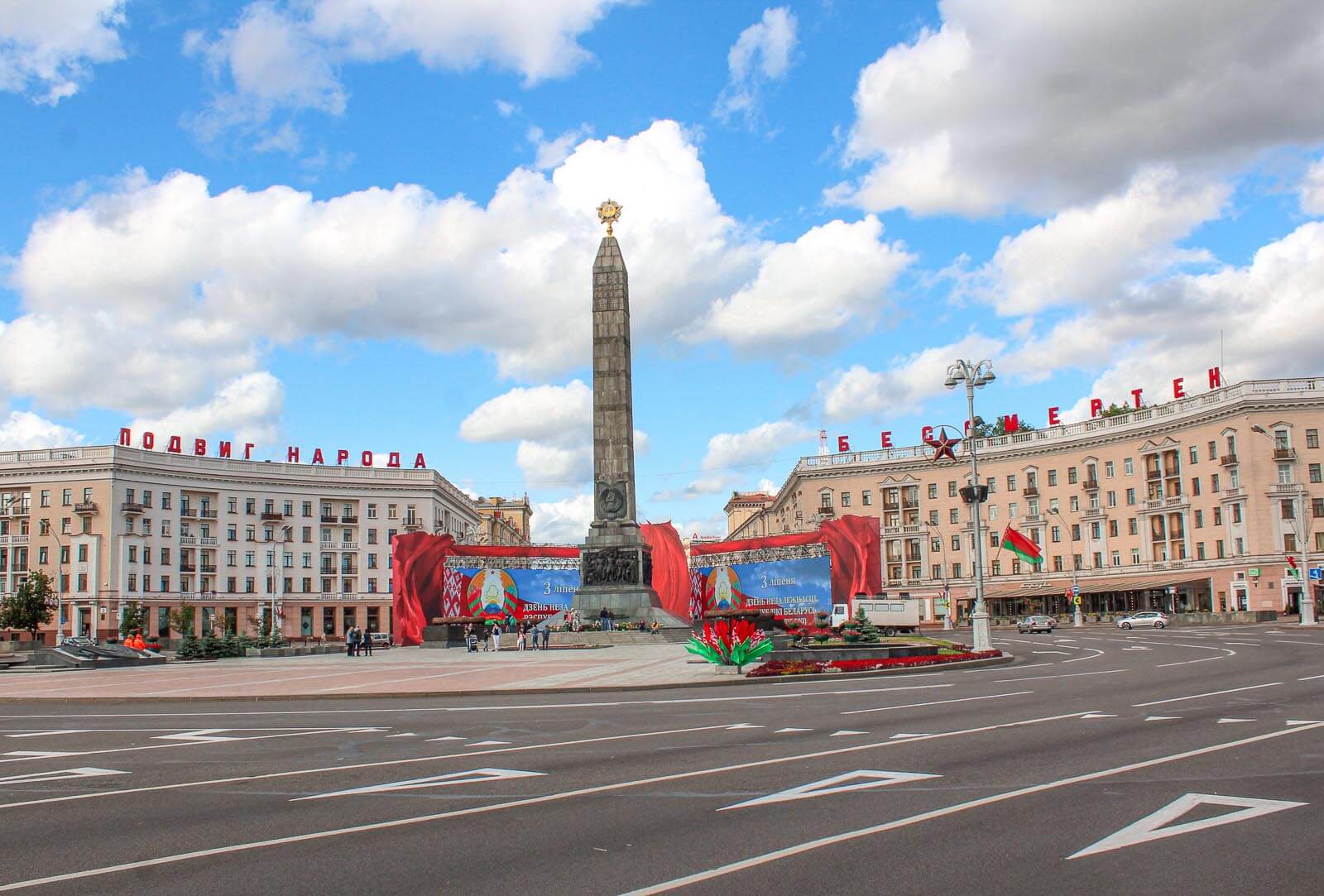 Minsk is a political, economic and cultural center of Belarus. Over the centuries, on many occasions, it burned down to the ground, but every time it was revived becoming more and more beautiful.
The historical center of Minsk has preserved some magnificent churches and historical monuments, although not many of them are real historic buildings. Some of them are more replicas than the original architecture.
The reason for this is numerous fires and wars, during which the city was subjected to enormous destruction. A huge part of the historical heritage was irretrievably lost during the Great Patriotic War. But something remained. Some cultural monuments were restored, some rebuilt. A lot of effort to create a European cultural image is being applied in recent years.
For a better understanding, I recommend taking a tour or/and visiting a museum. Spend some time in the Trinity Hill and Vierchni Horad (the Upper City.) There, you'll see buildings of the 19th century and stroll along the ancient streets paved with clinker paving stones.
4. IN SOME PLACES MINSK REMINDS A LOT ABOUT USSR
I was 6 years old when USSR fell apart but I still remember a lot of soviet-style moments from my childhood. To me, Minsk at times resembles USSR. And I am not necessarily talking about the architecture. Although, a lot of monuments and buildings look very soviet indeed.
Many streets, theaters, libraries or public services, for instance, carry names of Soviet leaders or events.
Interiors of the Main Universal Store (GUM) look exactly the same as they looked in the late 80s and early 90s in the same stores in Ukrainian cities. GUM, as the main department store, was built in many cities around USSR by the same standard. All these stores looked very much alike. With time, design in them changed completely. However, it didn't change much in Minsk.
When Mark and I walked in GUM in Minsk, we immediately got flashbacks of the past. The same staircase, the same design of the store, layout and the same smell. Women work as salespeople and men as security or maintenance workers. Saleswomen wear very similar to USSR times uniform, especially side caps.
If you are a foreigner, definitely check out GUM in Minsk. And remember, this is how it looked like in many other cities during USSR times.
Locals told us that KARAVAY grocery store (Prospekt Nezavisimosti 38) until this day sells cakes and cookies which are made exactly the same as back in the Soviet era. We tried only kartoshka (called "potato" dessert) and honey-cake, and they really tasted just like back in our childhood.
5. AT THE SAME TIME IT'S MODERN AND NEW
Nowhere in the city we saw houses or buildings that would be falling apart. Minsk looks new and modern, although, in some parts, it keeps the style of the early 20th century.
This city has wide avenues and for the most part low, three or four-story buildings with sloping roofs and neat balconies.
Minsk has been destroyed and burned down completely on many occasions but authorities did a great job restoring the city and returning the authentic look to it.
Walking around the old-style houses followed by or mixed with the Soviet-style architecture creates a truly unique experience.
Definitely, in Minsk, you can get to see what USSR used to look like. But at the same time, you feel and know for sure this city represents not only the USSR but Europe.
6. MINSK CITY CENTER HAS A LOT TO OFFER
When locals talk about Minsk city center or downtown, they imply one of the oldest streets Nemiga street. All action is happening on the stretch from Skvier Adama Mickievica to Svislach River near the beginning of Zybitskaya street.
Vierchni Horad which consists of Nemiga, Zybitskaya, Revaliucyjnaja and Internacyjanalnaja streets, is a historical part of Minsk and also has a lot to offer. Here, you'll find the main Holy Spirit Cathedral, the Freedom Square with the City Hall, the Church of St. Joseph and a few museums.
Vierchni Horad is the most touristy place in Minsk but still, you won't see too many people or crowds as anywhere else in major cities in Europe. In summer, lots of events, concerts, and festivals take part here. While in winter, this is a spot for Christmas markets and celebrations.
The upper part of Vierchni Horad has Zybitskaya street which is famous for nightlife, bars, and restaurants. A lot of them stay open until the middle of the night. We enjoyed BeerCap bar-shop, a place with craft beers, cool terrace, and interesting vibe.
There are really a lot of establishments in this part of Minsk where to eat, drink and hang out. Walking on the path in this area, overlooking the river is so pleasant too.
7. MINSK MUSEUMS ARE AMAZING
Even if you are not a fan of museums, I still recommend checking out at least one in Minsk. It's going to teach, entertain and leave lots of unforgettable memories.
I have been to different museums on three different continents in different countries and can tell that some of the best museums are in America and in countries of former USSR. Some of them are so huge that you'd need to spend an entire day (or even two) to see everything.
My favorite Minsk museums are War Museum, Museum of History of Minsk, Beer Museum "Alivaria," "Mini Country", Ministry of Internal Affairs and Cinema Museums.
War Museum in Minsk provides so much valuable information on the most difficult period in the history of Belarus during the Second World War. If you love history but don't have much time visiting all the museums, I suggest you choose this one.
It consists of 10 exhibition halls and stores more than 140 exhibits within its walls. For better perception, I highly recommend purchasing an Audio Guide. We did and were able to understand and learn much more than originally anticipated.
8. IT IS ONE OF THE GREENEST CITIES IN EUROPE
Another thing which surprises in Minsk is how many parks, gardens and green spaces are right in the city. It is literally covered in greenery. If you feel like going for a run or walk, there will be plenty of opportunities to do that.
The water-green stretch of Minsk really amazes. Being 42 kilometers long, this system of reservoirs, parks, boulevards, and squares on both sides of the Svisloch River crosses the entire city from north-west to south-east.
The most famous parts of the system are Gorky Park, Yanka Kupala Park, and Victory Park. And the last one deserves special attention.
There, you can rent a bike and ride around the Komsomolskoye Lake or simply have a picnic in the shade of the trees. The most interesting and secluded place is Bird Island, which is home to a huge number of different species of birds.
For us, part of our daily routine now includes daily walks or cycling in Victory Park. We feel like we can escape the city while not leaving it.
9. SHOPPING IN MINSK IS CHEAP AND EASY
Some travelers prefer Western Europe for buying clothes and shoes of popular world brands. A lot of us know about Italian or French goods.
But Minsk in Eastern Europe is a great city for shopping too. In recent years, it developed a lot and has become a great base for rather cheap but qualitative shopping.
The best items to buy in Minsk are local cosmetics, socks, tights, underwear, clothes, and accessories made with leather, linen clothing, and domestic textiles. Souvenirs and chocolates are very special here too.
Where to do Minsk shopping?
There are a lot of malls in Minsk. They are located in the center of the city and in suburbs which are easy to reach. The most popular shopping centers are "ZAMOK", "STOLICA", "GALILEO" and "SKALA". GUM and TSUM stores are fancier but also more expensive alternatives in Minsk downtown.
10. THERE ARE SO MANY MORE ATTRACTIONS IN MINSK THAN YOU THINK
We've met some travelers who were telling us that Minsk is a good city for a two-day visit at maximum. And there is not much to do there on the third day. I completely disagree.
Besides some places and activities I mentioned above, there are still a lot of attractions in Minsk. This city is home to some cool festivals, unique museums, interesting Soviet-era sites, lectures and meetups and more.
I would recommend to bike in Minsk, go kayaking right in the city or hop on a boat, take a food or history tour, visit one of the nearby reservoirs, castles and explore in-depth one of historical neighborhoods.
Also, Minsk has its own sea, where on good weather, you can swim, kayak, boat or just relax by the water.
If you come just to walk along major streets and taste a few local foods then sure, two days is probably enough. But honestly, you can apply it to any capital in Europe or anywhere else in the world.
To understand and get to know Minsk you have to do some activities and explore.