Top 12 Things You Must Do in Istanbul to Fall in Love With This City
Last updated on May 15th, 2023
In Istanbul, you must do some specific activities in order to see the real beauty of this city and fall in love with it. A lot of tourists, who come to visit, do it wrong. And then, after spending only a few days, they get disappointed and not happy they visited at all. Why?
Because some of them, who are let's say, vacationers, love to hop around all touristy spots. Others travel for work and try to explore Istanbul in between their meetings. There is nothing wrong with that, except for one small thing. Those travelers miss the opportunity to see the heart and soul of such a wondrous city.
Would you like to fall in love with Istanbul and have an unforgettable experience ever? Then read this post on extremely cool and authentic things one must do in Istanbul to be able to get the most out of the visit.
---
Please note: This post contains affiliate links. I may earn a commission if you make a purchase by clicking a link (at no extra cost to you).
---
1. A Ferry Ride On the Bosphorus
One of the things you must do in Istanbul is to board one of the famous city ferries that have dozens of different routes and run every 15 minutes.
Little can be compared with a trip between "Europe" and "Asia" or a trip on a ferry that covers the entire length of the straight from the Marmara Sea to the Black Sea.
Each ride on any day and any weather offers excellent views of the palaces, parks, and mansions on European and Asian shores.
Some travelers choose to go with tourist types of ships that offer a ride with an excursion. It's definitely everyone's choice but I personally don't believe those tours are really worth the money. The only one I'd recommend is the night tour with dinner.
Otherwise, it's so easy to choose a route to your liking and hop on a public ferry, learning about the history prior to the ride.
For the most interesting experience, buy some Turkish delight or baklava in advance and then on the board, order Turkish chai in a miniature glass. If you are taking a ferry in the morning before your first meal, better don't drink tea on empty stomach. Turkish tea is strong and has a lot of caffeine, so some people can have negative effects after drinking it before the meal.
|| READ MORE ||
GUIDE TO PRICES IN ISTANBUL – HOW MUCH YOU NEED
2. Feed the Seagulls
Istanbul is the city of cats, markets, simit (Turkish bagels), barbershops, and seagulls. Seagulls in Istanbul are everywhere and if you don't see them, you certainly hear their squawking all over the city, not just on the waterfront.
For tourists, who come to visit Istanbul for the first time, seagulls can become part of the show. It is definitely very entertaining to feed them, especially when on a ferry crossing the Bosphorus.
In fact, I do recommend you buy a simit or grab some bread before boarding a boat for those impudent birds.
If you have seen photos of others with seagulls in the background, it means that people were throwing them bread or other food. That's the way to make a flock of birds to follow the boat and appear in your pictures. They won't show up on their own. But honestly, feeding them anywhere is so much fun. Not only for kids but adults too.
That being said, one of the must-do things in Istanbul is to carry a piece of bread in your purse. In that way, you can be sure there will be always a lot of birds in your photos.
3. Get Lost in Adorable Streets of Istanbul Among the Colorful Houses
If you want to experience the authenticity and real charm of the city, here are a few adorable streets for your must-do list in Istanbul:
– Ali Pasa Degirmeni and Hoca Taksim streets in Karakoy with a few smaller adjacent streets. That one block has many hipster cafes where it's pleasant to sit for a cup of coffee and handmade dessert or work with a laptop. These streets are very cute and make a great setting for your photos.
– Galip Dede Street – a street that connects Karakoy and Istiklal is one of the oldest streets in Istanbul. It is also known for small cafes and shops with musical instruments. Check out the oldest bookstore Librairie de Pera, opened in 1920.
– Cezayir street. A street near the French Street Culture Center and behind the Galatasaray Lisesi. This area is small but full of old restored houses, wine houses, shops, cafes, and restaurants. And they all are in a French style, adorable and colorful.
– Beyazgül Street in beautiful Arnavutkoy. It is famous for colorful ottoman-era houses and stairs nearby where to watch the sunset.
– Merdivenli Yokus street in Balat neighborhood. A street, included in UNESCO World Heritage List, has two stairs on the side, running towards the sea. That's not the only street in Balat though. That neighborhood is so charming that you can easily spend one long day there.
– Serdar-i Ekrem Cd. (Street) – one of Istanbul's most popular and vibrant streets where world-famous brand stores stand next to secondhand shops. Walking along this street is an attraction itself. It has the atmosphere saturated with the spirit of art and fashion and a walk brings you to Galata Tower.
If you are looking for more details about neighborhoods and districts in Istanbul, check my guide to areas in Istanbul.
GOOD TO KNOW: Some guided tours will take you on the best walks around the city where you'll be able to visit the cutest streets of Istanbul. Here are some of my favorite ones:
4. Try Istanbul Street Food
Street food in Istanbul is the same attraction as Taksim or the Bosphorus. Travelers who have never been to Asia, have a great opportunity in Istanbul to get to know the street food scene which is very similar to the Asian one. And honestly, budget travelers can do well only with street food without going to restaurants. But, if you are looking for restaurants too, check my post on where to eat in Istanbul.
You can be sure that street food in Istanbul is totally safe to eat. The stalls on the streets undergo severe control and sellers receive a license. So don't worry, relax and enjoy your meal.
And here is the list with only a few street food options to help you understand what you must try in Istanbul:
– Simit – a round bagel with sesame seeds that you can find at every step. Try the ones with fillings such as jam, Nutella, or cheese.
– Doner kebab (shawarma with lamb) is another Turkish dish-boss. If you are not vegetarian, this is a must-try food in Istanbul since it's not the same as anywhere outside the country.
– Kumpir is a baked potato with a variety of meat or vegetable fillings inside.
– Grilled corn and chestnuts sold in red trolleys.
– Lahmacun – Turks call this dish a Turkish pizza. A very thin crispy dough topped with minced meat (lamb or bear), tomatoes, spices, and herbs.
– Kokorech – mutton giblets with lungs, heart, and liver. All this is grilled on a spit on charcoal and served in a bun together with ayran.
– Islak hamburger – in translation means "wet hamburger". This is a bun with minced meat, an abundance of tomato sauce (probably this is why it's "wet"). I personally didn't try it, Mark did but wasn't impressed but a lot of people enjoy its taste.
– Gozleme – a cake made of thin dough with a filling inside (feta cheese, herbs, mashed potatoes, spinach, minced meat).
GOOD TO KNOW: For the best experience, join one of the guided tours:
5. Visit One of the Turkish Bazaars in Istanbul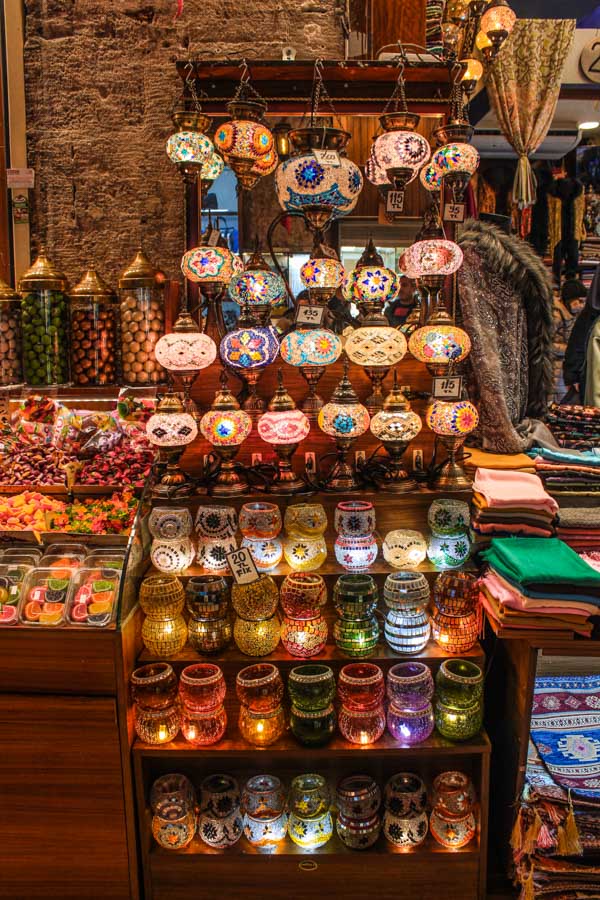 Most likely you've heard about two famous markets in Istanbul – Grand Bazaar and Spice (or Egyptian) bazaar. While they are among the most instagrammable places in Istanbul, there are still dozens of other markets that feel no less authentic. And where chances are lower that vendors will cheat.
Local bazaars in Istanbul are special and it is impossible not to succumb to the general purchasing mood. Moreover, they usually have everything you need (and what you don't need too).
Besides the most famous Grand and Egyptian bazaars, other must-visit bazaars in Istanbul are:
– Arasta Bazaar – a market where you can find exclusive handmade rugs and antiques. The mosaic of the Byzantine Palace found here during excavations in the 1930s, made it even more significant.
– Sahaflar Carsisi – historical bazaar (from 17th century) of old books in different languages.
– Kumkapi fish market – as the name suggests, this is a fish market. Next to the rows with merchants, there are restaurants where you can try all sorts of seafood dishes.
– Galata Bedesteni – a covered bazaar selling clothing, jewelry, and precious metals.
6. Go to Pierre Loti Peak
The hill of Pierre Loti, named after the pseudonym of the French writer and admirer of this place, Julien Vio, is located in the Eyüp district. It is a bit far outside the main touristic attractions but getting there is easy.
Why do I put it on the list of my must-do things in Istanbul? Because from above of this peak, right next to the exit from the cable car, there is an observation deck from where a magnificent view of the city and the Golden Horn opens. Just above the observation deck is the famous cafe Pierre Loti.
The cafe has gained popularity among locals (and only some tourists) because of its delicious apple tea, Turkish coffee, and of course a beautiful panorama.
If you walk a little further, you'll find a Turquhouse Boutique hotel which is nice to visit too. It has a large green area, restaurant and is made in a luxury style. From the hotel's restaurant, you also get a gorgeous view of the Golden Horn.
7. Play With And Feed the Street Cats
Some people probably think that it's a very primitive suggestion. But before you jump to the next must-do thing in Istanbul, let me explain.
Cats in Istanbul are special. You see, they have always played a big role in the city and Turkey in general. Their rise dates back to Ottoman times when they earned a special place in Islamic culture. In the old times, ottomans were keeping cats to ensure that mice and rats would stay away from food, paper books in libraries, and their homes. So, based on cats' practical uses, they earned a special place in Turkish culture and in Istanbul city.
Istanbul and cats are two complementary parts that define each other. And frankly speaking, Istanbul acquired its unique look precisely because of cats. But these fluffy creatures not only add to the charm of the city, but they also have some kind of life of their own which is interesting to watch.
The cats in Istanbul are friendly and calm, they often seek attention and some love. And what we also noticed, they all look clean and taken care of. Why? Because residents provide them with food, shelter, water, and attention.
Istanbul cats are fun to play with, watch, feed, and have to pose for your camera. Make sure not to miss this experience because it is really a special thing about Istanbul which you won't find anywhere else.
8. Try Turkish Coffee Made on Sand
Many people will say that Turkish coffee is not a biggie deal to try when visiting Istanbul. And I disagree. Yes, even for notorious coffee lovers, Turkish coffee is not an ordinary experience. A tiny cup can be so deadly strong that a glass of water, which it will be served with, seems to come as a relief.
The taste itself may be not for everyone but you have to try.
We tried Turkish coffee before we even visited Turkey. I remember trying it in nearby Georgia when we lived in Tbilisi but it was not even close in taste.
Plus, when someone says 'Turkish coffee', it doesn't mean that coffee beans come from Turkey. Turkish coffee means a method of brewing when the beans are ground to a fine powder and left in the cup with a coffee drink.
You can try the famous drink in any establishment. The principle of preparation is preserved in all coffee houses. Also, in many parts of the city, you'll see carts on the streets with the street coffee where it is made on the sand right in front of you.
Whenever you'll be ordering it, be sure not to ask a barista to make it with milk. Curious to know why? Read my list of Istanbul travel tips to find out.
9. Visit the Asian Side of Istanbul
A lot of tourists who visit Istanbul, mainly spend their time in the European part of the city, believing that the Asian side is too conservative and plain. Some of them may take a boat and go to the opposite side with the only goal to feed the seagulls but that's pretty much it. Not many people venture inland trying to see more of very different Istanbul.
Despite the widespread belief that "Asia" consists of residential neighborhoods and the most interesting things are in the European part, this is not really so.
The Asian side of Istanbul has a lot to offer. There, you can watch stunning sunsets, visit trendy bars, hipster coffee houses, cozy restaurants by the water, and even stay overnight if you wish. In fact, living in Asia of Istanbul is considered prestigious among some residents.
Besides restaurants and cafes, tourists can enjoy visits to chic mansions and palaces (such as Beylerbeyi Palace or Kucuksu Palace, for instance), food markets, beautiful old mosques and parks by the sea. And overall, the Asian side of Istanbul has a different vibe – it is calmer, quieter, and represents a more authentic lifestyle of Turkish people.
10. Visit Turkish Hammam
For a truly unique experience, the Turkish hammam is a must-do in Istanbul. Nonetheless, you don't really want to go just to any hammam, even if it's considered to be famous.
Keep in mind that in Istanbul, in the Ottoman times there were more than two hundred public baths (which are hammams). Today, there are only about 60 left.
Many of those baths became typical tourist attraction that often receives complaints. Some of those are about cleanliness, others about bath rituals being more of a show than an opportunity to rejuvenate. Also, in hammams oriented on tourists, prices are inflated and staff is always expecting a tip on top of that expensive entrance fee.
The chance to run into a fake hammam is especially high in the Fatih area. Therefore, do not trust street "agents" who sell tickets to hammams and be wary of the information in advertising booklets.
From us personally, for a once-in-a-lifetime experience, check Ayasofya Hurrem Sultan Hamam or Çemberlitaş Hamam built by order of Sultan Selim II in 1584. If you don't like centuries-old marble, book your "ablution" at the Istanbul EDITION Hammam and enjoy the ancient rituals in modern interiors.
For budget options, the really great hammam is Aga Hammam (but it's mixed gender, so don't expect many locals).
11. Visit One of the Suburbs On a Day Trip From Istanbul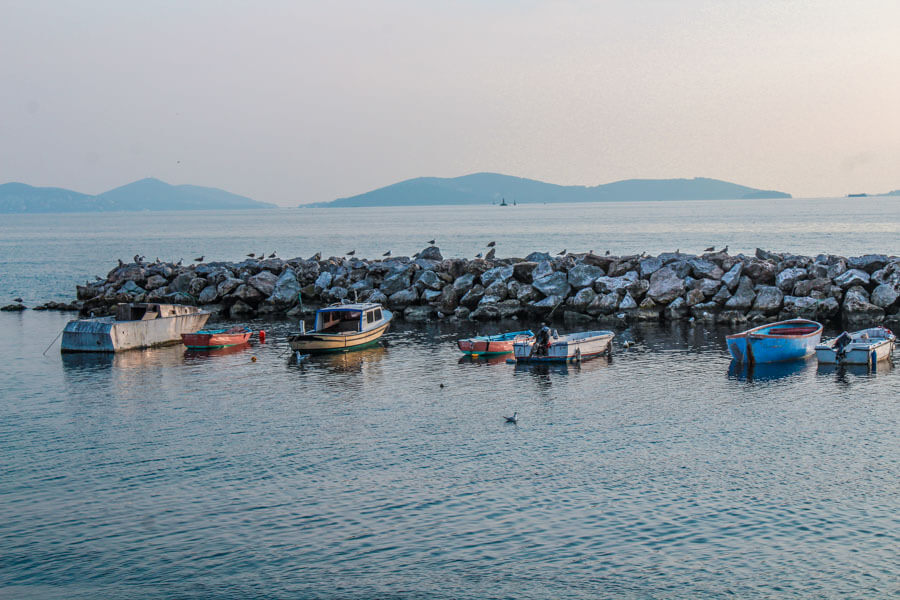 Istanbul is a huge bustling metropolis full of architectural wonders and, without a doubt, the country's cultural gem. There are tons of things to do in this city even without leaving it, I get that.
However, if you have already visited magnificent mosques, palaces, markets, and museums, you need to take a break from that and see non-touristy Turkish life.
There are great suburbs near Istanbul that are perfect for relaxing and cultural visits. In some of them, you can visit historical sites and get acquainted with architectural monuments while in others just admire the magnificent nature.
Some of the ideas where to go are:
Kumkoy – the coastal resort on the north coast of Istanbul. Its long, beautiful sandy bay is the perfect place to cool off on a hot summer day and relax. Anadolu Kavagi, Riva, Poyraz, Garipce, and Rumeli Kavagi are among the others.
12. Visit Adalar Islands
If you are visiting Istanbul from spring to fall, one of the other must-do things is to visit Adalar (or Princes Islands). In summer, the islands are also a great place to go to for beach bums.
There are nine islands in total but people live on four of them. My favorite island (that you will love too) where we got a chance to live is Burgaz island. All islands are located next to each other in the Sea of ​​Marmara, south of Kadikoy district, and getting to them is easy.
The princes' islands are famous for the fact that they do not have vehicles. Visitors and locals move around only on foot or bicycles.
You can spend a wonderful day on one of the islands if you arrive early in the morning. Take a leisurely stroll looking at beautiful wooden houses decorated with fragrant flowers, lie on one of the private beaches and swim in the sea, sunbathe, and then dine right on the beach. In numerous cafes, you will be offered to choose seafood and the method of their preparation. Oh, and don't forget to rent a bike and cruise around.