29 Practical Travel Tips For Istanbul to Make the Most of Your Trip
Last Updated January, 2022
Hey guys, many of you asked me about the travel tips for your Istanbul vacation. So here they are.
After living in the largest city of Turkey for almost a year, I thought it's time to share the most practical Istanbul tips and tricks that will help you plan your vacation and make the most of your trip.
Istanbul is that destination where you need to come prepared. Plan in advance not only where to stay, what to see and eat. With Istanbul, you have to book in advance tours you like, know ahead of time where to go and areas to avoid, learn about the famous scams and activities. Leaving everything for the last day will cost you a waste of time.
So, these travel tips for visiting Istanbul are meant to answer a lot of questions and help make your Istanbul trip more enjoyable. If you fancy a read about some interesting facts about Turkish culture, check them out in my other post. Also, find out about the common mistakes that travelers make when planning their Turkey holidays. Make sure to avoid them!
This post contains affiliate links. It means that at no extra cost to you, we may earn a commission if you purchase or book anything.
FAQ's And General Travel Tips For Istanbul
1. What is Istanbul Like?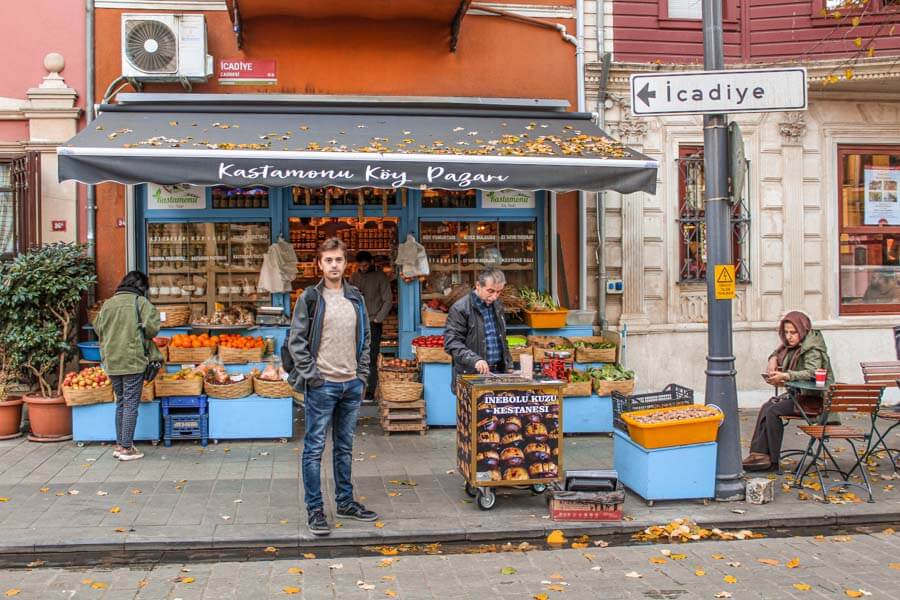 In the past, I was using too many cliched phrased that describe Istanbul as a city of contrast, a place where Europe meets Asia and where the modern world goes together with a new one. While all of it is true, you can really say the same about many other cities around the world.
So what is Istanbul like?
Some parts of Istanbul are like the most developed neighborhoods of Bangkok or Saigon. Others remind more of modern cities in Europe.
It has amazing old historical architecture, thousands of quirky cafes and restaurants, mind-blowing views which you can access from anywhere, in any part of the city.
Istanbul has its own smell and different neighborhoods smell in different ways.
At the same time, Istanbul has many dirty, hectic, old streets and also very dangerous, war-torn looking parts to avoid.
At times, Istanbul can be overwhelming with its sellers and bazaars, constant traffic, crowds of people, and noise from bars. And then, on other occasions, it is calming, exotic, and charming with all the cats, hospitable people, delicious foods, and a vibrant atmosphere.
In just this one city, you can live a very different life and have a different experience as a tourist, depending on the neighborhood you choose to be in and activities to have.
2. Best Time to Travel to Istanbul
The best time for Istanbul travel depends on the goal of your visit. While one season can be great for shopping or fewer crowds, it can be not the right time for cruises and sightseeing. So it all depends.
However in general, no matter what's the goal of travel is, the best season to visit Istanbul is spring and autumn. But to be more precise – April, May, September, and October are the best months. At this time, the weather is very pleasant, everything blooms, prices are decent, there are many festivals all over the city but not too many tourists around.
Spring and fall are really great for everything – for shopping, visiting palaces and museums, for walks in nature and even for some sunbathing if you wish.
Summers are usually too hot (especially July and August) and overcrowded. Winters are rainy and chilly. Although for us personally, for many reasons, winter is an absolutely wonderful time to be here. (I am explaining why in my post about the Istanbul winter season).
But realistically speaking, if looking at the number of sunny warm (not hot) days and the number of activities, the second part of spring and the first part of autumn are the best time to travel to Istanbul.
3. Is It Safe to Travel to Istanbul?
What do you imply by "safe travel to Istanbul"? If there are no terrorist attacks, no pickpocketing or if it is safe enough to wear short skirts and tops or drink beer in the middle of the main square?
I know and remember how in 2017, there was an explosion near Sultanahmet Square and another explosion on Istiklal Street (a popular walking street with shops). Also, there was a shooting in one night club on New Year's Eve and the terrorist attack at Ataturk Airport. Oh, and then another explosion near the Besiktas stadium after the match. Yeah, there were some terrifying events.
In connection with what happened, Istanbul authorities started to increase the level of security in the city and since 2017 everything was quiet. The airports have enforced stronger security (it starts at the entrance, where the police inspect each car and also inside the airport where everyone is checked before entering the airport building).
In places of various events and crowds, there are always police officers. In Sultanahmet – the most popular tourist neighborhood in Istanbul, the police are always on duty. Istiklal Street and Taksim Square also always have police officers around.
That being said, Istanbul is a safe destination and welcoming to foreign visitors. But it doesn't mean that you shouldn't be aware of your surroundings. Of course, like any huge multimillion city, Istanbul has good areas and those that better to avoid, scams, pickpockets, mugging, snatching, and crazy drivers take place too. But the same applies to Barcelona travel, Rome or Lisbon.
Nowadays, the biggest problem in Istanbul is corruption but it won't affect you as a tourist. We, after living here for a while, haven't experienced any of that, although heard many stories from locals.
The best part about travel to Istanbul for tourists is the fact that this city is very open and receiving of different nationalities and cultures. No matter what your race, religion or culture is, you are very welcome.
NOTE: When walking around the city you should probably have a document with you confirming your identity. This is not a resort town and here at any time, you may be asked to show documents. Have at least a photocopy of your passport.
4. How Many Days to Spend in Istanbul
I would put it this way. There are too many places in Istanbul that are worth seeing. One and two days are never enough.
If you are visiting Istanbul for the first time, that's the only city you plan to see in Turkey and your goal is in one trip to see as much as possible, then plan at least a week. This is enough time to see all major attractions, visit a hammam, get acquainted with local cuisine, go to different neighborhoods, experience unique activities, and possibly even go on a day trip to a Princes Islands or the Black Sea.
If your goal is to travel to Turkey and only get a quick introduction to Istanbul, then the ideal time would be 3-4 days.
Honestly, only the main touristy attractions in Sultanahmet (such as Hagia Sophia, Blue Mosque, Topkapi, one of the underground cisterns) will take the whole day, if not more. Then you can devote another day to a walk along Istiklal, Galata Tower, Karakoy, and a cruise along the Bosphorus. Another day – a walk through museums, parks, and/or other lesser-visited quirky neighborhoods. And you also must spend at least one day on the Asian side.
Two days is too little. One day in Istanbul is usually better than nothing when you are on a long layover. But don't deliberately plan a trip for this time since this is definitely not enough of time. With only 2 days in Istanbul, you may even get a wrong impression of the city.
5. Where to Stay in Istanbul
Where to stay in Istanbul is a very important question to ask since it will determine the quality of your trip. Staying in the wrong area can spoil your vacation. You need to learn about each neighborhood and district and decide if it will suit your needs.
I have a very detailed guide to areas in Istanbul where I explain in detail what to expect from each neighborhood. Some of them will suit better families with children, others will work best for budget travelers, party lovers or business people. Study up on this topic before making any reservations.
Yet, I would like to mention my favorite cool and unusual hotels and Airbnbs in Istanbul. We stayed in some of them and I saved others just because I really loved them and would love to stay there one day. Take a look:
BEETHOVEN HOTEL & SUIT: A beautiful, yet budget-friendly clean hotel with friendly staff, delicious breakfasts and great sea views from the restaurant. The location is great since it's very close to the main sights in Sultanahmet and a tram stop is right there nearby. Reviews are great and ratings are high! Check them out.
ZEYNEP SULTAN HOTEL: Clean, cozy and quiet hotel a few steps away from Hagia Sophia and Basilica Cistern. It is a perfect option for travelers on a budget who want to stay in the most famous part of Istanbul. Rooms have everything you need, including electric hot pots. Breakfast is served on a beautiful open terrace and in the evening, you can have tea and baked goodies.
THE MARMARA PERA: A stylish hotel in the area of Istiklal street, not far from the Galata Tower and Taksim Square. Being located in a busy neighborhood, this hotel is quiet and offers amazing views of Istanbul. There is also a rooftop pool and restaurant on premises.
GEORGES HOTEL GALATA: Boutique hotel on a quiet cobblestone street in the very heart of the city. Everything is nearby, the rooms are beautiful, the food is good, service is exceptional and views from the rooftop restaurant and spectacular! We've been there twice and loved it, I am sure you will love it too!
6. How to Get From Istanbul Airport to the City
At present time Istanbul has three airports but only two are open to commercial passenger flights – Sabiha Gökçen airport and IGA (Istanbul Grand or Istanbul new airport). Getting to and from each of them to different parts of the city is pretty easy.
I have a very detailed guide to Istanbul airport transfer from all airports. You can find answers to all your questions in this post. There, I mention all different types of transportation, including public buses, metro, taxis, and private transfers.
7. How to Get Around Istanbul
Istanbul has modern and very diverse transportation. Some types of it are not very fast due to traffic jams but they are clean and safe. Istanbul has a metro, tram, buses, ferries, dolmush buses (or shared taxis) and, of course, taxis with Uber.
For us, using local taxis and dolmushes is not a very pleasant experience and I am not sure it will be for you.
With taxis, it is not so much about the high cost as the possibility of fraud by unscrupulous drivers. While cabs are supposed to have meters, not all of the drivers use them. Those that do can take a longer route to get to a needed destination, in this way making a foreigner pay more. But I guess this is a common problem for many cities, Istanbul is not the only one. Also, as a rule, at night, taxis increase the tariff.
Dolmushes or as they are also called local shared taxis, operate on most routes. However, you need to know exactly which one to take and how much it costs. Since you pay straight to drivers who don't speak English, it makes it more challenging to use this type of transportation.
Another disadvantage of taking a taxi, dolmush or even a bus is traffic. It is a nightmare during peak hours every day.
That being said, the best way to get around Istanbul is by tram, ferry, metro, and Marmaray.
Istanbul metro is clean and extremely safe. All stations are equipped with security posts and cameras. Until recently, the metro worked from 6.00 to 00.00. However, now it works around the clock on the night from Friday to Saturday and from Saturday to Sunday. This is great news for nightlife activists.
To find out how much each type of transportation costs and how to purchase tickets, see my post to guide to prices in Istanbul.
8. What to Wear in Istanbul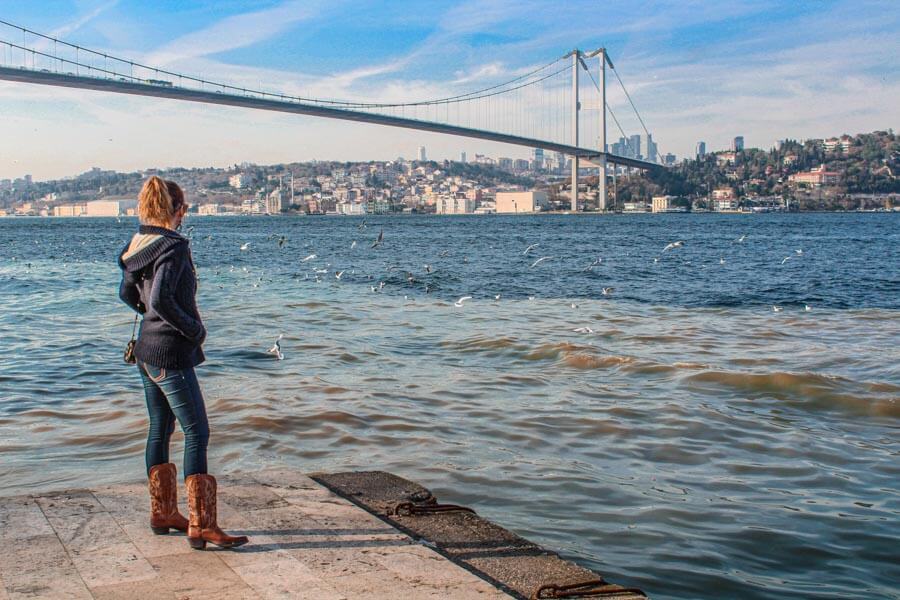 The question of the dress code for Istanbul constantly arises among tourists. I know that because I was asking myself hundreds of questions before my first trip here. And until this day I have friends and family members who are constantly asking me the same.
When packing for Istanbul, you need to remember that despite the official status of Turkey as a Muslim country, most of the Turkish laws related to morals are based on secular ethics. In Istanbul, you clearly see the trends of Europe that have touches of the East. Jeans, blouses, dresses, ponchos, waistcoats, jackets are all popular here. Istanbul is not very conservative but Islamic traditions still influence local clothing.
The general law of the Turkish clothing style is maximum simplicity. Don't wear too revealing clothes which show too much body. Although Turkish women may wear tight or fairly open outfits, women in short skirts and a low neckline may face condemnation and censure. You don't need others to talk behind your back and point at you.
If you are a woman, choose to pack elegant dresses, modest and neat outfits that cover the hips, shoulders, and upper arms. In colder weather in Istanbul, you can wear a sweater with a long sleeve, a skirt or a dress to the knees. If planning to visit mosques and don't want to wear scarves given at the entrance, choose a hoody. A hood can cover your head instead of a scarf.
In summer, local men and women rarely wear shorts outdoors. They prefer them only if the shorts reach a knee. If you don't want to stand out as a tourist whom people will be staring at, try not to wear very short shorts in Istanbul. Also, this applies to both men and women, it is better not to wear sleeveless shirts on the street.
If you see a guy in Istanbul wearing bright colors, most likely that's a tourist. Local men prefer the restrained colors of shirts and trousers – from white and black to several shades of cream and blue. Women, on the contrary, love to combine lots of bright colors.
Practical Istanbul Travel Tips to Remember
9. Don't Forget to Check If You Need a Visa
Turkish government often changes visa rules for various countries. For example, some time ago many European countries, as well as travelers from the US, needed to apply for a visa in the embassy of their country. Then that rule was changed to visa on arrival but later it changed again to e-visa received in advance.
Some countries are exempted from visa for their travels up to 90 days. With Americans traveling to Istanbul (or Turkey in general) visa situation changes often. So make sure to always double-check the rules even if you think you know them.
The website of the ministry of foreign affairs of Turkey has the latest information.
10. Don't Travel to Istanbul Without Insurance!
While I stick to the belief that we don't need to have travel insurance for every single country we visit, I highly recommend my readers and clients to have travel insurance for Turkey. Even if you are 100% healthy and plan to visit only the historical heritage of Istanbul when it comes to travel essentials, at least a basic insurance policy is a must. Why?
Because if god forbid something happens, without insurance you can end up paying as much as you would in the UK or US out of pocket.
Medical services in Turkey, and especially in Istanbul, are quite expensive for foreigners (unless you speak Turkish and can pretend you are a local). Not many clinics speak English (in fact, most of them don't) and those that do are mainly private (which cost even more).
I don't know why they do it but the price for medical services for a foreigner in Istanbul is 4-5 times higher than for a local. Besides that, as in many European countries and America, you can't visit a specialist without seeing a primary doctor at first.
To give you an estimate, a doctor's examination in a private clinic will cost you between 550-750 TL (€55-€72). This is only a prescription examination (if you have a simple case). All additional tests (for example, a standard blood test), and any procedures will cost extra.
When we moved to Istanbul and I needed to go get an ultrasound while not having insurance, different clinics I called asked me to pay between 1200-1500 TL ( at that time when the exchange rate was lower it was between €170-€212) while for a local the same procedure was between 200-300 TL (€28-€42). But all of them wanted me at first to go to a general doctor and get a referral for that. The referral visit itself was another €70-€100. Crazy!
But besides health, if you purchase travel insurance, it also covers medical emergencies, trip cancellations or interruption, delays, medical evacuation, and lost, damaged, or stolen luggage.
To answer the question: "What is the best travel insurance for Turkey?", in my opinion, it's SafetyWing. They offer very reasonable prices and flexible travel medical insurance policies. Click here to get a quote from them.
11. Get Istanbul Transport Card Right Away!
Istanbul is a city where public transportation can be expensive and cheap at the same time. It all depends on how you pay for it. If buying a ticket from the ticket booth every time before taking a metro, bus or tram, it's going to be 35%-50% more expensive than when paying the fare with a Transport Card.
The card will cost you around €1.2 but it will pay for itself after 3 rides because each of those rides is going to be discounted. Also, if making a transit within 30 minutes after the payment for the first ride, you'll have another discount for the second ride, third, etc.
I would put it this way. Transport Card comes in handy when using public transport more than 3 times and if traveling with another person. You can use the same card for many people getting discounts for each of them.
NOTE: Transport card is on sale in many kiosks, metro and ferry stations around Istanbul.
12. Learn Some Basic Turkish Before You Visit
I get that. Trying to learn even a few words and sentences in a new language can be tough. But if you put some effort, it can be very helpful for many reasons. People in any country always appreciate when foreign guests try to speak the local language even with 1000 mistakes and a horrible accent.
In Istanbul, Turkish people will be amazed and grateful for that even more.
If you already speak a few languages, picking a few words in Turkish will be easy. Even if you don't speak any foreign languages, don't assume that Turkish is hard. In fact, it is not. Learn the alphabet which will help you read a lot of words and remember that all words in Turkish are read the way you see them with emphasis on the last syllable.
Some useful phrases that you might want to learn before your trip to Istanbul and Turkey in general include:
MERHABA – Hello
PARDON – Sorry
LÜTFEN – Please
TEŞEKKÜR EDERIM – Thank you very much
NE KADAR – How much?
EVET – Yes
Hayir – No
13. Always Bargain When Shopping at the Bazaar
When buying something in Istanbul bazaars, be sure to bargain. In this way, you won't only reduce the price (which is initially very high), but also pay tribute to local customs. Bargaining is part of a local culture and every local does it.
If you don't feel comfortable haggling, then better go shopping at malls and shops. There is no shortage of them.
Another important tourist advice is to remember that in no case should you say anything negative about the product. If you don't like it, better regretfully say that you cannot afford it.
14. Try Not To Book Your Accommodation Anywhere Near the Mosque
You can easily apply this Istanbul advice to any other city in Turkey, really. If you don't want to ruin your trip, then before booking your accommodation make sure to check on the map if there is no mosque in close proximity to your hotel or Airbnb.
Being anywhere near the mosque means that Azan (a call to prayer) will wake you up every single night. All mosques have loudspeakers that are used five times a day (sometimes even more) and they are so powerful that everybody within 5 km distance can hear the message. The earliest prayer is performed at dawn and usually lasts between 20 and 30 minutes. In the summertime, dawn is around 3:40-4 am, so you can imagine how it goes.
Overall, the first early Azan is incredibly melodic and bewitching. In fact, one of the most unique things to do in Istanbul is to get up in the middle of the night and head to a nearby mosque to listen to this fascinating song and watch others come for prayer. But waking up every night because of this call is not everyone's dreamlike experience.
I love Istanbul and I love Turkey. But a few times, when Mark and I stayed right near the mosque, I totally hated it. So, in conclusion – if you want to get the best out of your stay, try to choose accommodation away from minarets.
15. Be Meticulous When Packing Your Suitcase
Besides those tips on for what to pack for Istanbul that I mentioned above, you should also remember a few others.
Those who love taking a bath should bring along a universal bathtub drain stopper (no kidding). If you plan to take a bath in Istanbul (or in Turkey in general) then such devices are practically not available (except some luxury hotels).
Also, it is difficult to find an insect repellent on sale in Istanbul (and during summer evenings bugs will definitely bother you). If traveling in summer, don't forget to take sunscreen and a hat – the sun here is merciless, and you can burn in literally half an hour. We personally love using this 100% natural sustainable insect repellent and this multi award-winning SPF60 face and body sunscreen lotion.
16. Try to Avoid Staying Near Taksim If You Love Peace & Quiet
When it comes to accommodation, my number one Istanbul tourist advice for everyone who loves quietness is not to stay near Taksim Square and Istiklal street. The Taksim area almost never sleeps and is always incredibly loud.
With all the bars and restaurants where music is on until 5 am and with constant crowds and noise, you won't be able to sleep. Even soundproof windows won't help.
Staying in Taksim is great for party lovers and everyone who is planning to stay up all night long. Others, especially those who travel to Istanbul with kids, should avoid this neighborhood. Come to visit but not to stay.
17. Go On a Public Bosphorus Ferry Ride
When you get to Istanbul, you'll notice how many vessels, loaded with travelers from all over the world, scurry along the shores of Istanbul on a daily basis. Some of those vessels are public ferries while others are private ones on a tour.
Definitely, every traveler who is visiting Istanbul, should ride on the Bosphorus and see the city from the water. In fact, this is one of the must-do things in Istanbul. However, you don't need to spend a lot of money on such activity. It will be much cheaper and no less pleasant to go on a ride on a public ferry, choosing the route you like.
If money is not an issue though and you are looking to hear stories additionally to seeing the views, then check this guided Bosphorus cruise or a longer version of a day cruise with lunch. The last one is especially wonderful because it lasts 6 hours and includes an experienced guide.
TIP: For the best experience with a public ferry, at the port, buy some Turkish delight or baklava, and on the ferry order Turkish tea in miniature glass cups. Also, stock on bread and feed the seagulls. They are going to be an amazing addition in your photos.
18. Follow These Tips For Visiting Istanbul Mosques & Religious Sites
If on your trip you are planning to visit mosques (which most tourists do), at the entrance you must take your shoes off. If you are not wearing socks, take them with you. Dress as modest as possible: cover your shoulders, legs, and head (for women).
Keep in mind that it is forbidden to eat or drink inside mosques as well as to speak loudly, laugh or do anything else that attracts attention.
It is not recommended to stand by or walk in front of people in prayer. Also, never ever take pictures of those who pray or wash before/after the prayer.
No one is allowed to visit mosques during the prayer at noon. It is better to visit between services. For example, in the Blue Mosque, visiting hours are from 8:30–12:45, 14:00–16:45, 17:45–18:30.
By the way, it is better to find out in advance about the schedule when mosques are open. It changes every season and each mosque has its own hours.
19. Pay Attention to What You Take Photos Of
Many tourists, carried away by capturing pictures on a trip, do not pay attention to what falls into their frame.
In a Muslim country, it's worth looking around.
In Istanbul (and anywhere in Turkey), it is not recommended to photograph women in black hijabs and ask men for permission to take photos of them.
For various reasons, sometimes, it is not allowed to take photos and videos near some mosques, on the territory of ancient temples, and in excavation zones. You can always find out about the ban by carefully looking around – a sign with information on photos should be nearby.
Also, photos and videos are not allowed anywhere near military bases.
20. Don't Forget About Gratuity
During our time in Turkey, we learned that this country is almost like the United States in terms of tips. People who work in service don't make enough and depend on tips a lot.
Although gratitude in the form of money is not required, it is very much appreciated. Waiters, hotel porters, guides often expect a tip in the amount of 10-20% from the amount you pay (street food places don't count). Taxi drivers expect that the amount will be rounded up.
In Turkish baths (hammams), it is customary to add a fourth part of the invoice amount to encourage all attendants.
And you will definitely not forget about it as all who helped you will gather before your departure, waiting for the tips.
Again, you don't have to leave anything on top of your bill. So don't feel pressured and don't overthink it.
We personally tip only in those cases when we are happy with the service.
21. Tip For Tourists on a Budget: You Can Explore Istanbul For Free
If you have a limited budget, keep in mind that you can get acquainted with Istanbul for free. This city has many attractions that you can visit without paying a dime.
For example, if you want to learn how Ottomans lived then I advise you to get around the Yildiz palace and park complex. This area is full of ancient Ottoman houses and offers incredible views of the Bosphorus. And the best part – all of that is absolutely free.
For lovers of intellectual activities, the Elgiz and Doganchay museums on the European side of Istanbul don't have any fees. The first museum contains works of famous European and Turkish masters. The second exhibits paintings, sculptures, photos, and drawings by a modernist artist, in whose honor the museum is actually named.
Another free thing to do in Istanbul is to go on a free tour (almost free). While you don't need to lay anything for the tour, guides still expect some remuneration in the form of tips. In the end of a tour, you can decide on the amount convenient for you.
We personally like this website but there are a few other companies offering similar tours.
An Egyptian bazaar is also a great option for those on a budget who want to plunge into the atmosphere of the East. Spices and dry fruits, nuts, cheeses, sweets – you can find so many tasty things there. A nice bonus is that you can taste the goods for free, so having a walk around the market gives you lots of impressions and snacks.
22. Always Keep Your Money With You & Keep an Eye on Your Belongings
Going on vacation and visiting a new place is always so exciting but you shouldn't be forgetting about vigilance. Istanbul is a very large city with millions of different people. Therefore, you should keep an eye on your money and belongings.
If possible, leave documents, money, and valuables in the hotel safe and take with you that amount that you'll need for a day. Keep credit cards in different parts of your purse.
If you are traveling by car, do not leave things in the front seat during stops, and always lock the doors. While walking, always pay attention to what is happening around you (but don't overthink it).
Despite the fact that in Istanbul there are almost 100 thousand police officers, theft here, unfortunately, is taking place. I am not saying that anything will happen but don't be carefree. Beware of your surroundings.
While Turkish people are amazingly hospitable, don't be too flattered by everyone's attention and ostentatious friendliness, especially when you are a solo female traveler in Istanbul. There were cases of "soft robberies" with the use of highly potent drugs in a cup of free tea or coffee in an outdoor cafe or on the street.
Also, the number of document thefts is also growing. A big number of refugees form an extensive black market that sells real passports and other documents stolen from tourists.
Again, I am not saying this to scare you off or spread panic. As mentioned earlier in this post, Istanbul is a safe city to visit. However, as in any large city with people from all over the world, you need to be aware.
In the event of a critical situation, the Turks themselves recommend resorting to wit. In no case engage in direct confrontation with aggressive types. Instead, try to attract the attention of others. This is often a much more effective way than calling the police.
Istanbul Advice on What Not to Do (!)
23. Do Not Visit Galata Tower For the View
If you are thinking to climb the Galata Tower for a panoramic opportunity, then be prepared for the fact that you have to compete with tens of thousands of tourists in speed and arrogance. And, spend a lot of time in the line waiting on your turn. Galata Tower is definitely not a place for the best view of Istanbul!
For a good ride in history and culture, read boards with information right by the tower. They tell a lot of interesting details. But climbing it – for what?
In the summer, a tiny panoramic balcony gets packed with people who push and squeeze each other in annoyance, and in winter it gets just very cold there.
If you want a view and comfort, better visit one of many parks that have amazing views or panoramic restaurants and cafes. Like nearby Balkon Restaurant & Bar or a bit farther Kat Restaurant. There, besides a view, you can order Turkish breakfast food (or any other meal) or drink and enjoy the atmosphere.
24. Don't Miss a Street Food
When it comes to food, my all in all Istanbul tip for tourists – you have to try the street food! And not only if you are a budget traveler.
The Street food scene in Istanbul is incredibly rich (alright, maybe not that rich as street food in Vietnam or local eats in Ubud) and inexpensive. There are hundreds of cafes that don't look very presentable but the food they offer is heavenly.
For the most part, street food in Istanbul has a high standard of hygiene (except for several individual sellers but you can easily spot them) and is fresh. In fact, in my experience, Istanbul is that city where on many occasions street food is tastier than restaurant food.
Some of the must-try Istanbul street food picks are: pilav with various toppings, kumpir (stuffed baked potato), grilled corn and chestnuts, kokorec (sandwich with lamb or goat intestines), gozleme (flatbread with different fillings), icli Koftecisi (Turkish type of meatballs), borek (pastry with cheese, potatoes or spinach) and balik ekmek (fish sandwich).
If you prefer to learn about the food through one of the tours, I highly recommend this small group street food tour with a local guide and then a food tour on two continents.
25. Do Not Drink Tap Water
Tap water in Istanbul is not safe to drink. The reason for that is the amount of chlorine in it.
There are two ways out of this situation: to buy bottled water or use fountains with drinking water. There are quite a few fountains in the city center and the water there is coming from underground springs. It is clean and you shouldn't worry about drinking it.
For bottled water, it is cheaper to buy bigger (5 or even 10 liters) bottles.
26. Do Not Question Others How They Feel About Ataturk
Most likely you won't even know who this guy is or how much he transformed Turkey as a country. But you will definitely see his photos around the city. A lot of people keep his photo on the wall in restaurants, cafes, barbershops, hospitals, schools, government institutions, and even guest houses. It can be a small picture or a big poster on the door, wall or outside on buildings.
Ataturk was the founder of the Turkish Republic and the first president of the country. He grew up in Ottoman Thessaloniki in present-day Greece and came to prominence for his role during World War I.
Because of him, Turkey became a secular, industrial nation that we know today. Yet, not everyone accepted all the changes he made and not everyone supports him today. Talking about Ataturk is a bit sensitive topic. People, no matter how they feel about this important man, get very passionate discussing him.
Don't get them started. If you are eager to learn about this piece of history, better visit a fantastic Ataturk museum where you can find answers to a lot of your questions.
Additionally, tourists should remember that criticizing, negatively speaking or making jokes about Ataturk's monuments and images is considered an insult. And for that, even guests can go to jail.
Besides the Ataturk topic, do not start conversations about the situation with the Kurds, refugees, the latest waves of protests, and religious issues.
27. Do Not Travel to Istanbul For the Beach Vacation
A lot of travelers, who plan a trip to Istanbul, believe that in this one city they will be able to experience everything – from ancient sites and delicious food to hiking and beaches. While the first two are two, the last one will not live up to your expectations.
Yes, Istanbul has two seas. But beaches are not something that this city is famous for. The main features of Istanbul are its atmospheric cafes and restaurants, sights, full of historic neighborhoods, religious sites, and infrastructure.
If you are interested in beach vacations, try to add a few days to your trip and venture to one of the resort cities along the eastern shore of Turkey. A quick flight will get you there in about an hour.
Those who have at least a week in Istanbul and still want to spend a day by the water should check the beach near the Florya Sahili Park, Caddebostan coast in Kadikoy neighborhood, beaches of Princes Islands, Marmara Island, Avsa island, Kumkoy on the Black sea, Sile and Agva towns.
28. Don't Pick Up a Shoe Brush That Shoe Cleaner Dropped
Another point worth mentioning is shoe cleaners and their "trick" which you need to be careful about.
Istanbul is famous for shoe cleaners who usually "hunt" near the main tourist routes. The trick is that the cleaner "accidentally" drops his brushes. It happens naturally, in the sight of tourists. And, of course, someone is always trying to help and pick up the brush (that's what my father did and paid for it later).
You don't want to pick that brush! It is a trap! After you let the cleaners know he dropped a brush, he'll do his best to impose an unnecessary shoe shine on you and then, in the end, ask for an incredibly high sum for it. In case you don't pay or argue, they can attack and forcefully take your money.
Stay away from shoe cleaners and don't do anything when seeing them drop a brush or any other item.
29. Do Not Order Coffee With Milk
My other Istanbul advice for tourists is about the famous Turkish coffee. Do not expect coffee in Istanbul to be the same as back home. And don't be disappointed if you don't like it. Try it and see how it tastes. Not everyone enjoys Turkish coffee and that's ok. But don't put your 3 cents and make comments on how wrong you think this drink is.
Turkish people take coffee seriously and believe brewing it is a form of art.
The first coffee shop opened in Istanbul in the 16th century and since then, oriental coffee has been cultivated in Turkey as a national drink.
Local baristas keep their recipes a secret and claim that you can brew the right coffee after you have already done it 300 times. Before that, it's just continuous training. In the technology of preparing an invigorating drink, everything is important – from the size of the cezve and the temperature of the roaster to the quality of coffee beans and the hardness of the water.
Turkish people (who make your Turkish coffee) can be somewhat insulted by the request to add some milk or by the complaints why coffee doesn't taste right. Turkish coffee is very different from any other type of coffee in other countries, so just accept that.
Also, people never drink it before a meal, only after.
---
Alright, so this is my list of 29 ultra-practical travel tips for Istanbul. Knowing them will help you master the art of Istanbul travel and plan an amazing Istanbul vacation! If you found this post even a little bit helpful, then don't forget to pin it to read later!
Are you looking for more Istanbul advice? Check all my posts here!