Planning Turkey Holidays Right: 10 Common Mistakes to Avoid Doing
It's no secret that Turkey is my favorite country to travel around and live in as a digital nomad. I love to write about it and share my tips accumulated over the years. Some of the tips found their way into this post that is aimed to help you plan Turkey holidays avoiding some common mistakes.
These mistakes will not ruin your vacation in Turkey but knowing and avoiding them will guarantee a seamless and enriching experience. Navigate the journey with some wisdom under your belt and uncover the common pitfalls to make the most of your time in this extraordinary country!
Get Ready to Spend Holidays in Turkey
Planning a Trip to Turkey? Here are resources you'll need to make travel easy:
---
Please note: This post contains affiliate links. I may earn a commission if you make a purchase by clicking a link (at no extra cost to you).
---
Turkey Holiday Tips & Things to Avoid Doing
Do Not Budget Too Little For Your Turkey Holidays
Turkey is often regarded as one of the cheapest countries in Europe, and that's certainly true. However, it's important to be aware that prices can fluctuate, especially during the summer season when they tend to rise, reaching their peak in July and August.
Many coastal regions of Turkey experience a surge in economic activity between April and October. This surge is primarily driven by tourism, which means that prices for various services and accommodations tend to follow suit. As a result, finding a cheap flat or securing a budget hotel deal with top-tier quality and service can be quite challenging.
Whether it's accommodation, renting a car, or booking tours, it's essential to understand that, during the peak season, prices may not align with a shoestring budget. If you're planning to visit the country on a tight budget, you might want to consider traveling during the low season in Turkey, where costs can be significantly more budget-friendly.
However, if you've set your heart on a summer vacation in Turkey and are willing to spend a bit more, you can still have a fantastic time. Just do thorough planning and be ready to adjust your expectations.
Plan to explore off-the-beaten-path destinations, try local eateries and street food instead of restaurants, and stick to free tours and self-guided tours to keep your costs down.
Plan to See More Than Just Istanbul and Cappadocia
Undoubtedly Istanbul is amazing and you should plan to spend at least 4 days in this city (one week would be ideal). Cappadocia's beauty and the number of activities in that region are off the charts. These two destinations are incredibly beautiful and should be on everyone's itinerary for Turkey.
However, limiting your visit to just these two places means missing out on the diverse, rich tapestry of experiences that the country has to offer.
Turkey is a cultural crossroads, where East meets West (literally), and this diversity is reflected in its cities and regions. Each part of the country has its unique history, traditions, and cuisine.
By sticking only to Istanbul and Cappadocia, you miss the opportunity to explore the coastal charms of places like Bodrum, the ancient history of Ephesus, interesting towns like Dalyan, or the tranquility of the Mediterranean city of Antalya.
Turkey also boasts a diverse range of landscapes (from beaches along the Turquoise Coast to the rugged beauty of the Taurus Mountains) and an array of historical treasures. By limiting your visit to just Istanbul and Cappadocia, you miss out on experiencing the natural beauty and outdoor adventures that these other regions offer.
When you make a plan to visit Turkey, be sure to travel to 3-4 different regions. This diversity in your itinerary ensures that you get to experience the full spectrum of Turkey's rich cultural, historical, and natural heritage.
Make a Plan to Rent a Car
A lot of people don't have any idea that renting a car and going on a road trip in Turkey is one of the best things to do. Most people just stick to tours or exploring the country on their own using public transportation.
However, with the number of things to see outside the cities, with great roads and good prices for car hire, Turkey is one of the best countries in Europe for road trips.
For many months we were afraid to drive in Turkey but once we rented a car and gave it a try, we couldn't go back to public transportation. And with it, we went on so many road trips, including a scenic drive from Fethiye to Antalya, Fethiye to Pamukkale, Antalya to Pamukkale, Ankara to Cappadocia, Istanbul to Bodrum, and many others.
With a car, you'll be able not just explore remote areas and hidden gems, but also save money on private tours.
Do Not Underestimate Distances on Your Turkey Vacation Itineraries
Turkey is a big country with hundreds of destinations worth a visit. The most famous of them are located in Western, Central and Southern Turkey but Eastern Turkey is even richer with natural landmarks and historical sites. Traveling between the West and East or even between the West and Central part takes a lot of time.
When many people look at a map they assume that everything is very close and in a few days they can visit all the major highlights. But in reality, the vastness of Turkey unravels a different story.
Maps can be misleading. Short distances can turn into long drives because the roads wind around, and there are usually a bunch of cool places to see along the way.
So, if you are planning to spend some time in Istanbul, then head to Cappadocia and Pamukkale and then go all the way to Bodrum or Marmaris while making stops at ancient ruins, you will need to allocate at least 10 days in Turkey and even full 2 weeks.
Do not purchase tours where you can see the entire country of Turkiye in a week. That's unrealistic. You'll spend more time in a car and plane getting places rather than seeing them.
Try to Book All Your Accommodation in Advance
Turkey has a lot of different options for accommodation – hotels, guesthouses, private cottages, apartments, hostels, treehouses, and camping sites. However, all of them can be sold out quickly during the high season which lasts from April to October.
Summers are especially busy and people book accommodation a couple of months in advance to secure a good price and their preferred type of room.
If you're headed to the Aegean or Mediterranean coast in the summer or to Istanbul, then you should try to book your accommodation at least 3 months in advance, if not earlier. This way you'll have the best chance to get the cheapest/nicest hotels.
If you usually book on Booking, don't forget that this website doesn't work in Turkey. Use a VPN when in the country or book in advance when outside Turkey.
I've written up some accommodation guides to the areas I know best in Turkey, including my top choices ranging from budget to luxury. You can find them all here.
Do Not Choose Airbnb Apartments Over Hotels & Guesthouses
Opting for Airbnb apartments over traditional hotels and guesthouses in Turkey might seem like a great idea, especially considering the potential cost savings and the promise of a more "local" experience. However, that's not always the case (as with any other country I guess).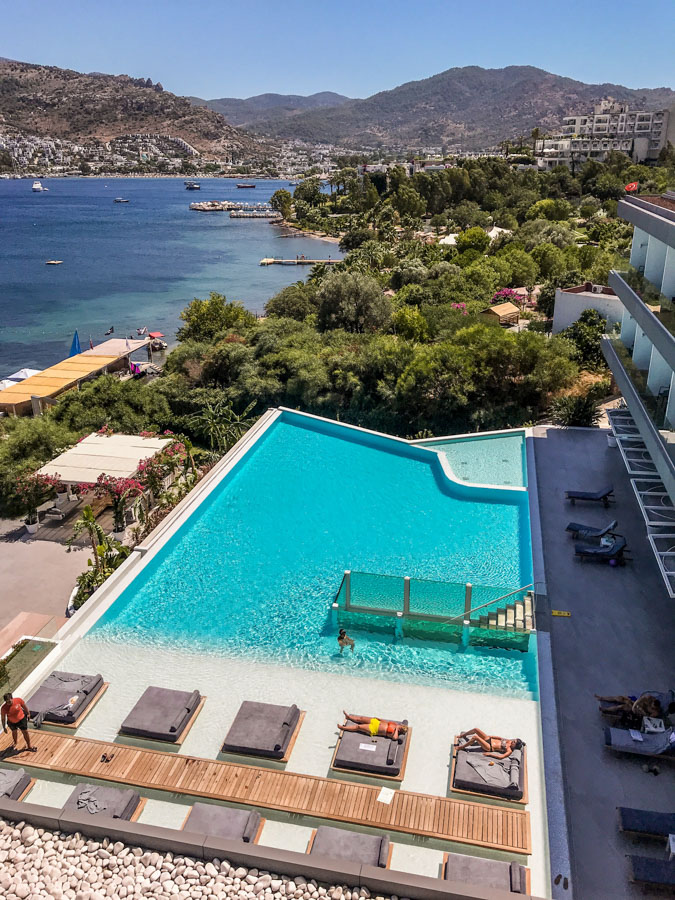 Turkiye offers a wide range of truly extraordinary accommodations, including small heritage hotels and all-inclusive resorts which are among the best accommodations in the world. Many of them offer luxurious comfort that's hard to match. Some are located on the first line near the beach while others are hotels in authentic Ottoman-style houses in old towns.
However, guesthouses are by far the most popular type of accommodation in rural Turkey and anywhere along the coast. When you stay at a guesthouse, you're spending the night in a family home, eating organic meals and drinking freshly made beverages.
Traditional breakfast is usually included and consists of homemade ingredients. There can be also a pool, garden and always a beautiful territory. More than that, you get a chance to interact with owners who can organize taxis, tours and tickets, can recommend the best restaurants or hidden gems.
In all guesthouses where we stayed, we had an opportunity to share interesting stories with owners and learn a lot about local culture. In other places, we felt like we gained new friends.
Staying in a guesthouse in Turkey is a very special experience that feels more like a homestay. It is a nice way to make local connections and experience real Turkey.
Most guesthouse stays can be booked online through Expedia, Agoda, Hotels.com, and sometimes Booking. Although we noticed that often the lowest prices come up on Hotels.com and Agoda.
Do Not Neglect Local Etiquette
Neglecting local etiquette in Turkey, whether in Istanbul or any other part of the country, can lead to cultural misunderstandings or unintended disrespect. It's essential to be aware of and respect the local customs and traditions to ensure a smooth and respectful experience in Turkey.
For example, the first thing to do is to dress modestly no matter where you go. While Istanbul is a cosmopolitan city and many people wear what they want, locals still appreciate modest style, especially when visiting religious sites. Covering your shoulders and knees is a sign of respect in many places.
I have seen so many times how foreign women argued with security at the mosques over their clothes, trying to enter the mosque in revealing clothes and not bothering to cover their shoulders and head.
Don't be one of those disrespectful tourists, use common sense. You are visiting another country with its own culture and traditions, respect that!
Respecting religious customs is crucial in Turkey. So when visiting a mosque, dress appropriately, and women should cover their hair, back, shoulders and chest. Maintain silence and avoid disrupting prayers or religious ceremonies.
When entering someone's home or a mosque, always remove shoes and wear clean socks.
While waiting in lines, be patient and respectful of others. Do not whine about the long wait even if others don't understand a word.
Also, remember that bargaining is common in markets and bazaars. However, be polite and fair in your negotiations. Overly aggressive haggling is considered rude.
And finally – if a local offers you food or tea (it can be in a store or private home), it's customary to accept their hospitality as a sign of respect. Refusing can be seen as impolite.
Do Not Forget to Tip
It is always important to educate yourself on the tipping culture of a new destination. In Turkey, some tipping is normal but it is not mandatory as in the US.
It also depends on the level of service and the type of establishment you go to. In fancy restaurants (like those fish restaurants in Bodrum) tips can be already included in your bill or waiters expect you to leave a tip. Other than that, it is up to you to tip or not.
However remember – Turkish waiters don't earn a lot. Their salaries are quite small. So they go above and beyond to leave a good impression and deliver the best service. You'll see that the service in Turkey is very good.
At the same time, the culture doesn't tend to be as strong as it is in America or in some European countries, so you also don't want to tip too much.
In most cafes, you can just round up the bill to the next full lira. And never feel bad about taking your change. Whenever you're eating at a higher-end restaurant, it's normal to leave 10 percent of the bill.
Tipping in all-inclusive resorts in Turkey is generally appreciated but not obligatory. The all-inclusive concept already covers the cost of your meals, drinks, and services, making tipping a matter of personal choice. Some guests show their appreciation for good service by leaving tips for the resort staff at all-inclusive, others do not. It's up to you.
All-inclusive tipping usually includes tipping in restaurants, spa centers, and for housekeeping services in the room.
How much to tip in all-inclusive in Turkey? The amounts vary depending on the level of the hotel and the quality of service, but I'd say that 50-70 Turkish lira is a good tip at the restaurant (at the time of writing that equals $1.8-$2.5). For housekeeping services between 20-35 lira ($0.7-$1.25 at the moment of writing) but again, that is your personal choice.
Do Not Visit Istanbul For the Sea & Beach
If you want to hit the beach when in Turkey, Istanbul is not the right destination for that. You should head to the South or to the West (beautiful beaches in the west start near Cunda Island and go all the way south).
There are some beautiful beach destinations from Istanbul that you can visit on a day trip and even on weekend trips from Istanbul. But there are no public beaches directly in the city.
But if you have more than a week in Turkey, I recommend you better add to your itinerary one of the quieter coastal towns.
Another option is to visit one of Turkey's lakes that also offer swimming. The nearest lake to Istanbul is Lake Iznik with calm waters that looks very much like the sea, not a lake.
An alternative to that is to visit one of the Princess Islands. All four islands have beautiful beaches but in my opinion, the best beaches are on Burgaza Island (where we got to spend 6 weeks and explored every single beach) and Buyukada.
But of course, the best way on Turkey holidays is to combine a trip to Istanbul with a trip to at least one coastal city near Antalya or on the Aegean Sea.
Avoid Packing Too Heavy Suitcases
This probably should be my number one advice on holidays to Turkey as too much packing can lead to several inconveniences and challenges that can affect the quality of your travel experience around the country.
First of all – if you pack too much while planning to fly around and see different regions of Turkey, you'll need to overpay for luggage. Turkish companies allow to bring only 25 kg on domestic flights, anything extra comes at a much higher price.
Second – Turkey is among the best countries for shopping. Pack light, so you can also buy some clothes and accessories as well as souvenirs. There are many treasures you'll inevitably want to take home, including unique items for home, exquisite handicrafts, and culturally significant artifacts.
More Travel Resources for Turkey Travel