26 Typical Turkish Breakfast Ideas: What to Eat For Breakfast in Turkey
Last updated on May 21st, 2023
Turkish breakfast is not just a meal. It is a ritual of sharing and communicating. If you happen to visit Turkey, one of the first things to do is to have breakfast. It is not only a "feast for the belly" and a delight for the eyes but also the first acquaintance with the culture and traditions of the country.
For Turkish people, breakfast is not something you eat on the go or while in a hurry. It is a leisurely meal that you have over conversations with family or friends.
While it is customary for Americans and Europeans to have a quick breakfast in order to save time, people in Turkey look at it completely differently. Breakfast is something to appreciate and consume slowly. Very often (during weekends and days off) breakfast lasts for hours and flows smoothly into lunch.
The main words to use to describe a typical Turkish breakfast are abundance and variety. Yet, it is light to digest.
If you are planning an itinerary for Turkey, make sure to include a traditional Turkish morning meal at least once. Below I am sharing the best typical foods for breakfast in Turkey to help you understand better what Turks eat at the beginning of the day.
If you are not visiting Turkey and just looking for Turkish breakfast ideas, I hope this post will introduce Turkish cuisine to you.
NOTE: My main advice to you when you are in Turkey – if you have time, do not eat breakfast in the hotel. In a budget one, it will be very basic and small. In a luxurious hotel, it will remind of the breakfast in other countries.
Be like a local and try it outside the hotel. And make sure you'll devote no less than a couple of hours to the entire process. Guesthouses in villages usually offer fantastic breakfasts as well as some fantastic breakfast plates are served in coastal towns of Turkey. So definitely don't miss them there.
---
Please note: This post contains affiliate links. I may earn a commission if you make a purchase by clicking a link (at no extra cost to you).
---
What Is Turkish Breakfast Like?
No matter where exactly in Turkey you go, you'll see that the main ingredients for breakfast anywhere in the country are pretty much the same. Additional dishes vary by region.
The main elements of Turkish breakfast always are vegetables (such as cucumbers, tomatoes, and green peppers), greens (like garden cress, watercress, arugula, and common purslane), eggs (boiled or fried), a few types of cheeses (like my favorite Turkish style feta or chechil cheese), chicken or beef baloney, Turkish dry beef sausage (called sujuk, although here on sale it is sucuk), honey, sweet tahini paste, kaymak (sour whipped cream spread), jam, butter, white bread, a variety of fruits, and black tea (not the one you are used to, but a special tea grown in Turkey, like this one from the Black Sea region).
The tea by the way is served in small tulip-shaped cups. It comes strong and hot. Coffee is also popular but oddly enough locals consume it after breakfast, during the day, or in the evening.
But these foods make only the basis. Every cook adds other dishes to the menu according to his/her own preferences. Those dishes can be böreks, gözleme, bazlama (popular in villages in the Antalya region), french fries (cooked in a Turkish way), muhlama (cornmeal with melted cheese) and others.
For Turkish people, it is very customary to combine sweet and salty together in the morning and even season it all with herbs and spices. There is always a lot of food on the table and the accuracy of the serving is striking. All the breakfast ingredients come in small, beautiful plates and, as a result, create some sort of decor.
Types of Breakfast in Turkey
Kahvaltı tabağı – is basically a mini breakfast where all ingredients come on the same plate. Usually, there is one boiled or sunny side up egg, one or two slices of cheese and ham, one type of jam or paste, olives, and vegetables. This breakfast is very popular in hotels. For me personally (and even more so for Mark) kahvaltı tabağı is never enough. I usually offer some extras.
Açık büfe kahvaltı – is an 'open buffet' breakfast with multiple dishes where each guest can choose as many items as he wishes. Almost every big city in Turkey has a few restaurants that offer this type of breakfast. However, it is more popular in large chain hotels, especially all-inclusive.
Serpme kahvalti – exact translation is 'mixed breakfast' where you get to eat a little bit of everything. Every separate dish comes on a small colorful plate and there are dozens of those plates that are served based on the number of people. You don't place any order here, maybe just answer a question on how you want your egg. Apart from that, you don't get to choose what to have since all foods are the same for every visitor.
This is the biggest breakfast that Turks like to share with friends or family, especially on a weekend day. If you don't have a chance to try all three types of breakfast, then go with this one. Some restaurants that serve only serpme breakfast don't have a menu, so if you want, ask about the price before placing the order. Depending on the place, serpme kahvalti for 2 usually costs between $8-$20.
NOTE: Restaurants that serve breakfast always have on the menu type of breakfast and the price for it. So if you see 'Kahvalti tabağı' or 'Serpme kahvalti', you'll have an idea of what to expect.
Recommended Tours to Try Breakfast in Turkey
If you would like to get a more in-depth experience with Turkey's food scene, I highly recommend you join a food tour with a local. They will take you outside the tourist center and bring to places you won't find yourself. During my first year in Turkey, I went on two tours and they helped me understand quicker what traditional Turkish food is all about.
Withlocals company organizes various walking tours in different cities as well as several specialty tours. They always have excellent reviews and incredibly good value for money. Besides them, Viator and Airbnb experiences also offer fantastic tours.
That being said, here the top three breakfast food tours that I'd choose for myself and recommend to you:
1. Private Turkish Breakfast Tour in Besiktas, Istanbul – Besiktas is the best neighborhood in Istanbul where to have a typical Turkish breakfast. If you are visiting this city, make sure to explore a food scene there with or without the tour!
2. Online Cooking Class: How to Make Turkish Bread & Pastries – a great way to learn now while social distancing. This host also offers other online experiences that include more cooking tips and recipes of Turkish cuisine.
3. Istanbul Culinary Tour For Layover Passengers – if you will have only 1 or 2 days in Istanbul before leaving to travel around the country, I recommend you to spend your time qualitatively. This tour will introduce you to different Turkish foods, including the ones for breakfast.
25 Turkish Breakfast Ideas – What to Eat in Turkey In the Morning
Breakfast Ideas With Eggs
The people of Turkey love egg dishes for breakfast. They cook them in all possible ways and mix with ingredients that at first don't seem to complement each other. Some of them are similar to dishes in other countries but others are very different and unique to this country. Here is a list of all traditional egg dishes that are very common all over Turkey.
1. Kızarmış yumurta
Have you ever tried fried boiled eggs? I had no idea such a dish exists before I moved to Turkey. Here, this dish has the name 'kızarmış yumurta' which consists of boiled eggs cut in half and fried in butter with thyme and red pepper. A favorite of every generation is very filling and healthy, although easy to make.
When I saw it on the menu for the first time, asked a waiter what it was and he told me: "oh, just boiled eggs", I had no desire to give it a try. Why would I order boiled eggs in a restaurant? But later a friend explained to me that these are not just boiled eggs. They are fried boiled eggs that have a different taste than what I tried.
Once it's served, it needs just a bit of salt and bread. Turks eat it with greens, fresh tomatoes and cucumbers or pickled vegetables.
2. Sucuklu Yumurta
It is one of the most popular egg dishes in Turkey that you can order anywhere in the country. In fact, many people will eat it not only for breakfast but any other time during the day.
The main ingredients are eggs and spicy dried sausage made from minced beef, garlic, and various spices such as red pepper, cumin and sumac. At first sight, it looks the same as you cook at home when in reality the taste is very different and completely unique because of the secret recipe of the sausage.
The dish is always served in a cast-iron skillet and you eat it dipping bread into soft yolks.
3. Pastirmali Yumurta
It is a similar dish to the previous one with the only difference that instead of sucuk Turks use basturma (Pastirma in Turkish). Basturma in this country is made of air-dried cured beef, mutton, or buffalo and a thick layer of spices. Because of spices, pastirmali yumurta egg dish tastes very different from eggs with regular sausage.
4. Ispanakli Yumurta
Eggs are quite popular in Turkish cuisine as you have probably noticed, especially in the morning. Turkish people cook them in all possible ways adding different ingredients. One of those ingredients is spinach.
Ispanakli yumurta is very easy to make and is excellent with or without bread. A cook will roast spinach with onions for 5-10 minutes and then break eggs into it. Some mix the eggs and blend them with spinach paste and some make the egg undercooked without spoiling the yolk. Others like to add pomegranate to garnish it. This dish is one of the less popular foods for breakfast in Turkey so not every restaurant serving breakfast will have it on the menu. Yet, you can ask to cook it for you.
5. Kıymalı Yumurta
A delicious typical Turkish breakfast dish for those who like to start the day with something more substantial. Kıymalı Yumurta is fried eggs (sunny side up) with ground meat (beef or lamb), onions, and pepper. It is very filling but quick to cook. You basically roast minced meat with seasoning until it's ready, then make little holes in it and break eggs into them.
Some cooks like to add chopped tomatoes or tomato paste to make it juicier, garlic, cumin, and parsley.
6. Menemen
Menemen is juicy and fluffy Turkish style scrambled eggs with vegetables (such as tomatoes, peppers, onion, and garlic), spices, and sometimes cheese. Traditionally it is hot as it is often prepared with red pepper. Cooks usually thoroughly stew onions and peppers in a skillet before adding tomatoes, spices and then mixing them with eggs. Sometimes they add dry sausage, mushrooms, chicken or even eggplant. So if you wish, you can ask for extras but remember that for the most part menemen comes just with tomatoes, onions, and green peppers.
Menemen has a lot of juice and if there is cheese, usually it's also very cheesy. Locals eat it by hand, dipping crispy bread in it. The recipe is easy and quick to prepare, so it can be a good option for breakfast when you are in a hurry.
It got its name after the Menemen region of Izmir where the first tomatoes in Turkey grew in the early 1920s. Therefore, this dish is more than 100 years old. Definitely must-try in Turkey!
Does my content help you plan your trip? If yes, I'll appreciate a cup of coffee from you, so I could produce more free guides and itineraries!
7. Çılbır
Turkish dish Çılbır became the discovery of the year for me. It is poached eggs with yogurt that were cooked in the kitchens of the Ottoman sultans back in the 15th century. Creamy yogurt, perfect soft eggs, and aromatic ghee with a light aroma of stewed garlic and a nutty flavor of toasted, not too spicy, chili peppers.
Everything is so simple in the preparation of these eggs and the combination of the ingredients that it seems even strange that the dish tastes so good. Add it to your list of delicious breakfasts to try. And the ghee with garlic and chili flakes is so aromatic that you'll want to use it on other foods too.
8. Omlet
At first I didn't want to include omelette on the list but then I decided to mention a few words to help you understand the menu. Omelette in Turkey is pretty much the same as anywhere else in the world. Some ingredients in it can make it taste different though.
Omlet in Turkey can be 'sade' which means plain just using eggs, 'peynirli' or 'kaşarlı' that is 'with cheese', 'sebzeli' – with vegetables, 'sucuklu' – with Turkish beef sausage, 'sosis ve patatesli' – with bologna style sausage and fries, and 'karışık' – with a bit of everything.
Breakfast Pastries & Bakery
Turkey is famous not only for its culture but also for its sweets. But unfortunately, most tourists know little about Turkish pastries. There are literally hundreds of them. No other cuisine in the world has the same number of flour products as Turkey. No wonder that Turkish people love to eat for breakfast fresh, aromatic, hot homemade bakery as much as they love eggs.
In point of fact, bakeries are very common around Turkey and in each of them, there will be more than a few dozens of different pastries to choose from. They are savory and sweet. The choice is really big! And here is a list of the most popular (and scrumptious) breakfast pastries.
9. Simit
An iconic Turkish bagel which is called 'simit' is always in all photos about Turkey. In Istanbul for example you can find it at every turn. The explosion in the popularity of this food occurred in the 1990s when it constantly appeared on the streets. Currently, the most popular bakery chains offering various varieties of simits are Simit Sarayı and Fırıncafe. In these places, you can try different versions of this popular snack, even with the addition of cheese and tomatoes. Some smaller bakeries have simit sandwiches on offer that people eat in the morning or as a snack during the day.
Its dough consists of flour, eggs, water, olive oil, salt, and sesame seeds. The composition seems to be standard but the taste of simit cannot be confused with anything else.
Regardless of the additions, there are three main types of simit: taban simidi (baked like bread), tava simit (baked in a pan), and kazan simit (baked in the oven traditionally and sprinkled with sesame seeds. It also looks crispy and shiny). The latter version of bagels is very common in Turkish hotels.
10. Açma
The next most popular type of baked goods in Turkey is açma. It is basically a bun that resembles a simit, but its dough is much softer because of the yeast. Despite the fact that it has the shape of a torus, Turks call it not a bagel (or also simit) but just a bun. You can buy açma at any street stall and bakery in Turkey.
It is famous for its airy dough, delicate taste and indescribably mouth-watering aroma that it gets from all the spices. In addition to spices, the dough is mixed with white salty cheese (usually feta cheese) and/or olives. Some places also have a sweet option with chocolate.
Thus, açma can be 'sade' meaning plain, with olives – 'zeytinli', and with chocolate – 'cicolatali'.
11. Börek
Börek is another very popular breakfast food in Turkey which you can also find at any corner. It is a flaky dough pastry (common also for Bosnia, Montenegro and other Balkan countries) with different fillings such as ground meat, cheese, spinach, potatoes, pumpkin (seasonal), and some other vegetables. I tried börek in many different destinations, including nearby Georgia and the Balkans. But the biggest choice was in Turkey.
Some people like to start their day with this dish with a glass of tea or ayran (savory yogurt base beverage). It is rather greasy and a bit heavy food but it's delicious and keeps you full for a long time.
The best place to try it would be in bakeries that specialize only in böreks.
12. Sigara Börek
Sigara börek is light crunchy rolls made with thin flaky dough. The standard filling is feta cheese, but there are many other variations that come with herbs, mashed potatoes, fried minced meat, and other types of cheese.
Although börek is fried in oil, surprisingly it is not greasy or heavy. Deep frying takes a minute or two, so there is simply no time for the dough to absorb oil. The thin top layer of the dough becomes crispy but inside stays soft and flaky with a fragrant filling.
Sigara börek is the most popular during morning hours. Turks also eat it occasionally during the day as a snack with tea but for the most part, it is breakfast food.
13. Açması Börek
Açması börek is another type of pastry that has some similarities with börek but the type of dough is different. It reminds more of layers of lasagna and is a healthier version of börek. It also looks more like a pie than a pastry.
So this type of borek has thin layers of dough (that were boiled first) with cheese, meat, or spinach as a filling. Every layer gets a generous amount of butter which makes it very juicy in the end. Börek stays in the oven until crisp.
This meal takes an important place in Turkish cuisine and Turks love to have it for breakfast as well as other times of the day. It goes well with ayran or tea.
14. Pide
Pide is a very interesting dish that in some ways resembles either small pizza or flatbread. Actually, Turks call it 'Turkish pizza', although for me it doesn't taste any similar to it.
So pide is a thin boat-shaped flatbread with a filling inside. The most popular options for fillings are: minced meat (kiymali pide), cheese (peynirli pide or kaşarlı pide), sausage (sucuklu pide), tahini (Tahinli pide), and cheese with eggs (kaşarlı-yumurtalı pide).
If you would like to try pide, look for small shops that sell it together with böreks (or on its own). They usually have a few tables outside for visitors to sit down and have a meal. There are also restaurants that specialize in pide where it is served with fresh and pickled vegetables, ayran, tea, fries, and/or soups.
Pide breakfast recipe will often include an egg, tomatoes, peppers, and ground beef. Other types are meatier and go better for lunch.
15. Bazlama
Here is another breakfast food that is very popular during Ramadan. It is a single-layer, flat, round cream-yellow cake (that looks like a thick tortilla) cooked in a pan. The main ingredients are water, flour, yeast, salt, and a bit of sugar. Some cooks use kefir instead of water not to put yeast. It is the best substitute for bread on the table as it always comes hot and with cheese filling. Oh, and butter on the side.
Bazlama on its own is a heavy flour and yeast-based meal that may be difficult to digest for some people. Usually, it comes together with other foods like for example with serpme kahvalti (full Turkish breakfast with many small plates), pickled vegetables, or fresh greens.
NOTE: on the left photo below is bazlama and on the right is the next breakfast dish on this list – gozleme.
16. Gözleme
Gözleme is a national dish considered to be one of the oldest in Turkish cuisine. This is basically a Turkish style thin cake made from unleavened dough with various fillings and cooked on a special convex pan with the name "sac". The most popular fillings are spinach, feta cheese, greens (dill, cilantro), ground meat with herbs and onions.
Traditionally, you get the final product whole and hot. Modern Turkish cafes for convenience often pre-cut it into pieces and serve with thick yogurt with a consistency reminiscent of sour cream.
Remember – you always eat this delicious dish with your hands.
17. Poğaça
Poğaça is a soft and fluffy type of pastry popular as a traditional Turkish breakfast food or as a snack with tea. It can have different fillings such as meat, potatoes, crumbly cheese, sausage, or olive paste. The taste reminds me of the shortcrust pastry because it has a crumbly, biscuit-like texture. Another traditional Turkish food that is very common for breakfast in Turkey.
If you are in a hurry and looking for a quick type of morning meal, every bakery will have poğaça on sale.
18. Pişi
Pişi are Turkish-style donuts that can be plain or with sweet cheese. Usually, they are plain and come as extras with kahvaltı tabağı (breakfast plate) or separately as an addition to jams and various spreads.
This type of Turkish pastry is somewhat heavy and greasy but it's so good, difficult to resist!
P.S. See the photo below where I mention another popular Turkish food – bal kaymak.
Other Traditional Turkish Foods That Are Served For Breakfast
19. Kuymak (or Muhlama)
Kuymak or Muhlama is a mixture of cheese, butter, water, and cornmeal. It is served in a skillet (where it is also cooked) and Turks eat it with bread (instead of a spoon or fork) that they dip in kuymak.
Muhlama comes from the most eastern region of Turkey Karadeniz where this dish is especially popular during the winter months. Locals cook it in a special emporium copper pan with two handles (like this one) and stir traditionally with a wooden spoon or spatula. The cheese is similar to a Georgian cheese sulguni that melts quickly and well.
Even though muhlama is a very popular traditional breakfast food of Turkey, not every restaurant has it on the menu. If you want to try it in restaurants in Istanbul, head to Besiktas or Moda.
20. Izgara Hellim Peyniri
Izgara hellim is a Turkish version of halloumi cheese, although it has a slightly different taste. Hellim cheese is a dense, semi-hard, dark yellow and white cheese of Cypriot origin. Turks eat it fresh adding spices (usually dry mint), pickle it or fry it.
If you buy it in the store, you can add hellim cheese to eggs, salads, pizzas, hamburgers, pastries, and pasta as a delicious detail. If you go to the restaurant, you'll often find it on the Turkish breakfast menu.
21. Bal Kaymak
Bal is honey and kaymak is Turkish savory whipped cream or type of cheese cream. In fact, it doesn't taste like any of these cheese spreads but the texture looks very similar. If you ever get to visit Turkey but don't have a chance to try kaymak for breakfast in one of the restaurants, buy it in a grocery store.
Turkish people love to put kaymak in butter and spread it on a piece of bread. It can be a separate meal with tea or coffee, as an addition to egg dishes, or as part of the biggest serpme kahvalti (breakfast). Some restaurants have on menu a dish pişi (that I mention above) with bal kaymak. That tastes even better!
22. Zeytin Ezmesi
This is an olive paste with a bouquet of spices and lemon. No breakfast in Turkey is complete without olives and olive paste is often on the table next to them. Turks use it for pastry fillings, for baked potatoes, and as a spread on a piece of bread. You'll often see it on the table for a morning meal in many parts of the country.
The most simplistic Turkish breakfast will include a combination of olive paste on bread or lavash, a slice of one of Turkey's delicious cheeses, and a glass of Turkish tea.
23. Pekmez
Pekmez (or bekmes) is a condensed juice obtained after the evaporation of moisture from fruits or berries when they heat up over a fire or in direct sunlight. Turkey (along with Egypt and some countries in Central Asia that have too many fruits to keep them fresh) has been making it for centuries.
The most common types of pekmez are mulberry, grape, and carob. But there are also other types from apples, pears, dates, honeydew, pomegranates, persimmons, and plums.
In cooking, Turks use pekmez to prepare various dishes. But they also eat it for breakfast together with yogurt or on a toast with tahini paste.
If you don't have a chance to visit Turkey but would love to try pekmez, I recommend you order the one from Koska. It is one of the most popular and oldest companies on the Turkish market. I saw it in many stores from Istanbul to Antalya.
24. Tahin Ezmesi
Tahin, tahini, or tahina ezmesi is sesame paste widespread in the Middle East, including Turkey. It is a thick, fatty paste made from ground sesame seeds.
In ancient times, sesame was one of the components of the elixir of immortality. In ancient Babylon, these seeds were the food of the gods. And in the Middle Ages, it was very famous to chew a spoonful of sesame seeds a day for women to stay healthy. In Turkey, consuming sesame seeds in large quantities is quite popular. Turks add them to many dishes and even serve for breakfast as a separate meal.
If in America people love to eat peanut butter, in Turkey they go with tahini paste. It tastes great on toast with pekmez or together with cheese. No matter where you go to get a Turkish breakfast, it will definitely include a small plate with tahini. And by the way, the taste of the tahini paste in Turkey is very different from tahini paste in other countries. So give it a try!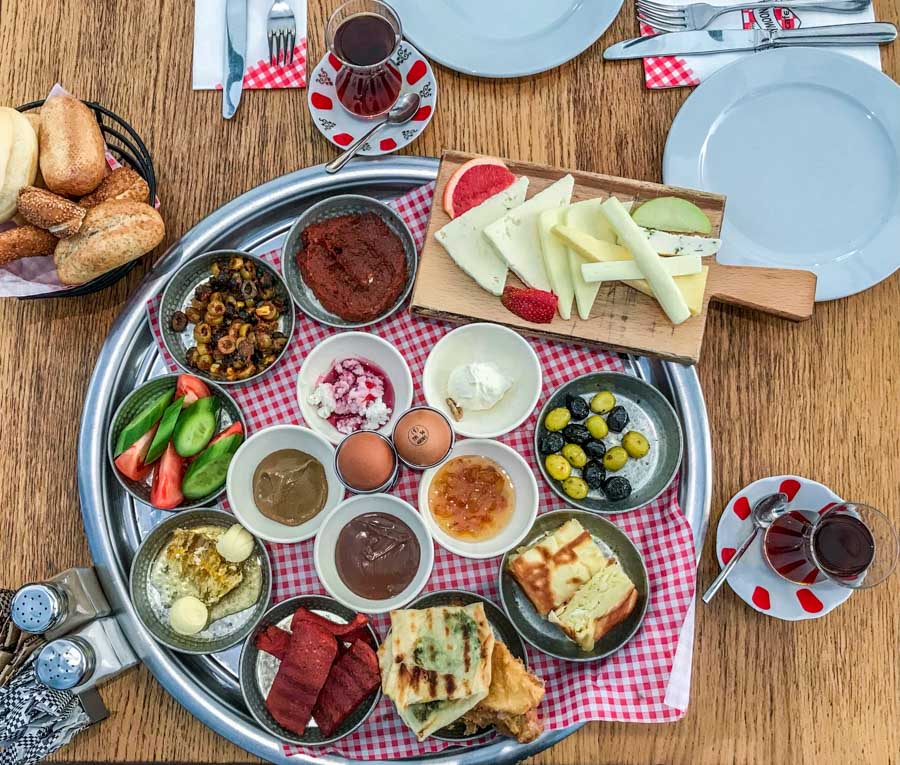 25. Findik Ezmesi
Findik ezmesi is a hazelnut paste that is also very popular anywhere in Turkey. Fındık (which means in Turkish hazelnut) appears throughout the country in a wide variety of foods in restaurants, bakeries, and cafes. One of those foods is hazelnut paste. If you want to order it online, look for Sarelle, Fiskobirlik or Torku companies.
26. Acuka (or Muhammara)
The name and composition of this product vary from region to region of Turkey, but in short, it is a spicy tomato paste with walnuts and spices. The level of spiciness really depends on who was cooking it but as a breakfast food, it is rarely very hot.
Acuka is one of the most recognizable snacks in Turkish cuisine. Even though it has very simple ingredients, thanks to the combination of oriental spices, the final product has a very pleasant scent. It is very popular for breakfast (on a piece of bread together with cheese, egg, or even on its own) as well as just as an appetizer.
---
This is it for now. If besides Turkish breakfast, you are interested to learn more about Turkey, see some of my other posts below.
More Travel Resources for Turkey Travel