Ukrainian Spinach Pierogi Recipe – a Taste of Ukraine
Last updated on January 19th, 2021
These days, while spending most of my time at home, besides trying to stay positive, meditate and workout like crazy, I also cook. I guess like many of us at this time, right? And what do I cook? A lot of international dishes as well as dishes from my home country Ukraine. This spinach pierogi recipe is just one of them.
The first time I tried pierogi with spinach and feta was in one of my favorite cities in the world – Lviv. By the way, if you happen to visit Lviv and crave pierogi, visit super quirky "Marusyя» and "Baluvana Galya" restaurants.
Lately, while being on lockdown in Istanbul, I started to miss Ukrainian food and thought why not to get creative and actually cook something unique. During this time, I have tried a lot of recipes (and even invented a few of my own) but the first one I wanted to share is this super cool Ukrainian pierogi recipe.
SPINACH PIEROGI RECIPE
Spinach Pierogi Dough Recipe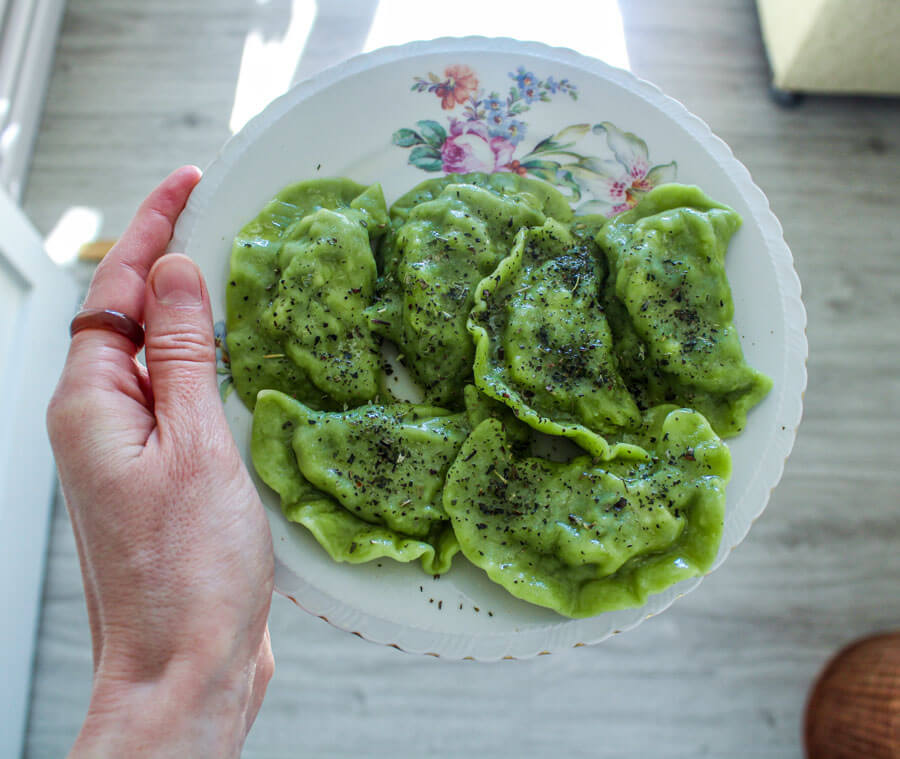 I have been making pierogi (or as they are called in Ukraine varenyky) along with dumplings (or pelmeni of Russian cuisine) many times. But each time, I was trying to experiment with dough and try different variations of it.
So, the best pierogi dough for me personally is a hot water dough. Pierogi and dumplings prepared on the basis of this dough are delicious and very tender. As my mom says, they just melt in your mouth. And, if you look at the ingredient list below, you'll notice how few ingredients are needed.
For spinach pierogi dough though, we are going to use hot spinach juice instead. Below, I'll cover how to make it.
INGREDIENTS FOR A SPINACH PIEROGI DOUGH:
3 tablespoons of olive or sunflower oil (although I prefer olive oil)
0.5 teaspoon of salt
3 cups of wheat flour
1 egg
170 g (6 ounces) of spinach
1/4 cup of water
STEPS TO MAKE A PIEROGI DOUGH:
1. Before you start making a dough, prepare a spinach juice that will be used to color the dough. For that, toss spinach in a blender, add 1/4 cup of water and purée the mixture to its nice and smooth state. If it's too thick, feel free to add a bit more water.
Then put this purée in cheesecloth and strain the juice into a bowl. This is what we are going to use for the dough. The rest that is left (the purée itself) can go nicely into scrambled eggs, porridges or even mixed with water, honey and lemon as a drink.
In the end, you should get at least 1 cup of spinach juice.
2. In a small bowl, crack one chicken egg and whisk it with a fork.
3. Add salt to the egg and mix well.
4. Then pour the oil into the egg mixture and again mix thoroughly until smooth. The reason I personally love using olive oil is that it adds this olive flavor to the dough and you can taste in cooked pierogi.
5. In a separate bowl pour three cups of flour, make a small notch in the center and pour in the beaten egg mixture in there. Mix it a little with the flour (in the flour well, as if we slightly combine the flour with the egg) using a fork or spoon. Just like here on this photo:
6. Being up to the boil that 1 cup of spinach juice that you prepared earlier. Start pouring it slowly in a bowl with flour and egg. While you are pouring the juice, knead the dough at the same time using the fork in the beginning (I always pour it with a thin trickle and stir the flour mixture a little.)
TIP: First, I knead the dough with a fork or spoon, then continue kneading with my hands. The dough is always soft and mixes very well.
7. You may need to add a little more or less flour to knead the dough. It all depends on the quality of the flour you are using.
Spinach pierogi dough should not be too soft and at the same time, should not stick to your hands. So definitely add more flour if needed.
7. When the dough is ready, make a ball, cover it with a kitchen towel or wrap it with plastic and let it rest for 10 minutes. After this time, you can start making pierogi.
This type of dough is very soft and easy to work with. You can always use this recipe not only for Ukrainian pierogies but for any other pierogies, dumplings, Georgian khinkali, Polish knedles, and Uzbek or Turkish manti. Just substitute spinach juice with 1 cup of boiling water.
My family enjoys the glory of potato pierogi and homemade caramelized cabbage and onions pierogi. But I personally love pierogi with spinach and feta.
|| ANOTHER RECIPE FROM UKRAINE ||
PORCINI MUSHROOM SOUP – RECIPE FROM WESTERN UKRAINE
Spinach And Feta Pierogi Filling
INGREDIENTS FOR THE SPINACH & FETA FILLING:
300 grams of fresh spinach
150 g of feta cheese (or 300 g of dry cottage cheese)
1 small onion (optional)
1 or 2 cloves of garlic (optional)
salt, pepper to taste
A few spoons of oil to sauté the filling on
HOW TO MAKE SPINACH AND CHEESE FILLING FOR PIEROGI
As to me, spinach filling is the fastest and easiest to make. And here is what you need to do:
1. Wash spinach (if you are buying fresh bulk,) dry it and chop finely.
2. Peel the onion, cut into small cubes and lightly fry in oil.
3. Add spinach and finely chopped garlic (if you wish) to the onion and cook on medium heat for 2-3 minutes, stirring occasionally. Then set it aside and let it cool down.
4. After spinach with onions cooled down a bit, mix it with the crumbled to small pieces feta cheese, add salt and pepper to taste. That's it. Your filling is ready.
NOTE: I noticed that adding feta cheese in a proportion of 1:2 tastes much better than 1:1. Feta cheese has this somewhat sour salty flavor which, if added in big amounts, suppresses the taste of other ingredients. However, if you prefer it more feta way, modify this recipe to your own taste.
Also, often, I prefer to use Russian or Ukrainian style cottage cheese instead of feta. If you are living in the US, UK, Australia, Canada (or anywhere else where Ukrainian and Russian diaspora is big), you can always go to the 'Russian store' and buy cottage cheese there. In the US for instance, it was called 'farmers' or 'Amish' cheese.
With this type of cheese, I always add more of it to the filling. Usually, in my spinach pierogi, I put 50% or spinach and 50% of cottage cheese (which I previously mash very well with a fork.)
How to Make Spinach Pierogi
1. When the dough is ready, divide it into two parts but wrap the other half in plastic to keep it dry. On a lightly floured tabletop, using a rolling pin, roll out one part of the pierogi dough, making it 2-3 mm thick.
2. Then, using a glass or a cup (some of you may have a special round cutter) cut the dough, squeezing out the circles. Gather scraps, add them to another piece of dough, and repeat.
3. Once you have enough dough circles, portion the spinach feta filling and fold the dough. Press edges together and seal them with your fingers.
4. Pierogi can be frozen or cooked immediately.


How to Cook Pierogi
There are many ways how to cook pierogi. You can boil them, fry or bake. You can cook them in a pan, pot, steamer, in a multi-cooker, microwave or oven for 5-30 minutes. The exact cooking time depends, first of all, on the filling.
Frying or baking can be done after pierogi are boiled or while they are still raw.
I am sharing below my favorite ways of cooking pierogi.
Boiled Pierogi
The process of boiling pierogi is easy enough. Here are the steps to take:
1. Fill the pot with water about two-thirds and add salt.
2. Put the pot on high heat and wait for the water to boil.
3. Place pierogi in a pot one at a time. And, make sure to stir them to prevent from sticking to the bottom.
4. Without reducing the heat, wait until the first of pierogi begin to float.
5. Reduce heat and boil pierogi for 2-3 minutes.
NOTE: It is better to boil frozen pierogi for a bit longer, like 4-5 minutes.
6. After pierogi are ready, remove them with a slotted spoon.
7. In a bowl/plate, add butter or sour cream to prevent them from sticking together.
TIP: For boiling, it is best to choose a wide pot with a wide bottom – in this way, the products will not stick together. Another option of how to prevent sticking of pierogi during boiling is to use some oil. No matter what is the size of your pot, add a tablespoon of oil to boiling water (before placing pierogi.)
|| RELATED POST ||
9 MUST-READ BOOKS ABOUT UKRAINE TO UNDERSTAND THIS COUNTRY
Ukrainian Baked Pierogis
Baked pierogi is a great option for those who are short on time and don't want to be standing next to the stove waiting for pierogi to cook. Also, there is no need to boil pierogi before baking them. They will be perfectly cooked.
If you prefer, you can bake them on their own or with a sauce. The sauce is a mixture of sour cream with spices like black pepper, basil or anything else you like to use, and an egg. Adding an egg to the sour cream changes the taste of pierogi casserole. For the sour cream, use it in the amount that will cover pierogi completely.
1. Thus, place pierogi in a pot or baking dish greased with oil, cooking spray or butter. Put them in that way that they fit together but don't touch each other. Then, top pierogi with melted butter, place them in the oven, preheated to 200°C (400F) and bake for 15-20 minutes.
2. If using a sauce, pour it over pierogi, sprinkle with grated cheese and then bake for 15-20 minutes as well.
Fried Pierogi
Frying pierogi is easier than cooking them through any other method. For that, just place pierogi in a frying pan heated with oil and fry under the lid until the crust. However, it is better to fry on the lower heat to prevent burning the dough.
Overall, it'll take about 7-10 minutes to cook pierogi on a frying pan. This time depends on the size of the pierogi and the degree of heating of the pan.
---
Alright, so this is my spinach pierogi recipe that is pretty common in Western and Northern Ukraine. Have you tried cooking this dish? Share in comments what type of pierogi is your favorite! And don't forget to save this recipe to Pinterest to share it with others!
Bon appetite!