Valencia to Malaga Road Trip: 12 Exciting Stops to Make!
Last updated on September 10th, 2023
Spain is a country filled with beautiful landscapes, rich history, and vibrant culture. Going on Valencia to Malaga road trip is a great way to explore some of southern Spain's most beautiful cities and scenic regions.
Traveling by road in Spain is easy and safe. The roads in general are well maintained, free and paid highways connect you to every single corner of the country. And when you drive along any of the coastlines in Spain, you will enjoy jaw-dropping views of different landscapes.
Both Valencia and Malaga are amazing cities to explore, but if you are down for some real local and unique Spanish experiences, then rent a car and hit the road.
Taking a road trip from Valencia to Malaga is a great way to explore a bit of the Valencia shoreline and some of Murcia as well as contemplate the beauty of the east coast of Andalusia which stretches along the mountains.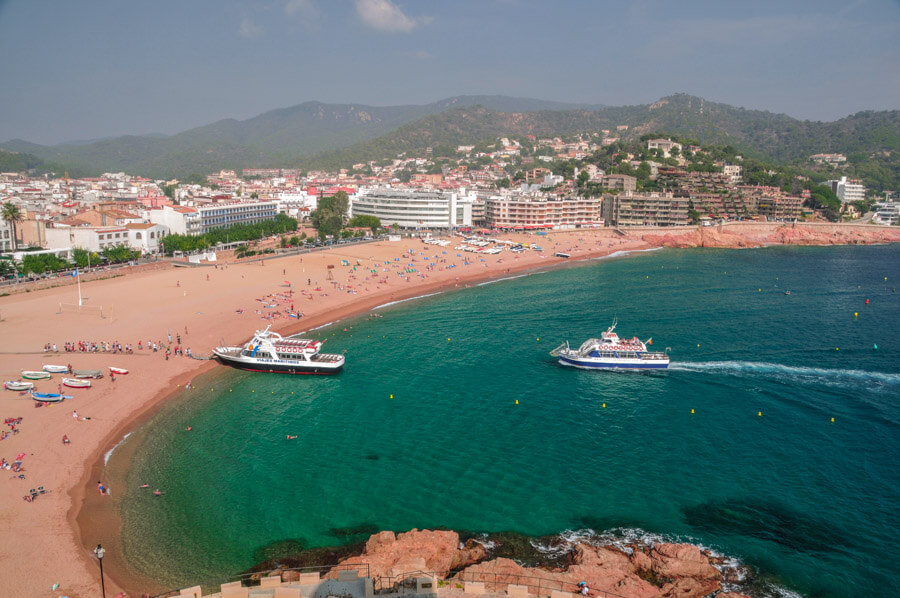 Besides the car, make sure you check the requirements for driving a car in Spain as a foreigner. For some nationalities, having an international driver's license is a must.
And then if you want to do Valencia to Granada road trip, feel free to use this route too. It takes a little longer than going directly away from the coast, but it is well worth it!
So, here is a quick guide to a big Valencia road trip and to a visit to some of the must-see places between Malaga and Valencia. There are many spots where to stop but I highlight only those that in my opinion are really worth your time and drive!
---
Please note: This post contains affiliate links. I may earn a commission if you make a purchase by clicking a link (at no extra cost to you).
---
Where to Stay on Valencia to Malaga Road Trip
Planning a road trip from Valencia to Malaga soon? You'd want to devote a few days to it and stay overnight somewhere in between these cities!
Here is where to stay for a unique experience:
Where to Rent a Car in Valencia (or Malaga)
Mark and I always rent cars in Spain through two companies, either through DiscoverCars or RentalCars (depending on the region and season) comparing prices and seeing which one has better deals.
However, in southern Spain, we noticed that DiscoverCars has much better prices and a better selection of vehicles at competitive rates. They also provide great support with easy cancellations and a wide range of amenities.
If you need to go down into the nitty gritty of Valencia car hire, then don't miss my brief guide to renting a car in Valencia. Otherwise, just browse through discovercars offers and find the best for yourself in any city.
Check DiscoverCars deals & find cheap rentals in Valencia or Malaga:
Things to Know Before Going on a Valencia to Malaga Drive
First things first. Before I get to talk about all the stops on Malaga to Valencia road trip, I want to quickly cover a few important questions and what you'd want to know:
The network of gas stations along the Spanish roads has a strong presence, including the road between Valencia and Malaga. My recommendation is that you use Repsol as your gas/diesel station.
Tip to save money on gas in Spain: Download from your app store Waylet and get discounts and special offers for Repsol gas stations.
Distance between Malaga and Valencia
With 625 km between Valencia and Malaga, if your goal is to get from point A to point B, you could do this in one shot as the drive would take about 6 hours. The Valencia-Malaga distance is not that bad but, there are so many things to do between these two cities, you can take weeks doing this road trip.
This is why, with that in mind, I recommend you plan your drive in that way where you can not just quickly cover the distance and see a few major cities along the way but where you can actually pause for a little longer and immerse in daily Spanish life, discovering hidden gems and lesser-popular towns.
So here is the way I would recommend you structure your journey.
Map of Stops Between Valencia and Malaga
12 Exciting Stops to Make on a Road Trip from Valencia to Malaga
Gandia
The first stop I recommend you to make after leaving Valencia to drive to Malaga is a seaside resort town Gandia in the southern part of the Valencia region. Its charm the town gets thanks to the port and the picturesque mountains surrounding the settlement from all sides.
Gandia is famous for its beautiful beaches and historic castle. There are not a lot of attractions and nightlife. Nevertheless, every summer several thousand Europeans tend to come here to relax on the seashore, surrounded by beautiful nature.
When you visit on a road trip to Malaga, take a stroll along the beach, relax in a seaside cafe, and explore the castle for a unique and memorable experience.
NOTE: Gandia is very popular with tourists during the summer season, so if you plan to stay here overnight from June to August on a drive from Valencia, you should think about booking a hotel in advance.
What To Do in Gandia
Well, there is not a ton of things to do in Gandia, yet, this town can surely keep you busy.
Once you get here, visit at first the Walls of Gandia. In the 16th century, these walls protected the city from invaders and surrounded the city center. The Alqueria del Duc is a medieval fortification of Muslim origin.
Then go to the castle of Bairen or San Juan. It only costs 2 euros to enter to walk around and get views of the town and sea. Or, you can better devote time to visiting the Ducal Palace of the Borjas. It is an incredible piece of architecture with an interesting story behind it. You can get an audio tour in different languages for under 10 euros.
Another thing not to miss is a promenade of Gandia. It is considered one of the widest and most beautiful in the Valencia region. There you can take a walk, sit in one of the cafes, pop into a small boutique shop, and also admire the bright flowers in the flower beds. You'll find many benches and sun loungers on the embankment as well as exercise machines and playgrounds for children.
There is a port on the left side of the promenade – you won't be able to see large ships here, but there are a lot of snow-white yachts and sailboats.
Denia
This town is known for its excellent seafood and stunning views of the Mediterranean Sea. When visiting on a drive from Valencia, try the local paella dish, visit the castle, and take a boat tour for a full experience of the area.
Denia is a port town also known for its cozy beaches, comfortable family hotels, a huge number of restaurants with Mediterranean cuisine, and its numerous archeological sites.
Denia literally exudes the spirit of antiquity with a high number of archaeological and ethnological museums, castles, old fortresses, and ancient streets. They all create a special atmosphere. Here you can make a quick stop when driving from Valencia to Granada or to Malaga or even spend a few days long vacation, combining a beach holiday with sightseeing.
The most recent award to this city has been from UNESCO. Denia was declared the Creative City of Gastronomy just like San Sebastian in northern Spain. This is the main reason why you should visit and eat here before you continue with the road trip to Malaga.
What To Do in Denia
First, walk toward the port along the street Marques del Campo. It is a convenient and pretty street where you can do some shopping.
The Denia coast has been one of the most important anchorages in the Mediterranean since Roman times. The modern port began to take shape at the beginning of the 20th century, and it expanded until it became the great port that we see today. Ferries depart from here to many of the Balearic Islands with Ibiza being the closest one.
From the port, find the neighborhood 'Baix La Mar' or neighborhood of the Fishermen. This area seems like it comes out of a fairytale with a small maze of low-rise colorful houses, making it the perfect spot for photos.
The castle nearby is astonishing and it only costs 3 euros to enter. On your way there see the castle tunnel. This tunnel was built during the Spanish Civil War to protect the citizens from aerial attacks.
Finally, as you walk along the pedestrian street of Loreto, you will find the beautiful bell tower of the Church of Nuestra Señora de Loreto which was built in 1683. The church stands next to the Convento de las Agustinas, which came into operation in 1604.
Restaurants that deserve a visit in Denia are Casa Federico, in the port and Tasca Les Monges on Loreto street.
Benidorm
On a stretch between Valencia and Murcia, by the coast, there is an interesting destination that you also don't want to miss. An incredible city built of skyscrapers, something completely unusual in this part of the country which is often called "Spanish Las Vegas" and "European Miami".
Benidorm is considered one of the key resorts of the Costa Blanca, and above all, stands out among the other resort towns of the coast and the whole country with its many skyscrapers. The rapid development of the tourism industry and construction in the 60s turned the once small fishing village into a modern resort, a real Mecca for tourists in the region.
You can find absolutely everything in this city and have a wonderful vacation, not just a quick stop on a road trip. Although be aware of the prices, as it is a very tourist place (unless you are visiting the Valencia region in winter). This city is famous for its nightlife, beaches, and theme parks.
What To Do in Benidorm
Well, you may like it so much that you may want to stop here for a night and devote more time to this city. There are really a lot of things to do.
Only spending a day at Terra Mitica theme park or Terra Natura park is going to take some time. Visit these parks for wildlife and waterpark activities.
Then don't miss the two best viewpoints of the city such as The balcony of the Mediterranean and the Cross of Benidorm. Both offer great views of the sea and the city. Visit the old town and the local markets. Stroll along any of the beaches and if you spend the night there, enjoy a night out at one of the city's many clubs.
All the Mediterranean coast of Valencia Autonomous Comunity is known for delicious rice dishes, so make sure to try one of them in Benidorm. This city has great options for where to eat, but can also be very tourist oriented.
Elche
After Benidorm, Elche is going to be a very different stop. It is one of the oldest cities in Spain, which began its history in 5000 BC and one of the important tourist centers.
Despite some remoteness from the sea, Elche attracts travelers with beautiful centuries-old palm trees, gardens, exquisite architecture of ancient palaces, and mysteries – it holds a religious holiday every year.
Among cities, Elche is rather small but it is also famous for its shoe-making industry and for the Palmeral de Elche, which is a UNESCO World Heritage Site. Over 200 different types of Palm trees and the only one of their kind in Europe.
What To Do in Elche
If there was only time for two things, I would highly suggest that you visit the Palmeral and the Huerto del Cura. Two immense nature sightseeings where you can forget all about stress and hectic life issues. You have beautiful spots in the center that show the history and architecture of the city.
For wine lovers, drive to Bodegas Faelo winery to take a tour and wine tasting. This is a family business that has been making great wines for over 100 years. Just before you go, get in touch with them on their website and make a reservation.
Restaurants worth mentioning are Restaurante Mesón El Granaino, Restaurant Els Capellans, and La Lateria Gastrobar. This last one offers an outstanding Spanish omelet (Tortilla de patatas) on Wednesdays and Thursdays and also amazing tapas.
Murcia
Murcia is the capital of the autonomous community (State) with the same name "Murcia". Even though this region is located by the coast, Murcia's closest beach is Torrevieja, in the province of Alicante with its beautiful beaches. But I recommend you visit this destination not for the beach.
Murcia is an underrated small city with 440,000 inhabitants. This was one of the main Roman cities that not only has incredible history and architecture but has one of the best Spanish cuisine options.
Murcia has a climate with hot summers, mild winters, and relatively low precipitation. So if you are driving through it on a hot summer day, it may be better to skip it. Any other time of the year, this city is a must on a road trip.
What to See in Murcia
The Cathedral of Murcia is the number one thing to see here. This religious building is Gothic style but has elements of the Baroque, Rococo, and Neoclassic styles.
The pedestrian streets of Plateria and Traperia are the main arteries of the old town. Traperia, refers to trapos, or cloths, as this was once the focus of the Jewish community's garment trade. Trapería goes from the cathedral to Plaza de Santo Domingo, formerly a bustling market square. The name Plateria refers to plata (silver), as this street was the historical focus for the commerce of rare metals by Murcia's Jewish community.
Highly recommend visiting the Casino de Murcia, located in Trapería. It is a social club erected in 1847, with a sumptuous interior. It also includes a Moorish-style patio inspired by the royal chambers of the Alhambra, in Granada.
Visit The Puente de Los Peligros (the Dangers bridge) or the modern Puente de Calatrava (from the architect Calatrava, same that designed the Dove entrance of the World Trade Center in NYC).
Places to eat while in Murcia: El Chato. This restaurant focuses on local and autochthonous ingredients with modern preparation and presentation. They have a wide selection of wines from the region as well. Try the empanadilla de pastel murciano. This is a stamp from this city.
Also, you can head to Plaza de Las Flores. This plaza is packed during the day as most locals come here for an aperitivo (meal before lunch) or lunch itself. But you shouldn't miss this place as it is open during dinnertime as well.
Another thing is to do a bar crawl. The local way is going from bar to bar and trying different tapas. Start with seafood tapas and finish with some morcillas (blood sausages) and other meat dishes.
Cartagena
At first, I thought for a moment if it is worth adding Cartagena to a list of places where to stop on Valencia to Malaga drive (or Valencia to Granada drive if you are heading there).
But then I decided to definitely include it as Cartagena is one of the most interesting cities in Spain with the greatest monumental heritage and rich history. It is also one of the largest natural harbors in the world, rich in mineral mines. For thousands of years, this city has been considered one of the most profitable places on the planet.
From the Roman ruins, museums, and beautiful beaches to colonial buildings and bustling nightlife, Cartagena is definitely a must-visit, whether you want to make it a quick or a short stop.
What To See in Cartagena
If you are planning to spend only a few hours in Cartagena as part of a road trip, then visit the Roman Theatre, explore the Punic Wall, and take a dip in the Mediterranean sea for a day filled with history and relaxation.
If you enjoy marine life, stop at ARQUA, Marine Underwater Archaeology Museum. After all, Cartagena is the Spanish Navy Capital.
The city center has a melting pot of buildings and it is a very walkable city. But before leaving Cartagena, you must stop at this unique attraction that many don't even know to exist: Batería de Castillitos. Since you have a car, it will be easy to reach it.
It is an installation that mixes frivolous architecture with meaty and sinister artillery guns. You will be surprised when seeing this entire area. For a unique swim in summer, head to the still pristine beach of Calblanque… not the easiest to get to, but totally worth it.
Mojacar
And now, after leaving Cartagena, you are going to arrive in a diverse and sunny region of Spain – Andalucia. The first place where I suggest you make a stop is Mojacar, one of the lesser-known towns full of beauty and incredible vibes.
Mojacar is divided into a 9th-century old traditional village of white-washed houses and tiny winding streets on top of the hill, while its beach is a modern area with bars and restaurants on the coast.
What To See in Mojacar
Everything is relatively close in Mojacar pueblo, so park your car and get ready to walk up and down the hills.
A walk along the town is a must. There are white houses with picturesque stores and at the center of town is Plaza Nueva where you have some of the best views of the area. Feel free to sit down here on one of the bar terraces and enjoy some refreshing drinks or coffee while you take the view in.
Visit the Iglesia de Santa Maria (church), la fuente publica de Mojacar (public fountain), and la casa de la Canana. The latter one is a house/museum that showcases how houses and life were in the first half of the 20th century in Mojacar. In the house, there are 200-year-old decorations and tools from that particular time in history. This place is perfect for unique photographs.
After your mystic journey in the pueblo, head down to the beach. The sea in this area is very different from the Valencia-Alicante coast. You will see more waves and wind in this part of Spain.
Find El Cid eatery for lunch. This chiringuito, which are Spanish restaurants/bars on the beach, has a very relaxed atmosphere and offers delicious food along with Flamenco shows during the peak season.
If they have shrimp from Garrucha (a town nearby), do not hesitate to order them. They can be pricey, however, they are absolutely the best shrimps you can eat in the south. They are grilled with olive oil and garlic and served with lemon. These will be the most unforgettable shrimps you will ever have!
Cabo de Gata
As you continue your drive to Malaga, it is time now to change the scenery a bit and go from cities and towns to a nature reserve. Cabo de Gata is that place, a region that has stunning natural parks and wildlife.
What To See in Cabo de Gata
If time allows and you have a desire, make a stop in the Parque Natural de Cabo de Gata for a unique look at Spain's wildlife and landscapes.
All of Cabo de Gata is filled with natural wonders. Therefore, you shouldn't miss some of its beaches even if the access doesn't seem very friendly.
La Playa de Los Muertos (The beach of the Dead Ones) doesn't have the most inviting name, but you will forget about it once you submerge yourself in the turquoise waters. Cala Raja is another great beach to enjoy.
El Mirador de la Amatista (which you can access by car) is a viewpoint that gives you the feeling as if you were at the end of the world. There is a beautiful lighthouse in Cabo de Gata but the road is along cliffs, undoubtedly this will bother those that suffer from vertigo.
On the way back from the viewing platform to the highway, you can make a few more stops in the towns of Nijar and Rodalquilar. They are small towns worth a stop for their craft and miner past.
Motril
By now you can be tired from all the stops that you made. So here is a good opportunity to drive for almost 2 hours while physically relaxing in the car seat and enjoying coastal views from the road.
The next stop you should make is Motril, a city famous for its stunning beaches and delicious cuisine. Depending on the time of the year when you visit (in winter, it is always rather quiet and summer is full of people) will define how much time you should spend there.
What To See in Motril
Go to Plaza de Espana, it is the vibrant center of this town where you will find many of the attractions such as the City Hall, the theater of Calderon de La Barca, and the Church of the Encarnacion. They all show the distinctive architecture of this town from the Granada region.
The Church of the Encarnacion in particular was built on top of a mosque in the early 1500s and is something interesting to look at.
If visiting in summer, take a dip in the Mediterranean and/or walk along the port of Motril for a breezy and relaxing afternoon.
Nerja
After Motril, a short drive will bring you to one of the most romantic corners of Andalusia – Nerja which features a picturesque seaside façade made up of beaches, coves, and precipitous cliffs.
The main reason to visit Nerja is for its stunning beaches and cave systems. But if you have more time, in its historical center you can also see wonderful examples of folk architecture, picturesque boulevards, and nice museums.
What To See in Nerja
If you can allocate only a few hours to the exploration of Nerja, then you may want to choose to see the Caves and the Balcony of Europe, the viewpoint where everyone takes pictures. It is a beautiful viewpoint of the Mediterranean Sea, which occupies the place where there was a fortress and then the Lower Castle of Nerja.
The balcony overlooks the sea and beaches, and downstairs is a restaurant with great views.
After stopping by the famous Nerja Caves and balcony, relax on the beach and try the local seafood for a full and unforgettable experience.
Since you will be driving, I recommend you also check out one of the following beaches. Since they are a bit outside of the town of Nerja, expect to find much more tranquil and beautiful beaches compared to the ones you will find in the town:
Playa el Cañuelo
Cala del Pino
Playa de las Alberquillas
Playa Molino de Papel
Playa La Caleta de Maro
Playa de Maro
Frigiliana
Frigiliana is a small, charming, and peaceful village near Nerja. Few people know about it, which explains why Frigiliana has completely retained its authenticity and magic, despite the large number of tourists who constantly visit the area.
Its white endless houses along with its historic town center and delicious cuisine make this town unforgettable and give you a reason to see it on your Valencia to Malaga road trip.
What To See in Frigiliana
First of all, explore the narrow streets of the old town. Every street is full of history and walking along them at any time of the day is a pleasure. As a matter of fact, there is a fountain where you can see the remains of the three major religious co-living together in one space.
Something unique and very instagrammable in Frigiliana are the mini and colorful doors in some of the white houses. It is such a colorful contrast.
Next, walk up to the Palace of the Counts of Frigiliana. This building, built in the 16th century, houses the only sugar cane honey factory in Europe and a beautiful craft shop at the door. Try the local dishes and relax with a glass of wine for a full and memorable experience.
Torrox
The last stop that I suggest you make on the drive to Malaga from Valencia is the small town of Torrox, famous for its stunning beaches and historic town center. If you feel that you had enough, save this post for later and return to Torrox on a day trip from Malaga, considering how close its location is.
Just like Mojacar, you have Torrox town (historic center) and Torrox beach. You have to drive from one to the other as there is almost 5km in distance.
What To See in Torrox
Once in Torrox, take your time to walk around the old Torrox town. The City Hall, the Church of the Encarnacion, and the Arab Torreon are some of the places you should check to see the many cultural and religious influences of this area.
On Torrox beach, you will see the lighthouse and a long beach full of chiringuitos (do you remember what it means?) where to eat sardines on a stick (espeto de sardinas). Just put the word 'chiringuito' on a map and you'll see different locations by the sea.
This area gives you the perfect scenario to relax, take a wonderful sunset, and finish your long road trip between Valencia and Malaga.
More Accommodation Options for Malaga to Valencia Road Trip
If you went through the entire post, you should have noticed how packed with action this southern Spain road trip itinerary is. To be able to see a lot, you'd need to plan a Malaga Valencia route in a way where you can stay overnight somewhere on the road.
And for that, I have a few tips for your possible stay. Here are a few options for places to stay on a road trip between Valencia and Malaga:
Alicante
This coastal city is famous for its stunning beaches, rich history, and lively atmosphere. And even though I didn't include it in my road trip guide, I believe it is a very nice destination where to make a stop for the night.
You can choose from a variety of hotels, apartments, and hostels, depending on your budget and travel style. My top picks though are:
Hotel Smile & Co – a boutique hotel ideally located within walking distance of all the attractions ($)
Boutique Hotel Sierra de Alicante – another boutique hotel, but in the vicinity of the city. Small but charming with stunning views, breakfast, quaint rooms, and perfect location ($-$$)
Suites del Mar by Melia – romantic and relaxing property with a privileged location and fantastic sea views ($$-$$$)
Murcia
This historic city is located in the heart of the Region of Murcia and is known for its beautiful cathedrals, impressive palaces, and stunning parks. Accommodation options include hotels, apartments, and hostels and prices are average.
My top picks for accommodation options in Murcia are:
Catalonia Conde de Floridablanca – 4* all-suites highly elegant hotel in the center of Murcia. What makes it special is the staff and spacious rooms ($-SS)
Bajo El Cejo – a small rural boutique hotel in a nature park outside Murcia. Here you will have the most peaceful stay ($$)
Parador de Lorca – unique hotel in an unexpected location with sensational architecture embedded in ruins of the old castle ($-$$)
Cabo de Gata
This natural paradise has great options for unique stays like La Posidonia in Rodalquilar, in the middle of nowhere, a very recondite place full of secluded areas to breathe and relax.
A small family business that welcomes you with many spa services is MiKasa Agua Amarga & SPA.
Hotel Villa Maltés has only 2 stars but it is truly a paradisiac location with both excellent service and installations.
No matter what type of accommodation you choose, these cities and towns offer a range of activities, attractions, and experiences that are sure to make your road trip between Valencia and Malaga unforgettable!
More Travel Resources for Travel in Spain