Visit Vermont in Fall to Make the Most of the Season (Or Any Other Time of the Year Too)
Last updated on January 2nd, 2023
Vermont is one of those states in the U.S. where every season is absolutely gorgeous, not just fall. However, I do encourage you to visit Vermont in fall in particular because of a spectacular display of colors.
This post though suggests wonderful drives and activities that can be done not only during the autumn but in any other season.
If Mark's father didn't move to Vermont, most likely we wouldn't have discovered this pristinely beautiful part of New England. We visited multiple times, considered moving here and last year even spent an entire month before going on our yearly full-time adventure.
So yes, this state is truly special. Two-thirds of it are occupied by forests, thus you can definitely expect the kaleidoscope of colors.
We would like to share the best trips we personally took and know you will enjoy them as well.
But first things first…
When is the best time to visit Vermont in Fall to experience foliage?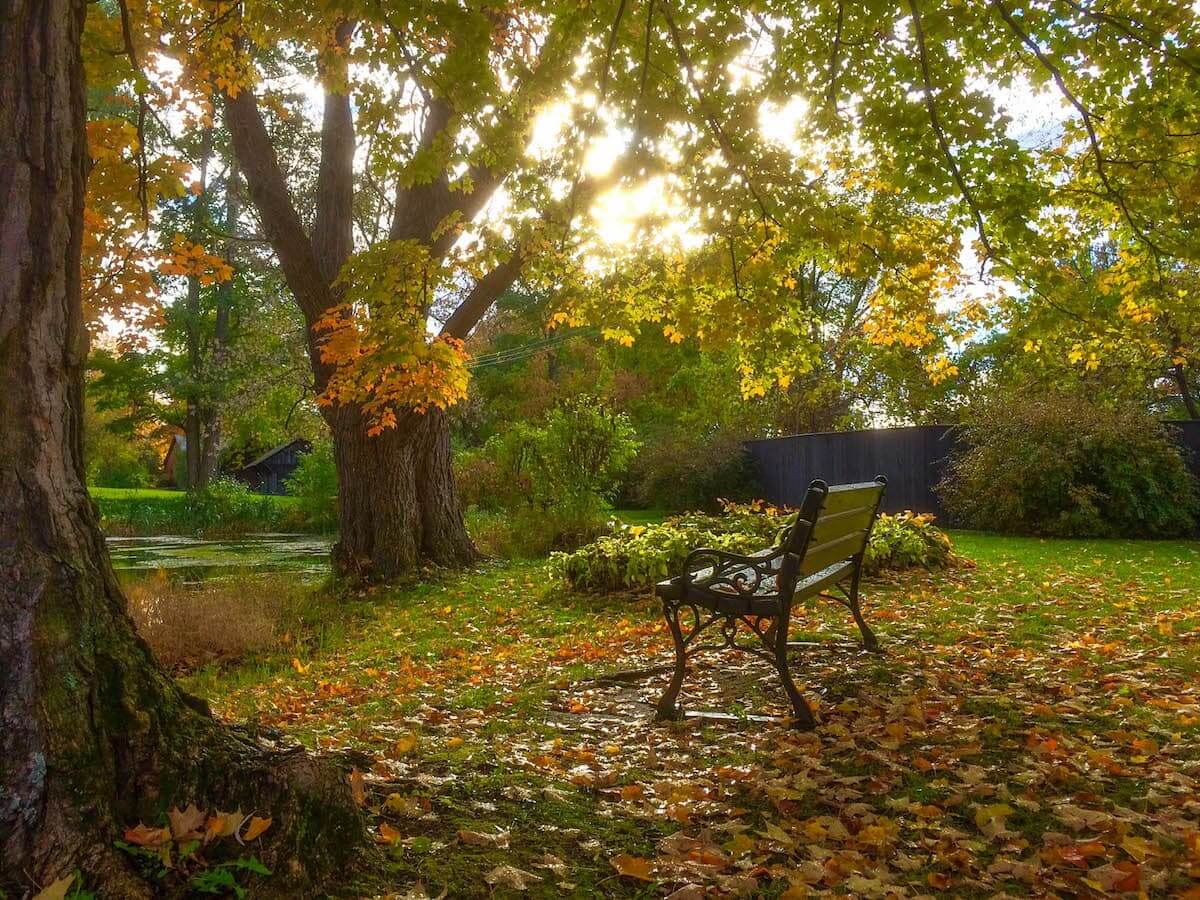 It depends. It mainly depends on which part of the state you are going to.
Fall in Northern Vermont begins early. To be exact – it begins sometime around mid-September and reaches its peak at the beginning of October.
In the southern part of the state, fall comes and goes way later than in the North. There you'll witness a gradual color change. That's why probably the best bet would be to fly into Burlington (the largest city in Vermont) and from there start moving South.
If you decide to spend more time in the North and go to the mountains, expect to see some snow on the top in early October (it's so pretty!)
---
RELATED POST: 9 INCREDIBLE WEEKEND GETAWAYS IN KENTUCKY
---
What to Wear in Vermont in Autumn?
We would say the best type of clothing should include layers. During the day the sun is still strong enough and you can easily wear t-shirts and shorts. But the nights get significantly colder, so long sleeves and pants are necessary.
Also, if you are planning to hike or go into the woods keep in mind that ticks are pretty active during this season. We would suggest choosing clothes that cover your entire body and having a tick repellent (the best we found on the market so far) just in case.
And Here Are Vermont Fall Foliage Drives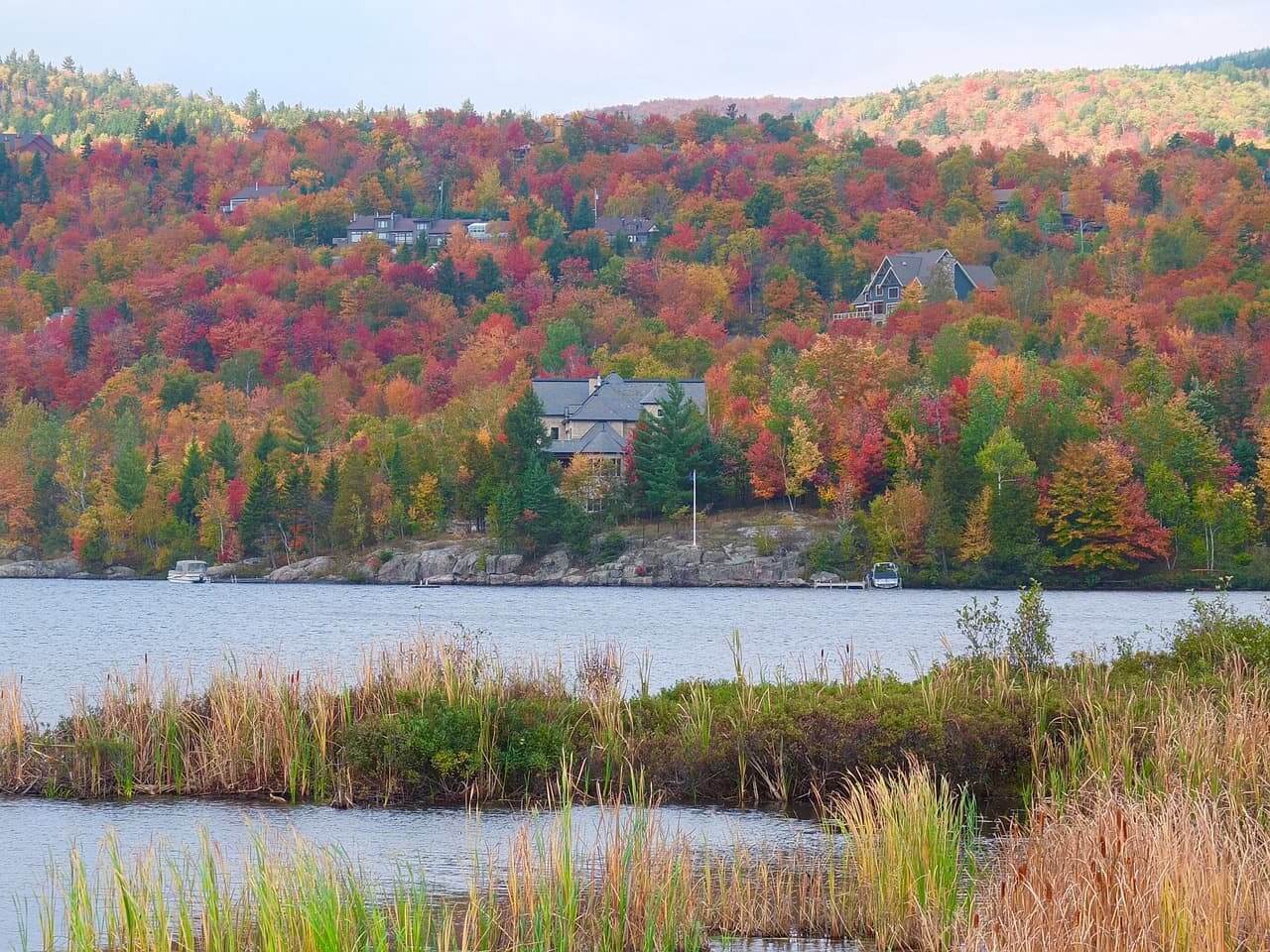 Honestly, almost anywhere you drive it's going to be breathtaking and magical.
But to make the most of the season it is better to drive country roads, visit farms, gardens, state parks, and forests. The best of the season can be found right in the wilderness.
Spending a day or two in Burlington will give a glimpse into what the Vermont foliage season is like. However, only in the countryside, you can enter a real fairy-tale kingdom with azure skies, tidy villages, contented cattle, picturesque hills, lakes with crystal clear water, and bright orange, yellow and red forests.
Below are some of the most astonishing places in Vermont in fall we encourage you to visit in order to experience the best and the most of this colorful season.
TAKE MOUNTAIN ROAD 108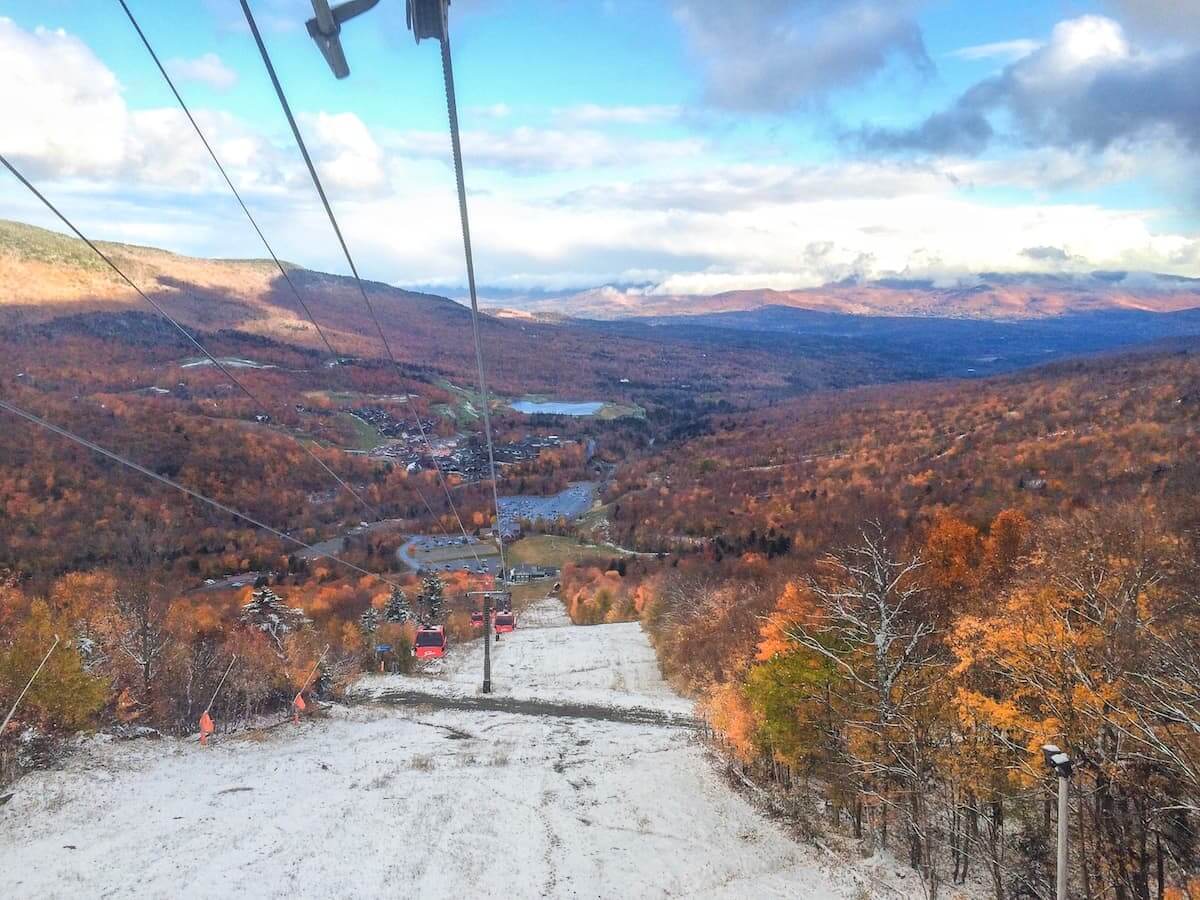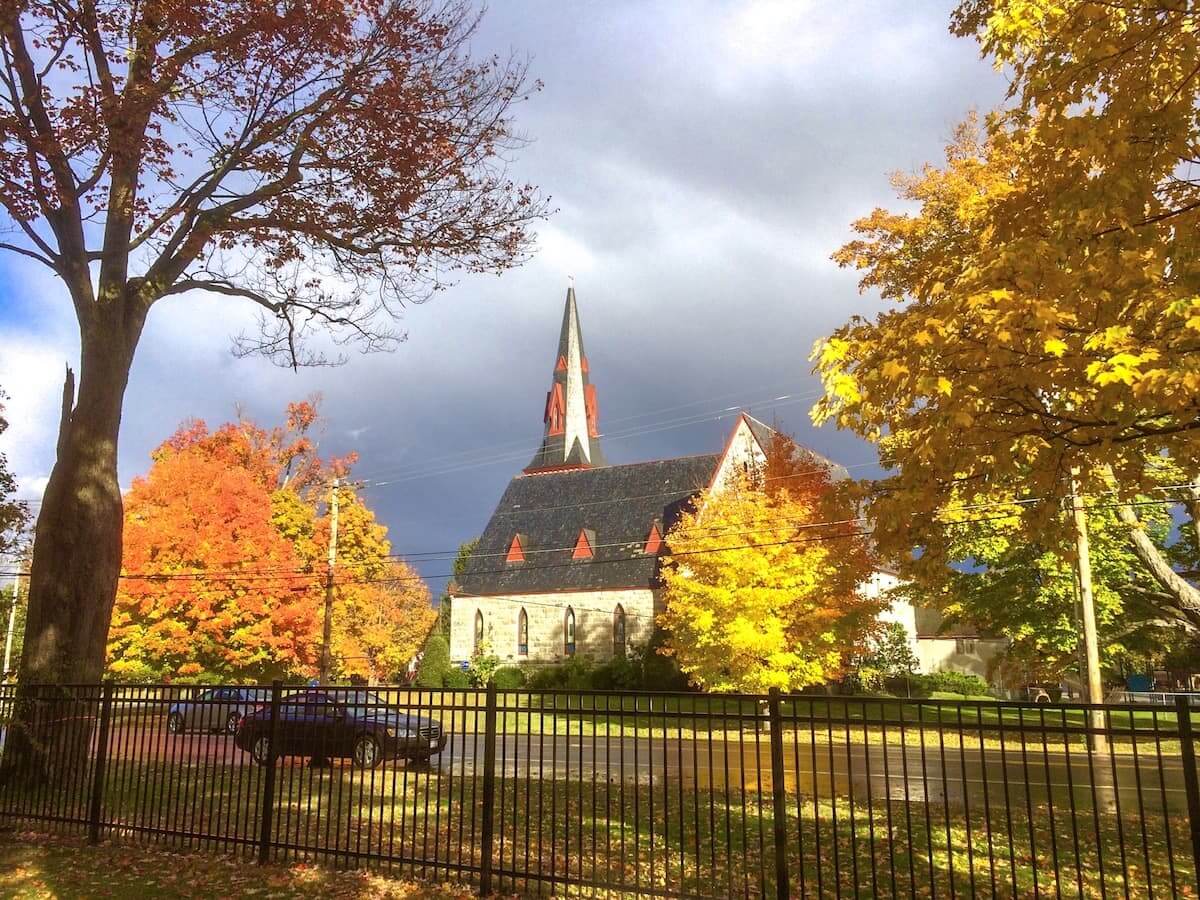 108 Road goes from the small town of Jeffersonville to the charming resort town of Stowe. If you are coming from Burlington or Saint Albans, I would suggest starting your drive from a Jeffersonville side. In this case, you'll be gradually moving towards all the main attractions and natural beauty.
This twisty road leads through Mt. Mansfield National Forest, offering lots of stunning attractions.
The main one is Mt Mansfield – the highest mountain in Vermont – where you can hike, ride a gondola, or drive up to.
Gondola rides start at The Lodge at Spruce Peak but don't go to the summit, just to a viewing platform beneath it. You would still need to hike some distance to get to the top. The price for a gondola ride is $29 for adults and $20 for children.
An alternative to that would be a Toll road which goes to Mt. Mansfield peak visitor center or a hike from the Gondola starting point to the summit. The entire hike is steep and long though, but if you opt for it the gondola ride back is free. The toll road entrance fee is $24 for a vehicle and driver, $9 for each additional passenger.
Hike through scrubby trees will open up a spectacular view of the Lake Champlain, Adirondacks Mountains, New Hampshire, and Canada.
On the opposite side of the forest, there is a small pond, called Sterling Pond where you can get by another hiking path while relishing the autumn.
Side Trip: For some adrenaline, zip line through the colorful trees with Arbortrek Canopy adventures.
Where to Stay: Trapp Family Lodge and The Lodge at Spruce Peak are great for families and romantic getaways. Both of them have a gorgeous property and a lot to offer. Charming Victorian Sinclair Inn Bed & Breakfast is an absolute favorite not only for us but for many other visitors. Owners of this home host guests in the old school style.
RELATED POST: AWESOME WEEKEND GETAWAYS GROM LOS ANGELES TO MAKE YOU WONDER
GO TO SHELBURNE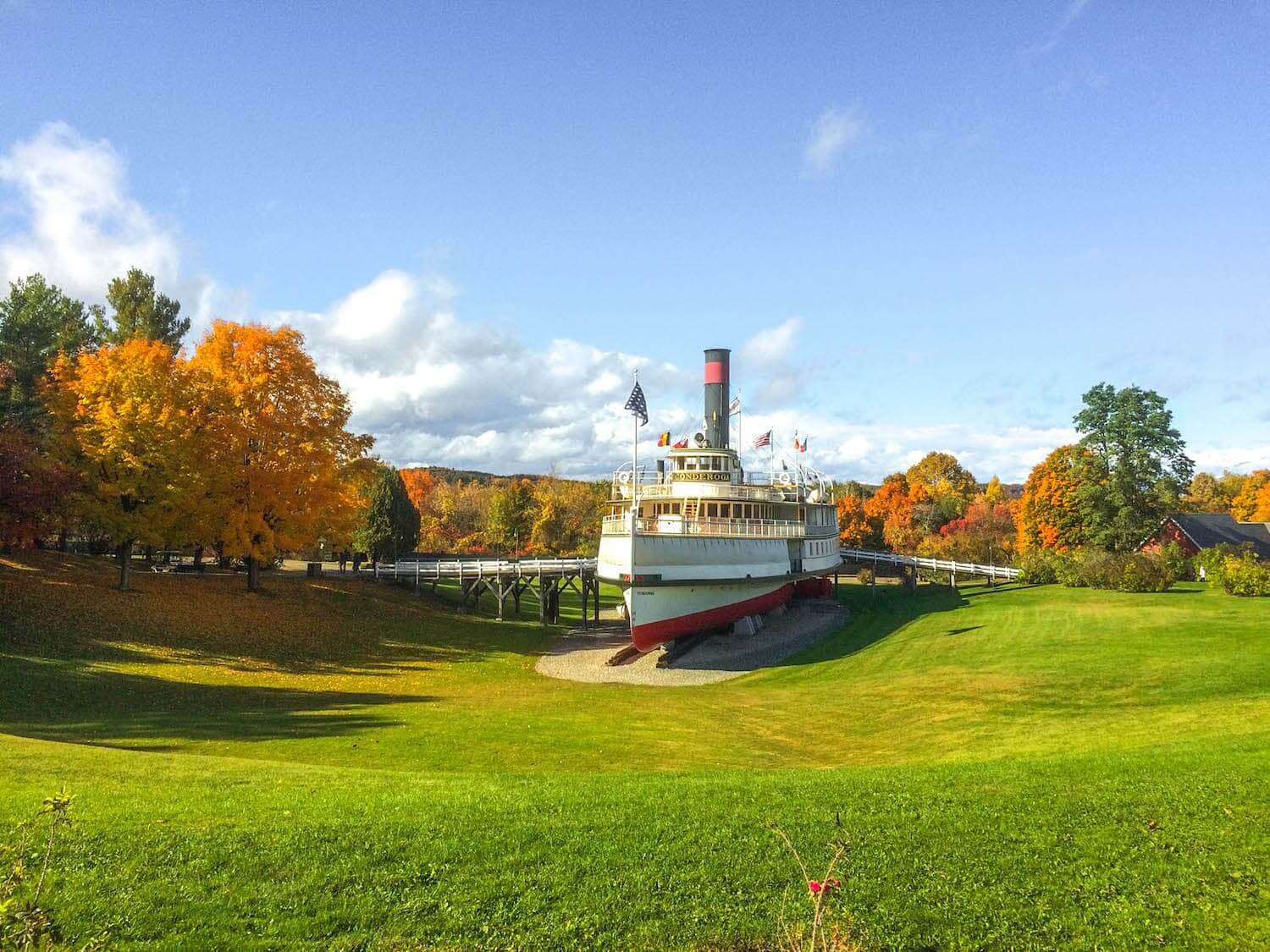 Shelburne is a suburb of Burlington, located along the shores of Lake Champlain and surrounded by lush vegetation. This part of Vermont in fall is a complete riot of color.
Each month of the autumn season is spectacular in its own way and even sometimes in November (depends on the year) you can still witness foliage.
In Shelburne, as a town, there is not much to do. But nearby Farm, Museum and Inn grounds promise to impress you.
I know, going to the museum doesn't sound like experiencing foliage but I recommend exploring mainly the grounds. A big collection of exhibits is set outside among maple, beech, and birch trees.
A stroll through the grounds of Shelburne Farm in fall reminds more of a walk in a magical autumn kingdom. You'll love the peacefulness, views of Champlain lake, the smell, and the abundance of colors.
Visit The Inn at Shelburne Farm to dine at the restaurant, to overlook a cheese-making process at a farm, or walk on an expansive property facing a stunning vista of the lake. This hotel has a lot of history behind its walls, just being there for a few hours will not only help you enjoy autumn but catch a glimpse of the past.
Side Trip: visit a nearby oldest city in Vermont Vergennes, home to cozy Victorian houses, waterfalls, and walking nature paths.
Where to Stay: The Inn at Shelburne Farms is an untouched 1910 building, located on the banks of Champlain Lake and surrounded by stunning nature. The Inn at Charlotte is a charming country B&B, good for couples and families.
TAKE NATIONAL FOREST ROAD 100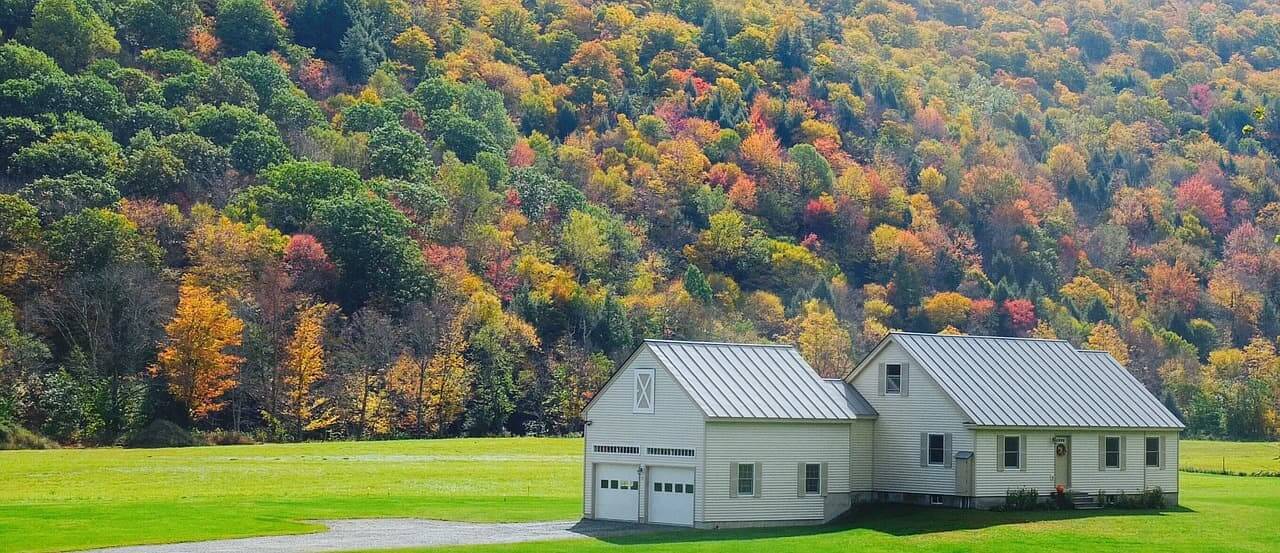 A section of Road 100 from Stowe to Killington winds through some typical Vermont's villages famous for well-maintained dairy and cider farms, donut shops, and lush cultivated fields. Even if you don't take any side trips, there is still enough natural beauty along the road.
Mark and I love this area for gorgeous waterfalls, endless hiking trails, and breathtaking panoramas.
If you start with the southern part of Mt. Mansfield National Forest (which is less than 2 miles ride from Road 100) near the Waterbury Center, you'll see a densely wooded Little River State Park that invites to discover its grounds and reservoir. Canoeing or fishing here in Fall promises to surprise with the explosion of colors.
Before you get completely captivated by the view outside the window of your car, make sure to check out Warren Falls, Moss Glen Falls and take a short side road to Texas Falls. All three waterfalls are surrounded by ancient trees giving way to bluff rock walls.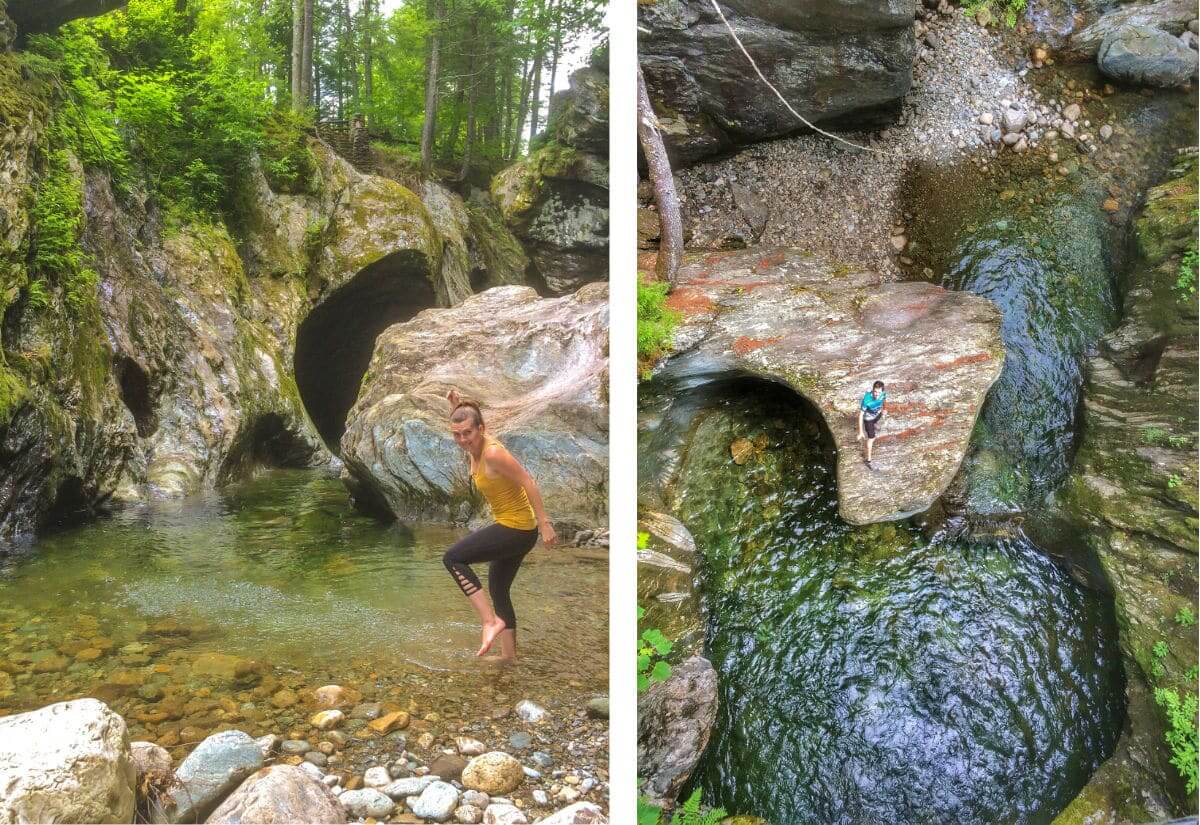 Gifford Woods State Park is another wonderful place for a mixture of autumn colors in Vermont. Never touched by ax or plow, with hardwoods and evergreens, this deep forest is a not only Vermont's Fall destination but a winter wonderland.
Side Trip: take a challenging 2.5-mile path to the top of Mt. Abraham providing a view on the Lake Champlain and Adirondacks mountains; visit Sugarbush Resort; take a gondola ride in Killington to the summit on the highest gondola served elevation in New England.
Where to Stay: The Warren Lodge and Millbrook Inn & Restaurant are both wonderful lodges.
RELATED POST: MOVING TO KENTUCKY? HERE'S WHAT YOU NEED TO KNOW
TAKE A SCENIC MOUNTAIN LOOP THROUGH GREEN MOUNTAIN NATIONAL FOREST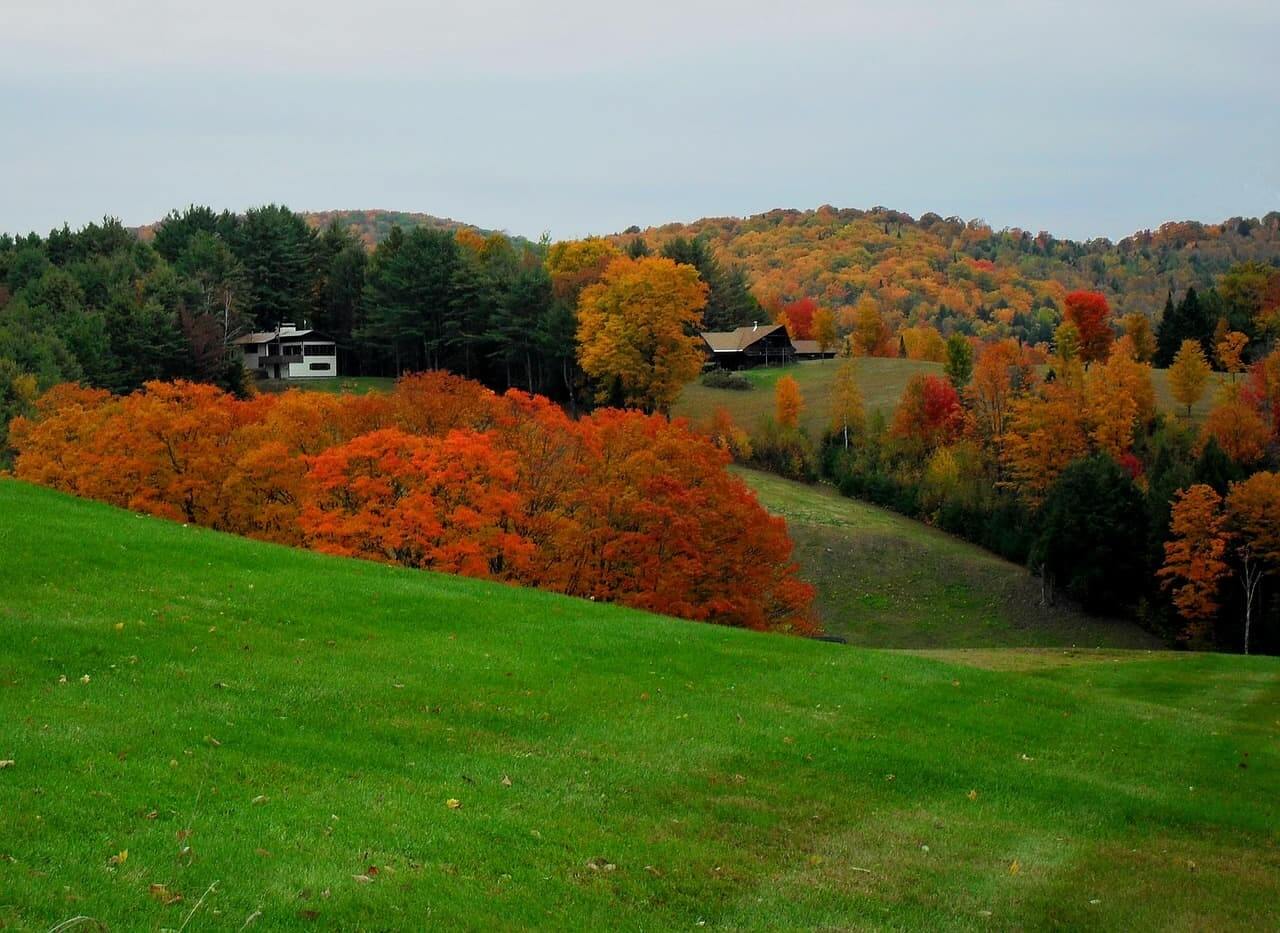 This loop goes between Londonderry, Peru, Winhall, and Rawsonville winding through meadows and valleys. Peru is probably the tiniest village in Vermont, with only one street, a few houses, one white church, and one store with a squeaky floor.
Part of the loop, Rte. 11, passes through Bromley Mountain which opens us a view on a 10-mile valley vista.
A bit farther along the way Rte. 11 turns into Rte. 30 and brings you through the heart of Vermont's ski country with a side road to Stratton Mountain Alpine Resort. There you can take a gondola ride to the summit where all four neighboring states can be seen on a day with good weather.
Side Trip: nearby Manchester Center area is full of biking, hiking, and riding trails through the Southern Green Mountains. If you are visiting Vermont in Fall, this is one of the brightest destinations to witness Fall foliage. Jamaica State Park with an old-fashioned swimming hole is a perfect stopover for canoeists and kayakers.
Where to Stay: The Inn at Ormsby Hill with cozy rooms in a serene atmosphere and for getting a classic B&B experience stay at The Inn at Manchester.
---
Have you been to Vermont? Can you add anything to this list? Share in comments your thoughts and, if you find this post informative, don't forget to share it on social media.
***Some of the links above are affiliate. Following them does not cost you anything. In case you purchase or order something through one of them, we may get a small commission. The price for you stays absolutely the same no matter if you buy through our affiliate link or on your own.