Visiting Cappadocia in Winter – Should You Do It?
Are you the one who is dreaming about a trip to Cappadocia but not sure which season to choose? Well, if you haven't seen Cappadocia in winter, then get ready to experience a beautiful fairy tale in a white and mysterious land! Because Cappadocia has no season and it is always magical and always worth a visit.
From December to February, Cappadocia falls into a quiet sleep sometimes covered by a white fluffy carpet. Its valleys get reminiscent of Martian seas, the fairy chimneys look more like fairy beings dressed in wedding dresses, and the entire region starts looking calmer and more dignified.
Someone will describe the winter landscape of Cappadocia as impregnable and austere while others describe it as peaceful and untouched. After all, this ancient district is located in a mountainous area with a continental climate where cold air currents with occasional snow create different pictures for perception.
I've visited Cappadocia a few times and a couple of them were at the beginning and end of winter season. I seriously can't wait to return in the depth of winter and experience that charm that is intrinsic to this period of time.
And what about you? Do you want to go?
If yes, my post will help you understand if that's the right season for you. Do not postpone a trip to Cappadocia to warmer times because winter has its own advantages. Let's find out about them below!
---
Please note: This post contains affiliate links. I may earn a commission if you make a purchase by clicking a link (at no extra cost to you).
---
Quick Insider Tips for a Winter Trip to Cappadocia
Planning your trip to winter Cappadocia last minute? If yes, here are some top tours, hotels, and insider tips to help you create your winter itinerary:
Top Tours & Experiences in Cappadocia in Winter
Top Stays in Winter in Cappadocia
Other Useful Resources
Cappadocia Weather in Winter – What to Expect?
Before I get to talk about experiences and things to do in Cappadocia in winter, I want to cover Cappadocia's winter weather. To help you plan your trip, here's a quick overview of what to expect from the weather each month – in December, January, and February.
Cappadocia in December
The first month of winter in Cappadocia has very few sunny days. From the first days, it gets already very chilly and you feel cool, crisp air in all directions.
Unlike Istanbul which in December has almost autumn weather, Cappadocia weather in December (situated in the continental part of the country) definitely reminds of winter, although not that harsh winter with severe frosts and snowdrifts knee-deep.
Early December still can please with some sun but with each next day cloudy weather prevails. Daily air temperatures in December in Cappadocia, both at the beginning and at the end of the month, for the most part range between +5C to +10C degrees. There are also occasional dips to zero but they occur irregularly and do not last long.
Night temperatures always fall below zero and slowly go up in the morning. So if you plan to join a hot air balloon ride that takes place at sunrise, expect the temperature to be low. Thus, dress warmly.
Snowfalls happen in December in Cappadocia too but they are very rare. The worst part about them is unpredictability, so you need to be ready to adjust. However, even with the snowfall, the snow melts quickly and it provides a perfect opportunity to capture the Cappadocian valleys completely covered with snow, making them look magical.
Overall, Cappadocia weather in December is somewhat similar to December weather in central Europe like in Vienna or Lucerne, for example, with that difference that there is still a bit more sunshine in Cappadocia and average temperature on many days is a bit higher.
Cappadocia in January
Cappadocia weather in January is characterized by much more severe conditions. The air temperature even during the day tends to "break through" the zero mark and fall down, and there are many days with cold piercing winds.
However, there are also days when the sun heats the ground up to +6C+8C degrees during the day. After sunset, the temperature usually drops to -5C-7C but there were years when in late evenings thermometers recorded even -15C-18C degrees.
In fact, winter of 2021-2022 was the coldest and snowiest in the last 50 years (that's what locals said). Almost every day in January saw lots of snow (that actually stayed on the ground for the entire time). So who knows, maybe this year, it will be as snowy again.
In all other years, the average temperature in January in the Cappadocia region was +2C+4C degrees during the daytime, -3C-5C degrees at night. Precipitation in comparison with December becomes more abundant, but the number of rainy days is not too large.
In general, the second month of winter brings a mix of cold and sun, accompanied by occasional heavy snowfalls with wind and a quick cold snap.
If you travel to Cappadocia in January, always remember that after sunset it is better not to walk around the valleys or in lesser populated areas. Also, walking will be somewhat reduced in time due to the cold.
Locals also say that wolves come into the distant valleys, so you want to stay away from isolated hiking trails, especially at sunset. Since there are really few tourists there at this time of the year and help in case of trouble may not come soon.
Cappadocia in February
Cappadocia weather in February weather is similar in many ways to the weather in January with that difference that there is less precipitation at this time of the year but more cloudy days. In fact, there is constant dense overcast and afternoons are often gloomy.
The air temperature usually ranges from -2C-3C to +7C+8C degrees with frequent fluctuations during the day. So you have to be ready that cold weather can become colder and then a bit warmer again, but then again back to cold.
The highlight of February is the unpredictability of temperature. There may be days when it warms up to +10C+12C degrees during the day or on the contrary falls down to -10C-12C.
Also, February is the month of completely bare valleys. Sometimes they get covered with snow which becomes a beautiful scene for photos but on other days they look lifeless because of the constant overcast that hides all shades of "colorful" valleys. What is also annoying is the very cold evening and morning hours.
But the main troublemaker for tourists visiting Cappadocia in February (and even early March) is the wind. Not so much because its gusts are sometimes sharp and pierce through clothes but because windy weather disrupts flights of balloons over Cappadocia.
Among all three winter months, February is the worst for hot air balloon flights. It is still a nice time to visit for other activities, but the rate of cancellations of balloons is very high.
Cappadocia for Christmas & New Year – Should You Go?
View this post on Instagram
It depends on what you are trying to find there – a Christmasy atmosphere as in most European countries or a secluded romantic winter stay among fairy chimneys with a touch of Turkish tradition and some snow if you get lucky?
Cappadocia for Christmas is not like anywhere in Europe. While you can find Christmas decorations, lights, Christmas trees, and festive atmosphere, they are mainly limited to hotels, restaurants, and other businesses.
Do not expect big Christmas markets and Christmas trees on each corner as well as big Christmas celebrations on the streets. Turkey is a predominantly Muslim country and doesn't celebrate Christmas as extensively as most countries in Europe.
Travel to Cappadocia for Christmas and New Year is great for people who want a unique experience in one of the most magical places in the world. You come here not to celebrate big and hang out on Christmas markets with glintwein but to experience the region's uniqueness with a bit of festive vibe which you will surely find in of the hotels.
Cappadocia for Christmas will be surely beautiful. And with the number of all the activities (that are already special in their nature), it will be a trip to remember. I am telling you this from my own experience.
Examples of Winter Tours in Cappadocia (that you can book for Christmas):
Who Will Love a Trip to Cappadocia in Winter & Who Will Not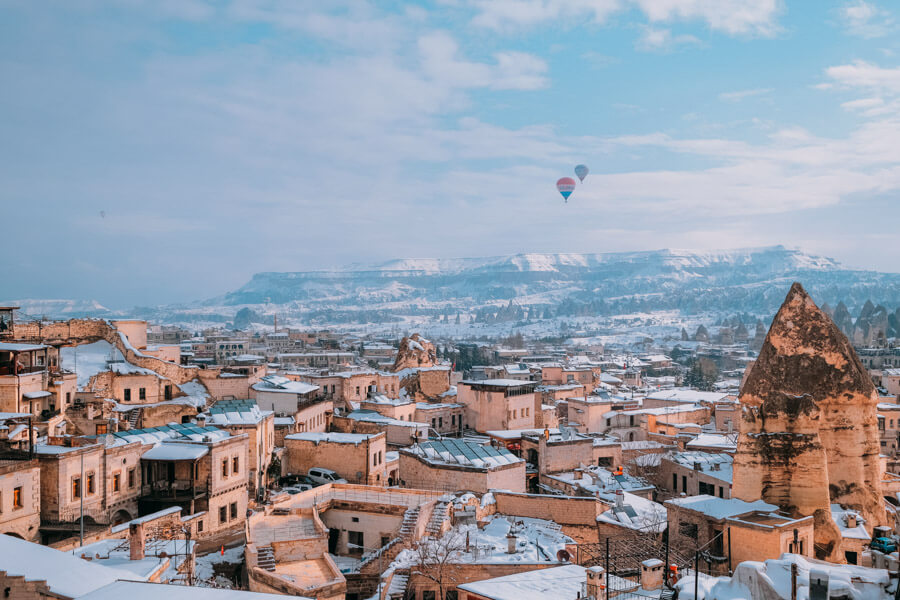 While I personally believe that winter is a beautiful season for a cozy romantic trip to Cappadocia, I fully acknowledge that not everyone will benefit from a trip there in colder months. For some people, it may be much better to go during another time of the year precisely for the reasons that I discuss below.
See my main bullet points to understand if Cappadocia winter travel is meant for you or not. So, you'll definitely enjoy it if:
If You Like Solitude & Silence
If you are craving an escape from the overwhelming, fast-paced world you live in, need a blissful time alone, or simply look for a quiet winter destination, December through February is the best time to visit Cappadocia, seriously.
During this time, the region is moving to a more leisurely pace when even the most touristy town (which is Goreme) becomes very quiet. There are fewer tourists and you can enjoy excursions and adventures without crowds on your own terms.
Instagrammable cave hotels that are always booked in advance in summer, have partial occupancy in winter. So booking a preferred room is not a problem even at the last minute (although you want to reserve it in advance in December, especially during the New Year holidays).
That being said, winter is a wonderful time to visit one of the most beautiful places in Turkey while recharging your energy levels and connecting with yourself.
If You Travel on a Tight Budget
A huge advantage of the cold season is the prices. In winter, they drop to their lowest and give budget travelers an opportunity to afford opulent experiences. You can be sure that everything (including accommodation, excursions, food, and souvenirs) is going to be much cheaper than in any other season.
Flying from Istanbul (or many other Turkish cities) is cheap as well. It is possible to score an airplane ticket for as much as $15.
So if you were putting off a trip to Cappadocia just for the reason of high prices, winter is the best time when to go without spending a fortune.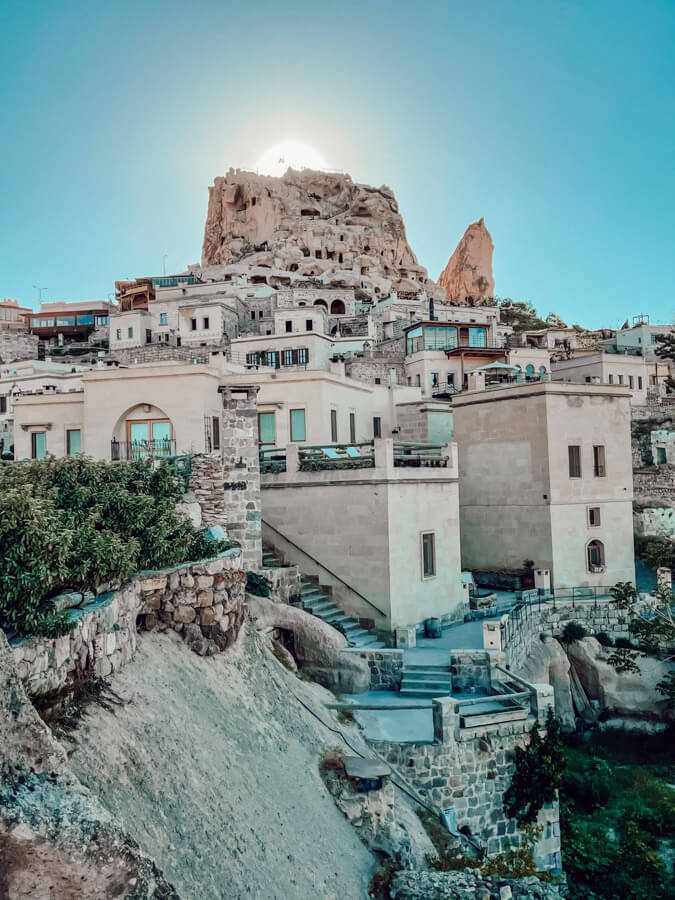 If You Don't Mind Unpredictable Weather
As mentioned above in my Cappadocia winter weather section, the temperature in the region rarely gets below 0 during the day. Yet, it doesn't mean that days are warm. Quite the opposite, they are cold. More than that, they are often unpredictable in terms of weather.
On one day of your vacation, there can be snowfall and then on the following day, the temperature can warm up to +15C degrees, even though the weather forecast shows something different. This is more an exception than the norm, but still something to remember when planning a winter trip to the Cappadocia region.
The only thing you can be sure about is that it will be always frosty in the evening and early mornings. Moreover, if there is a rather high temperature during the day (+10 degrees or higher), then at night most likely it will drop very low, even to -20C degrees.
If You Look for a Romantic Winter Getaway
While European cities get all the attention for being the most romantic places for couples in winter, there is something about Cappadocia that most people don't know about.
Just imagine – volcanic landscapes, fairy lights decorating the streets and corridors of hotels, snow-covered fairy chimneys, trees decorated with multi-colored ribbons and ceramic, and above them are dozens of bright hot air balloons. For me, these are images from the most fantastic fairy tales!
After a walk through the valleys or after the tour, it is so pleasant to sit in a cozy warm cafe or wrap up in a blanket on the terrace of a hotel with a cup of warming apple tea, Turkish coffee, or even locally produced wine.
And then of course to enjoy the atmosphere created by lit candles and fireplaces as well as hot jacuzzis that help to warm up after long walks or in the morning at the sunrise while watching the hot air balloon flight.
These are just some things that add to the romance of Cappadocia no matter if you are traveling with a partner or alone.
If You Love Outdoors & Winter Hiking
Cappadocia in winter is really much more than just flying on a hot air balloon, visiting fairy chimneys and museums. Getting in a hot air balloon is definitely very special and for many people, the flight is a highlight of the Cappadocia holidays.
But you do need to include other activities that can show the region in full, and many of them have connections to the outdoors in one way or another.
With the number of trails that are easily accessible in winter, hiking in Cappadocia is a fun and educational activity. Not only does it help to stay physically active, see some of the most beautiful valleys in all of Turkey, but through hiking you can also learn some historical facts as there are information boards on many trails.
Besides hiking, there is also horseriding available, jeep safaris, skiing, cycling, and various guided walking tours to caves and underground cities. So you do need to love the active travel style and have warm clothes to be able to enjoy Cappadocia in winter!
If You Need a Unique & Peaceful Winter Getaway in Europe
If we realistically assess a travel scene in Europe in winter, we'll see that pretty much the entire continent gets busy and crowded in December and oftentimes during the first part of January. Many tourists love to travel through/to Europe for the Christmas ambiance and winter vibes.
Turkey in winter on the contrary is not so popular. Snowy Istanbul sometimes is, but not so much Cappadocia which is magical but peaceful and tranquil at the same time.
Cappadocia in the winter season stays quiet and everyone there just lives leisurely not being in a hurry anywhere. Tours still take place (although in a smaller capacity than in summer) and beauty of the region does not disappear anywhere. What changes is the number of tourists and
If you want to get away from loud voices and pushy attitudes and find a truly quiet place where to recharge, take a look at Cappadocia. It is a perfect destination where to have a break from a daily grind while not spending much and plunging into the fairy tale.
Main Disadvantages of Traveling to Cappadocia in Winter
Many people will say that the main disadvantage of winter travel is cold. Maybe, but I really don't want to concentrate on that. Plus, if you pack the right clothes (I include my tips for packing at the end of the article) and book a room with heat, cold is not going to be a problem.
The biggest disadvantage of traveling to Cappadocia in winter is difficulties with transportation, especially in snowy periods. Although traveling by road is generally not an obstacle thanks to the regular cleaning of the roads, travel by air is often interrupted in snowy weather. And you need to be ready for that.
Delays or cancellations of flights are unfortunately inevitable situations. But on the other hand, due to the fact that Cappadocia does not have prolonged snowy seasons, in case of a possible delay, a change of date is usually resolved in a much shorter time and almost without extra costs.
If you decide to travel to Cappadocia by rental car (as well as on a bus tour or private tour in a car with a driver) from Ankara, Konya or Antalya, allocate a little more time for the drive than Google maps shows. The stretch of the road between Konya and Cappadocia gets very windy, so traffic slows down.
The same applies to the section of road between the coast and Konya (when coming from Alanya or Antalya) because the road passes through a mountain range that gets often covered with snow.
This brings me to a point – you should rent a car with winter tires for travel to/from Cappadocia. And if renting one in Keyseri or Nevsehir airport, get tips in my Cappadocia car hire post on where to find the cheapest car.
My Top Tips For Winter Travel in Cappadocia
Although life in Cappadocia in winter is in full swing, there are still a few nuances that you need to know before planning a trip there to make sure you get the most out of a visit. And here they are:
Do Not Be Intimidated By Cold Weather
To keep your expectations realistic about the weather, I always honestly say that it's cold in Cappadocia. However, I also emphasize that you shouldn't be intimidated by the phrase 'cold' or 'below 0 degrees' because cold in Cappadocia is not the same as cold in nearby Ankara or even Istanbul.
While the temperature can get very low, the humidity stays low too which actually allows to enjoy time outside and appreciate the beauty of winter. And with low humidity, cold weather is much easier to bear if you choose the right clothes.
You will not be cold when you put on thick socks, a thick sweater, and winter coat (more on wardrobe below). So do not overthink the question about the weather.
Choose Your Accommodation Smartly
Be careful when choosing a hotel or guesthouse in the winter season in Cappadocia. The fact is that not all of them have central heating.
Some hotels (surprisingly) heat the room only with the help of an air conditioner, others have portable heaters installed, and others have central heating radiators. A percentage of hotels also have good heating in the room, but no heating in the bathroom, so the bath area gets pretty cold. Moreover, even within the same house or hotel different rooms can have different types of heating in winter.
Therefore, whenever you are booking accommodation, be sure to contact the property and ask questions about the type of heat they have, if such information is not available online.
Do not rent any type of accommodation which is heated by AC! You will be simply cold all the time. AC is more or less a good pick for winter by the coast, but not in the Cappadocia region where temperatures fall below zero.
Oh, and if you often feel cold in winter, it doesn't hurt to send a request asking to get the warmest room, even if central heating is included.
Be Flexible When It Comes to Activities
Cappadocia is undeniably one of the best and most beautiful destinations to visit in Turkey. From the first day of a visit, it's easy to notice how different and promising this part of the world is. Having its own art, culture, sports, entertainment and romance mixed together with nature, history and legends, Cappadocia can please even the most avid traveler.
Here, you can discover the region through many things and activities. Yet in winter, it is worth creating a travel itinerary in accordance with the latest weather forecast. That is, be flexible. In the case of a negative forecast or cancellation of an activity, choose something different and closer in location.
There are really dozens of amazing places to visit in Cappadocia and things to do. To be honest, you won't be able to experience them all, even if the weather is at its best. So don't stress out about the possible cancellation of any tour because there is really a good alternative to that.
Book Only Those Tours That Are Cancellable/Refundable
Based on my previous tip, my other recommendation for your winter travel to Cappadocia is about choosing the right types of tours.
In winter, you want to book only cancellable or refundable activities (unless they are indoors and you can reach them on foot) to have peace of mind during those times when the weather tries to ruin all plans.
You may want to cancel the tour yourself because of the weather, not because the company is canceling it. For example like us when we booked an ATV tour to visit a valley but decided to cancel it over strong gusts of wind. The company didn't cancel it but we did because we felt uncomfortable.
Do Not Expect the Same Number of Balloons Soar in the Sky
In winter hot air balloons fly over Cappadocia on a regular basis if weather permitting. But due to the low tourism season and obvious lack of passengers, there are much fewer of them compared to those armadas that hover over the region in summer and autumn.
So if the only reason for a trip to Cappadocia in winter is an opportunity to chase the balloons for Instagram photos, it may be a disappointing trip. The thing is that on some days flights can be canceled and on others, not too many balloons will fly. It is still enough to create a romantic background but this is not the same number of balloons that you can see in photos advertising Turkey.
However, in comparison with the high season, prices for balloon flights are around 30% cheaper in winter than in summer.
Avoid the Second Part of February for Hot Air Balloon Flights
As I mentioned in the Cappadocia winter weather section above, among all winter months, February is the worst timing for balloons, particularly its second half. Simply because winds are the strongest and more frequent during that time.
You see, whether alone is not a decisive factor for the balloons to fly or not. What plays a key role is the wind. For example, it is possible for balloons to take off on rainy days if the wind speed is low.
And the second part of February is pretty much always windy which can also make hiking in the valleys uncomfortable.
So if your main goal of a visit to Cappadocia is to fly on a hot air balloon and you want to save money, better plan a trip for December-January (although don't forget these two months also have windy days) or for the first part of April.
Where to Stay in Winter in Cappadocia
Based on the note that I made above regarding the heat, I want to recommend a few wonderful hotels for the winter stay in Cappadocia. They all have heat (your room will be really warm!) and the lowest prices while offering views, excellent location, and authentic experience.
Stone House Cave Hotel – a beautiful stone and cave hotel in Goreme, so you can choose any type of room you wish (stone or cave). It occupies a 300-year-old building that has been beautifully restored in Ottoman architectural style.
Grand Elite Cave Suites – another hotel in the same area but with fewer amenities, this is why it is cheaper and suits well budget travelers. Rooms and terrace here have incredible views of balloons. Swimming pool is seasonal and will be closed in winter.
Royal Stone Houses – a stone hotel (if cave hotels are not your thing) that offers a great "price-quality" ratio. Besides comfortable rooms, there are also full-fledged breakfasts and the lowest price among hotels of the same level. The only thing – it is located on the outskirts, so for the winter trip it may suit better those who don't mind walking 10 minutes to the center, have a car or plan to take a cab.
Juno Cappadocia Adults Only – a beautiful stone accommodation in Uchisar near the highest point in the entire Cappadocia area. Here, balloons fly so close to the hotel that you can almost touch them with your hand.
Aja Cappadocia Hotel – a beautiful property in the most luxurious town of Cappadocia – Urgup. Here you can choose either a cave or stone room, stay in the Sultan-like chambers, and find room for a mid-range budget.
For a longer list of cave hotels and tip to know before booking them, check my post to things no one tells you about cave hotels.
What to Know Before Booking a Cappadocia Winter Hot Air Balloon Flight
If in the summer, balloons rise into the air almost daily at dawn twice a day, in winter they usually rise once per day and not every day due to weather interruptions. Unfortunately, no one can predict the weather, forecasts are often wrong, and cancellations are common.
Therefore, I recommend planning a trip to Cappadocia for at least 3-4 nights and booking a hot air balloon ride for the first morning when you are in the area. In this case you increase your chances of getting on the flight. Even if it's canceled, a company reserves your spot on the following day.
To find out if the flight will take place, you can check this website. If there is a green flag – the flight is allowed, the red flag means it is not, yellow – the decision is yet to come since meteorologists are watching the wind strength.
If the wind speed decreases, the flag color will change to green. Most often, if the yellow flag changes to green, then the balloons take off after dawn on the following day.
If the flight did not take place due to the weather and you do not want to wait a day or two to join another one, it is possible to get a refund. Otherwise, if you cancel the flight on your own less than two days in advance, there will be no refund.
A typical balloon ride in the sky lasts about 1 hour. During this time, you fly several kilometers above the chimney valley and admire the panorama. This is enough time to take beautiful photos against the backdrop of the landscapes of Cappadocia and soak up the most impressive views.
And of course, if you don't want to spoil the entire experience, dress warmly. After all, it is winter and early morning is the coldest part of the day.
How Much Time to Spend in Cappadocia in Winter?
From my point of view, Cappadocia is not a destination you can visit in a few days no matter what the season. The entire area is very large and it is very rich in terms of places to see and experiences to have. That's why I'd say that you should take as much time as you can.
Nonetheless, I understand that you'd probably like to see more of Turkey and combine a trip to Cappadocia possibly with a trip to Antalya or let's say Istanbul.
In that case, the most optimal time for spending time in Cappadocia in winter is 3-4 days. 4 full days will be enough to visit the main attractions and fly in a hot air balloon even in case of cancellation.
What to Pack For Winter Cappadocia
After determining the date of your trip to Cappadocia, pack a suitcase taking into consideration that fact that you need warm clothes since it will be cold.
After wearing a beret, scarf, thick coat, thick outdoor trousers, sweater, woolen underwear, socks and boots, you can travel and be sure that you will be warm and comfortable.
I also recommend you not to forget mittens. For the headwear, don't pack any that can be easily blown away like a fedora or bowler for example. Depending on the week, winds can be harsh, so it is better to have a beanie or trapper hat to cover the entire head and ears and know that it sits tight.
Choosing a good pair of walking shoes is also a must for a trip to Cappadocia. You will rely on them during the walks in valleys and on trails that require climbing and descending.
Among other clothes that you must take are those clothes that let you move freely like thick tracksuits or insulated leggings, for instance.
Also, don't forget the flashlight (if you plan to hike and return late) and water canteen for long trips packed with action.
When you come to Cappadocia, which is a photography paradise, clean your phone's memory, and don't forget a portable charger. You'll definitely need the charger since you'll want to take hundreds of photos and videos! Oh, and don't forget a cute mini backpack where you'll need to put all of that!
More Cappadocia Travel Tips
More Winter Travel Inspiration
Are you looking for more winter travel inspiration? Here are a few more ideas: