Nyon, Switzerland – Visiting a Lesser-Known Charming Town on Lake Geneva
Last updated on September 17th, 2023
This past summer Mark and I got to visit a small charming town Nyon on Lake Geneva which we didn't know much about before coming to this part of Switzerland. In fact, I didn't even know it exists at all as Geneva and Lausanne simply took all my attention.
But then by chance, when looking for options on how to destress in Europe after escaping war in Ukraine, we found a terrific housesitting opportunity, which allowed us to spend three whole weeks in Nyon discovering all its beauty.
These three weeks changed my whole perception of the Lake Geneva region and helped me see its less-visited part which I share in this post and in my other articles about Switzerland.
So if you are also looking to visit Nyon (or planning a few days in Switzerland itinerary from Geneva) and wondering what it is like, see my top tips and get inspired!
---
Please note: This post contains affiliate links. I may earn a commission if you make a purchase by clicking a link (at no extra cost to you).
---
Quick Main Tips for Your Nyon Trip in Switzerland
Planning to stay on the shore town of Nyon? If yes, here are some top tours, hotels, and tips!
Top Tours in and from Geneva
Top Hotels in Nyon
Visiting Nyon at a slow pace? Be sure to book your Geneva rental car ahead of time to save big!
Is Nyon a Good Place to Stay on Lake Geneva?
Nyon is one of many small towns on the shores of Lake Geneva with a population of 22,000 people which captivates from the first sight with its warmth and welcoming atmosphere.
Nyon is situated right between Lausanne and Geneva and is easily connected to the swiss railway which makes it easy to reach the town from any direction, the countryside around it, and the Crests of the Jura in the mountains located above Nyon.
In my honest opinion and from my personal experience, this small lovely destination is a very good choice for getaways in the heart of nature not far from Geneva be it on a summer or winter day. Also, it is a wonderful place where to stay since it doesn't see as many tourists as Geneva, so feels more local.
Staying in Nyon was perfect for us as well as having it as a base from where we could explore Lake Geneva. I know you will appreciate it too, being on the edge of the lake where you can see a breathtaking panorama of the Alps and the magnificent Mont-Blanc in particular.
It is a pleasant and lively town to have wonderful walks in any season or where to pause in an old B&B (not many good hotels in Nyon, so book in advance!) that offers a glimpse at what life used to be there.
Geneva is only a short drive away, and because of that, there is always something to do. We liked especially taking early walks along the water in serenity and around a beautiful castle that is now transformed into a museum and sits proudly in the middle of Nyon, overlooking the lake.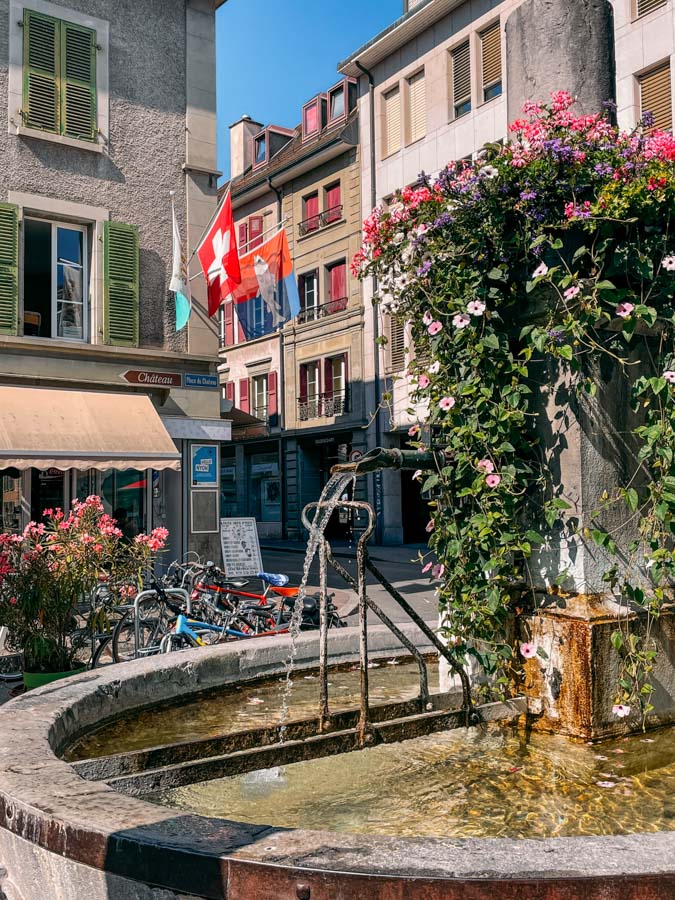 At night and in the evening Nyon turns on its lights all around town. That is the perfect time to head down to one of the nice French restaurants and bars or visit the main square where various concerts and events are often held throughout the year.
Best Nyon Hotels
First of all, I'd love to mention that Nyon is a small town with rather a small choice of accommodation. Yet, it is possible to find good old-fashioned but modern hotels that offer excellent amenities.
Here are some of the hand-picked hotels that I believe are the best for a quick getaway if you decide to spend a night in Nyon:
Ambassador Boutique Hotel – a recently renovated property with style in the very center of Nyon. This hotel offers a good breakfast and fabulous views of Lake Geneva and Mont-Blanc.
Hôtel Real – a family-run hotel in Nyon old town on the lake shore with a Mediterranean-style interior. It features a good Italian restaurant with a summer terrace and is a good value for the money.
Base Nyon – not fully a hotel, more of a property with serviced apartments, also conveniently located in Nyon town center. All apartments have full kitchens, which is great for people on a budget, for longer stays, and families who need/want to prepare meals for their children.
Boutique Hôtel de l'Ecu Vaudois – this hotel is not really in Nyon but I wanted to mention it since this property is special. Located about 8 km from Nyon center, it offers free parking, remodeled clean spacious rooms, and excellent food and service.
Things to Do in Nyon Switzerland on a Trip
As I mentioned above, Nyon is really a small town on Lake Geneva which on its own doesn't offer a ton of things to do. However, if you are ready to rent a car or use public transportation to move around, there are quite a few gems to discover in the region.
Nyon is also wonderful for a relaxing day trip from Geneva in summer if you'd love to have a bit of a beach holiday while in Switzerland as it has a beautiful shore which I talk about more below.
In winter, Nyon is great for a change of scenery as its own old town takes on a unique Christmas atmosphere (as per our hosts) with a mini Christmas market with lots of decorations.
And here are my top suggestions for things to do in Nyon and around the region:
NOTE: For the car rental, if you plan your trip only around Lake Geneva and want to save, I highly recommend you fly into Lyon, France, and rent a car there (we love this company as it has competitive prices and good insurance packages).
In this way, you'll be able to see a French city, do a scenic road trip to Nyon and not have to pay a fortune for a car. Otherwise, Geneva from time to time has good deals that are cheaper than in Zurich or Bern.
Explore Nyon on Foot
The highlight of Nyon is the castle with the entrance located in the basement. There used to be also a prison and a court just like in most castles in French-speaking Switzerland. But since the second half of the 19th century that changed as both prison and court were turned into a historical and porcelain museum which, by the way, is a must-visit if you are stopping in a town.
The Museum is showcasing collections of old porcelain, produced in Nyon between 1781 and 1813. Besides the ceramics exhibits, visitors of this museum can also see works of artists from the area, and photographs from the late 19th-early 20th century that tell the story of a region.
The castle itself is a beautiful structure to visit with a garden and rare plants. Due to its location, on a clear day, you can enjoy a magnificent view from the castle balconies of the Prealps, part of the canton Vaud, Valais, and even Mont Blanc.
From the castle continue your walk to the Parc du Bourg where on the upper part you'll find old Roman columns that belonged to the Colonia Iulia Equestris founded by Julius Caesar and symbolized Nyon as the first Roman Colony in Switzerland. On summer days, this area is always busy with concerts that anyone can attend as they wish.
On the lower part of the park by the lake, there is another interesting place – a Leman Lake museum. It showcases Geneva Lake's natural and human heritage and is particularly interesting to kids.
Hop on a Ferry to France or Geneva City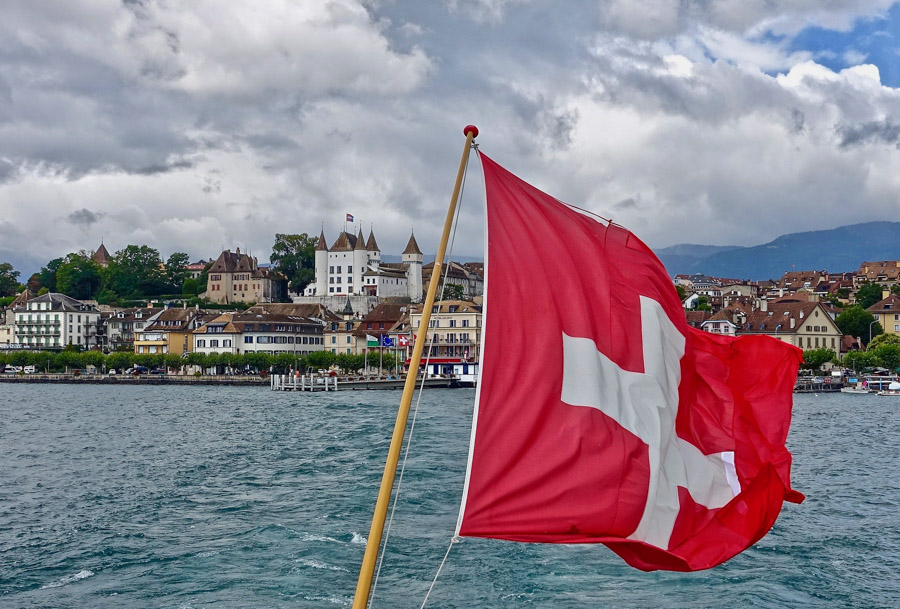 What could be better than on a nice sunny day taking a pleasant ride on a boat on a beautiful Geneva Lake? You can do it right from Nyon as well as from Geneva city and many other towns and cities on the lake.
Ferries from Nyon go frequently throughout the day and make a good transport to get to Geneva or a very pretty French town Yvoire for a day trip. Of course, you could easily get there by car or train, but going by ferry makes it somewhat more romantic I'd say.
Yvoire is my favorite place where to take a ferry from Nyon. It is a beautiful medieval village right across the lake, build around the 14th century. It is considered one of France's most beautiful villages with rich flora, calm waterfront, and fortified old center.
You can spend a whole or most of the day there not noticing how quickly time flies, wandering narrow cobbled streets and having a tasty meal in one of the charming cafes in the village.
For the ferry schedule, price, and other information, please check the website of The CGN Group – the official ferry operator. You can also buy tickets on spot before departure but for some reason, they are more expensive if buying them from the kiosk.
Dine in One of Nyon's Loveliest Cafes
There is a great number of good places to eat in Nyon. I think even if you lived there and wanted to try a new place every day, it would take you a good while to run out of cafes and bistros to eat at.
Most of the places below come from our wonderful hosts whom we housesat for. Some are our own picks that we loved. So you can be sure these cafes and restaurants in Nyon are all good!
Let's start with coffee and breakfast, the first place is Uluwatu House. A great cafe to start your day with a nice small breakfast and, as we were told by our hosts, the best coffee in town. Cafe has limited seating and specializes mostly in takeaway but if you come early, you'll be able to get a table on the old street.
Tete de Course and Ex Machina are other two fantastic places in the old town to get good coffee and quality brunches. Both cafes are well suitable for social meetups or remote work.
For crapes and waffles try the Tac-Oh crêperie. I mean, you have to try some crepes while visiting french Switzerland, don't you?
Looking for a classical french restaurant? Of course, why not. I suggest La Brasserie du Rive, near the Nyon ferry almost on the shore of lake Geneva. Probably one of the best restaurants in Nyon, so might need a reservation ahead of time.
Another good place very close to the one above is Riverside Restaurants Sàrl. This one has French Italian cuisine but in reality offers a bit of everything. Quite a nice place and good value for the money.
At some point, you need to go to a restaurant with great Geneva lake views. I suggest O' Les Terrasses du Lac or Restaurant De La Plage. Both offer good burgers, salads, and more classic foods.
If you like pizza, there are a few good options for you. One is La Croix Vert which offers a good variety of tasty food, but their pizzas are especially great.
Luigia and La Puccia are other two fantastic Italian restaurants to go to for pizzas that we enjoyed. But they have also excellent pastas and other traditional Italian dishes.
If you think the time has come for you to step out of European cuisine, check out this Indian restaurant Khana Mandir. A great place with friendly staff, really good food and not being overly expensive either.
Do you feel like eating Asian food in Nyon? Visit Mekong. Classical Asian menu, good food, quiet street, and good lake views from the terrace.
Go on a Hike in the Area
There are many nice and easy walks or hikes you can do around Nyon. I would like to share a few of those we liked that are great for everybody. It is best to reach them by car.
1). The first hike (one of our favorite easy hikes) is to Jura mountain peak with views of Lake Geneva and the French side. It is a nice area for short hikes in summer or autumn and for skiing in winter.
I suggest you drive to Cuvaloup De Crans restaurant and park your car in the area around it. The restaurant, by the way, is a rather good location for some refreshments or even a meal with a mountain view.
From there follow the yellow walking signs to La Dole (Jura mountain 1677 m tall). The hike itself is only about a 5 km round trip and winds through the valley with many cows, so get ready to listen to the music made by their bells! There are a few more hiking trails but we like this one as it is a beautiful place to enjoy the views of Mont Blanc and Lac Leman (Geneva Lake) on a clear day.
2). Not far from the place above, there is another cool hike. Park near Restaurant La Barillette and head towards the La Barillette scenic spot or even all the way to Chalet de la Dôle (a farm with some sort of radar) from where you can access Jura mountain peak from another side and get a bit different views.
There are more trails in this area too, so you can walk as long as you feel like it. The restaurant is pretty good too.
3). Another pleasant hike you can enjoy is from Parking Fruitieres Nyon. From there you can head out in any direction, but we liked going to Fruitières de Nyon where there is a cheese making fruit farm with cows and more beautiful views of the Alps and Lake Geneva.
In that area, there are other easy trails to follow between Saint-Cergue old village and Refuge de la Barillette community center that go by some farms partially through the forest and partially under the open sky with views.
I recommend you also check this website that suggests 20 hikes in the area to help you plan your walks. Not all of them are special but some are really worth an effort as they open up a different perspective on Nyon and Lake Geneva.
Visit the Best Local Vineyards
If you like wine, perhaps you would be very interested in the vineyards that surround Nyon. They are part of the region of La Côte which is the largest and most diversified wine region in the canton of Vaud in Switzerland.
La Côte's many landscapes and soil make it a great location for numerous grape kinds whether white or red. The vineyards are cultivated on slopes which means that the region is able to produce wine grapes of the best quality because it's not too hot or too cold for them to grow.
Some of the grape varieties that grow here are Chasselas, Gamay, Pinot Blanc, Pinot Gris, Pinot Noir, and Sauvignon Blanc.
If you want to try some wines without leaving Nyon, you can do so in the Caveau wine bar located in the basement of the Castle in Nyon.
Or you could pay a visit to one of the best wineries in the region not far from Nyon:
Domaine La Colombe
Domaine De Maison Blanche
Domaine 4810
Visit CERN
One of the hidden gems on Lake Geneva which is closer to Geneva city but is also easy enough to reach from Nyon. I just couldn't leave it out as it is one of the most interesting places to visit in the area.
CERN is the world's largest center for scientific research which has the largest particle physics laboratory. It is particularly famous for Nuclear Research. Thus, if you like science, that would be a place to go.
Currently, the Visitor Center of CERN consists of 4 exhibitions that are free of charge and take visitors on a tour of the science and technology, explaining to the public what CERN's research is all about.
Visiting exhibits is possible at any time but guided tours are very limited and require reservations ahead of time. Although usually, you can make them on the same day. Visit Cern's website to find out details and learn about the schedule.
Go Swimming in Summer Months
Sometimes it can get pretty hot during the summer months on Lake Geneva, including Nyon. But one of the best things that you can do to cool yourself down is to go swimming in the clear waters of the lake.
There is a public beach just 10 minutes walk from the castle – Plage communale des Trois-Jetées which is located a bit outside the town but easily reachable on foot. It is the most popular place among locals where to sunbathe and swim during the summer and where to chill by the water on a cooler day.
Overall this each is clean and quiet, although it may get a little crowded on hot days. There are a couple of tennis tables, showers, and dressing rooms. You can also get a beverage or snack from a restaurant on the beach.
Another beach worth mentioning is north of Nyon – Plage de Promenthoux. This one is a little far to walk to, about 35 minutes, but public transport is available as well as you can quickly reach it by car.
This is a clean beach with a view of the beautiful French mountains in the background, lots of trees, and great lawns. Even though it's a small beach it also includes a nice restaurant.
Go Skiing When Visiting Nyon in Winter
Nyon doesn't usually get a lot of snow in the wintertime. But for snow or ski lovers, there is a ski resort in Saint-Cergue village only 20 minutes away by car. That is the same area where I recommended hiking during the warmer months.
But I think you would be tempted by the Mont-Blanc mountain, as you can vividly observe it on a clear day from these hills. Many Nyonies make regular trips to Mont-Blanc to go skiing. If you decide to go there, it's a little under 2 hours drive there and totally doable in one day.
While Nyon (like Switzerland in general) is not a cheap place for skiing in winter, it is a good choice if you are in the area.
Conclusion
After a housesitting opportunity this summer and thanks to the right decision to rent a car, I can tell that I have now seen all corners of Lake Geneva. And Nyon in particular turned out to be a huge surprise.
It is a fantastic destination for a getaway break, for a day trip from Geneva, or as a mid-day stop on a scenic drive around Geneva Lake.
Nyon in Switzerland is not too small, not too touristy, and has this cultural feeling of local life. Clear air, beautiful lake shore, and Mont-Blanc in a backdrop make this place frozen in modern times of charming french Switzerland. Make sure not to miss it on a trip to Geneva or when passing through to your next location!
More Places to Travel in Switzerland
Similar Posts for Travel in the Region
More Hidden Gem Places in Europe
If you love secret spots and hidden gem places as much as I do then you will also enjoy the following articles from other parts of Europe: