Guide to Turkey in December – Travel Tips, Weather & Best Things to Do
Last updated on August 21st, 2023
For some reason, Turkey is considered to be exclusively a seaside resort destination. That's not surprising, considering the fact that the country has four seas with gorgeous beaches and rather loyal prices. However, visiting Turkey in December will be no less interesting for any type of traveler.
Snow-capped Anatolian mountains, empty tourist sights, and lower prices are just a few reasons why to spend holidays in Turkey during the first month of winter.
But for you to understand more of what to expect, I invite you to read this post. I included detailed information about the weather, what to pack, what to do in Turkey in December, and other tips.
If you have more questions, ask them in the comments. I am living in Turkey for part of the year (in winter too) and will do my best to help. Oh, and if you plan to visit Turkey in the second month of winter, see my other post about January travel in Turkey.
---
Please note: This post contains affiliate links. I may earn a commission if you make a purchase or booking by clicking a link (at no extra cost to you).
---
Turkey Weather in December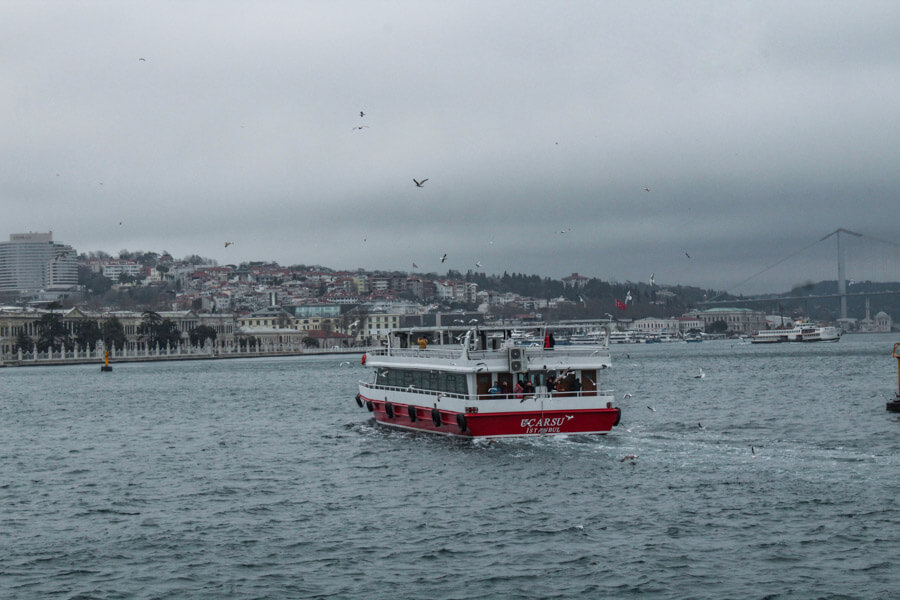 The air temperature in Turkey in December differs in different parts of the country. It is much colder in the center and north than in the south. Even at the beginning of winter, Antalya and Kemer delight tourists with green grassy lawns and foliage. However, coastal parks do not have any flowers, and leaves on many trees turn yellow.
Overall, December in most of Turkey is the warmest winter month, although many places get rainfall and others snow. The weather is very mild without too much slush, big snowdrifts and severe frosts as most of Europe is used to. But it is also quite changeable. The sun gives way to clouds and despite the fact that it is warm during the daytime, at night the temperature drops to +5 + 10С. Interestingly, the sea is still warmer than the air.
The water temperature in Turkey in December does not exceed +19.5С and in the Aegean Sea, it is lower by 2-3С. The Marmara Sea and the Black Sea are in December stormy on the coast, and no one swims.
The Mediterranean coast on the contrary can be still warm during the day, so some people even swim, just not too long. We don't because for us it is too cold. But sunbathing is definitely possible and not just in the south.
A few years ago it was so warm in December all over Turkey that Mark and I were even sunbathing on Burgaz Island near Istanbul. Last year, December was really cold and even snowy. Like here in photos, during the same month weather changed a lot:
This year, it can be a mix of different temperatures and climates, so you need to be monitoring the weather closer to your dates of travel.
Since the temperature is higher during the day, you can wear light clothes. But evenings become windy and cold, so you may need a hat, warm jacket, and a scarf. Also, warm clothes are needed when going for long walks along the coast and for excursions.
As for the temperature on winter resorts in Turkey, during the day it is usually around 0 -1С, and at night the thermometer drops to −12С. With the beginning of December, the ski season is beginning too and skiing is already possible.
Prices in Turkey in December
Due to the cool weather in December, not many tourists travel to Turkey as they do in late spring, summer or early autumn. For this reason, prices drop and tour companies together with hotels offer excellent deals. Istanbul prices also go down and it gets easy to find unique luxurious hotels at a lower rate.
This is why Turkey in winter is a wonderful destination for people on a budget or those who'd love to get more for their money.
Another thing – you will definitely enjoy the absence of long queues and the opportunity to relax in seclusion.
Best Places to Visit in Turkey in December
There are really many places to visit in Turkey in December. Where to go and what to skip will depend on your preferences and style of vacation. But you need to keep in mind one thing – in order to have a great December vacation, it is important to find out in advance what will be closed and what not and choose the right place where to stay.
Also, make sure to pack the right clothes. Nothing can be worse than arriving in a place and realizing that it's too cold. And not because it's really cold but because you took the wrong wardrobe.
Here is a list of some of the best places where to go in Turkey in December:
Istanbul
Of course, it was going to make a list. Istanbul is an amazing Turkish city to visit at any time of the year no matter if you are visiting for a day, 4 days, whole week or longer. But among all winter months, December for Istanbul is probably the best.
This city has a rich history, ancient beautiful streets, lots of museums, colorful squares, pedestrian promenades, and colorful bazaars. Oh, did I mention palaces, temples, mosques, and vibrant restaurants? That's right, so many of them which you can visit with a good discount.
And the best part, you can explore Istanbul at your own pace without crowds and no heat, just locals and their kingdom of cats. The only time when it gets crowded is during Catholic Christmas and on New Year's eve. A lot of people flock to touristy areas to find the Christmas atmosphere and watch fireworks.
As for the weather, it is so unpredictable. The following 2 photos were taken in December one week apart. At first, it was warm and sunny and felt like autumn but then the rain came and suddenly brought cold. And then other 2 photos are from Istanbul in December on a different year when the last month of winter was rather snowy.
I always recommend packing different clothes for Istanbul and being ready for waves of cold and warmth.
Among must-do things in Istanbul in December I recommend you not to miss:
A good Bosphorus tour to see the city from the water and listen to its history from your onboard guide.
Shopping. When I need to buy clothes and I am outside Turkey, I always wait when I return and go shopping in Istanbul. That's the best place to shop and find anything you need at reasonable prices. In December, there are many sales and extra holiday discounts.
An extensive food tour. I always recommend everyone to go on a food tour in Istanbul. I tell my friends, my family, and anyone I know. Why? Because there are too many Turkish foods to try that you may be lost. With the tour, you get to try delicacies and discover Istanbul's must-try dishes.
And for more Istanbul inspiration, see my other posts:
Turkish Seaside
Most of the hotels on the coast of Turkey are closing for the winter season and open up again in spring. However, that's the case for small hotels and guesthouses. Large hotels stay open all year round. Especially popular are all-inclusive 5* resorts that have spa centers and swimming pools with heated (often salted) water.
The most popular area with all-inclusive vacations is on the stretch between Kemer and Alanya. Staying anywhere there in December means that you have access to all well-developed infrastructure and can do many activities besides hanging out in the hotel only.
Antalya and Alanya as the largest cities have many beautiful parks, oceanarium, zoo, and an amusement park. While most of the days are cloudy, you can still enjoy those places to the fullest. There are also several interesting museums for history buffs and shopping malls offer an exciting shopping experience.
Suppose you base yourself in Antalya in December. In that case, you can rent a car and drive to Pamukkale, Konya, Cappadocia, Mersin, Adana and all the way to Antakya which are also good places to visit in Turkey in December if you love history and ancient cities.
NOTE: Aegean coast of Turkey doesn't have a lot of activities in December. Many Turkish beach towns become very quiet since everything closes for the season. However, visiting the Aegean coast is still amazing for other reasons.
First of all, you can join one of many excursions in the area and visit ancient Pergamon or Ephesus without any people. Second, you can go to wineries (there are many in Izmir province and Sirince is just one of them) and explore a bit of village life.
And third, the first month of winter is perfect for trips to hot springs where some of them are accessible on a day trip from Bodrum, Izmir, and Fethiye.
Among the best tours to join along the Turkish coast during the first winter month are:
December is a good month to walk around Antalya when it is cool and breezy. So definitely do not miss a tour there!
Turkish Hot Springs
Turkey is full of hot springs and thermal pools all over the country. And the best time to visit them is winter when air temperature is low and hot springs' temperature is high.
Some of the best (and easiest to reach) hot springs to visit in December in Turkey are Pamukkale, Karahayit (both of them are next to each other), and Yalova which is very close to Bursa and Istanbul.
I have described many more hot springs of Turkey in this post but these three would be really the best for first-time visitors. And in December, they are quiet and look rather untouched.
I recommend you rent a car in Istanbul or Bursa to get to Yalova thermal waters (to travel in comfort) and/or rent a car in Izmir to drive to Pamukkale. The drive in that area goes through the Izmir province countryside and mountains and lets you see the region from a different perspective.
For car rental tips, check my car hire in Turkey post at first to see which company works better for each region.
Ski Resorts in Turkey
Among all the things to do in Turkey in December, skiing and snowboarding are the most popular ones.
At the beginning of winter, Turkish ski resorts open their doors to visitors. They are located at an altitude of 1700-3000 m in the mountains and in December (especially in the second part) already have enough snow on the slopes for skiing.
The most popular ski resorts are Uludag (near Bursa not far from Istanbul), Palandoken (in Erzurum in Eastern Turkey), and Kayseri (near Cappadocia, so you can combine a visit to both of them). They are in great demand among tourists, especially among families with children since the tracks are designed for beginners.
But what is particularly cool is that hotels in those ski towns offer all-inclusive stays.
Even if you are visiting Antalya province, you can experience some snow too. While it is relatively warm near the sea, Saklikent National Park (less than 2 hours drive) has a lot of snow. We loved driving there on occasion just to experience real winter and spend a few hours in the snow. But many people love to go skiing.
Pros & Cons of Visiting Turkey in December
Pros
1. Prices for tours, excursions, and vacation packages to Turkey in December are significantly lower than during the summer season or New Year.
2. There are no crowds of tourists on the coast and there are no queues at the ticket offices.
3. In December, Turkey has many opportunities for a varied holiday that will include wellness, shopping, and skiing.
4. It is not hot (it gets very hot in summer), so it is convenient to go on excursions and walks.
5. There is a big variety of different fruits and vegetables that have very reasonable prices.
Cons
1. In December, Turkish resorts are not suitable for a beach holiday, so you won't be able to swim in the sea.
2. The weather in most of Turkey is pretty changeable in December. In Istanbul and on the Black Sea coast, the day can start with a pleasantly cool morning but then end with cloudy skies and rain. In Istanbul, it can even snow. I personally love this type of weather but many people don't, especially when on vacation.
3. The choice of hotels is partly limited because some of them are closed until spring.
4. Houses and hotels in the coastal parts of Turkey were not built for cold weather. There is often no heat (besides AC) and you can be cold inside your accommodation.
My Top Travel Tips For December Travel in Turkey
1) Due to the winds in Istanbul, on the Aegean and Mediterranean coasts, the humidity is up to 80%. To stay warm, do not forget about warm clothes, a windbreaker, raincoat, and hat.
2) For vacation on the Mediterranean coast in December (as any other time in winter), choose comfortable hotels with a sauna and indoor heated pools. If staying in the apartment, book only accommodation with heat (not AC type of heat but radiators). You don't want to stay anywhere without the heat because it is going to be damp and cold.
3) Cold weather is conducive to dining. Spend some time tasting delicious traditional Turkish cuisine and joining a food tour. If you will be in Istanbul, follow my guide to the best food to try in Istanbul and where to find it.
Where to Spend Christmas & New Year in Turkey?
One of the most frequent questions I get either in comments or messages is about winter holidays in Turkey and which city is the best for Christmas and New Year celebrations. I decided to devote a separate section of this post to covering these questions and giving a few tips.
If you are planning your Turkey vacation from the second part of December to early January and want to spend Christmas and New Year in one of the Turkish cities, you need to prepare in advance.
You see, Turkey is a Muslim country. Therefore, as you understand, Christmas is not celebrated at all. New Year in Turkey is also not a public holiday and many Muslims consider it a Christian tradition, so they ignore it.
In large cities, for example in Izmir, Istanbul and Antalya, which are very liberal, you can find enchanting and festive atmosphere, exquisite decorations, New Year's eve street parties, and shows including beautiful fireworks. By the way, fireworks in Istanbul over Bosphorus are incredible and on the list of the best New Year illuminations in the world.
In Cappadocia, hotels offer exclusive New Year celebrations to their guests and also include shows and fireworks. Bodrum in December is pretty quiet, although it is also possible to join night programs organized for expats who live there.
However, even in large cities do not expect huge all-day-long mass celebrations, Christmas markets, or big concerts on each corner as you'd find in many European countries.
In Turkey, the main celebration comes down to night parties and programs at restaurants, hotels, clubs, and private yachts. And that is popular mainly among tourists.
31st of December is a working day for most people in Turkey as well as the 1st of January. This is why the majority of locals spend New Year's eve at home with their families or friends without big celebrations. They may have a New Year dinner, watch some TV shows and possibly go out to watch fireworks 1 hour before midnight. But then they go to bed early to wake up in the morning to go to work.
If you would like to celebrate New Year in Istanbul, Antalya, or let's say Cappadocia, make reservations in advance. Tickets for New Year's eve private parties (like those on the boats or in restaurants) are sold ahead of time.
Here are some ideas on how to spend Christmas or New Year in Turkey in a unique way:
Common Questions About December Travel in Turkey
Is Turkey a Good Place to Visit in December? Yes, I am personally convinced that Turkey is a fantastic place to visit in December. The country is huge with different climatic zones and a wide range of places to visit. Everyone can find a destination of his liking or book a packaged tour that would include visits to different cities.
There will be no beach vacation (unless you stay in the all-inclusive hotel with a heated pool on the Mediterranean coast) but there are so many other things to do, you won't be bored! December is a perfect month for cultural and gastronomical travel, following historic routes, and seeing ancient sites.
Is Turkey hot in December? No, Turkey is not hot in December. Warm in some regions – yes. But hot? No. You need to pack warm clothes even if you plan to travel only on the southern coast around Antalya or Alanya.
Of course, there can be days when the temperature will be higher than recorded before but that is rather an exception than the norm.
Hot Places in Turkey in December. The warmest cities in Turkey in December are Antalya, Alanya, Belek, Side, and Kemer. They won't be hot but their conditions are favorable for recreation all year round. In December, in the sun, the thermometer often shows +20℃.
What to Wear in Turkey in December? In December, people in Turkey wear jeans, sweaters, autumn down jackets, closed shoes and even hats, scarves, and gloves. Again, it all depends on the region and where you go. Have different clothes and layers to be sure you dress right for the weather.
What is There to Do in Turkey in December? Turkey is still up and running in December as it does during other months of the year. The coast gets quiet but it doesn't prevent you from exploring the country as there are plenty of things to do.
Cities have all the usual activities you see other times of the year and you get perfect opportunities for visiting hot springs and going to ski.
Resources I Use When Traveling in Turkey
Whenever we need to rent a car, we use Discover Cars for bookings at the airport and LocalRent when booking in smaller cities or towns and outside the airport.
To find out more about which company will work best for you and what driving in Turkey is like, check my posts about car hire and driving in Antalya and how to rent a car in Turkey on a budget. If you will be traveling to Cappadocia, find out if you should rent a car in Nevsehir or Kayseri.
For hotel stays, I always use Booking (but in Turkey with VPN), Trip.com, and Hotels.com.
For more Turkey posts, check my Turkey page here. I have a ton of information!
More Inspiration For Turkey Travel