What to Do in Kotor Guide: 20 Best Things For Any Visit + My Top Travel Tips
Last updated on August 28th, 2023
Kotor is a special city not only in Montenegro but in entire Europe and the world. However, traveling to Kotor does not only imply seeing the old part on a quick visit. It is ideal for a weekend trip or a two-week vacation, really. If you are wondering where to go and what to do in Kotor on any visit, I would love to share a list of my favorite experiences and things to do. There are a lot of activities for any type of traveler!
Kotor is included in the UNESCO World Heritage List and owes its appearance to the Venetians, who ruled it for 400 years. Once you enter the city, you can easily forget what time you live in. Untouched by wars and cataclysms, Kotor seems to have frozen somewhere in the distant past. But then the multi-lingual crowd of tourists, colorful umbrellas near street cafes, and snow-white cruise ships in the Old Port remind us that we are in the 21st century.
By renting a canoe, yacht or motorboat, you can appreciate from the water the picturesque coast of the Bay of Kotor, which English poet Lord Byron called the world's most beautiful merging of land and sea. However, before you do that, I invite you to read my mega guide to Kotor to find out what other attractions and sightseeing are in this beautiful region.
If you are also looking for more tips on Montenegro travel, check my other posts or see travel resources for Montenegro at the end of the article.
During the time Mark and I lived in Montenegro, we have been to Kotor and the surrounding area many, many times. All the information I share is based on my own experiences. And by sharing it, I am sure you will have a fabulous time!
---
Please note: This post contains affiliate links. I may earn a commission if you make a purchase by clicking a link (at no extra cost to you).
---
Quick Kotor Tourist Information
Why Visit Kotor?
Kotor is an ancient city in Montenegro on the shores of Boka Bay. The landscapes are reminiscent of the Norwegian fjords, in particular Geiranger. One of the reasons to visit is Kotor's mountains, emerald water, and cruise ships.
Other reasons are several beautiful churches, a pretty old town, a couple of squares, and two mountain peaks that rise above the bay – Lovcen and Orjen.
The old town of Kotor is similar to the towns of Italy or Croatia. What really deserves attention and for what it is worth visiting Kotor is the fortress of St. John. But we'll cover all of that below.
Best Time to Travel to Kotor
The best time for you personally depends on what you are looking to do and how well you tolerate the heat. Oh well, and crowds.
If you have a choice when to visit Kotor, for the best experience try to plan your trip between the months of April and October but avoid the timeframe from mid-July to the end of August. This is the busiest time and the hottest. It almost never rains. And if rain happens, it usually falls in midday thunderstorms, ending within an hour. Also, July and August are incredibly expensive and always booked out months in advance.
May and October are more suitable for nature walks and sightseeing as well as cruises on the bay. June through September are perfect for water sports, lazy beach days, and road-tripping from Kotor into the mountains.
From November to April, there is not much to do in Kotor except to admire the storms. Although the temperature rarely drops below 0, it rains all the time. Stormy winds from Africa periodically blow, making navigation difficult and bringing even lower temperatures. Most of the tours on the coast close at the end of October, leaving few options for holidaymakers to entertain themselves.
Kotor Beaches
When choosing which beaches in Kotor to go to, it is worth considering two things.
The first one is that Kotor as a city doesn't have any nice beaches for swimming. Actually it does have one city beach which is located next to the ferry pier where the views are spectacular but the water is not clean. Second, almost all of the beaches that you find in the Bay of Kotor are small.
And those small beaches are either small pebble beaches that are 30-60 meters long or concrete piers protruding into the sea with ladders for entering the water.
The closest beaches to Kotor with clear water are located in the neighboring town of Dobrota, which stretches for 4 km and is a 15-minute walk from the Old Town. There you'll find showers, changing rooms, toilets, playgrounds, cafes and bars, and free parking. Also, there are many shallow water areas suitable for small children.
By car or public transport, it is easy to get to the comfortable beaches on the northern shore of the bay. You'll find a small sandy and pebble beach in the village of Morin, a pebble beach in Risan and Orahovac, and a concrete beach in Perast.
For beaches, it is much better to go to Budva or less popular beaches among tourists in Montenegro.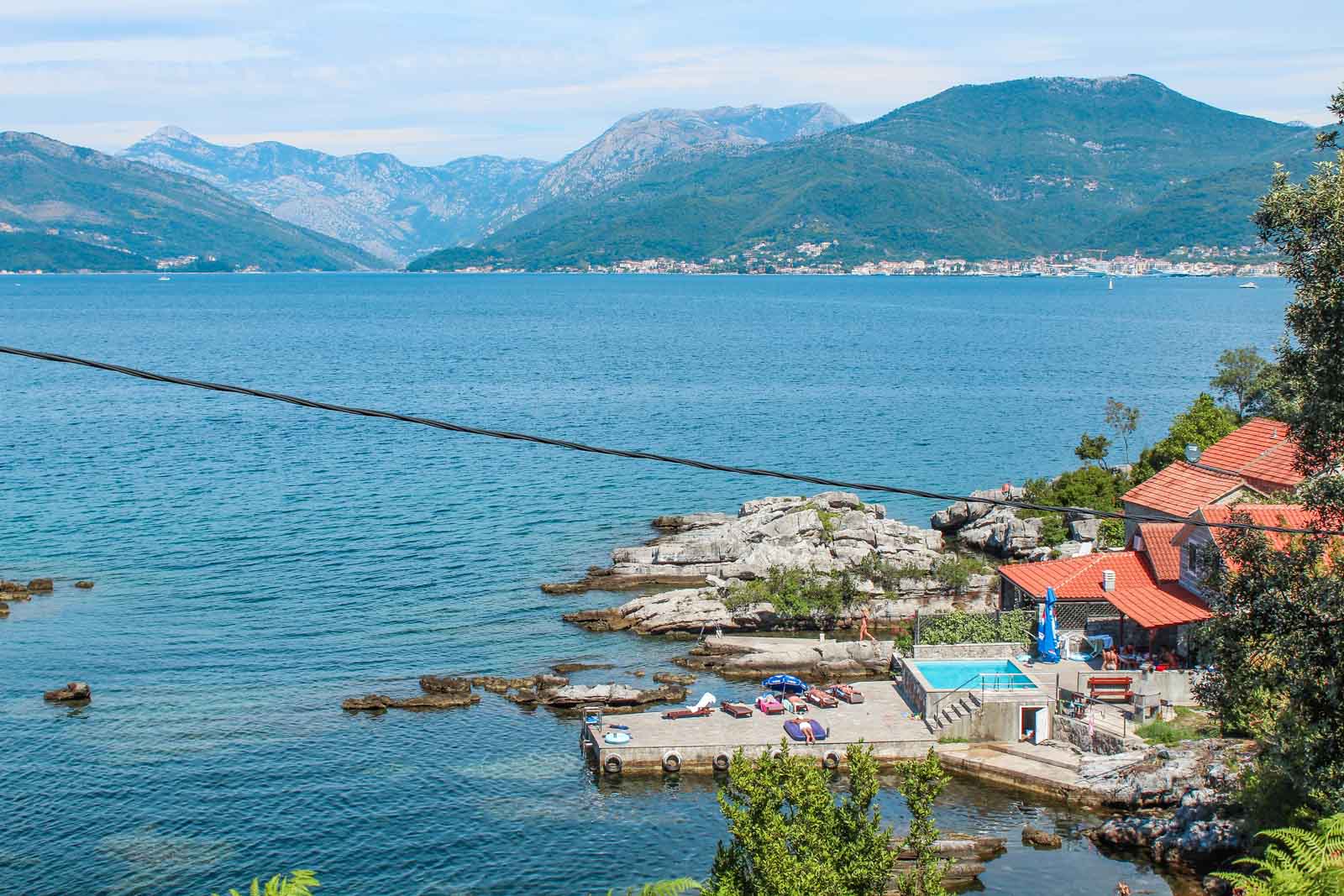 Kotor Restaurants & What to Try
The menu in every Kotor restaurant is a harmonious combination of Balkan meat cuisine and light Mediterranean cuisine. It is very common for dishes to be a mix of seafood and meat on one plate. Lamb stewed in milk with spices and potatoes can be served next to freshly caught grilled octopus. A large chopped pljeskavica cutlet (ground beef, lamb or pork meat) with shrimp carpaccio can be served with a glass of strong brandy.
The Venetians, who ruled the area for centuries in a row, left behind a legacy of pasta with seafood and black risotto with squid. It is easy enough to find them on the menu in almost every restaurant.
Traditional restaurants in Kotor serve rich soup "Chorba", sausages "Ćevapi", smoked ham, and Njegoš cheese. The portions are large, in some places they are as big as in America. The most expensive restaurants are located in the Old Town and cheaper eateries with moderate prices are south of the center.
Those with a sweet tooth should try 'Tulumba' (similar to churro), a choux pastry with chocolate or nut filling, soaked in honey. And lovers of beautiful panoramas should head to seafood restaurants in Dobrota or Prčanj overlooking the Bay of Kotor and the Old Town.
Souvenirs to Buy in Kotor
Almost every second store in Kotor is a souvenir shop – with dolls in national costumes, silver jewelry, ceramic dishes, seashell crafts, tablecloths and napkins with traditional ornaments, and small trinkets that you can purchase throughout Montenegro.
But nowhere except for Kotor, you can find such an abundance of cat-themed souvenirs. Just some of them are cats-boxes, cats-earrings, watches, candlesticks, pillows, cats-cups with a handle in the form of a tail. Kotor residents adore these animals that have become an unofficial symbol of their city.
For something truly exclusive, visit the Cats of Kotor Souvenirs and Handicraft store located on Stari Grad 490 Street (coordinates here), which sells handmade souvenir cats.
Foodies should buy cheese and prosciutto from the mountainous town of Njegushi. And wine connoisseurs will surely appreciate the Vranec red wine and the Krstač white wine.
Renting a Car in Kotor
If you are wondering if Kotor is a good place to rent a car, I'll tell you without a second thought that yes, it definitely is.
In fact, I recommend all my friends and clients to rent a car and drive around Kotor because there is too much beauty that you don't want to miss. If you are up for it, see my post about car hire & driving in Montenegro which answers all questions and tells what are the best companies to rent from. There is also a chance to rent a vehicle in Kotor and drop it off in another city.
As for driving in and around Kotor, you should remember that Kotor is a small city. Entering Old Town by car is not possible and you don't want to do it anyway. It is very easy to walk anywhere in Kotor city or use public transportation to travel to nearby towns and use a car to go on road trips.
What to Do in Kotor – General Tips & Ideas
Like many cities in Europe that have a long history, Kotor consists of old and new parts. When you visit, you have to go to the old part which is surrounded by the fortress walls. It has a fascinating mix of Venetian, Austrian, and Baroque architecture. Additionally, narrow cobblestone streets, marble squares, endless palaces, and churches – they make you feel like in the Middle Ages.
Along with Durmitor National Park that I wrote about in my other post, Old Kotor is on the UNESCO World Heritage List. It is the most beautiful old town among all the other cities in Montenegro.
So below is a list of general activities and things to see in Kotor for any occasion. I believe they are all great to experience. However, if you don't have a lot of time, you won't be able to cover them all. So pick what you like more and what reflects your travel lifestyle and enjoy your trip to this gorgeous city of the Balkans.
Top Things to Do in Kotor On Any Visit
1. GO ON A WALKING TOUR
The first thing I always recommend to my friends and clients, when they visit Kotor, is to go on a quick 1 or 2-hours tour around the city. It will just give you a brief introduction and help you understand the history behind its buildings.
Yes, Kotor is a pretty compact destination that you can walk around all by yourself. Yet, random walking won't show the whole picture. Without a tour, Kotor will be just another European town that actually looks very much alike to some other towns in Italy, Northern Spain, or Croatia for instance.
If you opt to walk on your own, I guarantee that in the end, you won't know much about Kotor. But a local guide can make it easier for you to understand the history, culture, and heritage that ancient walls hide. Honestly, in my opinion, you don't need a tour in Tivat or even Budva but Kotor is a must.
There are many interesting and reasonably priced excursions that are packed with information. Also, the selection of tours is really big, so everyone can choose something for his taste. You can go on a free, paid, or self-guided tour.
When we lived in Montenegro, we explored Kotor on our own and once on the excursion. And the excursion just helped us see this city in a totally different light. Besides that, our tour guide gave us some helpful tips on a few unique things to do in Kotor (which I talk about below).
If you are a budget traveler, try to look for free tours in Kotor or this low-priced 1-hour tour. If you can splurge a bit, see this private walking tour with wine and food.
2. VISIT A CITY MARKET
In front of the walls of the Old Town near the Port of Kotor, to the right of the main entrance, there is a city market. It is notable for the fact that people from all over Montenegro bring homemade products here. Believe it or not, but this is one of Kotor's top attractions.
This is the place where you can find fresh meat and fish, the finest fruits, vegetables, nuts, honey, bread, cheese, and other products. Local farmers living in the mountains bring here various cheeses of their own production. Montenegro is famous for its goat cheese, as well as pork ham prosciutto (similar to Spanish Jamon).
Like any market, it's better to come as early as possible, but the usual working hours are from 7.00 to 15.00. Some sellers may come later and leave earlier. The busiest day on the market is Saturday but it is open on other days too.
If you don't feel like buying anything, look around, and sample a few products. They are so good that you'll want to buy at least something to snack on it later. You can sample almost everything there.
3. SEE THE GATE TO KOTOR & CLIMB THE FORTRESS WALL
As I mentioned earlier, Kotor's old town is surrounded by a thick fortress wall which is 4.5 km long. And that wall has three different gates. You can enter the Old town through one of those gates:
Sea gate – this is the main entrance to the town. Most people enter through this gate.
River gates – located in the northern part of the town near the river Shkurda. You can enter through a beautiful arch bridge.
Gurdich Gate – near the Gurdich River in the southern part.
Walking through the gate is not really a major Kotor attraction. The fortress walls are interesting in that way that you can climb them and walk around the perimeter of Kotor at the level of the roofs. There are passages in several places and it's not difficult to find them. Feel free just to walk along the wall and look for stairs. They'll bring you to the top of the wall.
4. EXPLORE NARROW STREETS OF KOTOR OLD TOWN
If you don't want to take any tour of Kotor Old city, here are a few tips for how you can explore it on your own.
The old town of Kotor is not big, but very picturesque. It has a long and complicated history. The Roman Empire, Byzantium, the Goths, and the Arab pirates, Serbs and Bulgarians, Napoleon, and the Austro-Hungarian Empire managed to invade this city. At some point, it was even burned by the grandson of Genghis Khan!
Also, Kotor suffered from earthquakes on a few occasions. In 1979, there was one big earthquake that partially destroyed the city. Soon after that, UNESCO took it under its protection.
All for all, you would need a few hours to take a short walk, gaze on history, wander around narrow streets, and stop for a cup of coffee in one of the cute Kotor cafes. At the same time, you would need a day or even a two if you would like to go inside of many buildings, visit museums, stay overnight in a historical place and go on one of a few stunning hikes.
Kotor in summer gets incredibly busy. But, surprisingly, almost never too hot. It's nice to walk here in the summer in hot weather because the narrow streets get nice ventilation and lots of shade. There are also many cats walking around Kotor and living in the city.
And main churches and cathedrals to see in Kotor Old Town are:
– St. Tryphon Cathedral;
– St. Nicholas Orthodox Church;
– Ancient Orthodox Church of St. Luke;
– Church of St. Mary;
5. CLIMB LADDER OF KOTOR TO ST. JOHN FORTRESS TO BE ABLE TO SEE BOKA BAY FROM ABOVE
One of the most interesting things to do in Kotor is climbing the stairs (called Ladder of Kotor) to the St. John Fortress. The ladder, 1460 steps long, ends near the fortress and becomes an old Kotor Fort Trail that goes to the village of Njegusi near Lovcen National Park. If you have time and energy, hike all the way to the end of the trail as it offers amazing nature, gorgeous views, and a goat cheese shop in the middle of the way.
Even if you don't feel like going the entire way, definitely don't miss the fortress. It is one of the most touristy places in Montenegro and the Balkan region in general. But still, it is very much worth your effort. From the top of the fortress, you get stunning views of the old town, port, and the Bay of Kotor.
There are two options on how to get to the top of the fortress. The first one is a free one outside Old Town that starts here. The second option is a paid one that costs around 8 euros and starts in the Old Town by fortress walls. If you take the free road, it will be easier on the way back since you'll be descending the ladder.
TIP: If hiking in the summer, you need to start the ascent in the morning before 8 am when it is still not too hot. Take 1-1.5 liters of water per person with you and a hat. Until 8 am the entrance is free. If you go late in the evening, expect to take pictures against the sun.
6. GO HIKING IN KOTOR NEARBY MOUNTAINS
The hills and mountains surrounding Kotor are rich with countless trails. It is really easy to access all of them and being on a hike or walk is always a pleasure. A trail to St John fortress mentioned above is only one short path among many others in Kotor national trail system.
No matter which direction you go to, you'll see cliffs and ancient buildings mirrored in the azure Adriatic Sea. And see the beauty of Kotor Bay from a different angel.
There are many hikes starting in Kotor and nearby villages but Lovcen National Park is not the only place where they lead to. On another side of Kotor Bay, there is the Vrmac mountain range that has routes in different directions and opens up views of the Tivat and Kotor municipalities.
I have another post about trekking in Montenegro which also mentions hiking in Kotor. Give it a read and explore around!
7. TRY THE BEST BBQ IN KOTOR
Kotor Old Town has quite a few nice restaurants and cafes where you can get a meal and enjoy your time. Yet, for meat lovers, I recommend stopping for lunch (or dinner) at BBQ TANJGA cafe.
It looks inconspicuous and like a very basic eatery but the food is absolutely delicious there. If you are up for local meat, this is the best place in Kotor so far.
How it works, you pick the food (like a burger, steak, sausage, etc.) from the showcase and the cook prepares it for you in a minute. Portions are huge and two people can easily share one plate. Mark and I ate there a few times always ordering just one dish and still had leftovers to take home.
Be prepared to wait for the table in the evening.
8. CONTEMPLATE THE BEAUTY OF KOTOR'S PALACES
If you love visiting historical places and wonder what to do in Kotor besides seeing the churches and walking the historic streets, then visit one of its beautiful palaces. They are really special.
In fact, Kotor's palaces look like ordinary buildings and most people don't even know that when walking around the city. Often though, they attract someone's attention with their bas-reliefs and coats of arms.
Not knowing that the palace is in front of you, you can easily pass by it too. So here are a few ideas for you where to go:
– One of the most popular things to see in Kotor is Beskuch Palace.
– Pima Palace and Flour Square. Among the streets of old Kotor, there is one palace from the architectural ensemble of the city. The style of the palace is complemented by a stone terrace, a long balcony, and courtyard. It is located on Flour Square which has repeatedly suffered from earthquakes until the 17th century.
– Palace of Drago Family. The building itself is made in the Gothic style of the XV century with baroque elements. After the mysterious disappearance of a noble family, ownership passed to the city. It was converted into a kindergarten and subsequently taken care of after earthquakes and severe destruction.
– Gergurin Palace. The building was erected in the XVIII century in the late Baroque style. The main accents were stone balconies and balustrades, as well as the symmetry of the main facade of the palace, where a family coat of arms – a goat – towered above the central part. Now, this building is home to the Maritime Museum. If you are visiting Kotor on a rainy day, it's a great place to go to.
9. TAKE A CRUISE IN THE BAY OF KOTOR
This is probably the most popular Kotor excursion and rightfully so. On the boat tour around the Bay of Kotor, you will go on an unforgettable voyage where you'll be able to get acquainted with the unique nature and rich history of Montenegro, as well as see beautiful medieval cities and small islands.
There are so many different boat tours to choose from. Some of them include a visit to the old secret naval base, one of the most beautiful beaches where tourists can relax and swim in the clear water. Others are more informative with a quick visit to the most beautiful place of the Montenegrin coast the Blue Cave.
Once in Kotor, you will notice a huge number of offers from the organizers of boat trips on yachts and boats. In the summertime, they sell pretty quickly, so I recommend booking a tour in advance online.
If I could recommend you only one Kotor Bay excursion tour, it would be this one from friends of our friends. These guys will bring you to Blue Cave, some hidden islands and cruise you all over Boka Bay. Ivan is a very nice friendly person who knows how to turn moments into memories. If you are looking for a bit cheaper option, I'd suggest this 3-hour boat group tour instead.

10. RENT A BIKE AND RIDE AROUND
Frankly speaking, it will take a lot of time to ride around the Bay of Kotor. But you don't really need to go that far. What I suggest doing, if you enjoy biking, is to rent a bike and go through Dobrota to Perast or even Risan, or in opposite direction to Donji Stoliv. You'll pass by many beaches (mainly concrete platform ones), cute cafes, beautiful villas, and gardens.
Each ride is very scenic and offers plenty of opportunities for photos. If you go to Donji Stoliv and feel hungry, stop at Bokeski Gusti restaurant to try their seafood. Portions are big, everything is very delicious and the view of the bay and mountains is spectacular.
There is an outside rental shop near the Port of Kotor where you can rent a bike for about 15 euros per day per person. In exchange, they ask you to leave a driver's license or passport. Other options would be to rent a bike in advance through a trusted company or go on a cycling Kotor Bay adventure group tour.
TIP: The stretch of the road between Dobrota and Perast doesn't have any biking path or shoulder. You'd need to share it with vehicles. So most likely you won't be comfortable biking with kids. Also, it goes uphill. On a hot summer day it may be better to start as early as possible and have water with you.
11. GO KAYAKING IN THE BOKA BAY
The one thing that I really regret we didn't do in Kotor was kayaking. My friends did it and I watched other people kayaking and it looked like so much fun.
Kotor Bay is perfect for kayaking since waters in the bay are calm and sheltered from strong winds.
With the help of kayak, you can explore the coast, usually inaccessible from land, find beautiful fjords and caves, visit interesting islands, and enjoy picturesque panoramas. In the Bay of Kotor alone there are such famous sights as the islands of Gospa od Shkrpela (or Our Lady of the Rocks in English) and Mamula, the Blue Cave, and the unusually picturesque town of Perast, which you can visit during independent kayaking.
To rent a kayak, there are a few companies like 7 Hills and Kotor Bay Tours. But for a more exciting experience, you'll definitely love a 2.5-hour group kayaking tour.
12. HAVE FUN PADDLE BOARDING
Another activity in Kotor that becomes more and more popular is standup paddleboarding. Since the water in the bay is always calm, you can go paddling all year round. But of course, the best season for that is May through October.
SUP is a relatively new activity that became available around 3 years ago. Before that, you could explore the bay on a boat or yacht. So if you feel like getting out on the water in Kotor when the temperatures are high, don't miss a paddleboarding tour.
There are a few departure points but for each tour, the company picks you up at your location. One is a 3-hour tour that starts in Kostanjica and another one a 4-hour paddling tour of Boka Bay.
13. GO FISHING IN THE BAY OF KOTOR
Fishing in Montenegro in the open sea is a real thrill for true lovers of this type of outdoor activity. The thing is that there are more than forty species of various fish in the Adriatic Sea and you can go catch them in one of the most beautiful bays in the world.
This unusual thing to do in Kotor Bay will bring a lot of memories and unforgettable emotions. Because it's all about the stunning views of Montenegrin nature against the backdrop of the majestic coastal cliffs that will surround you throughout the fishing.
The best way to go finishing in Kotor is through an organized tour.
14. GET A MASSAGE
What can you do at the end of the day after biking around Kotor Old town or boating in the Bay? Of course, you have to come and get a massage. Kotor is not Chiang Mai and Montenegro is not Thailand, but one spa in Kotor's city center gives pretty good Thai massages. Kamalaya Spa offers services of professional certified Thai masseuses.
Their prices are reasonable, the staff is very friendly and knowledgeable. There are various types of massages to choose from and afterward, you can even have some tea overlooking the harbor.
We thought it was a really good center to relax and release tension. If you feel you need a massage, this is a place to go to.
15. SAMPLE LOCAL WINES
After you went on a walking tour, biked, and even got a massage, the next must-do thing in Kotor should be the local wine tasting. Wine not?
Since Montenegro produces its own wine, it is very easy to try it in many establishments around the country, including Kotor. Besides Montenegrin wine, you can be also offered wines from other countries of the Balkan region. Montenegrin red wine is called Vranec and white wine Krstač. And you can find them under different brands.
Honestly, Kotor is not the best place for wine tastings but a few restaurants have a very wide selection. Old Winery Wine Bar, Galion, Restoran Ellas, Che Nova, and Cesarica are some of those restaurants.
Also, it is easy to buy homemade wines at the farmer's market I mentioned above. Wines there are called Vranac or Krstac as well.
If time and money permitting, you can go on a 6-hours wine tasting tour from Kotor.
16. WALK ALONG THE KOTOR SEAFRONT
Kotor's seafront starts on a one-side street near the Burger Factory cafe and stretches from Kotor to a small adjoining town Dobrota.
This is one of my favorite areas in Kotor because of the beautiful walking path, stunning views, seagulls, and many cafes where you can stop for a drink. I know you will enjoy it as much as I did.
It's very pleasant to stroll here looking at villas, houses, and hotels facing the bay and listening to the sound of the sea. The northern part of the seafront near the Palazzo Radomiri is a spot where you can watch the sunset. The colors of the sunset are amazing.
17. VISIT KOTOR AT NIGHT
Kotor city at night is amazing. This is the time for soft and warm lighting of buildings and streets, the luster of polished stones of the road, and candles on the tables of numerous restaurants. All shops and restaurants work until late at night, so the city feels pretty busy even though it's half-empty than during the day.
The main thing is that tourists from huge cruise liners are already on the ships as they depart Kotor in the evening. If you arrive at 18.30-19.00, it will be much easier to find parking.
Nightlife in Kotor is usually about live music and romantic dinners in one of the bars or restaurants. You can literally walk through Old town and pop into any restaurant you like. Our favorite places though were cafe Cesarica and restaurant Galion. The second restaurant had a large selection of wine, traditional Montenegrin food, and a beautiful setting by the water.
By the way, speaking of places by the water. There are quite a few of them in the bay of Kotor. And another restaurant that I highly recommend is Konoba Portun. It's actually located in Dobrota but you can easily walk there (in half an hour) or take a taxi from Kotor. See all the amazing reviews and photos to understand why this place is great.
Kotor also has one of the most famous disco clubs in Montenegro which is called 'Maximus' if you feel like hitting the floor.
18. DRIVE THE SERPENTINE ROAD TO NJEGUSI VILLAGE
If you hire a car, I recommend going even higher than the uppermost observation deck of the old St. John fortress hiking trail.
A very picturesque road runs from Kotor towards Lovcen National Park and the village of Njegushi. This road is a serpentine road of 26 loops. It is very narrow in some places which is not an obstacle for sightseeing buses because they run there on a daily basis. The views that open from this road are simply magnificent, especially on a nice clear, cloudless day.
The best viewing platform of Bay of Kotor is located in Lovcen Park, right here. This viewing platform is lined with a stone fence in a semicircle and offers a full panorama. But the drive from Kotor to Njegusi village has many other points with spectacular views. Like restaurant 'Nevjesta Jadrana' or recently opened Horizontal cafe.
If you are up for adventure and enjoy ziplining, do not miss a thrilling opportunity to zip across the hills of Kotor.
19. VISIT TWO FAMOUS KOTOR MUSEUMS
A trip to Kotor would not be complete if not visiting its real pride – two small museums. Both of these museums have interesting exhibitions and located in old buildings of the 18th century. Going to a museum is a cool thing to do in Kotor on a rainy day or when you are traveling with children. And these two museums are:
The idea of creating an unusual cats' museum, the second in Europe after Amsterdam, came to mind after the donation of thousands of cards with cats, medals, magazines, and books from the 17th century.
It is really small and the entrance fee is only €1 but it offers some interestingly weird facts about cats.
Maritime Museum has a few collections from different eras. It presents the rich marine history of the Adriatic Sea coast and the Bay of Kotor. The museum is located in an old building, which used to be the Gergurin Palace (the one I mentioned above in a section 'Palaces of Kotor').
20. AND FINALLY – GO ON A DAY TRIP
If you feel like you haven't gotten enough or if you've been staying in Kotor for too long, now it's time to go on a day trip to explore more of Montenegro.
As a matter of fact, Montenegro is that country where you want to get out and travel all over it. The country is compact and has excellent infrastructure. And to help you get inspired, I have another post with the best day tours from Kotor. The list includes organized tours as well as trips that you can go on independently.
What to Do in Kotor From a Cruise Ship
Cruise ships usually stop in Kotor for 6-12 hours. This is enough time to have a quick tour of the city and see the main attractions.
Among all the sightseeing spots I mentioned in this post, I would love to highlight only a few for those who are visiting Kotor from a cruise ship.
So, my number one recommendation, if you are in good shape and enjoy extensive walking and hiking, is to climb St. John fortress and see Kotor from above. The very next thing I recommend doing is to walk the pedestrian road along the seafront towards Dobrota, making a stop in one of the lovely waterfront cafes.
For the climb, if you have more time in the city, start near the hidden free entrance to the fort. Yes, it will take you longer (around 1.5 hours) but chances are you will be among only a few people from your cruise ship on that path. If you have only a few hours and don't have time to go to the top, I recommend climbing the stairs at least to the first viewing platform. It will not take much time but you will be able to get this view:
The standard route for all tourists who leave the cruise ship lays through the Sea Gate into the old town. Almost no one ever goes in another direction. If you choose to go straight on a hike to the fort, taking the path I recommend, you'll be able to see Old Town on the way back when taking the stairs down.
For the seafront walk, stop at Kotor beach, St. Elijah Church from where you get a mesmerizing view of the Kotor Bay and also stop for a drink or snack at one of the multiple restaurants. All of them are very nice. Besides those that I mentioned above, other cool restaurants in Kotor are Palazzo (a pizzeria with the best pizza in Montenegro!) and Ponta Caffe.
If you are not in a good shape or don't feel like walking a lot, start your exploration of the Old Town from the south. The best way to enter it is through the Gurdich gate (the one I mentioned above). In this way, you won't be walking the same streets twice.
Even if you don't plan to climb to the fortress, I still advise walking towards the gate where the staircase begins. It will provide an opportunity to stroll through some cute back streets, see how people live, and even get some views of the sea in a distance.
Another suggestion for cruise ship tourists is to go on a tour to Perast and Lady of the Rocks Island or a half-day private tour of Kotor and Perast.
Where to Stay in Kotor Tips – Historic Accommodation
Depending on the type of vacation and your budget, you can find any option your heart desires. Rent a villa on the coast with a pool or private beach, an apartment, a hotel room, a room in a guest house or a bed in a hostel. We loved Kotor accommodation options, especially beachfront hotels that offer views of fjords.
Thus below, I am sharing a few of my favorite picks:
VARDAR HOTEL: A very beautiful hotel in the heart of Kotor on the main square. Grab a bite to eat at Galion Fish Restaurant. It has good food and a very nice view of the bay. Another win-win option is the restaurant at the Astoria hotel with an unusual interior (a huge tree grows inside) and a panoramic terrace.
HOTEL R PALAZZO: a modern and relatively new hotel in Dobrota with absolutely unbeatable views. It features spacious rooms with a modern design, a gym, outdoor pool, sauna, and stunning views of Kotor Bay. Come to spend some quality time and get full relaxation.
APARTMENTS BOGDANOVIC: One of the most budget-friendly options in Dobrota. In this place, you get clean rooms and everything you may need for a comfortable stay. Even though the apartment is located a bit farther from Kotor's old town, you can still easily reach it on foot. Each room features a balcony and the hotel has a garden.
STUDIOS BELVI APARTMENT: if you are looking to stay inside the walls of Old Town of Kotor, this is one of the nicest apartments to choose! It has everything you may need for a comfortable stay and offers great value for money.
More Montenegro Inspiration
If this will be your first time in Montenegro, I have a lot of resources to help you get the best out of your trip. Check them out: