What to Do in Mestia & Upper Svaneti – One of Georgia's Most Beautiful Regions
Last updated on July 29th, 2023
I'll be honest. Among all the mountainous regions Mark and I visited in Georgia, our favorite one was Upper Svaneti. With great infrastructure and so many things to do in Mestia and around it, we were busy every single day on each trip there.
We loved the Kakheti wine region, Kazbegi, and Racha. We also enjoyed Tusheti and Khevsureti. But among all of them, we still loved Svaneti more.
If you are planning a trip around Georgia, do not skip Upper Svaneti too. This distinctive and picturesque corner, located high in the mountains, has preserved the unique culture and authentic Georgian hospitality. Its capital Mestia is one of the centers of mountaineering and high-mountain tourism in Georgia. And it can offer so much in terms of nature and adventure.
The entire region fascinated me so much that I couldn't wait to tell you about our experience there and about all the incredible things to do.
So this Upper Svaneti travel guide talks about what to do in Mestia, places to visit nearby on foot or by car, where to stay, how much to pay, what to expect, and how to enjoy your trip there to the fullest. Give it a read and have a fabulous time!
---
Please note: This post contains affiliate links. I may earn a commission if you make a purchase or booking by clicking a link (at no extra cost to you).
---
What to Expect From Your Visit to Mestia
Mestia is a townlet and at the same time the capital of Upper Svaneti, located at an altitude of 1500 meters above sea level. It stretches along the gorge for about 6 km and offers views of the mountains on all sides.
In terms of landscapes, Mestia has quite an incredible location. It stands at the confluence of two rivers and is surrounded by coniferous forests with alpine meadows that hide snow-capped ridges behind them.
In 1968 Mestia received the status of an urban-type settlement by the merger of several villages. The unification took place around the village of Seti, which was joined by 3 other villages Lekhtagi, Lanchvali, and Lagami and all of them became one called Mestia.
Given this fact, you can be sure to find everything you need for a comfortable stay – lovely hotels and guesthouses, cafes and restaurants with panoramic views, ski rental center during the ski season, souvenir shops, banks, and ATMs. All of them are located in the very center and are easy to reach.
Another thing, Mestia is a really great place where to base yourself based on dozens of routes that start from there to the surrounding attractions. The importance of a small town in tourist life is also evidenced by the presence of its own airport named after Queen Tamara.
Unlike Lower Svaneti, Upper Svaneti was always free. Therefore, Mestia, as its capital, has never been conquered or destroyed, so many sights and interesting places have been very well preserved there until this day. And you'll be able to see them in their original form.
What to Know About Mestia, Svaneti Before You Go
1) Mestia, as everyone knows it today, acquired its appearance during the years when Saakashvili was a president. His government restored the town completely, creating all the necessary infrastructure for tourists and encouraging locals to start inviting guests.
On the Internet these days, you can find some negative comments where people complain and say that Mestia looks like an underdeveloped pre-Alpine resort and that the architect has neither taste nor imagination because some buildings look really strange and don't fit the style.
We personally didn't think that way. And locals are proud of what they have now. Even in the recent past Mestia was almost a forgotten village difficult to reach. There were constant outages of power and non-existent roads.
But today you'll find there lots of cafes and restaurants, shops (even Spar, so no need to take all your food from Zugdidi or another city), banks, pharmacies, a clinic, market, and a police station.
2) Good internet in Mestia is a rarity. There is no cable Internet, only satellite which is more expensive and not stable. Most people sign up for basic packages that offer a very minimum speed. We thought to come and spend a few months in Mestia during the summer but figured it wasn't a good idea because of the Internet quality.
You will be able to watch a movie online without delay, chat on WhatsApp, upload photos to social networks, or find the information you need. But all of this can be with interruptions and slower speed.
3) There are several travel agencies in Mestia that can help to organize excursions in Svaneti and where you can rent a mountain bicycle, horse, or a jeep. However, car rental will be much more expensive than in the city.
If you plan to go off-road from Svaneti, I recommend you book a car in advance through a local aggregator from Batumi, Kutaisi or Tbilisi. They also have cars available in Mestia too, just reserve it with a lot of time in advance to save money.
4) I read reviews of others that prices in Mestia are slightly higher than in the rest of Georgia. We didn't think that way. Eating out in the cafe or restaurant was either cheaper or the same as in Tbilisi but definitely not more. Some groceries in stores are more expensive indeed as well as car rentals.
How to Get to Mestia From Tbilisi, Kutaisi & Batumi
You can reach Svaneti by minibus (marshrutka), car, taxi and by plane. The final destination is the central square or the airport of Mestia.
Below I briefly talk about prices and all the possible ways how to get to Mestia from Tbilisi, Batumi, Kutaisi, and Zugdidi.
NOTE
: If you do not
have a car
, then the most comfortable option to travel from Tbilisi to Mestia is by plane. If there are no tickets, then go by train to Zugdidi, from there by marshrutka to Mestia. In total, such a trip will be 10 hours one way.
From other cities in Georgia such as Batumi, Kutaisi and smaller towns in between the best way is to travel by marshrutkas.
Our favorite option is to travel by rented car. We did it already a few times and will be driving again. In this case, we follow our own schedule and don't depend on taxi drivers.
Flight From Tbilisi & Kutaisi to Mestia
All flights from Tbilisi to Mestia depart from Natahtari airport (23 km from Tbilisi) 3-5 times per week, depending on the season. The best source to purchase tickets is the official website Vanilla Sky. When searching for tickets with a departure point Tbilisi, put in search line 'Natahtari'.
Tbilisi to Mestia flight is around 1 hour long and costs between $30-$40. During the high season (both in summer and winter), prices go up significantly. So if you know the dates of travel, better book your tickets in advance. Especially if traveling in summer.
Every passenger gets a free transfer from Rustaveli metro (in Tbilisi center) to the airport. Children under 3 years old fly free of charge.
From Kutaisi, the flight is usually around $15 and lasts around 45 minutes.
The plane is designed only for 17 passengers and 15 kg of luggage each. You can pay online on the company's website by credit card or in cash at the Tbilisi office.
In case of bad weather, flights are canceled and money is refunded.
Train From Tbilisi to Zugdidi + Marshrutka to Mestia
Trains do not run directly to Mestia or anywhere in Upper Svaneti. But you can get by train from Tbilisi to the city of Zugdidi, and then take a marshrutka. It is a rather comfortable option, although very long.
As for trains, there used to be 2 trains (a night one arriving in the morning and the day one arriving in the afternoon). But with covid (I guess) the night train was canceled (probably will resume in the future) and now runs only in the morning. It leaves Tbilisi at 8.10 and arrives in Zugdidi at 14.15 (6 hours en route).
To find out about the price of the tickets and what's available, check the official website of the Georgian railway (registration is required). The only thing to keep in mind is that you cannot purchase second-class tickets on the Internet. You either buy them at the train station or ask the conductors to transfer you to the 1st class for an additional fee.
As for the marshrutka from Zugdidi to Mestia, you can find it near the entrance to the railway station (right here). If he is not there (but he will be there for sure if you are on time), then walk 770 meters to the stop at the Svan Tower.
Marshrutkas depart from Zugdidi at 12.00 and 14.30. The price is between $8-$10, the distance 138 km and the entire driving time is around 3 hours.
Direct Marshrutka From Tbilisi to Mestia
Marshrutka buses from Tbilisi to Mestia depart daily from this railway station near Station Square metro station between 7-8 am. The price is approximately $16 and the travel time is between 8-9 hours. A driver makes 1-2 short stops to use a bathroom and have a snack.
In the summer there are about a dozen marshrutka minibusses a day. From autumn to spring there can be only one.
How to Get From Batumi to Mestia
The departure point for marshrutka buses in Batumi is an old bus station, located at 1 Mayakovsky St. A trip takes between 5-6 hours and costs $10-$12. Marshrutka buses departing from this address leave only in summer and only in that case if it gets full.
If you don't feel like experimenting trying to get on this marshrutka, then go to Zugdidi and from there take a marshrutka to Mestia. On the same bus station (1 Mayakovsky St) in Batumi, marshrutkas to Zugdidi leave at 9.00 in the morning.
The situation with marshrutkas in Batumi is always unstable. They leave as they wish whenever there are enough tourists. You may want to rent a car or have a private transfer with a driver to make sure you will not waste any time.
How to Get From Kutaisi to Mestia
Besides the flight, another way to travel between Svaneti and Kutaisi is also by marshrutka bus. They depart daily from the central bus station some time from 8 to 10 am. They also leave only in that case when marshrutka is full.
The price is around $9 and the journey takes about 7 hours.
If there are no seats available on a marshrutka to Mestia, you can try to go to Zugdidi, and then change to a minibus to Mestia (the same situation as when traveling from Batumi).
Reaching Svaneti By Car
The distance from Tbilisi to Mestia is 465 km.
In summer the drive usually takes between 8-9 hours, in winter 10-11 hours. Batumi to Mestia distance is 263 km and takes only 5-6 hours to drive. And then a drive from Kutaisi to Mestia will take around 5 hours being 220 km long.
On all our trips we rented an economy car to drive to Mestia and were just fine. In a month or so we will return and this time plan to rent a jeep in Tbilisi to visit a few spots off-road and then go to Ushguli on our own.
The road between Zugdidi and Mestia, a serpentine mountain road with one lane in each direction, is of normal quality. Everywhere there is asphalt or concrete. Driving is not difficult, but you need to go slower since there are many turns and twists. I advise you to drive this section before sunset. And make sure you get gas in Zugdidi because there are no gas stations until you reach Mestia.
If this is your first time in Georgia and you are ready to rent a car and drive to Mestia, I advise you to turn it into a road trip and stay overnight in the Imereti region (in or around Kutaisi, Tskaltubo, or Samtredia). In this way, you'll be able to visit some major sights such as Mtskheta, Uplistsikhe, Kutaisi and its surroundings, and reservoir Inguri.
If you are not ready to drive on serpentine roads or if you are traveling in a large company, then it would be much better to rent a car with a driver. Transfer from Tbilisi by minivan (5-7 passengers) costs around $140, from Batumi and Kutaisi around $90.
NOTE: There is also a dirt road from Kutaisi to Ushguli through Lentekhi. The road is tricky and goes through the pass. No rental car company allows driving on the stretch of the road between Lentekhi and Ushguli.
The only way is to drive there only in summer and only on your own 4WD. I have friends who did it (with 10 more couples and 10 more jeeps on a private tour) and said it was a very extreme adventure.
Do You Need a Jeep to Drive to Mestia & Upper Svaneti?
No, you do not need to hire a jeep. The road between Zugdidi and Mestia is in very good condition (with occasional insignificant bumps and holes) and you can drive on it in a small car anytime from April to November.
To get to all places around Mestia (that I mentioned above) besides Ushguli, you do not need SUV. And yes, that's right, a jeep is needed for travel between Ushguli and Mestia as well as the Koruldi lakes. Although I do not recommend you drive to Koruldi on your own.
With Ushguli, the situation is as follows – the total distance is 44 km but not the entire stretch of the road is bad. In fact, the first 31 km is concrete, so you can even drive there in Ferrari. Further is gravel and the last few kilometers the road climbs above the cliff, having more and more holes and a couple of waterfalls that you need to drive through.
The journey from Mestia to Ushguli by your own car with stops takes about 2 hours one way.
Previously, it was impossible to drive in a sedan on this road. These days, after a bigger part of the road was built, skillful drivers can drive through in a higher car in dry weather in summer. This is not a recommendation for action, just an observation as local drivers do that.
But if you plan to go too, better rent a jeep or go with a local driver. The last 7 km of the road are challenging even for 2WD.
Before you rent a car, consider what is cheaper and more convenient: to rent a jeep for a few days in Batumi or Tbilisi or rent a car, drive to Mestia, and then rent a jeep with a driver for a day for about $65 for a trip to Ushguli.
In summer, marshrutkas go to Ushguli for about $15 per person round trip with waiting time. But a driver doesn't stop anywhere along the way.
The petrol consumption of a jeep in the mountains reaches approximately 15-20 liters per 100 km. A sedan car consumes a maximum of 10 liters per 100 km.
What to Do in Mestia Town
Mestia as a townlet consists of the old part, modern center, and adjacent residential areas on all sides. Svan towers, cows, cobbled streets and mountain landscapes make it unique and authentic. It has its own character that I don't think I've ever seen anywhere else.
The modern center of Mestia looks rather strange. It consists of buildings from different eras and styles with Svan towers in between. For example, you'll see neat Alpine-style houses next to the glass city hall or somewhat shabby old structures next to a police building with an extraordinary facade.
Yet, we seriously enjoyed walking around them, looking at every detail.
The central square of Mestia (which is called Seti) has a small alley with spring with mineral water. Nearby there is a cafe 'Laila 'with good high-speed wi-fi, a tourist information center where you can get a lot of useful information and take maps. You can also learn about the most interesting sights there.
Besides walks and cafe visits, some of the most interesting things to do in Mestia are:
Mikhail Khergiani House Museum
In addition to Svan towers, Mestia is known for the museum dedicated to the most famous Svan Mikhail Khergiani. He was born in Mestia and became a famous climber in the USSR and one of the greatest climbers in the world. He was also called "the tiger of the rocks".
Soon after his death (which happened during climbing in Italy in 1969), he was awarded posthumous works in his honor by many writers. With time a museum was open in his honor too and one of the streets got his name.
The museum has a real Svan tower, so you can view the exposition at first and then climb the tower to look at it from the inside and admire Mestia from above. The location of the museum is here.
Laghami Church
Among other places to visit in Mestia is a Laghami church of the IX century, located in the village of the same name (part of Mestia) where it is easy enough to walk to while receiving a better image of the town.
The church consists of two levels built at different times. The lower level, which has almost completely gone underground, is the church of the great martyr Barbara.
The second floor dates back to the XIII-XIV centuries and still has beautiful frescoes on its walls. There are also paintings on the outer wall and an XIII century gold and silver engraved icon of Christ inside the church.
The location is here if you are interested to see it.
Margiani's House Museum
One more small but interesting museum to visit in Mestia is Margiani's House Museum or as some people call it "Svan House".
This unofficial museum, located in one of the Svan towers, was open by Ukrainian woman Larisa Margiani, who married a Svan and stayed in Svaneti. So she opened this museum (which is more of a traditional house) with carved chests, a large chair for the head of the family, and other attributes that show how people lived in the tower.
And the most interesting thing (for some people) can be about visiting this museum for the opportunity to walk on all floors of a real Svan tower and feel the atmosphere of ancient Georgia and Svanetian culture.
The location of the museum is here.
Svaneti Museum of History and Ethnography
Mestia is famous for museums and here is another one which in my opinion is no less fascinating. This is the largest museum among all on this list that gives a good understanding of Svan culture.
The museum has a solid collection of various artifacts such as weapons, dishes, church utensils. You can look at old photographs taken by the Italian Vittorio Sella at the end of the 19th century – they show the Svans and their life at that time.
Of all the mountain peoples of Georgia, the Svans were the only ones who built churches and painted icons. Plus, for a long time, Svaneti was, in fact, an isolated region that experienced minimal outside influence. All this led to the emergence of a unique and distinctive culture, which you can get some idea about in the Ethnographic Museum.
Things to Do Around Mestia On Foot
Chalaadi Glacier
The main attraction of Svaneti is its incredible tall mountains, snowy peaks, and glaciers. In fact, the highest number of glaciers in Georgia is located in Svaneti but the easiest one to reach is Chalaadi glacier located not far from Mestia. Despite the fact that there are many glaciers in the region, it is Chalaadi that is suitable for anyone without special physical training.
The road to the glacier is quite easy. You can start the route either on foot from Mestia or by overcoming more than half of it in your car or taxi.
Expect to devote at least 3-4 hours if going there by car and half a day if walking/hiking the entire distance. From our experience, it is more reasonable to come to the end of the dirt road by taxi or car and then walk for 1 hour to the glacier itself.
For more practical information and photos of this easy hike, read my other post about the Chalaadi glacier.
Koruldi Lakes
The ascent to the Koruldi lakes is a popular trekking route in Svaneti that also starts from Mestia. You can get to the lakes either on foot along a steep slope or by shortening part of the road when driving up by 4WD.
Like many sights of Svaneti, the Koruldi lakes will reward you for your efforts with a beautiful panorama and, if you're hiking on a clear day, with a view of the top of Mount Ushba. As a matter of fact, this hike to the lakes is not so popular for the lakes themselves, but for the mountain landscapes along the way.
The best time to visit the lakes is from June to October. If you choose a pedestrian ascent, the length of the round trip route will be around 16 km, and the hiking time between 7-8 hours. It is advisable to leave in the morning to make it on time and return before dark.
Hatsvali Ski Resort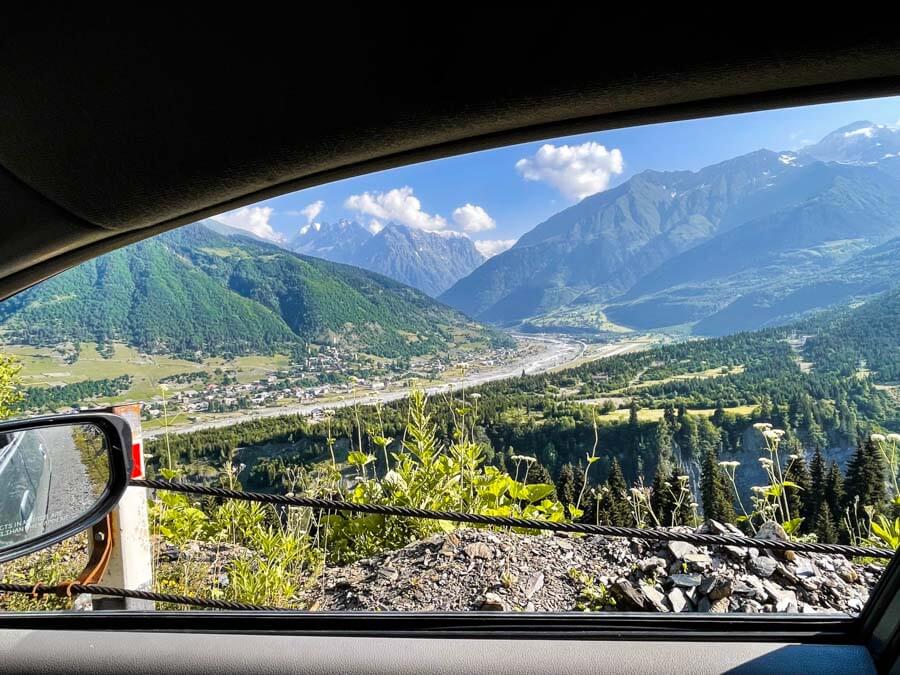 The easiest way to see the mountains around Mestia (and Svaneti) from above is to take the cable car to Hatsvali.
Hatsvali is a ski resort that becomes more and more popular each year. However, there are a few things to do in the area from spring to autumn too since lifts are open year-round.
You can ride to the observation deck on a chair lift and enjoy the picturesque scenery of the surrounding landscape. In clear weather, you can even see the top of Mount Ushba. The cable car consists of 2 lifts – Mestia-Khatsvali (on 1865 m) and Khatsvali-Mount Zuruldi (on 2347 m). On the top of the mount, there is a cafe overlooking the mountains and glaciers.
Besides a picturesque ride, you can eat with the panorama in the background, walk, or go on a few hikes. Hiking trails connect the upper station of Hatsvali with the villages of Atsi and Heshkili.
During the off season, Hatsvali resort is usually pretty empty since most visitors choose other spots for hiking and scenery. So if you decide to go, you can be sure no one will disturb the sweetness of the moment.
NOTE
: From time to time during the summer the second lift to Mount Zuruldi gets closed for maintenance. You still need to pay the full cost but you won't see much from the middle station. In that case, walk (or drive if you have a car)
to this point
to enjoy the view.
Observation deck "Cross"
This observation deck is actually halfway to Koruldi Lakes. If you don't feel like hiking to the lakes but would love to see Mestia from above from the opposite side than Hatsvali, come here (on maps.me it shows between Sankano Gza and Apekhmavlo Biliki). From there you can already see the top of Ushba, Tutnuldi mountain and other peaks.
The track is not the most difficult, but also it's not that easy. It will be very challenging for a non-hiker or a small child since the trail is constantly going up. The path goes partially through the forest and under the open sun.
Instead of hiking through the forest, there is also an option to follow a dirt road that starts near St. George Church. That's going to be a much longer distance vise but a bit easier since the elevation is gradual.
The roundtrip hike to the deck will be between 4-5 hours.
Private Tours & Excursions
Things to Do Around Mestia By Car
Famous Alpine Village Ushguli
Ushguli is the highest mountainous permanently inhabited community in Europe (at 2200 m above the sea). It is famous for its ancient Svan towers, centuries-old churches and picturesque landscapes.
Due to its almost complete isolation from the outside world, the Svan towers of the 9th-10th centuries are well preserved there. And stunning nature of those lands is absolutely breathtaking (much, much more picturesque than in Mestia). Even at the end of summer, the mountain peaks in and around Ushguli still have snow.
Another thing, Ushguli also attracts many tourists with one of the largest glaciers in Svaneti – Shkhara.
The most comfortable and fastest way to see Ushguli is to ride a jeep. You can go with a local (Svans have 7-seater cars, so you can find others who want to share the costs) or by a rented 4WD.
But for driving a jeep on your own, you just have to be comfortable. A bigger part of the road is now asphalt but the rest is uneven gravel that goes straight and has some holes and waterfall water on the way. It's not really a problem to drive through it if you are in a big car.
The trip Mestia – Ushguli with all the stops for taking pictures, eating, going to the church takes 8-10 hours round trip. Yet to be honest, in our experience, going for a day trip there is pretty intense.
For the best experience, I highly recommend spending at least a night in Ushguli since it is a much bigger place to explore than it seems to be.
Mazeri Village
The village of Mazeri lies at the foot of Mount Ushba and is one of the most beautiful things that we've seen in Svaneti. Do not miss it too!
Mazeri is all about virgin nature, alpine meadows, very tall sharp mountains from all sides and no people around. Hiking trails around Mazeri are not very difficult, you can hike them even with little kids. There are no Svan towers in this village, but that's not the reason people come here anyway.
If you are going to visit Mestia for the first time, it would be better to stay overnight in Mestia but visit Mazri on a day trip. It's only 1 hour drive. But if you have been to Svaneti before and look for a different more "wild" experience, base yourself in Mazeri and join one of many fantastic treks.
The most popular hike here is the one to Mount Ushba and its glacier. We have walked only part of this trail, not being anywhere close to Ushba but still enjoyed the walk and views. We plan to revisit in the fall and see it in different colors. If you are visiting Mestia and Svaneti, pay a visit to this village too!
NOTE: The entire road to Mazeri is a new asphalt road, so you'll have no difficulty driving there!
Heshkili Huts
Heshkili village or as it is also called Heshkili Huts is a tiny picturesque village with Instagram-worthy swings against a jaw-dropping landscape. The village itself is small and besides the Heshkili Huts (cottage-style accommodation) with a cafe, garden, hammocks and nature, there is nothing else to do.
Heshkili Huts is basic accommodation with non-existent service and pretty horrible food. But the territory around it with instagrammable swings is worth the hype.
Mark and I loved walking there from the asphalt road to Hatsvali ski resort. We parked a car somewhere here under the trees and followed the gravel road to the village. It took us around 40 minutes to walk one way to huts.
We enjoyed having a drink with a marvelous panorama in front of us. And even though the queue for swings was long (and I didn't get to take a photo), I still enjoyed every single minute of being there.
You can also walk to Heshkili village from Mestia (since it's only 5 km away) and in about 2 hours be by the swings. The trail partially goes through the woods and partially along the asphalt road. It is an easy relaxed route for non-hikers who prefer to take it slowly and have more time in Mestia.
Another option is to combine a visit to Heshkili Huts with a trek to Mount Zuruldi. There is a trail (see on maps.me) that goes from Heshkili village to cafe Zuruldi and beyond.
The location of Insta swings is here.
Tetnuldi Ski Resort
Tetnuldi ski resort is another ski resort in Svaneti within close distance to Mestia.
Unlike Hatsvali Ski Resort, in Tetnuldi cable cars operate only during the ski season. However, even if they are closed, reaching the upper station of the cable car is still possible by car or on foot.
You can drive any type of car (including mini) to the middle station of the cable car where there is an observation deck at an altitude of 2692m. After the middle station, you can walk up to the upper station at 3183m.
You won't find many activities in Tetnuldi during the off-season. It is just another scenic area with views similar to those in Switzerland, a few panoramic cafes, and trails. You can come here for a few hours just to relax and take photos or make a stop when traveling from Mestia to Ushguli.
Where to Stay in Mestia
In Mestia, you'll find several hotels and many guest houses of varying degrees of comfort. Prices for hotels range from $40-50 per night. And prices for a room in a guest house in the summer cost between $25-30. Outside the summer season, prices are usually lower.
The quality of housing in Mestia is modest. But ratings on the booking are high, thanks to the hospitality of people and very clean rooms.
Svaneti is an extremely popular region with Mestia being the number one town for overnight stays. If you plan to travel in the high season (which is July and August), always book your accommodation far in advance.
Our favorite places where we stayed were a guesthouse Sakhli Laghamshi guesthouse and Hotel Lahili. While they were in absolutely two different price categories and located in two different parts of the town, they offered us a great level of comfort and atmosphere.
Mestia has all sorts of housing, including one of the nicer hotels and very cheap ones for $10 per night. However, very cheap rooms most likely will have a shared bathroom and old furnishings. See for yourself what meets your budget and what is free for your dates.
Where to Eat in Mestia
I know there are quite a few cafes and restaurants in Mestia but our favorite ones turned out to be:
Cafe Lanchvali – hidden on the back streets of Mestia, this cafe is a little gem. Hosts who are also the owners provide incredible hospitality and offer an extensive menu with Svan and Georgian cuisine. I recommend you try their Svan-style khachapuri (with cheese and spices) but everything else is really delicious there.
Chalet Mestia Restaurant – we enjoyed here the atmosphere, Svan main dishes and soups.
Zuruldi Cafe – #1 cafe in Georgia at the highest altitude (of 2340 meters). It is located in Hatsvali on the top of the upper cable car station. They offer excellent Georgian and Svan cuisine surrounded by amazing mountain landscapes.
Laila Cafe – the cafe is located in the very center of Mestia, on Seti Square. And it offers reasonable prices and high-quality Georgian cuisine, especially kubdari, ajapsandali, khinkali, and ojakhuri. What we also liked was that in summer, at 8 pm, they have an entertainment program which includes Svan songs. If you want to visit, better come early since this place is popular.
Happy travels!