Vilnius City Break – What to Do and Is It Really Worth a Visit?
Last updated on December 12th, 2022
For sometime I had an inner debate either to visit Vilnius and Lithuania in general or not. Those thoughts were very similar to my thoughts about Minsk. I somehow succumbed to the idea that many travelers have that there are not a lot of things to do in Vilnius and it's a gray nondescript city.
Usually, when you hear about the Baltic States, the first place everyone is talking about is Tallinn and Estonia. Vilnius is definitely not a city on everyone's list. Some people who eventually go either pass through Vilnius or spend little time just for a checkmark that they've been there.
I have to admit that I was also not very enthusiastic about exploring what to do in Vilnius. However, after visiting the Lithuanian capital just a few weeks ago, I realized how wrong I was.
And you know why? Because Mark and I got to discover it a bit differently than most tourists do. I explain below why exactly it was a special visit.
Here's what you'll find in this post
This post contains affiliate links, which means we earn a commission (for which we will be mega grateful) at no extra cost to you.
Visiting Vilnius For the First Time – What to Expect?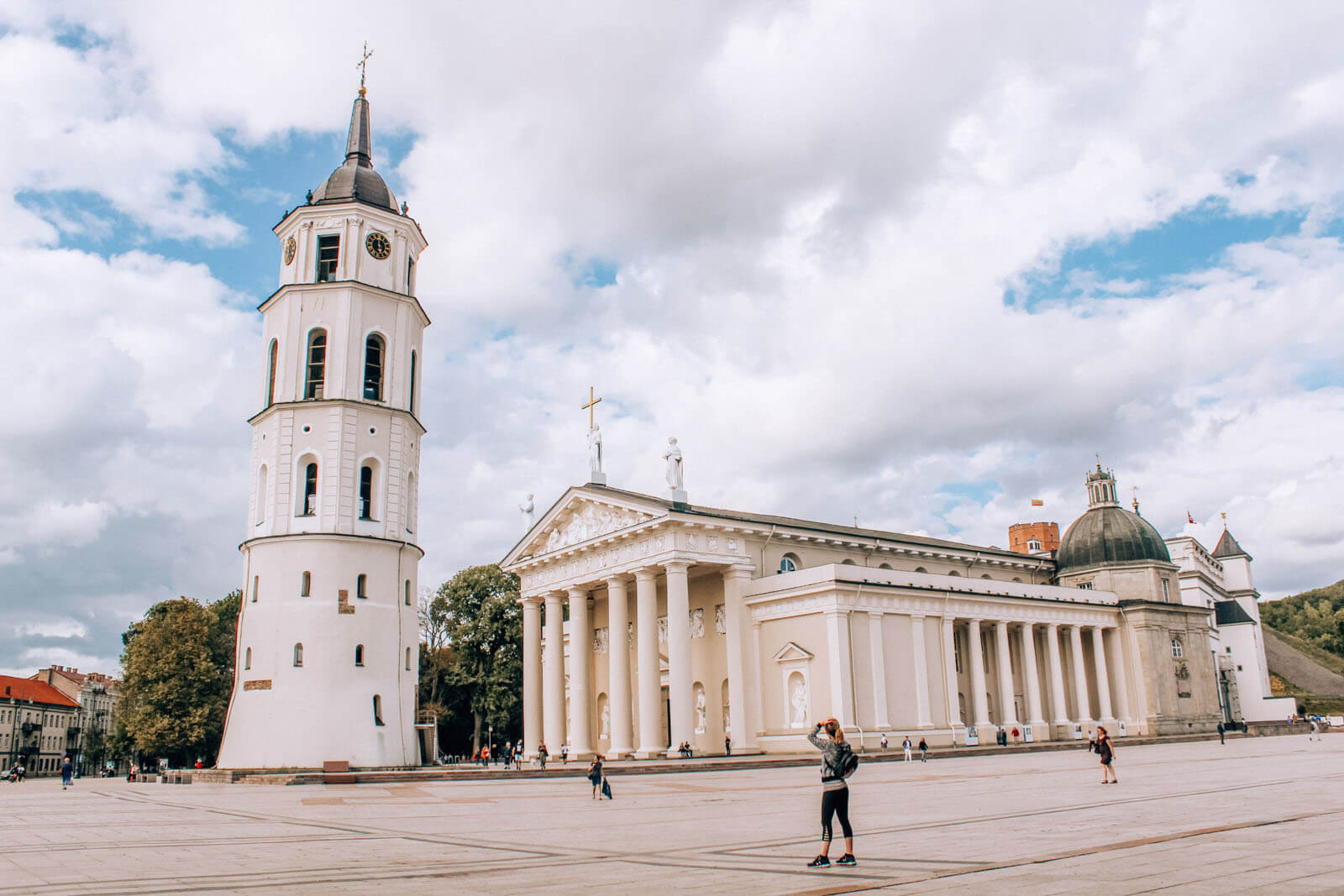 Yes, Vilnius is not yet that modern, well-groomed and picture-perfect metropolis that many of us paint in our heads when thinking about Europe. Still, it is not the gray post-Soviet city.
Modern Vilnius has some cool things to do and see. First of all, there are beautiful narrow old streets, paved with cobblestones, small cozy cafes, and shops, which are located along the same narrow streets under the arches of buildings of the medieval era.
Vilnius differs from central Europe. At the same time, it's so different from its neighbors in the North and East.
On the one hand, the central streets of the city are clean and well-maintained, with renovated houses and pavements of ancient architecture. Here all the old and completely new constructions of modern architecture are harmoniously combined.
On the other hand, gray Soviet-style buildings, dilapidated houses in the alleys are still adding to the image of Vilnius. Sometimes this contrast is very conspicuous. And this is why many people get a vague impression.
I didn't know what to expect. But for some reason, I believed Vilnius was going to look and feel like a mixture of Polish and Soviet influence. In reality, this is the capital of a country with its own culture, history, food, and values.
And this is the reason why it has something intriguingly fascinating.
Travel to the Capital of Lithuania For the Food Alone
Another misconception I had about Vilnius was food. I was positive that traditional dishes would be the same (or very similar) as dishes of Ukraine or Poland. And then we went on a Food Tour (I talk more about it below) which completely dispelled my stereotypes.
Lithuanian food is really good and Vilnius is the right city to indulge and try every dish that is part of local cuisine. Unfortunately, there are a lot of greasy and meaty dishes that are a bit heavy for regular consumption. At the same time, we were able to find restaurants with vegetarian options.
WHAT TO EAT IN VILNIUS?
After going on a tour we learned a lot about the traditional cuisine. Our favorite dishes though were Cold Beet Soup (Saltibarsciai,) Dumplings made with grated raw potatoes (zeppelins,) Stuffed Potato Pancakes (draniki,) Pork Ears of various preparations, Blood Sausage (made with pork's meat, blood, buckwheat,) Soups in Buns, Seafood Salads, Handmade Pies with various fillings (Kibinai,) Fried Bread (Kepta Duona,) as well as hot and cold appetizers.
Since we were in Vilnius for almost a week, we were also buying food in a grocery store. And I have to tell you that it was as good (or even better) than in restaurants. All IKI stores we went to had a big selection with hot foods which were always fresh and hot. So we got to taste a bit of everything.
If you are backpacking Europe on a budget (even if you are not,) I recommend checking IKI stores when you are in Vilnius.
When it comes to drinks, try a delicious hot berry tea, kvass, and beer. Yes, Germany and the Czech Republic are not the only countries famous for its beer.
Lithuania has a very good beer of its own. The one we enjoyed the most was Unfiltered Wheat Beer. But there are many more varieties to choose from. On every taste and color. And it is not any worse than the German one.
To Get the Best of Vilnius Sightseeing, Go On a Tour
No matter how much we love visiting new European cities and towns, at some point they all start to look the same. If you are from Europe (or have visited a lot) I bet you know what I mean. Just walking the narrow streets, stopping for a coffee, visiting museums and trying new foods does not excite anymore.
You gotta have some action.
If we didn't do any tours with Mark, Vilnius would probably become just another city not very different from others. And honestly, it probably wouldn't impress much.
Going on a few tours introduced the capital of Lithuania in a totally different light. Tours in Vilnius, as well as tours in nearby Riga and Tallinn, are a must in order to understand Baltic states better.
We did a Walking Tour, Flavors of Vilnius Food Tour and Sunset Kayak Tour in Trakai. The Kayak Tour was not really in Vilnius but it is a short trip away and you can easily fit it in your itinerary.
Because of the Food Tour, we learned so much about traditional foods, some famous restaurants, and cafes, secret spots where locals go and overall, got a wonderful introduction to Lithuanian cuisine.
A Walking Tour helped us understand what is there behind many buildings and walls.
Again, what's the point of just walking around and looking at buildings? If we don't know the history and what those buildings were used to be, it just doesn't make much sense. And with time, we don't have a lot to remember.
See Vilnius Neighborhoods Where Chernobyl HBO Movie Was Filmed
Yes, Lithuanian capital has more surprises. I know some of you will not care much about it (I don't.) But those who are thirsty to see Chernobyl, and not able to travel to Ukraine, can transfer in time while walking around the suburbs of Vilnius.
I grew up in Ukraine. Every year in April we had (and still have) series of documentary movies and shows that reminded us about Chernobyl tragedy. I really had enough of it. Also, seeing another Soviet-looking building is not an attraction for me. Yet, many foreigners-travelers easily get excited when hearing about the opportunity to visit sites that remind about Chernobyl or USSR.
If you are one of those folks, come to Vilnius.
The residential neighborhood of Fabijoniski, located in the northern part of the city, is currently the most famous place in Vilnius worldwide. The area, which the locals call "Fabi", became a Ukrainian city Pripyat for that time when Chernobyl HBO was filmed.
This is a very symbolic district, which perfectly shows how Pripyat, a Soviet city, used to look like. It is symmetrical and reflects really well the architectural fashion and style of that time: depressing looks, the predominance of gray colors and lots of concrete.
Very similar motifs can be found in other districts of Vilnius that are farther from the center. But Fabijoniski neighborhood is a place where scenes from Chernobyl HBO movie were really filmed.
Another place, which is worth visiting is the Ministry of Interior Culture House. The address is Zirmunu g. 1 in Zirmunai neighborhood. It served as a restaurant of the Pripyat Hotel where 3 volunteers were selected.
Since recently, there is a tour on HBO Series Chernobyl where you get to visit all filming sites and learn about the Soviet life and Chernobyl catastrophe. Check it out, maybe it's your type of a thing.
Go On One of the Coolest Day Trips From Vilnius
If you have more than 2 days in Vilnius, I highly recommend going on a day trip. Lithuania is a small country and a lot of destinations are within close distance to Vilnius. Visiting them will help you get to know the country, not only the capital.
VILNIUS DAY TRIPS: TRAKAI CASTLE – Should You Go?
Definitely one of the best sights of Lithuania is the magic Trakai castle with a red tile roof, located on the shore of a beautiful lake.
The castle is open to the public all year round. Even though it will impress you greatly, I still give preference to the tour. It is so much better than walking on your own.
There are lots of different tours to choose from. As I mentioned earlier, we personally went on a Sunset Kayak Tour which was absolutely amazing and probably one of the best travel experiences we have ever had. Perhaps the reason was our guide Thomas with his bubbly personality. Or that the hot air balloons were floating over the lake and our heads, adding to our excitement.
Anyways, no matter which tour you choose, opt for something different than just walking around the castle. If visiting Vilnius in winter, look at this Snowshoeing Tour and Castle Tour with Authentic Karaim Food.
Besides tours, you can rent a boat or a yacht, take a walk in the park, walk through the cozy city of Trakai, buy unique souvenirs, try local cuisine in one of the cute cafes. By the way, for the cafe, I recommend having lunch at Kiubete Restaurant. It is the best place to try traditional Karaim food like pies and kibinai.
THE BEST WAY TO GET TO TRAKAI CASTLE
BY BUS. Buses leave every half hour and in 45 minutes they take you to Trakai, where the castle is located. You can buy tickets at the bus terminal. Fare starts from 3 euros.
BY TRAIN. Trains depart every half hour from Vilnius railway station. The cost is around 3 euros and it takes 30 minutes to get to Trakai. Purchase tickets through the official website or at the box office of the railway station.
BY TAXI. The castle is located 30 km from the capital, so you can easily get there by taxi. Fare starts from 35 euros.
TRIP TO KERNAVE – UNESCO Recommended
Some researches call Kernave "Lithuanian Troy". Today, finding and seeing something that remained at the site of the ancient settlement is difficult, because in the 1400s everything burned to the ground, leaving only the mounds and beautiful hills.
A year ago, there was a "garden city" and the place of the coronation of the first known Grand Duke of Lithuania Mindaugas. And before that, there were other hundreds of years of active settlement life and huge celebrations of the day of the Sun. Now there are only mounds and the river Neris. But the feeling of something epic makes a visit here special.
In order not to sound unsubstantiated about the importance of this place, it is enough to mention that Kernave is listed in the UNESCO register. And as we know, UNESCO does not advise anything unworthy.
HOW TO GET TO KERNAVE
BY TAXI OR CAR. The best way to get to Kernave is by rented car or taxi. Since there is not much to do in the area during the entire day, I recommend visiting it on the way to Kaunas or if visiting a few other sights in the same direction.
A DAY TRIP FROM VILNIUS TO BIRSTONAS – SPA-town in Lithuania
One of the most beautiful Lithuanian resort-towns Birstonas is located at a distance of 90 km from Vilnius and 40 km from Kaunas. Since ancient times, it is famous for its healing waters and beautiful nature.
From all sides, the resort is girdled by the Nemunas River which forms unique loops. Because of the beautiful park which surrounds the town and has plantations of thuja, spruce, avenue of chestnuts, lindens and maple trees, the air is clean and healing.
The main reasons to visit are walks in nature, peat mud baths, and therapeutic mineral waters (for drinking purposes.)
If you have more time, choose to stay in one of four resorts where you can experience all of the above.
Two of my favorite Spa-hotels are:
– Medical SPA "Egles Sanatorija"
I am obsessed with hot springs, mineral baths and various hotels that have anything water-related. A long time ago I did research on some of the best SPA-hotels in Europe and Lithuania made a list as one of the most budget-friendly destinations with high-quality service.
If you can add a stay at the SPA-hotel, you will be so happy you did. It's an absolutely incredible experience.
The hotels I mentioned above are my favorite ones. You can check more options here.
HOW TO GET TO BIRSTONAS
The best would be to combine this trip with the one to Trakai. It is located along the same highway and takes less than an hour to get from there. Besides the car you can travel by:
BY BUS. In Trakai, you can hop on a bus that goes straight to Birstonas and costs 5 euros. From Birstonas it's easy enough to get to Vilnius by the same bus company. The entire route from Birstonas to Vilnius costs 7 euros.
ANOTHER DAY TRIP TO DRUSKININKAI – What and Where is It?
Druskininkai is a favorite resort town for many Lithuanians. It is famous for aquapark, snow-arena for skiing at any time of the year, parks, forests, amazing nature, saunas, baths, spa complexes, bars, cafes, restaurants and budget, and luxury hotels.
If you want to have a feeling of a holiday, come here. Although, one day probably will not be enough. It takes almost 2 hours to get to Druskininkai, so you may want to leave very early to get the best of your day there.
An incredibly high number of SPA complexes offers a high variety of services as in Birstonas. Mineral waters, therapeutic mud, healing air of Druskininkai are known throughout Europe, so if you have free time, be sure to stop by for a visit at any time of the year.
The hotels that got my attention in Druskininkai are:
HOW TO GET TO DRUSKININKAI
The city is located 100 km from Vilnius and the best way to get there is by car or by bus.
BY BUS. Every hour, buses to Druskininkai leave from Vilnius bus station. Travel time is 2 hours. The fare is 10 euros. You can purchase tickets at the box office of a bus station or online through this site.
What to Do in Vilnius When You Are On Your Own
I understand that you may not be too keen on purchasing a tour and exploring Vilnius at a slow pace. Then for that matter, I recommend doing the next:
1. Go on a free tour of the Old Town. It departs daily at 10:30 am from the Monument to Grand Duke Gediminas. Alternative tours of the "other side" of Vilnius start on Thursdays and Saturdays at 1:30 pm. Do not forget to leave a tip at the end of the excursion.
2. When walking between the Gediminas Castle Tower, the Town Hall, the Presidential Palace and the Gates of Dawn, do not skip Vilnius University. Its buildings occupy almost a quarter and are presented in four architectural styles: Gothic, Renaissance, Baroque and Classicism.
3. Vilnius is a city of parks. The largest of them is Vingis Park. Walking there reminds more of a walk in the forest. Walking towards Vingis Bridge will bring you to the wooden one-story neighborhood Zverynas. I highly advise to check it out.
It is nice to walk along Zverynas or ride a bike, see modern embassies and residential buildings built during the modernism and constructivism movements. Stop at Veranda or Panama Food Garden. The first one is a cozy restaurant with Italian dishes while the second one is a romantic grill bar with a private garden.
4. Definitely walk to explore Uzupis. A tiny beautiful quarter on a peninsula separated from the old town by the Vilnius River. This small neighborhood has a strikingly rich history with every second house being a church, a monastery, a workshop of a famous artist and even a palace.
Since the end of the 19th century, the poor lived in Uzhupis, in Soviet times it was in a semi-abandoned state. After the restoration of independence by Lithuania, the area was chosen by people of art. For some time it even functioned as a Danish Christiania — with its own constitution, president, and mini-army. But soon the yuppies, led by the former mayor of Vilnius, pushed the hippies from their workshops onto the cobbled streets of Vilnius.
If you're lucky to stumble upon one of those folks, ask him for an individual tour of the Uzhupis courtyards (in exchange for tips or drinks.)
When being in the area, stop at Birzu Duona Kepykla Bakery. We got captivated by the smell when walking by and couldn't resist to come and get a tea with local goodies. They have a big selection of freshly made loaves of bread, croutons, quiches, and various pastries. It was a bit chilly outside, so we comfortably sat inside, listening to occasional chit-chats of buyers and sellers and truly enjoyed ourselves.
If you get to visit when the weather is warm, there are two cute tables outside. Sitting there opens up a nice view of the main street of Uzupis.
Conclusion: So Is Vilnius Worth a Visit?
Yes and definitely yes. However, if you don't plan to take any tours but think only to wander around the city to get an impression what it's all about, then 2 days in Vilnius would be more than enough.
Those who love to travel slowly, splurge a bit here and there, will definitely need more time. I would say a minimum of 3 full days. If you love active travel, definitely look into one of the tours I mention above and add to your itinerary a day trip from Vilnius to one of the SPA towns.
Do not underestimate this city and make a precise plan on what to do in Vilnius and where to go. In this case, you'll be able to see so much.