8 Most Romantic Spots to See Incredible Sunset in Bodrum
Last updated on September 23rd, 2023
Last summer, when we were in Bodrum for almost two months, we drove all over the peninsula visiting amazing Bodrum beaches and quirky beach clubs, swimming in hidden coves and hiking some scenic trails. We have done and seen a lot. And this city with its gorgeous surrounding area impressed us so much. And what particularly blew our mind was the sunset. Sunset in Bodrum peninsula is definitely one of the most beautiful sunsets in the world.
I don't know why I wanted to write this post and share my favorite spots where to see Bodrum sunset. Maybe because these spots were my places of power where I loved going after the day of work. Or perhaps they were truly inspiring and beautiful.
If you are staying in Bodrum city (or anywhere around), I highly recommend you take a shared taxi (mini bus) and go to Turgutreis. If you have a car, that makes it even easier. Turgutreis is the westernmost city in Bodrum peninsula where sunsets are spectacular but it is also a starting point for walks in the surrounding area where you can enjoy sunsets in serenity.
---
Please note: This post contains affiliate links. I may earn a commission if you make a purchase by clicking a link (at no extra cost to you).
---
So Here Are My Favorite Spots Where to See a Sunset in Bodrum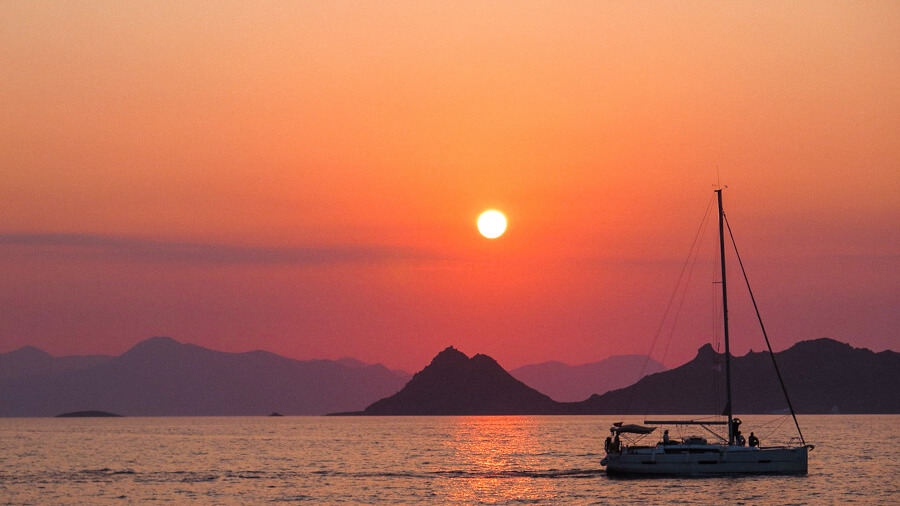 The most famous place where people go watch Bodrum sunsets is Turgutreis. It does not look like a quiet village but at the same time, it is not too busy. In general, the resort suits all types of travelers – lovers of comfort, young people, families with children, windsurfers, and divers. And it is known for its beautiful orange sunset.
Pretty much anywhere in Turgutreis near the sea or on the hills, you can witness an array of colors in the evening.
Some people like to come with folding chairs, wine or beer, and snacks and stay for an hour or two. Others go to restaurants on the first line with fantastic views. Below I am sharing all the places where we went and enjoyed.
Unsure where to start exploring Bodrum? Check out these guided tours:
Turgutreis Marina
Turgutreis Marina or as it is also called the harbor of D-Marin Turgutreis is the hallmark of the Bodrum peninsula. It is the first largest marina in Turkey and the second largest in Europe.
Besides a beautiful area with yachts where it is so pleasant to walk, the territory also has a yacht club, a private beach, the Blue Point Beach club, duty-free shops, a mini shopping center, restaurants and clubs, a helipad.
Not everywhere from the marina you can witness a sun setting over the sea. Yet, being there in one of the restaurants opens up a view of the bright red and orange sky, and makes it look magical.
We loved coming here for snacks and drinks because we could see this:
Turgutreis Main Beach
Turgtouis Beach is very different from the surrounding beaches. It doesn't hide in the bay and nearby islands protect it from storms what creates perfect conditions for the turquoise color of the sea and beautiful sunset views.
While I personally don't like this beach (since it's a public city beach, always overcrowded and somewhat dirty), I still believe it is an absolutely fantastic area to watch sunset in Bodrum. You definitely won't be the only person there, so if visiting in the summer, it is better to come in advance to reserve the spot.
Directly behind the beach, you can find many cafes, bars, and nightclubs. And some of them also offer views.
Sunset Lounge
Sunset Lounge is a seafood restaurant where you can also have vegetarian dishes, sip your beer or wine, and watch the sunset.
The restaurant is located a bit away from the sea near the road but it doesn't prevent from enjoying the vibe and views. Food is good but on weekends and during the summer the restaurant gets always full.
If you are visiting Turgutreis without a car and look for the best seafood restaurant, Sunset Lounge is a place to go. Otherwise, if you have a car (or willing to take a cab), better go to Kadir Reis Fish restaurant. It also offers an incredible sunset view but much better food and atmosphere since it's located right on the beach.
Sevket Sabanci Park
Small but cozy city park Sevket Sabanсi is famous for its hidden walking trails and many flowers. Finding this park is not difficult and you can get here by walking from Turgutreis marina in 10-15 minutes. In fact, the walking/biking path near the sea will lead you directly to the park.
Not many tourists come here, only those who stay in nearby hotels and locals. So the park almost never gets crowded or noisy. Although in the evening, young adults love coming here with drinks and a guitar to spend some time. It is better to come with a bit of time in advance to find an empty bench.
Swissotel Resort Bodrum Beach
Swissotel Resort Bodrum Beach is located on the coastline of Turgutreis about 3 km from the city center. The location is very popular with tourists as it is the perfect spot for relaxation, water sports, and gorgeous sea views.
If you are looking to stay in Turgutreis, this is one of the best hotels closest to the city. If just visiting Turgutreis for a day, I recommend you come to Swissotel in the evening for drinks or dinner and sunset views.
With corona, no outside guests are allowed unless they have active reservations. So to be able to get into the territory of the hotel you need to call or send an email and make a reservation at the restaurant to get in.
Boardwalk in Karatoprak Neighborhood
If you are looking to get out of the center of Turgutreis, I recommend you go to the northern neighborhood Karatoprak. This neighborhood is home to many hotels (including all-inclusive), one instagrammable beach, and private residences that stretch along the sea and offer fantastic views.
The best place to watch the sunset in that area is a walking path between La Blanche Resort & Sensimar Hotel. The path starts here and passes by various all-inclusive resorts before it ends near the Sensimar hotel.
Our favorite spots for the sunset were 4 Bistro & Pub and piers scattered along the beach. There are also benches around and small seaside cafes that belong to hotels. Outside guests are welcome at any time.
Melengic Balik Restaurant
As one of the most romantic restaurants in the seaside village of Gümüşlük, the Melengic Balik restaurant naturally offers a really great view over the harbor and beach at sunset. Spoil yourself with a seafood dinner and a glass of wine and take hundreds of photos.
No doubt, this restaurant serves as a perfect spot for a romantic picture with an orange-red sky background. From the shore, you can see the sun sinking into the hills and let your eyes enjoy an amazing view. The view, by the way, impresses during the day too, not just at sunset.
I wrote more about this restaurant in my guide to places to visit in the Bodrum peninsula. If you want to find out more details, give it a read.
Sianji Well-Being Resort
Sianji Well-Being Resort is a beautiful 5-star hotel located in the village of Gumusluk 5.5 km from Turgutreis and 21 km from Bodrum city. Its convenient location provides an opportunity to watch beautiful sunsets here.
If you haven't booked accommodation in Bodrum yet, consider Sianji hotel (one of our favorites) as it offers a high level of service, spacious rooms, a large green area, and excellent food that are suitable for a calm, slow vacation in Turkey. This resort consists of one 7-story main building and 29 two-story villas.
If you are not staying there, the best way to get in would be to visit an a la carte restaurant or a lounge. The hotel's restaurant is situated on the first floor near the garden, so you can't see the sunset, but the lounge has a beautiful terrace with a view. With the pandemic, the hotel stopped allowing outside guests for some time, thus just in case send them an inquiry.
Further Readings About the Bodrum Peninsula
Planning on visiting the Bodrum area? Make sure to check all my Bodrum posts here. And for more Turkey inspiration, check the following:
And Don't Forget to Pin This Post For Later!